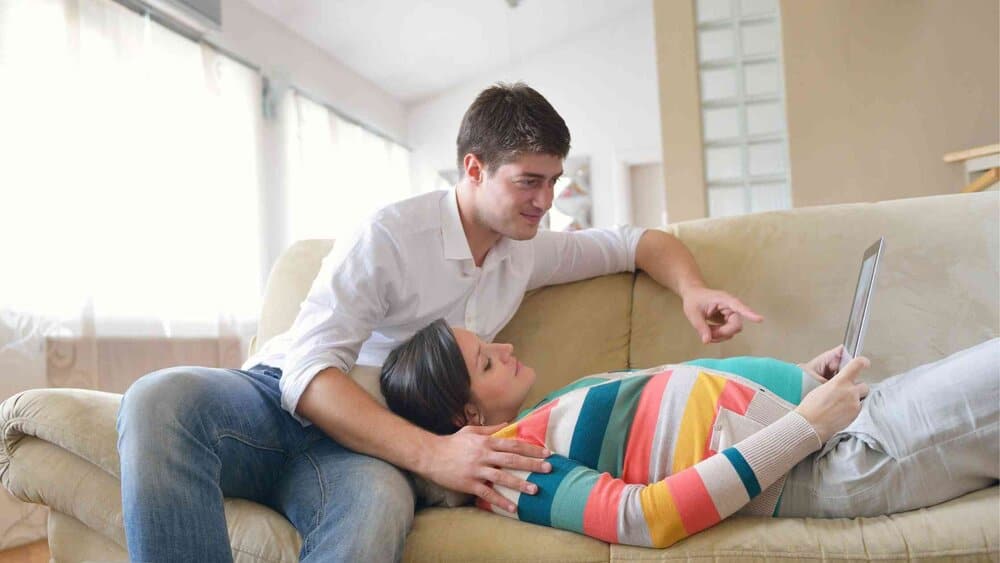 Prenatal classes or as known as childbirth preparation classes are strongly recommended, especially for first-time parents. Most of these sessions are held in person at a hospital, birth center, or women's health organization. Because you couldn't fit an in-person session into your hectic schedule, or because there's a pandemic, the in-person prenatal class you signed up for had to be canceled owing to Covid-19. What are your options now?
Online birthing classes cover the same subject as private lessons. Generally, online programs will offer you
A downloaded textbook (which can be useful if you take the class early in your pregnancy, as you may need a refresher as your due date approaches)
Access to their course contents for up to a year after you sign up
Before registering, inquire about the organization's policies; they also accept HSA/HSA/HRA card payments. One of the nicest things about taking online birthing classes is that you can go at your speed and never have to leave your home!
Here are 18 Online Birthing Classes!
1. Pampers Childbirth Education Class
Having a child is expensive, so why not take advantage of any opportunities that come your way for free? This makes the Pampers Childbirth Education Class our top pick for this category! Here are the nine topics included in this 90-minute course:
Body Changes and Discomforts
Preparing for Labor and Birth
Feeding Your Baby
Labor and Birth Parts 1 and 2
Prenatal Health and Nutrition
Immediately After Birth
Bringing Baby Home
Postpartum Care
One of the finest aspects of this course is that each session involves real-life expectant parents, giving you the impression that you're in a live class. It is taught by certified nurses and clinical birthing specialists as teachers. They deliver the material in short segments, so you'll leave feeling informed but not overwhelmed!
It's like a one-on-one, hospital-based birthing course. You can either watch it with your spouse to get a short overview of what to anticipate or use it as a supplement to a more complete session. Because The Pampers Childbirth Education Class is free, you will have unlimited access to the course content.
2. Birth It Up: Best Budget Prenatal Classes
Are you looking for a class to help you with more knowledge without any dent in your bank account? If yes, then you must make sure to check the Birth courses. These online birthing classes have two options to pick from
The Epidural
The Natural Series
These classes follow their procedures of fees, the process of enrollment, and the course to help you with all the required information. They include 30+ lessons in both visuals and a text (e-book) to help you through the content.
On the other hand, epidural classes take three hours to complete. These courses include everything that a new mom needs, such as the process of birth, when in labor, what happens post-delivery, hospital tips, and much more.
3. Kopa Birth: Best Prenatal Classes for a Natural Birth
If you're a new parent-to-be who wishes to have a natural delivery, you should have a look at this fantastic online course. If you're a first-time parent, this is a great option because it's easy to learn. It is a 3-month course that can be easily cut down to just a month if need be.
Katie Griffin leads the class. She is a nurse with years of expertise in natural hospital deliveries. The major goal is to educate new parents-to-be on coping skills to take care of contractions without any medication or help.
Prepared Essentials is a 12-hour video course that is divided into eight:
Birth
Early labor
Breathing
Pushing
Labor positions
Relaxation, and so on
You'll have three months to use the course after purchasing it. Prenatal exercise, babywearing, relaxation triggers, labor guides, etc are included in the Prepared Plus program with access for seven months. The two accessible courses are
Prepared Plus
Prepared Essentials
The course is around $195, while the Plus course is approximately $245. They offer a guarantee of 30-day cash-back and are risk-free.
4. Mama Birth Course: Best Prenatal Classes from a Licensed Nurse
Let's admit it, having a natural birth is no simple task! Mama Natural Delivery Course is the best option for expecting women who desire a natural home birth, hospital, or even at a birthing facility. Maura Walker and Genevieve Howland who is a licensed nurses and wrote a week-on-week guide for pregnancy and delivery, respectively.
Both instructors guide you to eight courses that cover subjects including
Preparation of the mind and body for delivery
Early labor
Pushing
Identifying the support team
Infant aftercare
Dealing with unexpected occurrences during labor
You can also expect a breastfeeding masterclass, tools, cheat printable sheets, etc. The course costs about $264 and includes a 30-day guarantee or money-back.
5. The Prenatal Couple Classes: Best Prenatal Classes For The To-Be Parents
It's time to grab your spouse and tackle all you need to know about giving birth in this program developed exclusively for couples. Hilary Erickson, a delivery and labor nurse teaches this program. Every lesson includes videos as well as materials like additional resources. There are a handful of questions at the end of each chapter.
Third-trimester tests, indications of labor, pain, types of deliveries, contractions, and inductions are all covered in this online prenatal program. Erickson can share the insider knowledge that one can cherish after spending years. It is a simple course, covering everything you need in this journey of pregnancy:
Delux edition: The deluxe edition of this online child birthing program costs about $150 and includes the option to replay all of the classes' videos, a booklet of 100 pages and a workbook, and access to communities' private Facebook.
Basic edition: If you don't want the visual content, get the basic edition for around $35, which contains a workbook and e-book for couples.
6. SupportingHer: Best Prenatal Classes for Dads
Are you a soon-to-be father searching for a lighthearted, easy tutorial to know the expectations throughout delivery and labor? This course is a fantastic place to begin! Before Labor, during, and when the baby is born; these are the three portions of this pregnancy lesson.
The training is brief yet educational, making it ideal for a soon-to-be father. It consists of films that educate dads on the fundamentals of being an emotional and physical companion during delivery or labor. It covers topics such as
Physical and verbal assistance
Medical personnel
What to expect when in the hospital
The responsibility of the father, and more
You'll also get additional footage of other parents sharing their experiences. This online course costs about $59 and includes a guarantee of 30 days of money-back. You can also get unlimited access after you buy it, that is for ten months.
7. Lamaze International Bestsellers BundleBirth, Labor, and Breastfeeding Basics: Best Prenatal Classes
If you are looking for a one-stop-shopping experience that is also budget-friendly, you should go for the Lamaze Bestsellers Bundle. This comprehensive course includes three of their top classes
Labor Pain Management
Breastfeeding Basics
Safe and Healthy Birth
During the class, you'll be taught how to spot active labor, techniques that can be used to manage pain, and how to make it through the delivery process. They'll also provide you with tips that will help you with a healthy birth, and how to make sure your breastfeeding remains seamless.
Taught by a Lamaze Certified Childbirth Educator, the course takes around 60 to 75 minutes to complete and is self-paced. Each class's format includes
Text to read
Audio
Videos
Interactive images
Slideshows
Quizzes
Personal reflections
If you want a free trial before buying, you might consider taking Lamaze International's free Labor Confidence course as you can view the format, content, and structure of the classes with no financial obligation.
For around $85, the Lamaze bundle gives you access to three courses. These classes individually cost around $30 to $35, so if you go for the bundle, you save approximately $15. Additionally, for one year you can get unlimited access to the site's content.
8. John Hopkins Online Childbirth Education e-Class: Best Prenatal Classes By John Hopkins Medicine
This online prenatal class offered by John Hopkins Medicine is priced at $50. This prenatal class is perfect for expecting parents who wish to go at their own pace. The eight-chapter program is an interactive, web-based course that utilizes
Videos
Personal birth stories
Animations
Activities
Games
to educate parents about all they need to know about preparing for their baby's arrival.
This course has online access for 9 months. This online prenatal class will help you understand pregnancy, learn about labor, see how the stages of labor unfold and learn helpful comfort techniques.
9. John Hopkins Online Childbirth Education Fast-track Class: Best Fast-track Prenatal Classes
This online prenatal fast-track class is priced at $140 per family. It is a 2-hour Zoom class with a maximum of 5 families. This small-group setting provides a secure place for you and your spouse to ask any questions. These are a few of the topics discussed in this course:
Breathing and relaxation methods
Labor phases
Comfort alternatives
Physical changes
Psychological changes following delivery
Coaching advice for your birth partner
10. Tinyhood Baby 101 Course: Best Online Prenatal Classes
The Baby 101 course offered by Tinyhood is priced at $49. In this course, all the classes are taught by top experts in their industries and parents get 3+ hours of on-demand content. It offers 40+ downloadable guides and checklists and a certificate of completion for insurance reimbursement.
The course covers 4 essential topics. They are
Breastfeeding from prenatal prep to pumping
A guide to newborn and infant sleep
Baby care basics such as diapering, baths, nail trimming
Everything in detail about CPR and choking
11. Nurture Pregnancy & Postpartum: Best Online Prenatal Classes
The Nurture Pregnancy & Postpartum class is a comprehensive program that may be started at any time during or after pregnancy. It is designed to prepare you for whatever life brings to you.
In this online prenatal class, you will learn physical and cognitive tools for
Mental fitness
Signs, and stages of labor
Sleep hygiene strategies for you and your baby
Sensory tools to soothe yourself and your baby, and much more
12. Taking Cara Babies Will I Ever Sleep Again? Online Birthing Classes
The Will I Ever Sleep Again? Online prenatal class from Taking Cara Babies, to enjoy the newborn stage. The class can be started when you are in the last month of your pregnancy, in the first few weeks after your baby is born, or at any time during your baby's first 12 weeks. You'll have four months to watch the online pre-recorded class, which is divided into easy-to-see (and replay) sections.
It includes useful downloads and example schedules for a convenient reference, as well as the advice you'll need to firmly establish a strong sleep foundation for your baby so you can enjoy this time of life.
13. WeeHuman Modern Childbirth: Best Personalized Prenatal Classes
WeeHuman courses combine the convenience of on-demand lessons with the personalized support and expertise of live Zoom classes with doulas and birthing educators to help you feel prepared for a more relaxed pregnancy, delivery, and new parenting experience. Welshman has it all from delivery, infant care, breastfeeding, and mind or body health programs.
The WeeHuman Modern Childbirth class will provide you with everything you need to feel prepared for your ideal birth, whether it's an all-natural birth, an epidural, an induction, or a cesarean. You will also learn what to anticipate, what your alternatives are, how to advocate for your objectives, and how to be calm and relaxed during the birthing process.
The Motherly Birth Class celebrates the miracle of your wonderful body, and your new baby, and respects you during this profound life transition. It is community-inspired, expert-driven, and woman-centered.
In this class, you'll get 12 great video lectures from pediatric nurses and certified midwives as well as a thorough workbook to help you through this incredible course and your journey to parenthood.
15. Robyn's Parentbirth Class; Online Birthing Classes
You may take Robyn's virtual course whenever you choose, at your own speed, from the convenience of your own home. Preparing for delivery, birth, and postpartum are all covered in this online prenatal class, which includes answers to questions like
What happens at my OB or midwife's appointments?
What happens after birth?
How do you feed your baby?
The course also covers birthing questions such as labor and vaginal delivery vs a c-section and how things change when having twins or multiples. Some of the postpartum topics included in this course are
What happens right happens at birth?
How do you feed your baby?
Does sex feel different?
16. Motherly's Birth Class
Due to the COVID-19 pandemic, a lot of moms-to-be had to find online birthing and parenting classes. During the pandemic, Motherly made their online classes free. This makes Motherly one of the best prenatal classes available online.
The classes are taught by Diana Spalding. She is an accomplished author who wrote The Motherly Guide to Becoming Mama, which teaches and prepares mothers for their birthing experience. She is also a certified nurse-midwife.
17. Mama Natural Birth Class
For parents who want an unmedicated birth, Mama Naturals Birth Class is the right one because it covers everything from pregnancy nutrition to heartburn and from cures for swelling to all the things you need for a peaceful birth. When the COVID-19 pandemic struck, their new module "Coronavirus and Pregnancy" covered everything required to give birth during that time.
Genevieve Howland hosts the class. She wrote the book The Mama Natural Week-by-Week Guide to Pregnancy & Childbirth and is the founder of Mama Natural. It is also hosted by Maura Winkler, nurse, board-certified lactation consultant (IBCLC), nurse-midwife, and doula.
18. Motherhood Reimagined
If you don't have a partner, pregnancy and giving birth can be a challenge. For this reason, Sarah Kowalski, a fertility doula, author, life coach, and a single mother by choice teamed up with a certified nurse and midwife Betsy Freeman and created this 10-week course about solo pregnancy called Motherhood Reimagined.
This course is everything a single mother needs. It offers great childbirth education classes and also a support group. You'll interact with other single mothers and parents and the class will focus on the challenges of navigating through childbirth. It will empower you and transform several aspects of single parenthood.
If you are a first-time parent you should take childbirth education, it really should be a blanket requirement as it gives you the foundational framework on what you should expect. Also, if you're almost near D-day and are still not sure about what you need to carry along? Well, not anymore, check out our baby registry checklist with everything important you'd need to carry.
FAQs: Best Online Prenatal Classes
1. When should I take an online birthing class?
Usually, you should aim to finish the class before week 36 of your pregnancy. This way, before childbirth, you have some time to practice the techniques.
2. How much do online birthing classes cost?
The cost of online prenatal classes heavily depends on the quality, the number of resources and instruction, the level of interactivity and personal support, and the length of access to the materials. Some basic classes are completely free (Pampers), meanwhile other comprehensive courses cost up to $250. The typical cost for most classes is around $40 to $200.
3. Are prenatal classes covered by insurance?
Prenatal classes may be covered by health insurance in some cases. You need to consult your health insurance provider to ask about coverage.
4. What do you learn in prenatal classes?
Childbirth classes online help both the mother and the father learn how to handle pain during labor, breathing techniques, relaxation techniques, and how to cope with contractions.
5. Can you take Lamaze classes online?
Lamaze International offers an interesting, self-paced online learning environment for parents who want to study remotely or who are unable to attend an in-person session. With the online class, parents can learn whenever they want and also log in with any device.