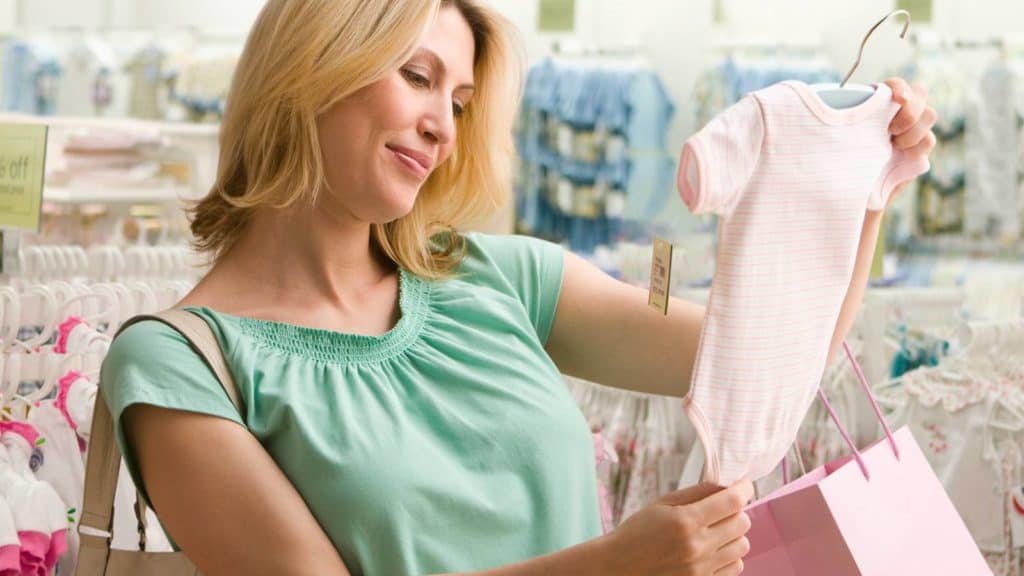 One of the most exciting parts about having a baby is planning their closet and deciding how many clothes to buy before baby is born and add to your baby registry.
Let's all admit it, baby clothes are adorable and your little one will look even more adorable in them! If you are a new parent, you need to know certain things when it comes to baby clothes. You might have some questions, too. How fast will my baby grow? How many clothes of each size do you need? What clothes does a new baby need? It's hard to answer because every baby is different!
Typically, you do not need a lot of baby clothes as you might think because your new baby will never wear half the items. Keep on reading to learn more about baby clothes.
How many baby clothes to buy in each size?
Baby clothes are expensive. So, buy less than you think you need or want because babies grow up in a blink of an eye. More often, your baby's closet will be filled with clothes that they've never worn. There is no exact number because everyone has their own experiences to share. But every mom will tell you that you don't need as many clothes as you think. When it comes to buying anything related to the baby, as we mentioned before, less is always more (except for diapers, you need a lot of diapers!). Moreover, you can always buy more later.
How many clothes to buy before baby is born?
It is very easy to go overboard with and waste hundreds of dollars. Remember to not go over-budget even before the baby is here. Before the due date, you need to buy clothes for the 2 weeks of their life or buy for 0 to 3 months instead of a newborn. A normal size baby grows out of newborn clothes very fast. Moreover, you'll be changing your baby's clothes at least once per day. Buy enough shirts, onesies, pants on hand so that you don't have to stop everything to do laundry because you ran out of clothes in a matter of 2 days. Your little one's clothes should be simple, soft, comfortable, and user-friendly because you're going to be unsnapping, removing, and changing clothes off your baby multiple times per day.
How To Build Your Baby's Wardrobe?
Before building a wardrobe, you need to think about how many baby clothes you'll need and how you should add clothing to your registry.
How often you do laundry and your access to it makes a huge difference in how many baby clothing items you'll need on hand. This list will assume that you do a few loads of laundry throughout the week. However, if that's not the case, you might need more or less clothing. How to adjust?
Simply multiply the numbers given below by two, if you plan on doing laundry just once a week.
Or cut the numbers given below in half, if you plan on doing laundry every day.
It's tricky to figure out sizes and how many pieces you need in each size. Also, it's tough to foresee how big your baby will be at the birth and how quickly they might grow. So, here are some tips you need to keep in mind when you are buying clothes for your little one:
You need to think big because most newborn sizes top out around 8 pounds. If you have a bigger baby, from the start, they could need 0 to 3 months in size. Whereas, if they're smaller, they'll fit into newborn sizes for a few weeks. So, just pick some newborn items and then focus on 0 to 3 months.
Try mixing it up because every baby brand, when it comes to sizing runs differently. Since you won't know your baby's body type, try mixing clothes from different brands. This way you'll have a few different fit options to choose from.
Baby clothes are cute and are easy to lose track of. The best way to know what will fit your baby right now and what you are available in the next size is by organizing your little one's closet in sizes.
Invest in some drawer dividers, if you're storing most of the baby's clothes in a dresser. These dividers will keep everything in one place. Plus, you can set it up by clothing type, size, or any way you'd like.
Invest in some closet dividers, if you're storing your baby's clothes in a closet. These sturdy hanging signs will make sure that your clothes are separated into different sizes.
A Sample Baby Clothing Registry For Your Little One
In this list, you'll have the standard number of clothing items you'll want on hand for your newborn's arrival. Additionally, we've included items for summer and winter babies and some things for special occasions.
Onesies or bodysuits are an easy, no-fuss outfit. It comes in both long and short-sleeves. It is comfortable for summer and can be worn as a basic layer in winter. With seven, you'll always have a clean one available. Even if you do laundry a couple of loads per week.
2) Burt's Bees Baby Organic Short Sleeve Bodysuit (5 Pack)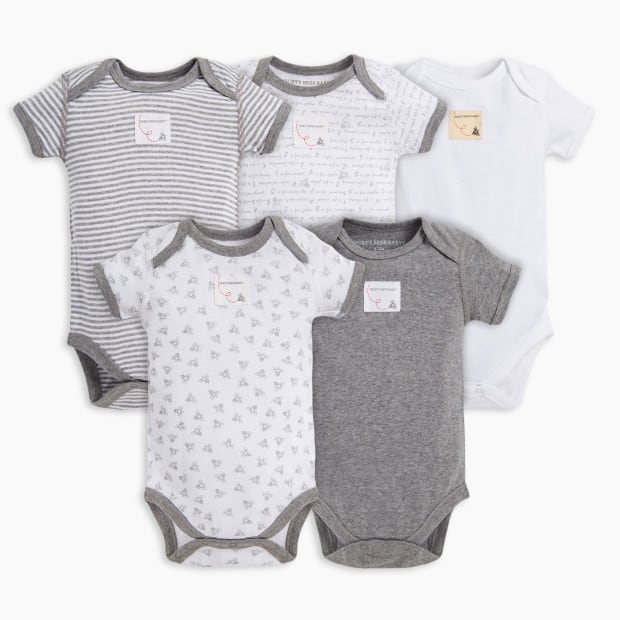 Babies don't need to wear pants (for a while) but it's good to have a few pairs available. On chilly days, you can pull the pants over the bodysuits and keep their tiny legs warm.
4) Carter's Pant (2 Pack)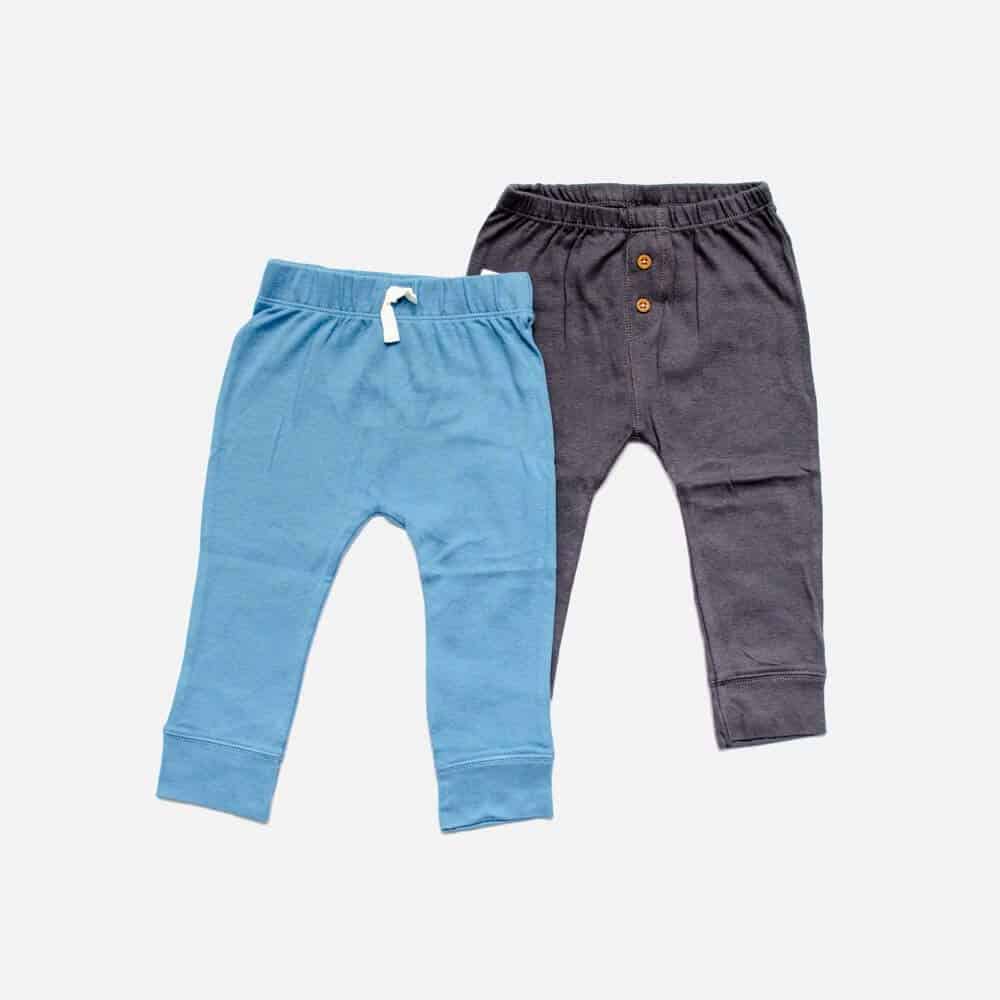 5) 4 Sleepers, Footies, or Gowns
Although these sleepers and footies are perfect for sleeping, they can be used during the daytime, too. In colder climates, you can pair them with a swaddle during the nighttime. Moreover, a gown is always a great wardrobe addition. They are perfect for the first few months when you want something quick and easy for the constant diaper changes.
During the early weeks and months, beanie-style hats are important to keep your baby warm. Remember do not use hats when the baby is sleeping! You should start with two hats, one for the wash and one for your little one to wear. For colder weather, we would recommend buying fleece hats.
7) Copper Pearl Top Knot Hat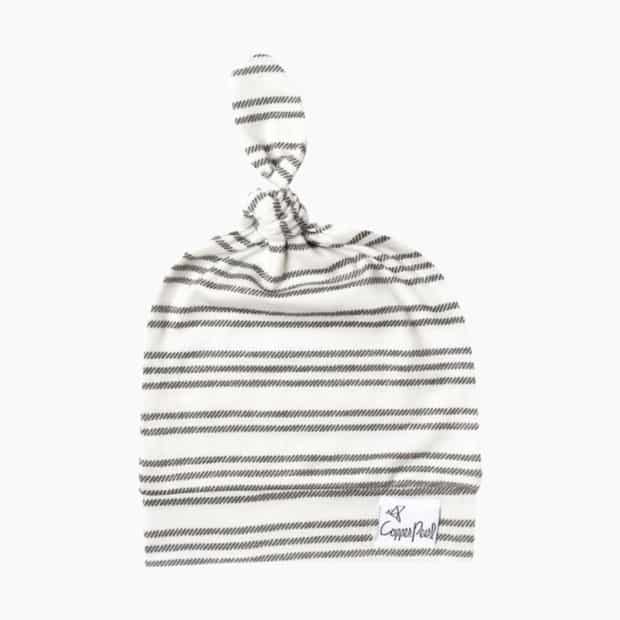 Make sure your little one's feet are cozy in socks, even during summers.
Additional tip: Try to buy them all in one color, this way you don't have to worry about matching those tiny socks. Also, if you are having a winter baby, simply add two extra pairs.
9) Burt's Bees Baby Ankle Socks (6 Pack)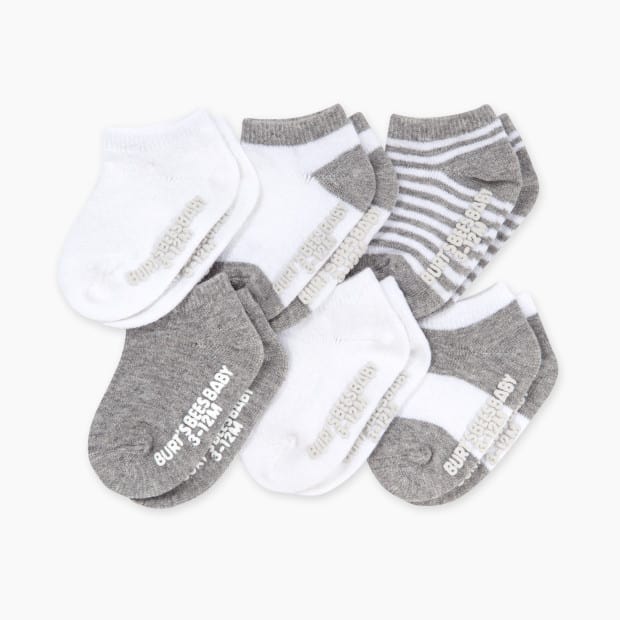 Yes, we know, swaddles can't be considered as clothes, per se. However, a lot of babies spend a lot of time with them. Why is that? Simple, for the first few months, most babies like to be swaddled because it feels very womblike. Also, it prevents their startle reflex from waking them up. During sleep time, you might find many nights where you just put your little one in a diaper and swaddle them to sleep.
11) Aden + Anais Classic Cotton Muslin Swaddle (4 Pack)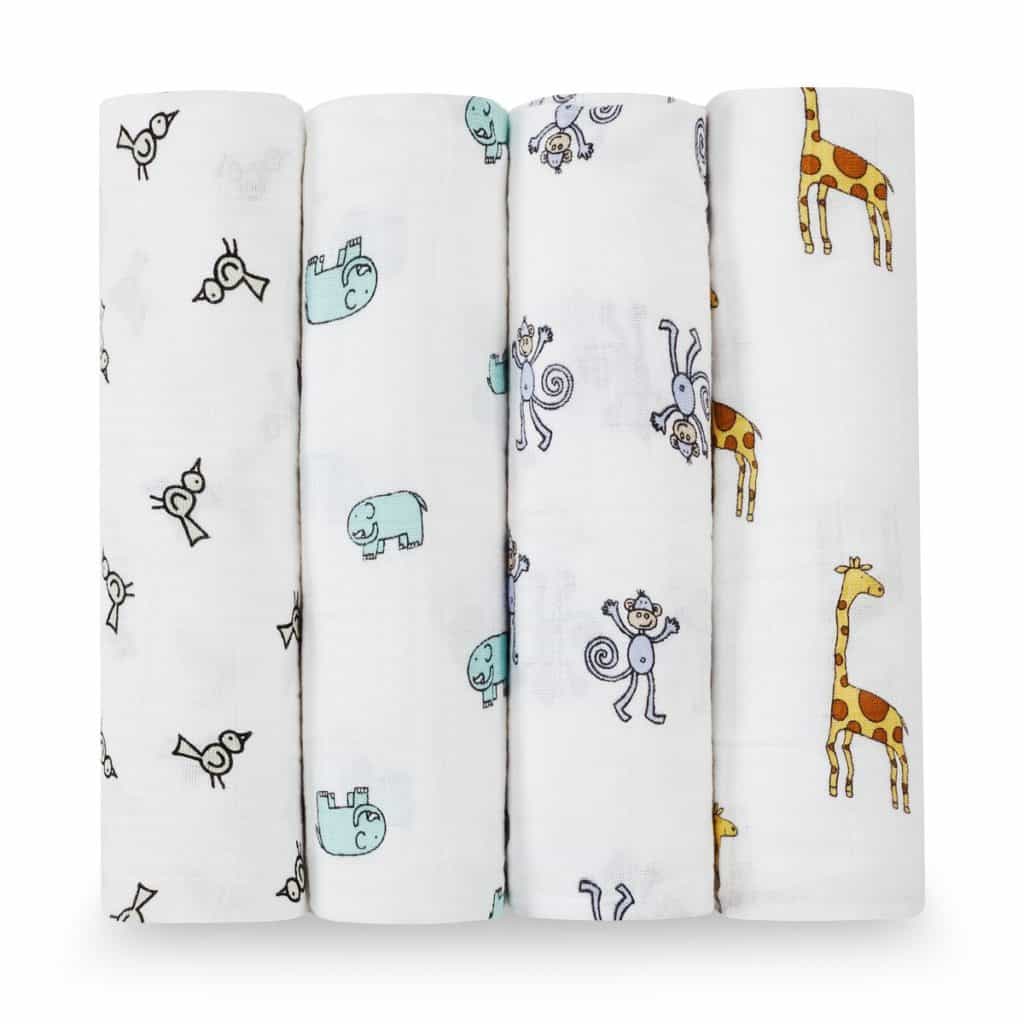 Are You Expecting A Summer Baby?
If you are outside on sunny days, your baby needs a sun hat. They are a must-have and you should get one with a wide brim. Also, make sure it won't fall off and it fits snugly. You should opt for a sun hat that has an adjustable toggle which will create a custom fit as the baby grows.
2) i play by Green Sprouts Brim Sun Protection Hat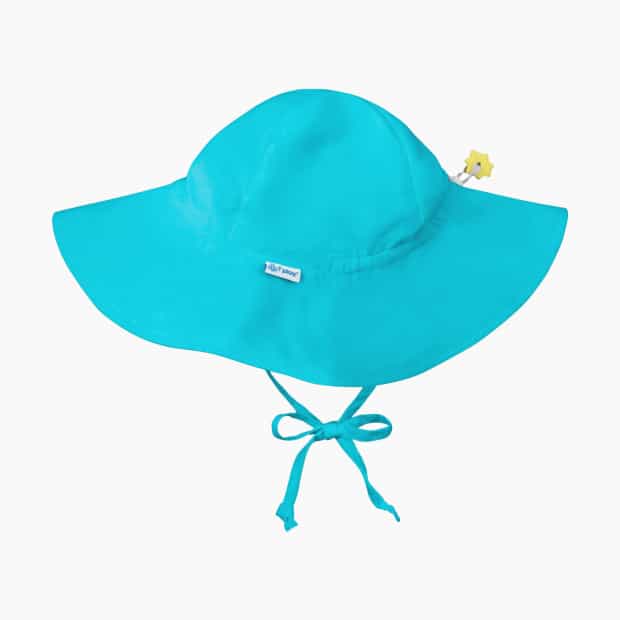 3) 2 Lightweight Blankets
You can use cotton or a muslin blanket to protect your little one from the sun. A blanket will not overheat your baby. Simply drape it over your carrier, stroller, or car seat. Also, make sure to leave plenty of space for air to circulate.
4) Little Unicorn Cotton Muslin Swaddle (3 Pack)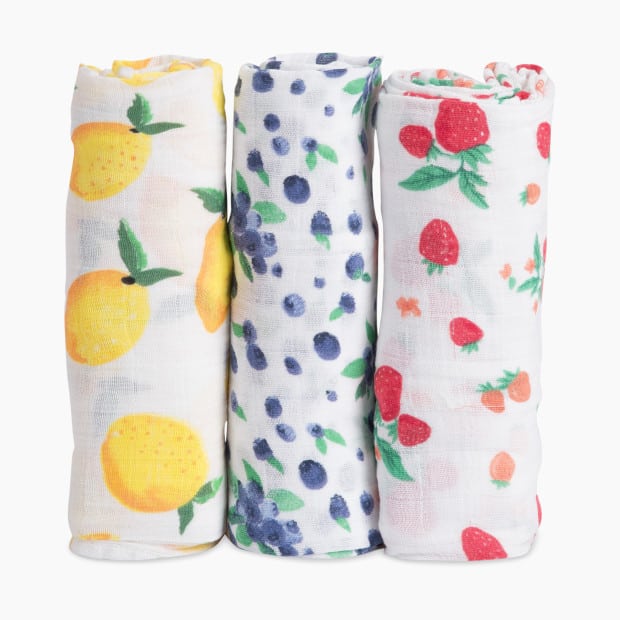 Are You Expecting A Winter Baby?
1) 2 Sweaters or Sweatshirts
When there's a chill in the air, you can put your little one in a cardigan or zip-up hoodie. Plus, it's easy to take them off if your baby gets too warm.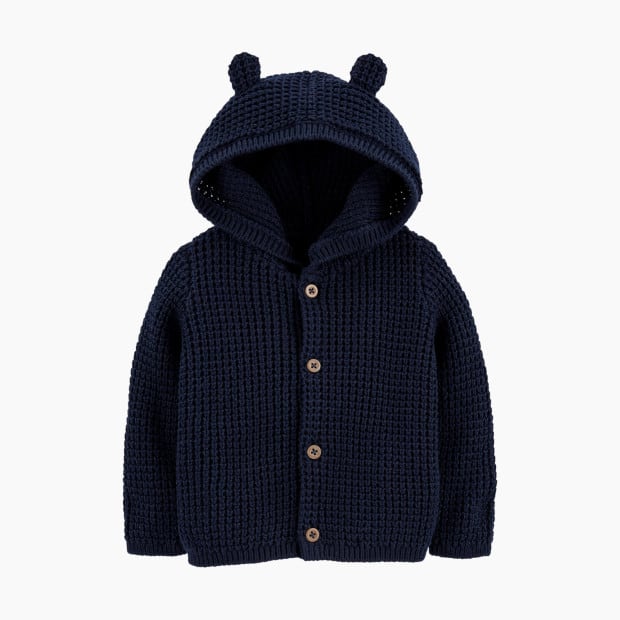 Cozy mittens are perfect to cover up their little hands. Get a pair which comes with a cord, so that the pairs stay together and one of them won't go missing.
Additional tip: Cotton mitts tend to come in handy with newborns (even if it's not winter). It prevents them from scratching themselves with their super-sharp new nails.
4) Zutano Cozie Fleece Mittens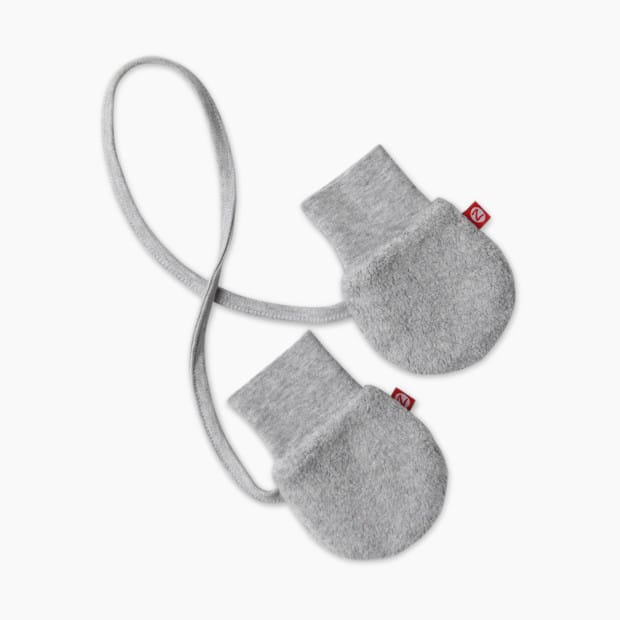 5) 1 Winter Coat or Bunting
If you are due during winter, your little one needs at least one layer of extra-warm outerwear. For colder regions, get your baby full-body outerwear to make sure that they will stay snug during any weather.
6) Magnetic Me Fleece Pram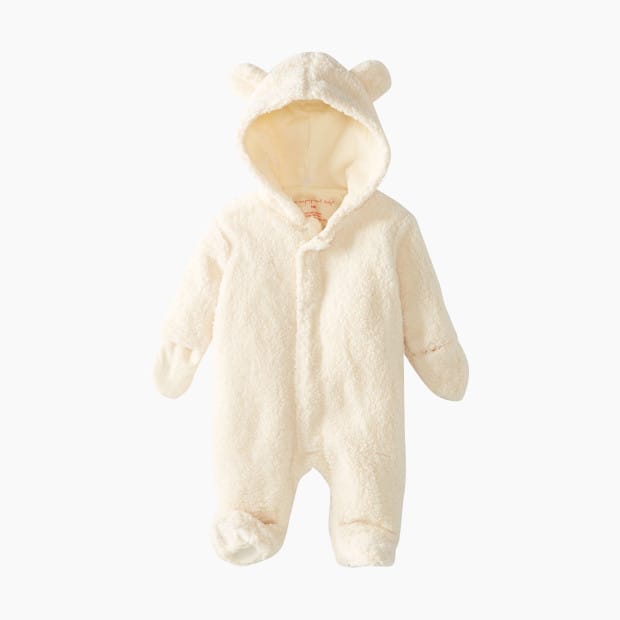 Your babies won't need shoes until they start walking or crawling. However, you can buy them, some booties which are great for extra warmth.
8) Zutano Cozie Fleece Booties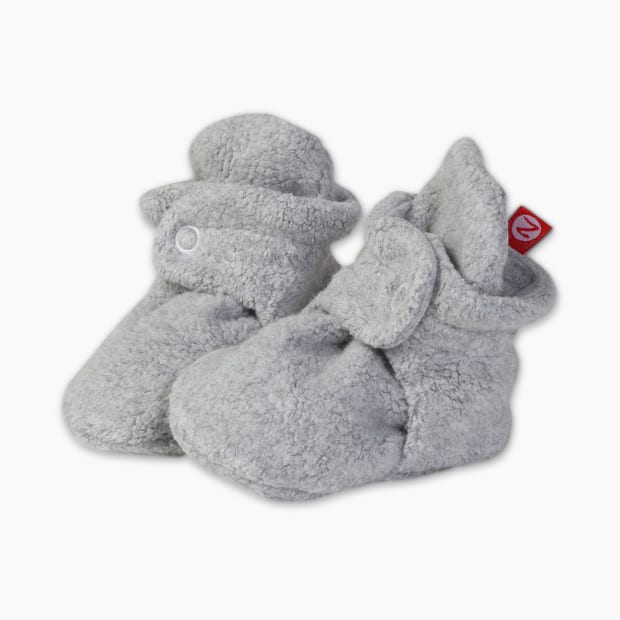 Clothes For Special Occasions
You'll probably have a few occasions to dress up your adorable little one. Make sure to buy some elegant outfits. A coming-home outfit will be a sweet addition!
1) Aden + Anais Snuggle Knit Newborn Gift Set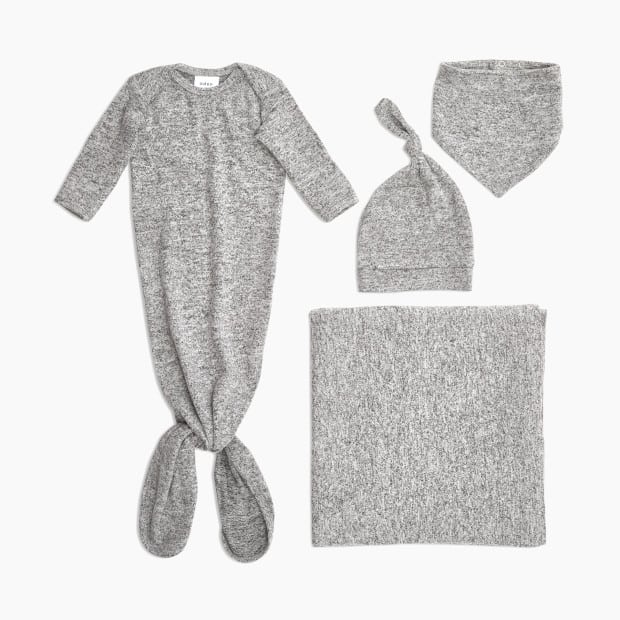 2) Parker Baby Co. Bows And Headbands (10 Pack)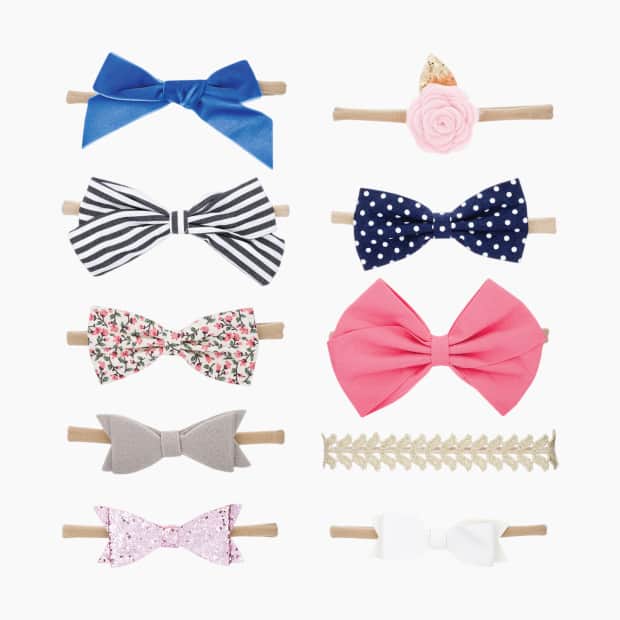 While preparing for your baby's arrival, it's tough to resist the urge to add every cute baby outfit to your registry. Babies create a lot of mess and having clothing options for quick outfit changes will come in handy. Then again, your little one will grow up quickly, and they aren't going to stay in one size for very long. So, buy wisely!
How Many Baby Clothes You Need To Buy? FAQs:
1) How many layers of clothes does a baby need?
You need to dress your baby in one more layer of clothing than you are wearing. This will make sure they are comfortable in the same environment.
2) How many layers do babies need overnight?
The general rule of thumb for dressing your baby for sleep is to put them in one additional layer than you would wear. Make sure there are no loose sheets or blankets when your baby is sleeping.
3) Should babies wear socks to bed?
It is perfectly safe for your little one to wear socks in bed. Moreover, let them wear socks, if they feel safe and secure in it, or if the air is a bit chilly.