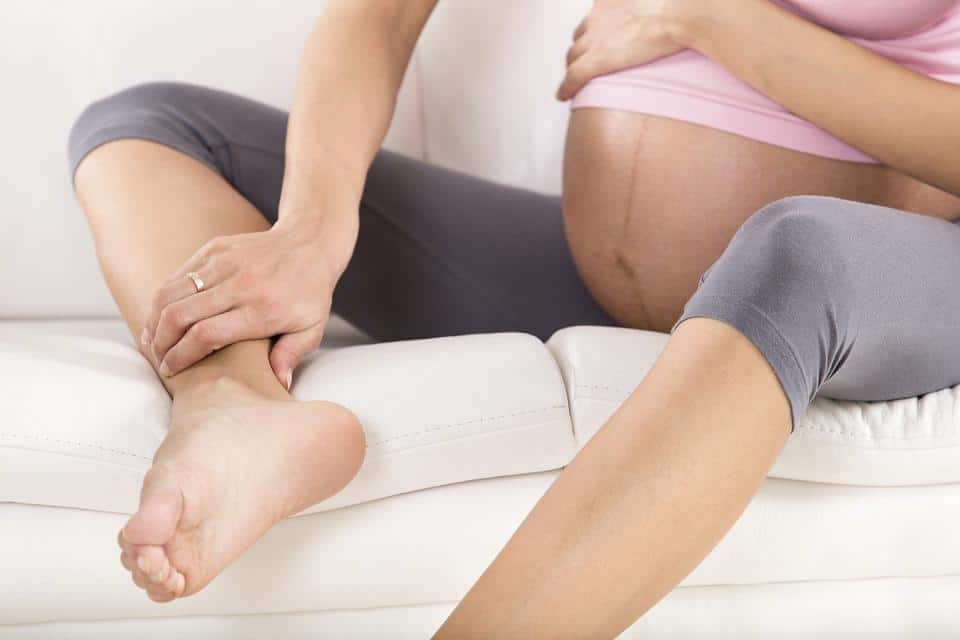 Have you been finding your feet a little too difficult to go on your walks every evening ever since you conceived? Medically called Edema, your swollen feet, and ankles are common during pregnancy, and here's everything you need to know about it.
Edema is a medical term used to explain the commonly occurring swelling in various body parts as a result of excess fluid trapped in the body's tissues. Though edema during pregnancy can actually take place in any part, it typically occurs and is more evident in hands, arms, feet, ankle, and legs.
As a pregnant woman, owing to the law of gravity, you should be prepared to experience more swelling throughout your body than ever before. It should also be noted that though this swelling will be present mostly throughout the term, it will most likely vary by the hour (increasing in the evening) and by the temperature (warmer temperatures cause more swelling).
When does swelling in feet occur during pregnancy?
The swollen feet situation or Edema affects almost all women and can begin to show anywhere between week 22 to week 27 of pregnancy, only to stay until the very end.
Why do swollen feet or Edema occur during pregnancy?
There's actually some science behind what causes swollen feet during pregnancy. As a pregnant woman, the production of your body fluids increases to provide for both – the baby and the mother. These fluids, in increased production, tend to accumulate in your tissues as a consequence of increased blood flow and the pressure of the growing uterus on the pelvic veins and vena cava.
During pregnancy, your total body water volume can increase by up to 8 liters in total. The plasma volume also further increased by 30-50 percent, to cater to the needs of the growing baby, subsequently increasing the total blood volume. While most of its extra fluid is stored in the cells to assist them for all the extra work, a part of this extra fluid also tends to accumulate outside the cells to enhance oxygen delivery, clear waste, and control electrolyte flow.
This surge in the body fluids is also further coupled with increasing sodium levels during pregnancy. Sodium, as you may know, is infamous for affecting the processing and absorption of water in your system. The rise in sodium levels is generally associated with swelling. As a result of all of this, the swelling, more prominently on your ankles, feet, and hands takes place. The pregnancy weight gain also further adds to the swelling.
Swollen ankles and feet / Edema during pregnancy: Should I be worried?
Unlike the swelling during pregnancy that is not completely blown out of proportions, there should not be anything to worry about. Swelling during pregnancy could be a matter of concern only when the puffiness begins to look obviously abnormal and starts to stay for more than a day at a time. Mild swelling, on the other hand, is absolutely normal.
It should be noted that excessive swelling in body parts during pregnancy could be a symptom of an underlying condition like preeclampsia. However, an underlying condition like such will most likely show up only with other accompanying symptoms like high blood pressure, sudden weight gain, and the presence of protein in the urine. Such symptoms will be regularly monitored in your prenatal doctor visits.
In other cases still, pregnancy swelling could also be suggestive of deep vein thrombosis (DVT), a life-threatening occurrence as a result of blood clots in a deep vein. However, DVT is not only rare but also easy to differentiate as it tends to only affect one leg (usually the left leg) and may also cause a certain sense of heaviness or pain that gets worse on standing up. Your skin might also feel warmer than before. If you experience any of these symptoms, it could be a sign of an underlying condition and you should visit your health care provider immediately.
Swelling During Pregnancy: Treatment and Solutions
Here are a few ways how you can avoid or find relief from pregnancy swelling-
Avoid standing for long periods of time
Try to take a lot of breaks and take a seat while you're at it. At the same time, if your job involves sitting down for long hours, break the pattern and take a 5-minute walk at least once an hour.
Do not sit with hanging feet for too long
Instead, elevate your feet, and perhaps, ask for a foot massage too! You may also want to use some compression stockings.
Try and practice pregnancy-safe exercises
Exercises like yoga or perhaps just a regular evening walk can help. You may also join a swimming class with a prior go-ahead-consultation from your doctor. Staying active helps reduce swelling as it keeps the blood flowing instead of pooling.
Wear comfortable clothing
Do not wear tight, suffocating, pre-pregnancy tights or leggings as they will restrict the flow of blood as well as other body fluids.
Investing in comfortable shoes
Perhaps a pair of orthotic shoes, along with the clothes might also be a good idea as they can reduce your pain by optimally absorbing and balancing the extra weight. As a pregnant mother, you should note that your feet will begin to feel bigger and shows will feel a little snug as the ligaments in your feet (just like the rest of the body) will now begin to loosen, owing to the hormone relaxing, causing the bones to spread out. Your old shoes will most likely feel rather tight and make the swelling worse.
Use a full support pantyhose (preferably in a bigger size to make room for your growing tummy)
This can help reduce swelling by offering tight compression and warmth to your body.
And by plenty, we mean at least 8-10 glasses every day. Water helps get rid of toxins and excess sodium that could lead to swelling.
Above and over everything else, just focus on taking care of yourself momma! You may also want to take some prenatal vitamins to help you sail through your pregnancy like a breeze. Always remember what they say "happy mommy, happy baby!"
Edema During Pregnancy FAQs:
1) When should I be concerned about swelling during pregnancy?
Swelling can be a matter of concern in pregnant women when accompanied by other symptoms like high blood pressure, sudden swelling in various parts, sudden weight gain, etc. Swelling in your face or noticeable puffiness around your eyes could be signs of an underlying condition as well. Reach out to your doctor if you notice any of these signs immediately.
2) How do I get rid of water retention during pregnancy?
Water retention during pregnancy can greatly contribute to swelling. The easiest way to avoid water retention is by limiting the intake of salt. The sodium in salt forces the body to trap and retain water instead of signaling the system to flush it out. processed foods and canned foods are especially high in sodium and should be consciously avoided.
3) Does water retention cause weight gain during pregnancy?
No. Most of the weight gain during pregnancy occurs naturally by virtue of growing life inside of the mother. However, fluid or water retention, along with weight gain may cause your ankles and feet to swell. Drinking enough water and avoiding sodium in high quantities may help avoid the swelling.