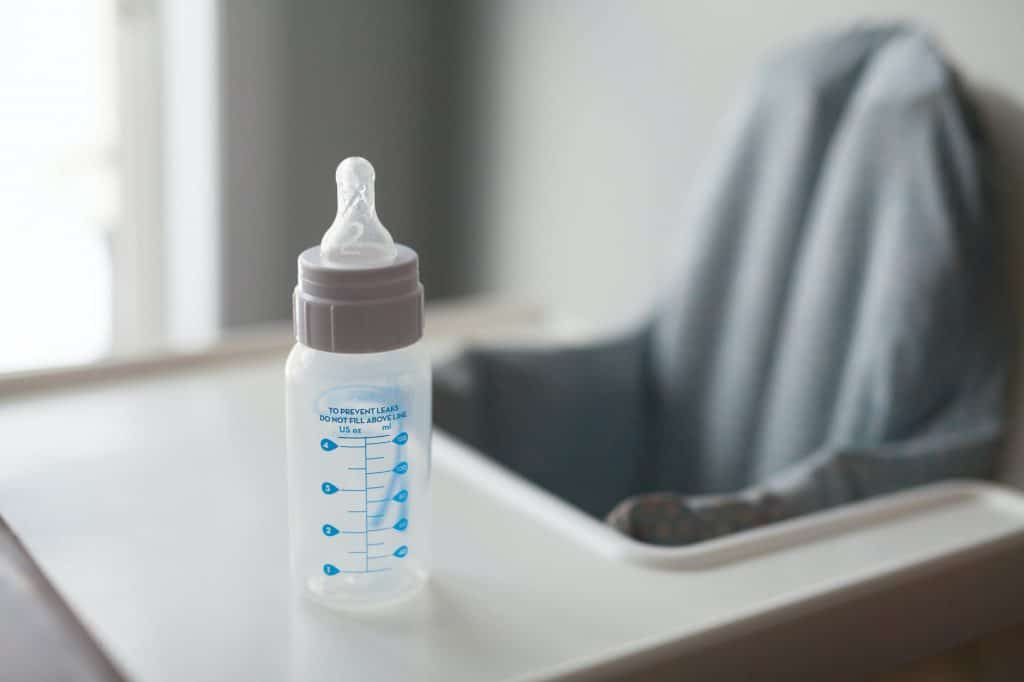 Baby bottles are used to feed infant formula, breast milk, or pediatric electrolytic solution. These come in other names too like feeding bottles or nursing bottles and are attached with a teat (also termed a nipple) at the tip through which the contents are sucked.
The design of baby bottles including its teat has been found to directly affect the milk intake of the baby. Baby bottles are ideally supposed to be easy to clean as bacterial contamination is quick and it can lead to illnesses. Most baby bottles in the market are made of plastic which makes them hazardous to health. They come in an almost cylindrical shape with a narrow neck. Hence, cleaning them can be done by bristle brushes only which is not a good cleaner. This will lead to possible bacterial contamination.
Comotomo branded baby bottles come into the rescue here with its wide neck silicone made contained with a teat that mimics the actual breast. Let's read a little more about the pros and cons of the Comotomo baby bottles.
Features Of Comotomo Baby Bottle Reviews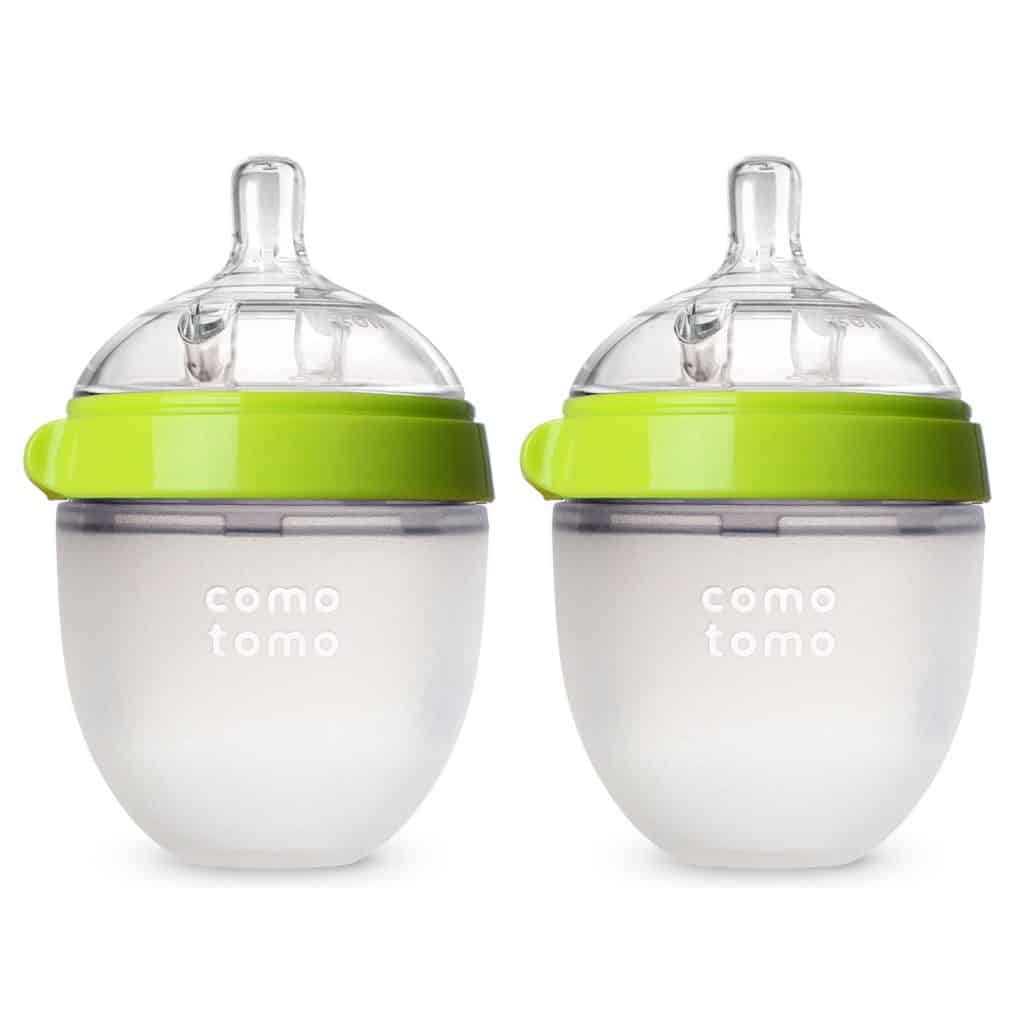 Wide neck: It has an ultra-wide neck that allows cleaning by hand without the need for a brush.
Resembles a mother's breasts: The upper portion of the bottle constituting the teat is in the shape of a breast.
Silicone-grade: The bottle and nipple are made of 100 % silicone.
Safety concern: Comotomo baby bottles are microwave safe and dishwasher safe.
The temperature that it can handle: The bottle and teat can handle a temperature up to 180 degrees while the temperature for the outer ring and the cap is 120 degrees.
Anti-colic: The presence of dual anti-colic vents prevents the entry of unwanted air intake.
Material free: The material of the entire bottle is made of medical-grade silicone. Silicone does not contain PVC, Phthalate, or BPA.
Easy handling: The base of the bottle is squeezable. Thus, it will work well for the babies learning to hold a bottle.
More Information On The Comotomo Baby Bottle Reviews
| | |
| --- | --- |
| Brand | Comotomo |
| Color | Pink/Green |
| Material free | Phthalate-free, BPS-free, Lead-free nitrosamine free |
| Item weight | 0.6 pounds |
| Bottle nipple type | Vented |
| Bottle type | Anti-colic, wide neck, mimics breast |
| Product dimensions | 6.13 × 3.13 × 5.13 inches |
| Is discontinued by the manufacturer | No |
| Target gender | All sexes |
| Material type | 100 % safe hygienic silicone |
| Care instructions | Safe to be used in the microwave, upper rack of the dishwasher, steam sterilizers, and boiling water |
| Additional product features | Prevents nipple confusion, mimics a real breast |
| Number of items | 1 |
| Style | 5 ounce (count) |
| Batteries required | No |
| Dishwasher safe | Yes |
| Is portable | Yes |
| Item weight | 9.6 ounces |
| Country/Region of origin | Korea |
Breastfeeding babies are choosy about bottles. They may outright refuse to be fed from a bottle, commonly called "nipple confusion". Comotomo baby bottles address that issue. They have designed the bottle so that it mimics an actual breast. The material silicone makes the bottle squeezable and soft.
Pros ofComotomo Baby Bottle Reviews
Babies can squeeze the Comotomo bottle just like a real breast.
A wide neck facilitates easy cleaning.
Simple to assemble.
Anti-colic vents reduce the amount of air a baby might swallow during the feeding.
Cons of Comotomo Baby Bottle Reviews
The bottles are expensive.
The rings might be difficult to screw onto the bottle base.
Their wide base and neck make it difficult to fit into certain bottle warmers.
Let's delve more into the amazing features of Comotomo baby bottles.
End of the battle of bottles
Over a thousand surveys from lactating mommas, most responded to the dilemma of "nipple confusion". Comotomo comes to the rescue with respect to bottle rejection. These bottles are designed to help the little hands hold on to the naturally shaped teat. An easy switch from breast to bottle is what Comotomo baby bottles bring forth.
The Delicate Touch Of The Skin
Itsy bitsy hands of your baby have been busy even while chilling in the womb. It has scientifically been shown that the fetus brings its hands close to the face before they swallow the amniotic fluid. Any lactating mama would tell you about those active little hands while breastfeeding. That is why Comotomo baby bottles are designed with silicone to enhance the effect of real breasts – calming and soothing to touch.
An ultra-wide neck would cease the problem of bacterial contamination due to the unclean edges of narrow neck bottles. All we want for our baby is the best and here's where Comotomo comes into the picture. Comotomo baby bottles with their wide neck bottles come with heat resistance as well as safety precautionary measures. They are microwave safe and can be sterilized in steam or boiling water. They are safe to be given in the top rack of the dishwasher.
A bummer for the baby and the mama is colic. Comotomo bottles come with two anti-colic vents placed on the nipple that ensures proper ventilation for the bottle. This means your baby is drinking milk and not air. Proper ventilation will assure good airflow whereby unwanted colic can be prevented. Along with that, there won't be any spit-up, gas, or burping. Plus, no extra pieces mean no extra cleaning!
Particular Specifications
Comotomo baby bottles come in two sizes: 5oz and 8oz, and two colors: green and pink. Why are there two sizes? One for newborns and babies up to 3 months (5oz) and another for 3 to 6-month-oldṣ babies (8oz). The 5oz bottle has a slow flow nipple while the 8oz bottle has a medium flow nipple. They weigh 147gms and 164gms respectively.
Comotomo Baby Bottle Reviews Final Conclusion
Behind the scenes of Comotomo, baby bottles bring forward the unsolved issues of bottle rejection and nipple confusion. Comotomo baby bottles were developed to counteract these worries. It comes with a wide neck to facilitate easy cleaning by hand and silicone material plus a unique design to mimic an actual breast. The amazing vent system will prevent colic and other gastric issues in babies; so far the best make in the market according to millions of mamas.
Comotomo Baby Bottle Reviews FAQs:
1. What is special about Comotomo baby bottles?
The dual anti-colic Vent is the special feature of Comotomo baby bottles. There are two anti-colic vents placed on the nipples to ensure proper ventilation.
2. When should I replace the nipple and other parts of the Comotomo bottle?
Replacement of parts of the Comotomo baby bottle depends on the usage. It is strongly recommended to replace the nipples at approximately 3 months, whereas the bottle should be replaced every 6 months.
3. Why do Comotomo baby bottles collapse?
If you notice the bottle or the nipple collapsing, it indicates that the vents are causing the problem. Overtime use could cause the vents to be filled with milk residues. It is advisable to replace the bottle if such a situation occurs.
4. How do you mix formula in Comotomo baby bottles?
The formula is to be mixed with sterilized tap water and poured into the bottle. After boiling the tap water it should be cooled down for 30 minutes. Sterilization of tap water is important as bottled water could be contaminated.
5. Do Comotomo bottles come with a lid?
It comes with an anti-colic nipple that can be tightened onto the bottle.
6. Why do Comotomo bottles smell?
If you soak the bottle overnight then the bottle could retain the smell and stains. It's advisable to clean the bottle then and there.