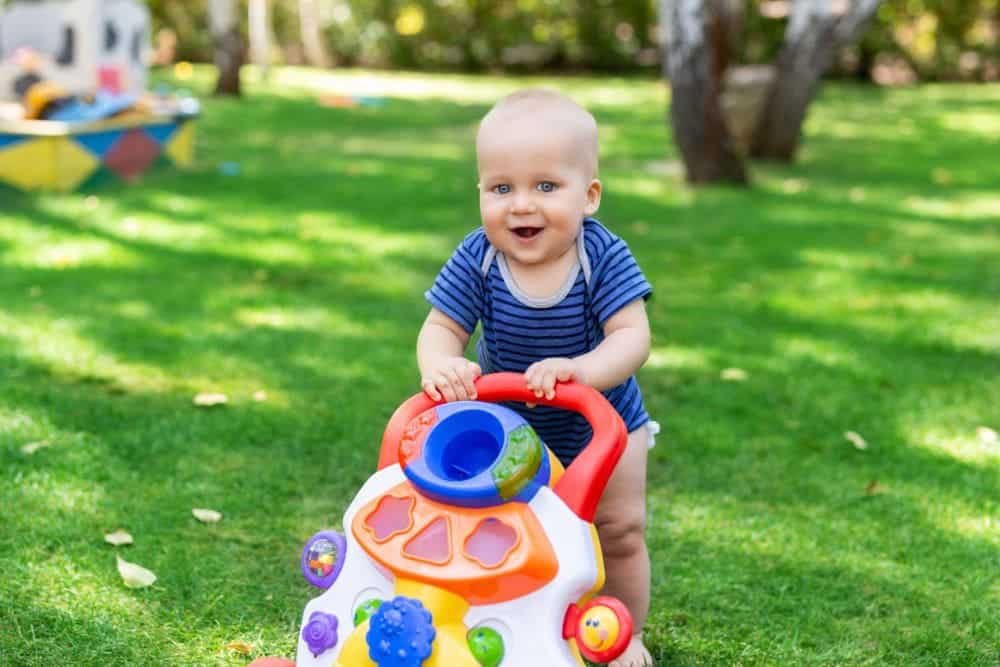 When your baby learns to pull themselves up to walk, having toys that encourage them to do so might be a fun way to get them used to move those chubby little limbs. For many years, it was assumed that the typical walking toy (the walker) was your only option. However, since these have proven to be a dangerous and foolish option over the years, parents are left wondering which are the best walking toys for babies.
A walking toy can help him gain confidence by providing him something to hang on to while he moves from point A to point B, as well as improve his balance and help him figure out how to place one foot in front of the other spatially.
What To Look For When Purchasing A Walking Toy?
First, always make sure your child is using their walking toys in a safe environment. To put it differently, when utilizing these toys, keep them away from stairwells, dogs, and the stove. Sit-in walkers with wheels, as previously indicated, are a nightmare waiting to happen. The American Academy of Pediatrics believes that they should never be used.
A walking toy is a stand-up toy similar to an adult walker, however, unlike the adult version, it has vibrant colors and toys attached. Walking toys are not the same as walkers that you put your baby in. Walkers should be avoided for your safety.
The American Academy of Pediatrics (AAP) has advocated for a ban on walkers, citing the fact that they send thousands of children to emergency departments each year. Walkers can cause unintentional falls and drownings, as well as accidental burns or poisonings if the infant can reach countertops.
If you want to get the most out of your walking toy, consider getting one that can transform from a walking toy to a floor toy or even a table as the child grows.
You want a walking toy that doesn't place your kid near anything they could pull down on themselves, that stimulates movement but doesn't put them at risk of falling, and that, ideally, has built-in safety features like a parent's participation or slow-moving elements to keep them safe. Thankfully, there are several on the market, and we have identified a few that aren't just entertaining – they're also useful.
Various Types Of Walking Toys :
 There are several walking toys on the market, but only a few are certified safe for your baby. We propose the following options:
Toys that allow you to stand up and sit down: Your infant, aged between 9 to 12 months, is most likely practicing standing Sit-to-stand toys are generally designed to assist this movement and serve two purposes: Baby can play while sitting or standing
Toys that you can push: These will help your child learn to stand (and eventually walk) on his own. Pushing on these toys improves your child's strength and balance while also instilling confidence in him to keep moving. These toys encourage him to use his imagination by allowing him to pretend to mow the grass or go grocery shopping (just like you!). To avoid tipping, go for a push toy with wide wheels
Toys that you can ride on: Ride-on toys are scooters or trikes with seats that your tot can cruise around in by pushing on the ground with his feet. They are designed for older babies (1 year and above)
Let's take a look at some of the best walking toys for babies
Top 21 Best Walking Toys For Toddlers
1. VTech - Best Walking Toys For Babies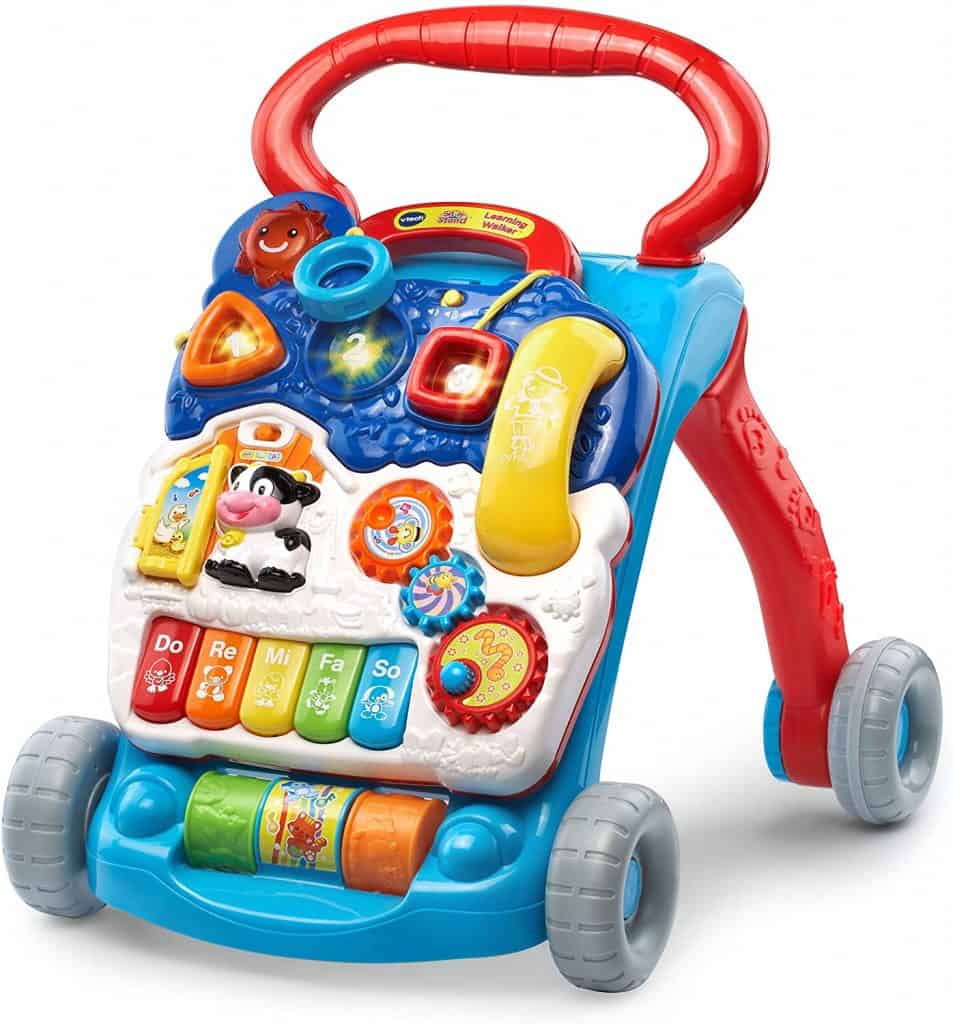 With piano keys, a phone, shape sorters, rollers, light-up buttons, sing-along tunes, and more, this bestselling sit-to-stand toy serves as a portable baby entertainment center. The four wheels provide a sturdy platform for the baby, and the wheels may be adjusted for speed.
The play panel may be removed, allowing your baby to enjoy it as a floor toy until he is ready to walk. This is a delightful toy that helps enhance a baby's small and big motor abilities as well as inspire imagination, thanks to its vivid colors, beautiful creatures, and more than 70 songs. It's recommended for ages 9 months and up and weighs 2.2 pounds.
2. Fisher-Price Puppy Walker - Best Walking Toys For Babies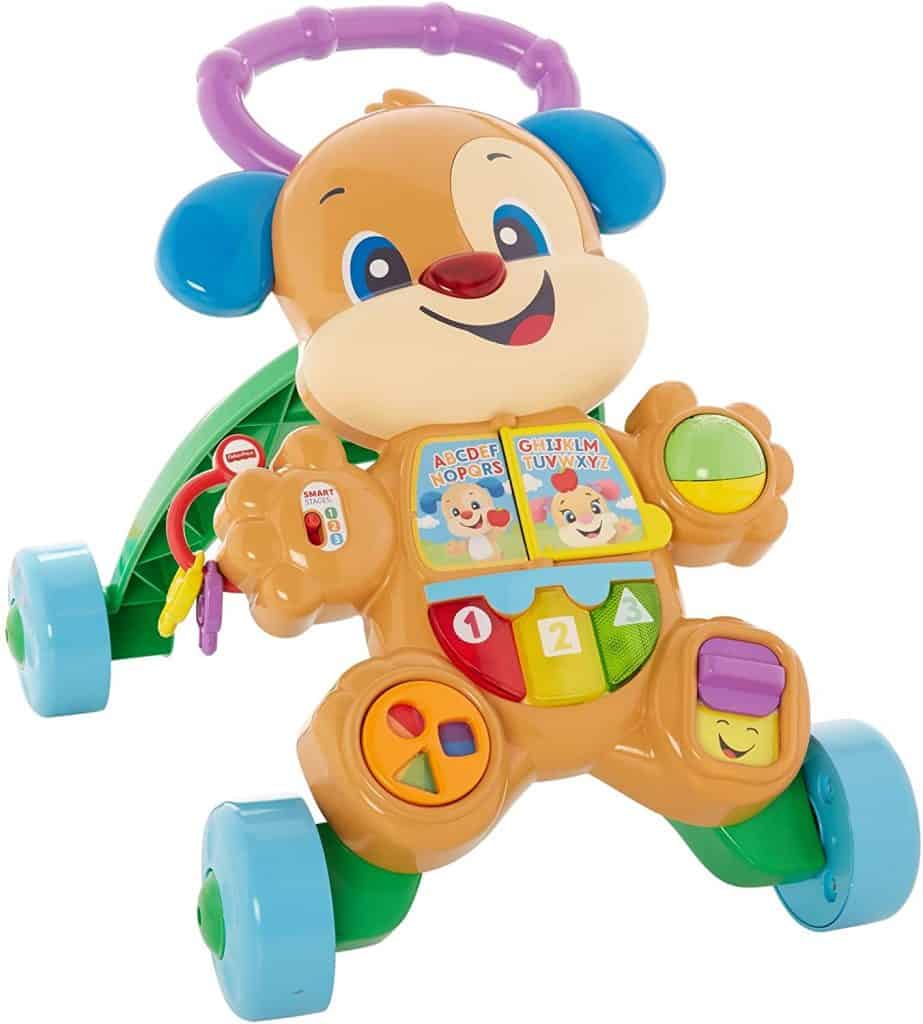 With the puppy's light-up nose, piano keys, roller, spinner, and flip pages, your baby will not only be able to practice walking, but he will also learn the alphabet, shapes, colors, numbers, Spanish words, and more.
As early as 6 months, the baby can utilize this toy as a sit-and-play toy. The easy-to-grasp handle keeps him steady during those initial unsteady steps once he's standing up. This walking toy also teaches cause and effect while helping kids improve fine and gross motor abilities. It's best to use it on the carpet until your baby has confidence in his walking abilities. It's recommended for ages 6 months and up and weighs 4 pounds.
3. Zebra Walker by FIsher-Price - Best Walking Toys For Babies
Toys that spin, twist, flip, light up, and encourage your baby with encouraging remarks like "Keep going!" are housed in this friendly zebra.
While the toys cannot be removed as easily as they can on other, more costly versions, the baby may still play with them while sitting. Some clever parents prop it up against a wall to keep it from moving in this mode.
Parents say the broad wheelbase maintains the speed modest and steady as a plush toy, and that it works equally well on carpets and wood floors.
4. Bright Starts Walker - Best Walking Toys For Babies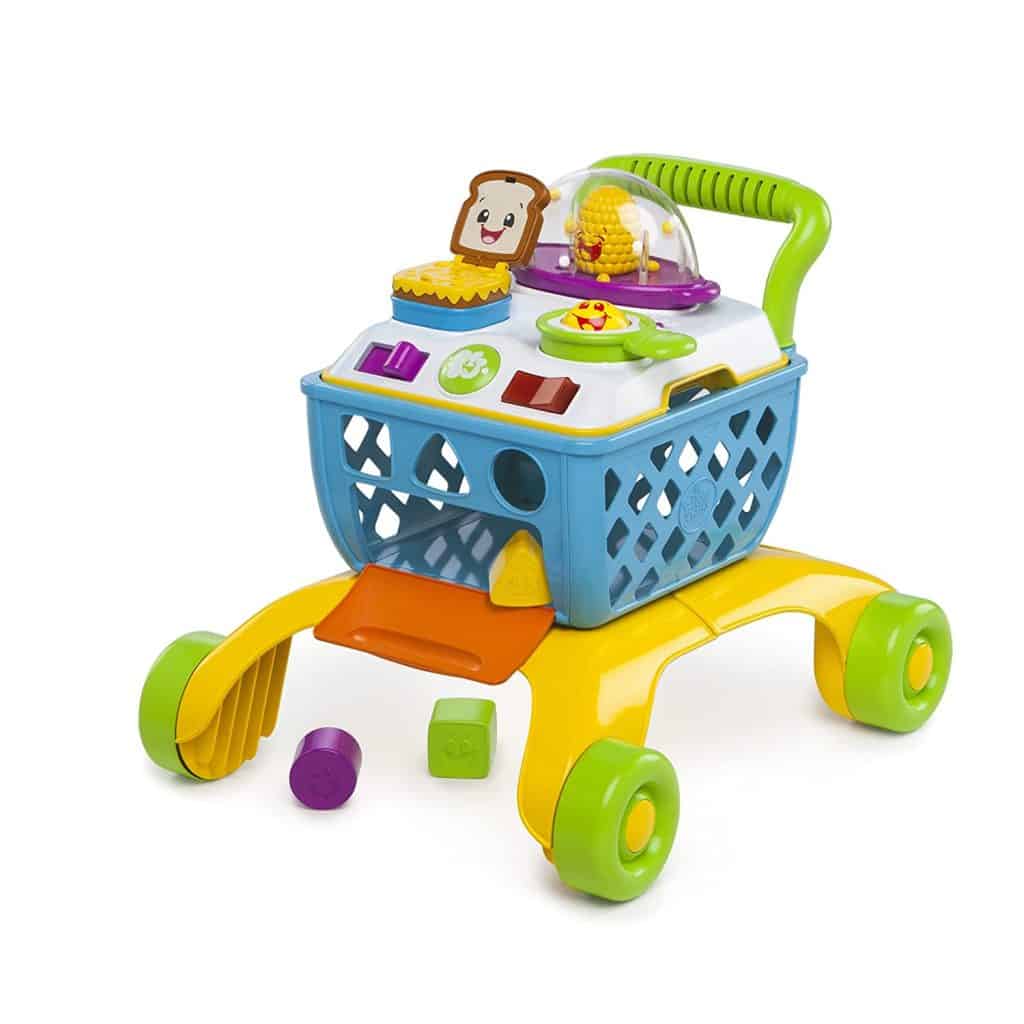 This sit-to-stand toy will last your baby for years.
Your child may use the detachable stove as a sitting toy before he learns to walk. He'll be chuckling at the goofy pop-up sandwich and light-up button with sizzling sounds.
Return the stove to the supermarket cart and lock the wheels for a stationary toy after the baby is standing. The broad, strong legs keep him upright as he takes his first steps when he's on the move. (With each stride, the popcorn will "pop" to urge him to keep walking.)
Lastly, remove the stove so he may pretend to use it as a shopping cart.
5. Toddler Wobbler by Brio - Best Walking Toys For Babies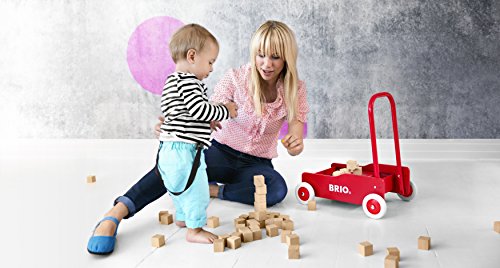 This sleek push toy is comprised of solid beechwood and will appeal to parents who like to keep things simple. It's simple to assemble and works on baby power rather than batteries.
When the baby is still learning to pull himself up, you may position the handle straight up, or at an angle once he's ready to move. Your child will enjoy carrying his favorite toys around the room.
The huge rubber wheels will not scratch your flooring, and the brakes may be adjusted.
6. Skip Hop Kids Scooter Toy - Best Walking Toys For Babies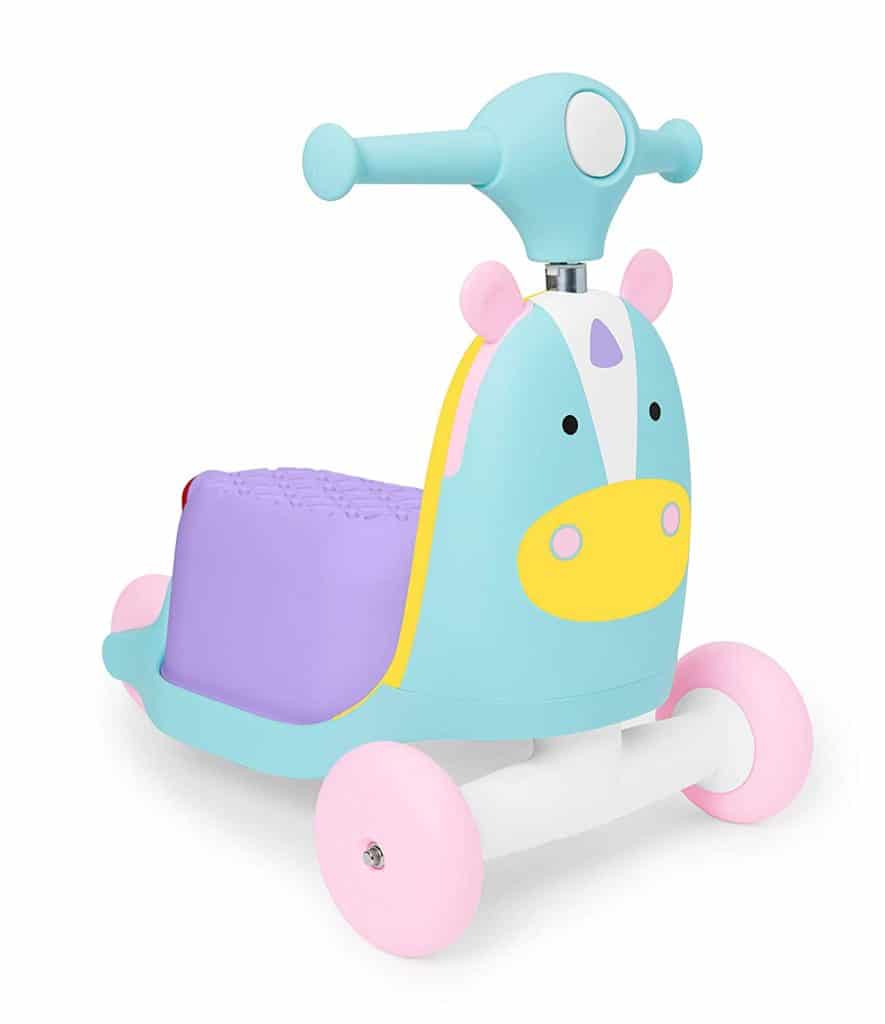 You already adore their diaper bags, but you'll fall in love with their Skip Hop walking toy even faster. Why? You'll get your money's worth out of it because it's three toys in one.
It is initially a walker with a box for the baby's toys, but the crate can be flipped over to become a seated ride-on toy. Finally, it may transform into a scooter.
The handlebar is adjustable, so no matter how quickly your child grows, you'll be able to keep it at the proper height.
7. Melissa and Doug Alligator Plush Toy - Best Walking Toys For Babies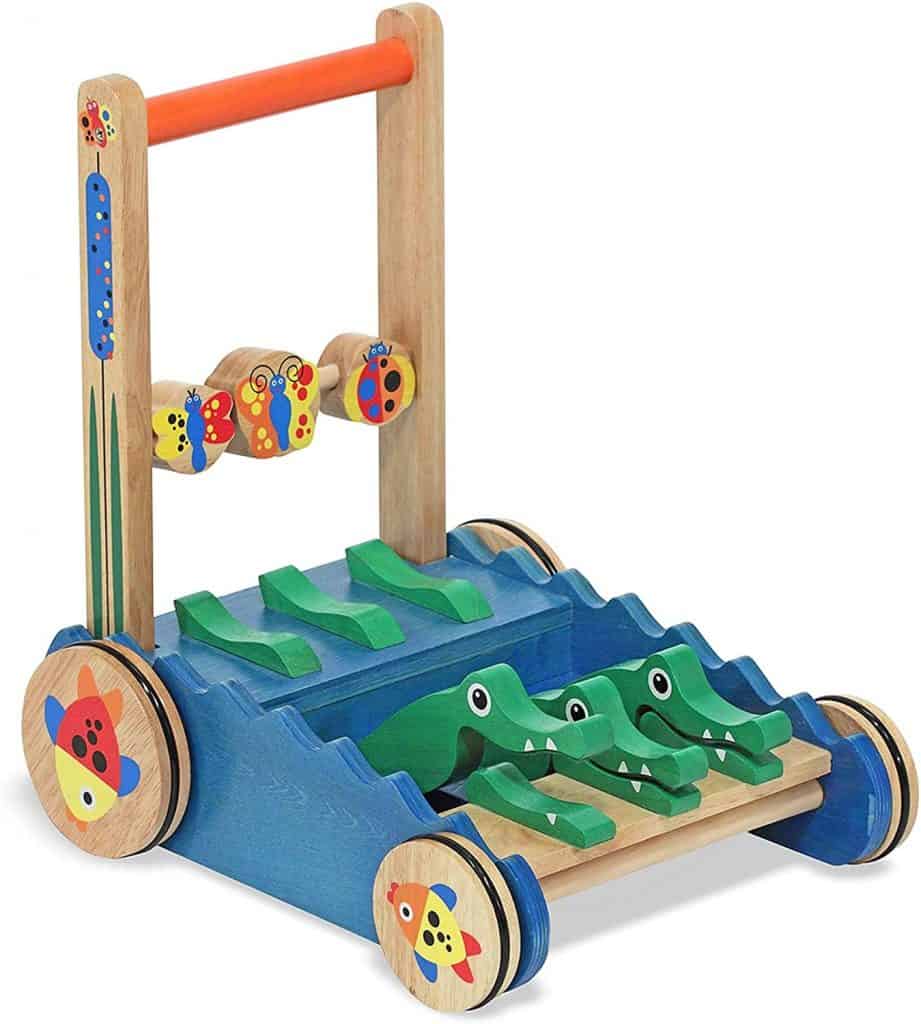 Even with its non-skid wheels, this wooden push toy is best for walkers rather than those just starting to walk, as it moves quicker than plastic ones. (On the plus side? The structure is of excellent quality and durability.)
The soft clacking that the three alligators make when they "walk" will delight babies aged one year and above, and you'll like how it tells you that the baby is on the move without being overbearing.
This plush toy also includes spinny toys with butterflies and ladybugs, as well as wheels painted in baby-friendly hues to keep toddlers entertained.
8. VTech Alphabet Train - Best Walking Toys For Babies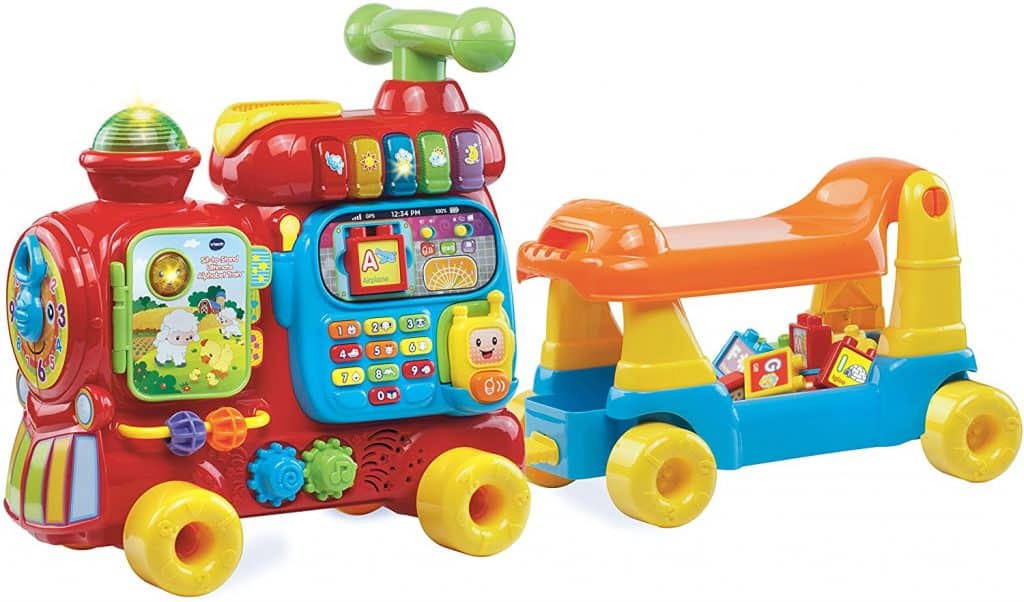 One thing is certain: when this sit-to-stand toy is around, the baby will not be bored. It includes ten different tasks, such as twisting gears, pushing buttons, playing piano keys, flipping storybook pages, and more.
This train will help your child learn to read and count with 13 double-sided letters and blocks that are numbered as they go down the chute. It plays a total of 100 tunes, melodies, noises, and phrases in total.
9. Walker Wagon by Radio Flyer - Best Walking Toys For Babies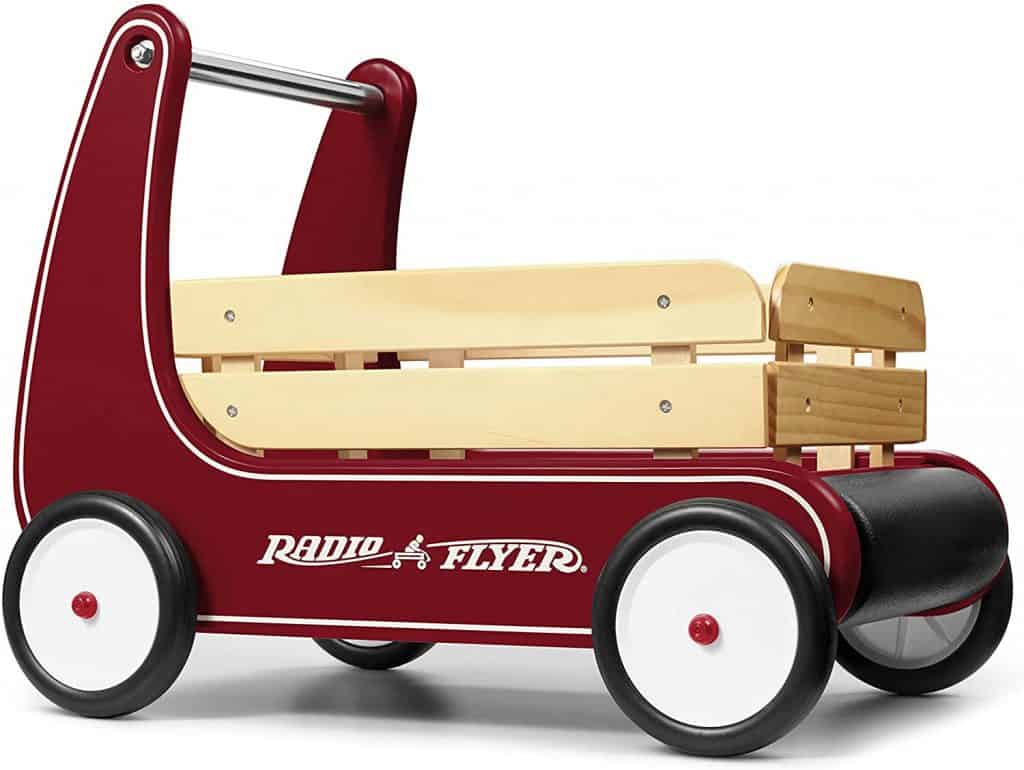 Many people remark that many of the best walking toys for babies are excessively fast, particularly for inexperienced walkers. That's why parents adore the "resist push" function on this Radio Flyer wagon, which enables the baby to develop confidence and balance. A smooth and steady ride is provided by the molded wheels with grip treads.
Parents will also appreciate that this push toy has bumpers to protect your furniture and walls from scratches and damage. In addition, while not in use, the traditional design doubles as a lovely toy box.
10. WowWee Shark Melody Walker - Best Walking Toys For Babies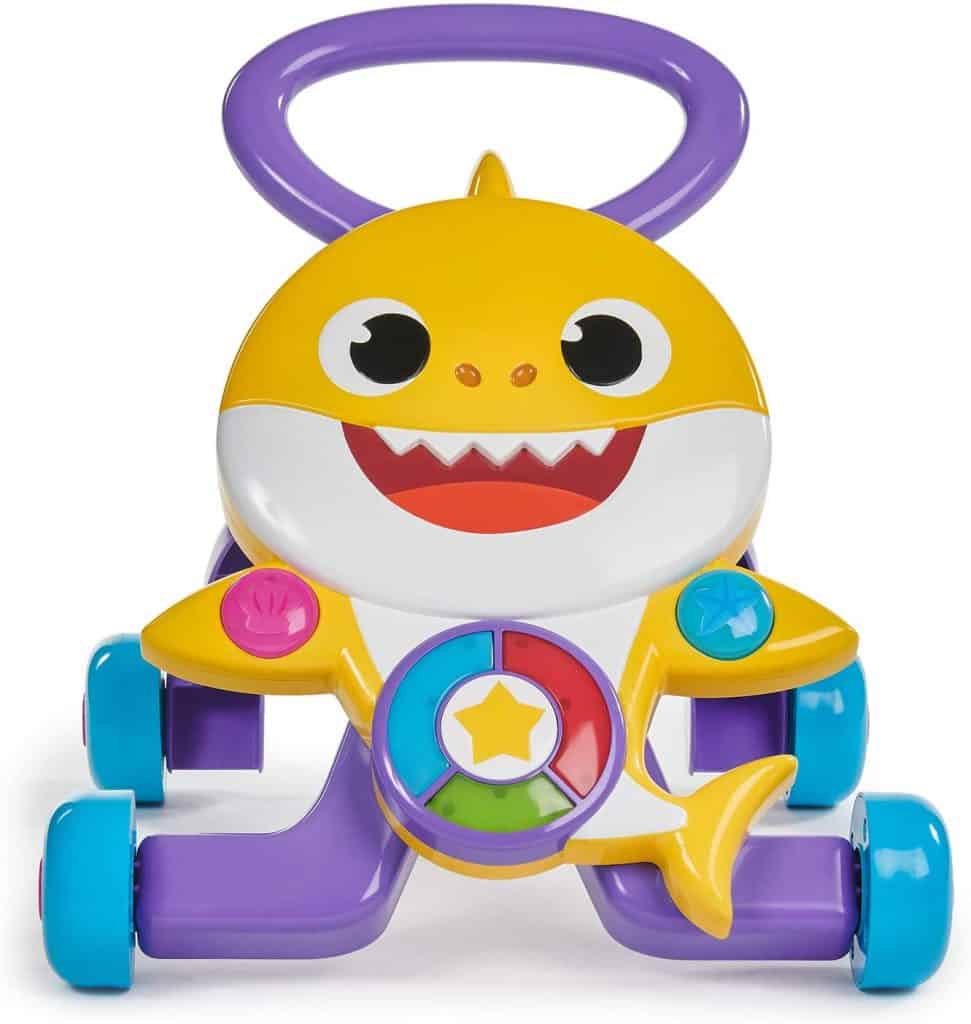 With this engaging activity toy, your small baby shark will be encouraged to get up and stroll. When your infant starts pushing the baby shark, the lights and music start, and when they stop, the jams stop. It's essentially a mobile baby party, so your child will be encouraged to begin moving and grooving.
Since these wheels don't have a lot of traction, they're not the simplest to get moving – which is really a good thing.
11. Toy Shopping Cart by Melissa & Doug - Best Walking Toys For Babies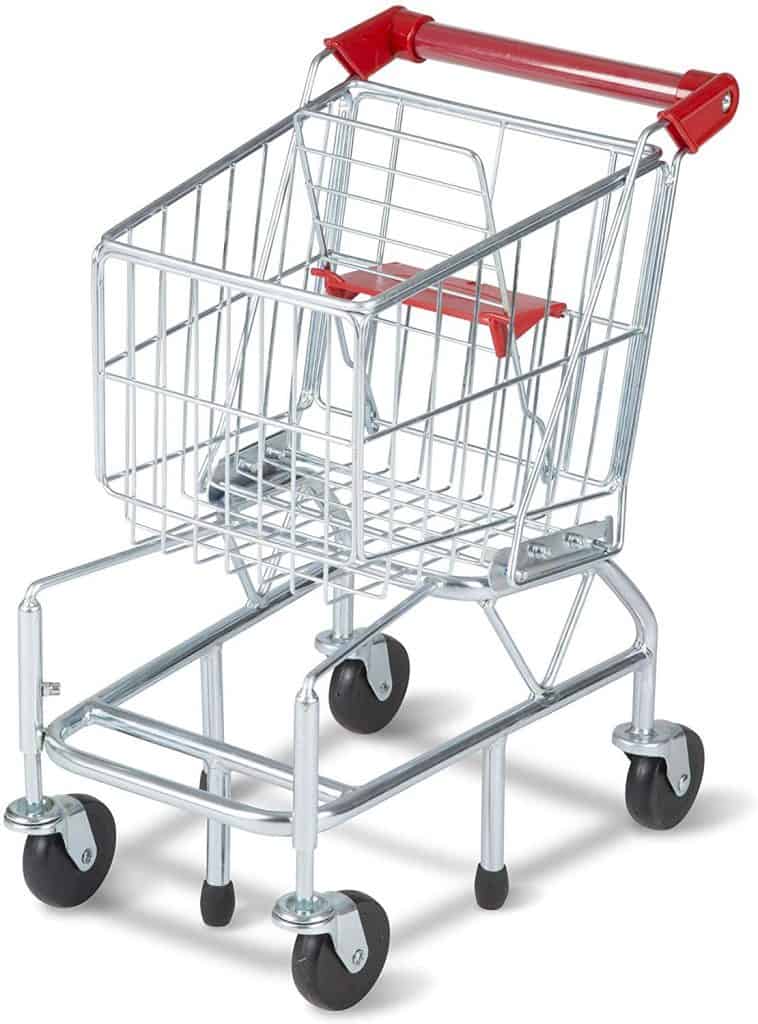 This easy-to-push grocery cart is ideal for toddlers who are just learning to walk. This robust toy is great for tots through the early childhood years, with thousands of favorable reviews on the internet.
And did you see those little legs near the wheels? They will cause your child to become more sluggish.
12. Labebe Wooden Walker - Best Walking Toys For Babies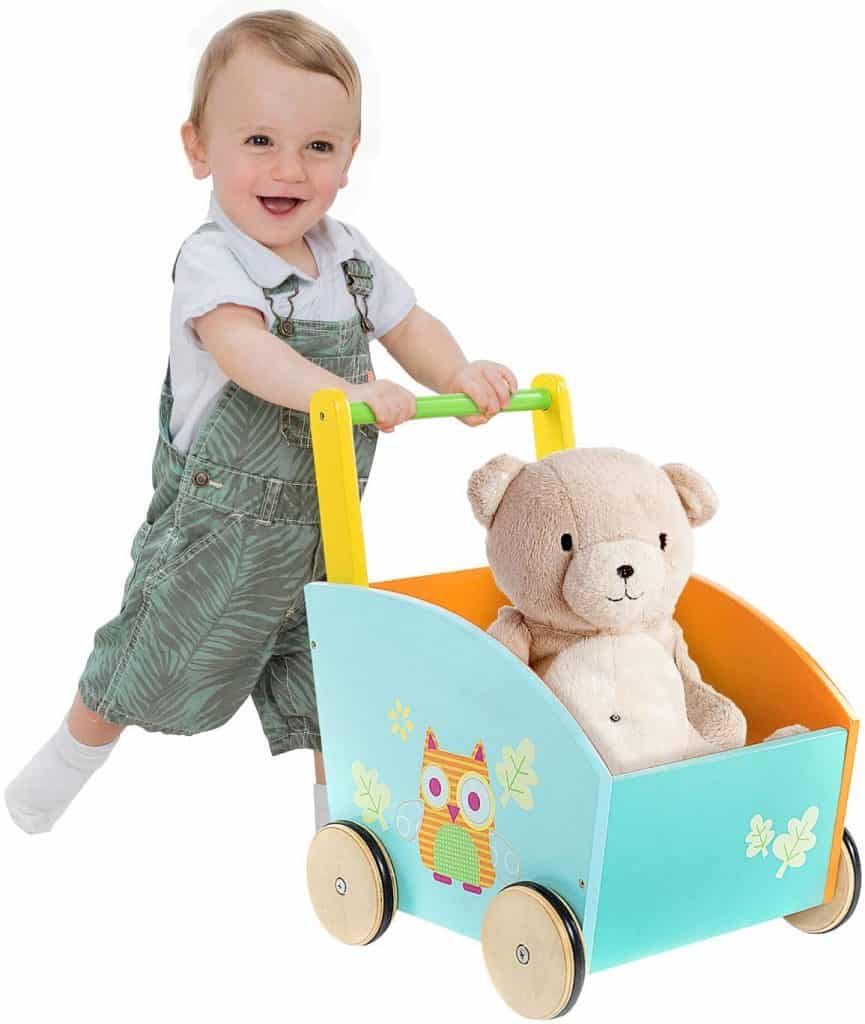 Although this baby-walking toy contains built-in barriers in the form of blocks, there's a good possibility your child will construct a wall of blocks simply to get past it. Isn't it teaching them a lot?
Furthermore, the toy has storage. Will they just end up throwing in a bunch on the cute baby fox? Yes, of course. It's a win-win situation for everyone.
13. Baby Einstein Walker - Best Walking Toys For Babies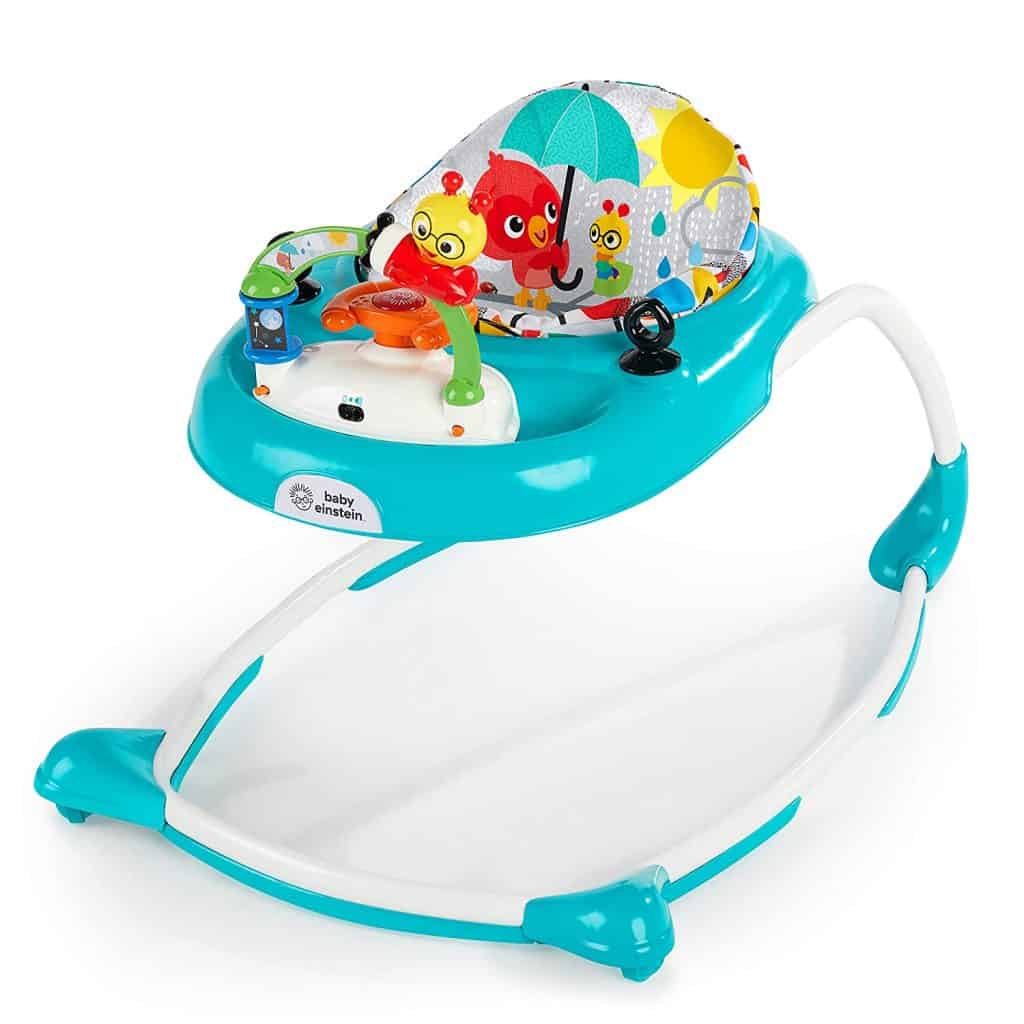 With this walking toy, your toddler will feel they are going someplace. This rotating activity center, which is the walking version of a fake iPhone, gives your youngster a lot of exercises while still giving them lots to do.
14. Wonder & Wise- Best Walking Toys For Babies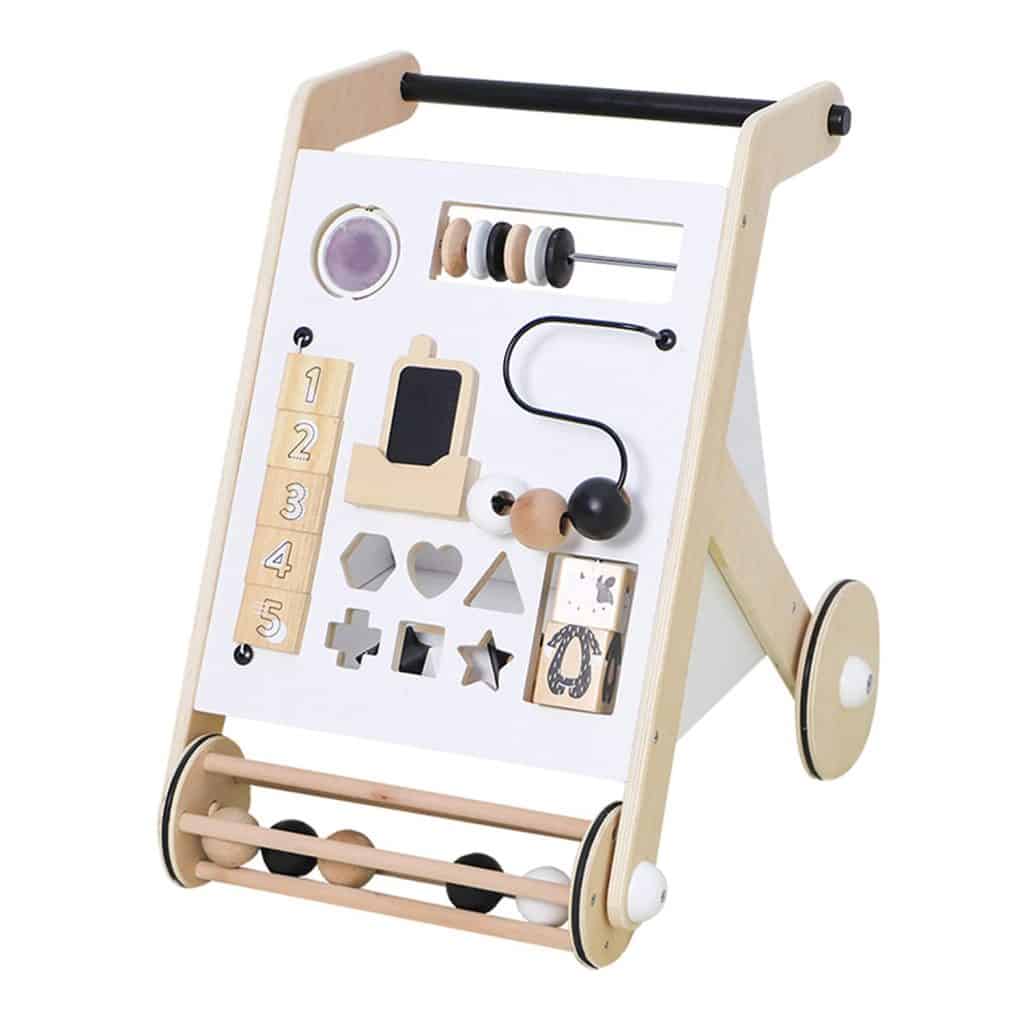 Who gave this walking toy the authority to be so fashionable? Just take a look at her – she's a knockout in black, white, and natural wood. Someone must have started a Scandinavian toy firm with a team of sophisticated designers solely to build this activity center.
Plus, did you see the small bouncing balls at the front? They provide the same type of entertainment as the popcorn toy. This baby-walking toy works best in a back-and-forth motion, which children like.
15. The Kolcraft Walker - Best Walking Toys For Babies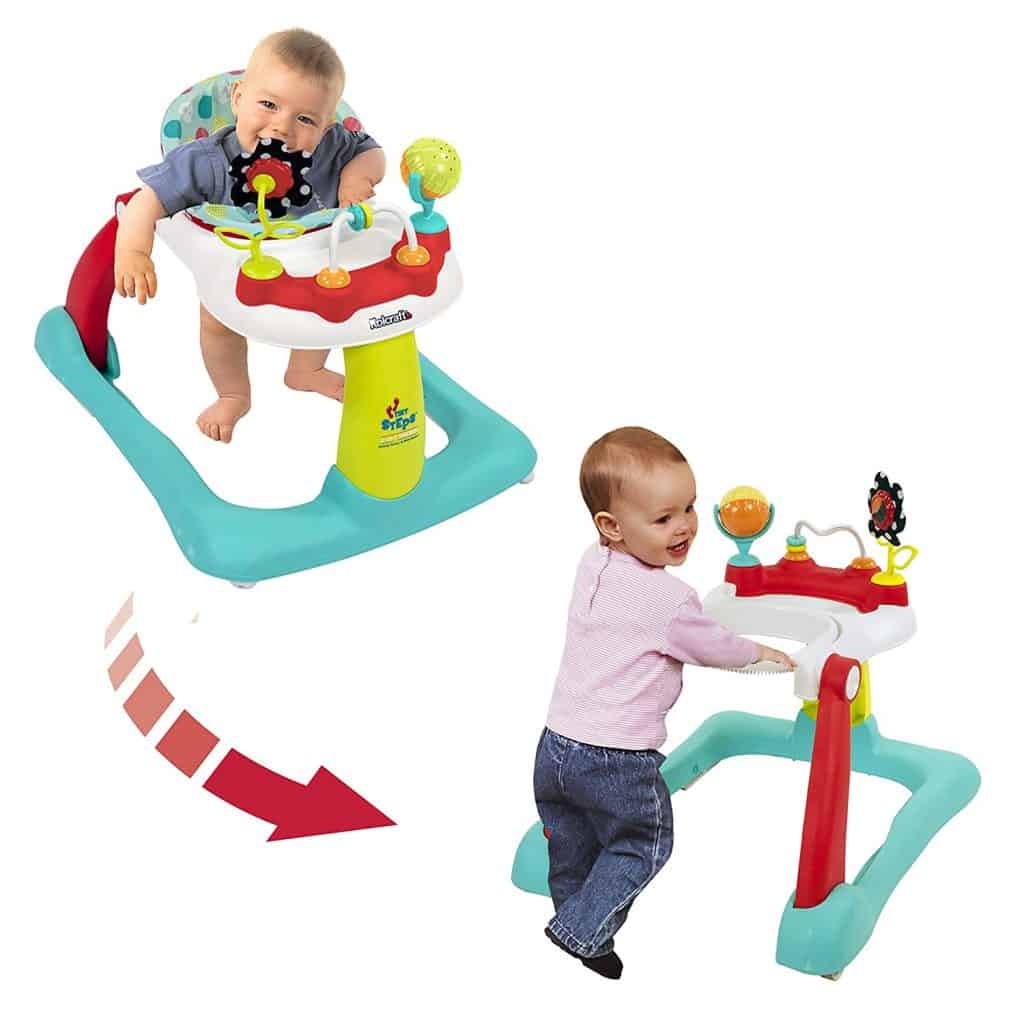 The Kolcraft Tiny Steps 2-in-1 Activity is a two-in-one walker. Since it begins out as a sitting walker and transforms to a standing walking toy as the baby grows stronger and more active, it may be used at a younger age than most walking toys. Gear that can be used at all stages of a child's life? That's music to the ears of every parent.
16. Little Balance Activity Baby Table - Best Walking Toys For Babies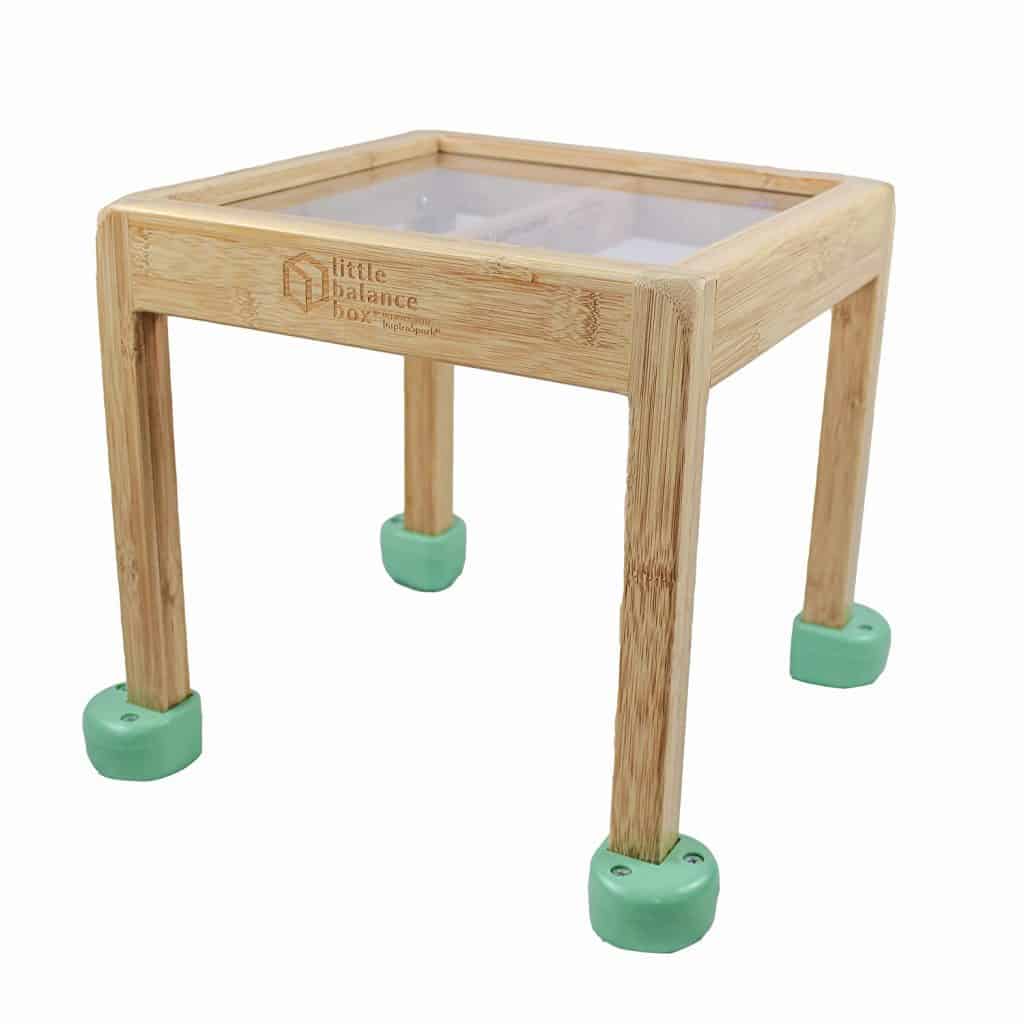 No surprise here, Amazon has the most five-star reviews for this award-winning Little Balance 2-in-1 Activity Table. Parents like the eco-friendly design as well as the fact that the spring-loaded feet allow the baby to move more slowly than with typical wheel walkers.
17. Busy Baby Deluxe Walker - Best Walking Toys For Babies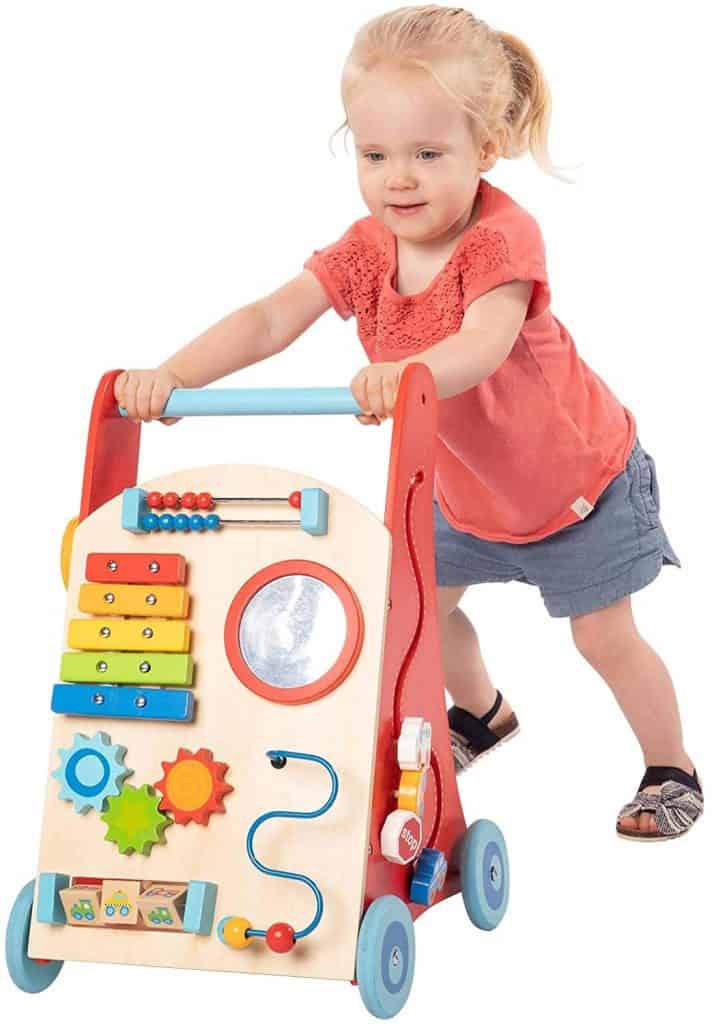 The Busy Baby Deluxe Walker is the pinnacle of the best walking toys for infants. It's packed with multi-sensory toys, as well as being extremely strong with rubber-lined wheels that provide a smooth ride with just the right amount of resistance. The Busy Baby Walker has it all: a bead counter, a xylophone, spinning gears, you name it. Is there a bonus? When your child has toys to transport, it includes a net-covered storage place in the rear.
18. Hape's Block and Roll - Best Walking Toys For Babies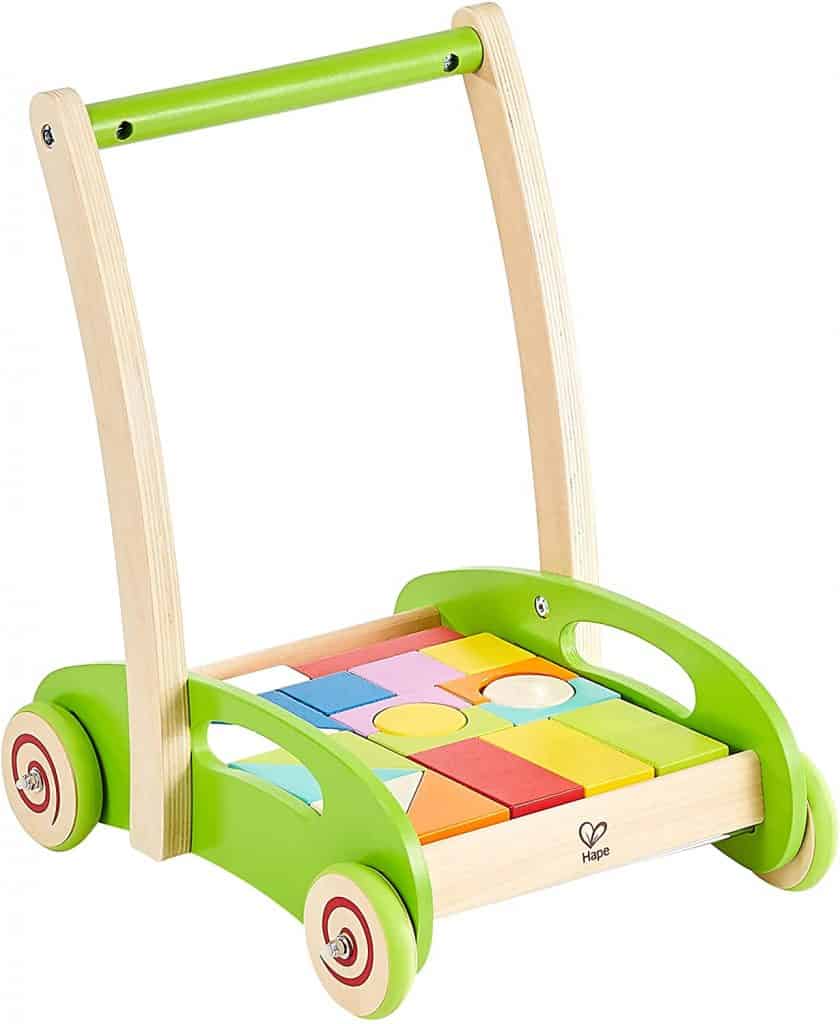 Hape knows how to make a baby walking toy seem stylish. With its walking toy/building block center, the Block and Roll Walker from the wooden toy manufacturer combines elegant form and utility. Playing with the colorful stacking blocks will keep infants entertained until they are able to pull themselves up to walk. They'll enjoy traveling about in style once they can transition from sitting to standing.
19.Kids & Koalas - Best Walking Toys For Babies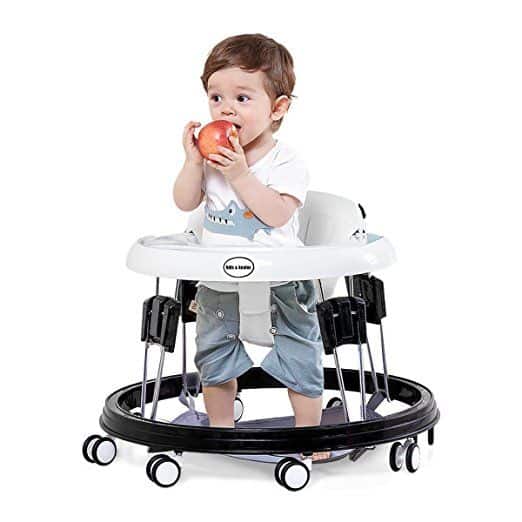 When small ones start to discover their feet, they won't let anything stand in their way — this walker has 8 wheels to accompany them in whatever direction they move next. It also boasts an anti-roll construction, which ensures that it will not topple over no matter how much the kids jump around.
20. Little Bird Told Me Push Along Walker - Best Walking Toys For Babies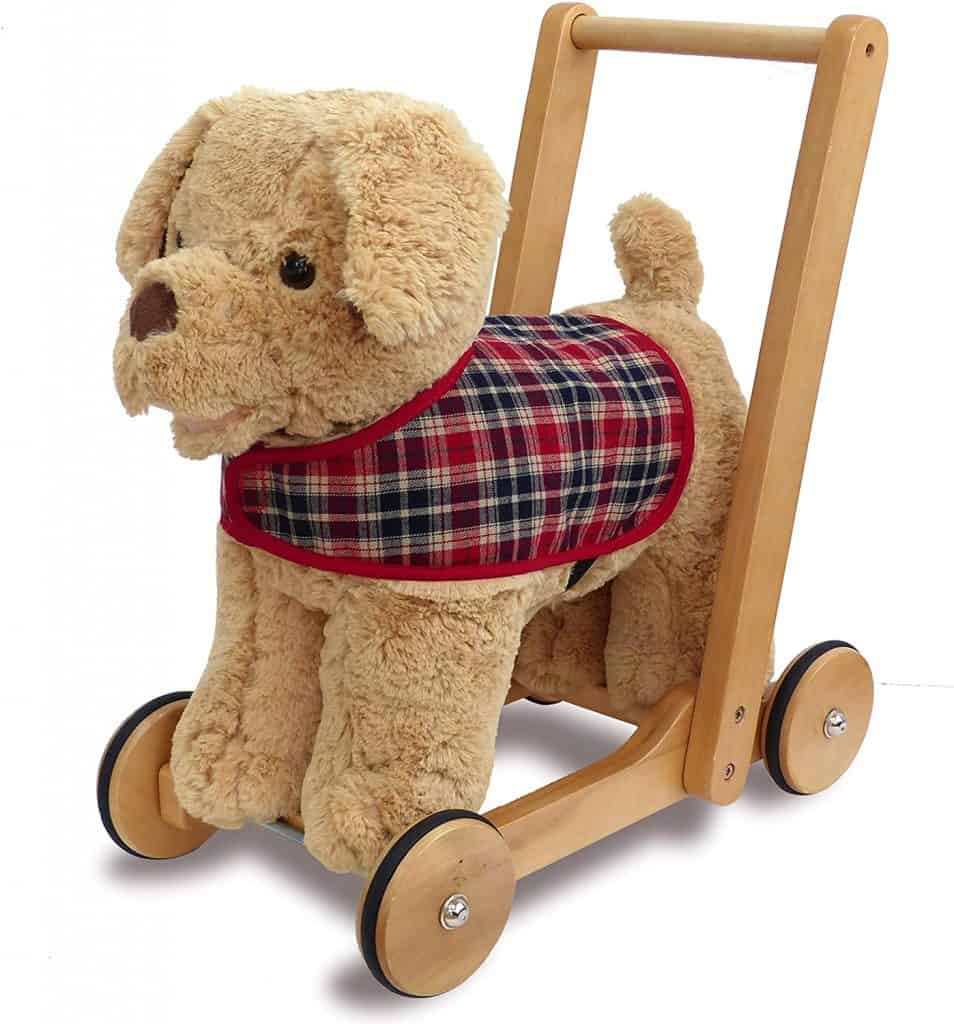 Even before they can take it for a stroll, kids will enjoy snuggling this push-along. Scottie Dog has silky fur and a gorgeous red, checkered neckerchief, and when youngsters grow tired of pushing him around, they can ride on Scottie's back and let him do the job.
21. Little Tikes - Best Walking Toys For Babies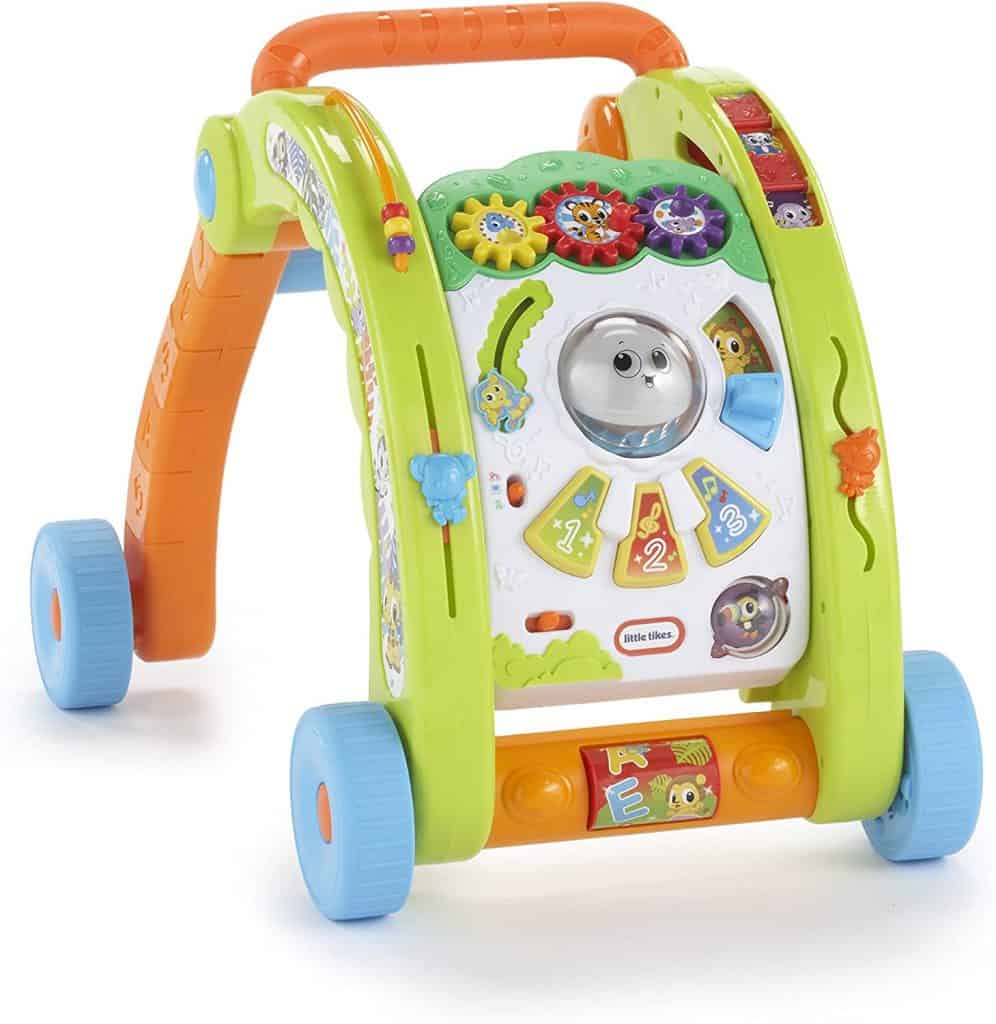 The Little Tikes 3-in-1 folds flat for convenient storage and transport, making it an excellent choice for traveling or visiting Grandma.
21 Best Walking Toys For Babies FAQs :
1. What exactly is a baby walker toy?
Traditional baby walkers, in which a baby sits within the walker and wheels about, are not safe and are not recommended by physicians. They also don't assist infants in learning to walk. Baby walkers, on the other hand, are OK to use if your child walks behind you and pushes them.These aid with the balance of newborns learning to walk so that they can take their first steps. A baby walker functions as a piece of furniture that babies may hold on to and push across the room for babies who are already cruising on furniture. Some baby walkers resemble wagons, automobiles, or shopping carts, while others turn into a ride-on toy or scooter for your developing toddler.
2. When can babies use walking toys?
As early as 6 months, the baby can utilize this toy as a sit-and-play toy. The easy-to-grasp handle keeps him steady during those initial unsteady steps once he's standing up. This walking toy also teaches cause and effect while helping kids improve fine and gross motor abilities.
3. Does using a walker delay walking?
Most parents purchase them because they believe that walkers assist babies to learn to walk faster. However, the converse is true: using a walker might cause a delay in independent walking. That's because learning to walk isn't so much about learning to utilize your legs. Babies do not learn any of this when they are placed in walkers.
4. How do push toys help babies walk?
A push toy helps a baby to view his legs and feet and practice standing and stepping in a much more natural way when learning to take his first steps." You don't have to spend a lot of money on a fancy push toy.