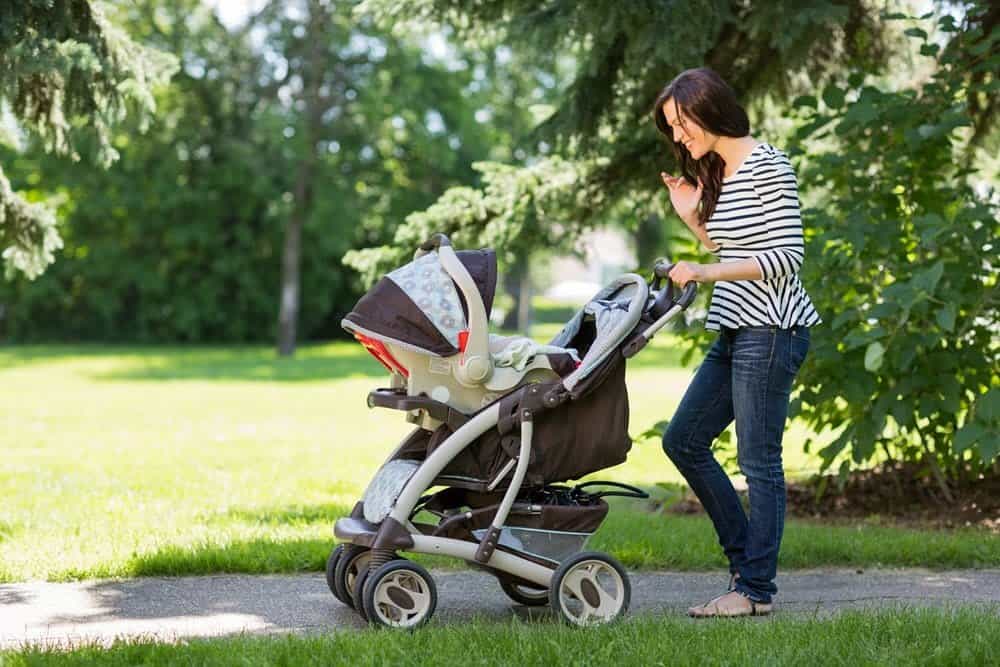 Here are the best travel systems for babies, Car seat-strollers or travel systems are combinations that make your traveling or even getting out to the neighborhood along with a baby much easier.
A car seat and a stroller are key components when you get ready to roll out with your little one all thanks to the smart human who created the concept and the stroller itself in the first place making it easier to just simply clip a car seat onto the matching stroller. You could choose to make one or both the purchases that are perhaps great essentials when you have a baby around you.
You now don't need to wake your little one up for transferring them to the car seat-to-stroller and are guaranteed to work great together. Simply unclip the car seat from the base of the backseat and snap the stroller onto it.
Best Car Seat Stroller: Why Do I Need One?
A baby will not be ready for a stroller until they learn to sit unassisted which happens once they are six months old.  This is why it is important to purchase a stroller with a bassinet or one that has a fully reclined seat making it safe for newborns. To avoid moving your child out of the car seat there is an alternative of purchasing a stroller that allows the baby stroller to attach to your car seat.
Best Car Seat Stroller: When Should I Buy a Travel System?
At around the age of six to nine months, you could purchase a travel system or even before the birth of the baby. This will help ease the travel of the little one giving them a good view of the world while in the car. You could use a full-size stroller too, they will be handy from infancy through toddlerhood.
How To Choose The Best Car Seat Stroller in 2022?
Here is a list of the top eight Car seat-strollers for your reference to choose from:
1. Chicco Bravo Trio Travel System: Best Travel Systems For Babies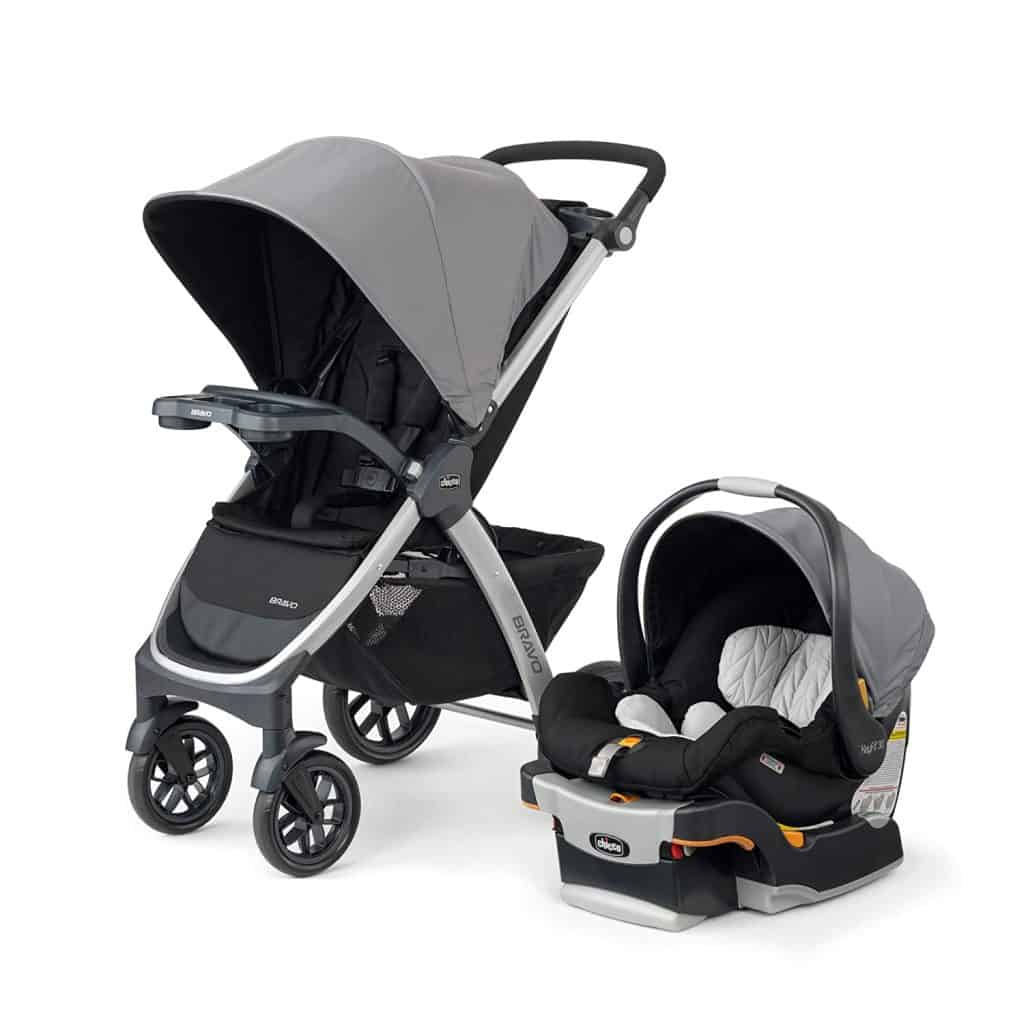 This Bravo travel system is known to be the favorite of parents as it is easy to install and has a removable seat. It is also lightweight with a skeleton frame that helps carry an infant car seat that transforms into a full-featured stroller for bigger kids. The Chicco Bravo Trio travel system comes with parent cup holders along with a tray to hold your keys and phone. On the other hand, some find the stroller hard to steer.
2. Britax B-Free and Safe Ultra Travel System: Best Travel Systems For Babies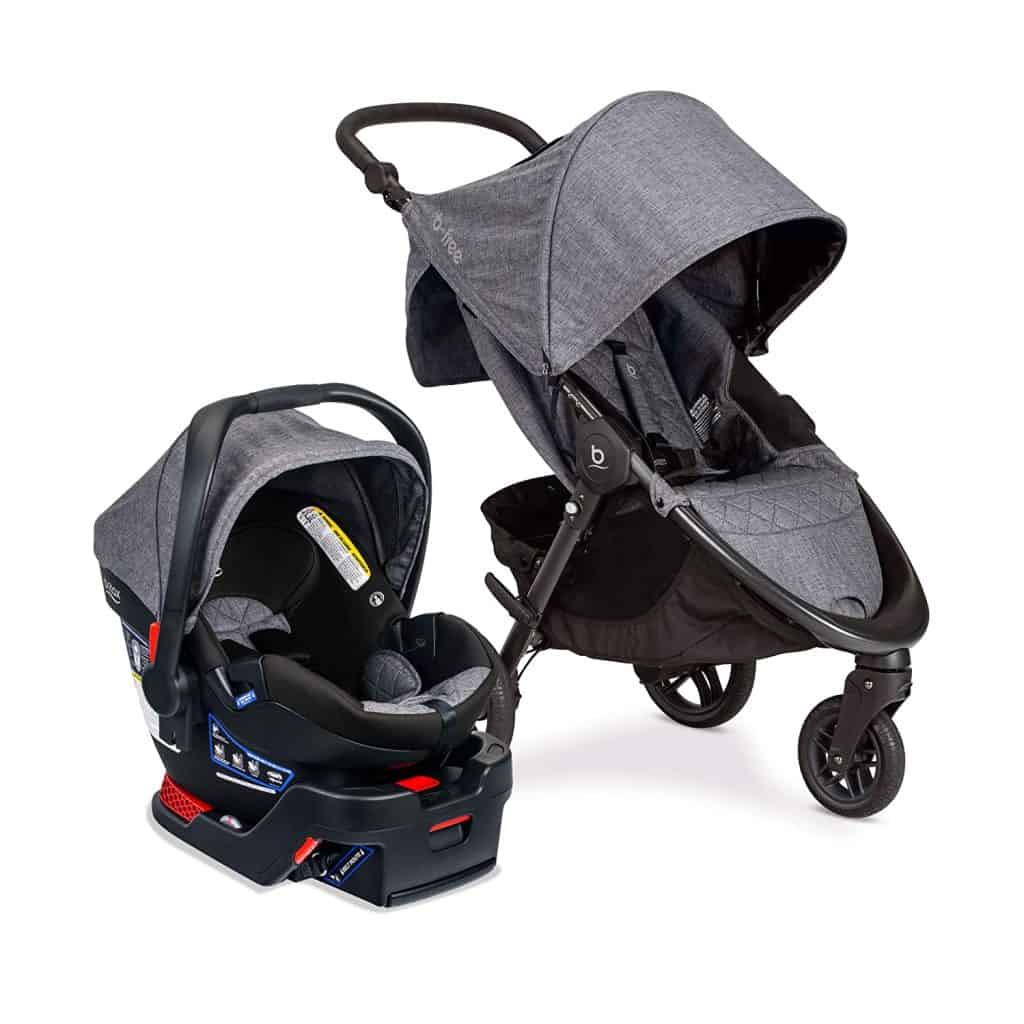 It is a tall travel system that has a  roomy seat attached to the B-Free stroller that helps keep the kids comfy up to 65 pounds, unlike most strollers that can carry only up to a 50-pound weight limit. It has an SPF 50 canopy that keeps the baby in shade and protected from wind and rain when fully extended.


The stroller has a one-hand fold that locks the stroller into a self-stand position and a storage basket to access from the back or front. It also has about seven storage pockets to keep necessities like keys and phones when you walk. The seat of the stroller is washable too.
3. UPPAbaby Cruz Stroller: Best Travel Systems For Babies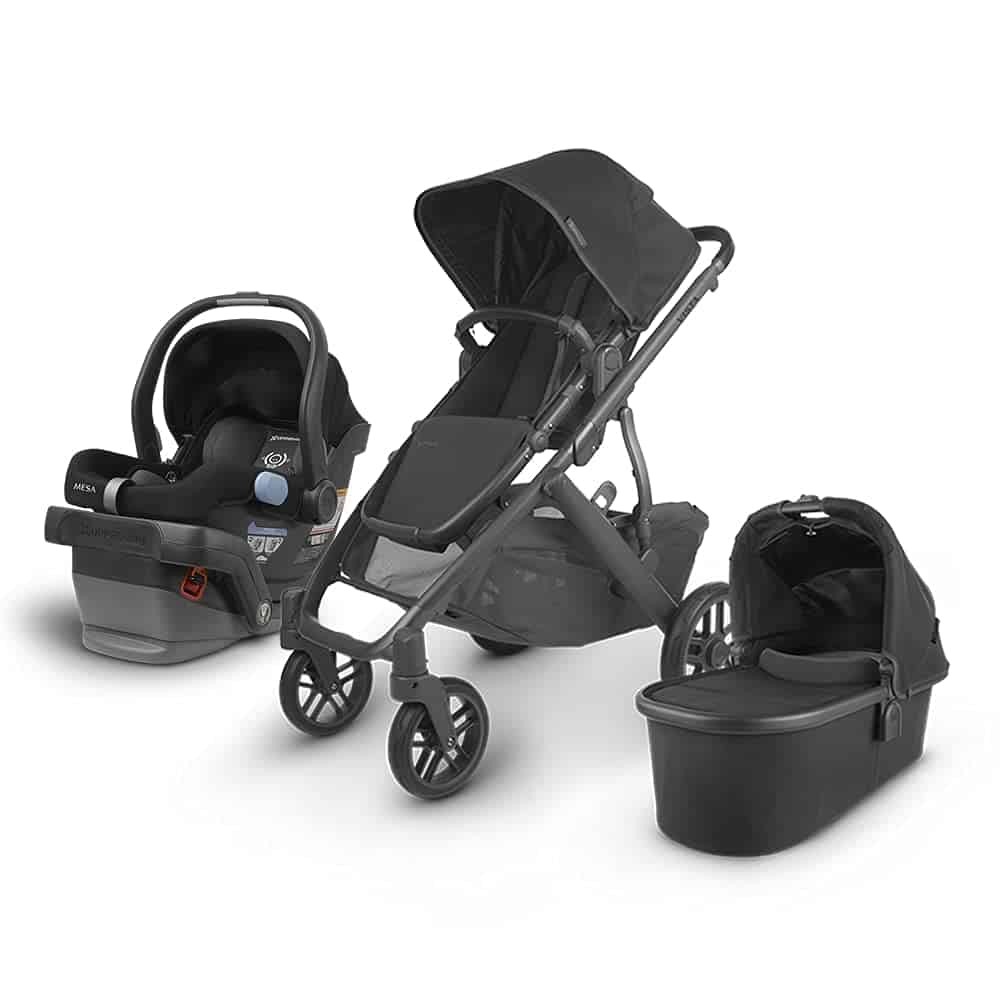 The Cruz stroller system has amazing features packed into a compact and slim profile and can be steered using one hand making it easier to handle on rougher surfaces like gravel and cracked sidewalks.
Its Mesa seat is reversible that helps parents have a front-facing view of their baby and has multiple reclining positions. The stroller has an enormous SPF 50 canopy that has a mesh bug net and a rain cover with a huge storage basket, a telescoping handlebar, and a red-to-green light indicator properly secured.
4. Baby Jogger Travel System: Best Travel Systems For Babies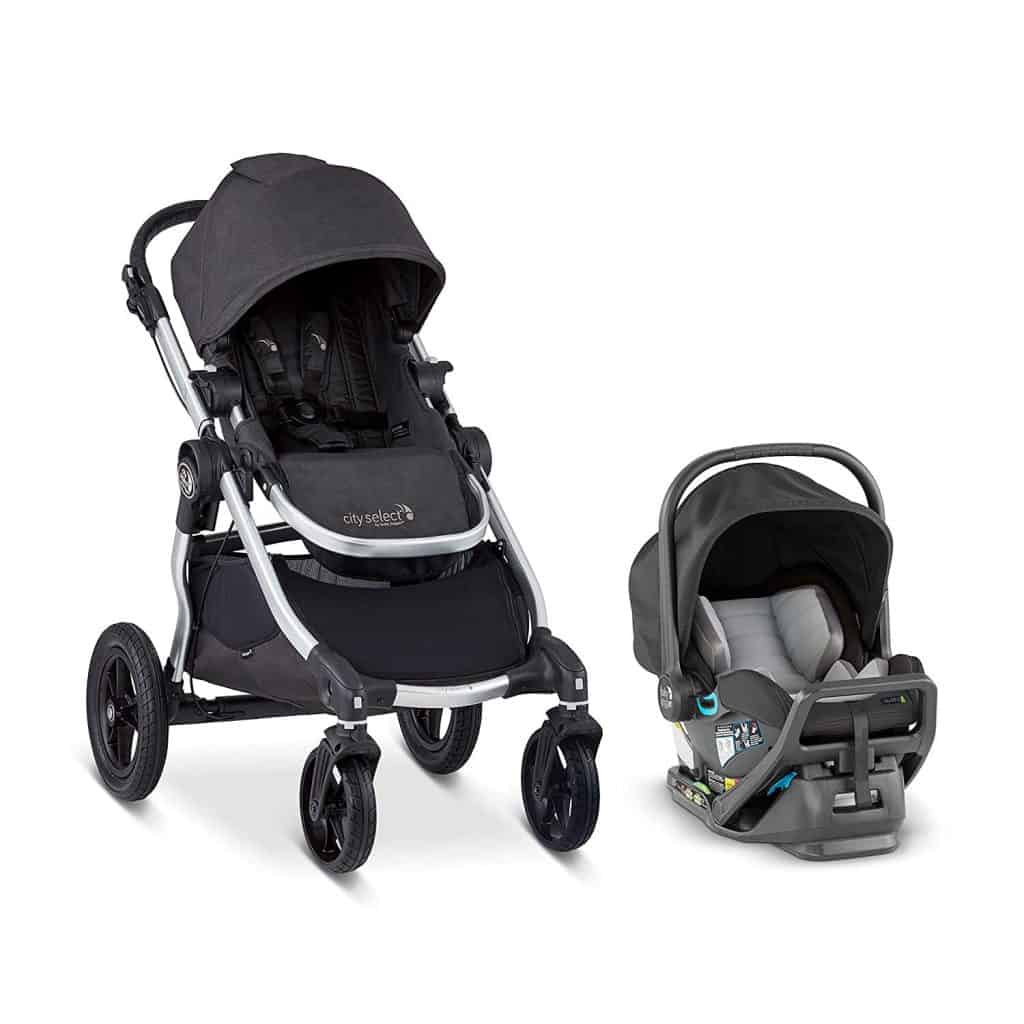 It is a travel system with a car seat as well as a jogging stroller that can be handled quite easily. The stroller boasts the ability to make quick, sharp turns with bicycle wheels.
The Jogger comes with a jumbo-sized storage basket that folds effortlessly with pull triggers besides the handlebar for safety.
5. Nuna Tavo and Pipa lite LX Travel System: Best Travel Systems For Babies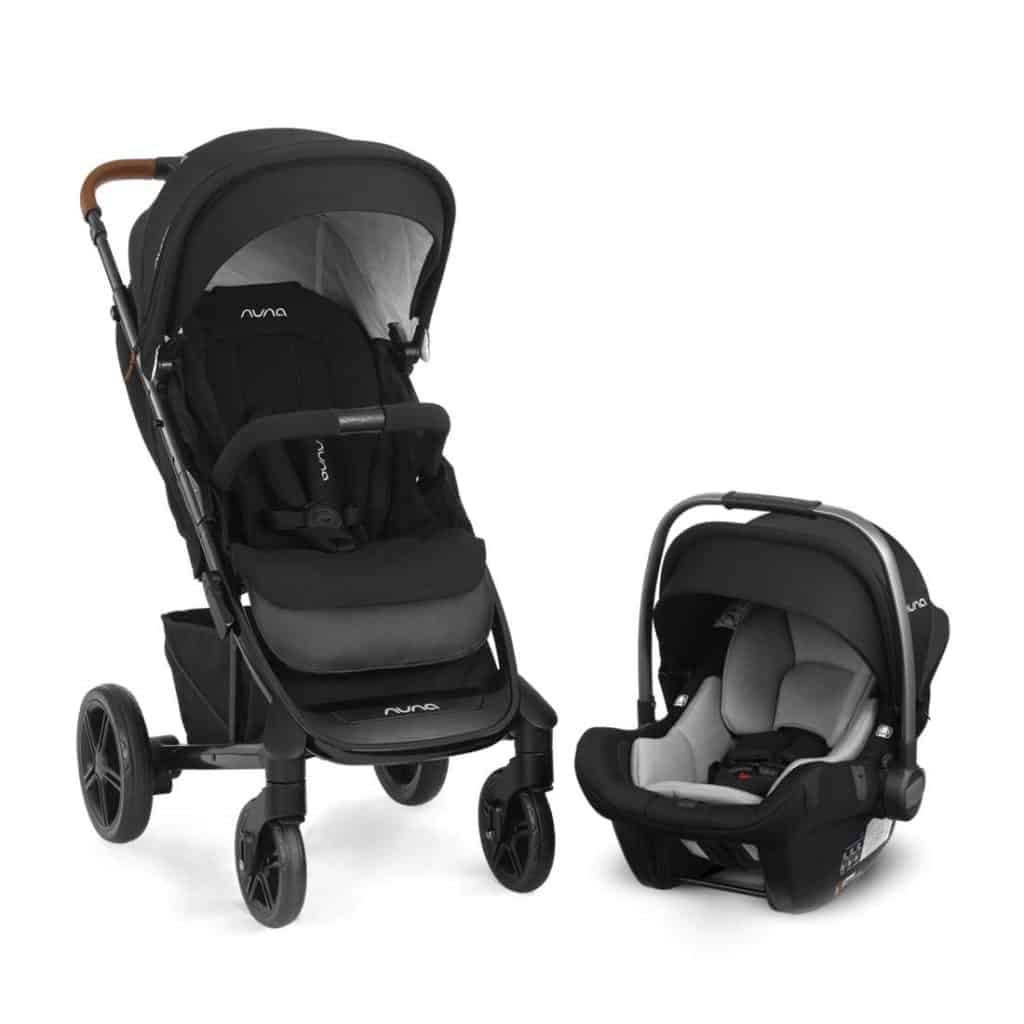 It has chrome wheels and leather-like finishes that work super functionally with a one-handed fold and a canopy attached. It is filled with big, foam-filled tires making it the smoothest ride with a generous storage basket convenient to stash items both big and small. The Nuna model has a fully reclining seat that lays flat with calf support creating a bassinet-like position for newborns.
It is incredibly lightweight with only 5.3 lbs with a canopy attached and seat covered with a luxe merino wool blend that's washable.
6. Baby Jogger City Mini GT2 Travel System: Best Travel Systems For Babies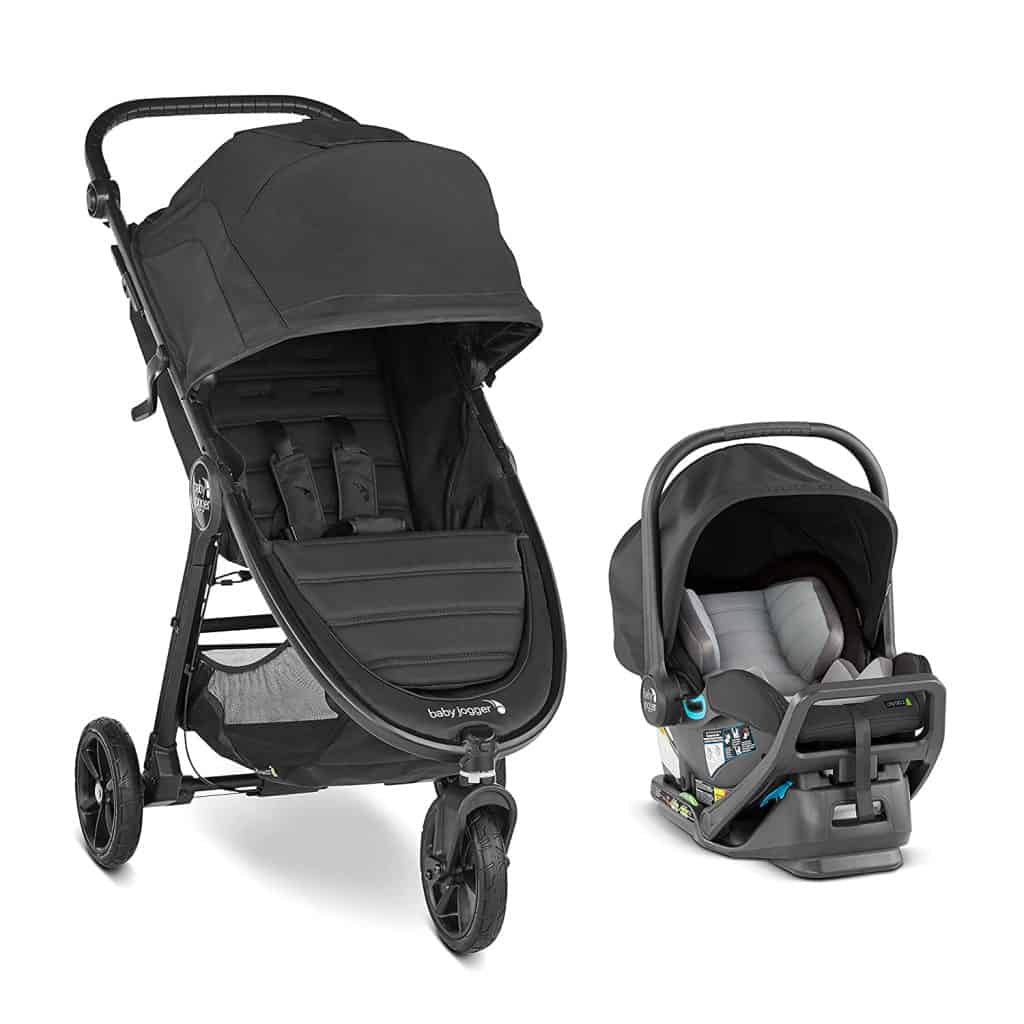 This stroller is another stroller from the list of the favorites of parents as it has a slim profile with the ability to quickly turn corners using its three-wheel design making it more like a dream walking around the town. Using only one hand, you can whip the stroller close quickly and is lighter than most full-size strollers. It has a GO 2 car seat that safely secures the vehicle with or without a base, however, on the downside, the storage basket is smaller compared to the other making it harder to reach.
7. Graco Uno 2 Duo Travel System: Best Travel Systems For Babies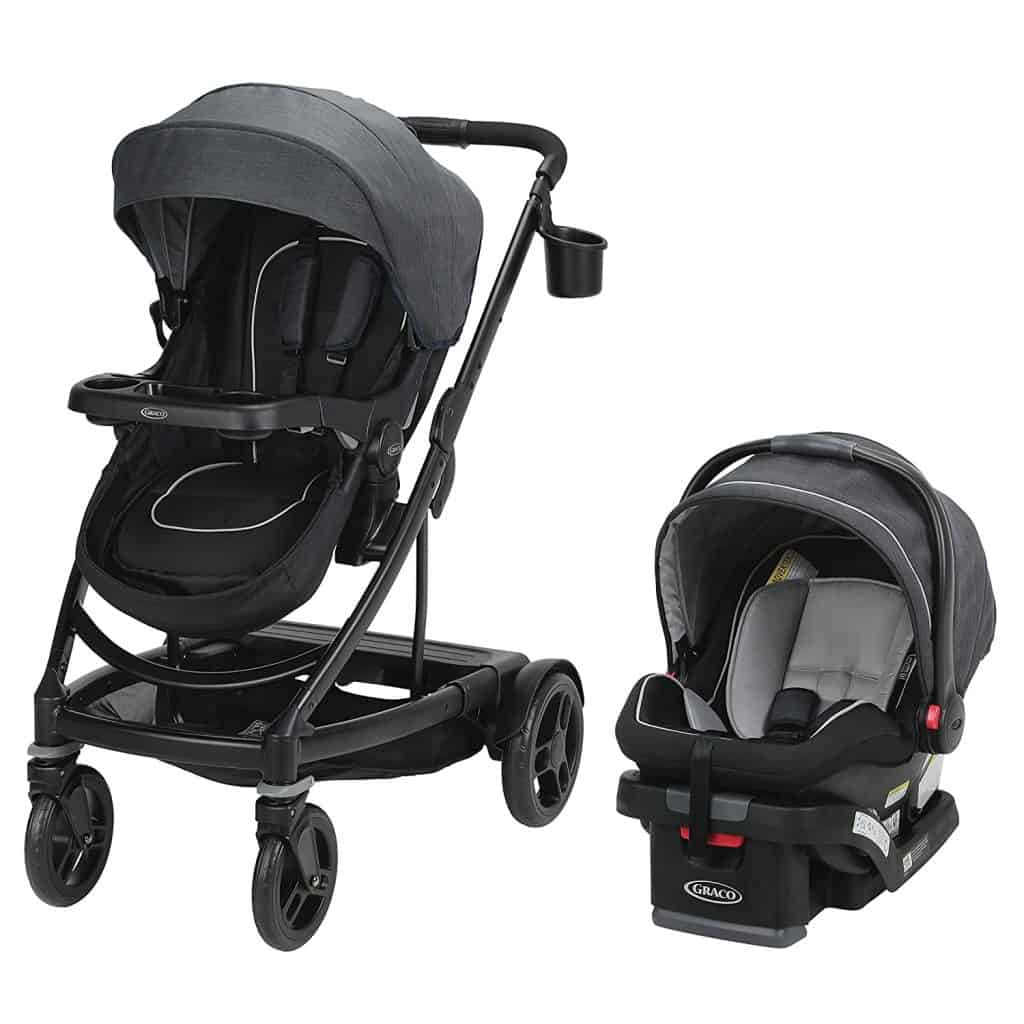 Along with its Graco Snugride Snuglock 35 car seat, the seat of the stroller turns into a bassinet with an extendable storage basket. Adding on to that, it is designed to accommodate two kids for which you can attach a seat (to be purchased) to transform the Uno2Duo into a double tandem stroller.  However, it will need garage space, as when two seats are attached it cannot be folded.
8. Evenflo Pivot Modular Travel System: Best Travel Systems For Babies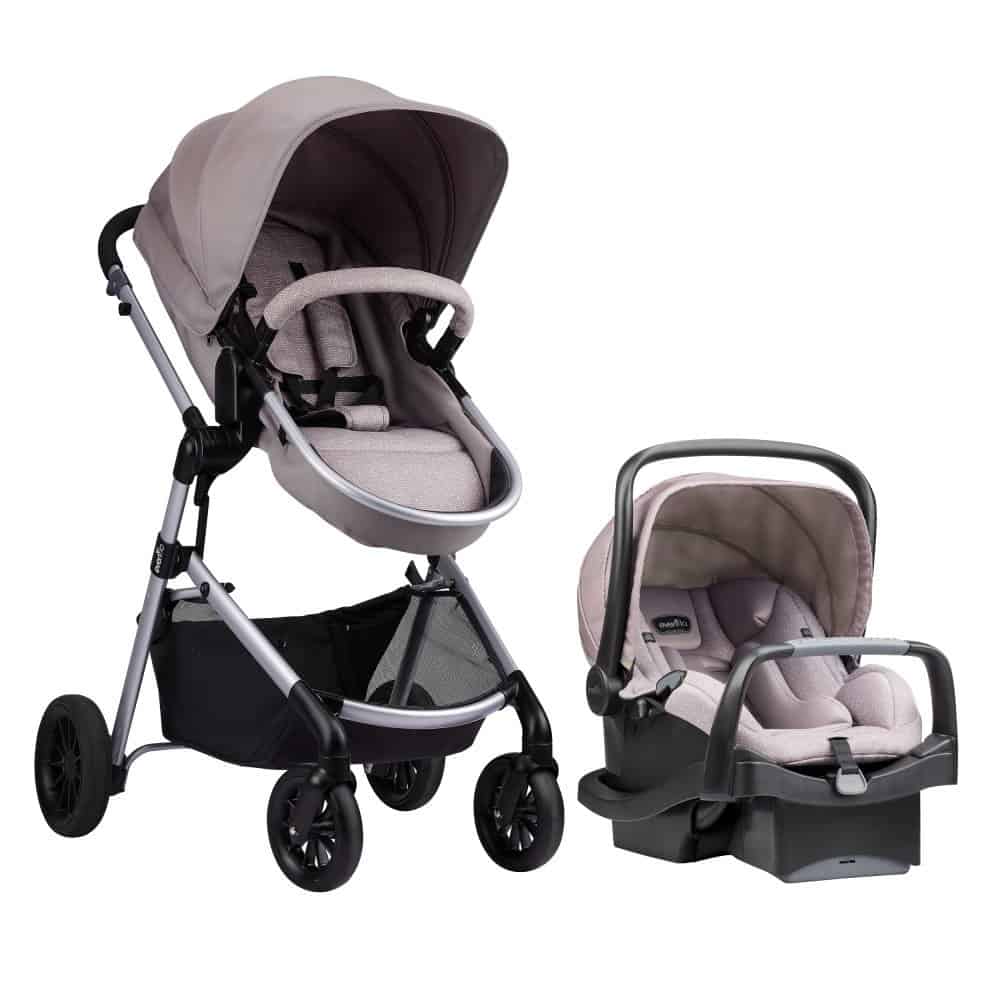 It's an affordable pick with a compatible car seat that allows transforming the regular stroller seat into a newborn bassinet. The Evenflo stroller comes with other features like a large canopy, a seat that faces towards the parents unlike most regular strollers, a car seat, and a removable child tray. It also exceeds industry safety standards as the base is made of impact-absorbing materials and has a roll bar to help deflect the force of a crash, it has all been tested for rollover and side-impact events that make it an affordable safe stroller to purchase.
9. Baby trend Expedition Travel System: Best Travel Systems For Babies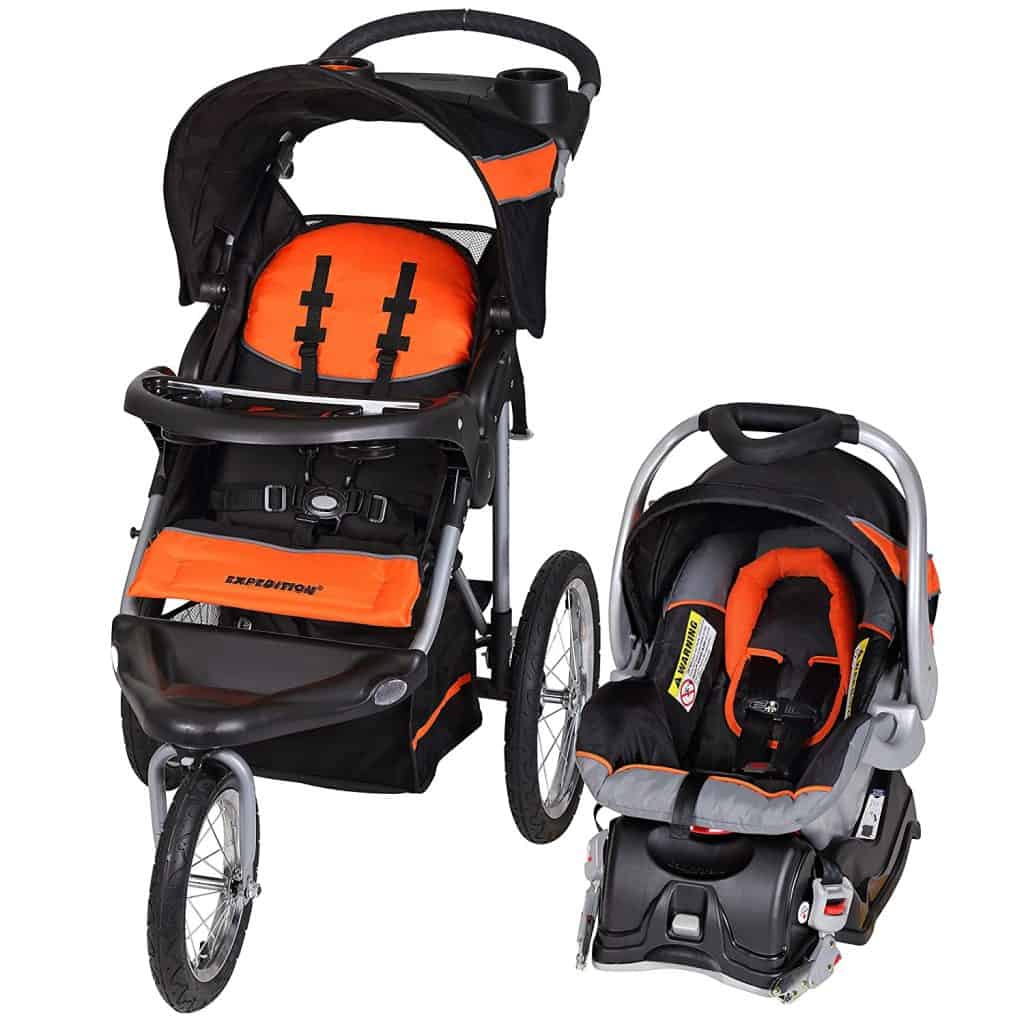 This baby treacle system is best used for jogging. It features handles of the best make, has an ability to make quick and sharp turns, has bicycle wheels to enable the system to coast over gravel, grass, as well as, uneven pavement.
It also comes with a jumbo storage basket, has an effortless fold, and is super easy to handle when on a jog with triggering handlebars.
10. Safety 1st Smooth Ride Infant Travel System: Best Travel Systems For Babies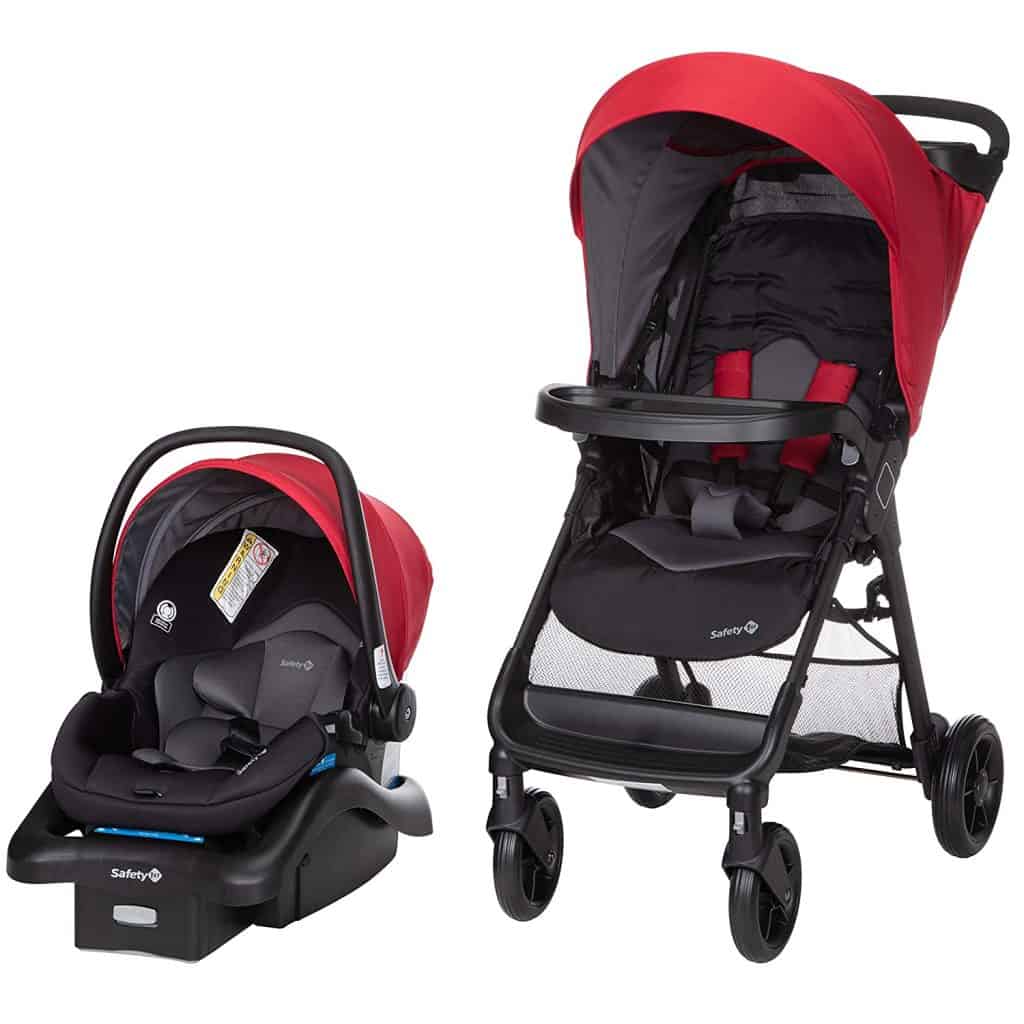 With almost 3500+ reviews, this travel system comes at the best and pocket-friendly cost. Although fairly basic, it comes with much-needed features, has a large storage basket, a tray, and an easy lift-to-fold strap that helps fold the strollers in seconds.
It exceeds all federal safety standards, has side impact protection, and LATCH compatibility.
It is recommended for parents to take their time while choosing the best stroller for their baby. Keep in mind that this stroller will be used for years and for it to have an infant car seat is extremely important for protection. You might also want to purchase a combination that works best for you and your baby as a family.
Best Travel Systems For Babies FAQs :
1. How long does a stroller last?
The stroller does not expire! They have features that are meant to keep a baby safe. Nonetheless, the primary reason to have/purchase a stroller is to help make the transport of babies from one place to another easier.
2. What do you do with old strollers?
As reusing a stroller does not violate any risk of safety, it is recommended to take the stroller to a consignment shop and sell it off or rather give it away to someone who might need it.
3. Are four-year-olds too old for a stroller ?
Strollers are said to be used as the baby learns to sit unattended, that is, by the age of six months. For a baby of four or five, it perhaps becomes discouraging for the kids from being active and independent to rather simply sit in one place. By this age, the kids must be able to follow directions as they listen to you and hold hands on the streets.
4. When to buy a car seat stroller?
You can buy a car seat stroller at around the age of six to nine months, you could purchase a travel system or even before the birth of the baby.