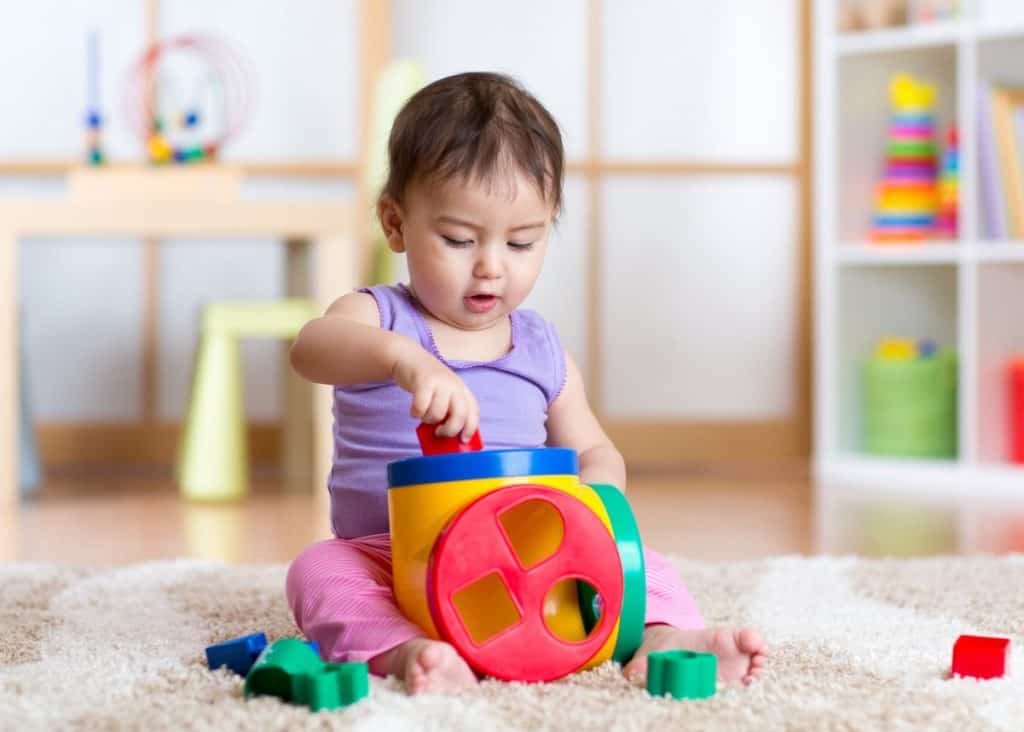 Amongst all the amazing months the baby will get into, the 6-9 months of age is said to be the most fun and best. Best Toys For 6 to 9-Month-Old Babies gone are the times when you ran just to feed the baby and the endless stream of dirty diapers. Now begins the times when the baby begins to be alert and curious and loves to notice and smile at you while babbling and playing on its own.
Babies of this age just love playing more than interacting with the world around them as they continue to learn, develop their senses, and reach milestones. This helps the babies learn and build their physical and cognitive skills, along with social and emotional intelligence.
What are the milestones the baby will develop in the months 6-9?- Best Toys For 6 to 9-Month-Old Babies
There are many milestones to look after for babies at 6-9 months of age. To help parents understand we have listed below the expected milestones. However, you must remember each child is an individual and grows at their pace, so don't worry if the milestones don't match, they will eventually.
Or, feel free to contact your pediatrician for further questions/clarifications/concerns.
1. Social and Emotional Milestones
1. The babies will start recognizing faces that are familiar to them
2. They will enjoy playing with others
3. The babies start to respond to people's emotions
Fun exercise – You can start to help and help the baby learn different facial expressions. Simply handover a baby-safe mirror to them and smile, make funny faces, and be silly while showing them how it reflects. You can also show them simple board games that focus on faces and emotions.
2. Language and Communication Milestones
1. The babies start to respond to sounds and also make sounds
2. They could string the vowels together while babbling
3. Make joy and displeasure sounds as a way of communication
4. They respond when their name is taken
Fun exercise – Encourage your baby by talking and singing to them. Start pointing at objects, talk to them, and use musical toys to sing together. Or, play music of children's favorite musicians like Raffi, Laurie Berkner, and Greg and Steve.
1. They start to show curiosity
2. Grab things that are out of reach
3. They pass things from one hand to the other
4. Chew on everything around them
Fun exercise – Allow the baby to drop or knock over softballs and toys and encourage them to pick them up. Once they do so, ask them to pass it onto you to help them understand the concept of cause and effect.
4. Movement and Physical Development Milestones
1. Babies now roll in both directions
2. Start supporting their weight and attempt to stand
3. Can sit without any support
4. Start to prepare to crawl while rocking back and forth
Fun exercise – Encourage your baby to move, explore, and practice reaching for objects. You could use it to position a softball further from the baby to encourage them to reach it.
Babies generally achieve these milestones in their 6-9 months of age. To help them achieve it all and have fun, we've curated a list of the top 10 developmental toys. These will act as an add on or as help for the baby to develop the milestones and develop physical and emotional intelligence.
Top 10 Best Toys For 6 Month Old and 9-Month-Old Baby In 2021:
1. Fat brain toys wobble neo: Best Toys For 6 to 9-Month-Old Babies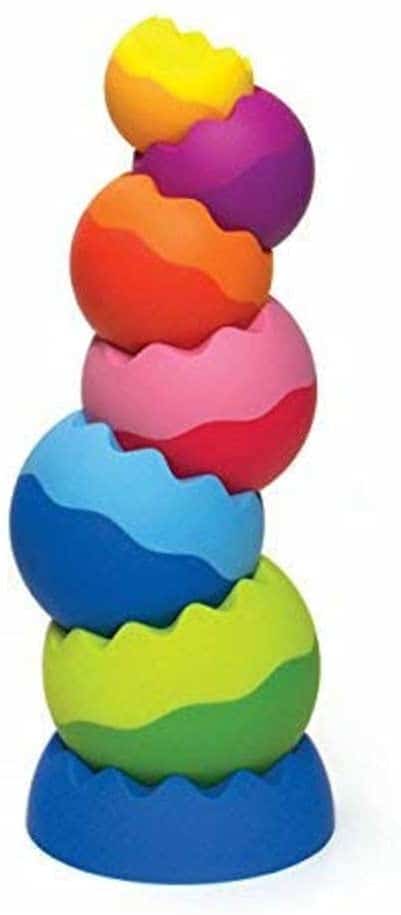 This is a super innovative toy that is packed with creative potential and looks like modern art. The pieces are uniquely weighted, balanced, and nested on themselves. All you and the baby need to do is to stack, top, spin, and wobble the toy teaching complex concepts of sensory exploration, spatial skills, and coordination.
2. Baby einstein take along tunes: Best Toys For 6 to 9-Month-Old Babies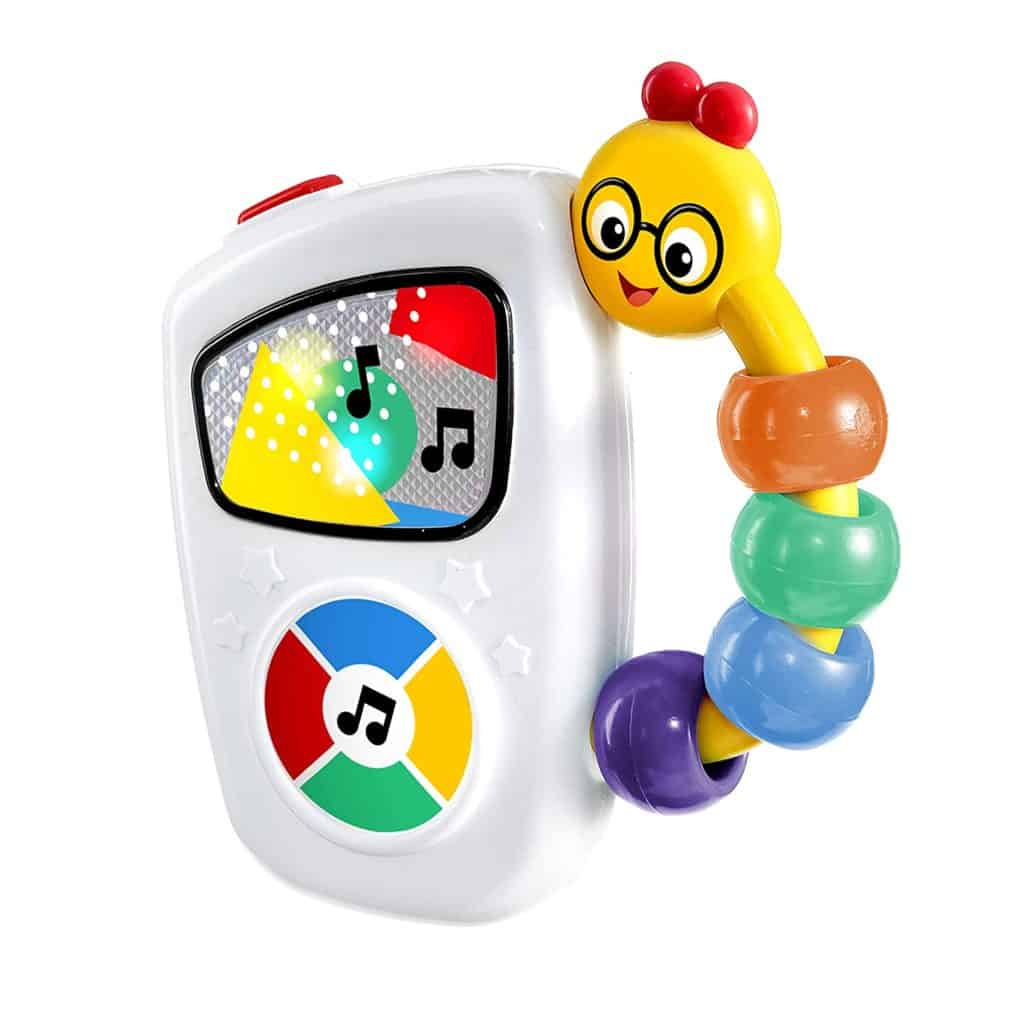 It is a baby-sized music player controlled by the tiny little hands of the baby. It has seven classical melodies and a volume control button with soothing music, flashing lights, and an easy-grip to handle.
3. Skip hop explore 3-stage activity center: Best Toys For 6 to 9-Month-Old Babies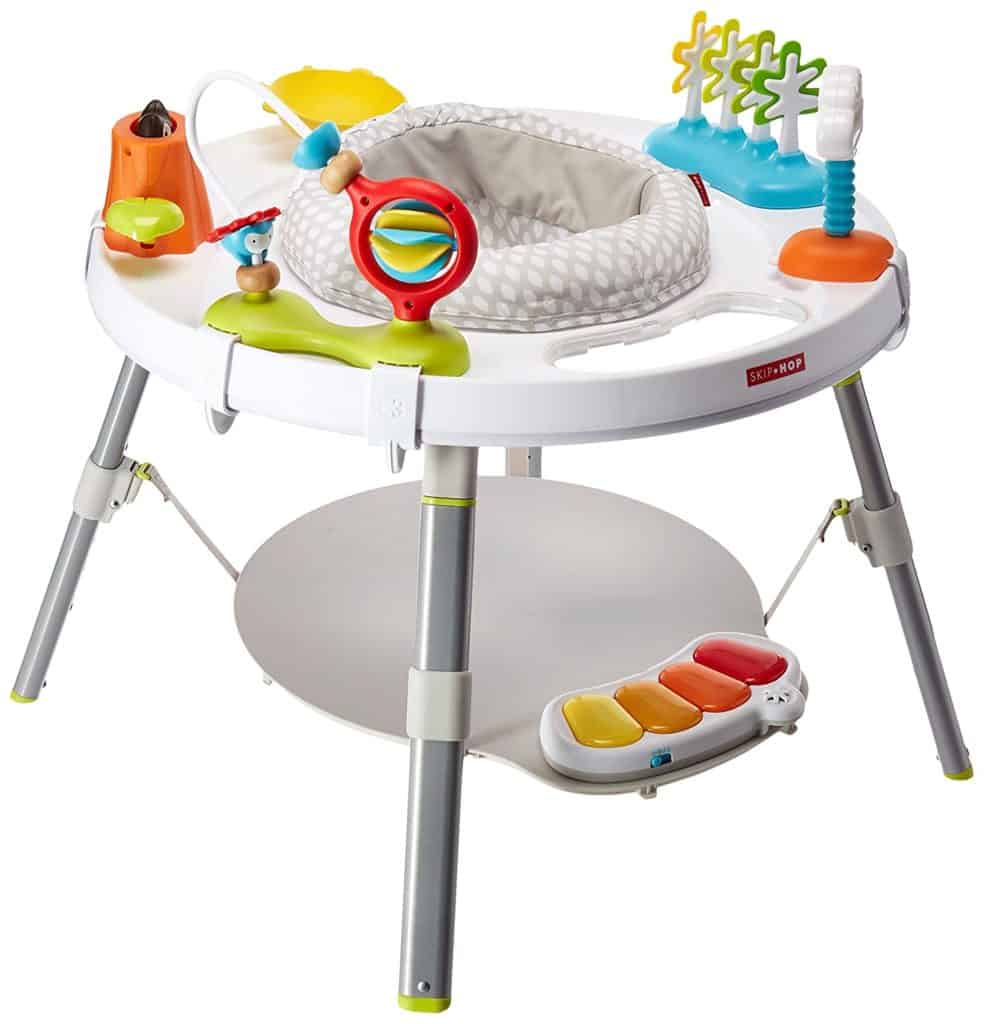 It has a musical, light-up piano, and a hooting peek-a-boo (owl, cloud with colorful beads, swaying trees, and hedgehog bead chaser with spinner). The babies will love to play using their toes, and once grown you can unclip the top and the center that transforms into a small play table.
4. Yookidoo musical crawl N' go snail: Best Toys For 6 to 9-Month-Old Babies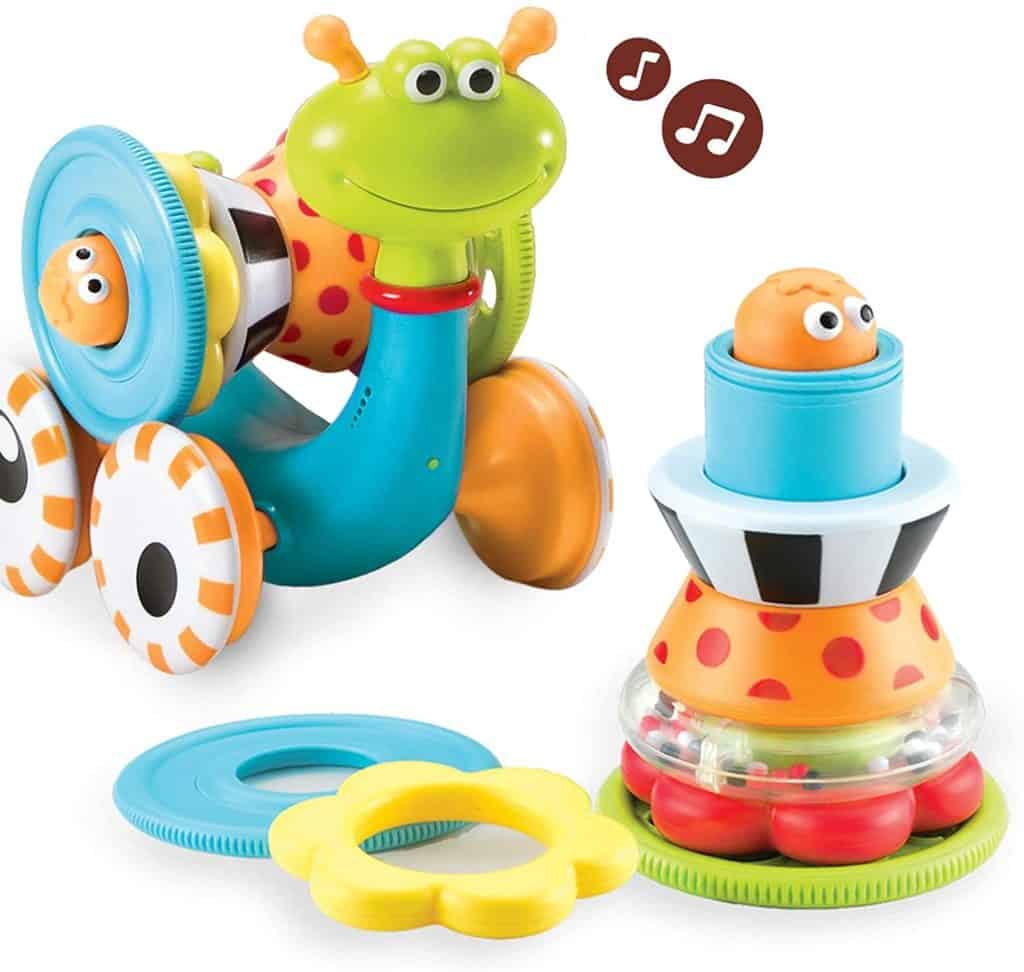 It can help encourage the baby to crawl as with just a touch of the tail, the snail moves with a spinning shell and tunes. This leads the baby to crawl. Also, this toy has a detachable shell that becomes a five-piece stacking toy complete with a rattle and squeaker. If your baby hasn't crawled yet, do not worry, every baby develops at their speed.
5. 100 first words: Best Toys For 6 to 9-Month-Old Babies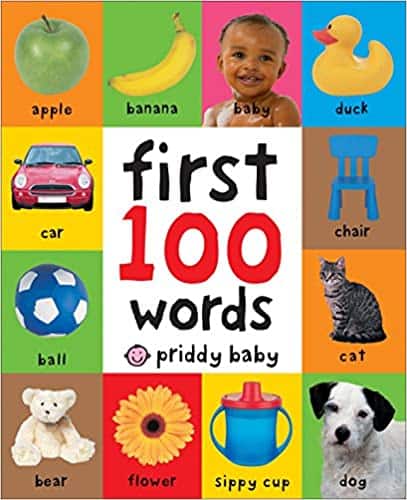 Babies at this age love to hear you talk, even if it's just naming the furniture around. This toy will help the baby learn about 100 essential words with pictures that help them learn about the world.
6. HABA snug-up doll Luis: Best Toys For 6 to 9-Month-Old Babies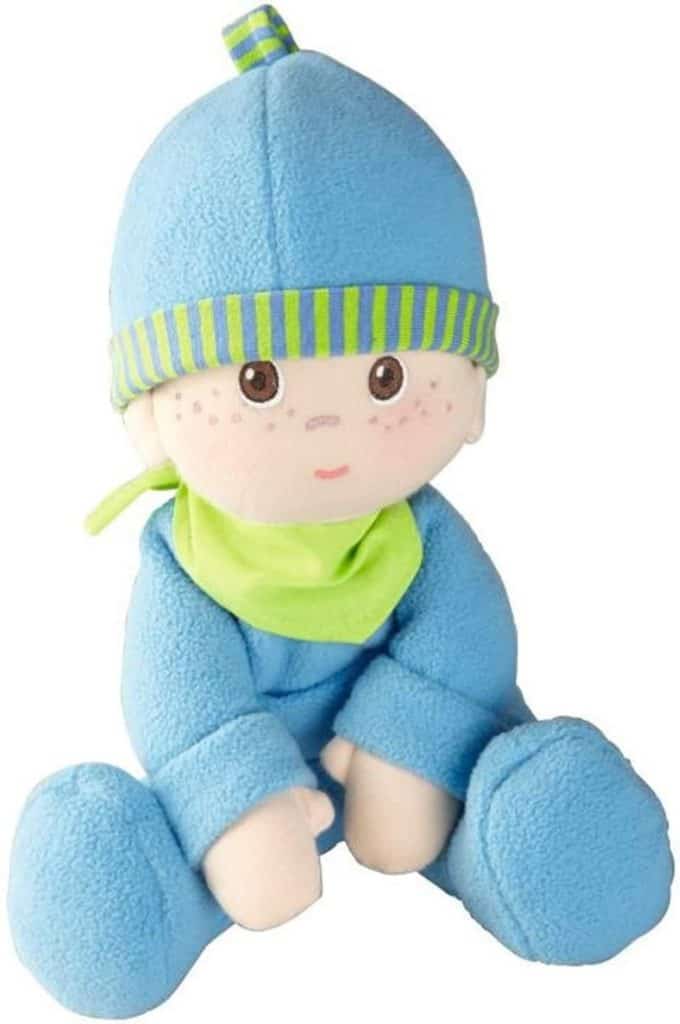 This is an extra soft super-cuddly doll that will be loved by your baby. It is machine washable and has no small sewn-on parts avoiding choking hazards.
7. Green toys shape sorter: Best Toys For 6 to 9-Month-Old Babies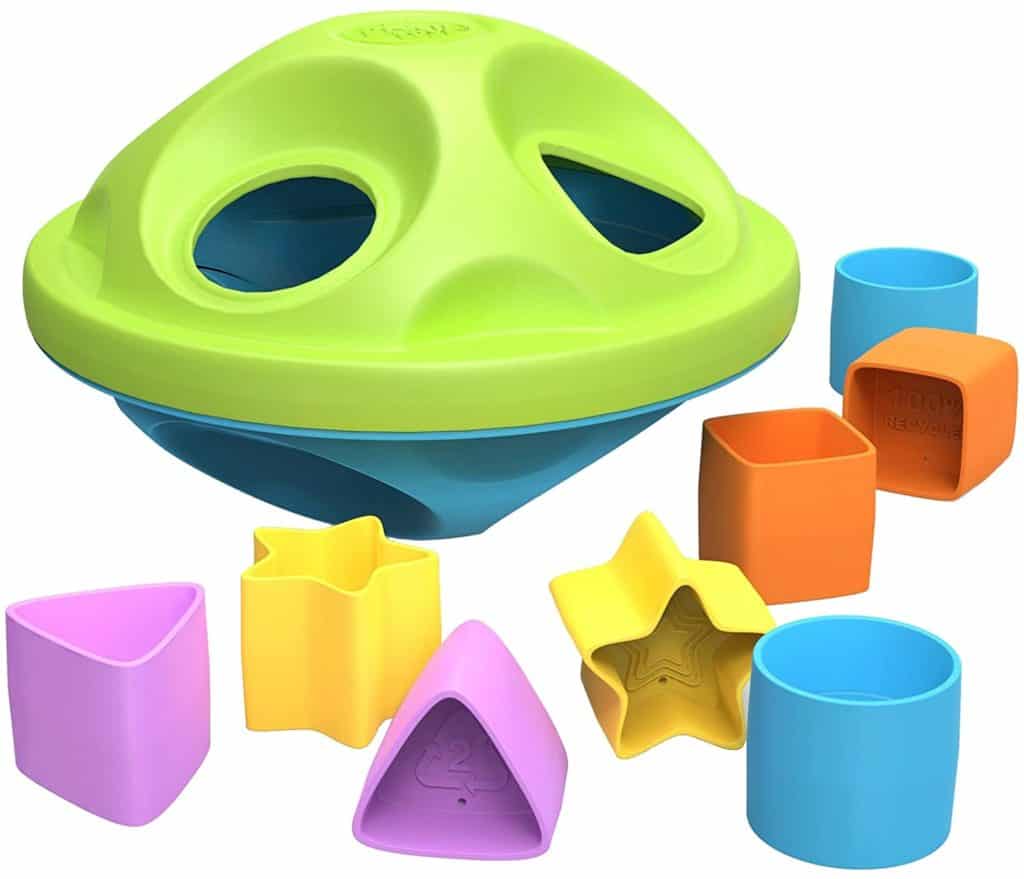 It is a classic playtime go-to toy with skills to help develop and learn shapes. It is a simple game where the baby is required to fit the shaped pieces into corresponding chutes, encouraging them to solve problems and develop gross motor skills. The toy is also eco-friendly made with recycled plastic milk jugs making it durable.
8. Baby Faces: Best Toys For 6 to 9-Month-Old Babies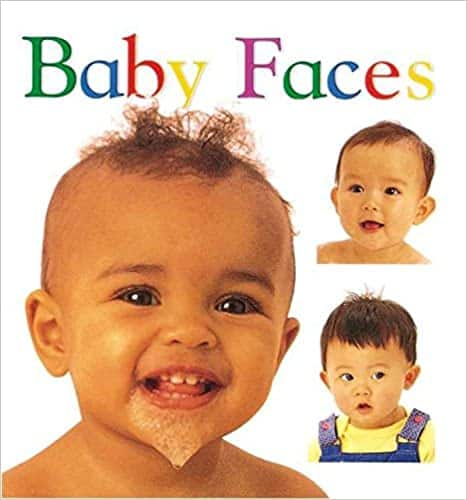 This book has diverse faces from happy, sad, surprised, and silly. It will help the baby learn about emotions and expressions. Parents might just love to sit and observe the expressions their baby makes as they go through the book.
9. Gnome Polly pineapple: Best Toys For 6 to 9-Month-Old Babies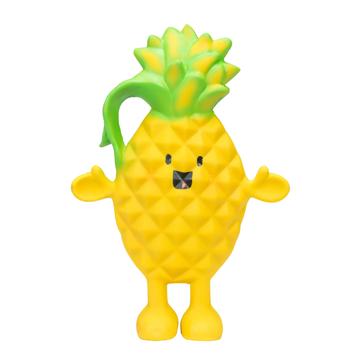 Parents must be prepared for tethering as the babies get their first tooth by the sixth month. This Polly pineapple created by gnomons is designed as a teething relief that features small bumps for the front and a leafy crown for back molars.
10. Sassy Rainshower Bath Ball: Best Toys For 6 to 9-Month-Old Babies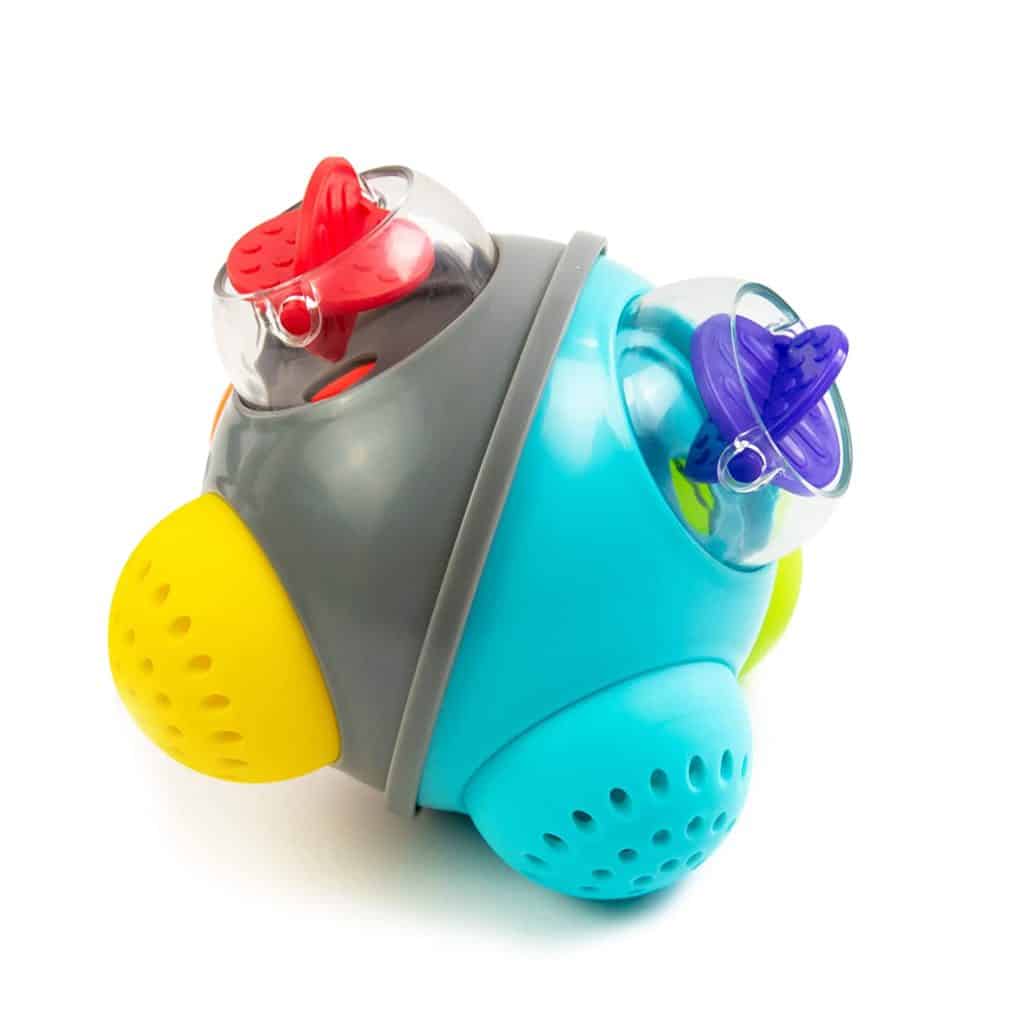 As the baby grows, bathtime turns into a struggle. This toy acts as a bathtime distraction with its exciting textures, and unique waterfall pattern with endless visual and tactile enjoyment for the baby while bathing. It is also easy to clean as the two halves can separate and dry after every bath.
Best Toys For 6 to 9-Month-Old Babies Final Conclusion:
A baby at 6-9 months of age prepares to be aware of their surroundings while keeping themselves busy by playing. As a parent, it is essential to choose toys that will help them develop the baby physically, emotionally, as well as be aware of new concepts. The list above helps parents with the best 10 toys to help in the development.
Best Toys For 6 to 9 Month Old Babies FAQs
1. What can a 9-month-old baby say ?
A baby of 9 months will blabber nonstop that might sound like real sentences. However, they will begin to recognize words like "Mama," "Dada," or "hi."
2. What do babies of 6-9 months do ?
The baby starts to act as a separate being. They begin to sit, move, roll, and reach out.
3. How much do babies of 6 to 9 months grow ?
The baby at 6-9 months might grow 3/8 inch that is about a centimeter each month, and gain around 3 to 5 ounces a week. You may expect the baby to triple by age 1.
4. How are babies in communication in the 6-9 months?
Here are a few communication milestones that you can expect from the baby:
The babies start to respond to sounds and also make sounds
They could string the vowels together while babbling
Make joy and displeasure sounds as a way of communication
They respond when their name is taken