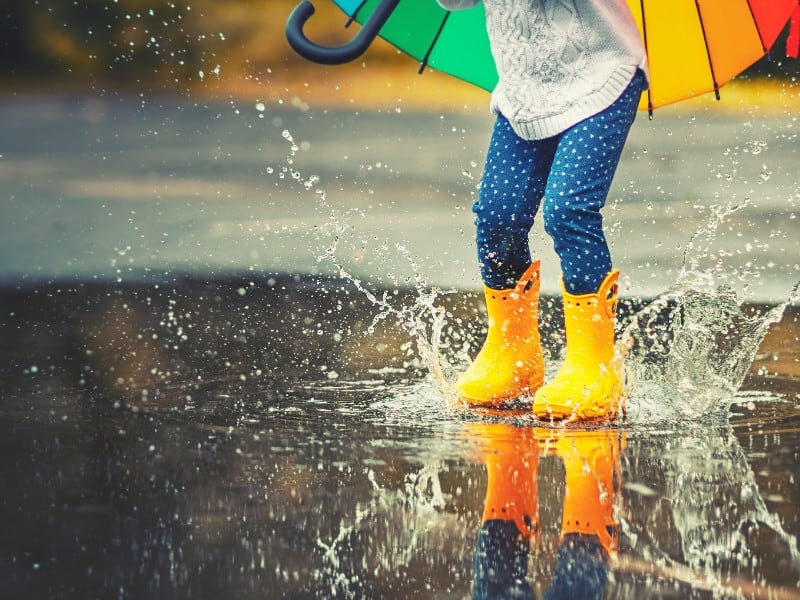 Do you have a little one who likes to jump right out in the garden or wants to be taken to the park at the first sight of raindrops? Are you a parent who wants to let your kids have all the fun but are also worried about rainwater and the unsafe aspect of playing in it? best toddler rain boots are your answer.

The purpose of rain boots is to keep your little one safe, clean and warm in those otherwise muddy puddles of rainwater. With so many of these colorful wellies available in the market out there, you might feel a little torn when it comes to picking the right pair. Hence, here we are!
Parenthoodbliss chooses the best toddler rain boots
Here is a comprehensive list of the best rain boots to buy for your toddler in 2022. Let your toddler have all the fun they deserve!
1. LONECONE Rain Boots: Best Toddler Rain Boots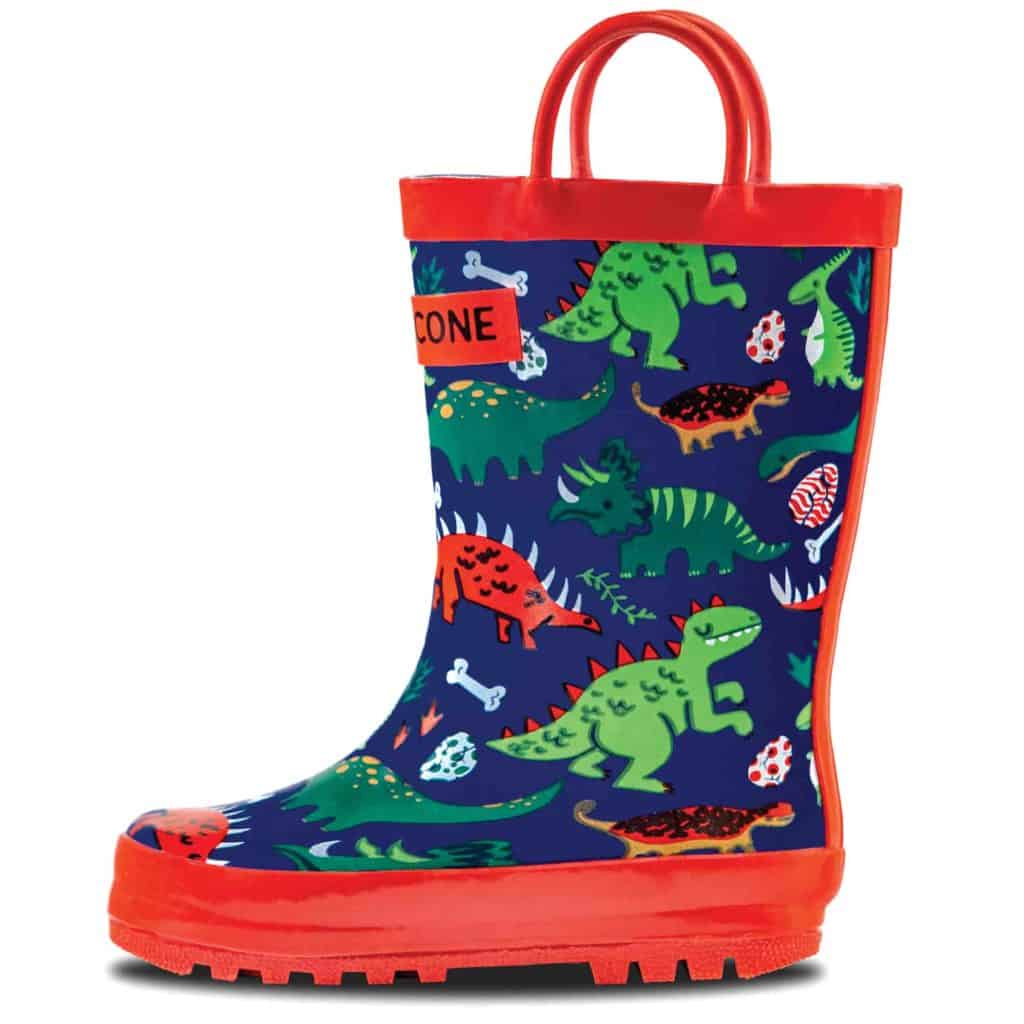 These unisex, BPA-free boots are made out of rubber and are equipped with anti-skid, anti-slip soles that help your toddler have a better grip even on slippery surfaces. The inner lining of these boots is made with cotton, however, without insulation. As for the convenience factor, these boots have a large handle which makes it very easy to put them on. The Lonecone rain boots are 100% waterproof, very easy to clean, and come in a huge range of colors and patterns to choose from. For the best part yet? These rain boots for toddlers are designed by artists from Boise, Idaho.
2. Western Chief Girls Rain Boots: Best Toddler Rain Boots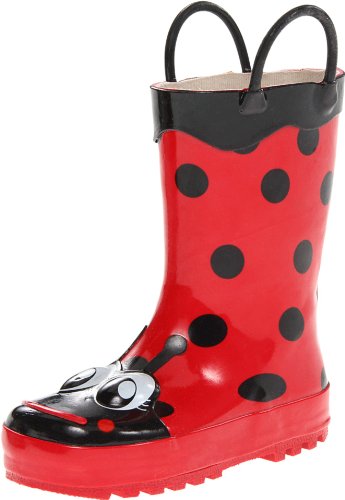 Available in some really fantastic, colorful prints and designs, the western chief rain boots are made of flexible rubber and are also lines inside for comfort and warmth alike. The outsoles of these rain boots have traction which makes them suitable for any terrain, not only for rain cause slippery and wet floors. These rain boots, in terms of convenience, are also very competitive as they come with a pair of removable insoles and two handles that allow easy slip-on.
3. Casa Miel Toddler Rain Boots: Best Toddler Rain Boots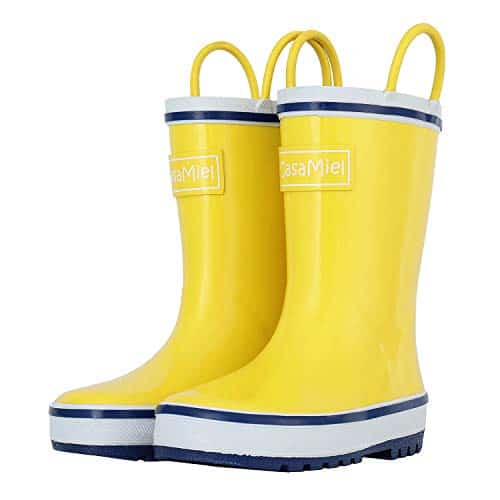 Apart from being appropriately-sized in terms of the length, what gets brownie points for these boots is the fact that they also are really wide which does not make your toddler's feet feel cramped up and uncomfortable. Also made in a BPA free rubber, these rain boots for toddlers are lined with cotton that makes them breathable and avoids sweaty feet. The outsides of these boots are groovy in nature that offer great stability on slippery grounds and there also are two large handles for easy wear.
4. Crocs Kids' Handle It Rain Boots: Best Toddler Rain Boots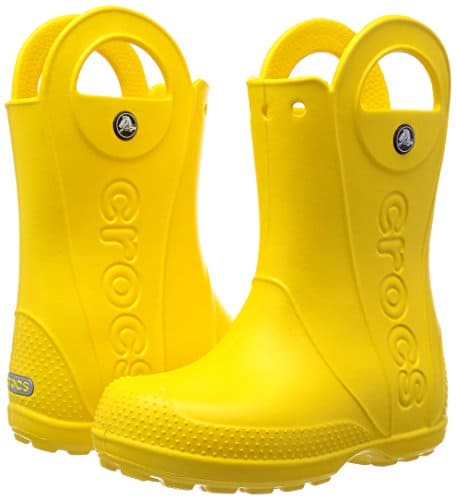 One thing that stands out about these rain boots for toddlers is how lightweight they are! Made from a synthetic material, these rain boots are light, durable, and are backed with the unparalleled crocs quality. The crocs logo on the backside of these shoes is thoughtfully made in a reflective material that helps ensure your child is visible even from a distance if the rains get shady and dark with overcasts, or during adventures elsewhere. Besides, these boots have two handles which let your toddler easily slip on the boots even themselves, without any necessary adult supervision.
5. Western Chief Kids' Rain Boots: Best Toddler Rain Boots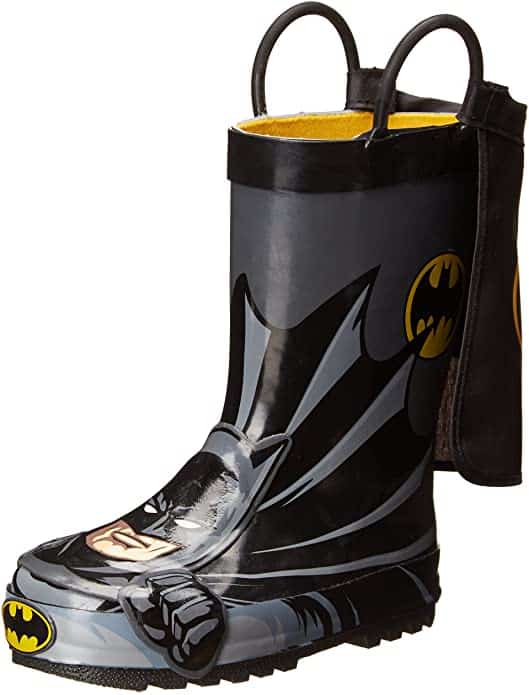 Most boys go gaga about these rain boots by virtue of the superhero design they are available in! Available in a superman and batman variants, these boots are made of natural rubber and are so soft- apart from also being really flexible and durable. The inside lining of these shoes is further made in a blend of polyester and cotton that makes them super cozy. The insoles, made from EVA, are shock-absorbent and can also be revoked to clean if necessary.
6. Bogs Kids' Insulated Rain Boots: Best Toddler Rain Boots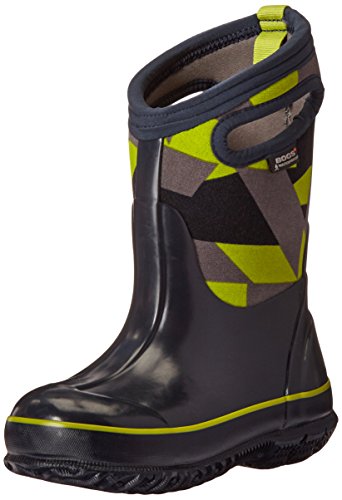 One hundred percent waterproof, these insulated rain boots are specially designed to keep those tiny little feet really warm and cozy. Suitable also for playing in the snow and not only for rains, the insulation of these boots is supposed to be "Neo-Tech" insulation. This  means they are suitable for temperatures as low as -30 degree F! The outsoles, on the other hand, are anti-skid and anti-slip, made in a self-cleaning technology, so you never even have to worry about getting rid of the dirt and mud and gravels anymore. Just knock it against a surface and you are good to go!
7. Oakiwear Kids Rubber Rain Boots: Best Toddler Rain Boots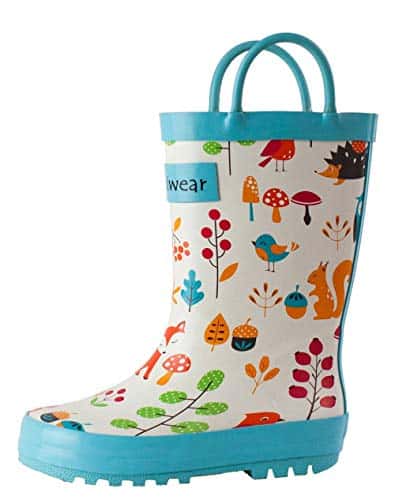 Also really lightweight in nature like the Crocs rain boots mentioned earlier, these wellies are suitable for rain play as well as summer outdoor play. Made of rubber, the outsoles of these comfy, soft, and flexible rain boots are designed flat, which gives it supreme traction, designed to keep your little one stable and grounded on slippery surfaces. These also have large handles that let your toddler wear these on their own. As for cleaning, just wash them in running water and hang the, to dry- it really is as simple as that!
8. Hunter Original Kids Gloss Rain Boot: Best Toddler Rain Boots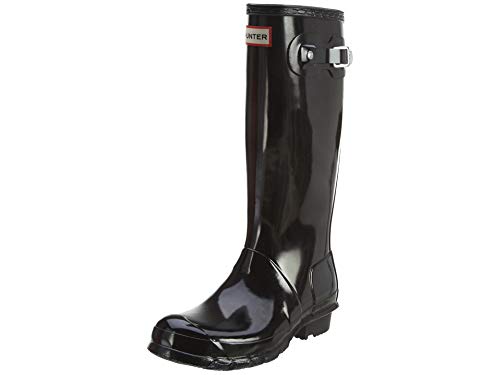 Made in some high-class designer looks, these classic rain boots are tall, lightly-lined, really glossy, and sure to make your toddler stand out of the crowd wherever they wear these and go! Made in a 100% natural rubber shaft and sole, these rain boots are really flexible which lets kids run, jump and have fun without any discomfort. Available in many colors, these boots are also anti-slip and anti-skid which offer supreme protection and care on slippery and dangerous surfaces.
9. Outee Rain Boots: Best Toddler Rain Boots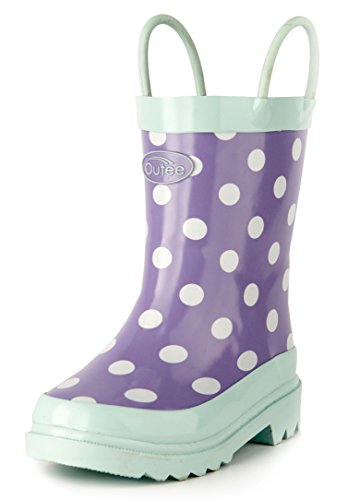 Outee rain boots are much more pocket-friendly than any other boots on the list. These rain boots could be a pragmatic choice since spending too much on rain boots which would be used once a year for kids that are still growing (and so rapidly) might not make a lot of sense to most parents! Light on the pocket but really high in quality, these rain boots are made from a hundred percent natural rubber. Besides, the outsoles of these extremely flexible rain boots are really thick and they are also anti-skid, anti-slip lined with cotton on the inside for most comfort.
10. OAKI Kids Easy-On Handles: Best Toddler Rain Boots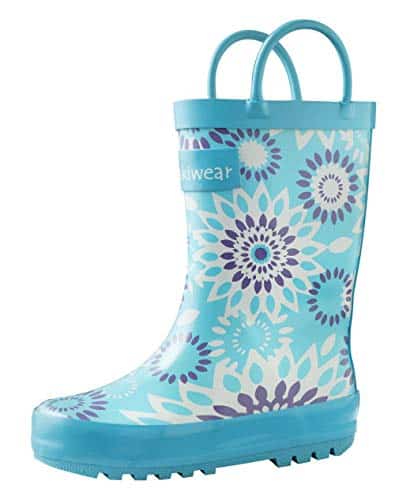 For those little ones who are adamant about doing things on their own, these rain boots can come really handy. With large handles combined with some really roomy interior, these rain boots can be worn in seconds even by the clumsiest of toddlers. Offered in a variety of really fun designs, these flexible boots are made from rubber, yet are highly breathable and even comfortable. The insides also have an extra layer of insulation which will help keep your toddler's tiny, sensitive feet warm on cold days.
Best Toddler Rain Boots Final Conclusion
As for some final tips, here is some bonus advice on what to look for when you are picking rain boots for your toddlers- even if they are not from our list. You need to essentially look for rain boots that-
Are lightweight, so they don't feel heavy and uncomfortable while the toddlers run, jump and play
Are flexible, so that they do, not restrict movement and ease the process of wearing and removing

 Have some traction, in order to remind upright while playing

Are free of PVC, as this dangerous substance can evaporate over time, and causing potential harm to your toddler
Also, ensure that you invest in a pair of rain boots for your toddler only when they can otherwise walk around completely by themselves. If the child is not stable walking barefoot or with regular shoes/slippers/sandals, walking in rain boots will be really difficult and rather impossible for them. So are we now ready to not have the rain go away?