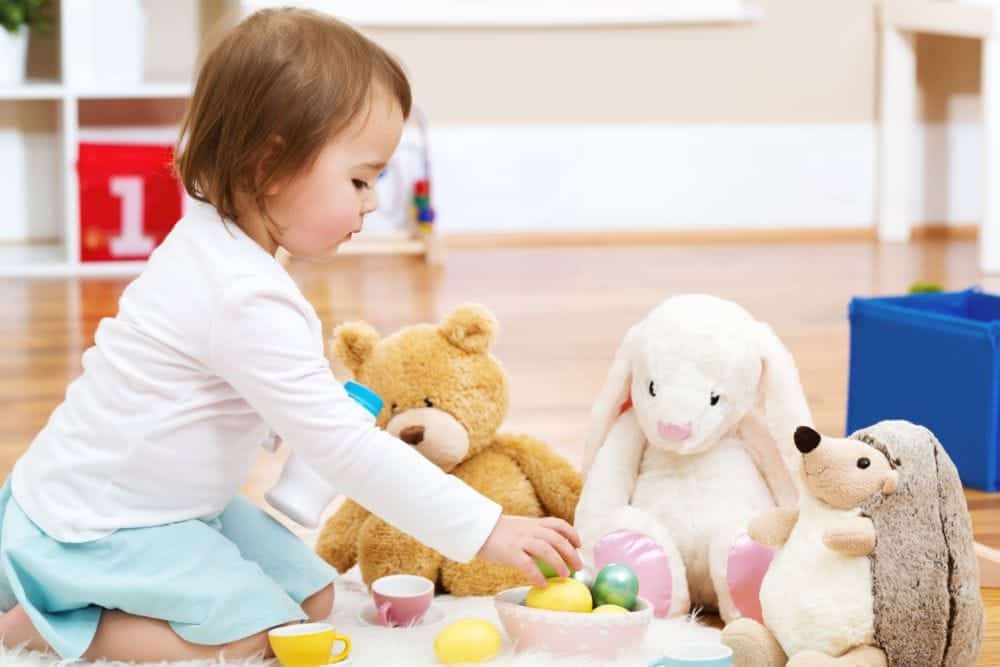 Stuffed toys and babies are like bread and butter: the most timeless combination of all times. Stuffed animal toys can be great for babies as they act as a companion. These little ones can always count on- from pretend tea parties to a cuddle buddy on a trip- stuffed animal toys play all roles just about right. 
However, before we get to the list of the best stuffed animals to woo your kids with, just a little reminder: never put stuffed animals in your baby's crib. This is because stuffed animals, owing to their bulky and snuggly nature, can potentially cause suffocation and risk your baby's life. Always, always ensure that you comply with the guidelines on the box and buy toys as per the age recommendations of the manufacturer.
On that note, here is a list of the best stuffed animals you can buy for your little angel-
1. Dalton the Storytelling Dragon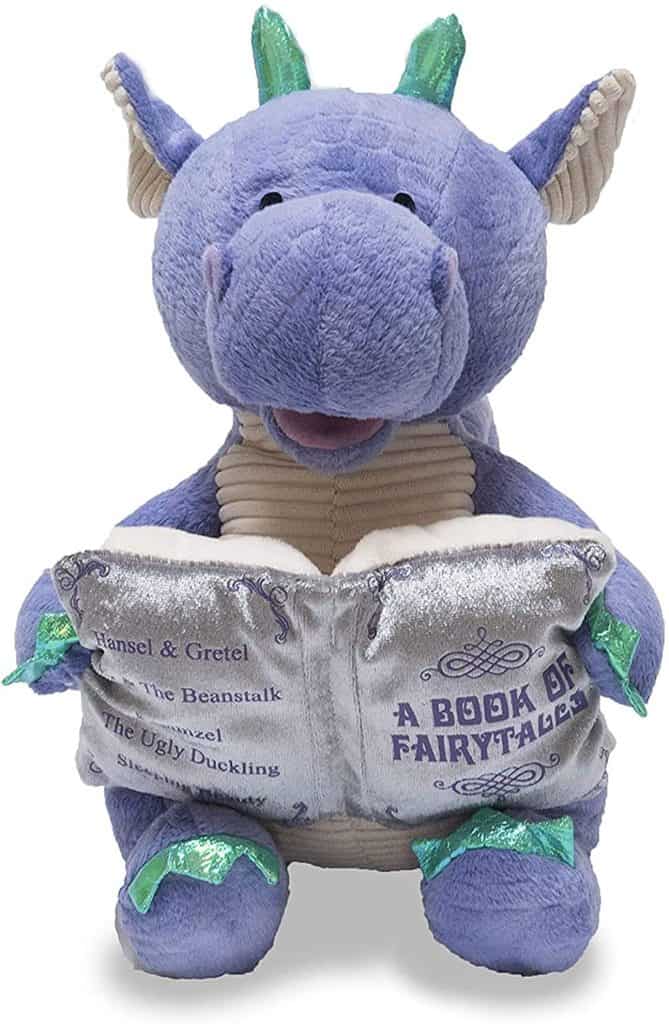 Priced at $31.73
Recommended for ages 18 months+
Dimensions: 8" x 10" x 12"
If your little one is led to believe that dragons are these scary, off-putting creatures that cannot be 'friended' by any means – introduce them to Dalton! Dalton is this sweet, little charming dragon pre-loaded with bedtime stories that are recited in a soothing voice and gentle animatronic motions. Kids are absolutely sure to fall in love (and in sleep) with this dragon!
2. Cuddle + Kind Hand-Knit Doll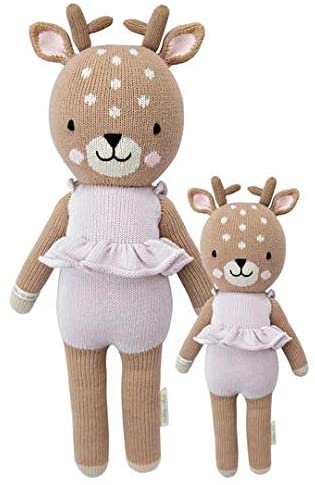 Priced at $75.00
Recommended for ages 0 months+
Dimensions: Varied
There's just so much going right with these stuffed animals, there's no way you can ignore all the goodness. For starters, these are very cute and hypoallergenic, handmade only with nontoxic, 100% cotton materials in Peru. The toys comply with fair-trade practices and are also a sustainable alternative to otherwise non-biodegradable stuffed toys. For the best part still, these toys also support a noble cause. With each purchase, cuddle + kind donates 10 meals to children in need. The range of stuffed animals offered by cuddle + kind come in
little (13 inches) and regular (20 inches) sizes.
3. Jellycat Odell Octopus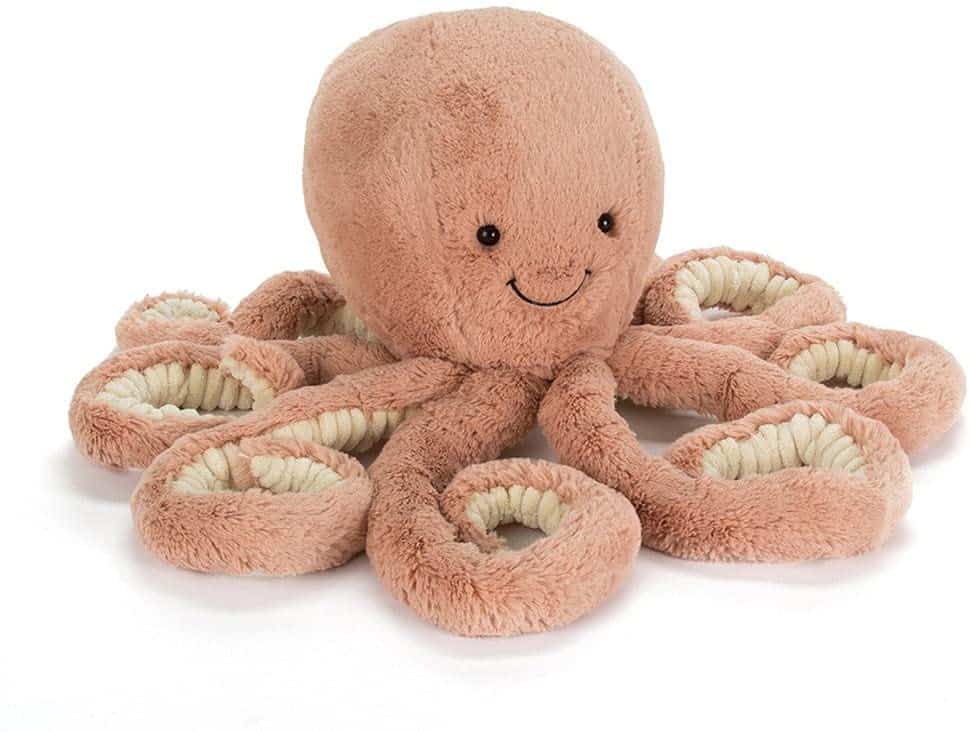 Priced at $48.50
Recommended for ages 12 months+
Dimensions: 11.8" x 7.9" x 21.6"

With as many as eight soft tentacles, this stuffed octopus offers a lot of room for baby cuddles! Made in the ever-celebrated plush materials by Jellycate and an adorably cute design, this octopus potentially could become your kid's favorite memory from childhood!
4. GUND Baby Flappy the Elephant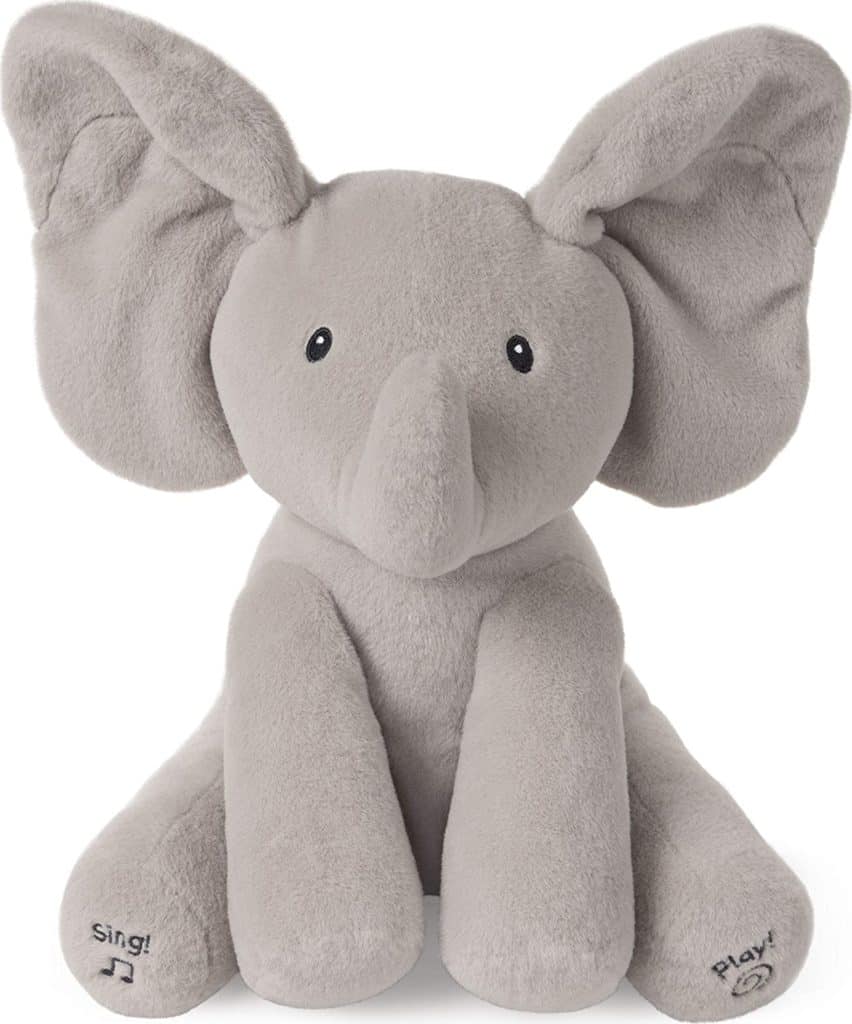 Priced at $25.47
Recommended for ages 0 months+
Dimensions: 7.5" x 12" x 7.5"
This adorable, award-winning elephant is sure to even take you by the heels – let alone your baby! With really huge ears, arguably the biggest on any elephant toy, the GUND baby elephant serves purposes more than cuddling. Your baby will love playing peekaboo as the elephant hides behind its ears! "Do Your Ears Hang Low?" Well, this elephant could be the best visual input to let your baby know!
5. Beluga Whale Symbolic Adoption Kit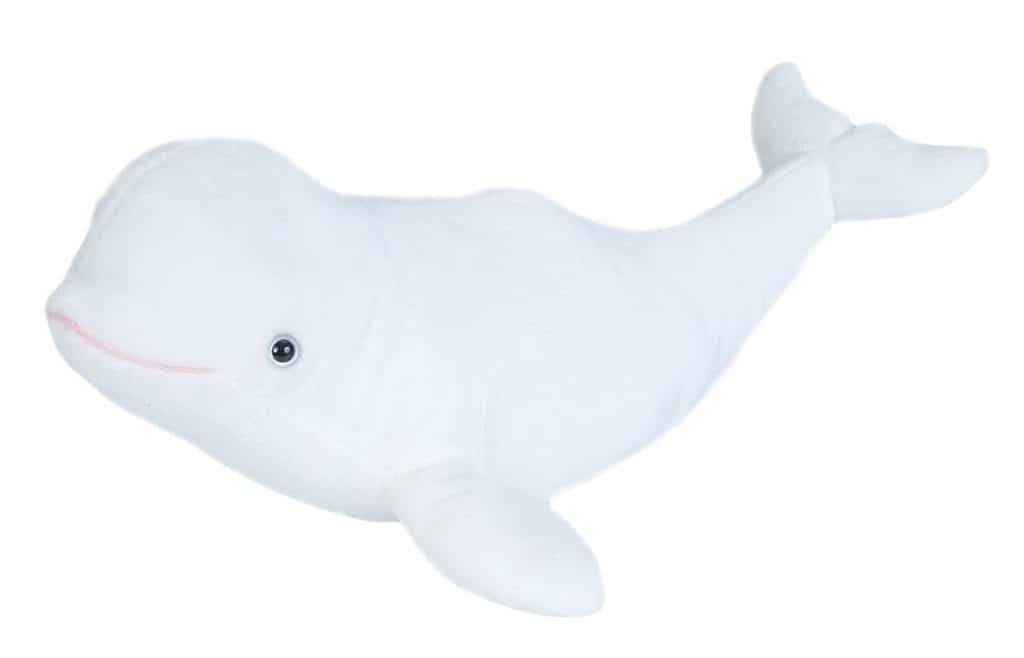 Priced at $100.00
Recommended for ages 3+
Dimension: 10" long
While $35 might seem like a big number for a stuffed animal, let us explain to you how this investment is going to be worth it all. By paying just $100, you do not only get a plush, stuffy animal toy of a Beluga whale but you also, symbolically, adopt a threatened animal since the money acts as a donation in efforts to protect the animal. This also works as a great means of educating your kid about what's going on in the animal kingdom at a young age. Apart from the whale, there also are other threatened animals on the list including red foxes, barn owls, and moose.
Adopt an animal today at Gift Store
6. Steiff My First Teddy Bear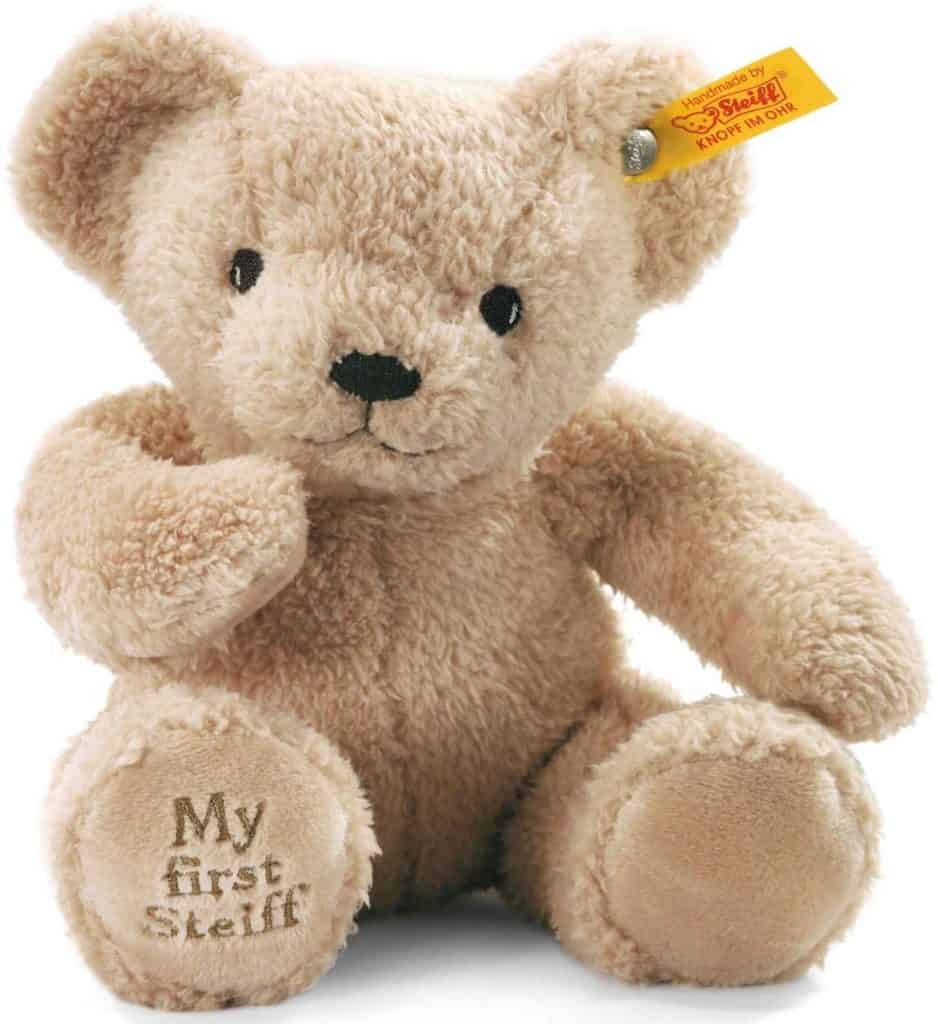 Priced at $26.27
Recommended for ages 0+
Dimensions: 10" x 4" x 7"
Teddy bear: the most iconic stuffed animal toy of all time, if made by iconic toy makers, you can only imagine what a classic it would be! Steiff has been making cottony-velvet, extremely loveable, soft, and cuddly stuffed animal toys since 1902. All of their stuffed toys are handcrafted with premium materials, built to last even when in the hands of the most notorious kids.
This natural beige fleecy bear, besides, comes with embroidered eyes that further avoid any potential risk of choking as with button eyes.
7. Wild Republic Cuddlekin Three-Toed Sloth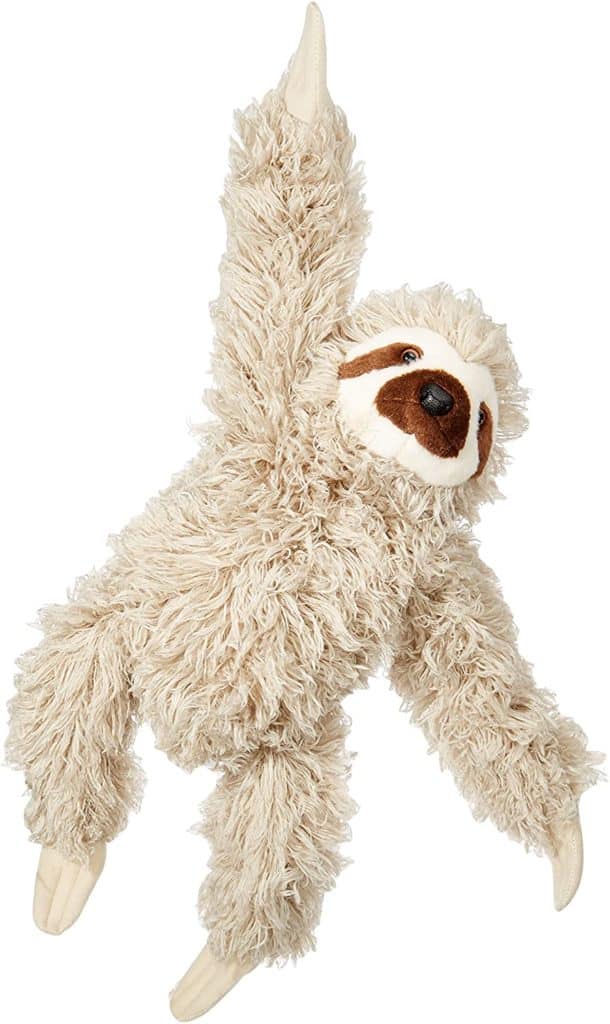 Priced at $12.99
Recommended for ages 0 months+
Dimensions: 10" x 6" x 12"
The ultimate hug-master, this stuffed animal is made in a fuzzy material that literally calls out for hugs! Made to mimic their natural being, this animal found in the rainforests of South Africa are three-footed animals, sure to count for some learning-with-fun experience for the little ones!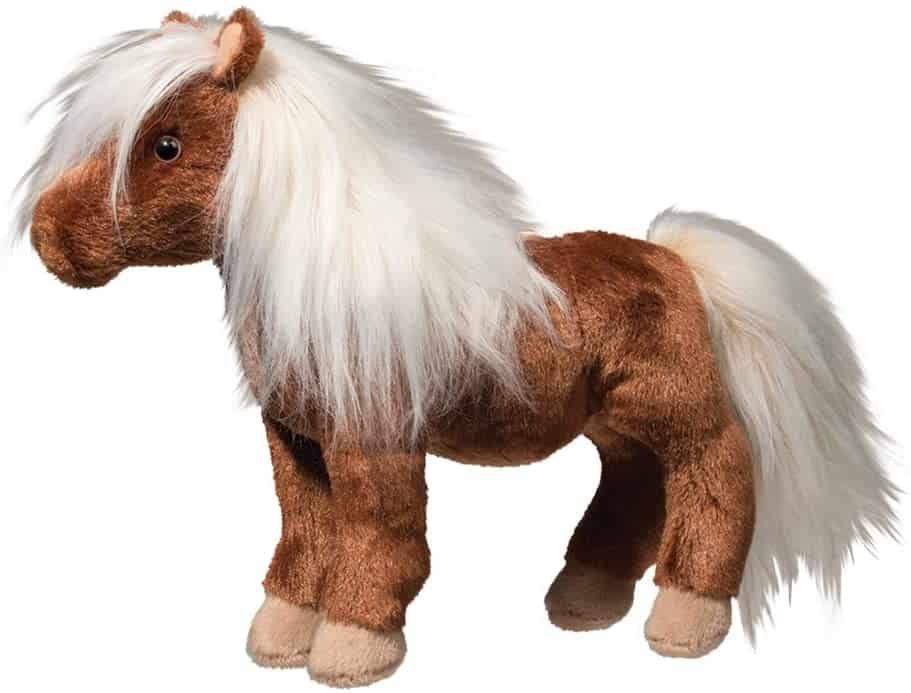 Priced at $159.00
Recommended for ages 12 months+
Dimensions: 31.5" x 11" x 28"
Ponies have been 'in' and chances are, your kid most likely wants one. Want to fulfill their wish? Why not do it in a functional manner while you are at it! This pony, large enough to lounge on for a baby, actually also doubles up as pretend cowpokes and jockeys alike. Let the hugs and cuddles flow!
Best Stuffed Animals FAQs
1. Is slumberkins plush snuggler a good stuffed toy for babies ?
The Slumberkins Plush Snuggler is a stuffed toy designed by two professional moms- a child therapist and an educator- made to promote positive life skills at a young age itself. With silky, plush fur and an extremely soft face, these toys also work as great means to help your baby learn touch sensations. Most slumberkins plush toys even come with a book to match the life skills the toys teach!
2. Are stuffed animals toxic ?
Typically, most stuffed toys are coated with toxic chemical flame-retardants, however, you can always read manufacture labels and instead invest in a toy that is free of chemicals.
3. Are stuffed toys safe for babies ?
As per the guidelines of the American Academy of Pediatrics (AAP), babies should not be allowed to sleep with stuffed toys at least until they leave the crib since it poses a risk of sudden infant death syndrome (SIDS).