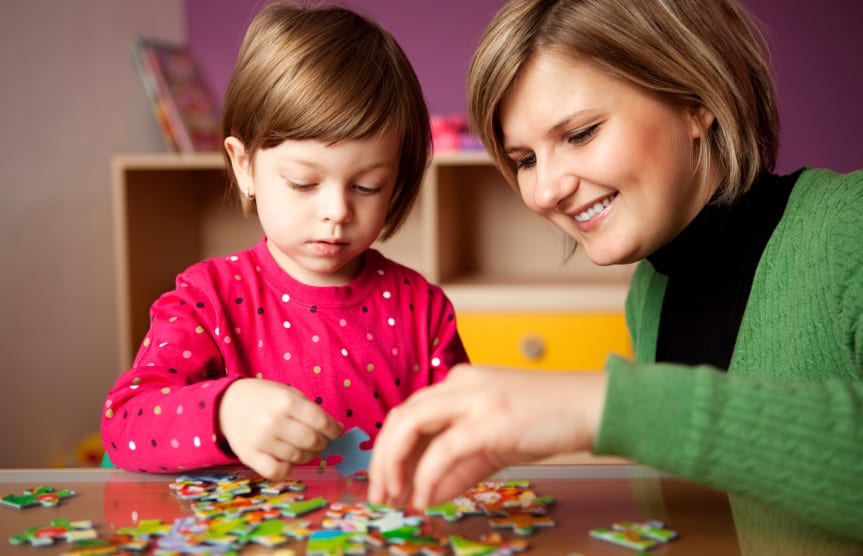 Puzzles for kids are the best picks and are observed to be the perfect toy that not only helps entertain your little munchkin but is also essential as it boosts the development of the child. Adding on, these are the best get-aways from technology while enhancing their fine motor skills and problem-solving abilities.
However, the only backlog that the parents face is to decide upon the best puzzles for kids, given the fact that they are widely available across various sizes, colors, forms, shapes, etc. So, to help you, we at Parenthood Bliss have curated this list of the top 12 best puzzles for toddlers and kids. Read on to know more!
Top 12 best puzzles for kids for you to choose from!
Here is a list that will help you choose the best puzzle for your kids and help you enrich their learning journey. So, make sure to pick the one that is durable, best suited, and non-toxic.
1) Melissa & Doug vehicles peg puzzle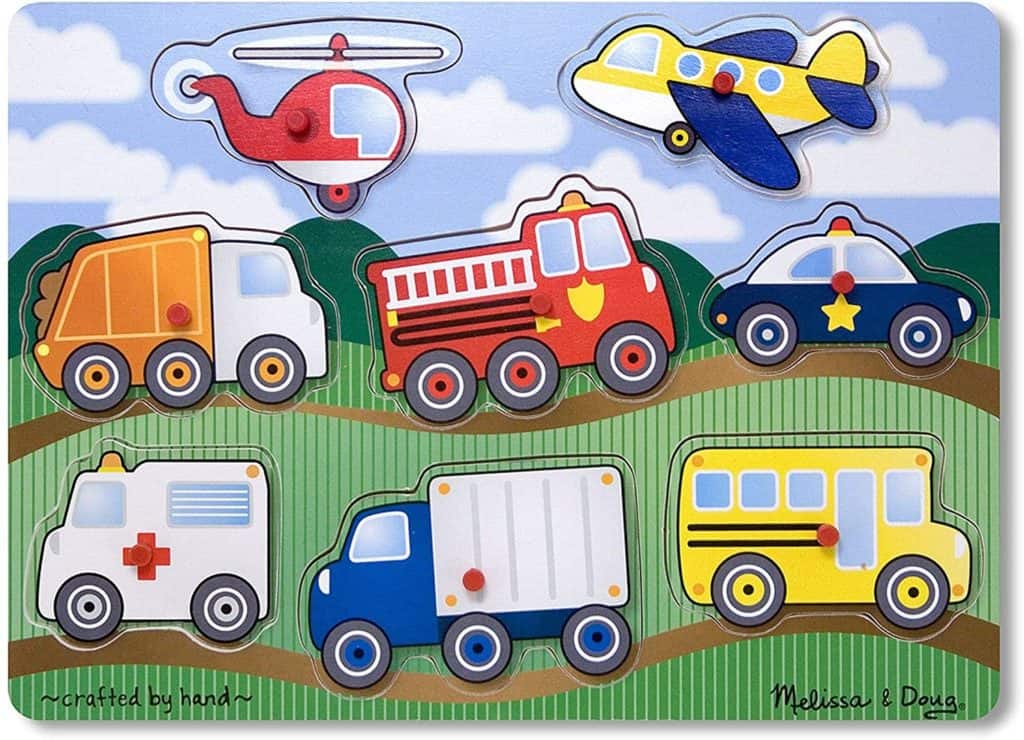 Recommended age – 2 to 4 years old
This wooden puzzle features a cute and classic look and includes a fire truck, school bus, and garbage truck. It is also hand-crafted, has colorful chunky pieces and red pegs.
Pros:
Includes fun vehicles
Allows the kids to easily grab the pieces
Cons:
The puzzle board is rather thin
We have a day care, keeps the kids busy.
The puzzle is perfect for understanding and speaking which item it represents.
Brightly colorful. excellent learning tool that is fun to play with.
For more product reviews visit Amazon
2) Asher and Olivia's wooden puzzles and rack set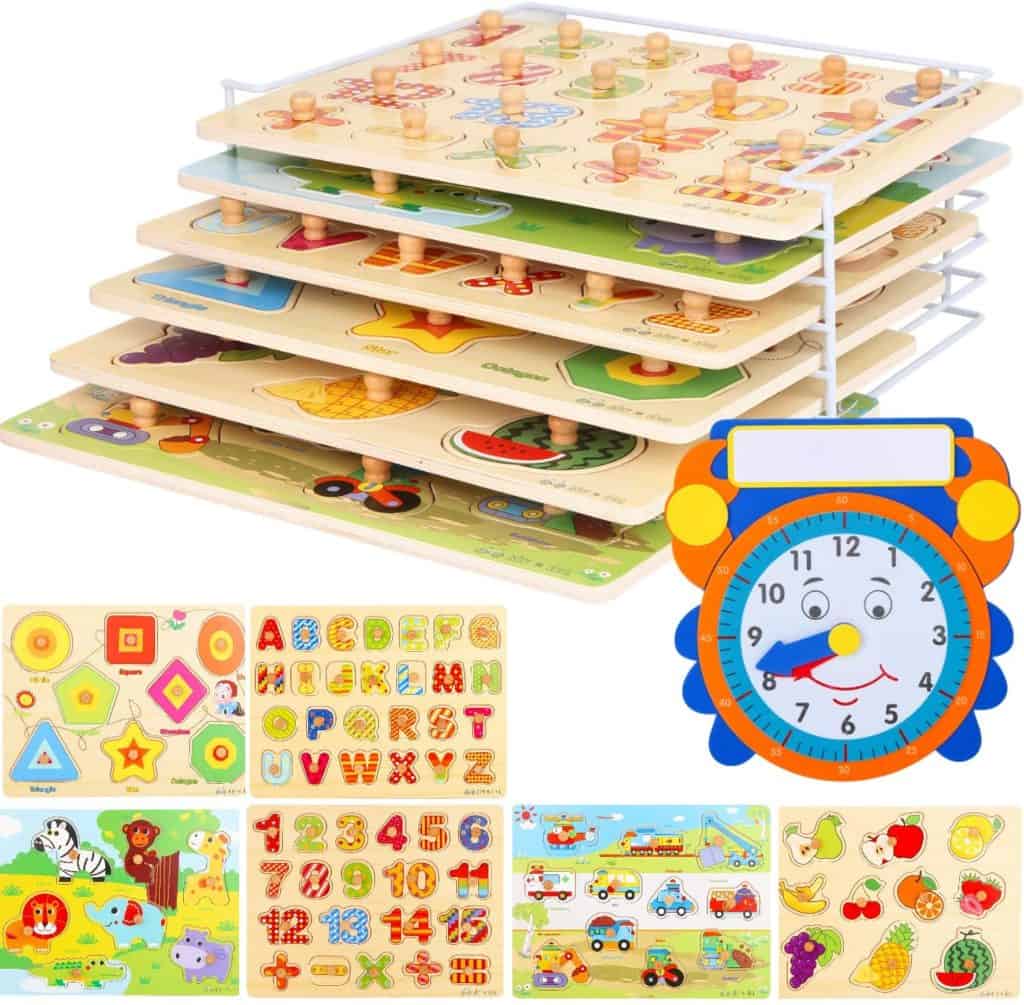 Recommended age – 3 years+
This wooden puzzle for babies and toddlers features a large collection and includes 6 wooden puzzles that are attached to large pegs. They also have a foam clock, are easy-to-grasp puzzles, and come with different shapes, animals, numbers, letters, vehicles, and tasty fruits.
Pros:
Includes 6 themed peg puzzles with a foam clock
Is a puzzle rack
Comes with a return policy
Cons:
It does not feature images under the pieces
I like to gift classic educational toys to my friends kids for birthdays and Christmas. This was perfect for a 2 year old who has a little sister due any day.
Our toddler loves these puzzles and it is helping him with his developmental skills. I like that it came with a wire rack to store them. I also like that it came with varying age appropriate puzzles so they can grow with him.
For more product reviews visit Amazon
3) Melissa & Doug wooden jigsaw puzzles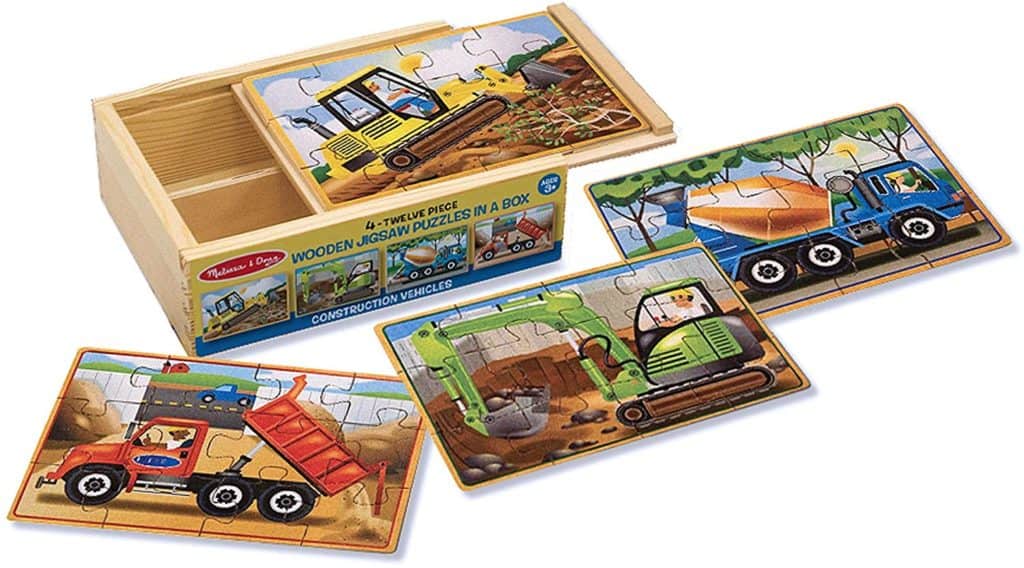 Recommended age – 36 months to 6 years
These Melissa Doug peg puzzles are ideally designed for younger children but with respect to the skills required, they are recommended for older kids. It features 4 jigsaw puzzles and comes in a wooden storage box with each puzzle including 12 pieces that come together as a vibrant scene with a vehicle.
Pros:
Are available in different themes
Comes with a storage box
Enhances problem-solving skills
Easy to clean
Cons:
Doesn't come with a guide image to help the toddler piece it together
My daughter wanted "big people puzzles" after she saw our project puzzle. We bought her wooden puzzles hoping it would keep her happy but no. She wanted ours. That is when I found this set. My daughter loves it and calls it her "big people puzzles box". It comes with four different pictures which keeps her occupied. They're also built well. She loves dinosaurs and these don't disappoint. Well worth the money.
I purchased one of these puzzle sets years ago for my granddaughter (jungle animals which we still have) and decided to buy several sets for my 3 year old grandson. So far we have the construction set and the vehicle set. He loves to put together his "puzzle pieces" and they are great for teaching thinking and reasoning. The picture quality is good and the wooden pieces are sturdy. Each puzzle piece has a mark on the back to show which pieces belong to which puzzle. To make it easier for him to put the puzzle away I put a corresponding mark on the bottom of each little bin so he knows all of the pieces marked with circle go in one bin, all of the pieces with squares in another and so on. I have found all of Melissa and Doug toys and crafts to be super sturdy, age appropriate, and kid friendly, meaning kids can be kids in playing with them and not destroy them. A definite plus! Highly recommend them.
For more product reviews visit Amazon
4) BEESTECH elementary wooden jigsaw puzzle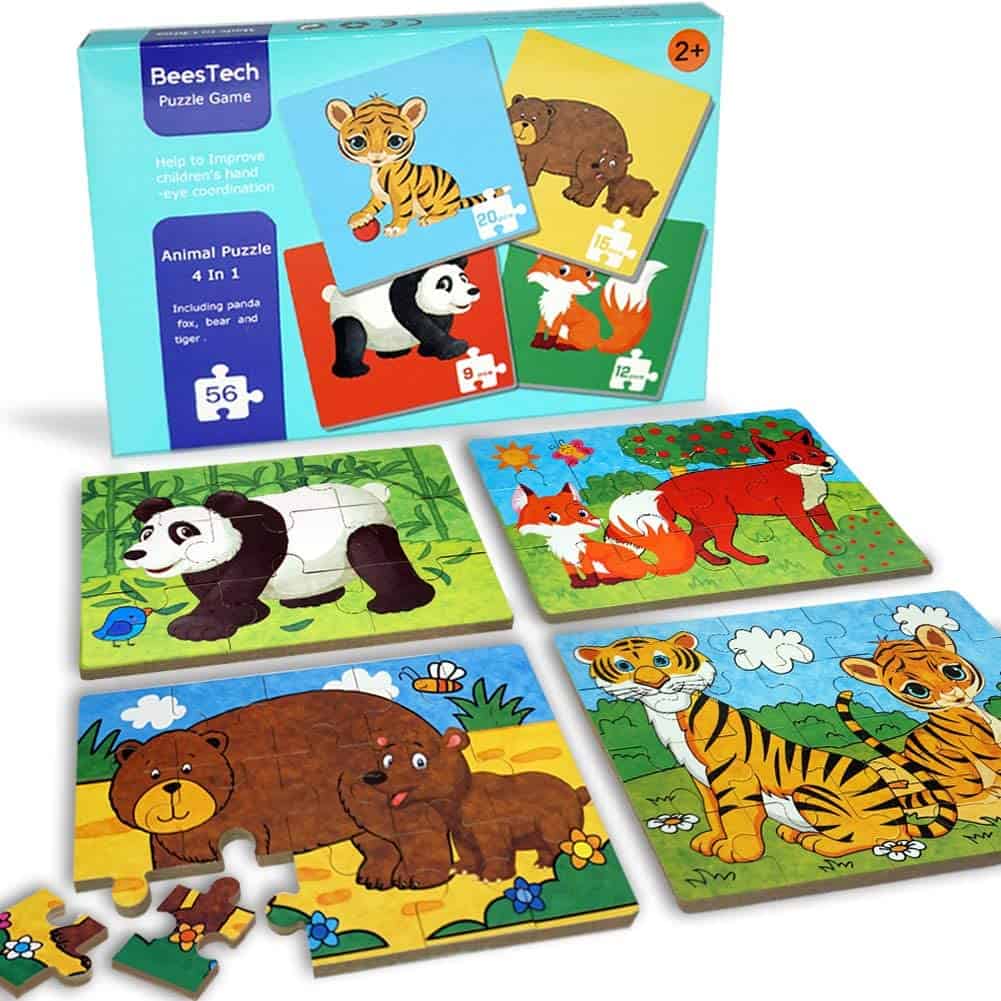 Recommended age – 2+ years
This is a kind of puzzle that comes in a pack of 4 that feature animals and are of the perfect size that avoids any choking hazards. The number of pieces varies from 9 pieces to 20 pieces, comes with a set of guides, and comes in a reusable storage box.
Pros:
Includes large and thick puzzle pieces
Varies in terms of the difficulty levels
Comes in a box
Cons:
The guide is made from paper, so it's easy to lose
Our 2.5 year old granddaughter loves these puzzles! We started with the easiest one (fewest pieces) and graduated to the next size (actually, more pieces, same size puzzle) in a couple of weeks. A week later, she wanted the next puzzle, and in the same day was ready for the hardest one! This is a great way for very young people to learn how to put puzzles together just like the adults do. I like that they are cardboard (not wood), so they look like the grownup puzzles. I also like the nice, thick puzzle pieces that are easy for little hands to work with. And the cartoon-like pictures are enjoyed as well. They all fit into a very compact box. Highly recommended!
I used this product to introduce my 2.5 year old grand daughter to doing puzzles. The number of pieces for each of the animals in the puzzle was perfect. Challenging and not over whelming.
For more product reviews visit Amazon
5) Gudi Toy Wooden Jigsaw Puzzle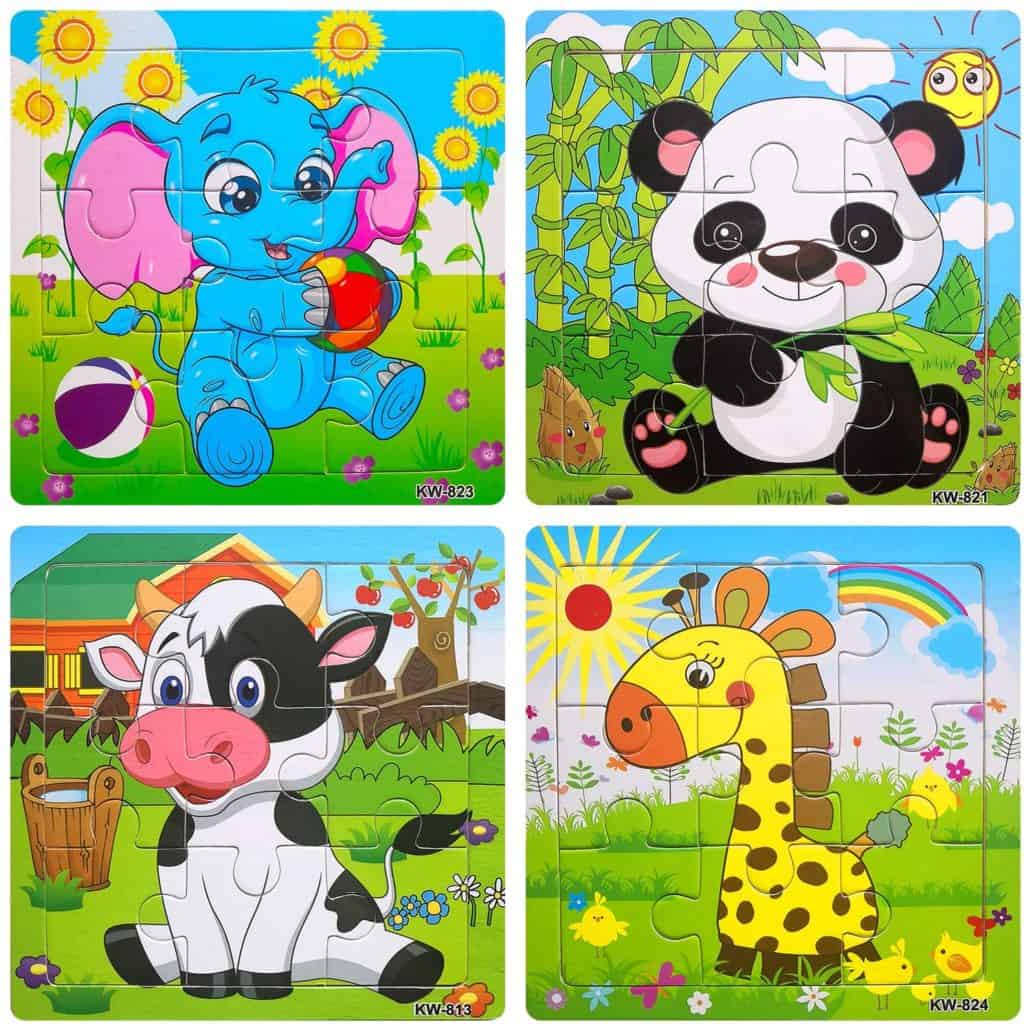 Recommended age – 3+ years
This self-correcting wooden Jigsaw Puzzle comes in a pack of 4 and has vibrant illustrations of a giraffe, panda, cow, and elephant in an easy 9-pieces. It features durable puzzles, is smaller in size, and has fun animal illustrations.
Pros:
Is durable
Features images under the pieces
Includes an animal parade illustration
Cons:
Are quite small that could cause a choking hazard
Cute pics, just enough pieces without being over whelming, can match the pieces to the picture underneath which encourages solo play.
We dont have kids, but we wanted to have a few things around for kids of family members to play with when visiting. These were fun for niece and nephew 3 & 2 y/o. The colors are bright and the pieces held up against little hands banging them on things.
For more product reviews visit Amazon
6) TomatoFish Matching Egg Set puzzle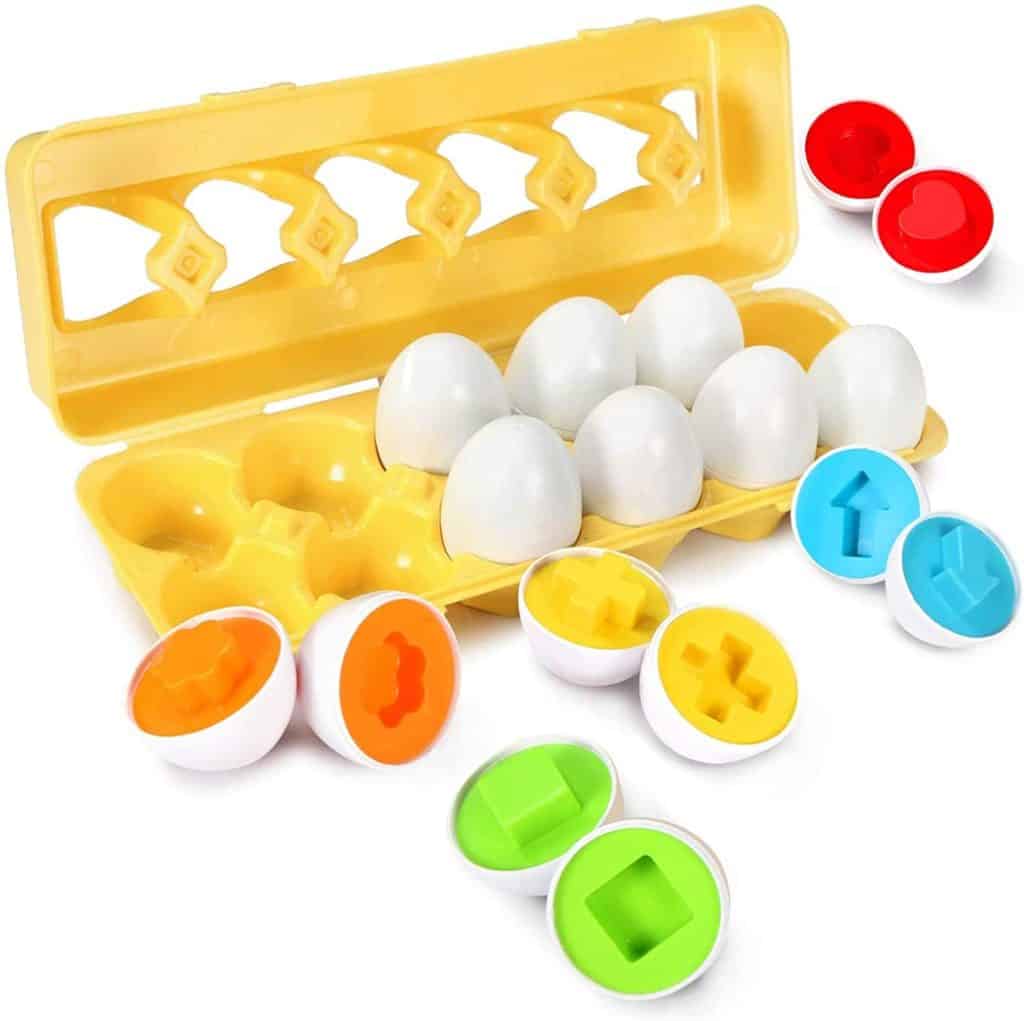 Recommended age – 8+ years
These puzzles for toddlers come in egg shapes and bright yellow color and are filled with bright 3D shape halves that your toddler will have to piece together. This is the best learning tool and helps introduce shapes and colors to the little toddlers while enhancing their fine motor skills.
Pros:
These educational puzzles help teach colors and shapes to the kids
Are brightly colored
Builds recognition skills
Comes with a carton carrying case
Cons:
Although they make a great gift and helps develop certain skills, it could be challenging for the kids to open
I was on the fence about buying this for a while, but when I did it I was surprised at how much the whole house loves it. It gets used for all sorts of play and it's definitely one of my favorite toys I've gotten my kids
Bought this for my 2yr old for Christmas and it's the only thing he plays with everyday since Christmas. Christmas was a month ago and he still hasn't become bored with it. Can't say that for any of his other toys!!
For more product reviews visit Amazon
7) GYBBER&MUMU wooden colorful shape puzzle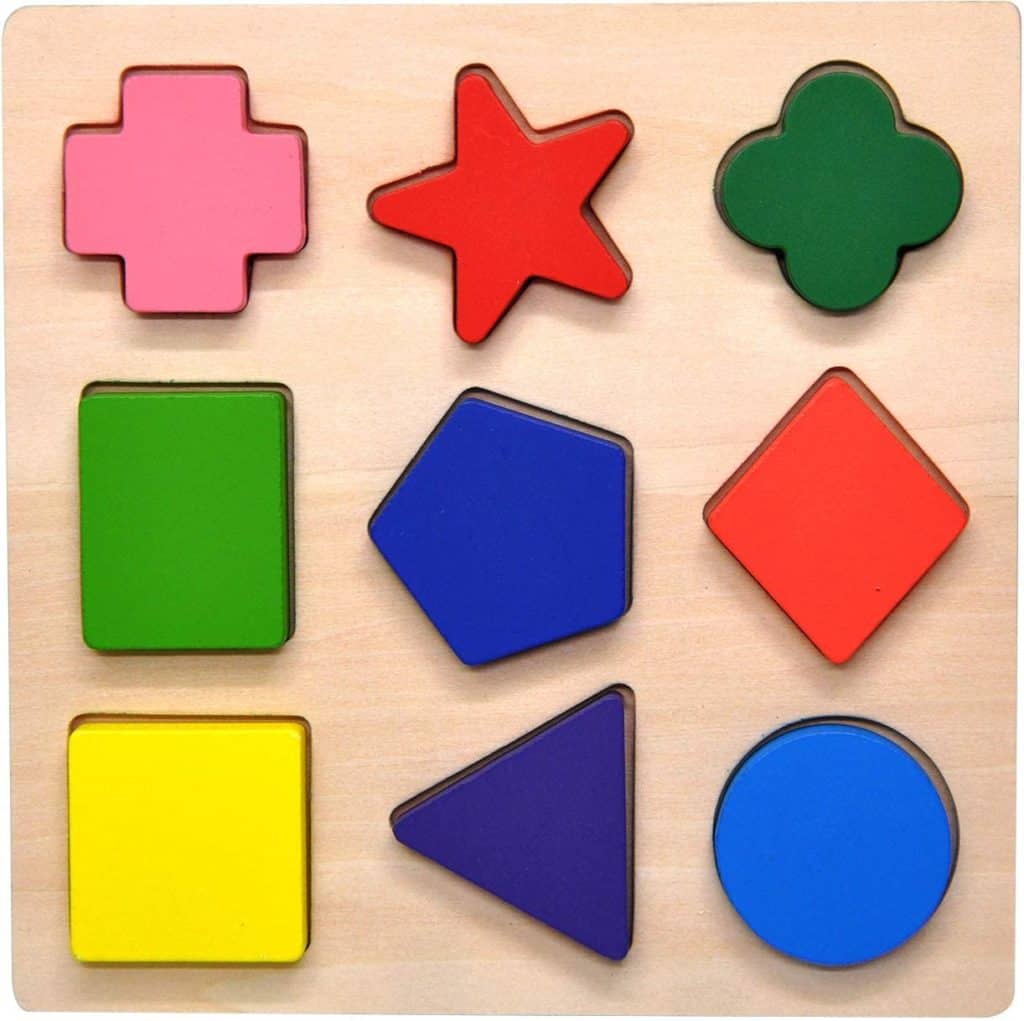 Recommended age -3 years+
This floor puzzle features high-quality shapes and is a perfect educational tool to teach the toddler both shapes and colors. The chunky shapes of the puzzle feature to fit perfectly into the smoothed wood puzzle board are BPA and phthalate-free.
Pros:
The wooden puzzles encourage the kids to learn shapes and colors
Features smooth wood
Are made from non-toxic materials
Cons:
The similar colors could be confusing
Just got this for my 15 month old to learn how to speak since he likes hands-on learning. He started saying some of the shape names with me as we played with it. Perfect tool for him.
I am so happy with the quality and simplicity of this toy. My 18m old is so proud every time he puts a shape in the right slot. This would make a lovely gift, stocking stuffer or East basket addition.
For more product reviews visit Amazon
8) Melissa & Doug construction chunky puzzles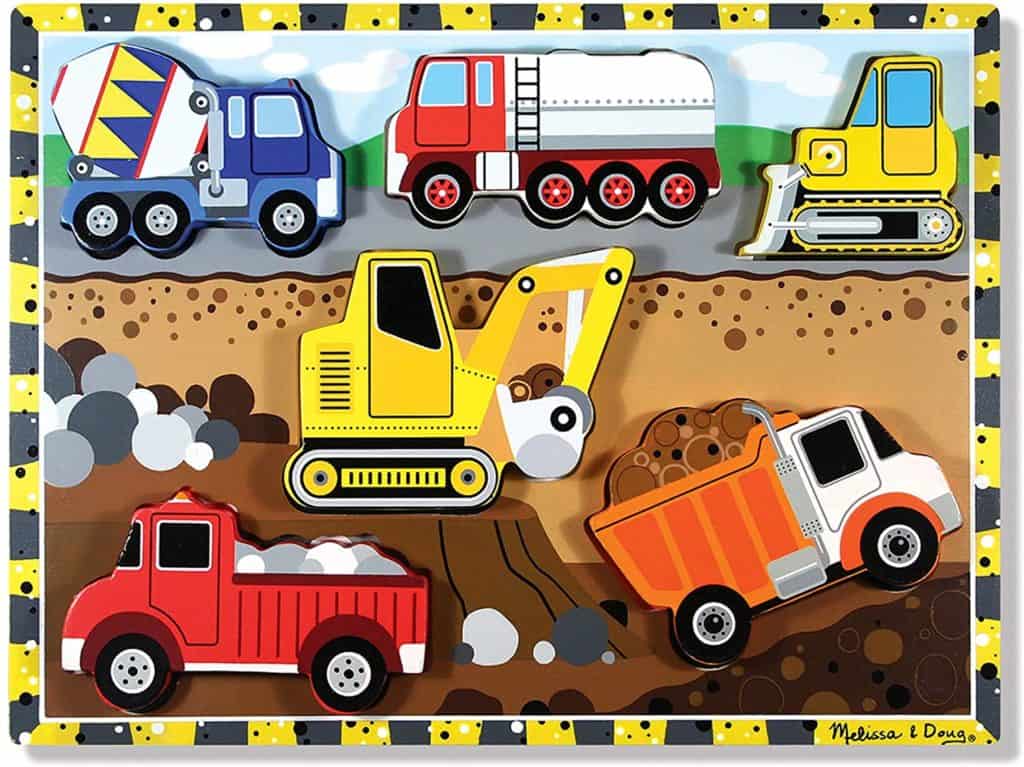 Recommended age – 2 to 5 years
This Melissa & Doug puzzle is a construction puzzle that features bulldozers, trucks, and construction vehicles. It includes 6 construction vehicle puzzle pieces that are designed to smoothly fit into a board that has a dirt and sand background.
Pros:
Promote fine motor skills
Build imagination and matching skills
Include thick peg pieces
Cons:
Are not recommended for chewers
My 1 year old loves these chunky puzzles! The pieces are really easy for him to hold and it's easy for him to take the puzzle apart and put back together. He loves it and it keeps him entertained! Quality is great too
Bought this for my son for Christmas and love it! It's super sturdy and gives him some fine motor skill work and teaches him about construction vehicles. Perfect for my 4 year old. Love Melissa and Doug products. They're always well built and good value for what u pay.
For more product reviews visit Amazon
9) Melissa & Doug Farm Jumbo Knob puzzle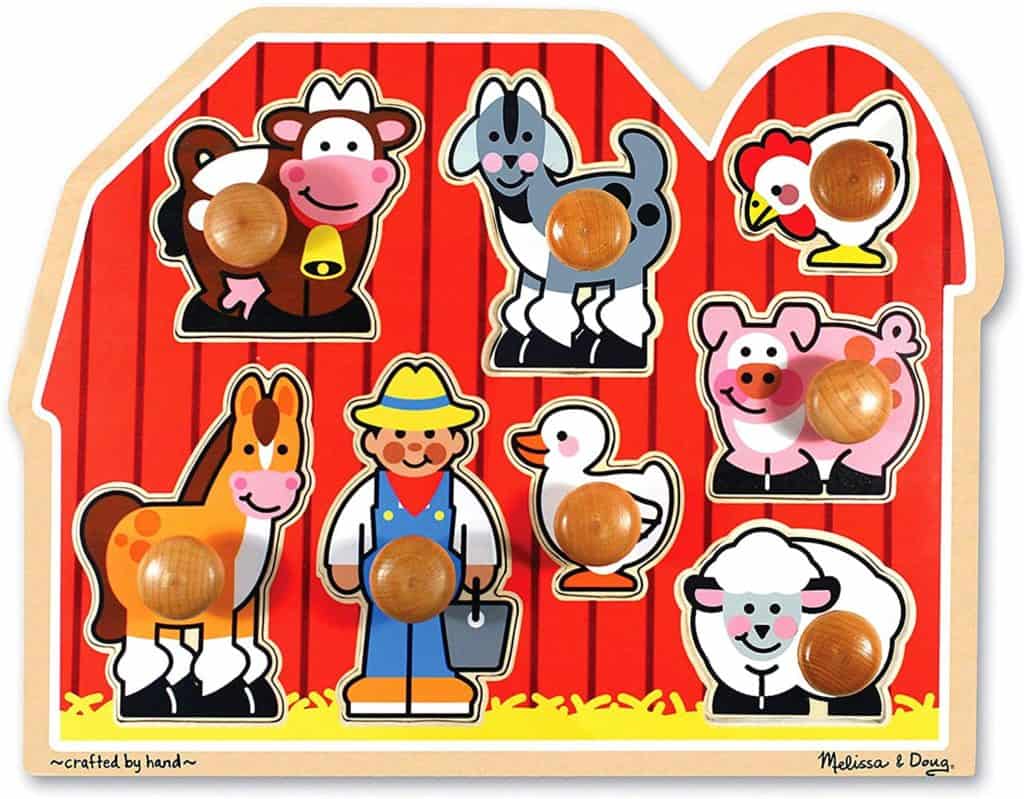 Recommended age – 12 months +
This Melissa Doug Jumbo Farm Knob Puzzle is a great puzzle for little kids that has an inbuilt tune of Old MacDonald for the little kids. The puzzle features that best fit the tiniest hands, with wooden knobs that make it easier to hold onto and lift.
Pros:
Comes with barnyard friends
Have large knobs attached for an easy grasp
Cons:
The puzzles do not have a solid wood board
This is the second time we've purchased these for our toddlers. The first set was donated after our then youngest grew out of them, but then we needed another set for a younger child. Highly recommend.
My 1.5 year old loves this as his first puzzle. The pieces have held up: he throws the pieces, gives them to dogs, and bites them (ah, toddler life); the pieces still fit in the puzzle nicely! The paint does not chip off, the pieces do not get warped by toddler/dog slobber, and this has been his favorite toy for weeks. I recommend this product for any toddler parent.
For more product reviews visit Amazon
10) Aitey Animal Jigsaw Puzzle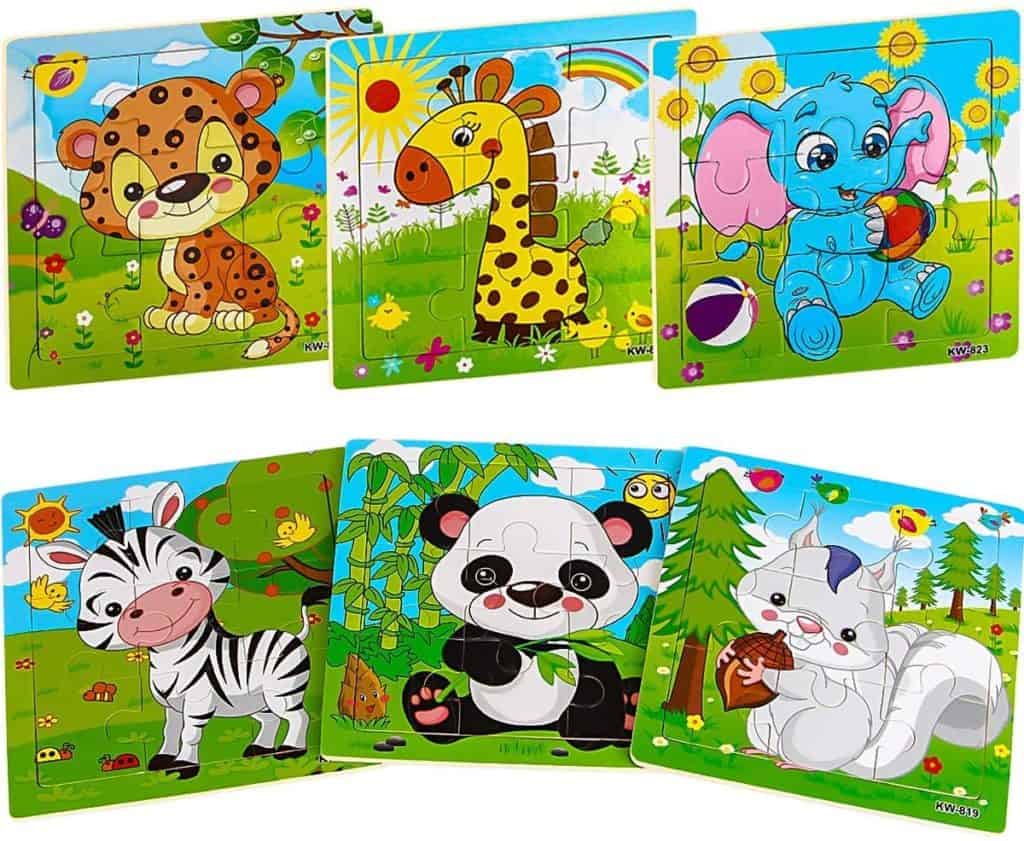 Recommended age – 3 to 5 years
This 9 piece puzzle for the toddlers features different baby animals, such as squirrel, panda, giraffe, zebra, and elephant in bright colors.
Pros:
Helps the toddlers to earn color recognition
Feature vibrant and adorable animal illustrations
Have 9 pieces in each puzzle
Are observed to be the best puzzle for children who are just starting
Cons:
The pieces are quite thin
Except that they are smaller than I expected (I should've read dimensions!) – these are nice puzzles for little ones – they help them learn to differntiate between 'edge' pieces and inside pieces. Can be built in the wooden trays supplied, or separately.
I bought these puzzles for my older sister with Dementia. She loves jigsaw puzzles and with her deteriorating condition she can still do these. The smile on her face was worth all the money in the world!
For more product reviews visit Amazon
11) Melissa & Doug First Play wooden touch and feel fun puzzle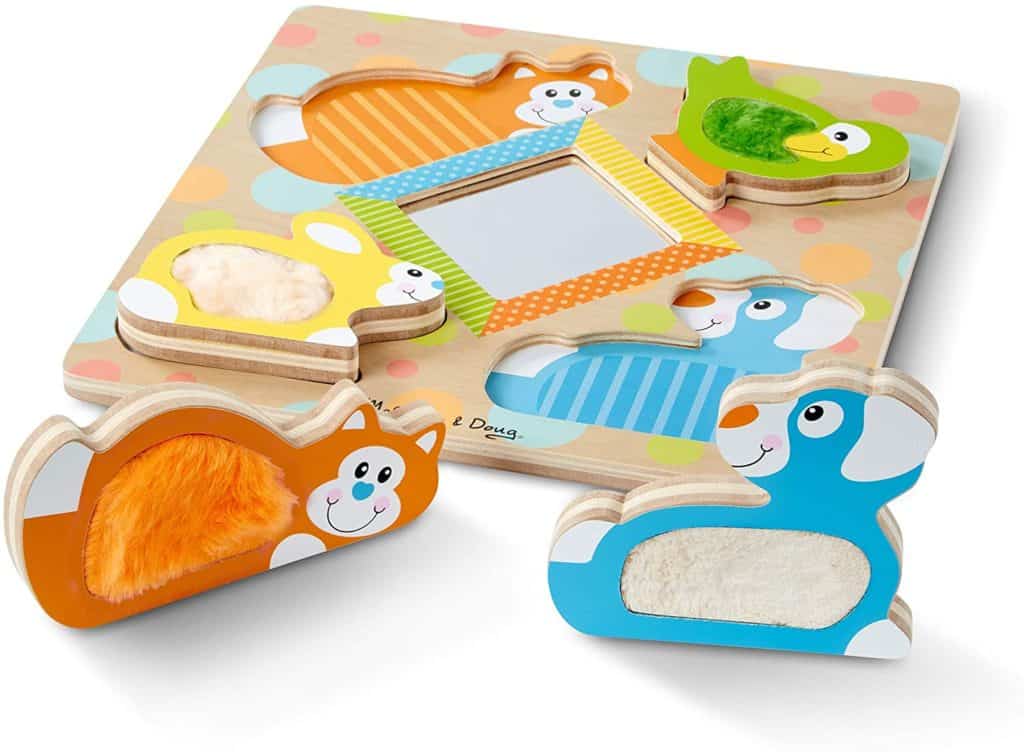 Recommended age – 12 months +
This touch-and-feel puzzle from Melissa & Doug is perfect for the children that come with tactile books in the beginner library that encourage the toddler to enhance their sensory skills and fine motor skills. They feature in the shapes of a dog, cat, rabbit, and bird that are also easy to stand for pretend play.
Pros:
It features touch-and-feel animal pieces
Includes a child-safe mirror
It has pictures under each puzzle piece
Cons:
The wooden pieces are thin
If you are looking for gifts for a baby- 1 year old this puzzle is adorable..durable, nice wood features, bright colors, touch and feel sensory pieces + a cute little mirror in the middle!
My 18 month old loves this! And with only been four pieces it still keeps him entertained for a good while. And best of all I don't have to worry about choking pieces.
For more product reviews visit Amazon
Choosing the best puzzle for your kids depends on the choice and preference of your toddler. These toddler puzzles are the best gifts that not only enhance their motor skills but also enrich their learning journey!
You can also choose to purchase the best wooden toys for your toddler as well, these, just like the puzzles, will help build your toddler's fine motor skills.
FAQs: Best puzzles for the kid's development
1) What skills do puzzles help strengthen and build ?
Hand-eye coordination
Spatial awareness
Fine motor skills
Gross motor skills
Enhances their focus
Problem-solving skills
Teaches patience
Shape recognition
2) At what age can a child do a 100 piece puzzle ?
A child will be able to complete a 100 piece when they are about 5 or 6 years old. However, this also depends on the level of difficulty and the skills enhancement of the children.
3) What age should a child be able to complete a puzzle ?
A child will be able to complete a puzzle correctly when they are 24 months old or 2 years old. These puzzles could be of a vegetable, animal, or fruits, or even a three-piece puzzle of their fav cartoon.