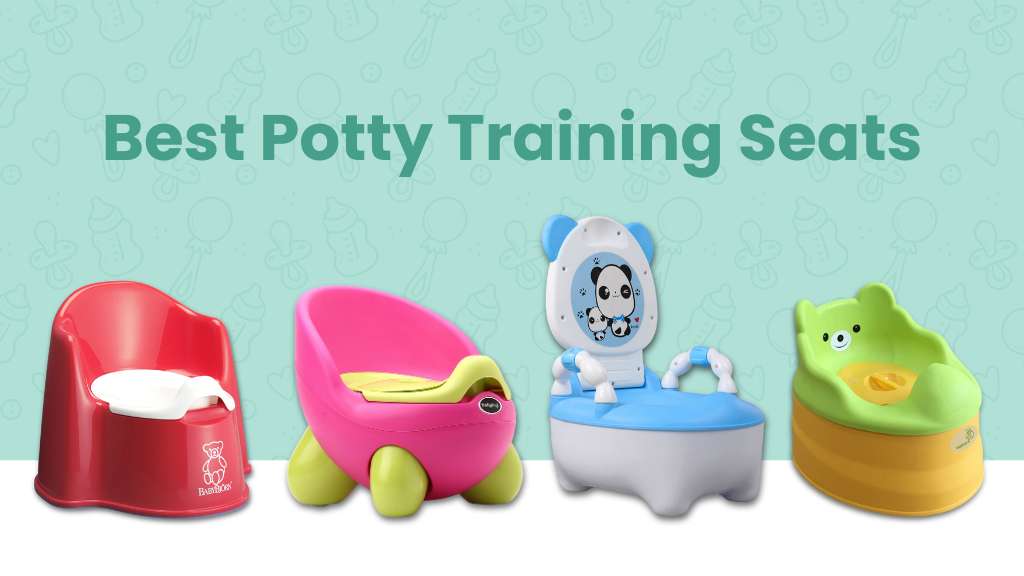 Got a kiddo who's ready to tackle potty training? Well, we've got you covered with our latest review of the top 13 best potty training chairs on the market. We did all the legwork, checked out what was out there, and even bought a bunch of chairs for testing. We judged them based on how well they worked, how easy they were to clean, how portable they were, and how long they'd last.
Our fave chairs turned out to be the ones that were simple, low-key, and easy to move around from room to room. Trust us, the best potty training seat can make this an easy breezy process. So let our research help you make the best choice for your little one.
Check Out The 13 Best Potty Training Seats in 2023
13 Best Pajamas For Toddlers And Babies
1. BabyBjorn Potty Chair (around $30): Best Potty Training Toilet Seat Overall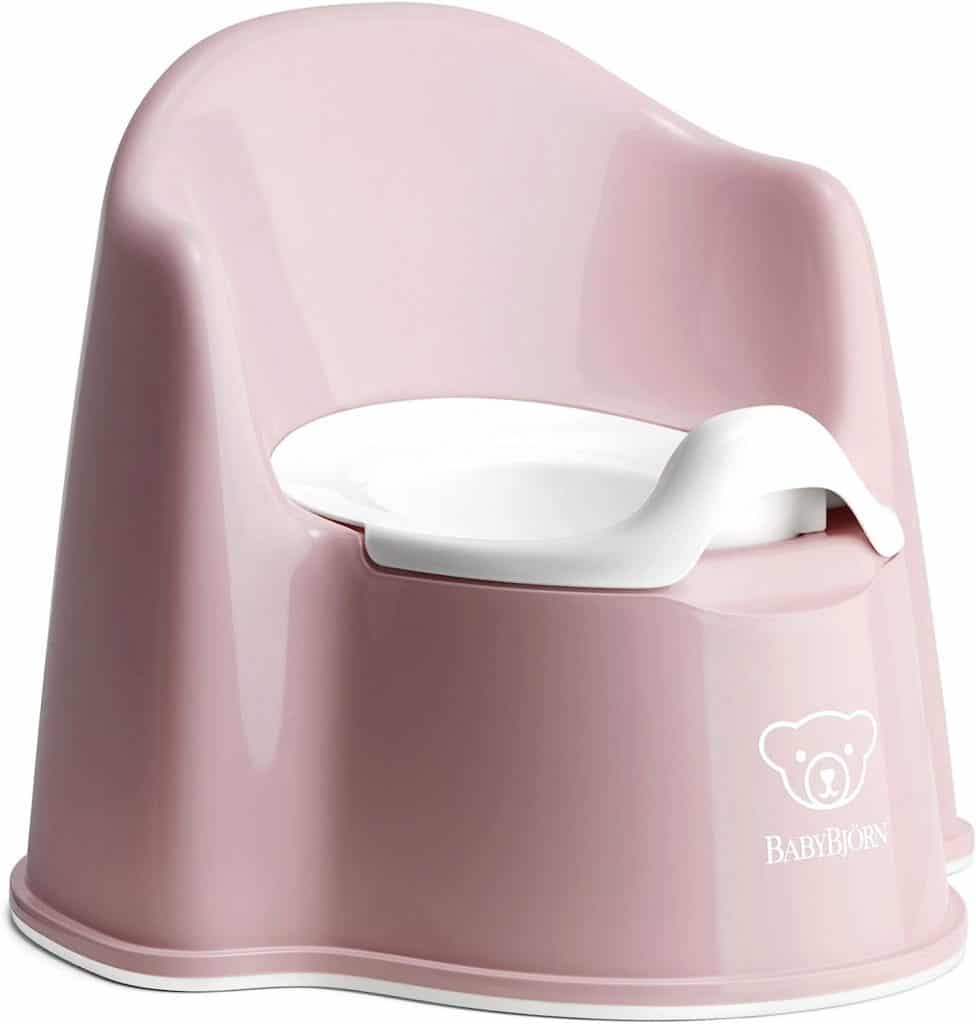 It's no wonder that the BabyBjörn Potty Chairs are so popular among parents. It's taller than most other potties with a nice high backrest, giving your little ones a comfy spot to chill while they wait to do their business. And the best part? No batteries, stickers, or hidden places to clean! It's a breeze to keep it nice and tidy.
Plus, lots of parents dig its modern design and cool colors.

The bowl even has a splash guard to prevent spills.

This is also the sturdiest potty training seat out there.
One great thing about using a potty chair during potty training is that it gives your child a comfy and easily accessible place to go, and it's portable, so you can take it wherever you need to. The only downside is that you'll have to keep emptying and wiping it down. But hey, a little extra effort is worth it for all the other awesome features!
Pros :
Easy to clean

Has armrests and a high backrest

Sturdy
2) Jool Baby Folding Travel Potty Seat (around $15): Best Potty Training Seat With Foldable Features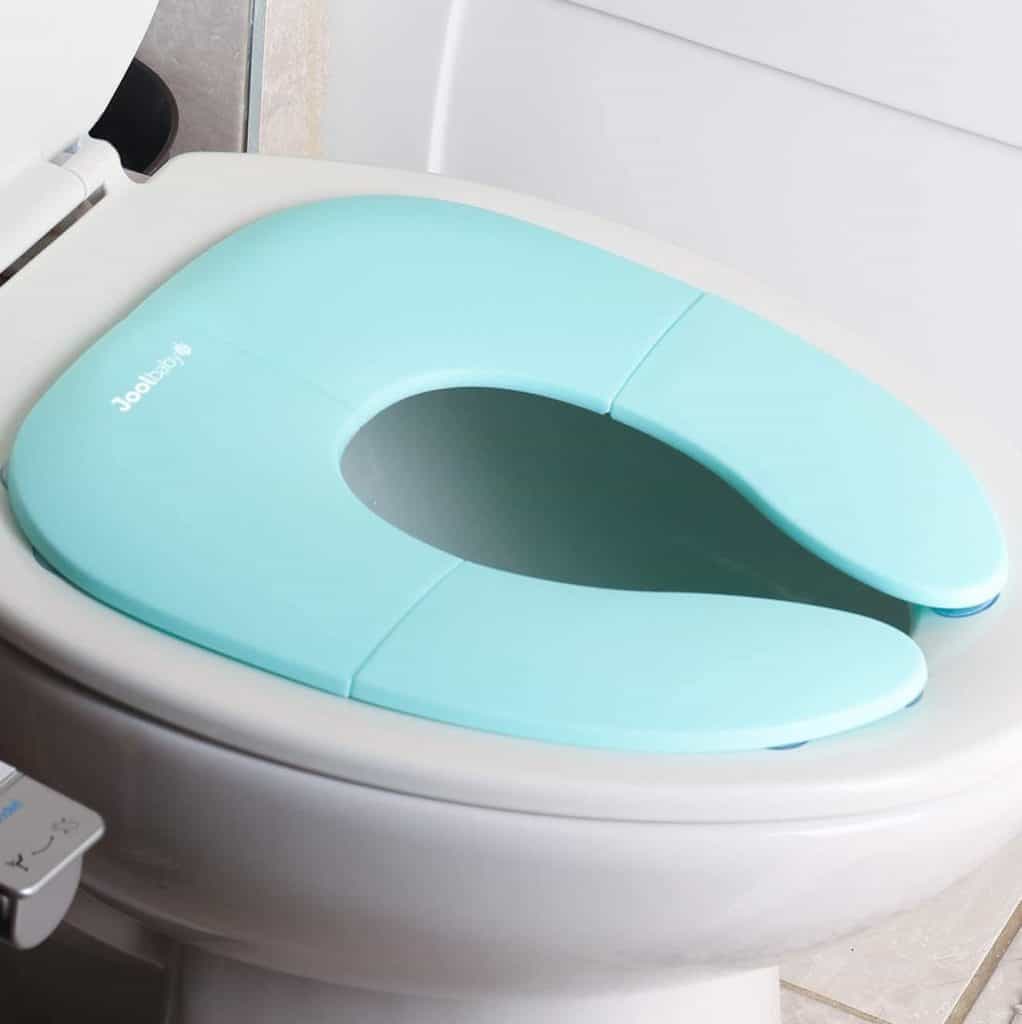 This seat is the perfect budget option, not just because it's cheap, but because you can use it anywhere. Just slap it onto any regular toilet seat and magically turn it into a perfect potty for training.
And guess what? It even folds up into a bag so you can take it with you on trips. Toss it in your backpack, throw it in the car trunk, or hide it in a drawer. It's small enough to fit in any tiny bathroom that can't handle a big potty chair.
But the real magic happens when you're out and about, dealing with unfamiliar public restrooms or portable potties. This seat makes potty training a whole lot easier. Plus, you don't have to deal with emptying and cleaning a separate bowl.
Pros :
Cheap

Small

Use it at home and while traveling
Cons :
Cleaning the underside is a bit difficult
3) Munchkin Sturdy Potty Seat (around $11): Best Potty Training Seat With Inserts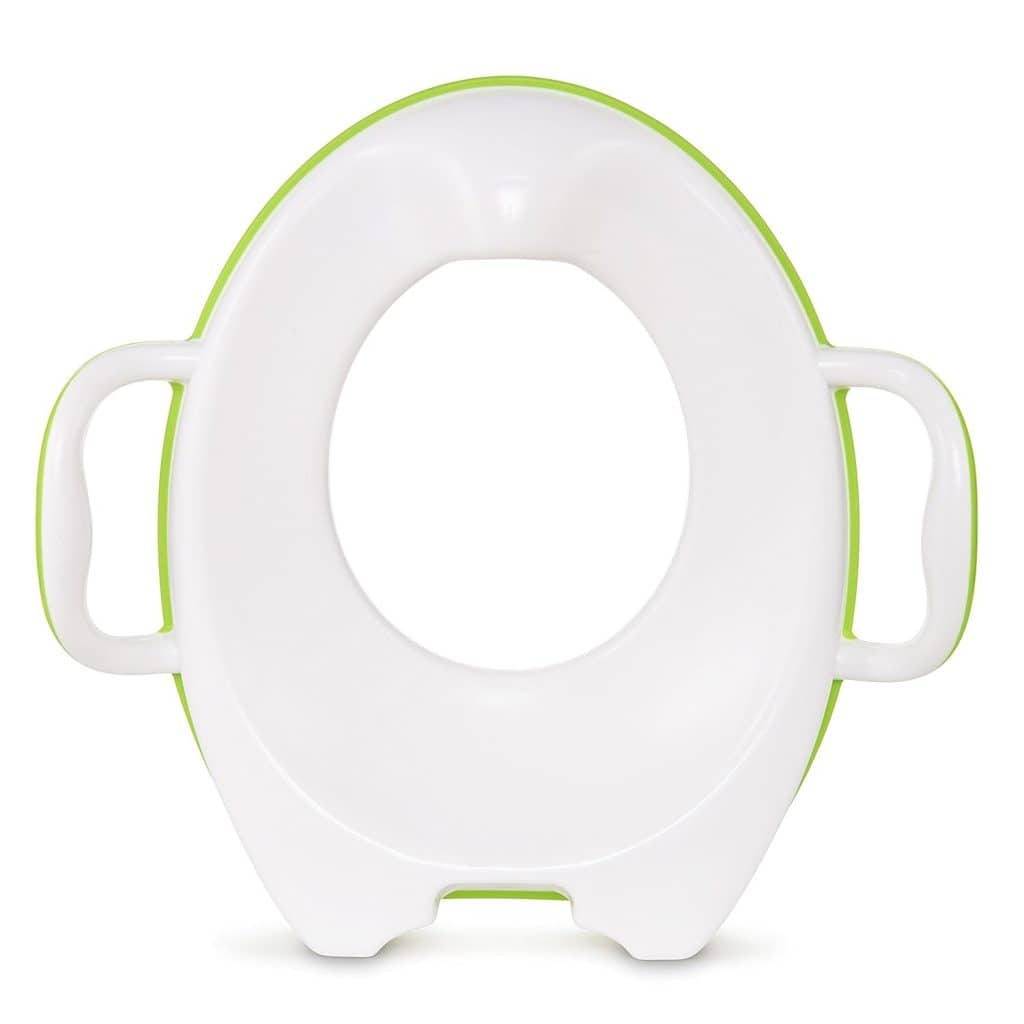 The Munchkin Sturdy Potty Seat is seriously solid. This one stands out because it's lightweight and durable at the same time. Even your toddler can handle it effortlessly, popping it on and off the toilet like a pro.
Plus, it's super comfy for her to do their business.

It's a budget-friendly choice that you can easily move around from one bathroom to another, or stash away when you don't need it.
The only complaint is that cleaning the underside can be a bit of a hassle, but hey, at least it saves you from constantly emptying and scrubbing a potty chair bowl. It doesn't fold up for storage, but that's actually what makes it feel so solid compared to other options.
Pros :
Durable and sturdy

Lightweight

Can be inserted into a regular toilet seat
Cons :
The underside is hard to clean

Doesn't fold
4) NextStep2 Toilet Seat (around $44): Best Potty Training Seat With Built-in Features
This seat is like a replacement for your regular old toilet seat, but get this—it installs right over it just like the Munchkin potty seat. It's got some cool tweaks to make sure it fits perfectly, which is a step up from other training seats.
One nifty thing is the slow-close feature that keeps the little ones from getting hurt. This built-in potty seat is awesome for tight spaces 'cause you don't need to store a separate insert or potty chair. Plus, it's super easy for kids to use.
Oh, and here's a bonus: reviewers love that it defaults to the adult-size seat, so there are no surprises. And when your kiddos grow up, it's a breeze to remove from the toilet!
Pros :
Slow close safety feature

Easy to use

It's a real space-saver in the bathroom!
5) Summer Infant My Size Potty Seat (around $30): Best Full-size Potty Training Toilet Seat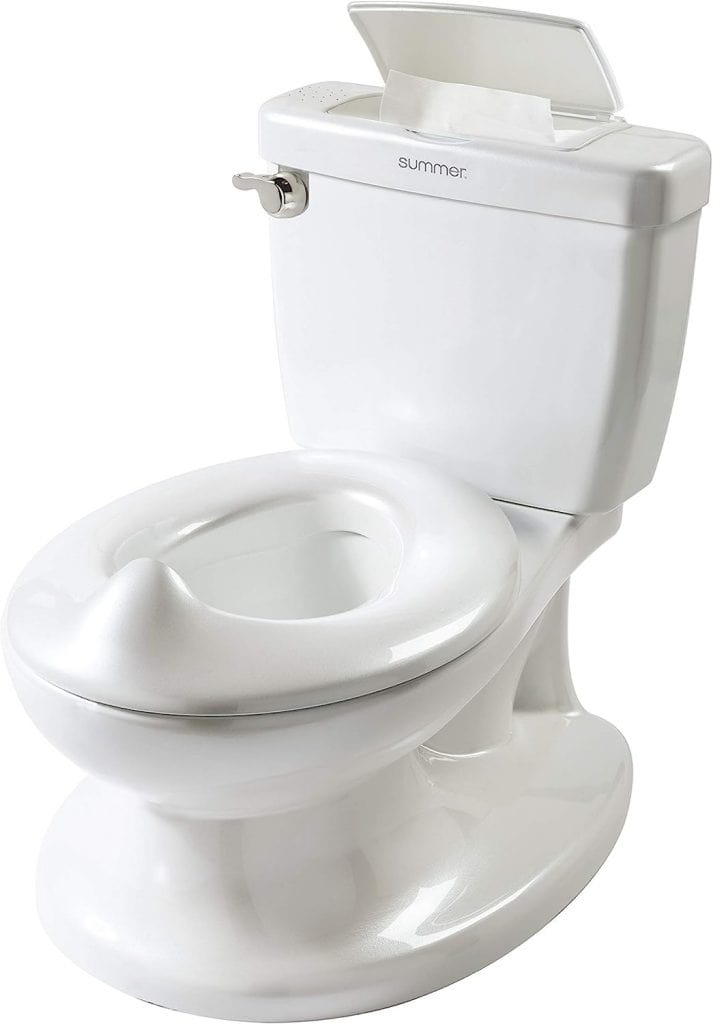 Having a little toilet of their own can help kids feel like they're in charge of their potty training. You know how kids are, they just love copying what the adults do. This cool chair even has a handle that makes flushing sounds when you press it.
And check this out, there's a spot to keep wipes, toys, or anything else they want nearby. It's a really fun choice for kiddos who love pretending to be grown-ups (which, let's be honest, is pretty much every little toddler out there).
Pros :
Realistic design 

Stores wipes and makes flushing noises

Has a splash guard 
Cons :
Super-sized compared to other ones
6) The First Years Potty Training And Transition Potty (around $25): Best Potty Training Seat For Reluctant Tots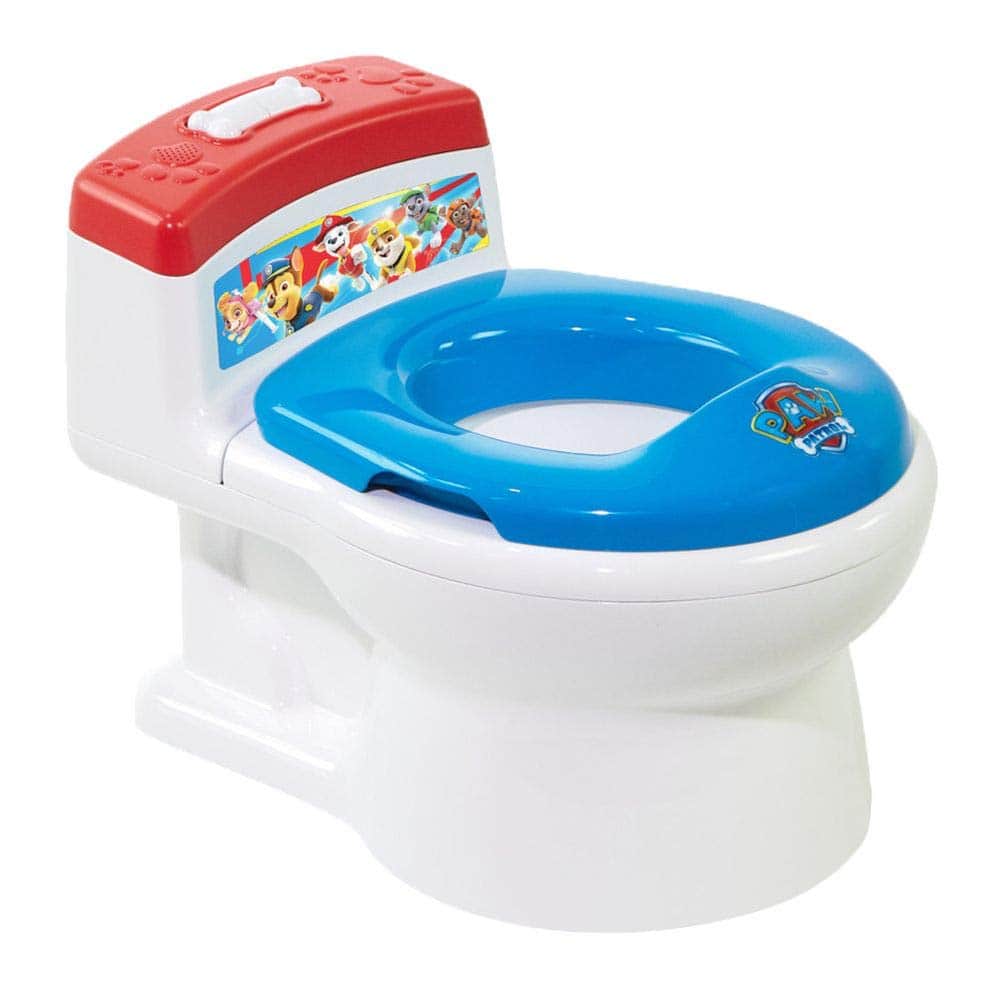 Sometimes, when you're dealing with a kid who just refuses to learn how to use the toilet, you've got to go all out. We're talking about finding a potty chair covered in their favorite TV show characters. Trust us, this works! You can choose from a bunch of friendly characters like Mickey Mouse, Minnie Mouse, Baby Shark, Paw Patrol, Wonder Woman, Toy Story, or even a cool-looking race car chair. And get this—it even makes flushing and cheering sounds! Seriously, this potty chair has everything you need to motivate your kids to use the potty.
Pros :
Several fun theme options

Flushing noises and cheering encourage kids
Cons :
Won't blend in with everyone's decor

Backrest is low compared to others
7) Kalencom Potette Plus 2-In-1 Travel Potty Trainer Seat (around $14) Best Travel Potty Training Toilet Seat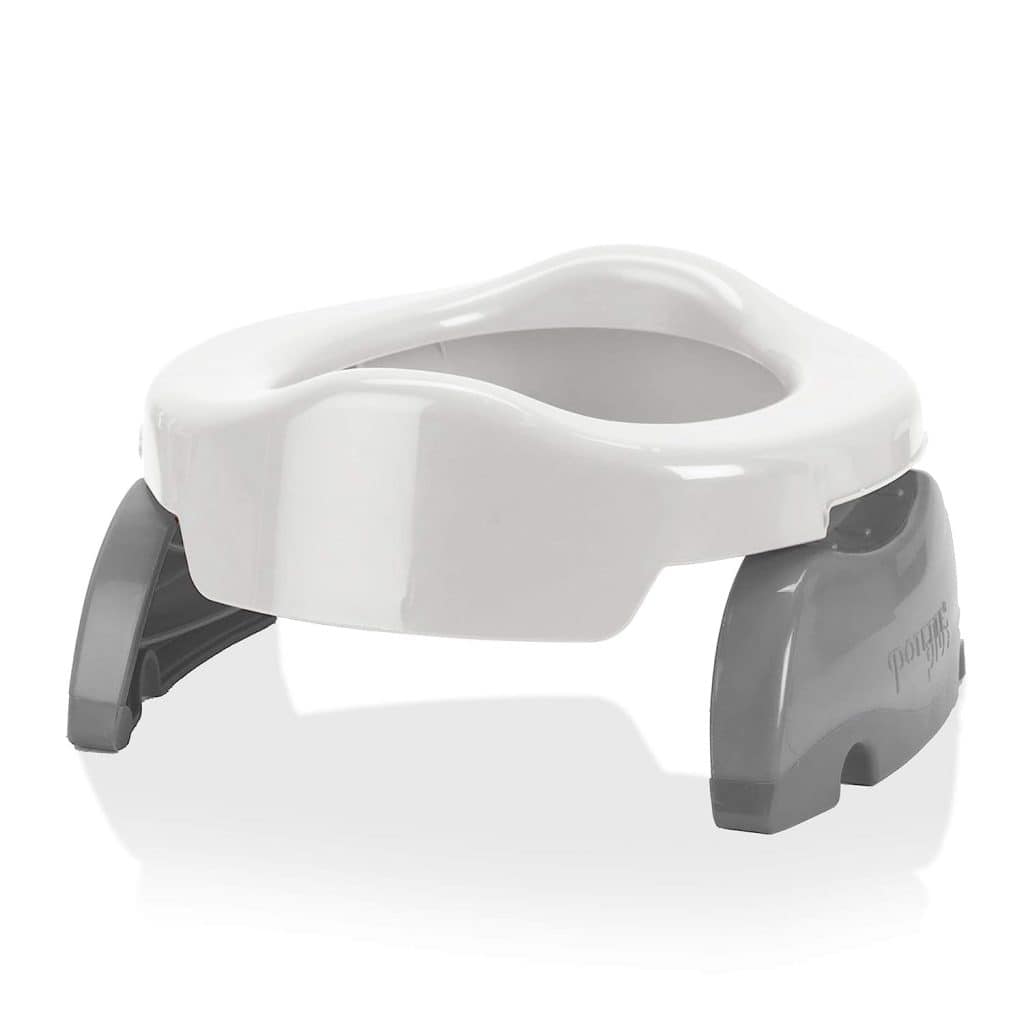 It's so convenient because it folds up nicely into a bag for storage, and the absorbent bags it comes with make cleaning up a breeze. Whenever you can't find a nearby toilet or the ones available aren't suitable, you can just use them with the bags in your car. Plus, it's versatile enough to be used as a toilet insert on a regular toilet.
Trust us, if you have a kid who's scared of public restrooms or porta potties because they're loud or intimidating, the Potette is a total game-changer. It's not big enough for older kids over 50 pounds, but it's an absolute must-have for those early potty training days with little toddlers.
Pros :
Works without or with a toilet

Can be folded into a bag

Easy to clean because of no bowls
Cons :
Gotta keep buying bags all the time

Not as sturdy as the others
8) OXO Tot 2-in-1 Go Potty Seat (around $21): Best Travel Potty Training Seat Runner Up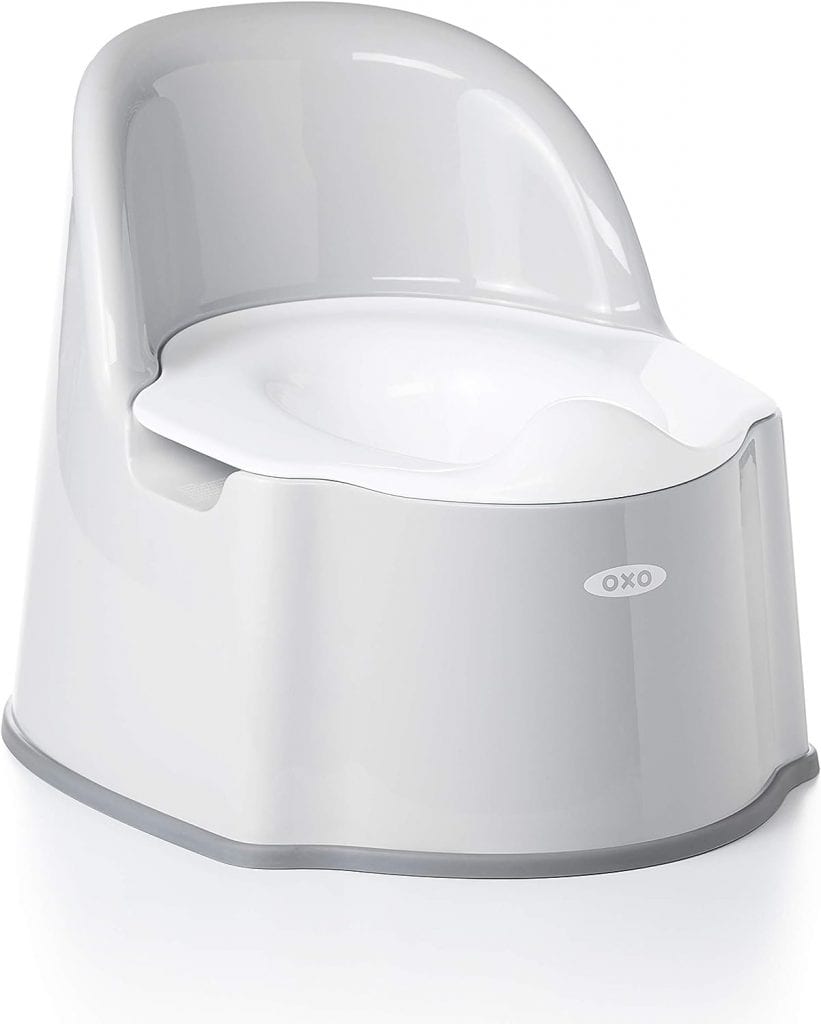 The OXO Tot potty is pretty cool because it's a 2-in-1 deal. You're technically getting two potties for the price of one, and it's perfect for families who are always on the move.
You can use it as a potty chair or as an insert for your regular toilet.

The legs lock securely and open up quickly, which is great for potty training or when there's a bathroom emergency.

As a standalone potty, you can always keep an eye on your kid when using it as an insert on a regular toilet.
It's not as secure as some other options like the BabyBjörn Toilet Trainer, so the little ones might need some help getting on and off the toilet. One thing we really liked about this potty is its unique and versatile design. It's super handy in that it comes with disposable bags and absorbent pads, but you can also use regular plastic bags if you have some lying around.
That means you won't have to do much cleaning since everything goes right into the disposable bag. Plus, it doesn't take up much space because it comes with a storage bag for easy portability.
Pros :
2-in-1 design

You may use regular plastic bags

The potty seat's legs can open easily
Cons :
Supervision is required while using the seat as an insert
9) Beaba Ergonomic Training Potty Seat ($25): Most Comfortable Potty Training Seat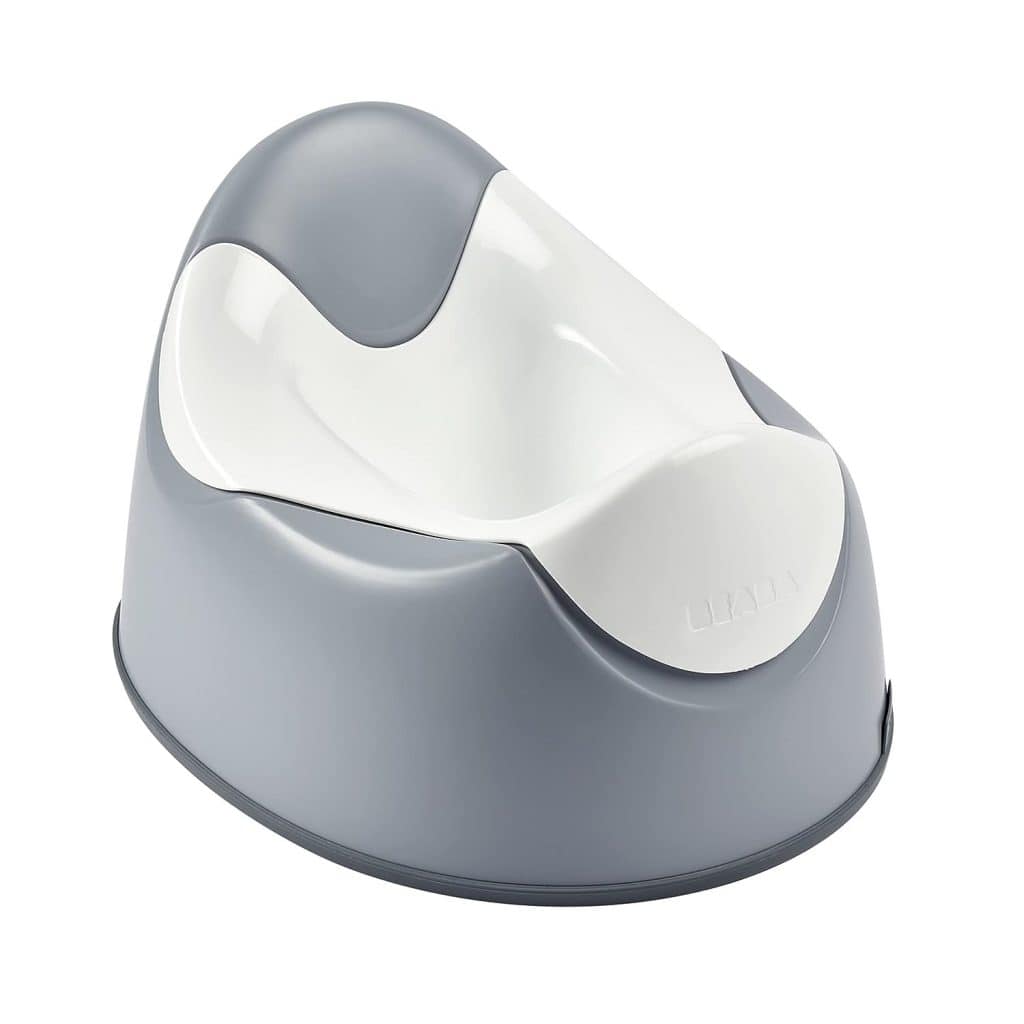 If you're in search of a beginner's potty, the Beaba training potty is a fantastic starting point.
One cool thing about it is that it sits flush on the ground and feels solid due to the anti-slip material on the bottom.

Plus, it's super lightweight, so if you feel like moving it around, you can do so easily. But don't worry, it won't budge from its spot otherwise.

The potty is designed ergonomically to provide a comfy seat for little bums, and the rounded corners and edges make cleanup a breeze.

The center of the potty can be removed, making it convenient to clean without having to carry the whole thing to the sink or toilet.

It's compact enough to stash in a bathroom corner and works well in tight spaces.
Now, here's the thing: while the design is pretty appealing, it doesn't resemble a traditional potty which can confuse some of our munchkins. It's not a dealbreaker, but it's a good idea to check with your daycare or school about the best toilet seat for potty training they use.
This potty chair doesn't have a flush handle or a lid like an adult toilet, which might be a downside for families in the advanced stages of potty training.

However, it does have a handy carrying handle at the back of the seat for easy portability.
Pros :
Ergonomic design is comfortable

The potty center is removable

Stylish design
10) The First Year Minnie Mouse Imagination Potty & Trainer Seat ($37): Best Potty Training Seat For Beginners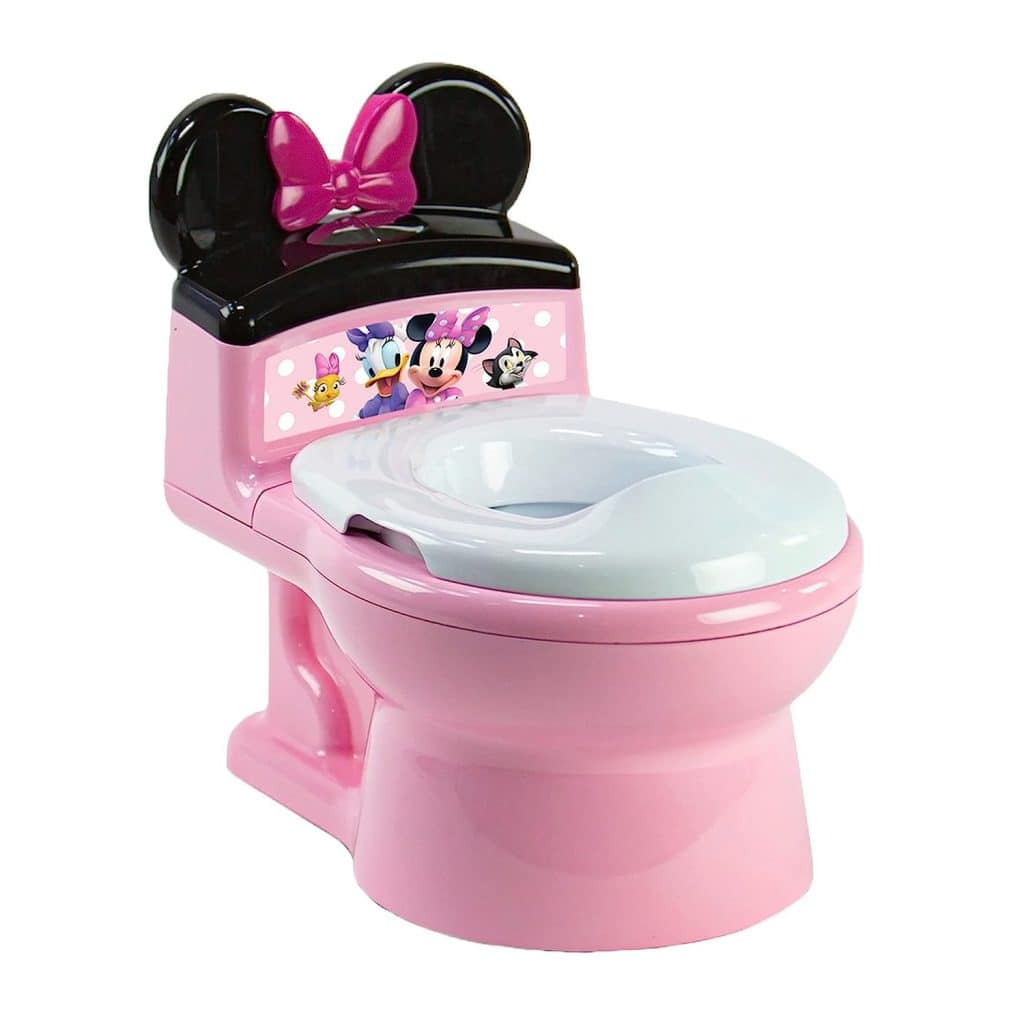 This cutie is perfect for official Minnie Mouse club members. The seat wiggles a bit when the kiddos are settling in, but it's actually pretty stable overall. Cleaning it is a breeze, thanks to the removable inner potty and separate toilet seat.
This potty chair has a built-in splash guard to avoid any messes, and it comes with a cool reward system that our test kids loved.
They can earn Disney character stickers for a chart or even scan them with the 'Share the Smiles' app to get a congratulatory message from a Disney friend.

There are buttons on the potty that give cheers and make a flushing sound when the kids finish their business.

But the best part is the reward button. You can press it and it says 'Yay!' while making a flushing sound.
The only downside is that we wished it had handles on the sides for more stability. It's a bit pricier compared to others on our list, but the fun and rewarding design make it totally worth it.
Pros :
Fun design

Includes a fun reward system

Stable even without an anti-slip feature
11) SKYROKU Potty Training Seat ($36): Best Potty Training Toilet Seat With Adjustable Height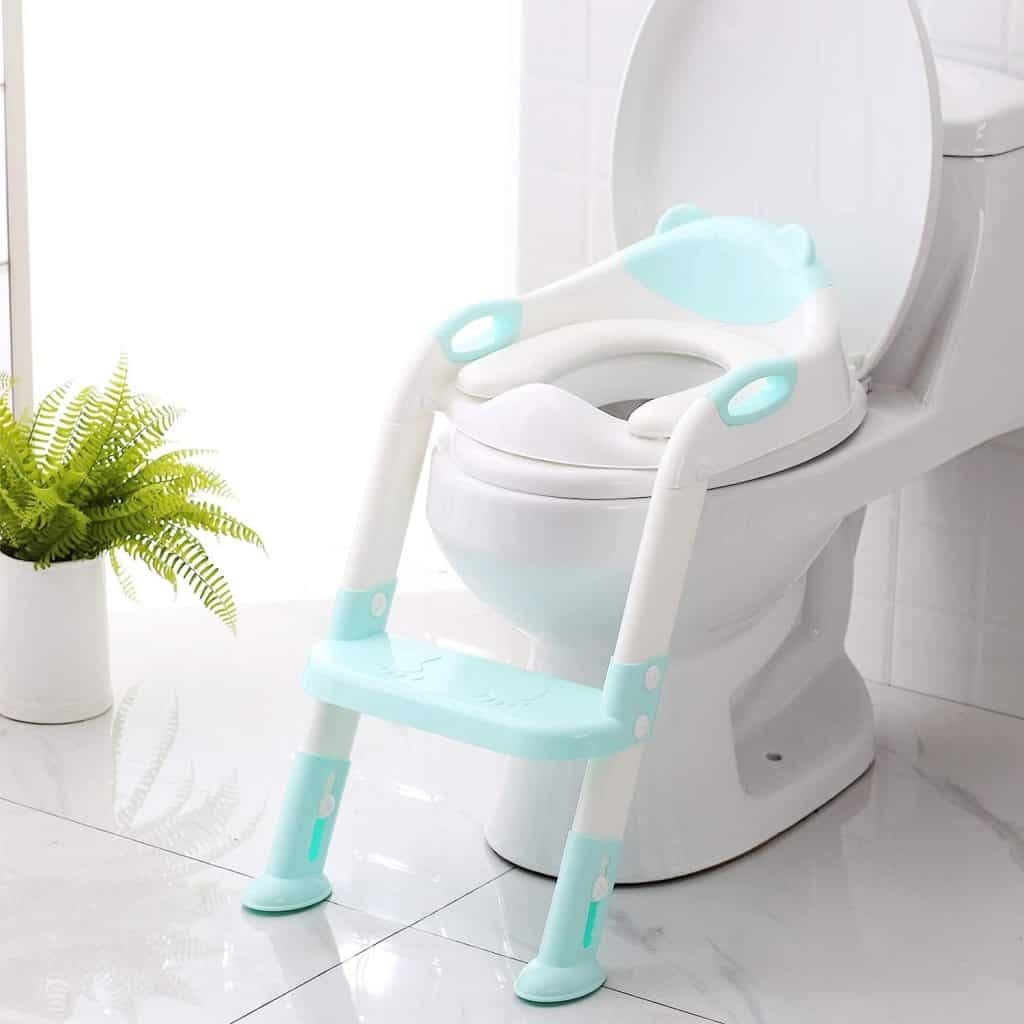 Most toilet inserts make kids use a step stool or a hoist, but this bad boy combines both and even has handles on the side for better balance. And get this, there's a little back on the seat to give those little tykes some extra support while they're doing their business.
It comes in fun or neutral colors and has a cute bear on the backrest with ears and all.

Plus, the seat itself is cushioned for extra comfort during potty training.
But here's the real deal: the kids absolutely loved using this seat because it made them feel like grown-ups. And not only is the design a hit with both kids and parents, but it's also easy to clean since it goes right on the regular toilet. The only downside is that you'll have to take it off and find a place to store it when adults need to use the bathroom.
Pros :
Has a unique potty step/seat stool design

Kid-sized handles for extra grip

Comfortable cushioned seat
Cons :
Must be removed for adults

Not portable
12) Skip Hop 3-in-1 Potty Toilet ($20): Best 3-in-1 Potty Training Seat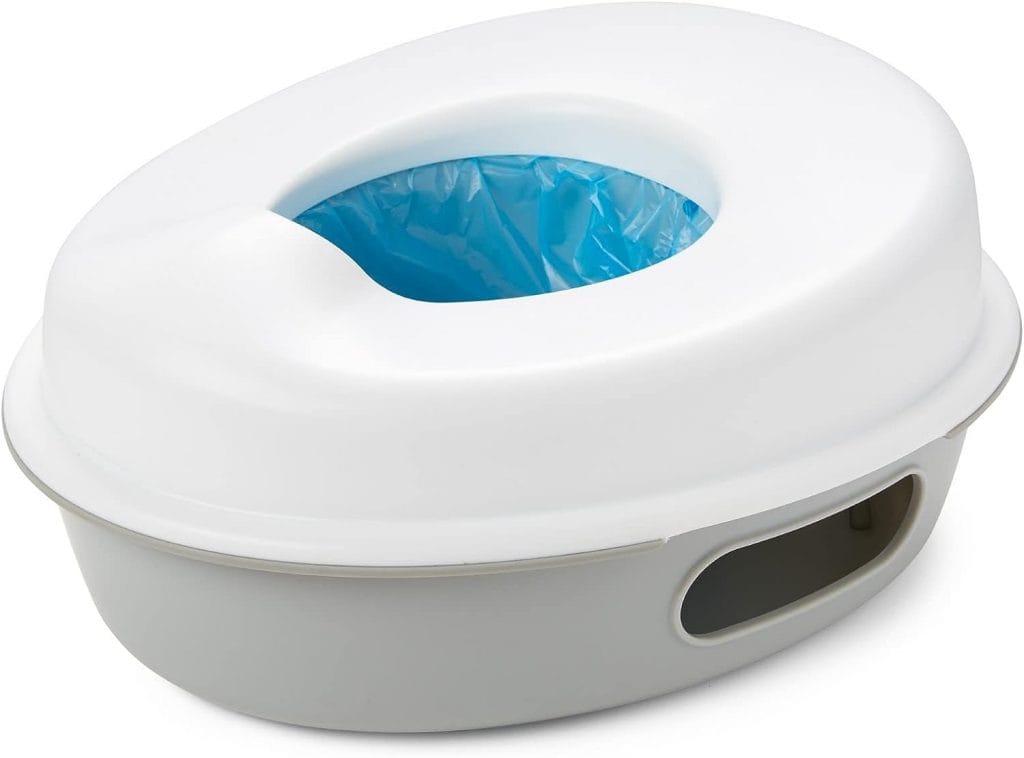 We really liked how it sits low and steady, so little ones can use it comfortably without any wobbling. Plus, it's small and lightweight, perfect for taking on the go or saving space at home. The best part is, you can use regular bags with it or get disposable ones separately if you prefer.
You can even stash extra bags right under the seat. Cleaning it was fairly easy, but it does require a bit of extra effort to clean the bowl.  Pressing the button to release the seat can be a bit difficult too. Despite these minor downsides, we still think the SkipHop 3-in-1 is the best potty seat for toilet training. It's versatile, travel-friendly, and super convenient for busy families.
Pros :
Lightweight and small

Disposable bag holder on the underside

Can be cleaned piece-by-piece
Cons :
Bags have to be bought separately

Cleaning is a tad bit difficult
13) Fisher-Price Learn-to-flush Potty Seat ($35): Best Bright Potty Training Seat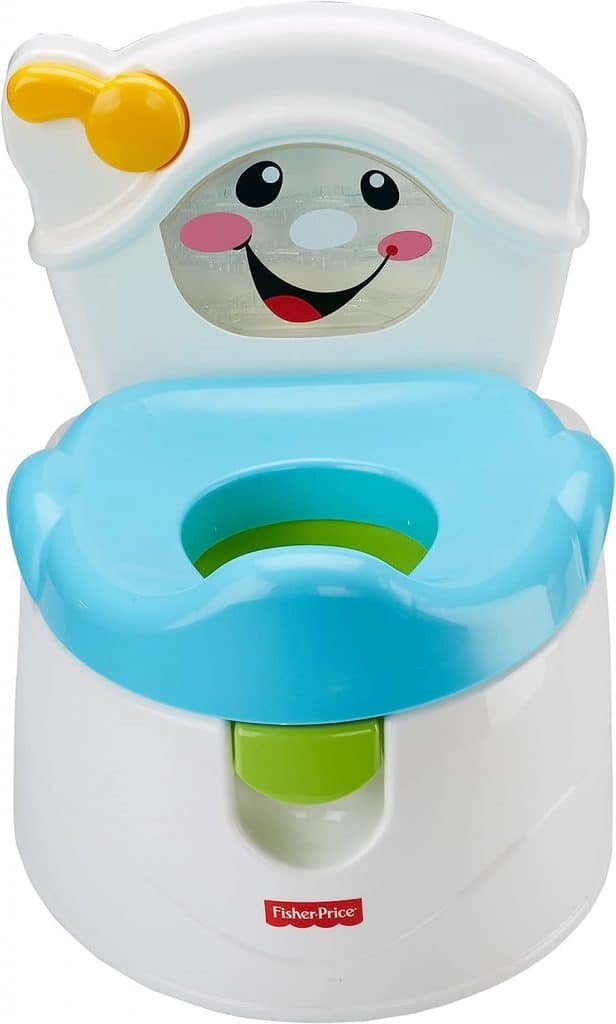 The Fisher-Price Learn-to-Flush Potty has everything you and your little one could want, like cool music, flashy lights, realistic sounds, and more. Although it doesn't have any non-slip material at the bottom, it still feels pretty sturdy. This potty chair does double duty as a toilet trainer as your kids make progress.
When they pee, the seat celebrates with encouraging messages.

It even has a flushing lever and a super happy smiley face on the backrest to make potty training a blast.

The handles on both sides make the kids feel secure.

A splash guard keeps pee where it belongs.
Now, when it's time to clean up, the bowl is easy to take out from the base, but be aware that it might be a tad too big to fit in your regular bathroom sink for washing.
Pros :
Versatile design

Sounds, fun lights, and music

Handles on the seat
It's better to begin potty training before kids hit the age of 3. She says that around that time, kids start realizing they're their own person and want to do things their way. They become experts at saying "no," so it might be easier to potty train them earlier. But remember, every kid is unique, and some might not be ready yet.
Best Potty Training Seat FAQs:
1) What is the best age for potty training?
Lots of kids start showing they're ready for potty training when they're around 18 to 24 months old. But don't stress if your little one isn't there yet and takes until they're 3 years old.
2)Is a potty seat necessary?
When they start using the real deal instead of those cute little potties, they get the hang of it pretty fast. They'll be cool around potties without you around, so no problemo.
3) What is the 3-potty training method?
In a 3-day potty training, you basically let your kid run around without diapers or pants in the house. The idea is that they'll become more aware of when they need to go.