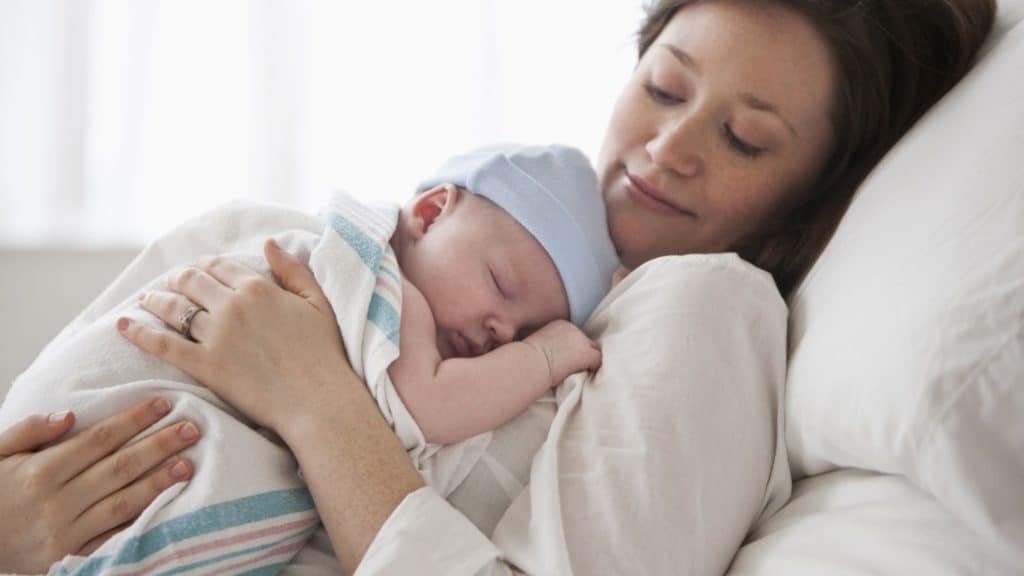 Generally, when parents gather baby items to put them into the hospital bag, such as baby bottles, newborn diapers, comfortable baby clothes, etc, they often forget to think of the best postpartum pads, which are an essential item to pack.
For sure, in case you forget to pack a postpartum pad, the hospital nurses will intend to get you comfy mesh underwear and maxi pads or hospital-grade pads. While some might be ok with it, most moms aren't comfortable using the provided combination and might want to get their own supplies from either the hospital or their home. But why are these menstrual pads needed during postpartum recovery?
Here is a list of our best maxi pads for postpartum, choose one that suits you best:
1) Poise Incontinence Postpartum Pads: Best Postpartum Pads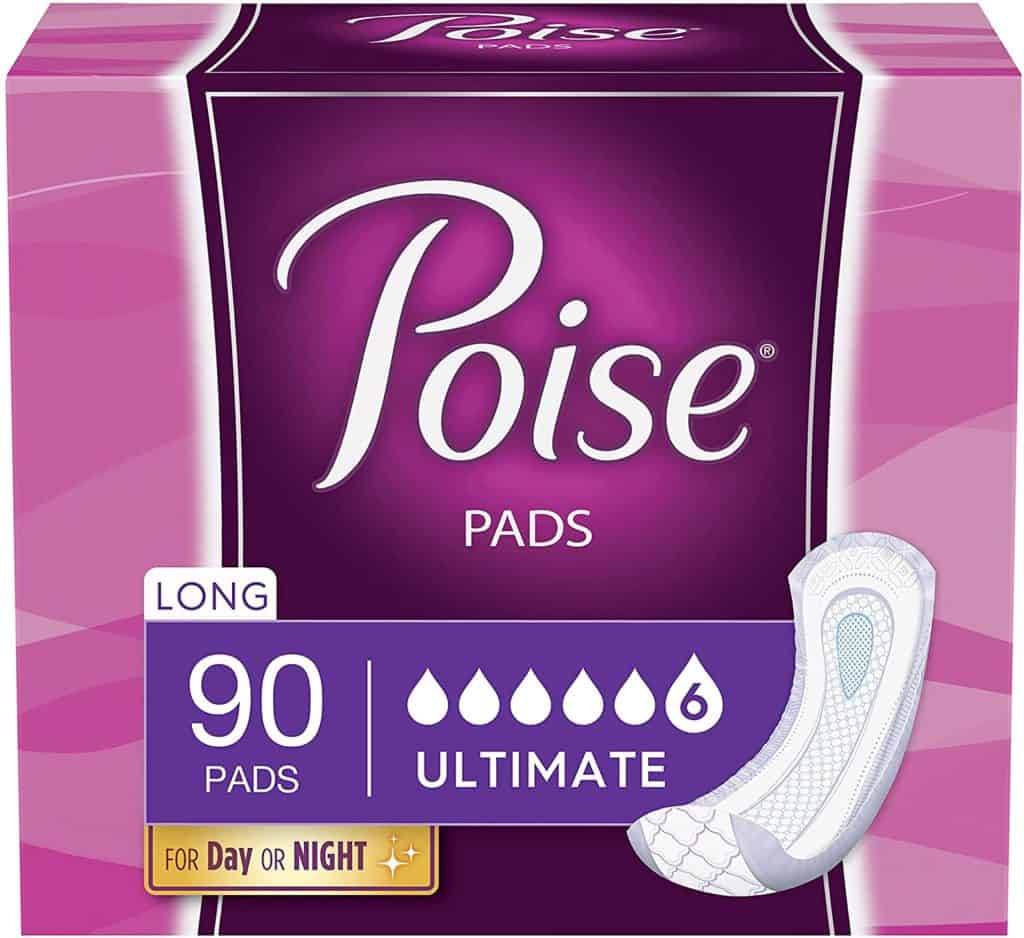 Poise Incontinence postpartum pads are best for heavy bleeding and it was designed primarily for urinary incontinence. These are absorbent, ideal for new mothers during the initial days of postpartum, have a generous shape, provide good coverage to the underwear, and come in two packs of 45 pads each.
Pros
Is comfortable and stays dry
Offers 12 hours of protection
Helps lock the wetness quickly
Are long pad
Do not fold
Has a dry touch layer for comfort
Cons
Could have an unpleasant odor
Doesn't have wings
2) Stayfree Maxi Overnight Pads With Wings: Best Postpartum Pads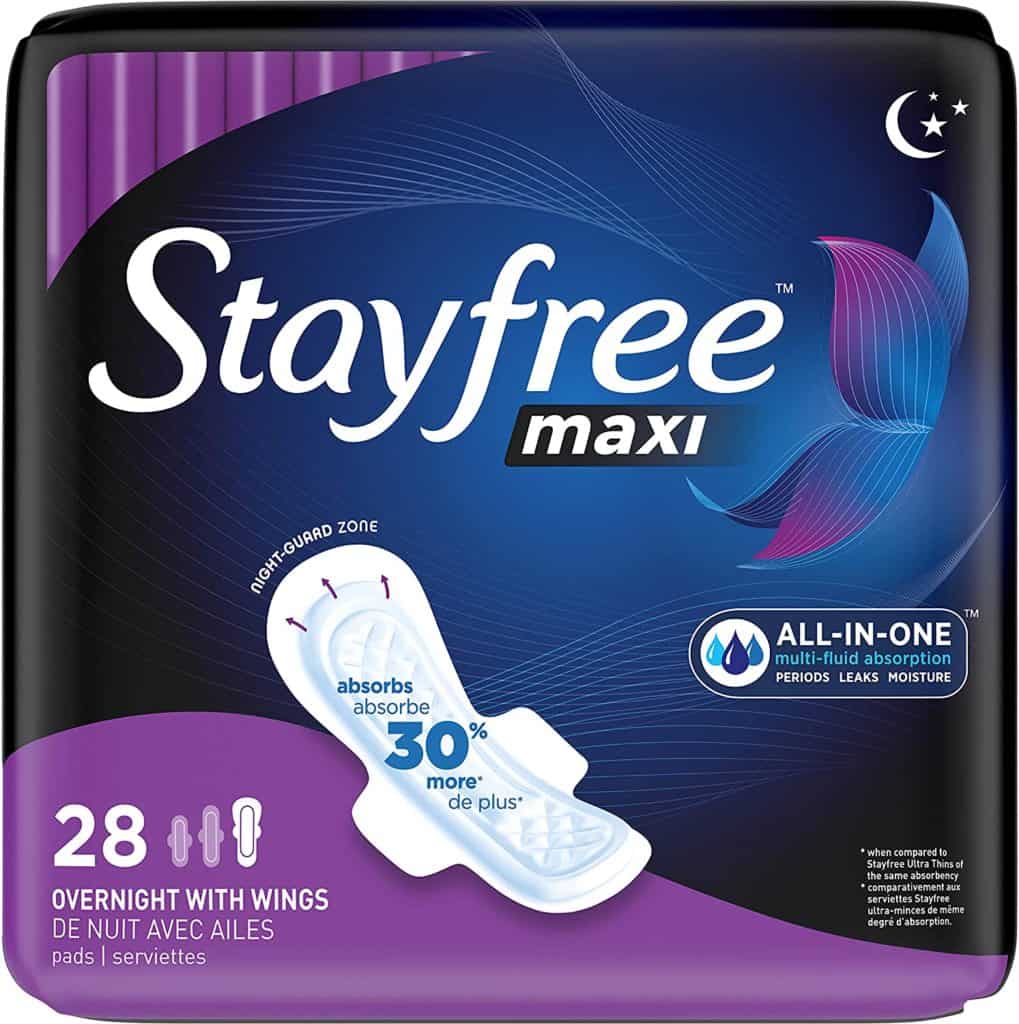 This is one of the best postpartum pads designed using unique technology and has an anti-leak core. It features multi-fluid absorption pads, locks the period blood, urinary leak, moisture, and is available in packs of 28 and 40.
Pros
Is ultra-soft
Has a cotton cover for comfort
Prevents odor
Includes 24 anti-leak channels blocks from all, front, back, and the sides
Has overnight protection for heavy bleeding, discharge, and perspiration
Comes with a quick-absorbing quilt cover
Cons
As the pad is thick, most women might feel uncomfortable
3) Always Radiant Feminine Pads: Best Postpartum Pads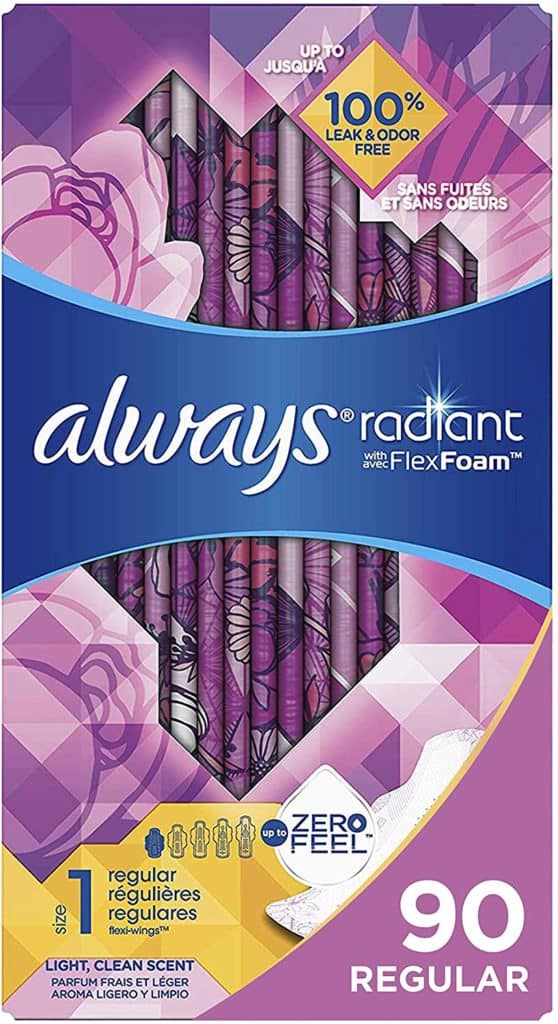 These pads use flex-foam that provides comfort and safety. It features a strong adhesive, the mesh liner lets the pad stay in one place, and comes with an option with a three-pack or six-pack, each with 30 pads.
Pros
Guarantees 100% leak and odor-free protection
Are thin and flexible
Can absorb up to ten times their weight
Every pack features a surprise design of warm tropical prints and neon vibes
Has a handy sizing chart that helps choose the right fit as per the flow and size
Cons
The thinness of the pad has mixed reviews
4) Always Maxi Overnight Pads: Best Postpartum Pads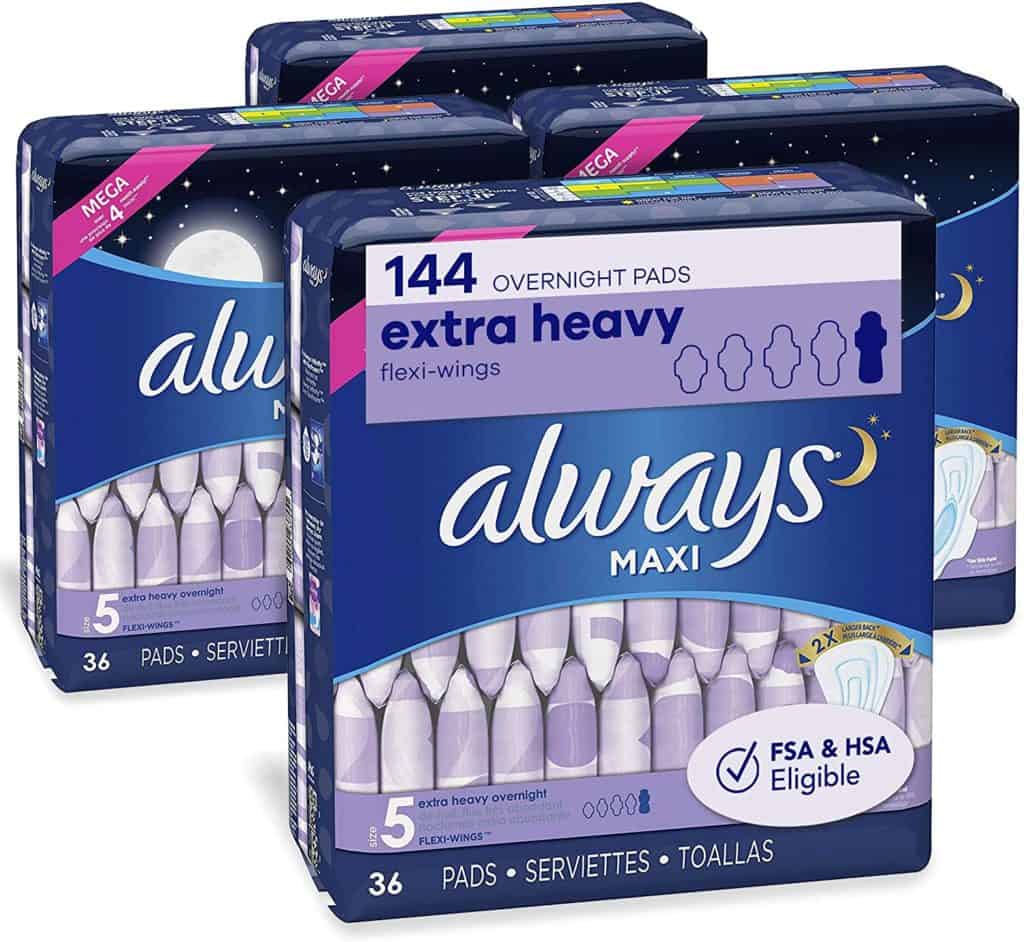 In order to stay protected from leaks and stains during the night, consider these maxi overnight pads. They feature to be firm, have deep channels to help absorb the fluid, and come in a pack of four with 36 pads in each.
Pros
The LeakGuard Cores absorbs the blood in seconds
Offers up to ten hours of protection
Has a 2x larger back protection
Includes a size chart to help pick the right one for you
Comes with Flexi wings for extra protection from stains
Cons
Could be way too long for some
The back may not stick properly
5) Always Xtra Protection Daily Panty Liners: Best Postpartum Pads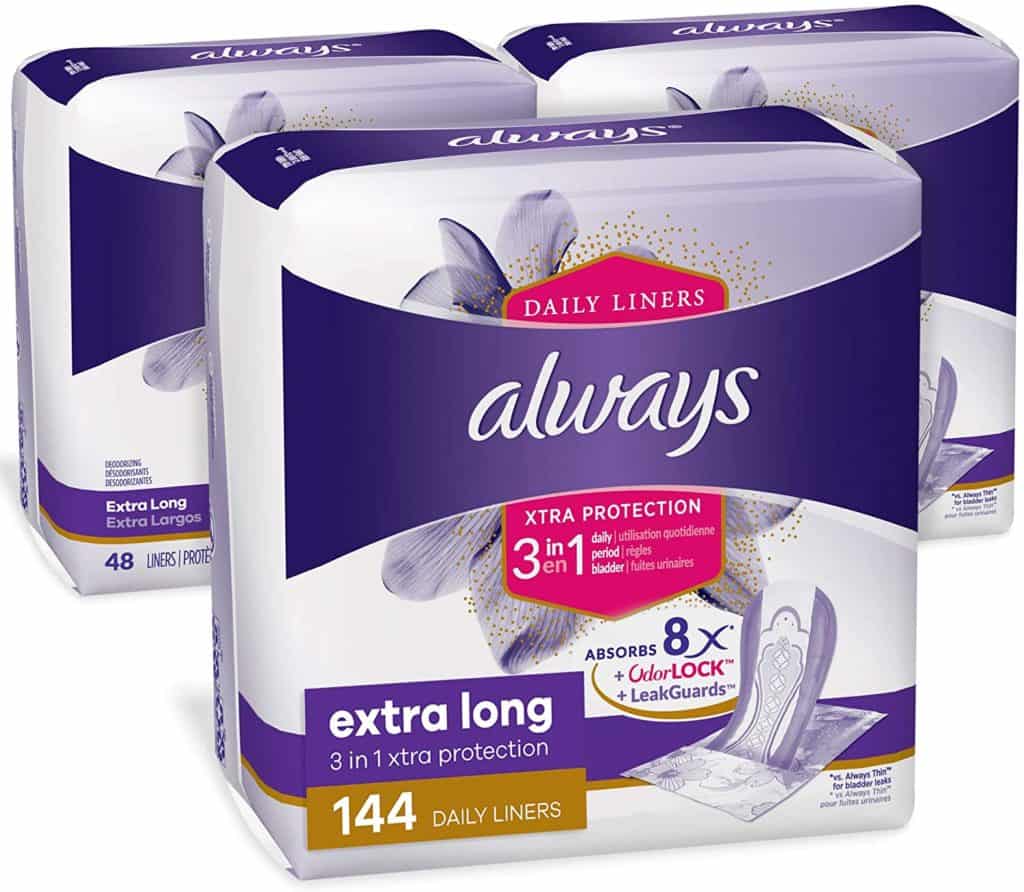 These are designed for daily protection against leaks and moisture. It also features a LeakGuard and RapidDry feature which makes it ideal for the light period days, and is available in a pack of six, with 50 pads in each pack.
Pros
The postpartum pads have a super-soft cover for comfort
Is 5x drier
The liner stays in place
Can be used during the day and the night
Can also be used for light urine loss
Cons
Could roll and bunch at the edges
Has sticky sides
Do not have wings
6) Carefree Acti-Fresh Body Shape Pantiliners: Best Postpartum Pads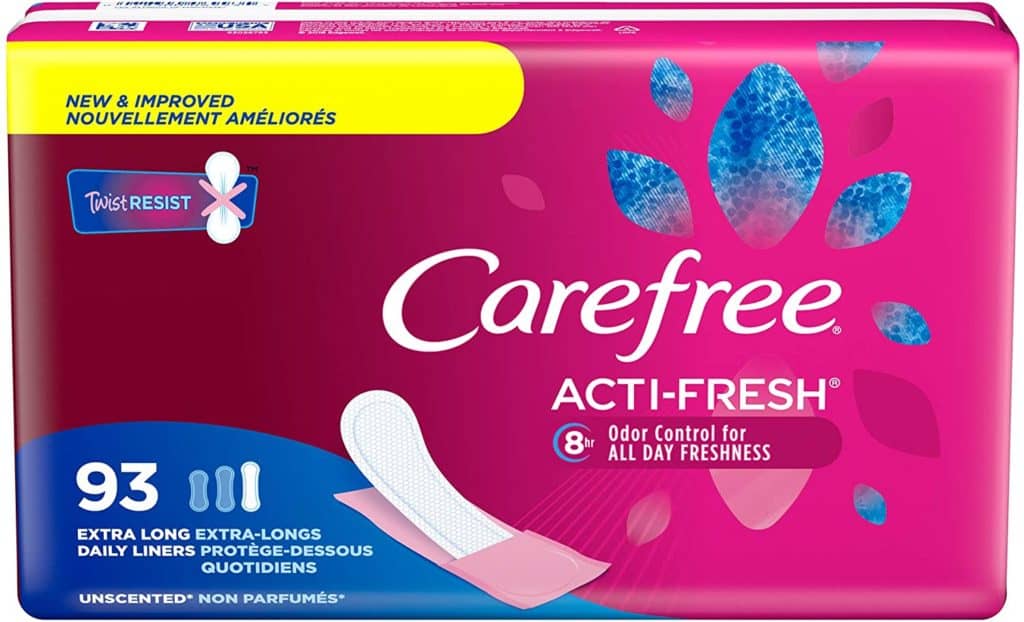 These Pantyliners are best used during light flow, or when the heavy flow reduces slowly. The postpartum pad features unscented panty liners, is thin, shaped to perfectly fit the underwear, and is available in different variants of thin, long, regular, and extra-long pads too.
Pros
Has a honeycomb soft quilted comfortable design
Can lock odor up to eight hours
Has extra-long daily liners
Offers adequate absorbency during light flow
The core locks the fluid
Moistures quicker
Cons
Doesn't come with wings
Could have a distinctive smell
7) Vakly Curity Maternity Pad: Best Postpartum Pads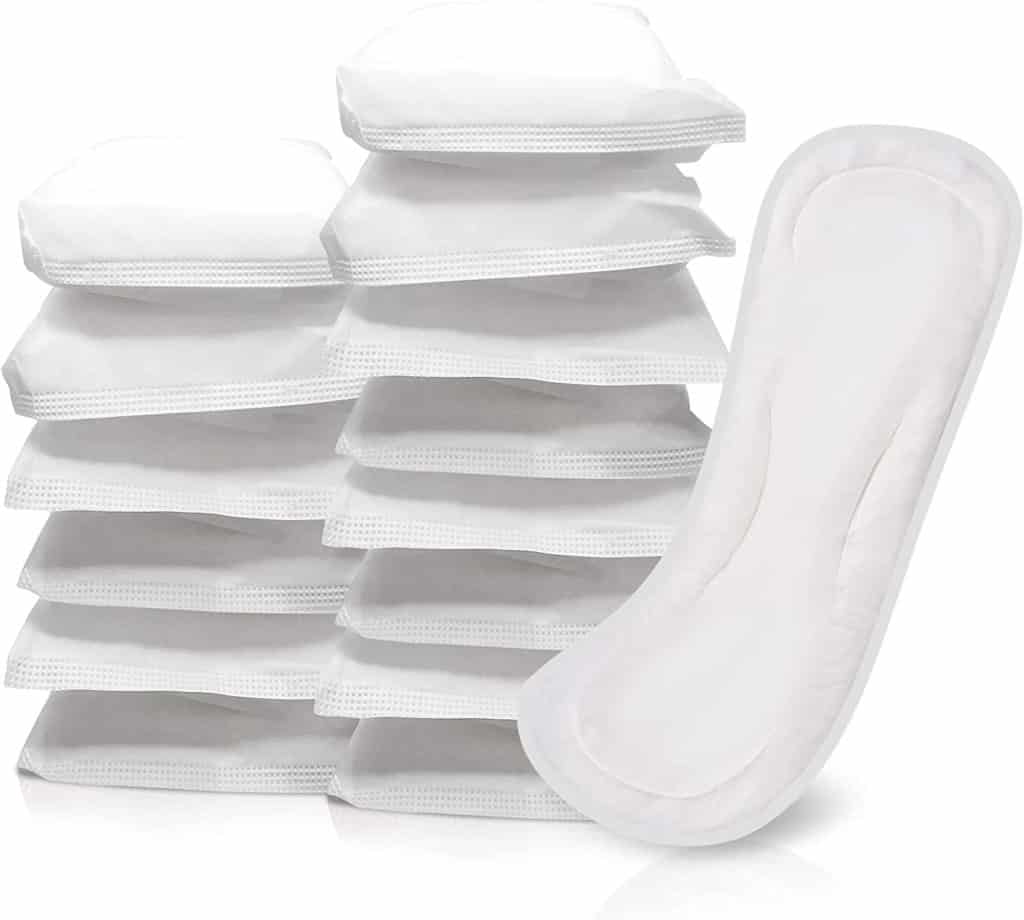 Best for heavy bleeding and it offers good support. These Vakly Curity Maternity Pads are bulky, thick, can absorb more fluid and moisture, and come in individual pad boxes of 14 pads.
Pros
Is soft and comfortable
Offers good postpartum care
Fits well to the underwear
The pad is 4.33 inches wide and 12.25 inches long
Offers good absorption
Cons
Few moms might feel uncomfortable due to their thickness
Has no wings
8) Rael Certified Organic Cotton Menstrual Regular Pads: Best Postpartum Pads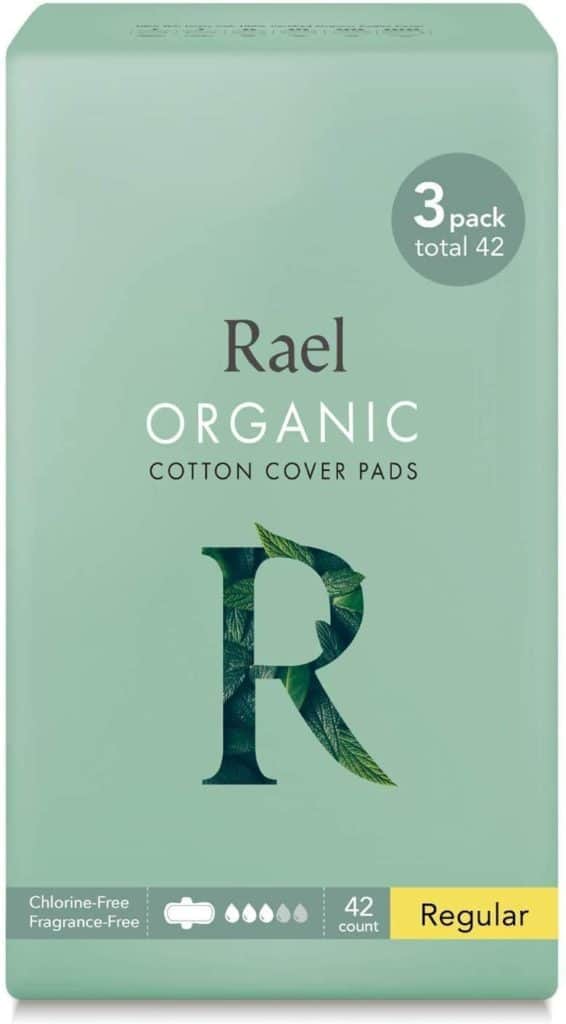 Rael Menstrual Regular Pads help protect the environment while protecting your body from chemical exposure. They are designed using organic cotton, do not contain any pesticides, dyes, GMOs, fragrances, or chlorine, and are available in regular, large, and overnight sizes.
Pros
Made using 100% certified organic cotton
Has an absorbent core
Is hypoallergenic, breathable, and has soft sheets for good airflow
Offers a leak locker technology that traps the fluids and moisture
As per medical advice, they are safe for all skin types
Has wings to hold the pad in place
Cons
Is super stiff for some women
The absorbency might not be good enough
9) U By Kotex Fitness Ultra Thin Pads: Best Postpartum Pads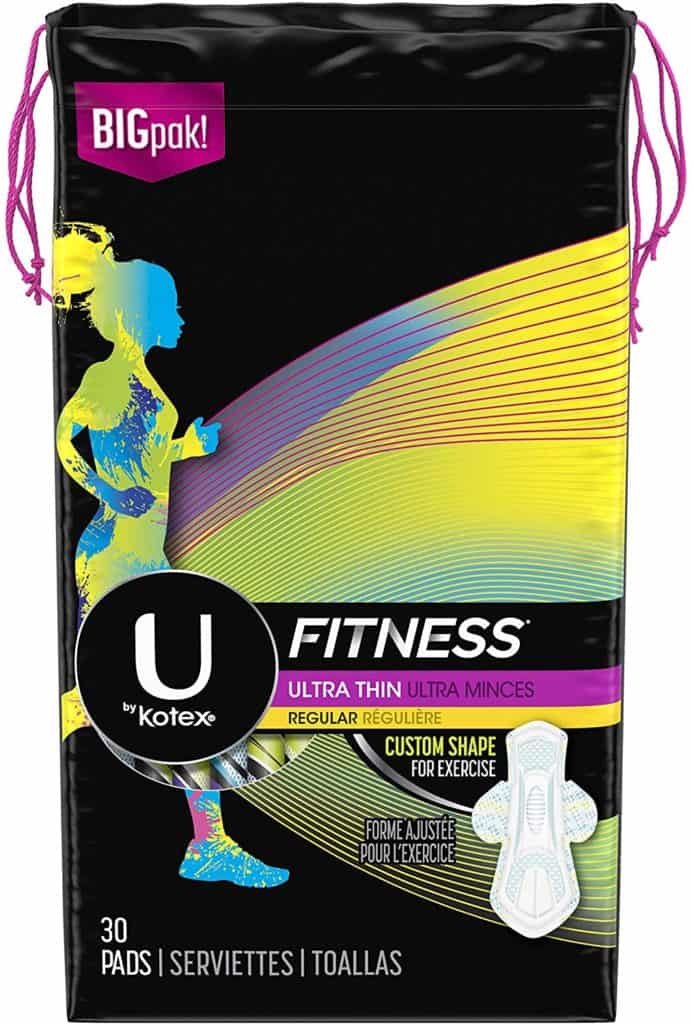 These best postpartum pads from U are designed for women who wish to get into a moderate postpartum workout. These pads feature to be thin, have Flexi wings, and are individually packed in vibrant prints that come in a pretty drawstring pack.
Pros
Offers moisture-wicking feature
Has unique wings to protect from leakage
Locks in the wetness
Are available in two absorbances – heavy and regular
Are lotion and fragrance-free
Cons
Might not be quite absorbent
10) Organyc's 100% Certified Organic Cotton Feminine Pads: Best Postpartum Pads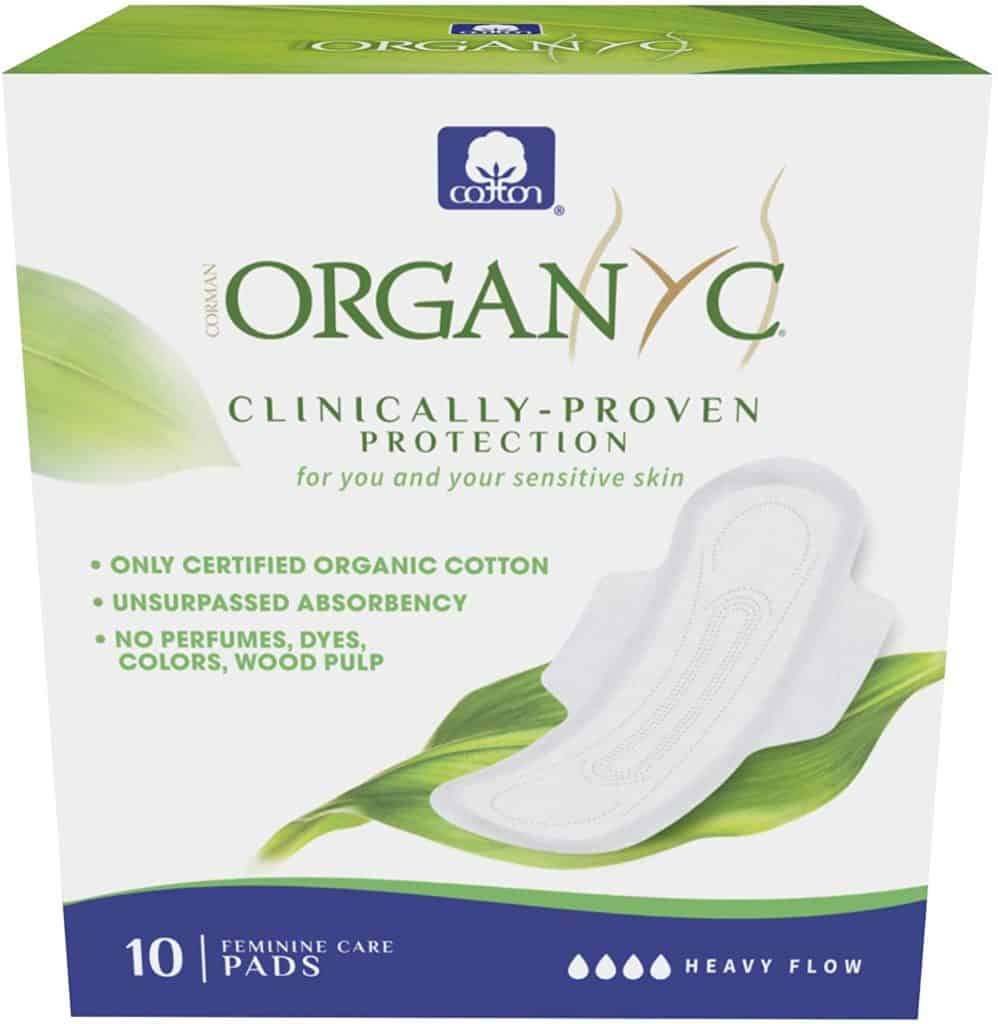 Made using organic cotton, these pads offer a wide range of hygiene needs to beauty care. They feature to be free of chlorine, parabens, latex, fragrances and come in a pack of ten pads best suited for moderate and heavy flows.
Pros
Comes with an organic top sheet that protects the skin from irritation
Have wings to prevent leaks
Are perfect for heavy flows
Have a better absorbency
pH balanced for sensitive skin
Cons
These postpartum pads might not be great for overnight use as they are thin and light
11) Dutchess Cloth Pads: Best Postpartum Pads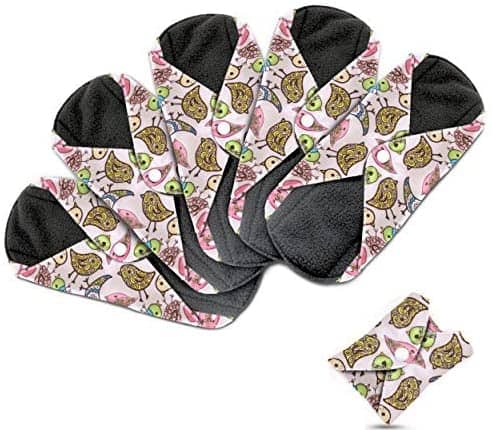 Irrespective of the fact that cloth pads aren't quite convenient, they are pocket-friendly and environment-friendly. These Dutchess postpartum pads feature a double charcoal bamboo layer, have a functional absorbance capacity, and come with wings.
Pros
Protects sensitive skin
Is ideal for heavy and overnight flow
Is washable, reusable, and sustainable
Is odor-resistant
Easy stain removal
Is eco-friendly
Cons
As they do not have any adhesive property, the pad wouldn't stay in place
12) Natracare Organic Ultra Extra Pads: Best Postpartum Pads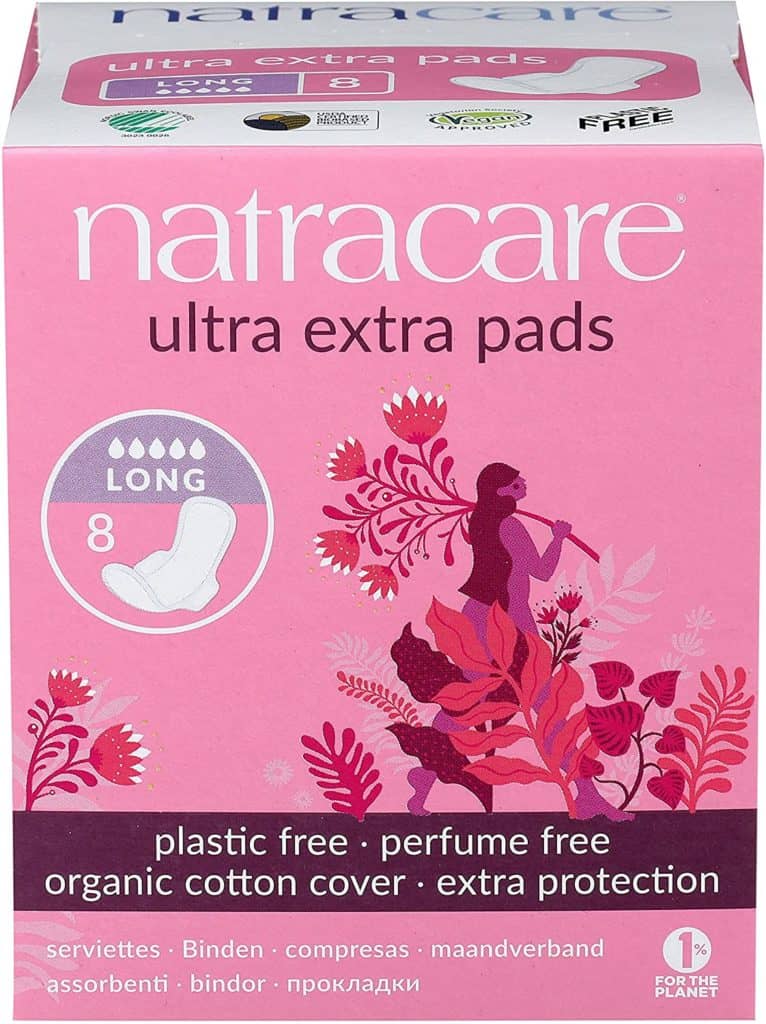 These Natracare organic cotton pads are made using 100% organic and disposable pads that are best suited for heavy bleeding and overnight flow. These postpartum pads are made using eco-friendly material, are free from plastics, GMOs, dyes, bleach, chlorine, fragrances, available in multiple sizes, with the ultra-extra pad pack containing eight pads.
Pros
Feature a non-irritating and comfortable make for sensitive skin
Have an organic cotton cover that's soft and breathable
These best postpartum pads are biodegradable and compostable
Feature a long size
Are absorbent and odor-resistant
Cons
Are think and flimsy
Might not stick well to the panty as expected
13) Seventh Generation Ultrathin Pads: Best Postpartum Pads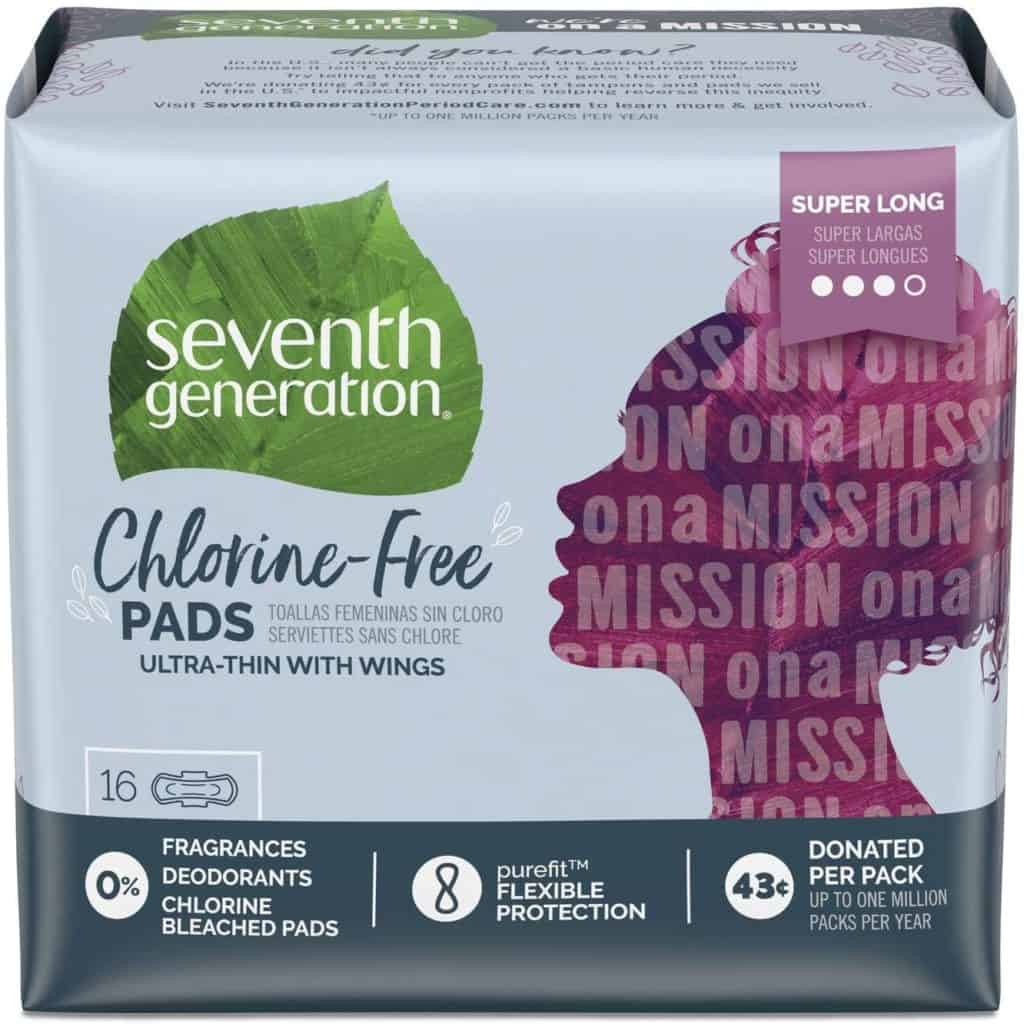 This is an eco-friendly, chlorine-free feminine pad that prevents polluting the waterways, unlike the other conventional pads that contain chlorinated hydrocarbons. These feature a natural material derived from wheat, are super absorbent, and free of dyes and fragrances.
Pros
Are soft and have a cloth-like top cover
Have a no-slip adhesive
Feature wings that help hold the pads comfortably
Are super hygienic
Individually wrapped
Cons
The cotton could bunch together as the pad gets wet
How To Choose The Best Postpartum Pads ?
In order to pick the right postpartum pads for new moms to use after delivery, you must make sure of the reviewed pointers as mentioned below while looking for the pads:
Its softness – The perineal region tends to be sore postpartum, especially in the case of a c-section, therefore, picking the pads that are soft and comfortable or ones with mesh stitches, are considered to be ideal pads
The absorbency – Choose a highly absorbent pad in order to reduce any chances of leakage and cause irritation. Try and quickly read through the reviews of the pads and choose the one that suits you best.
Shape and the size – During the initial days, one might need large maternity pads and a much smaller one as and when the time passes by. Therefore, even with the flow, make sure to pick the right one to protect your clothing from leaks.
The material – Due to the demand and need for these postpartum pads they are designed across different materials. So, choose one that you would like to use in the first place, is it one that's natural, unscented, reusable, disposable, scented, etc.
Best Postpartum Pads FAQs
1) What are the best pads to use after giving birth ?
Stayfree Ultra Thin.
Always Maxi
Dutchess Cloth Pads
Frida Mom Instant Ice Maxi Pads
Medline Perineal Cold Packs
Always Discreet Boutique Incontinence Underwear
Organyc 100% Certified Organic Cotton Pads
Thinx Super Hi-Waist
Note - For more options and details, check the article above
2) Why do you need pads after giving birth ?
Post-birth, a mom experiences postpartum bleeding also known as lochia, this is where the postpartum pads come into play. The blood is discharged from where the placenta was attached when carrying the baby in both cases, vaginal or cesarean birth.
3) What postpartum supplies do I need ?
Here is a list of the postpartum supplies a mother needs to help soothe the soreness:
A squirt bottle
Gauze pads or disposable washcloths
Numbing products
Pain medicine
A sitz bath
Ice packs
Tucks pads
A donut pillow
4) How many pads will I need postpartum ?
It is recommended to have up to 150 to 200 postpartum pads in hand, as the flow could get heavy unexpectedly. On the other hand, if you fear purchasing too many, one can always use them for regular periods too.