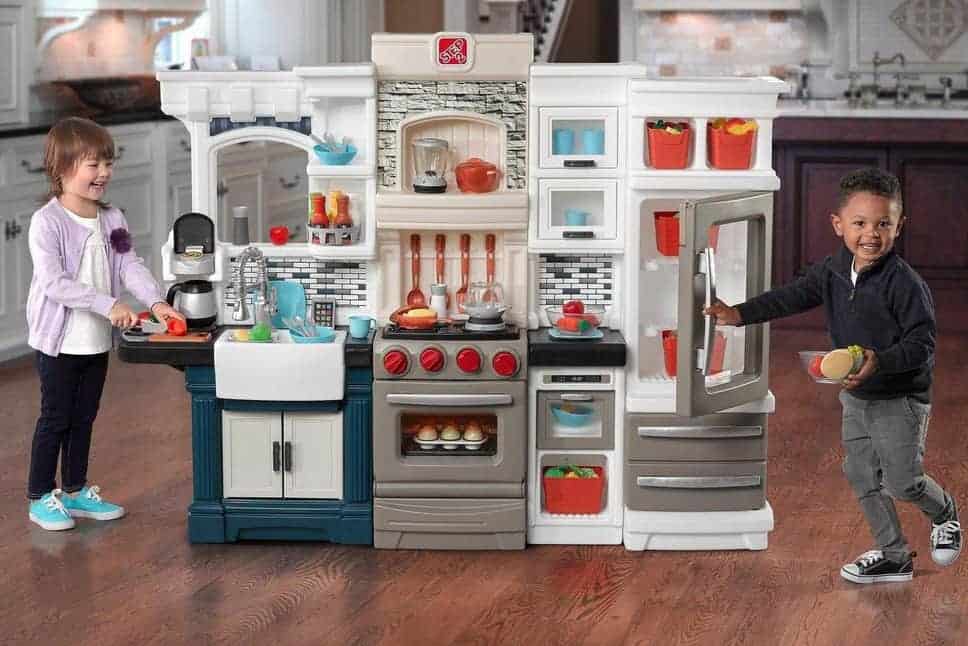 The essential trademark of a typical baby would be an imitation. Kids love to imitate what they see around them, you stick out a tongue at them, they open their mouth back at you; you make a funny face, they do their best to funny-face back at you. Right from their young days, kids try and replicate everything happening around them which also, in a way, helps them explore for their own bodies can do.
Toys like kitchen sets which help kids pretend-play apart from all the fun, also teach kids the importance of responsibility and teamwork.  While they 'cook' with their playsets, they also develop their motor skills and critical thinking capabilities through pretend best play kitchens discussions and conversations.
Top 15 Best Play Kitchens of 2022
The list has various kinds of play kitchen sets that we have tried to include ranging from all price ranges. These also include sets that also range from eco-friendly to tech-savvy Bluetooth-run kitchen sets!
1. Step2 Little Cooks Kitchen- $48 - Best Play Kitchens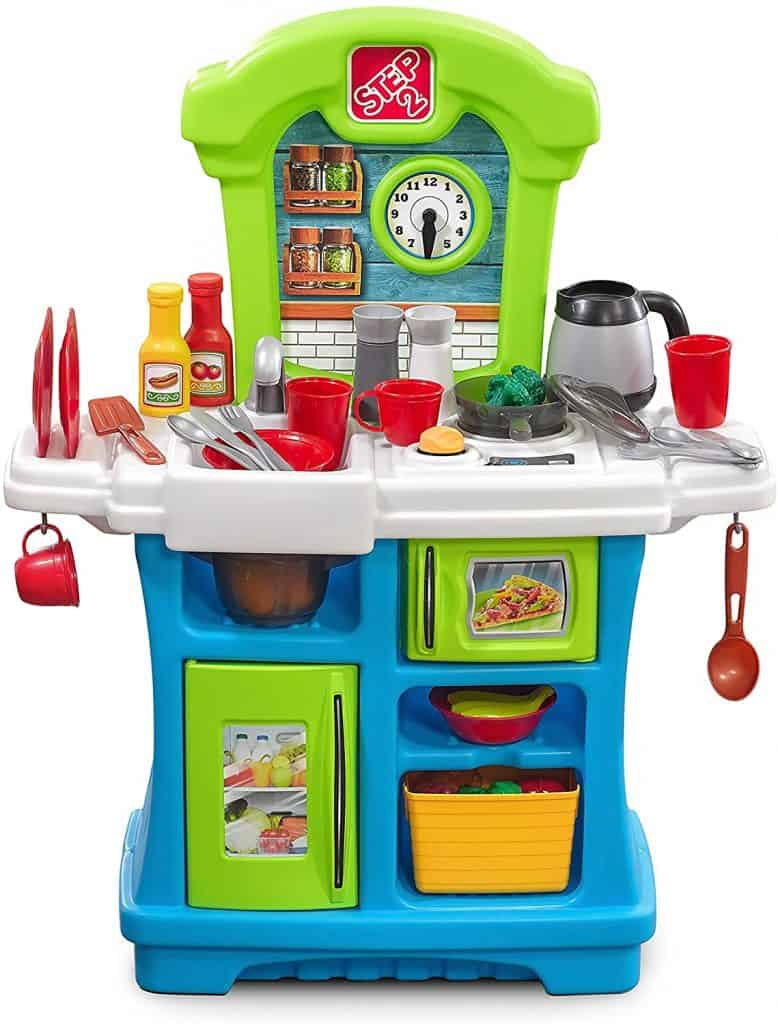 Priced at an affordable $48, this kitchen playset comprises 21 individual pieces that essentially include everything your kid would need for their pretend play. There are dishes, pots, pans, hanging hooks, and even storage spaces in this pack. The stovetop is also enabled to make realistic sounds and flashing lights to spice up things a little more for the toddlers!
2. Little Tikes Super Chef Kitchen- $89- Best Play Kitchens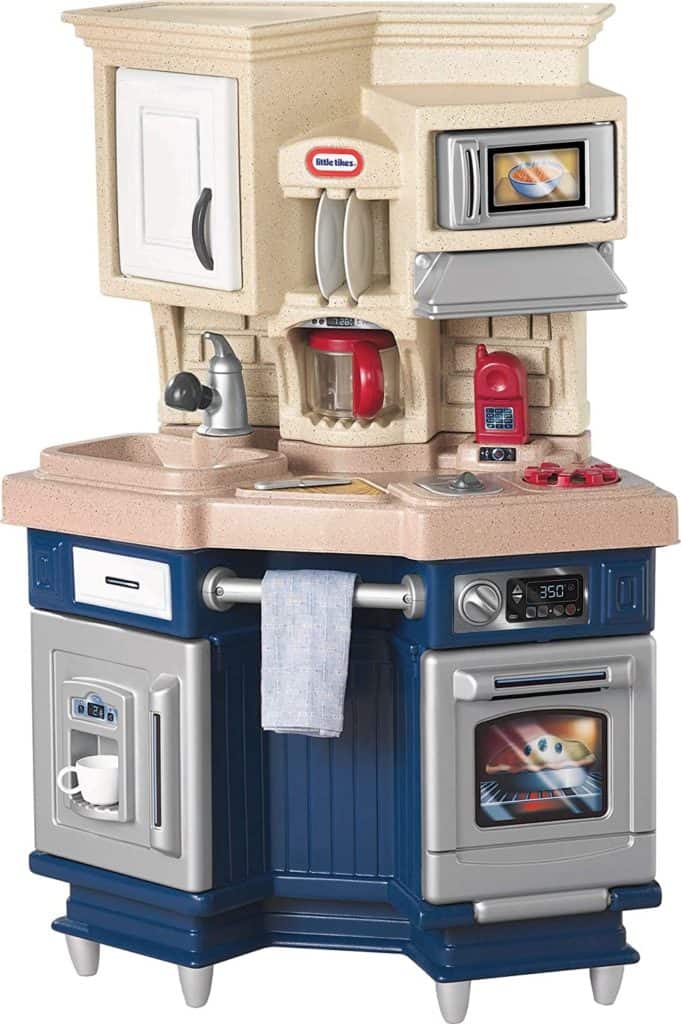 At a mid-range price, this kitchen set is a dream for parents who have smaller nurseries in the house and are sick of the floods of toys all around. A compact playset, this one, however, does not compromise on any basics your kid would want to be included in the playset. It has a cabinet, a refrigerator, oven doors that actually open up to provide kitchen storage space, and even a mini microwave! Besides, the oven knobs on this one make that actual click sound for that extra punch of an (almost) real appliance!
3. Little Tikes Cook n Learn Smart Kitchen- $170- Best Play Kitchens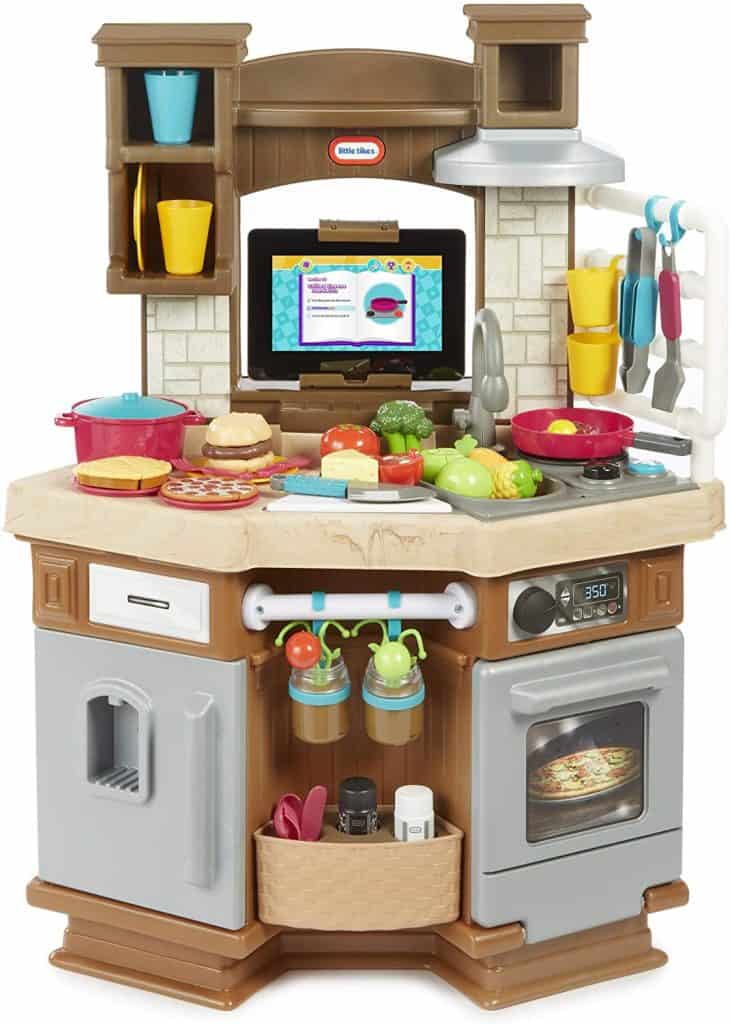 Another one by Little Tikes, this one falls in the higher price bracket but the price is definitely justified by the kind of features it offers! A tech-based Bluetooth-rum kitchen, this one runs through an app that can recognize kitchen accessories and even respond to your kind's actions. For the supplies, it features a garden where the kids can pick their own fruits and vegetables!

The said app is loaded with games, recipes, and learning modes that do not limit its functionality to a toy but rather make it a learning experience! The app can teach your kids numbers, alphabets, colors, and even some really cool food-based facts. The app further produces an individual realistic sound for all of the 46 pairable accessories included in the playset!
4. Step2 Fun with Friends Kitchen - $85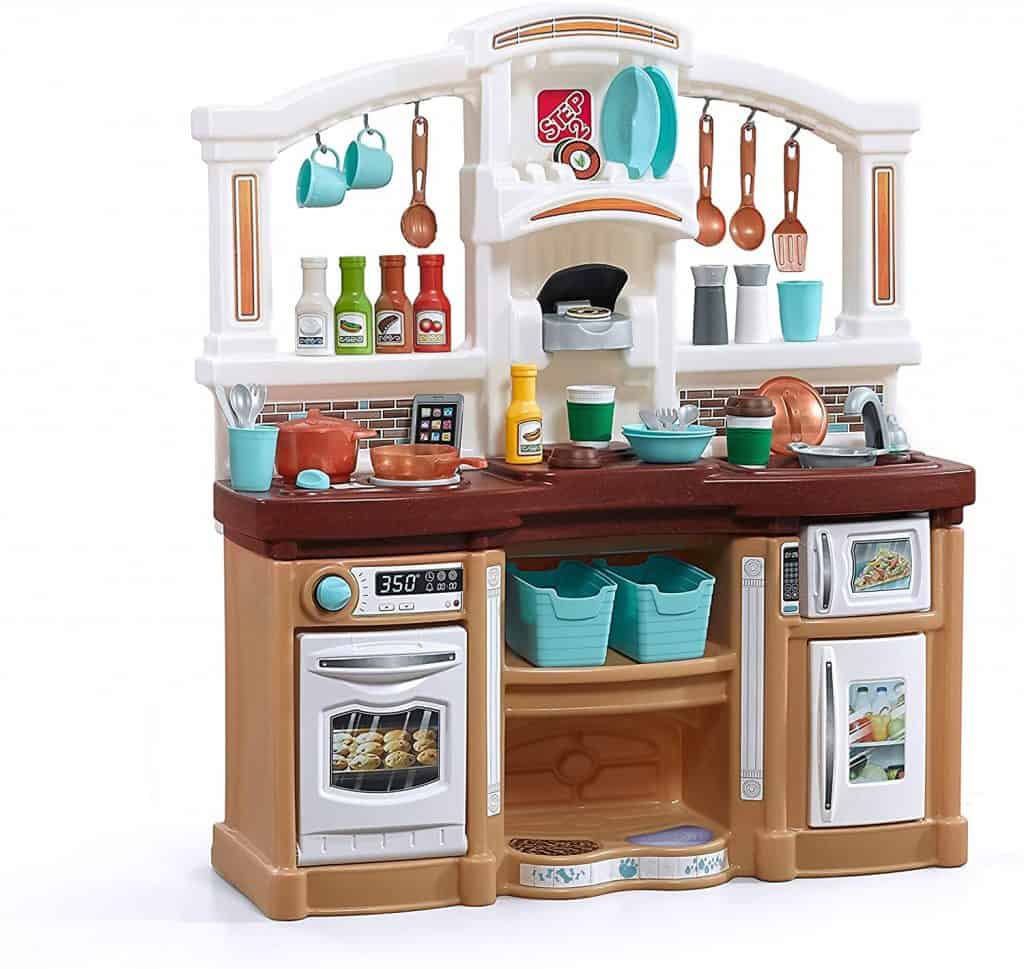 Another full-fledged kitchen set with 45 food prep accessories, this one has tools as peculiar as a salt shaker top coffee pods to even a travel mug for your little on how might like a 'take away coffee.' While most kitchen sets just to make the pretend noises of appliances to make things feel real, this set goes a step beyond and even makes the food bubble and sizzle sounds! The sink is made in a swivel mechanism which makes it washable post-play to inculcate a sense of post-cooking responsibilities. Besides, the play phone lets your kids take 'orders' on the phone or even talk to their friends while they 'cook!'
5. KidKraft Large Kitchen- Best Play Kitchens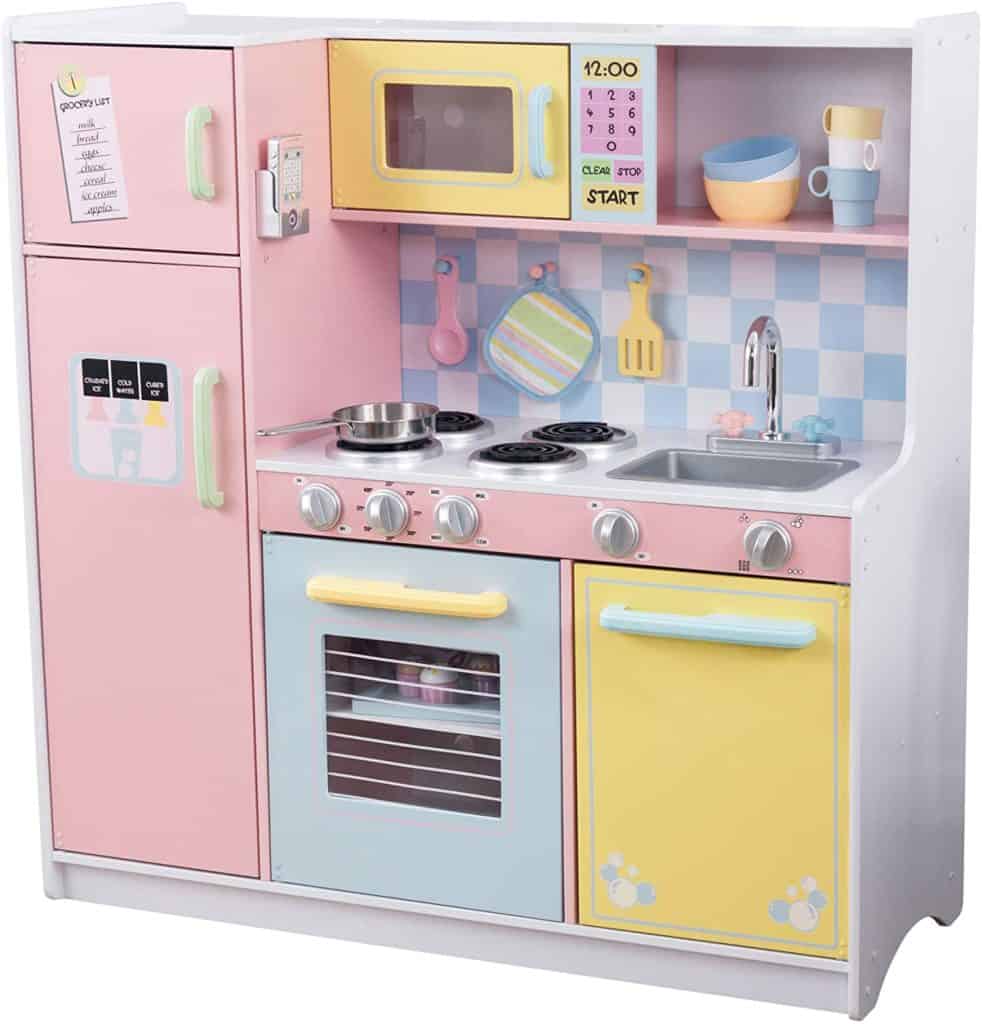 As it would be obvious by the name, this is a large kitchen set. Made in sturdy wood construction, the KidKraft large kitchen is usually the go-to choice of parents with multiple kids. It is so because this kitchen set is so spacious and roomy, it can easily let a plus 1 join the game without any issues whatsoever. The appliances can be neatly stored in the refrigerator, freezer, microwave, and oven – all of which can double up to offer some storage space inside. Also, the microwave is made in this intrinsic detailing of transparent doors so that your kid can see their food while it (pretend) cooks!
6. Minnie Happy Helpers Brunch Café- Best Play Kitchens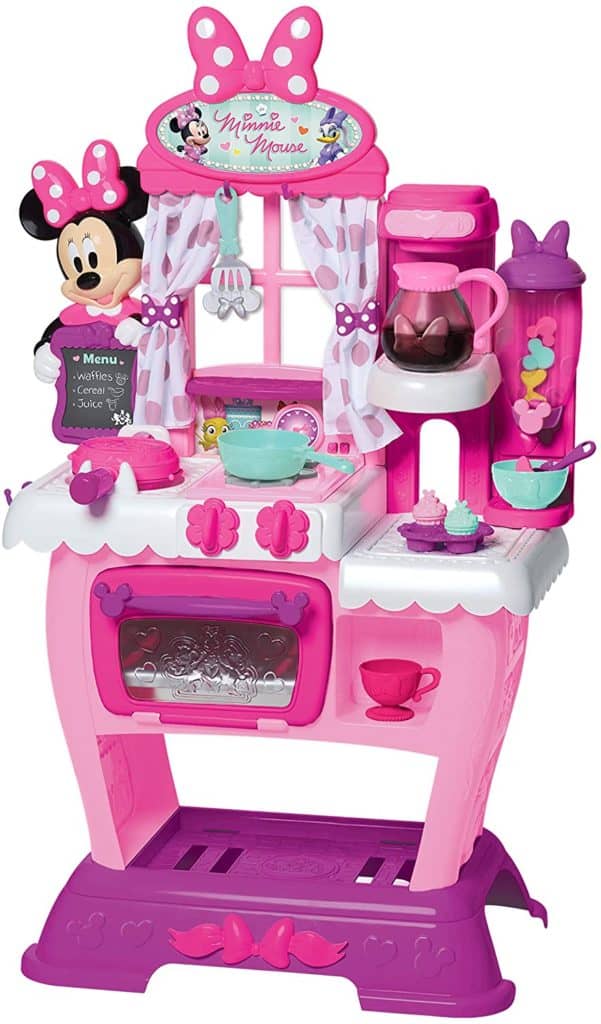 A delight for every Minnie mouse lover kid out there, this kitchen set is fully inspired by Minnie's statement polka dot and bow. A brunch-themed kitchen set, it lets your little one serve brunch in a playful cafe-format and has equipment very different from the regular sets. It has a spinning waffle maker, a cereal dispenser, and even a coffee pot for some real brunch vibes! The realistic burner, besides, also lets hatch some sunny side ups while the kids are at their ultimate brunch prep!
7. Step2 Chef's Best Kitchen Play Set - Best Play Kitchens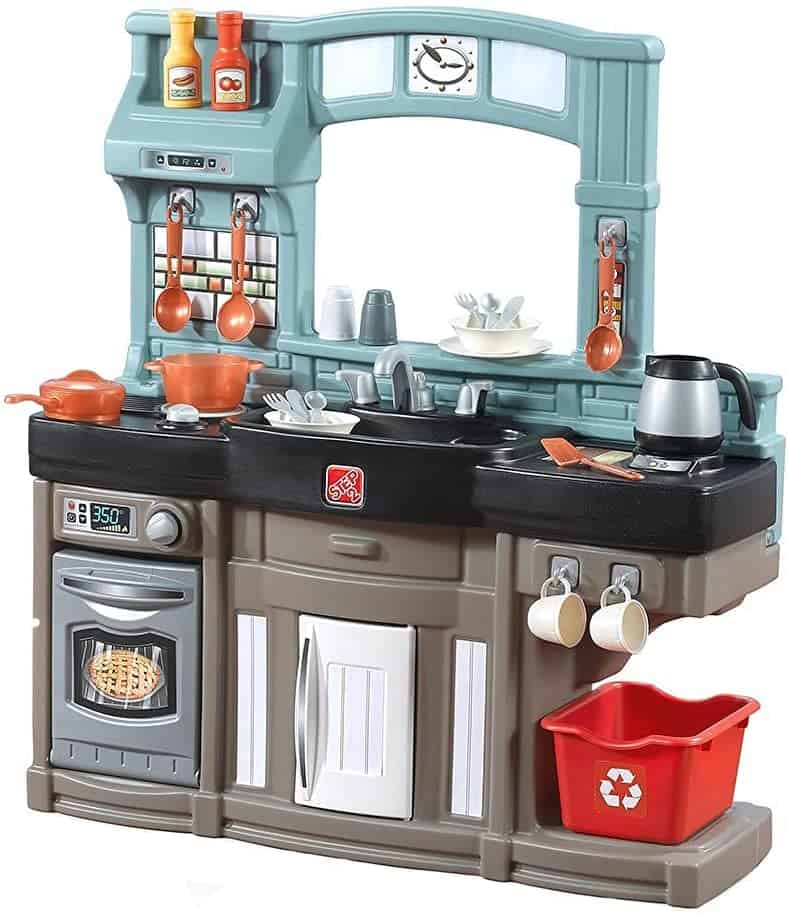 The best part about this play set is portable and does not take up much space in the house. These are small, pocket-friendly, have similar features as the best-rated pick from Step2, come with over two dozen accessories, with lights and sounds, and are sturdy in nature.
8. KidKraft Uptown Espresso Kitchen - Best Play Kitchens
Kidkraft comes with awesome durability and longevity with high-quality materials, specifically wood and particles made from board. These feature tall counters, which means the set does not overgrow the kid, is made using modern designs, has realistic details like the clicking knobs, and makes the little one feel like their own little homely kitchen.
9. KidKraft Large Kitchen - Best Play Kitchens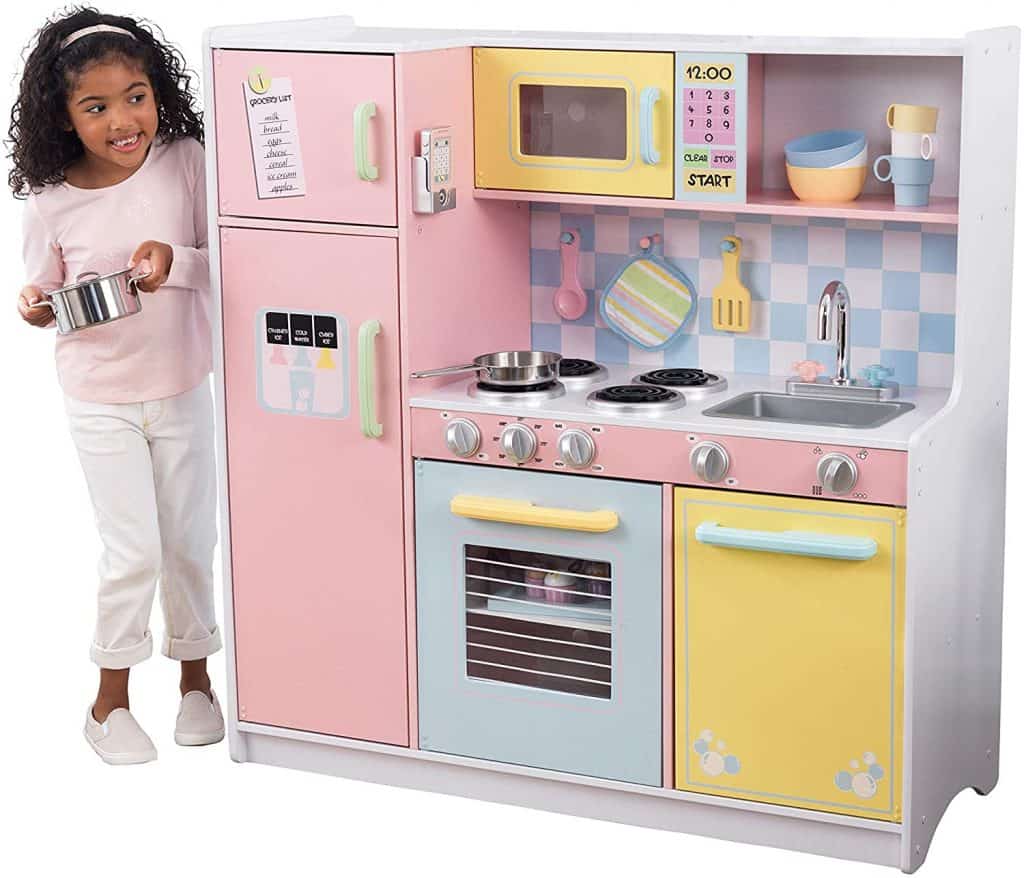 This pastel wood kitchen set is heavier and can withstand more enthusiastic play, making it heavy on the pocket – but worth every penny.  Adding to this, the set is also longevity, and durability, however, the assembling could be a little tricky.
10. Melissa & Doug Wooden Chef's Pretend Play Toy Kitchen - Best Play Kitchens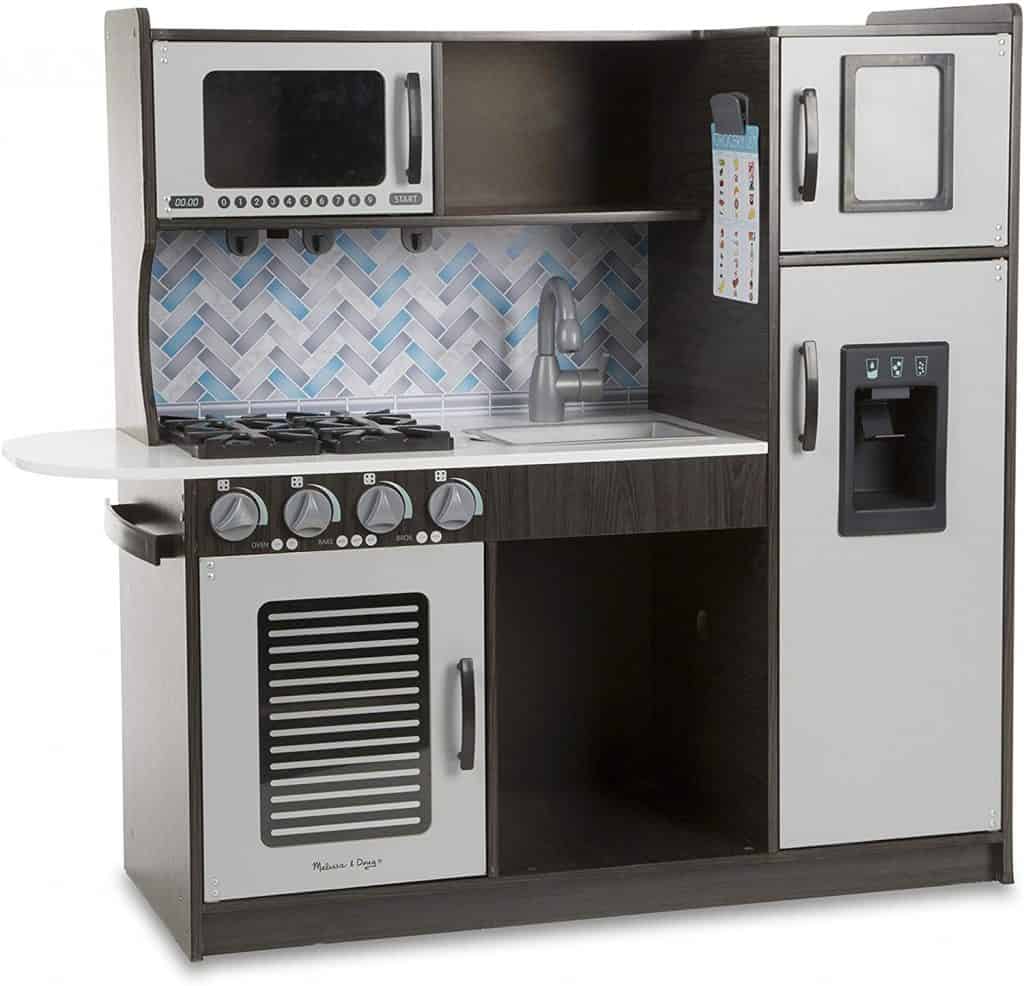 Melissa & Doug's wooden chef's playset has a realistic look, is well-designed, and is super adorable. Adding to this, it features a 'luxuriousness' look, impressive up-to-date styling, and comes with a rotating microwave plate and ice dispenser which adds to the realistic appeal of the playset.
11. KidKraft Vintage Kitchen - Best Play Kitchens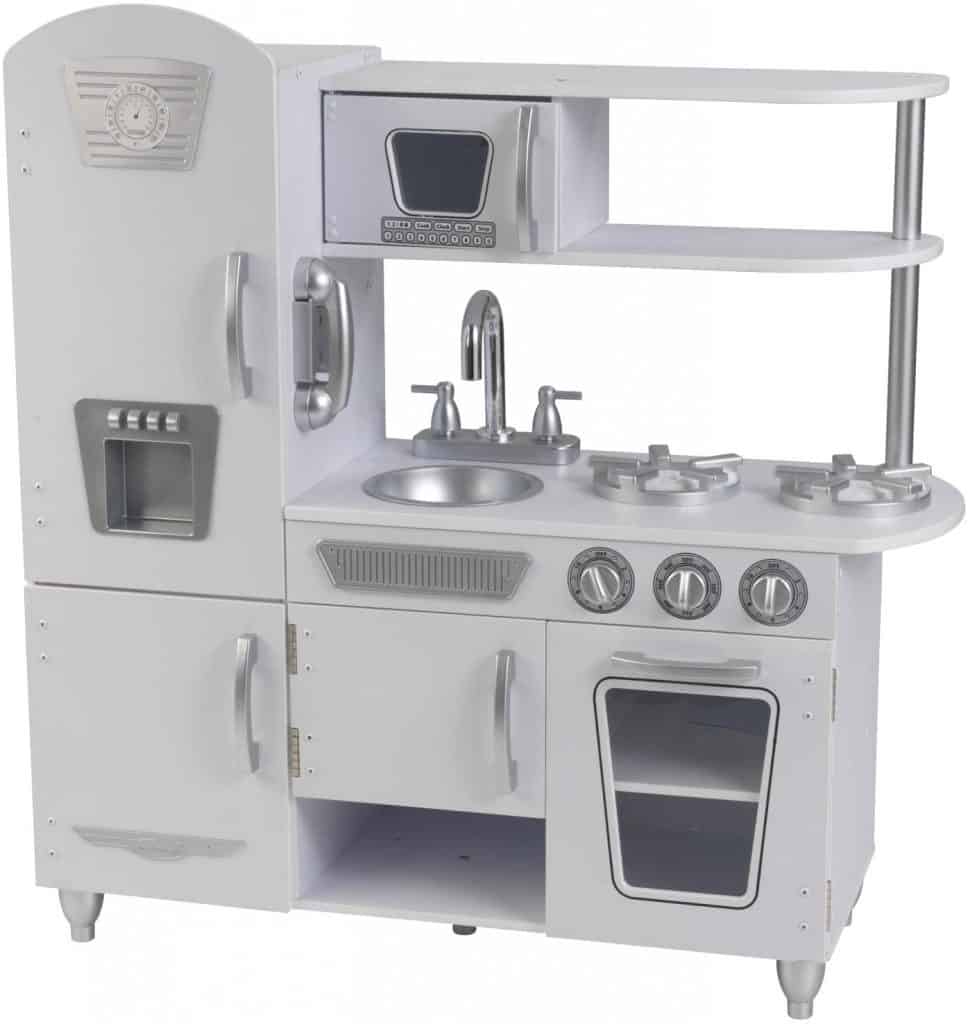 Although it's a little hard to assemble, this KidKraft playset is worth the effort. It features a worthy vintage look, has a realistic design, comes in an appreciative neutral color, and is super fun! It also comes with realistic cabinets that can be opened, turnable knobs, and is a nonplastic set with a sturdier finish.
12. TP Toys Muddy Maker Kitchen Set - Best Play Kitchens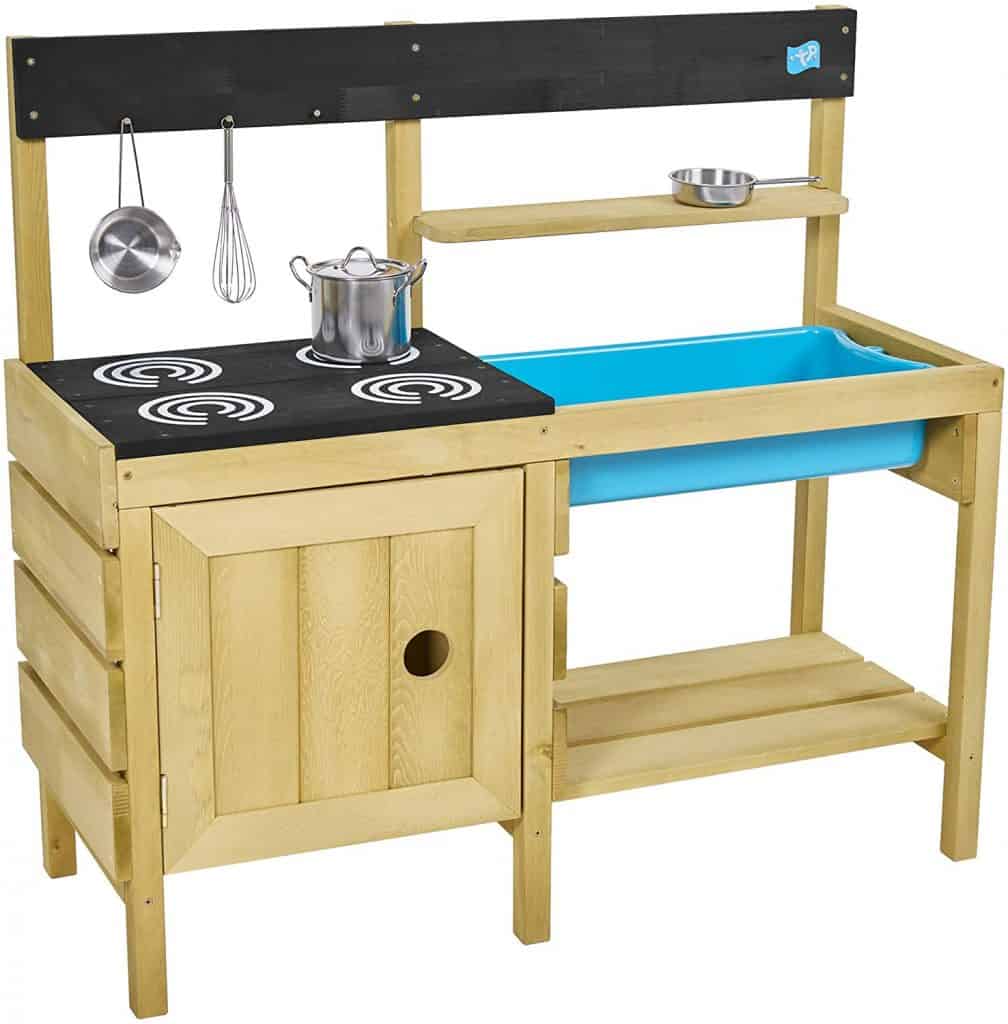 This kitchen playset is designed to play with mud and dirt, has a sprayer added to the faucet to add water, and can be easily set up in the backyard. It features a plastic sink that works well with sand and water, made from "quality treated wood," is way to set up, and super easy to clean.
13. Cute Stone Play Kitchen Toys - Best Play Kitchens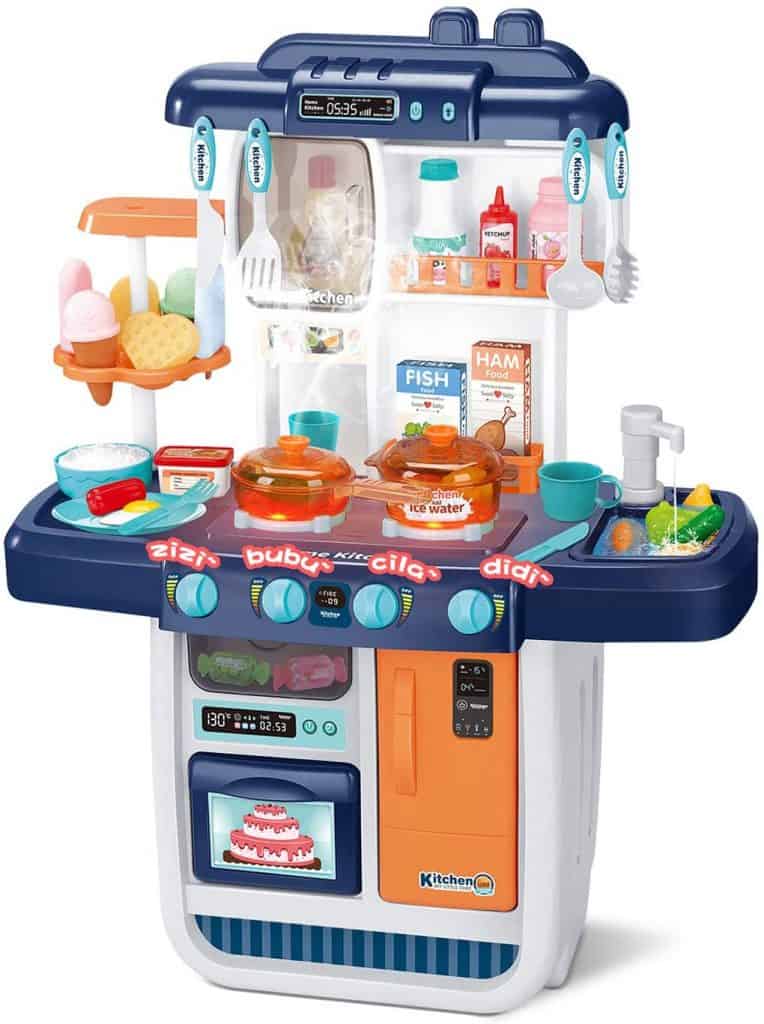 There is no kitchen that can be completed without pots, pans, and some ingredients, and this play set gives you exactly that. Cute Stone play set comes with multiple accessories, such as toy knives, play food, cutlery, is durability, and is the best play set to keep the little one occupied, encouraging "purposeful play."
14. Little Tikes Fridge Pretend Play Appliance for Kids - Best Play Kitchens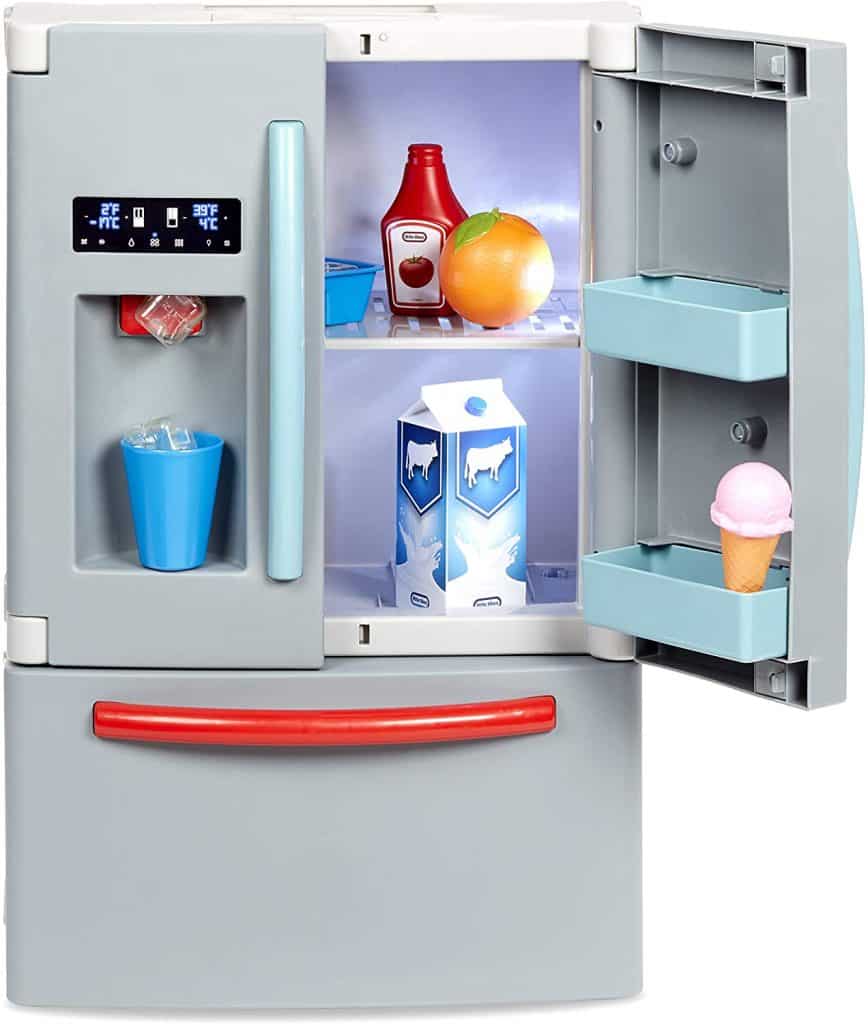 Do you have space in the house for a full play kitchen set? If yes, then this is your pick to choose. Little Tikes playset has a smaller frame, and is an interactive refrigerator toy, and is the best to play pretend. It features a "working ice dispenser, freezer drawers, French doors, and working fridge lights that come with realistic sounds, and are easy to assemble.
15. KidKraft Farm to Table Play Kitchen Set - Best Play Kitchens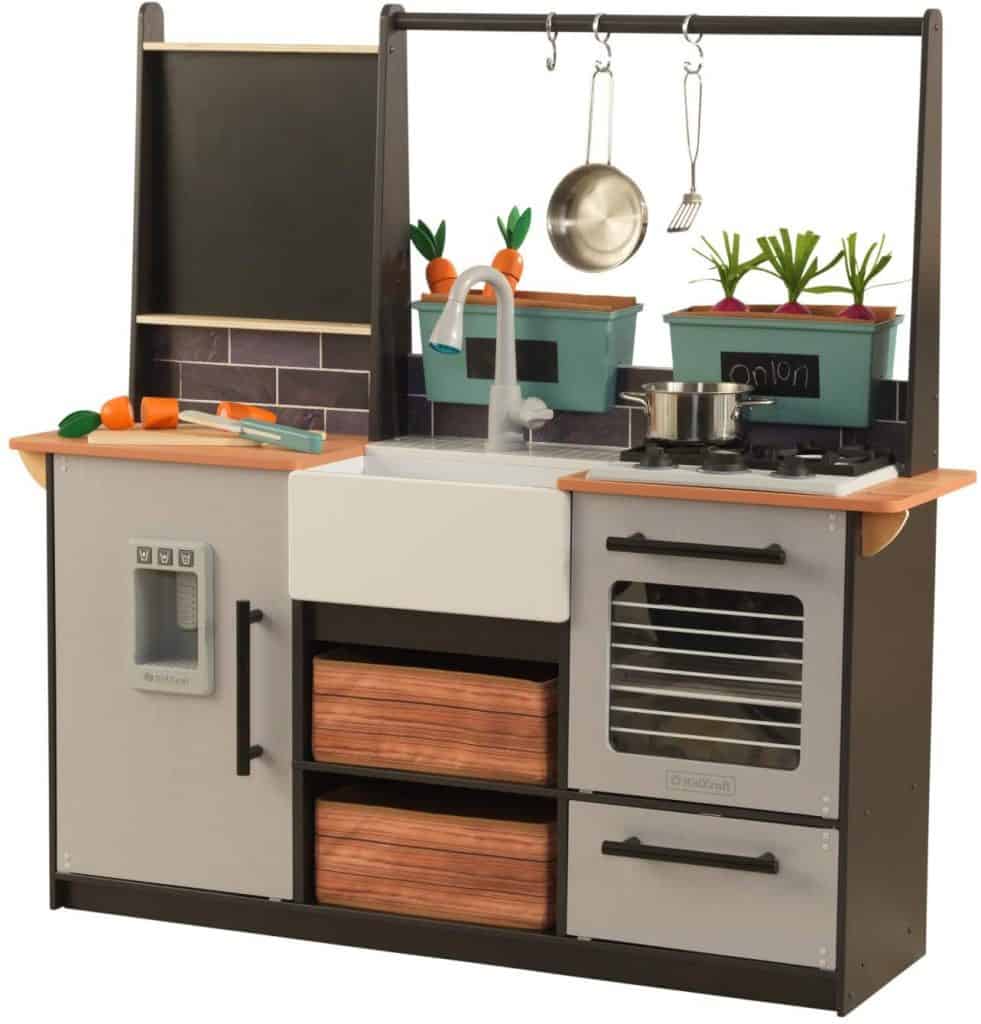 KidKraft play kitchen set that comes with windows, garden boxes, and "choppable" velcro-make vegetables. This set is best for hand coordination, offers precision skill learning, features a red "flame," a gurgling water sound from the faucet, and is a realistic play set that encourages "realistic" imaginative play.
Best Play Kitchens Final Conclusion
That's all folks! These were our top best picks for the baby play kitchens that you can purchase in 2022. These sets help the little ones adapt and imitate their parents while they are in their own kitchen preparing delicious food in their tiny cooking pots. Not only with imitation, but these children's kitchen sets help play-pretend, teach them responsibilities, teamwork, build their social and cognitive skills and build their critical thinking capability. So, there is no need to worry as to what the little one will play with when they have friends coming over. We're sure these little cooks would love to prepare meals and serve them nicely with their soft toys or their building blocks.
Also, if you are looking for more options that can help the little ones with their cognitive skills as well as their hand and eye coordination, you could choose to purchase the best electric cars for kids, Montessori toys, Sensory toys, or the baby playards too!
Best Play Kitchens FAQs
1. At what age should a baby play with the baby kitchen set?
The baby kitchen set is generally or on average designed for kids who are above the age of 3. However, there are no hard and fast rules for the same. If at all the little one is able to play and can handle the pieces without any choking hazards, they can be given before the recommended age but will require parents' supervision.Also, to know the recommended age, remember to check the age mentioned on the package while purchasing the baby kitchen set.
2. What is the tallest play kitchen set for the kids to play with?
The tallest play kitchen set or children's kitchen is the KidKraft Large Play Kitchen. This toy kitchen is a little over 23 inches in terms of height and is known to be one of the tallest play kitchen sets that is available in the market at present time. These sets come across as real and alive as our normal kitchen and help the little one feel like a little chef who is ready to cook and serve delicious meals.
3. Are the children's kitchen sets Montessori in use?
The possibility of the children's kitchen sets being on the Montessori side is quite a tough call as there are numerous opinions available in the market that talk about the play kitchen set to belong in the Montessori environment or otherwise. However, there are a few studies that conclude that the most traditional Montessori classrooms' play kitchen sets have happened to be replaced with purposeful work. This includes preparing and cooking real food as well as cleaning up real utensils.
4. How does the children's kitchen set help in the development of the child?
Here's how the children's kitchen sets help or benefit the little one with their child's development:

The toy kitchen builds creativity and Imagination for the children
Help build on their language and
communication skills
Builds social skills and engages teamwork
Helps in planning and organization
The toy kitchen helps them imitate certain life skills
Makes the little one feel independent and confidence
Helps them learn and build on their problem-solving skills
Numeracy
Builds hand-eye ordination.