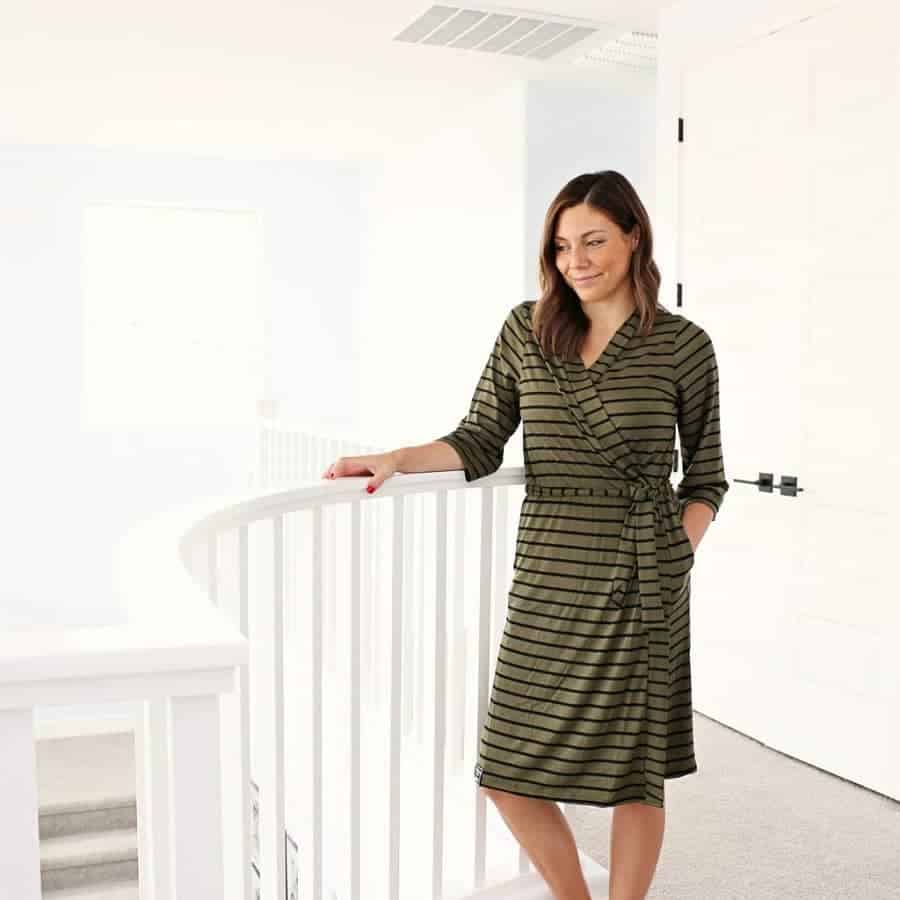 Yes, yes, and yes! I know what you're thinking: there are labor and delivery gowns too? Yes, my lovelies! There are labor and delivery gowns for you to slay on the biggest day, celebrating the end of your trimester and the utmost waiting to meet with your unborn, now born little one.
Why just prepare for birthdays, marriages, and outings? Let's break the monotony with Parenthood bliss, and get your A-game started, most importantly with your comfortable labor and delivery gown.
While most women complain about the paper gown they receive when they are admitted and are quite uncomfortable in it, we give you a chance to let go of that hospital paper gown and slay with your own comfortable labor and delivery gown that are 100% cotton or with a blend of the jersey, with a fun style and bold prints. So, while you're caught up with packing and preparing a hospital bag full of essentials, don't forget to pack what you'll be wearing!
Best Labor and Delivery Gowns: The Different Types of Labor and Delivery Gowns
Choosing the best and comfortable delivery gown is quite necessary for you to feel comfortable and have a sense of being at home. Therefore, you need to pick the right kind.
However, all of this depends on your choice of whether you'd like a labor gown that is traditional or is made keeping in mind its functionality. Perhaps, there are quite many options available for labor gowns, ranging from big-box retailers to some small companies that have been started by moms who have an exact sense of what women who when delivering would like to wear. These could be anything from dresses, or robes that have strategic openings in areas where they are needed for the medical professionals to monitor, as well as, to perform various tests without exposing the skin.
However, before you buy one, consider a few questions like; Is this what you would want to wear after you have the little one? Or, are you going to wear it throughout the labor? Or, does it have functional specs like snapping up and down the back or front and at the shoulders, as per your requirement or taste.
To help you choose your best and comfortable nursing gown, we have curated a list below of the top 16 labor gowns that are quite functional, and give access to the doctors and nurses to your body for necessary medical care.
Top 16 Best Labor And Delivery Gowns:
1) Baby Be Mine Gownies Labor and Delivery Gown: Best Labor and Delivery Gowns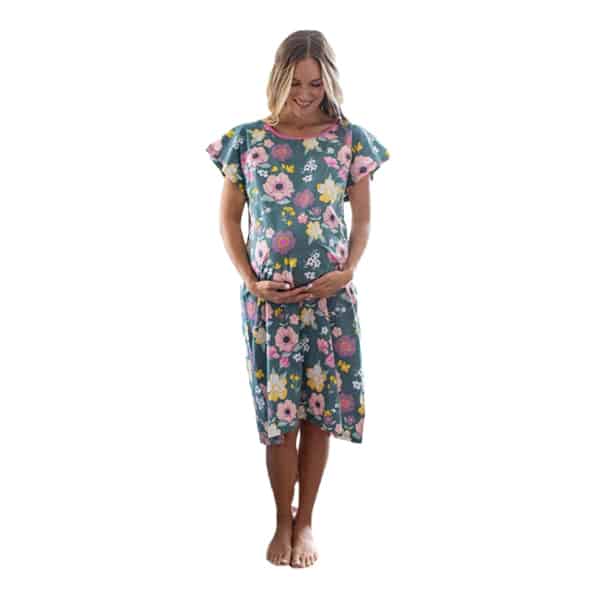 This labor gown has been approved by the hospital staff and features snaps in place of snaps allowing you to pull the front of the garb down whenever you're in need of, as well as full coverage. They are comfortable and come in bright colors that make you feel welcomed and at home.
2) Frida Mom Labor and Delivery Gown: Best Labor and Delivery Gowns
This delivery gown from Frida is quite comfortable and unique in its fashion. The gown has a snap in the front allowing skin-to-skin contact as well as for breastfeeding.
However, it has a fully covered back and doesn't allow too much skin, unnecessarily. The highlight of it all is while Blake Lively was expecting, she has shared her baby registry essentials, which included our own delivery gown by Frida.
3) Motherhood Nursing Labor And Delivery Gown: Best Labor and Delivery Gowns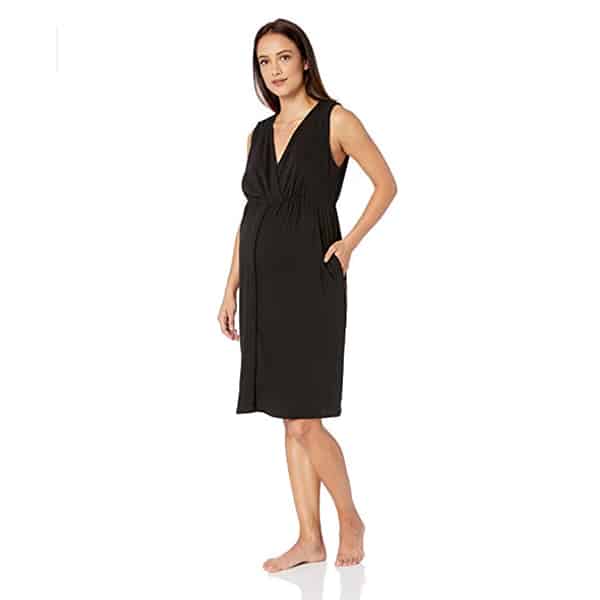 This cotton made model labor gown is quite comfortable with fetal monitoring, an epidural, IV access, and nursing. It definitely outperforms compared to those scratchy paper-like hospital gowns. It features snaps both up and down the back and front and at the shoulders, and has a sleeveless fit for medical accessibility. They are available in different sizes but would demand some searching.
4) PinkBlush Floral Maternity Robes Labor And Delivery Gown: Best Labor and Delivery Gowns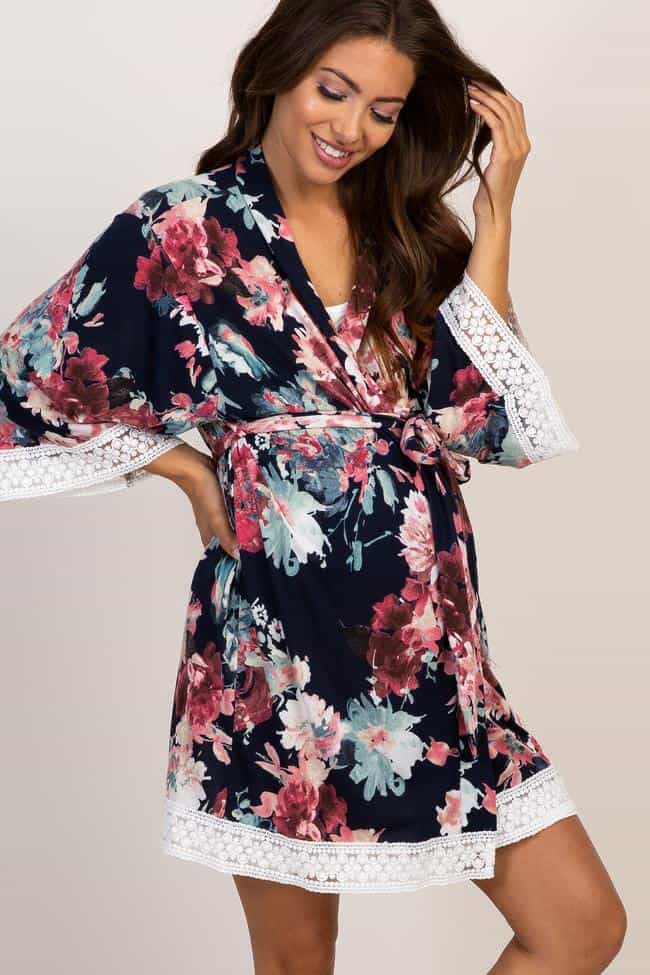 This absolutely adorable floral print kimono maternity robe has beautiful rosy prints with roomy bell sleeves, a tie with an easy-open front, and a pretty lace trim. This gown will for sure make you feel at home and all comfortable for your pre-baby evenings, so much so that you'll probably need another one for your home too!
5) Baby-Be-Mine Labor And Delivery Gown: Best Labor and Delivery Gowns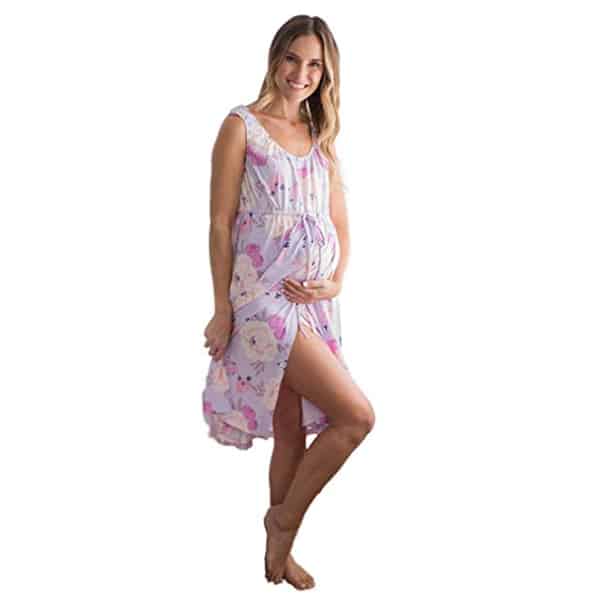 This Baby Be Mine delivery gown comes with beautiful patterns with a breezy and on-or-off style, and a flattering adjustable empire waist. The highlight of it all is that the gown comes from a company headed by moms that keep in mind even the minutest of the details needed in a delivery gown.
6) Ginkana Maternity Labor And Delivery Gown: Best Labor and Delivery Gowns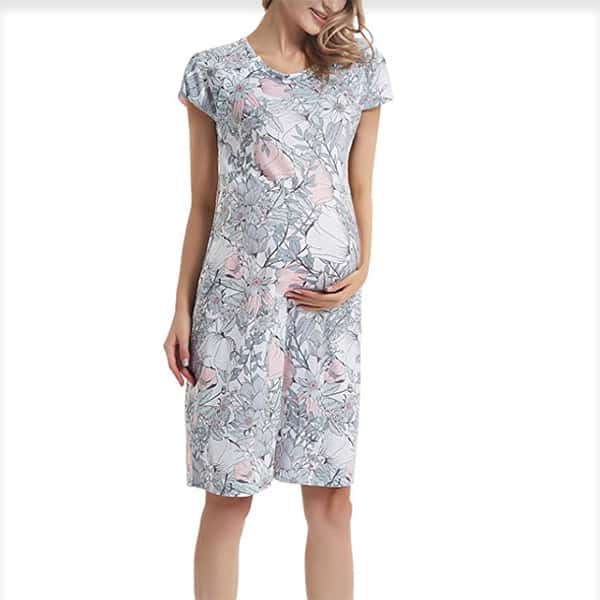 This Ginkana maternity gown is a sure deal of cuteness with comfort. It has everything needed for a labor gown, for instance, front snaps for nursing, back snaps for examination, all made out of soft material.
7) My Bella Mama Labor And Delivery Gown: Best Labor and Delivery Gowns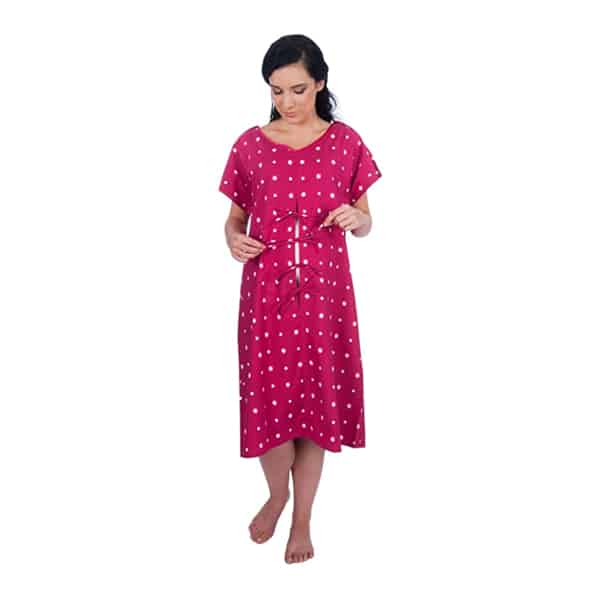 Irrespective of it having a similar shape to a hospital gown with a fully covered back, but unlike the hospital gown, it is made from soft cotton that makes it a lot more comfortable. It features all the necessary functionalities such as a front slit opening along with a tie-up closure, shoulder snaps that come off completely in case of medical, and has closure snaps too up the back for access keeping in mind the privacy.
8) Beauty Cotton Labor and Delivery Gown: Best Labor and Delivery Gowns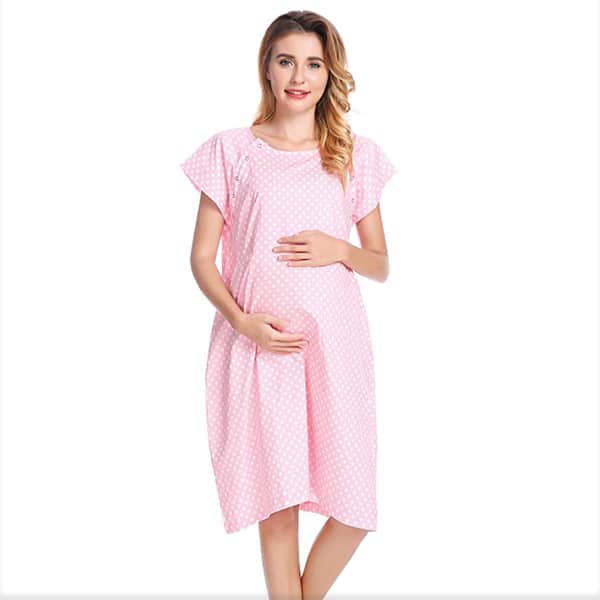 The beauty labor gown is a 100% cotton made gown providing comfort with front panels for skin-to-skin contact as well as breastfeeding, with full back snaps for easy access in case of medical examinations. The gown is available in four different styles and a detailed size chart to choose from.
9) Ingrid & Isabel x James Fox & Co. Maternity/Nursing Labor And Delivery Gown: Best Labor and Delivery Gowns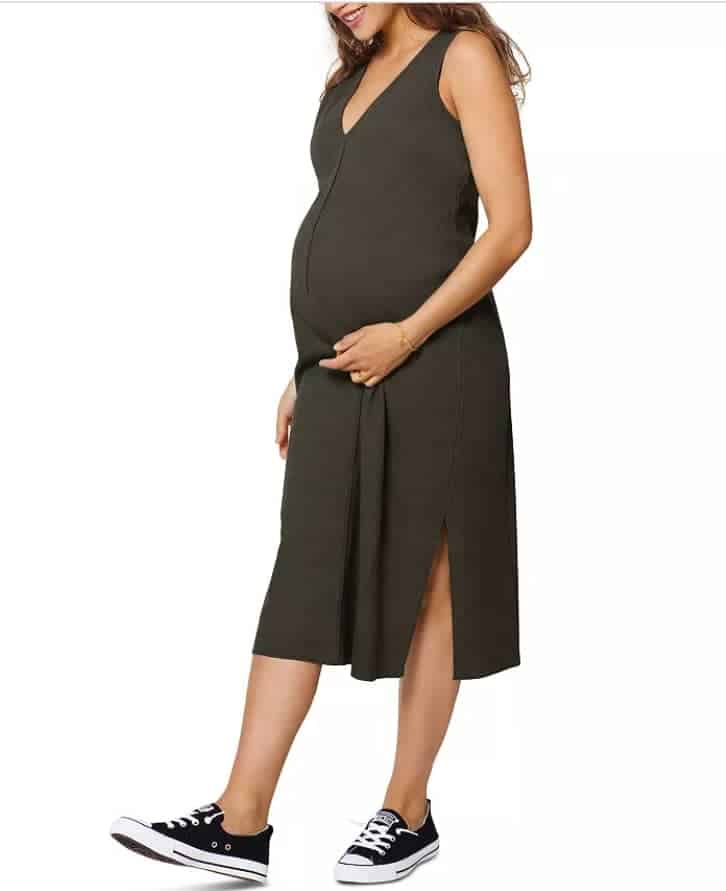 This is the most fashionable delivery gown amongst the rest with all the essentials on point, such as a full back snap closure and shoulder snaps for breastfeeding with side slits and an adjustable tie waist. It also features a cute drawstring carry bag.
10) Ekouaer Nursing and Delivery Nightdress Labor And Delivery Gown: Best Labor and Delivery Gowns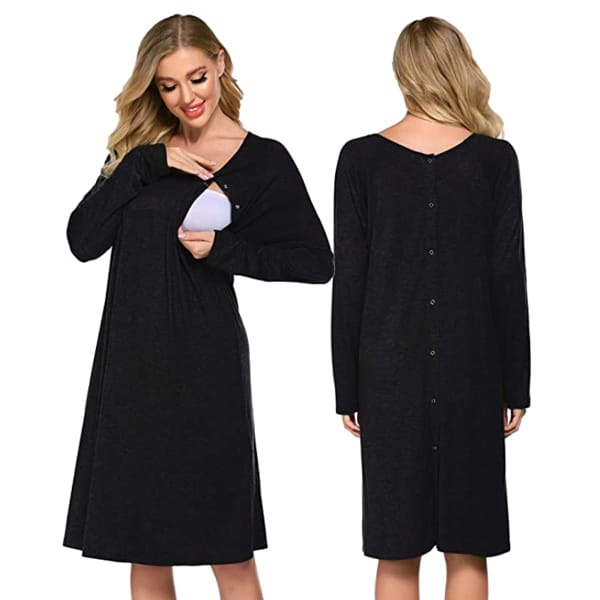 These nursing gowns from Ekouaer have a simple look with a wide variety of colors including black, navy, and deep red. It is impressively functional featuring side buttons that run all the way down the back and have a loose comfortable fit.
11) Kindred Bravely Emmaline Robe: Best Labor and Delivery Gowns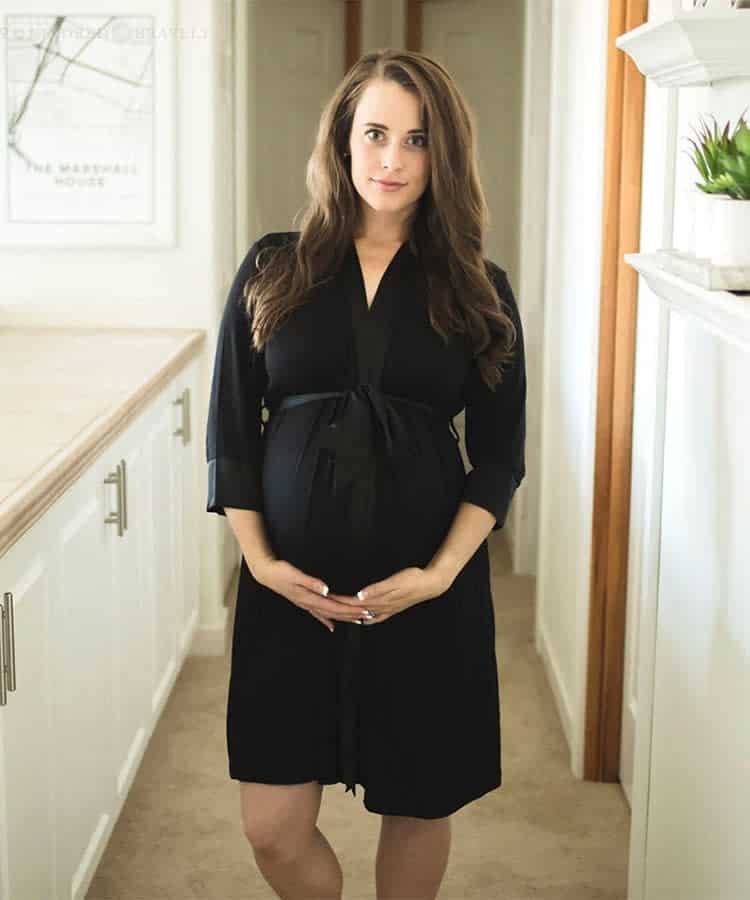 These are cozy modal wraps that can be worn two ways: above the bump and around the waist, as per the pregnancy stage. Adding to this, its satin trim makes the robe look well put-together.
12) Storq Delivery Robe: Best Labor and Delivery Gowns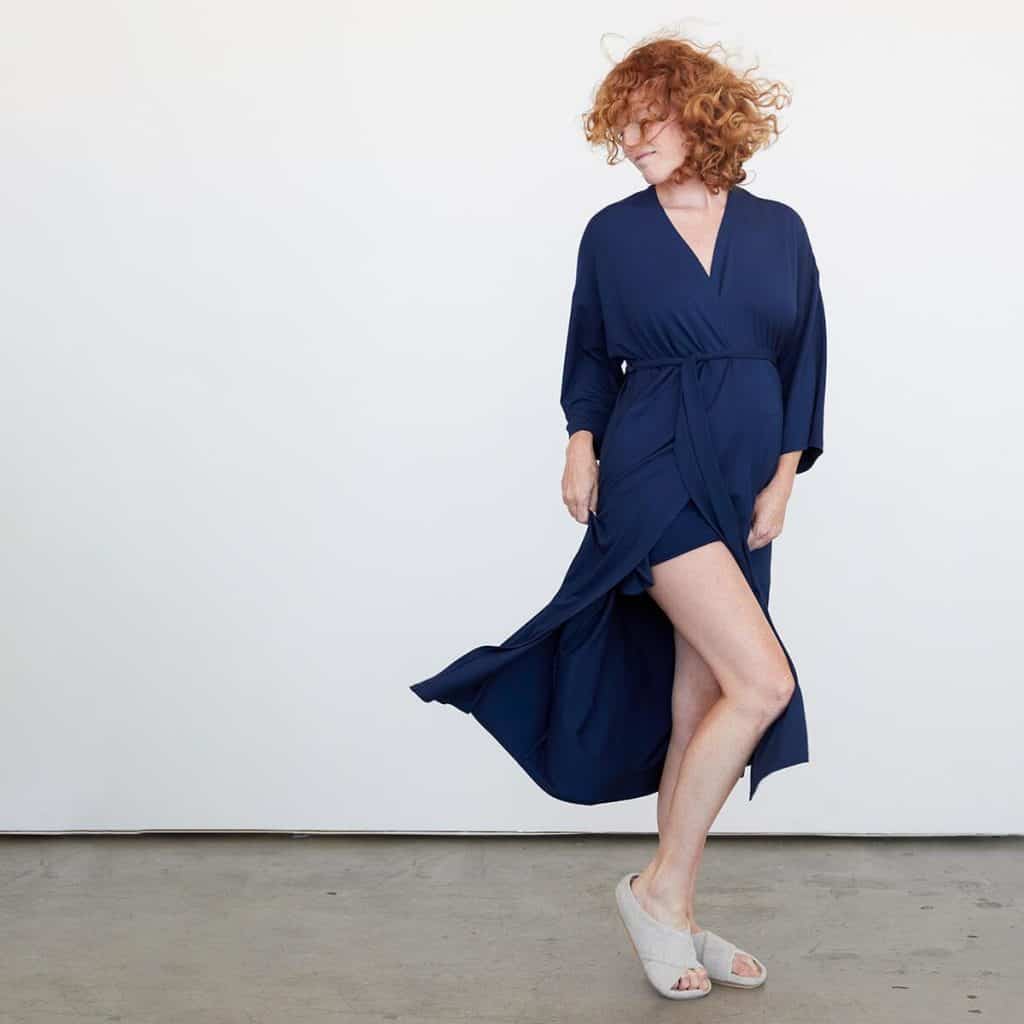 Storq is the best labor and delivery gown as it offers extra coverage and coziness for          the mom-to-be. In addition to this, these are super-soft, have a spandex-blend fabric, are of high-quality, provide comfort to the bump, and are durable.
13) Monica + Andy Organic Lounge Robe: Best Labor and Delivery Gowns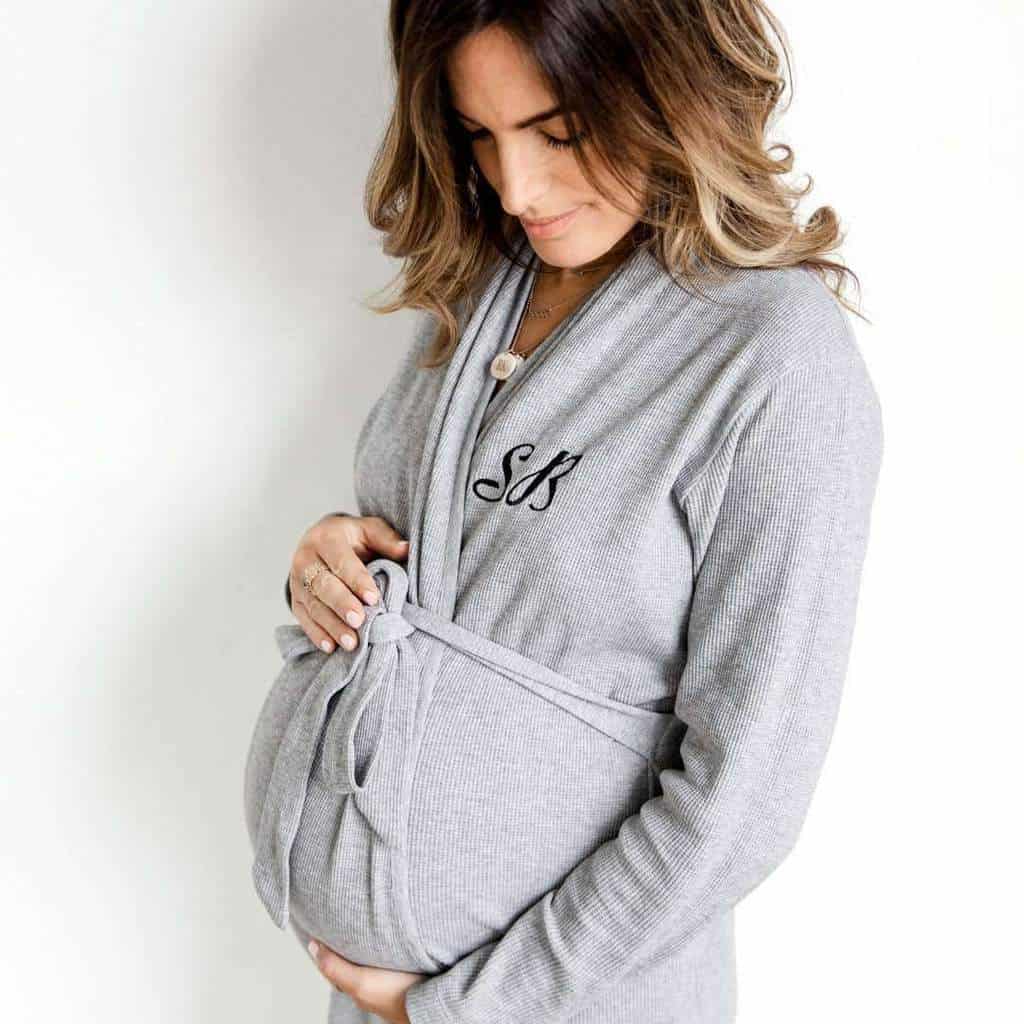 These are fun maternity robes that are on-trend. They feature a unique marble print, offer extra coverage, have side pockets, and are crafted using earth-friendly cotton.
14) PinkBlush Ivory Crochet Robe: Best Labor and Delivery Gowns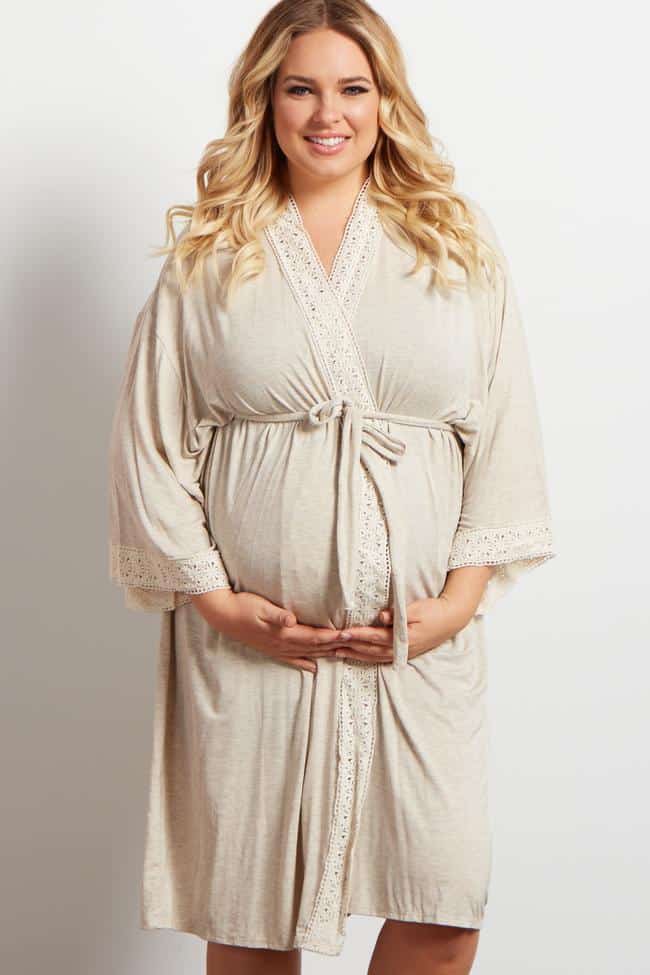 If you choose PinkBlush, you cannot go wrong. These are stretchy plus-size maternity robes that come with a pretty crochet trim and are available in different colors and sizes to choose from.
15) Nesting Olive Animal Print Robe: Best Labor and Delivery Gowns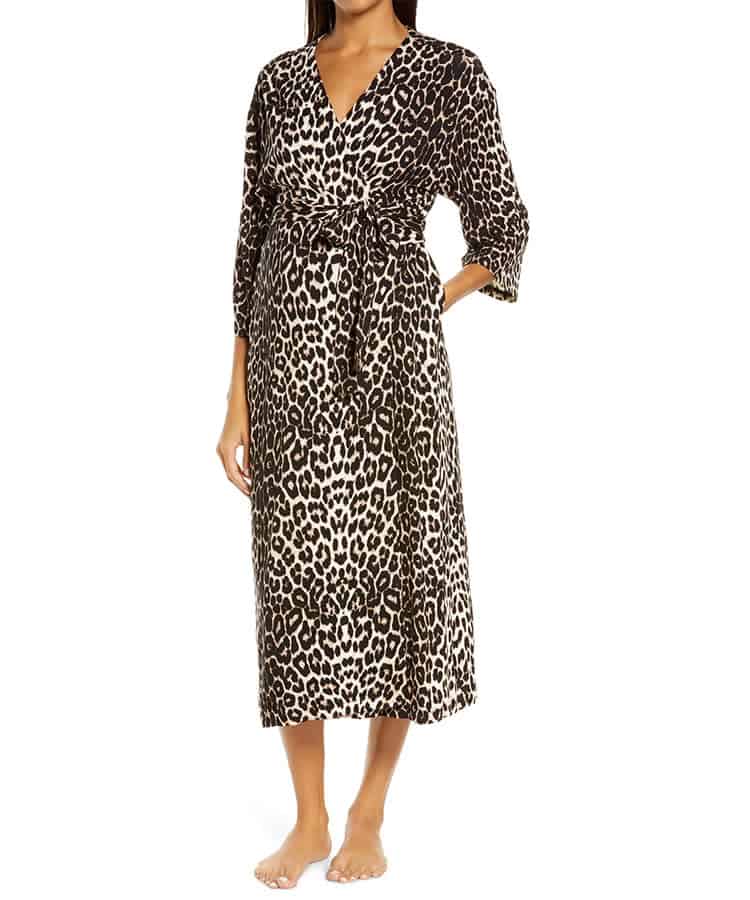 Want to go wide with prints? If yes, then this is your pick! Nesting Olive's animal print robe comes in fun patterns, has long-length, three-quarter length sleeves, and provides ample coverage for pregnant and nursing moms.
16) NOM Second Robe: Best Labor and Delivery Gowns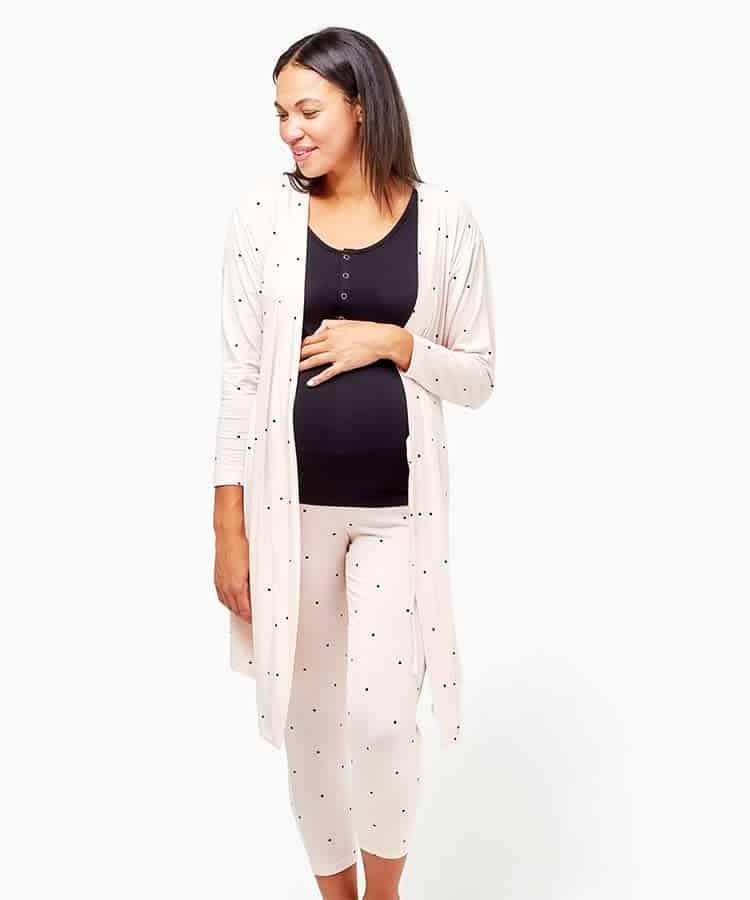 These are purely designed for comfort of the pregnant women and can be worn right from the first trimester onwards. These are made using a sumptuously soft rayon fabric blen with bamboo that helps the robe to remain cool, and does not irritate the skin.
These were the top 16 best labor and delivery gowns that provide comfort, are breathable, and strategically planned. But before that, are you sure that you have packed everything needed from the baby registry? Here is a curated baby registry checklist from Parenthood bliss. Good luck moms!
Hospital gowns can be quite uncomfortable and hindering to a pregnant woman, adding to the discomfort on their D-day. To do away with this, Parenthood Bliss has taken a step towards making sure their pregnant moms are comfortable and all homely when admitted to the hospital. Go through the maternity gowns above, and get slaying with your labor gowns.
: Best Labor and Delivery Gowns FAQs
1) Can you wear your own hospital gown during labor?
There is no hard and fast rule regarding the labor gown that is to be worn. Where most people opt to wear the gown provided by the hospital they find it quite uncomfortable and uneasy. For this very reason, expecting moms have started to pack their own labor gowns along with the baby registry. These personal gowns are comfortable to wear, cotton made, available in different kinds, and do not allow much skin to show unnecessarily.
2) How does a first-time mom stay in a hospital during the time of delivery?
The World Health Organization (WHO) recommends a first-time mom to have an uncomplicated vaginal delivery, for which she is asked to stay at least 24 hours post-birth as these are quite critical and help the healthcare providers monitor the health of both; the infant and the mother.
3) Is it ok to shave before giving birth?
We highly recommend you to not shave or even wax your pubic area just before giving birth. This is because if you plan on shaving the area, it might open up a way for the infection to catch and increase, especially in cases where you know you are to be operated on via the cesarean section or the c-section as it is known.
4) What are the ways of making your labor easier and without any complications?
Amongst the many steps or options you'll receive for easier and healthy labor, we have a few steps that can help you ace it all. Here are the easiest and best 6 simplest steps to follow that will ensure to make your delivery much easier and without any complication:
You must find the right caregiver
Always eat well and healthy. This will uplift the health and prevent any uninvited bacteria and keeps both, the mother and baby safe and healthy.
Stay active by moving around and not sitting in one place. Try kegel, this is an active exercise especially made for expecting mothers to strengthen their pelvic muscles that helps ease during delivery.
Have a detailed birth plan scheduled.
Register yourself in the nearby prenatal classes for a better understanding and to gain confidence.
Stay mobile.
Drink lots of water, have juices and vegetable broth.
Remember to smile. Smiling is a positive way to keep the baby happy and you in good health.