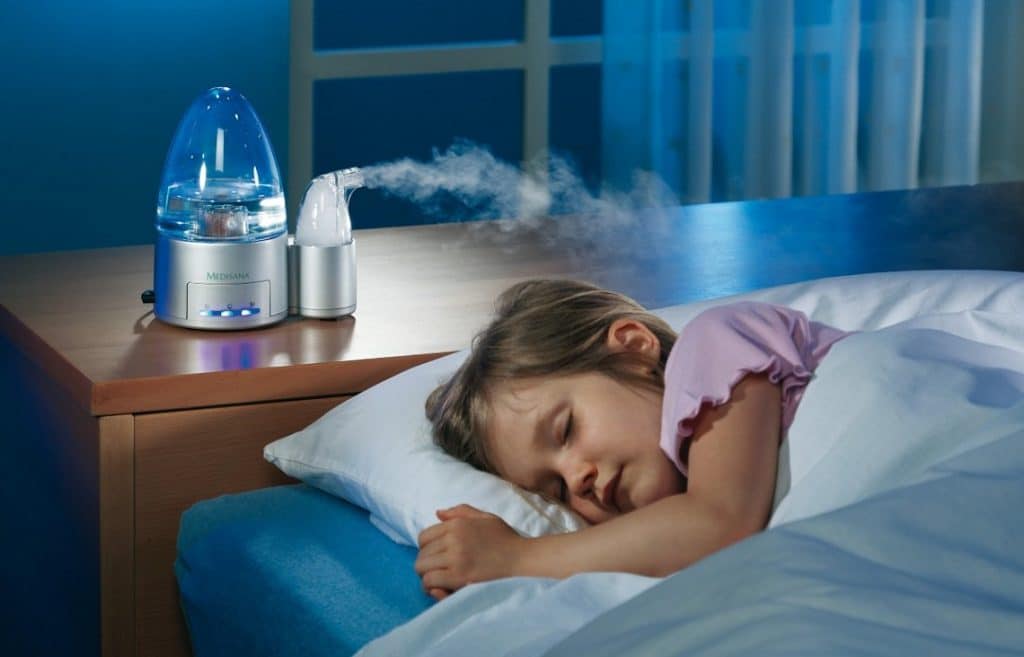 Best humidifiers for baby in the Winter months can have a detrimental impact on the health of your child and usually can make the situation miserable with the use of heating systems. Researches of indoor moisture levels will reduce the amount and impact of the viruses by regulating air moisture to making it possible for your family to breathe.  
Investing in the best humidifier for baby can offer a range of advantages including reducing scratching, sensitive skin, and chapping lips, alleviating blocked sinuses, avoiding throat, and leading to a decline in cold and influenza signs.
Not only can your family defend against bacteria by preserving the moisture levels in your house, but it can also defend the decor and wellbeing of your animals. The advantages of humidifiers are not difficult to note.
When trying to decide what product is right for you, new moms can easily be confused. Here are a few tips for choosing the right humidifier for your child.
What To Consider When Choosing The Best Humidifiers For Babies?
Here are a few things that you must keep in mind when choosing the best humidifier for your little one:
When buying a baby humidifier, make sure to choose one that can cover the whole room size, considering the square footage of the room. The best way to know if the humidifier can cover the room, look at the product's coverage range and tank capacity. This will also help to prevent the growth of molds and harmful bacterias.
The run time of the humidifier depends on the size of the tank and its discharge rate. While there are some that operate for 24 hours before requiring a water refill, others last for a few hours. If you choose a shorter run time humidifier, consider one that comes with an auto-off feature to turn off when the water runs out.
3. The design of the tank
While most humidifiers require refilling, the design of the tank becomes crucial. It's best to look for those that come with large openings, making it easy to refill, and has a translucent option to always keep an eye on the water levels.
When picking your best humidifier, make sure to check if it's easy to clean. You won't want to spend half of your day cleaning the humidifiers.
All humidifiers come with different features, therefore, it's best to pick one that suits your taste the best. There are some that are best only for babies, while the other is perfect for both, babies and adults. What may be the options, make sure to pick one that is kid-friendly, has projector capabilities, a nightlight, an air filtration system, or as per the need.
When trying to decide what product is right for you, new moms can easily be confused. Here are a few tips for choosing the right humidifier for your child.
Top 10 Best Baby Humidifiers
1. Honeywell Germ-Free Cool Mist Humidifier - Best Humidifier for baby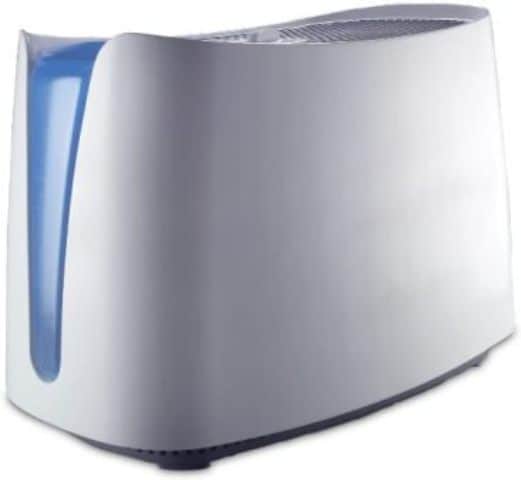 With the current advanced germ-killing technology, the Honeywell Germ-Free Moistener eliminates up to 99.9% of molds, bacteria, and spores in the waters.
The moisture balance system is also automatic. Added supplies such as moisture sensors and a safety cleaning ball for this humidifier can be obtained that add value. 
The size is ideal for small and medium spaces.
Specific characteristics
Due to characteristics such as germ-killing chamber technology, an antimicrobial device with an integrated moisture balance system, and 3-speed settings that adapt the sound level and humidity. This humidifier varies from other features.
Capacity & Use
It can be filled within up to 24 hours. The size of the tank is one gallon.
Specifics for therapy
It works fantastically for cough and colds.
Features of protection
No chance of burns exists.
Sound
As this is a cold damping agent, there may be some noise, but three settings are given by the Honeywell HCM350W.
Noise
Because this is a cold mist humidifier, there might be some noise involved, but the Honeywell HCM350W comes with three settings to adjust the sound level.
2. Vicks Filter-free Ultrasonic Visible Cool Mist Humidifier- Best Humidifier for baby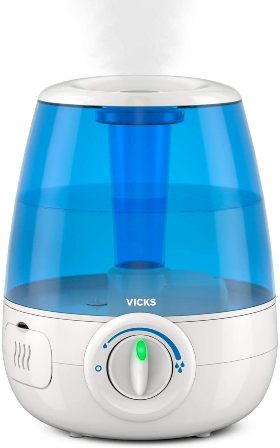 The Vicks filtration-free cool mist humidifier produces a cool mist. It relieves the use of herbal vapors from coughing and congestion. Several VapoPads are accessible like congestion menthol pads and Rosemary and Lavender sleepytime VapoPads for a calming purpose.
Specific characteristics
This humidifier soothes and addresses cold symptoms. You will be in benefit from the extra aromatherapy with the humidifier by using the fragranced patches enriched with eucalyptus oil, menthol, cedar leaf oil, and much more.
Capacity & Use
It is fitted with a 1.2-gallon tank and can last up to 30 hours. It's fine for every room of small to medium scale.
Specifics for therapy
Treat problems include coughs, insomnia, and congestion. 
Features of protection
There is no chance of spilling or burning hot water.
Noise
The function is relatively quiet.
3. Pure Enriched MistAire Ultrasonic Cool Mist Humidifier- Best Humidifier for baby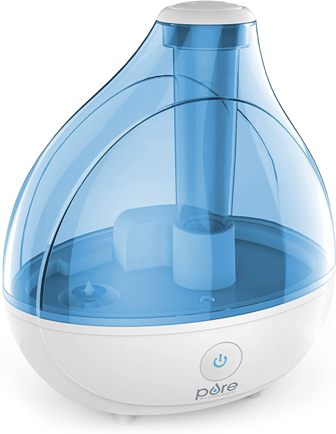 With ultrasonic cool mist technology, the Pure Enrichment MistAire is an ideal addition to your children's space. Up to 16 hours, you will have humidified air. Your baby can breathe safely and quickly.
It is built to suit anywhere, with a basic but elegant look.
Specific characteristics
The humidifier comes with additional info, for example, optional nightlight with high and low preset modes with a soothing, shine, and ultrasonic cool mist software.
Capacity & Use
It is suitable for any medium-sized space with a 1,5-liter water tank. It provides 150 milliliters of humidity per hour and promises 16 hours of uninterrupted activity in low conditions.
Specifics for therapy
Signs of dry air such as blocked nose, viral infections, and cracking skin are best treated
Features of protection
With this cold humidifier, you should not think about leakage or burns
Noise
There might be some noise, but nothing serious when using the humidifier.
The Pure Enrichment humidifier MistAire has an additional advantage when the water goes zero, automatically shut off. In the middle of the night, this avoids loud gurgling noises.
4. LEVOIT LV600HH Hybrid Ultrasonic Humidifier- Best Humidifier for baby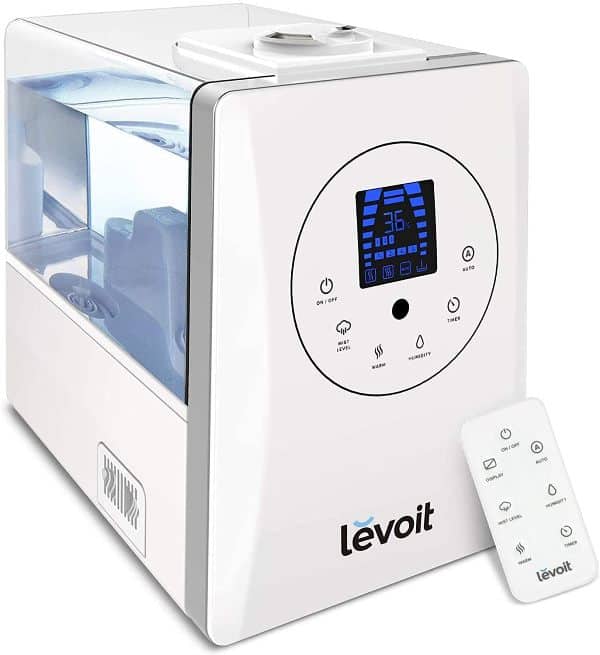 This modern transparent humidifier is fitted with a six-liter tank and can be used effectively in bigger areas. This is a cool and warm humidifier that provides you with the best solution. The fragrance box can be added with aromatherapy oils for enhanced relief.
Specific characteristics
With its warm-cool mist environment, the LEVOIT Hybrid Ultrasonic humidifier gives you aromatherapy advantages. With a remote control, a monitor of humidity, and a moist diffuser that operates in both a sophisticated and automated mode it is extremely easy to use.
Capacity & Use
It has a big six-liter tank that can be used for 20-36 hours.
Specifics for therapy
It can cope with several symptoms, including dry skin, colds, flushes, and stress symptoms.
Features of protection
If you are using the warm mist option, there is a danger of spillage or burning hot water.
Noise
The quiet process generates less than 36db.
5. Home Quiet Ultrasonic Humidifier- Best Humidifier for baby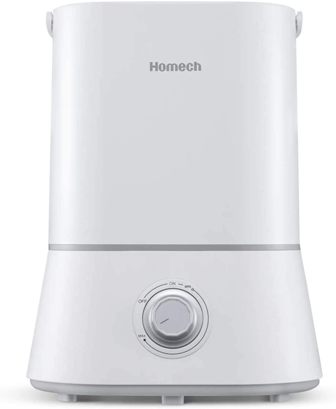 Silent technology is used in this ultrasonic humidifier to disperse incredibly small water particles through the air, while a stable sponge ensures clean water. Although other humidifiers boost air quality over the night, due to their quiet activity, this silent humidifier is no problem at night.
Specific characteristics
This Homech quiet Ultrasonic Humidifier showcases premium services at a reasonably low cost including automatic shut-down, an even moisture-free dust tube, and many features to easily clean the aquifer, such as a mold-resistant ventilator, wide opening, and dust-proof sponge.
Features of protection
The chance of danger is unbelievably low as a non heated, cold-water humidifier.
Noise
This humidifier is holding under the ultrasonic configuration of 26 decibels.
6. LEVOIT Humidifier and Essential Oil Diffuser- Best Humidifier for baby
This LEVOIT is perfect for people with $50 plus budgets, thanks to its smart sleep mode, its non-ultrasonic, but quiet activity, and simple look. The wellbeing of all your family members is illustrated with a BPA-free tank and compliance with the CA65.
Specific characteristics
The LEVOIT humidifier has various intelligent and premium characteristics, such as a smart mode for sleeping, efficient spiral air duct technology, and an essential oil diffuser top-fill aquifer – all of which are worked at less than 28 dB.
Capacity & Use
A tank of 1.8 liters will stay operational for around 8-20 hours.
Specifics for therapy
This humidifier focuses on general health and can relax babies and kids, give seasonal allergies relief, help eliminate particulate matter from the air, and improve the quality of sleep.
Features of protection
No safety features are required with cold water service, even though this nature is difficult to overcome on a large foundation.
7. TaoTronics Cool Mist Humidifier for Babies- Best Humidifier for baby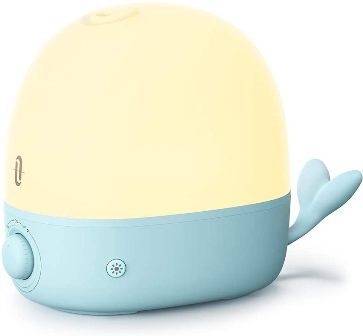 The TaoTronics humidifier has a sweet, gentle, curved whale type that is humorous and suits the visual appeal of your baby's nursery. There is also quiet and the 3-in-1 configuration includes an essential oil diffuser, a humidifier, and simple lighting at night.
Specific characteristics
The most interesting characteristic of mothers is an essential oil diffuser, which can help babies sleep soundly and can spread soothing and healing fragrances such as lavender, lemon, and eucalyptus. It is also quiet and has a night light, which makes it suitable for bedding.
Capacity & Use
A 2.5-liter tank allows up to 30 hours of running time.
Specifics for therapy
This humidifier, along with the conventional benefits of dampers such as hydrated skin and easier breathing, can:
Give temporary coughing relief
Help for clear congestion
Reduce allergens in the air
Features of protection
A large base makes it hard to overturn this humidifier, but due to its cold water use, this TaoTronics model doesn't need any more safety features.
Noise
TaoTronics uses a preventable technology for noise reduction that maintains the humidification at a nearly inaudible 26db.
8. Homasay Cool Mist Humidifier/Diffuser- Best Humidifier for baby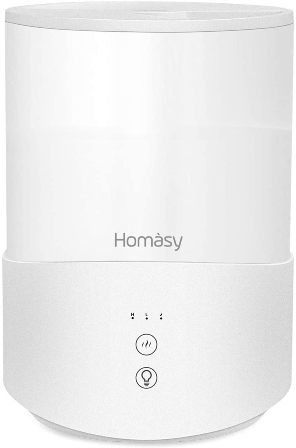 It has no large tank or complicated displays of other designs in its Asia manufactured humidifier, but it steals the features at a budget price. The humidity machine serves an automatic shot-off, several modes of humidity, and the main oil diffuser in the form of a box with a durable design and a waterproof device for about 30 continuous hours.
Specific characteristics
This design from Homasay contains many design characteristics that add value to a budget price. It works at 360 degrees and multi-level, spread mist uniformly, and maintains everything smelling nicely by the essential oil diffuser, and the self shut-off and super fill design ensures that everything is safe and clean.
Capacity & Use
2.5 liters work for up to 30 hours of water power.
Specifics for therapy
This humidifier will help moisturize the skin and enhance sleep along with the usual benefits of keeping the space properly humidified.
Features of protection
For family members of all ages, cold-water storage is secure to utilize.
Noise
While cheap, this baby humidifier is no less than 28 db in noise reduction technology.
9. LEVOIT Ultrasonic Cool Mist Air Vaporizer for Babies - Best Humidifier for baby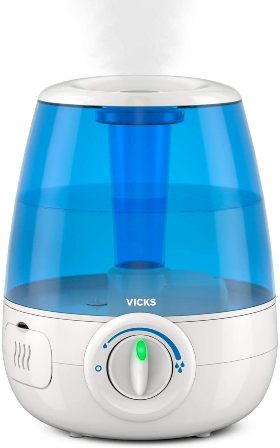 LEVOIT makes another entry in our list of cheap humidifiers which includes most of the functions on premium models, especially certifications and LEVOIT test specifications. You can be assured that this product is safe for you and your family. BPA free, ROHS approved and checked according to CA65 guidelines, free from hazardous substances.
While there are no ultra-high-end cloves and whistles or a large tank size, it is a great choice for those looking for a humidifier with state-of-the-art art environmental safety accreditations.
Specific characteristics
The LEVOIT humidifier has a wide range of features, especially at a low cost. Three ultrasonic mist-levels will make you perfectly change humidity and will last for hours and hours with your attention to protection, a nightlight, and easy-to-clean construction.
Capacity & Use
2.4 liters may operate at the lowest level for 24 hours, at the highest humidity rate but less than 10 hours.
Specifics for therapy
This Levoit model is excellent to reduce airborne allergens, prevent asthma from deteriorating and clean the smell of households
Features of protection
The only safety aspect that this requires is the complexity of constructing a cold water reservoir and a lightweight design.
Noise
LEVOIT pays special attention to its humidifier noise level and delivers the highest 24db of sonic efficiency.
10. Crane USA Filter-Free Cool Mist Humidifier for Kids - Best Humidifier for baby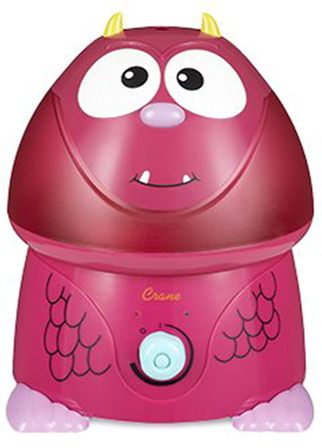 The delightful style of penguins is simple to look at and use. BPA free offers a healthy space for your kids. Ultrasonics are used to add humidity to the air.
Specific characteristics
The Crane wetter provides philter-free ultrasonic technology, and children of all ages can easily be used — not to mention healthy.
Capacity & Use
It is fitted with a tank of one gallon for 24 hours.
Specifics for therapy
The humidifier can treat symptoms including bleeding in the nose, cough, dry skin, and flu.
Features of protection
This wetting mist moisture is safe to use without the possibility of spilling or burning of hot water.
Noise
It delivers a silent whisper.
Humidifiers come in every shape and size, but in the end, investing in the right one for the child is essential. They are an outstanding investment in healthcare with a list of benefits if properly used. He or she most certainly wants a humidifier somewhere in your child's life, so do not delay to go and get one today.
Best Baby Humidifiers FAQs
1. How to decrease humidity at home?
Have a dehumidifier Adjust philters of humidifiers and air conditioning

Stop using a dryer tumble
Open a window
Set plants outdoors instead of indoors.
Fans may be used.
Tip: Measure the humidity levels at home with a hygrometer each day, to ensure that your child is moistened. You can easily buy one from most hardware stores if your humidifier does not come with a built-in hygrometer.
2. Do you want More Than One Humidifier?
If you have a humidifier for your kids, you have to put it in the rooms where most of the time it spends. If you look at a smaller humidifier, it must be kept in mind that only in one room can it be successful. You will want to consider having more than one to ensure that all places in touch with which your baby comes are protected. In small apartments, it can be useful to buy a wetter so that all areas can be covered immediately if the living room is near the kindergarten.
3. Why is the hygienic condition maintained?
Returns Old Moisturizers. Follow instructions Using Water Distilled Clean Water Everyday refill your humidifier Every two or three days, Deep Clean Regularly Adjust Filters Stock Shop Maintain the Dry Area.