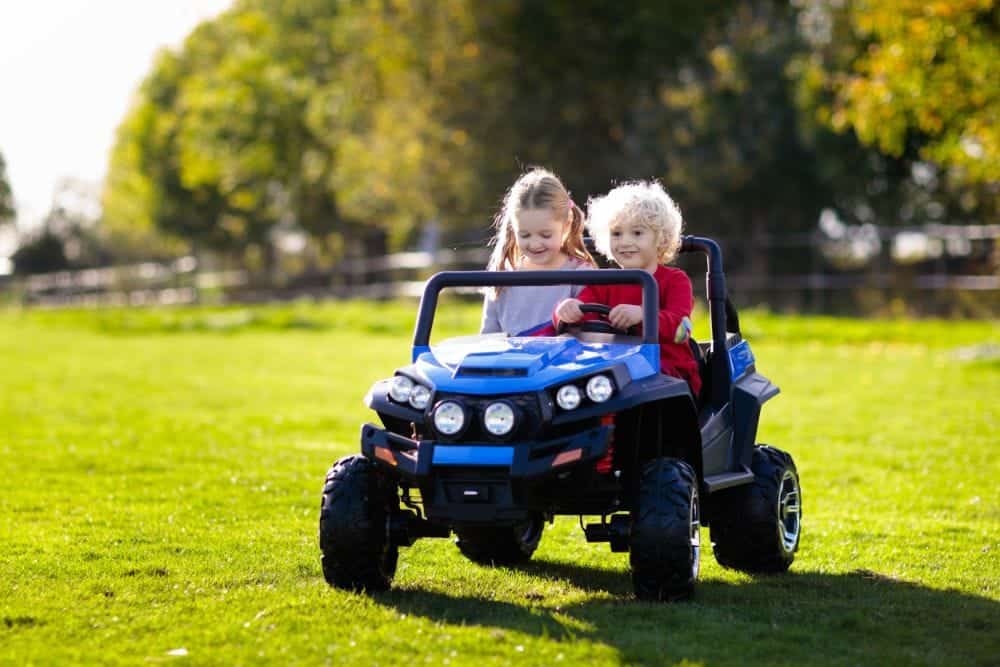 An Electric car is a toy that is affordable, fun, and is quite an inspired gift for kids of all ages and gender. However, with all of this, it is quite possible that there is a wide variety of electric car options in the market to choose from, from the cars that are self-driven to those that are controlled by the remote for safety, placed in the hands of the parents.
Choosing The Best Electric Cars For Kids
We at Parenthood bliss understand how difficult it can become for parents to choose the best electric kids car from the wide variety of options available in the market that might as well become quite persuasive.
So, to help our parents choose, we have curated a small checklist below that has everything you must keep in mind in order to purchase the best pick amongst the rest available.
Here are options for the best electric cars for kids in different categories in both off-road and sports models. Parents must look into the characteristics of their ideal electric car to know they are choosing the one they need.
Best Electric Cars For Kids: What To Consider?
Here is what to consider while choosing the best electric car for the kids:
Most electric cars have speed from 2.5 to 5mph offering real thrills for kids. They are made with adjustable speeds and made to be friendly for the little new drivers. As the kid gets comfortable with the speed, they can choose to increase the speed in safe limits.
The battery life of the electric car has improved with at least a few hours of driving fun before you leave the car to recharge its batteries. Yes, the results do vary depending on its variables.
Given that the specs are important the looks of the car matter too. There are many inspired designs to choose from the off-road vehicles to pickup trucks.
Top 15 Best Electric Cars For Kids in 2022!
Listed below are the top 15 best electric cars for Kids in 2022-
1. Best Power Wheels Dune Racer - Best Electric Cars For Kids
It comes with a perfect open-top design and approachable versatility. The car is spacious offering a fun riding experience for kids up to two years. There are no side doors but its two metal sidebars ensure safety when taking a tight turn.
As driving on grass or gravel requires sturdy wheels, they have added large wheels helping it tackle small obstacles. When driving on hard surfaces, the speed gets faster and smoother.
Pros
 Made with an impressive design
Uses the 12V battery for hours of driving
Tackles all types of surfaces
Made with metal sidebars
Supports a driver and a co-pilot
Cons
No cushioning on the seats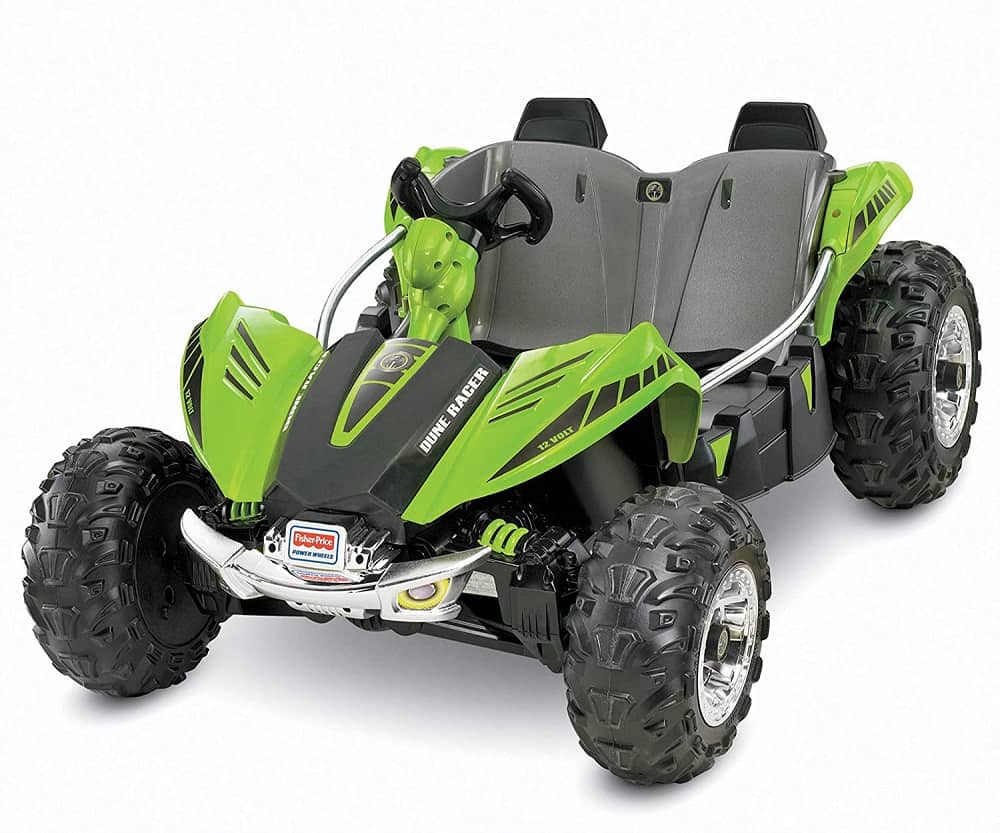 2. 12V Car Truck Ride - Best Electric Cars For Kids
It is designed with large wheels that help tackle small bumps and supports a co-pilot down the road in total comfort. It is anatomically-shaped offering lateral support like a real car seat with a seatbelt attached for extra safety.  
The vehicle's interior offers many options or young drivers apart from its modern steering wheel. It allows the kids to connect the jack to their devices for music. On the other hand, the exterior of the vehicle has a rugged look that's available in black, blue, green, yellow, red, and white colors with LED lights.
Pros
Made with a distinct look
Features a working radio and a Jack input
Controlled by pedals or remote control
Built-in LED lights
Minimum assembly required
A reliable spring suspension system
Cons
Doesn't accommodate an extra passenger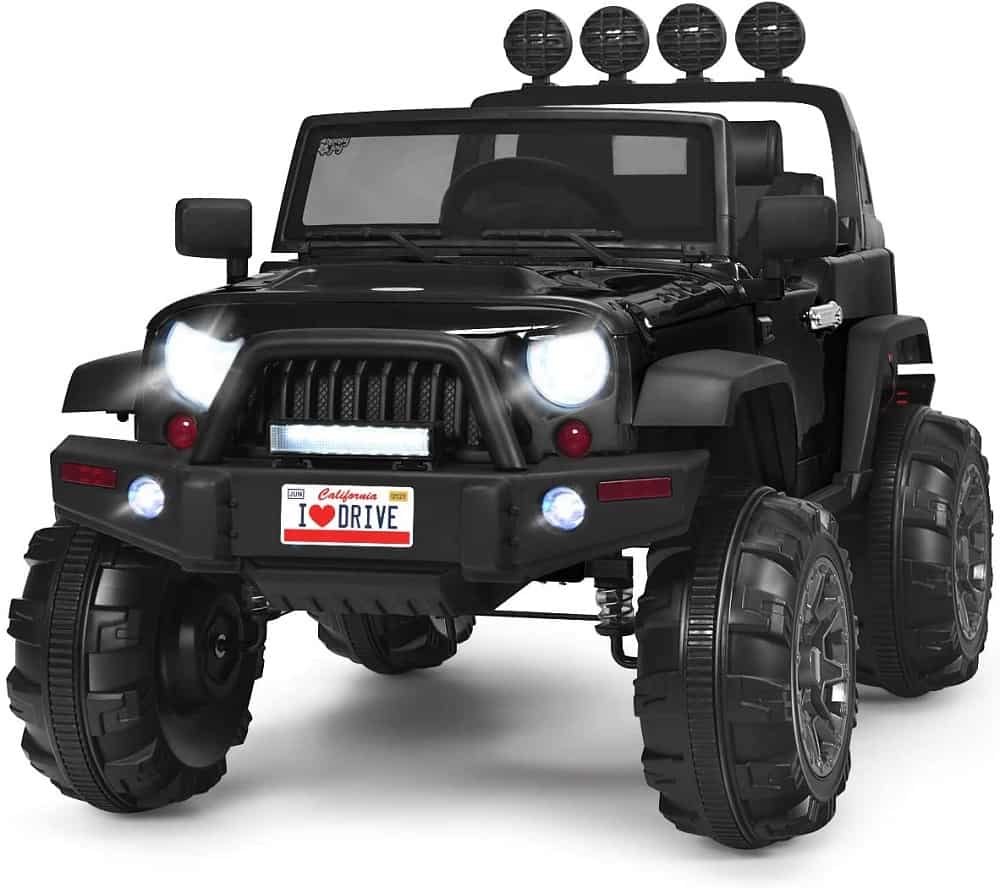 3. GMC Sierra Denali 12 Volt Roleplay Vehicle: Best Electric Cars For Kids
It is made keeping in mind the realistic design with two working access doors that can be used by kids up to 3 with 130lbs of weight. The exterior of the car looks impressive resembling the convoy cars.
Its maximum speed is 5mph offering the sensation for kids with LED lights. If the batteries get low, they have an external plug for extra driving power. The car also comes with an MP3 Jack for kids who can plug-in their favorite tracks while driving.
The Roleplay vehicle has an added feature of a horn and an engine sound connected to its main battery.
Pros
Made with a realistic GMC design
Includes a 12V battery for power
Uses 2 access doors for the driver and a passenger
Supports horn and engine sounds
Recommended for drivers 3 and up
Made with an external charging port
Cons
Needs two extra AA batteries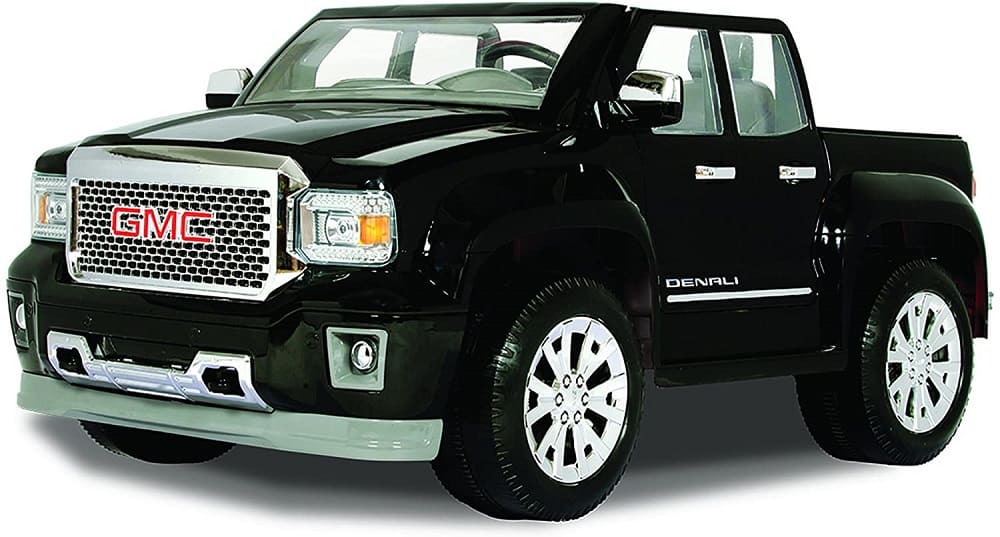 4. Black carbon SLS AMG Mercedes Benz - Best Electric Cars For Kids
The exterior of the Mercedes Benz looks like an SLS AMG that is available in black, red, and pearl white color for a sporty look. It's interior with PU leather seating offering a comfortable and unique driving experience with wheels covered too. This unique racing-style has a seatbelt that makes the little drivers feel special and safe. They have rear doors with a protective floor mat and ensure safety from obstacles with realistic SLS AMG mirrors.
The SLS AMG Benz comes with a portable USB and SD card compatibility for the kids to listen to and have a fun experience.
It comes with a maximum speed of 6mph also available at 3mph controlled by the driver or parents using the remote control.
The kids can also drive this car at night with the help of the interior dash lights and with lights in front, back, and on the tire.
Pros
Made with a realistic design
Uses exterior lights
Compatible with USB and SD cards
Top speed of 6mph
Foam rubber tires for a smooth ride
Designed with a PU leather seat
Cons
Only has room for the driver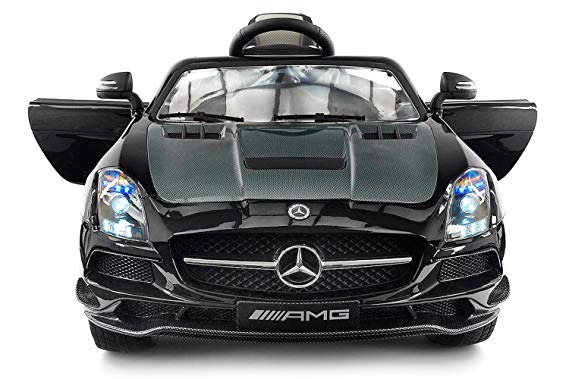 5. Power Wheels Jeep Wrangler - Best Electric Cars For Kids
This is inspired by the classic Jeep Wrangler with an impressive design. The kids can jump in the vehicle too as there are no doors to worry about with enough room inside for the craziest driving maneuvers. It has a makeshift radio with pre-recorded sounds and a horn sound for a good experience. It can be driven on the grass and are manufactured with large wheels.
The vehicle can also have a feature of auto slowing-down with cuts brakes that are smooth with a maximum weight capacity of 130lbs only two speeds at 2.5 mph or 5mph with a reverse speed.
Pros
Made for up to two kids
Uses pre-recorded songs
Comes with horn sounds
Included voice amplified
Up to 5mph at its top speed
Cons
Takes up to 2 hours to assemble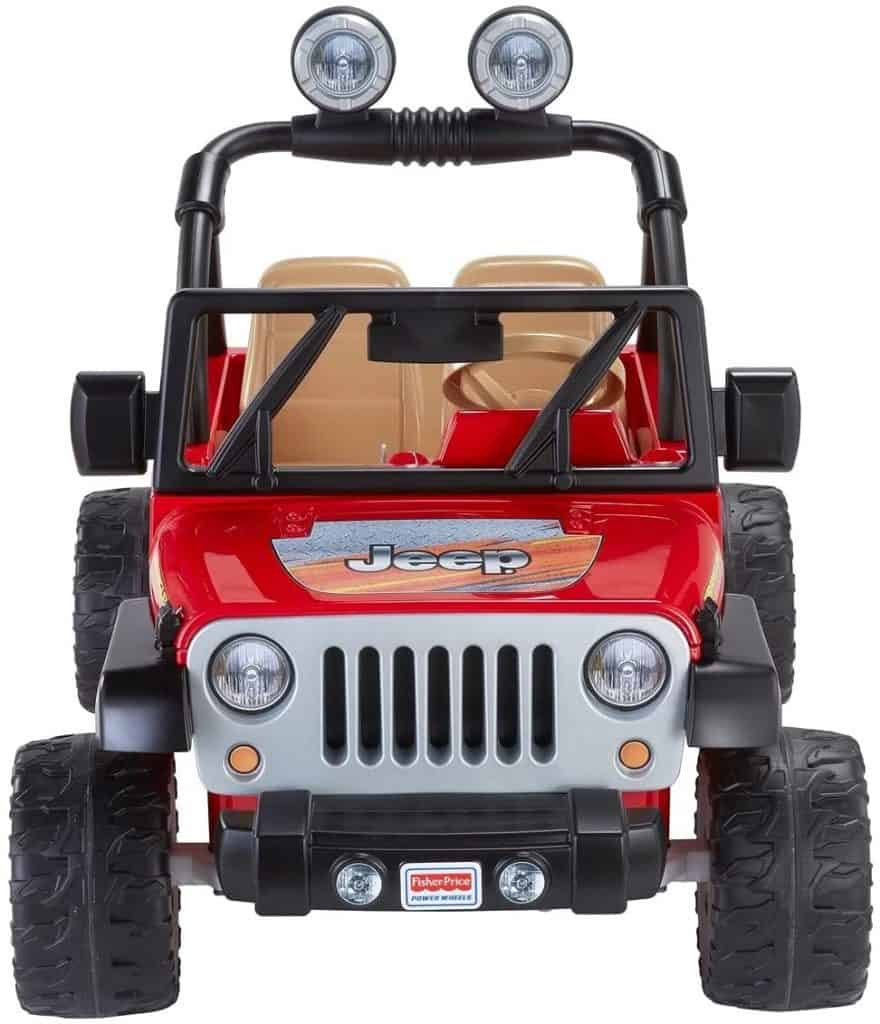 6. Kids Power Wheels Arctic Cat 1000 - Best Electric Cars For Kids
This car comes with an adventure profile and is attractive offering motivation to kids daily. It is perfect for small tasks around the house as it comes with an off-road built with a carrying capacity of a few small objects. There is also a mini shovel attached for kids to help their parents carry around the yard for sand, grains, or whatever the kids decide.
It has a carrying capacity of two kids with mounted headrests and is comfortable enough for long hours. The minimalist design in the interior combines the utilitarian nature with practical off-road nature.
Pros
Made with a functional tailback
Offers a 6 mph top speed
Included heavy-duty mini shovel
Designed with comfortable seats
Carries up to two kids at a time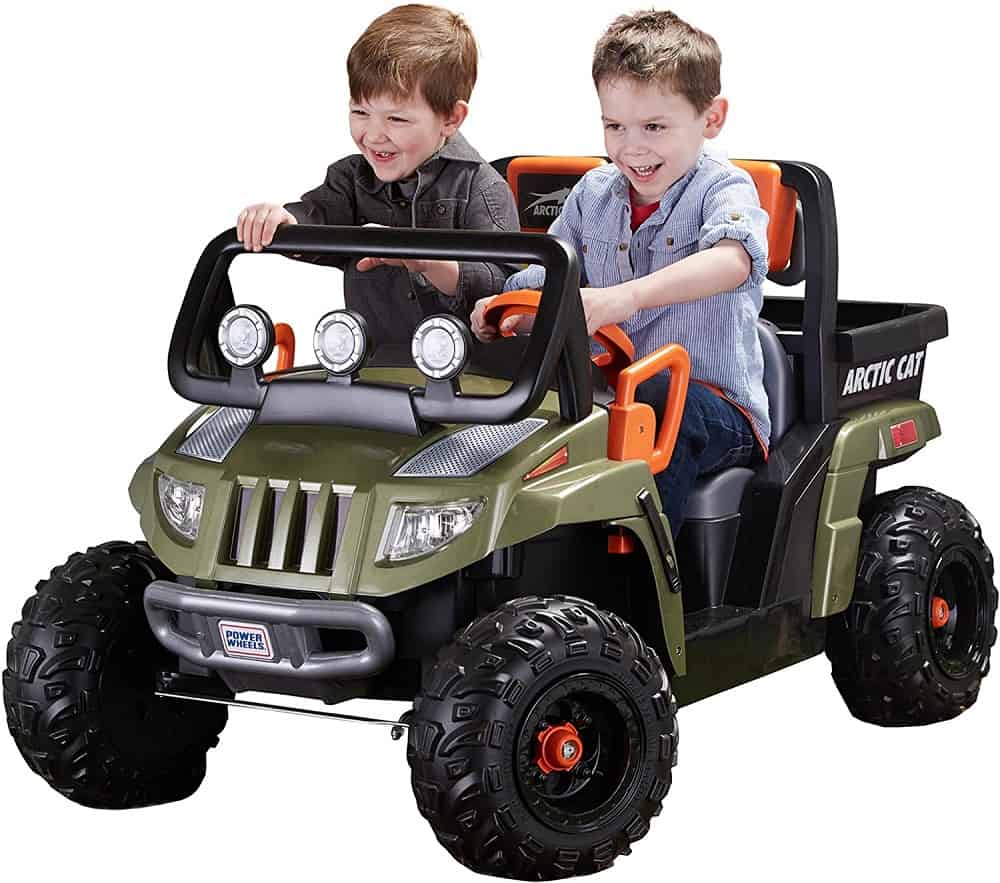 7. 12V Power Car Truck - Best Electric Cars For Kids
The vehicle offers comfort and entertainment with supporting USB, Bluetooth, SD card, and iPod connectivity making the car entertaining.
It has admirable seats covered with PU leather offering comfort to the driver and the one extra passenger with seat belts.
It has high standard performance with a single battery charge up to 10 hours to charge making it the fastest electric car.
Pros
Made with Bluetooth compatibility
Comes with an included shifter
PU leather seats
Included LED lights
10-hours maximum battery charging time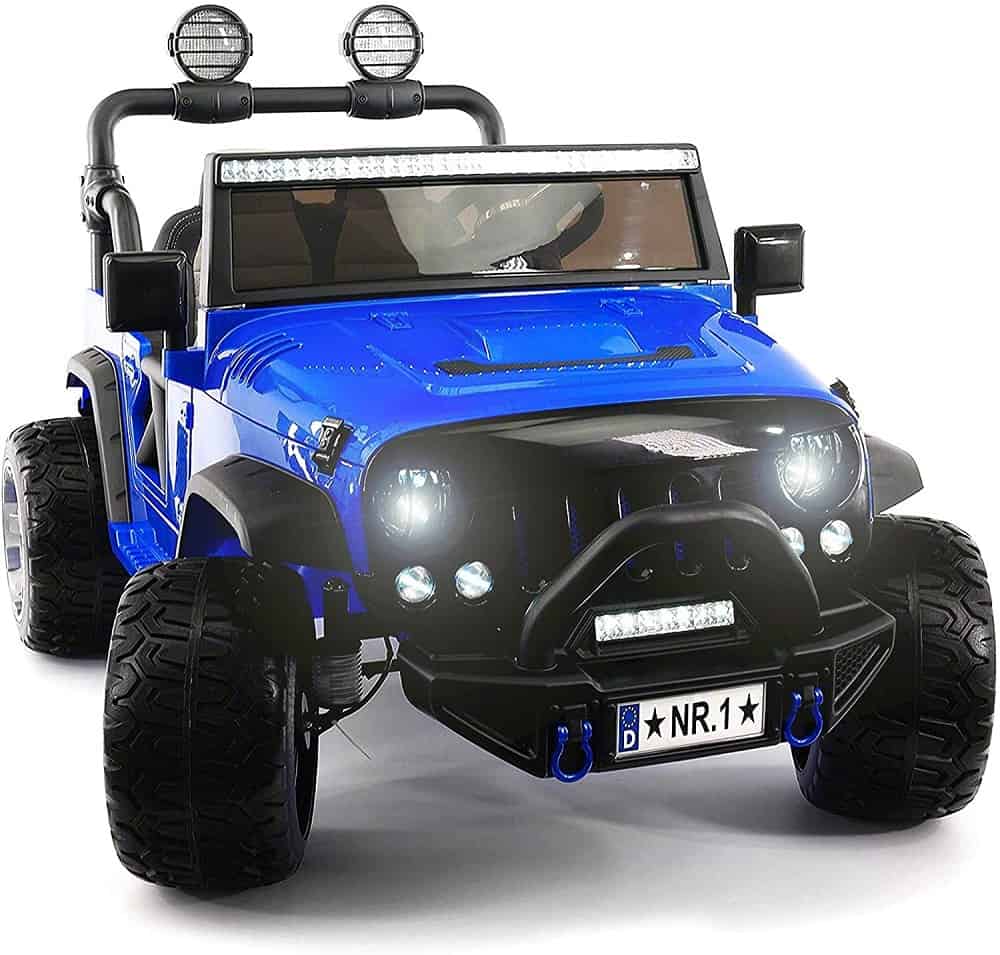 8. Peg Perego Polaris RZR 900 CAMO - Best Electric Cars For Kids
This car comes with cup holders with an adventurous spirit of an off-road vehicle. It has seatbelts with pedals and remote control with large wheels for the best traction and can be driven on grass when outside with parents.
The speed is up to 5mph with a lower of 2.5mph ready for obstacles in the yard and reverses for a parking spot. Its speed remains constant when with a passenger with up to 130 pounds transported with ease by the off-roader.
Pros
Made with large wheels for traction
Carries up to 130 pounds of weight
Suitable for two kids
Made with 2 speeds
Designed with an onboard horn
Cons
Doesn't come with a modern dashboard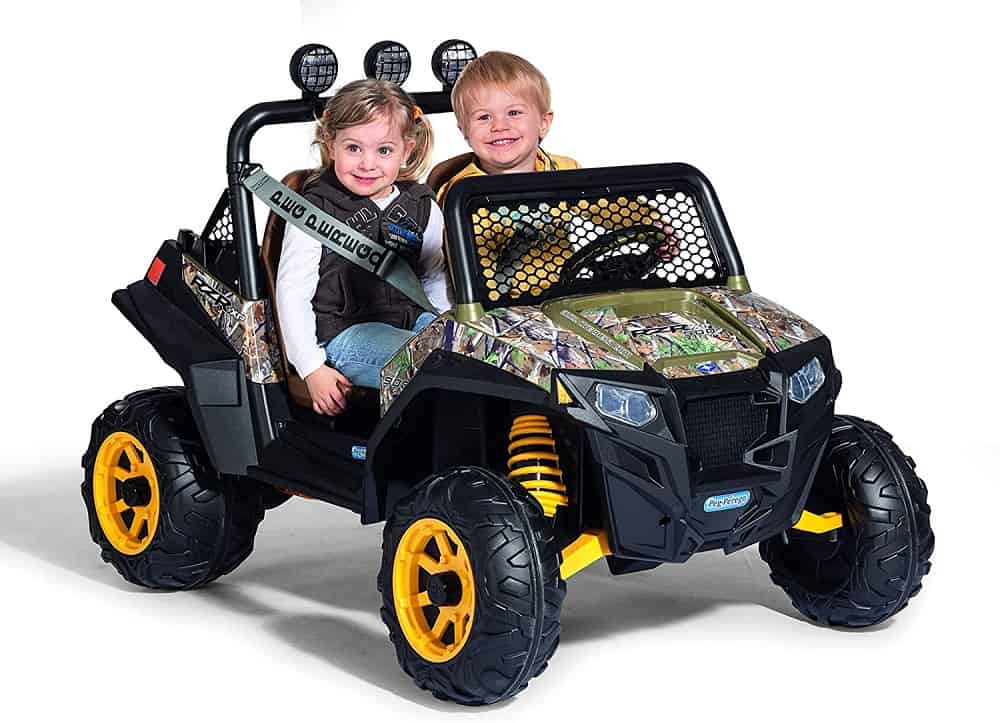 9. Mercedes CLA45 Toy Car - Best Electric Cars For Kids
It is an electric car that is perfect for quick drivers around the yard. The design characteristics are considered to be a reliable car with an MP3 player and Bluetooth connectivity. The Mercedes has leather seats with a 5-point sports seatbelt.
The battery indicator on the dashboard helps the kids know how much time they are left with additional steering-wheel controls. It comes with 2 speeds and maximum power output of 5mph.
Pros
Plays MP3 and connects to Android phones
Comes with an included remote control
Built with a weight of just 45lbs
Offers soft PU leather seats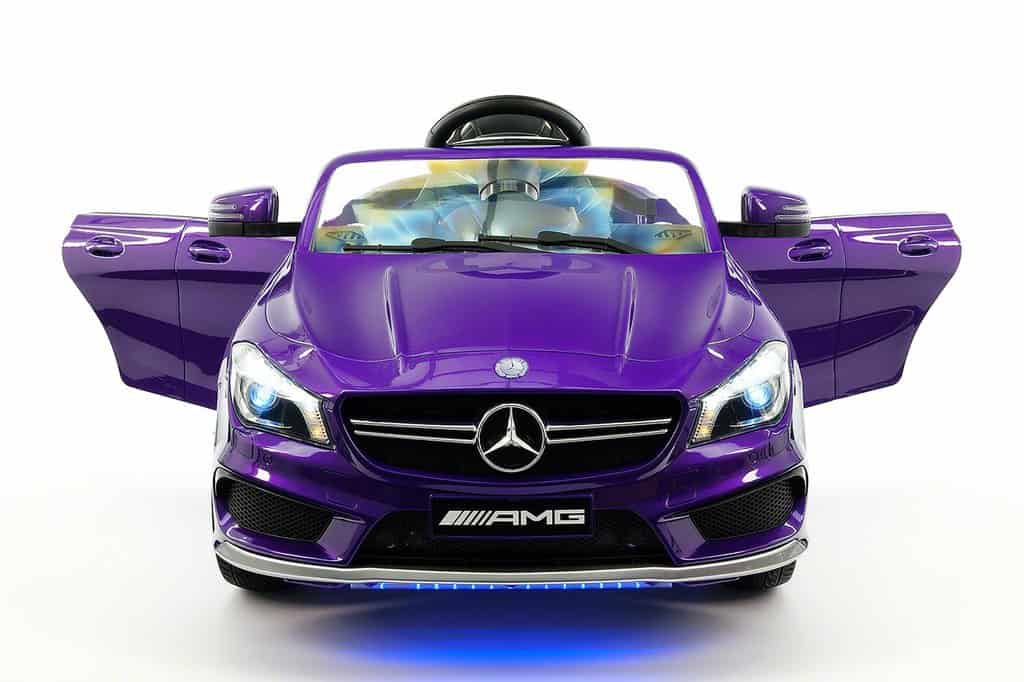 10. Uenjoy 12V Bentley Car - Best Electric Cars For Kids
It is based on a unique Bentley design and is known to be the most stylish car with impressive luxury releases. The car can be driven inside the house and outside when the weather is nice.
It comes with windshield wipers with impressive interior design. The kid can play their favorite music through the MP3 files and Bluetooth connectivity.
It supports a speed of 2mph and 4mph with a forward gear and a reverse gear imprinting an actual car.
Pros
Made with a realistic Bentley design
Includes a gear shifter
Ships with a remote control
Connects to Android smartphones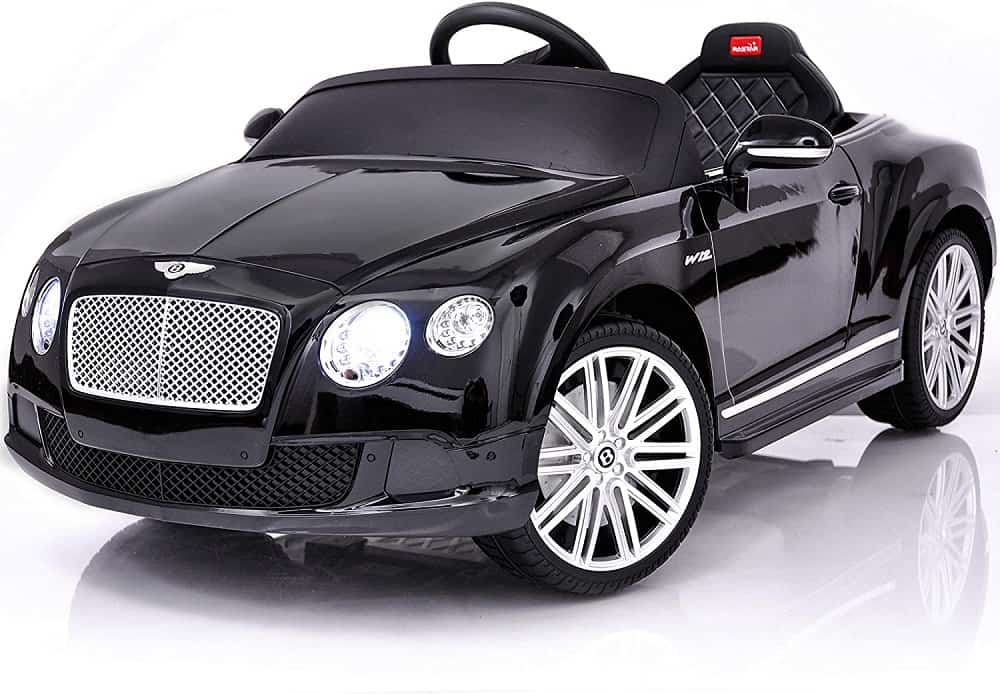 11. Ride-On Jeep - Best Electric Cars For Kids
Looking for an electric car that is not only durable but also comes with the necessary safety features? If yes, then this is your pick to choose.
Gathering 3,000 positive reviews on Amazon, Ride-on Jeep is also good to use indoors, adheres to all safety measures, is comfortable, has a lot of space, has a durable 12V battery, and is available in a wide variety of colors.
Pros
Is fun with safe speed
Comes with adjustable seat belts
Has three-speed levels
Comes with a remote control
Has an MP3 player on the dashboard
Cons
Could be a little difficult to assemble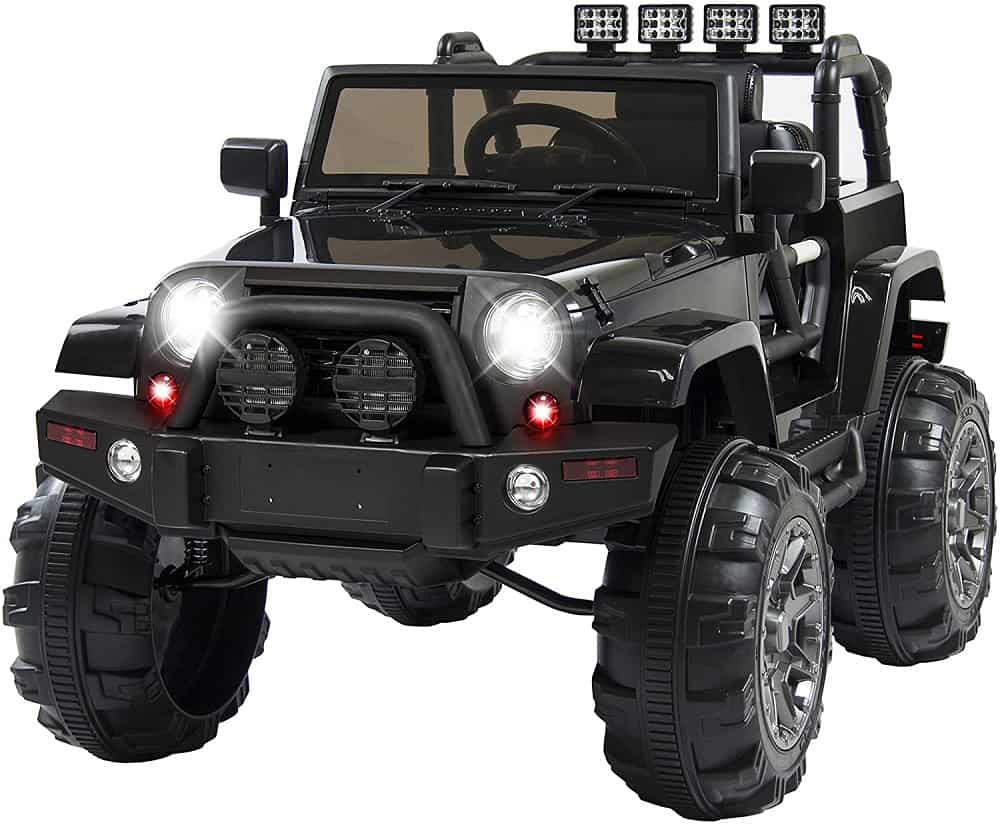 12. Toyota Tundra - Best Electric Cars For Kids
The Toyota Tundra electric car is officially licensed by Toyota Tundra pickup for children and has great looks. It features a top speed of 3mph, has a 12V battery, and is a mini electric car with 4 wheel suspensions.
Adding on, it includes LED headlights, a storage compartment, a built-in MP3 player, lockable doors, and a reliable electric brake system.
Pros
It is a kid-sized luxury
Comes with a long-range remote control for parents
Has emergency brakes
Is safe to use
Can hold up to 66 lbs in its cabin
Cons
Could be a little small in size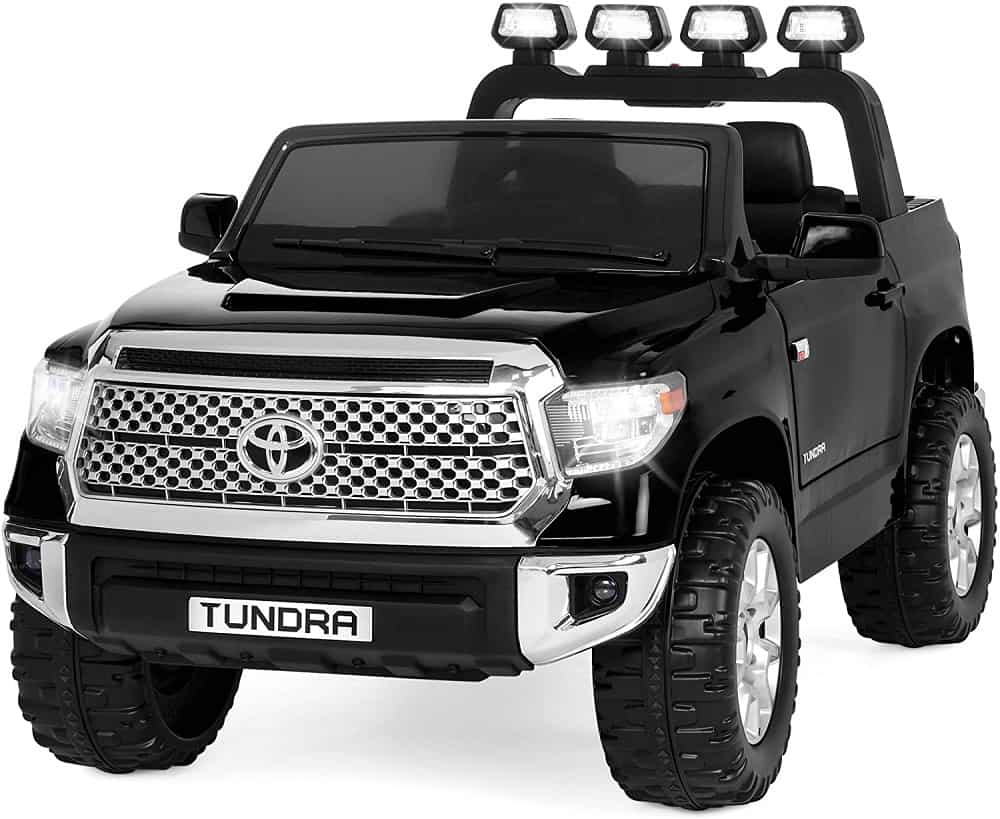 13. Razor Dirt Quad - Best Electric Cars For Kids
Razor Dirt Quad is a comfortable electric car for kids that comes with a 24V battery, has a powerful ride-on model, and is best for school-aged kids.
It can easily hold two kids, operates via a battery that can work up to two days of continuous driving, has a large wheelbase, and adheres to safety measures.
Pros
Is comfortable to use
Can hold 2 kids at once
Has large wheelbase
Best for school-ages kids
Cons
Unsafe for kids under 5 years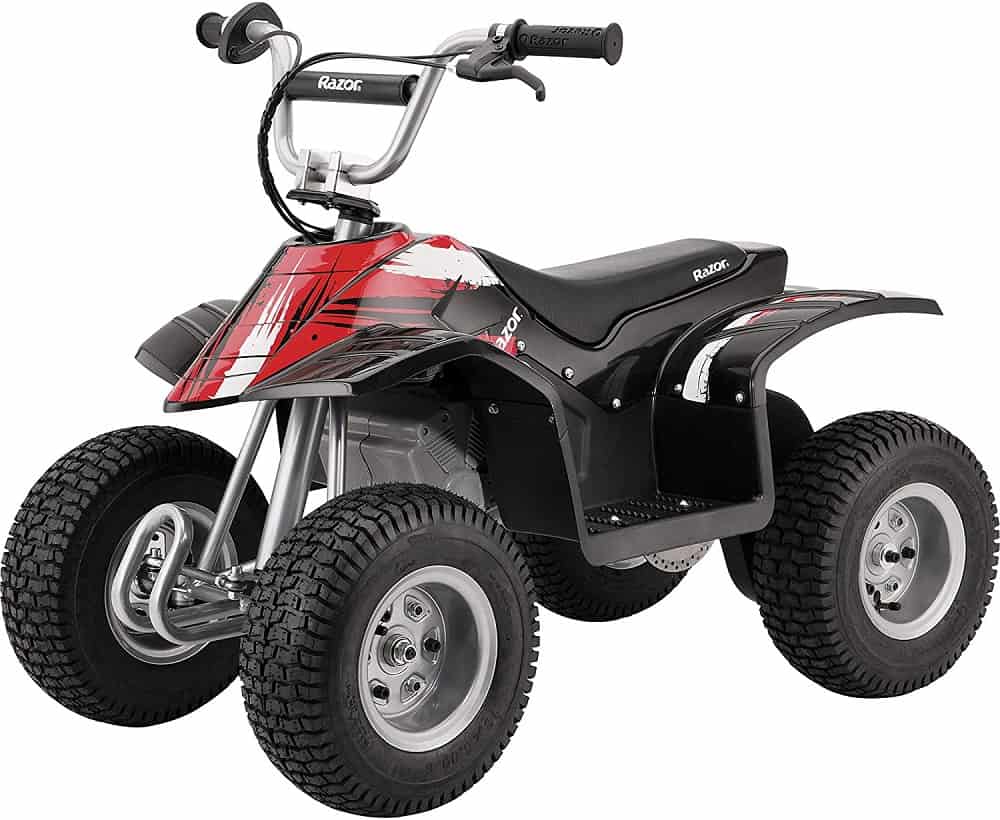 14. Lamborghini Aventador - Best Electric Cars For Kids
This electric car for kids is an auto luxury and is officially licensed by Lambo. It features doors that can swing upwards like a high-tech sports car, has LED headlamps, a built-in auxiliary outlet, the kid can play their own music, and is also remote controlled.
It measures 52" long, 28.75" wide, and 18" high, is best suited for kids between three and eight, has a max speed of 3.7 miles per hour, and can carry kids up to 66 pounds.
Pros
Can be used indoors and outdoors
Comes with an upward swings door
Has LED headlamps
Is remote controlled
Cons
Could be a little small for kids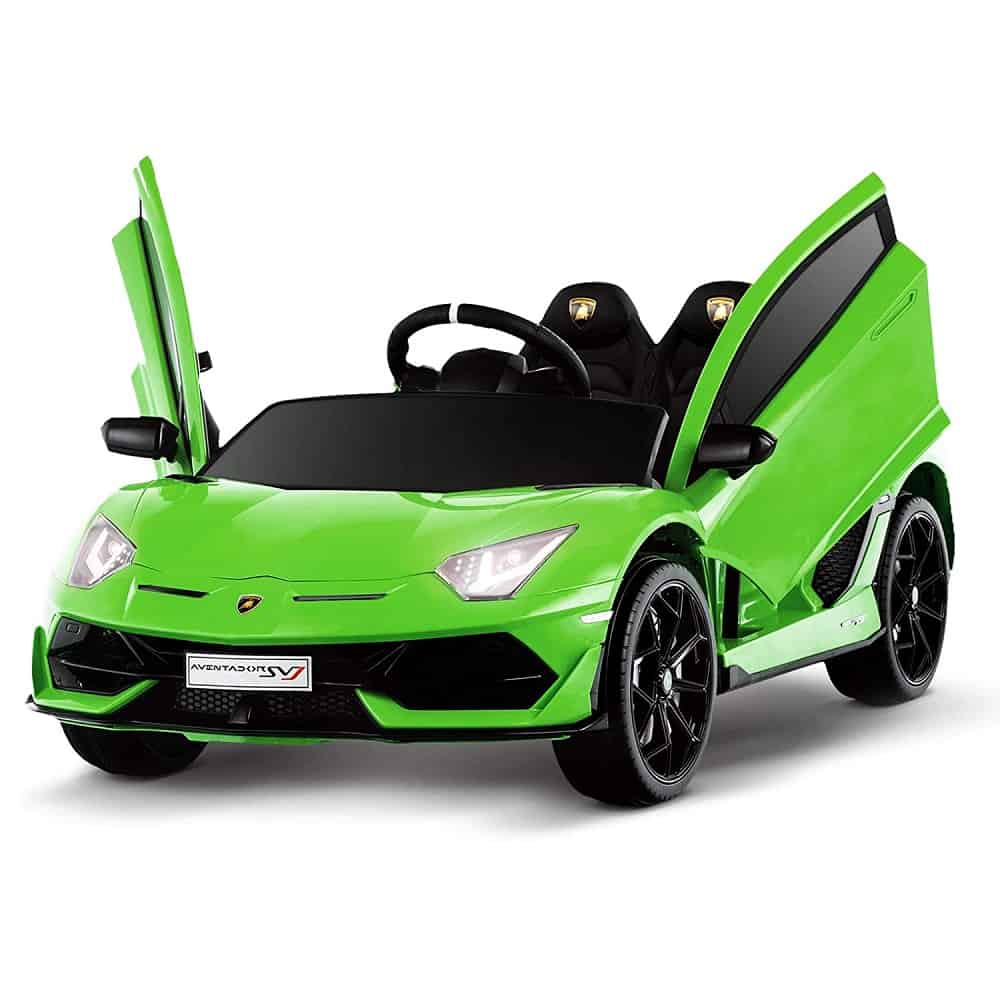 15. Dodge Viper SRT - Best Electric Cars For Kids
Dodge Viper SRT is a safe, adventurous, and all-terrain sports car that has rubber traction strip tires, and can be used both indoors and outdoors.
This car is a combination of ruggedness and durability, has good looks, comes with high-tech accessories, has a top speed of 5 mph, and comes with an FM radio for in-cabin tunes.
Pros
Can fit 2 kids in one time
Size – 58 x 23 x 33 inches
Best suited for kids between 3 and 7 years
Has all-terrain rubber traction tires
Cons
Not suitable for small kids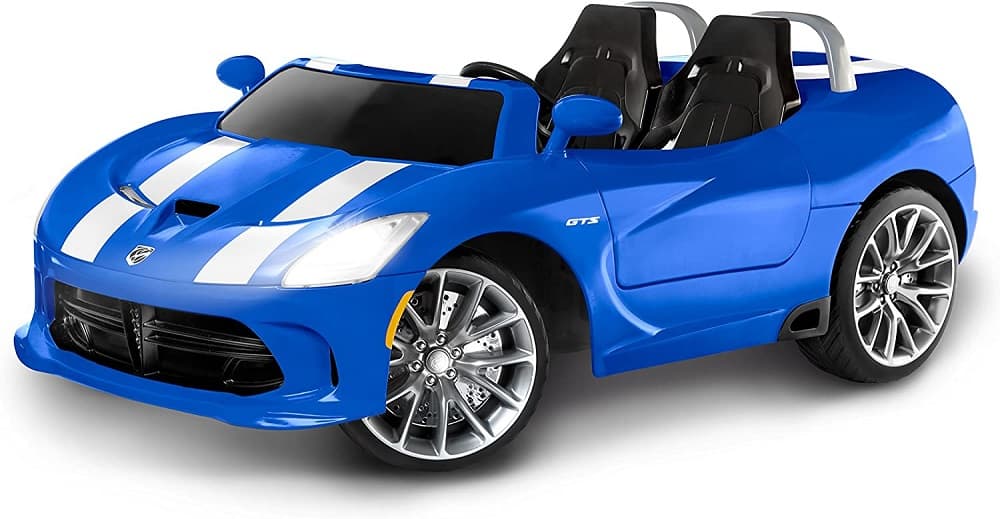 That's all folks! These were the top 15 picks for the best electric cars for kids. However, if you are looking for the best building toys for kids, this is what you might refer to, the best picks from your very own website, Parenthood bliss. Let us know how you find them!
While you're busy selecting a kid's electric car, you must also keep in mind to consider a car that not only entertains the baby but also is educational. This means the electric cars must teach the children about the causes and effects that come under physics explaining the working of cars to the kids who might seem interested in it, either in the present or the near future. Keeping all of this in mind, Parenthood bliss has curated the article above with the best picks for you to choose from. Make sure it's safe while providing the younger drivers with the most enriching experience.
Best Electric Cars For Kids FAQs
1. Can kids drive the electric car on their own ?
Yes of course! These electric cars for kids are specially designed to be safe and driven independently. Adding onto that, to make sure they are controlled by the parents, these electric cars for kids are remote controls and would require the parent's support and guidance.
2. Do these kids' electric cars have safety features in them?
Yes, they do. While designing and building electric cars, the company makes it a point to keep in mind the safety of the kids. They have insulated mini seats and safety belts that keep the kids in place while driving and also have functional doors that make sure the kids are safe inside the car while they take turns.
3. Is it ok to use these electric cars when it's raining?
An absolute yes! These electric cars are mostly convertible cars that make sure the kids are safe inside, avoiding them from getting wet in the rain. However, irrespective of it all, we recommend not using them for longer hours as it could be hazardous when the weather isn't right.