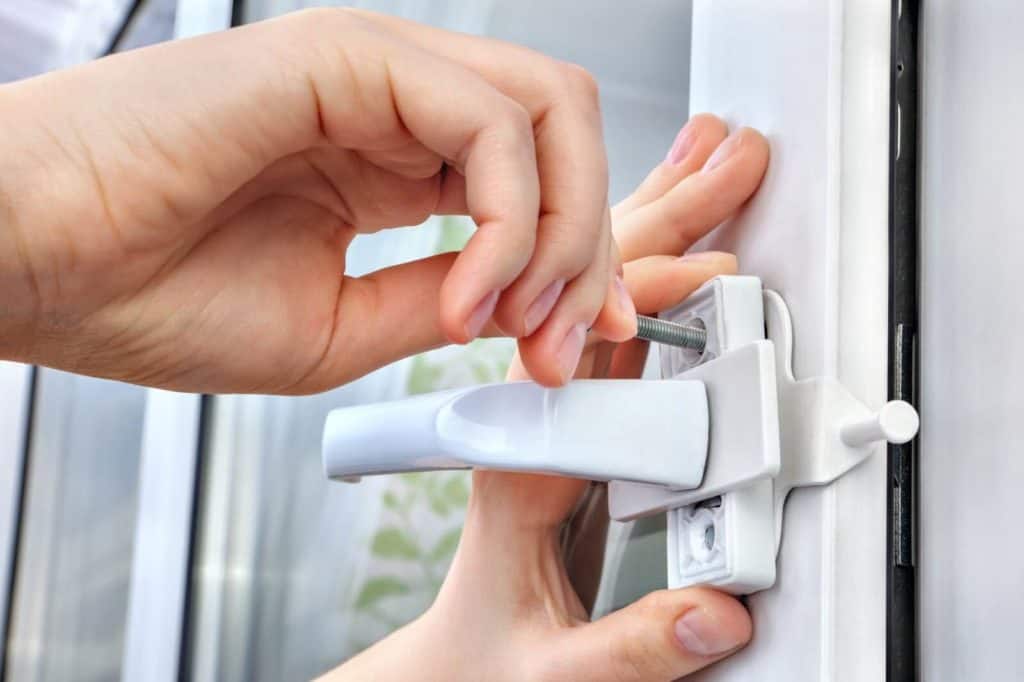 As your toddler grows older, you'll soon realize that exploring nature will carry them to every nook and cranny of the house, where you'd find them hunting down something bizarre. Perhaps, as cute as it might seem, it becomes even more important for you to build and improve your house toward child safety.
While you are planning to install cabinet and drawer locks and baby gates for the doorways and stairs, it is also recommended best child proof window locks and baby-proof the sliding window as well, to prevent the kids from pushing it open and climbing through, or tangling themselves in the cords on the blinds around their neck.
According to the reports from CDC, there are thousands of toddlers in the United States who have to happen to fall from windows each year. Perhaps, we wouldn't like Parenthood Bliss's parents to face anything of this sort, therefore, we curated this list that includes the top 5 best easy-to-install baby-proof windows.
What Are The Other Ways To Childproof Sliding Windows Other Than The Window Locks?
Firstly, parents must keep in mind to place the baby cribs away from the windows to prevent any mishaps or use only cordless window coverings. Listed below are window childproofing ways with the various kinds of devices:
Cord protectors:

These are used to wind up long cords or they include a hook that helps to wrap these long cords, keeping them high and out of reach of the exploring toddlers.

Window stoppers:

These stoppers limit how wide you can open a window so only a narrow gap is possible. For childproofing purposes, windows must open no more than four inches.

Window guards:

These affixed

window safety guards

help prevent children from pushing on screens of open windows and falling out.
Note: Locking your window with its built-in mechanism is a good start, but for better protection, we recommend using a safety lock for security. These child-proof window locks are designed to be the most effective way to prevent a fall and decrease the risk of serious injury.
5 Best Child-Proof Window Locks
Listed below are the safe and best locks to baby-proof windows and help create a secure environment for your little one.
1) Safety 1st Blind Cord Wind-Ups (Pack Of 2)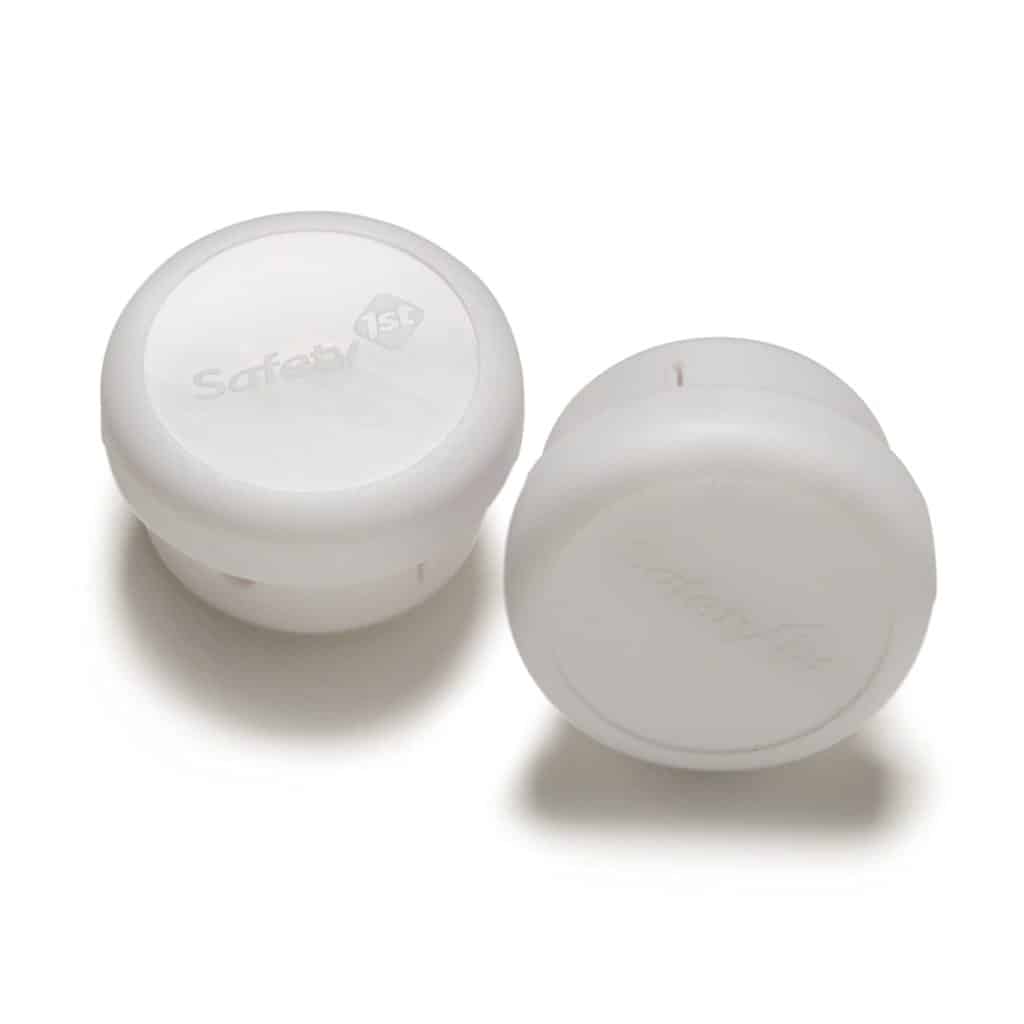 Are you afraid of the long cords around your house or near the windows? Are you finding ways to remove them? If yes, we know just what you need! These are the best child-proof window locks that can help you bid adieu to those dangling cords as this product helps you roll the extra length into a plastic holder. Also, by installing these, you can now easily operate the blinds too!
A quick and cheap fix for old school blinds with cords. Cheaper than buying new blinds for every window in the house. Will buy again!
I know safety first has been known for good products for baby proofing, but these are perfect even if I don't have a baby! I hate having one chords, unnecessarily dragging, and these are so simple to use with a great result.

You just find the center of the length of the cord, attach the two halves of the item together, and twist one half while it's closed so it rolls and coils inside. Just like that very simple, but so effective. They're not too bulky either in my opinion so I thought they were great.
For more product reviews visit Amazon
2) Bink Up & Away (Pack Of 2)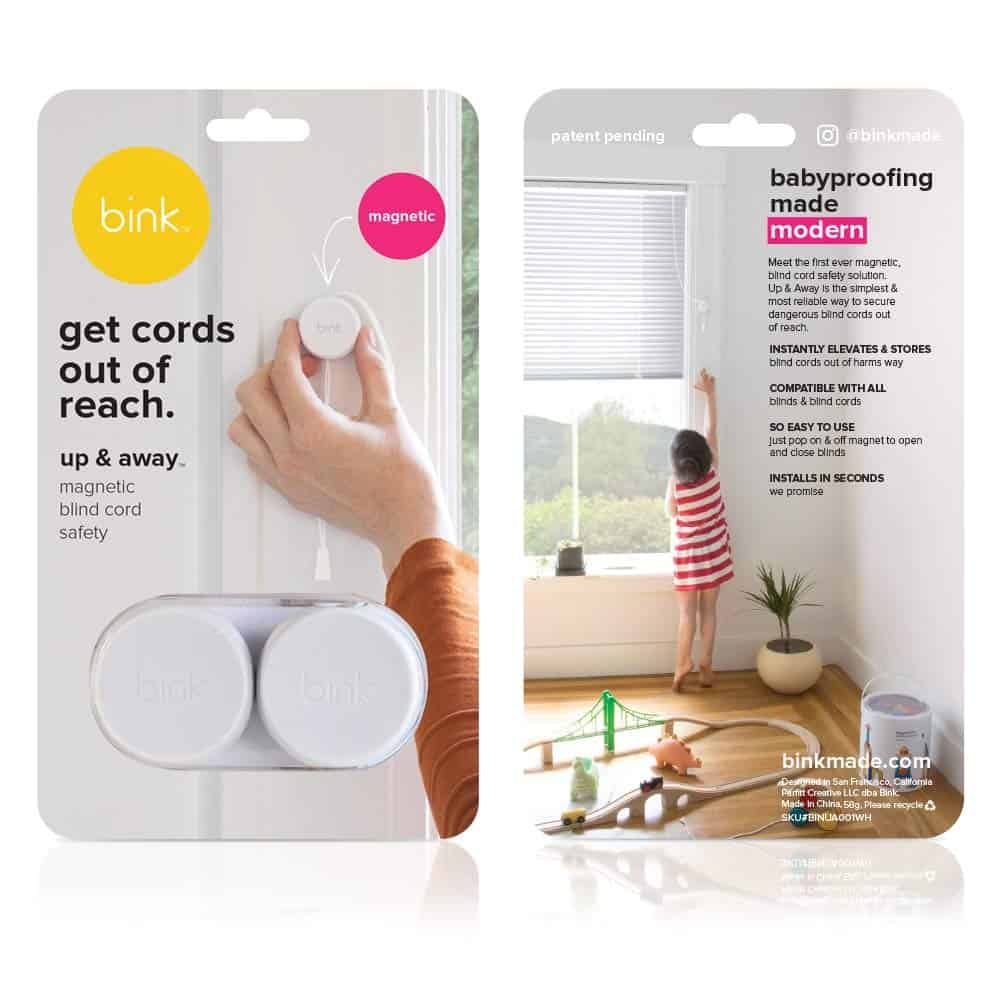 With the installation of these Bink up & away child-proof window Locks, parents can now move the cords of the window blind high enough, preventing the toddlers from reaching that too without any nails or screws. They offer a simple solution with the help of the magnets in them—one goes around the cord and the other is placed against the wall without the need for any tools.
I like how secure the magnet holds onto the door.
Such a simple but effective product! We needed something to help get our window blind cords out of our toddler's way while still keeping the length for when we use them. I was going to use some wall brackets to loop them around but wasn't crazy about drilling into the window frame. Found these and it is the perfect fix! Looks stylish enough, the magnet has stayed nicely stuck to the frame, and it makes opening the blinds a one second operation. Some reviews mentioned the hole of the disc not clasping their cords well enough — ours were the same so we just looped them around the outer edge of the disc once to double it up and they're perfectly in place now. Really happy with them!
For more product reviews visit Amazon
3) John Sterling Basic 4bar Fixed Window Guard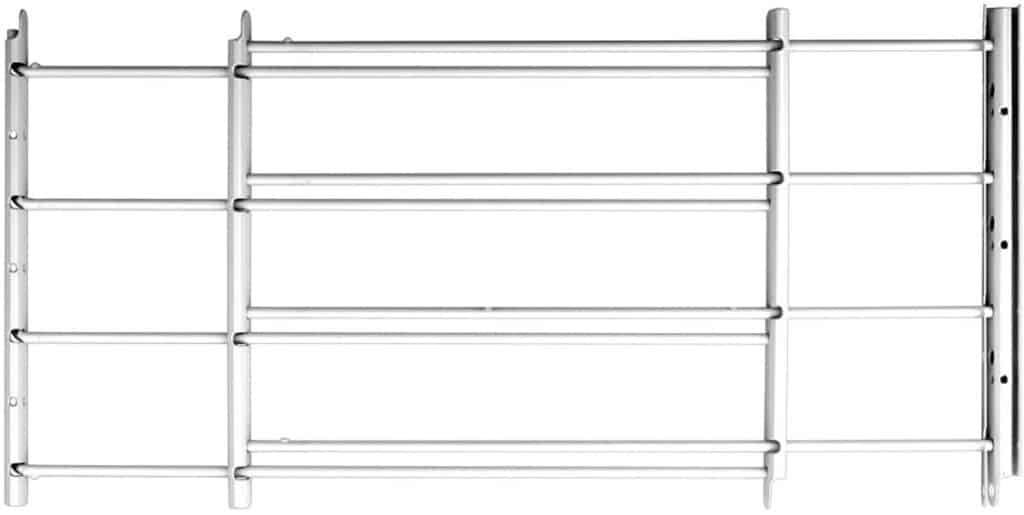 John Sterling's 4Bar basic window guard is designed to be 14×14-24 inches in white. They also prevent the kids from falling off as their steel bars are of the perfect fit. They feature at about 18 inches in height and can be adjusted from 24 to 42 inches wide, in case you are looking for a different size, they are available too! These have fire-safety release pins and are durable as well.
I like these bars made of iron but does not impede my views. I got the 4 bars intially but they were too low so I got the 8 bars ones and it's perfect!! Items are made of iron, white which has a clean look to it. Once we figured out how to install them outside the sliding windows so we can closed them if needed, it was a breeze to install them. I live in high-rise building and these will give me peace of mind. We screwed them in tight since we're not going to jump out of the windows if fire breaks out God forbid!! Highly recommend!! We had to buy our own screws to fit our needs as the ones included were too long!! Excellent delivery services and no problems with returning 2 of them as I bought too many!! Great company!!
needed to put some sort of security over my screened windows . This was great ! It can stretch to the length you need. Its very easy 2 install and sturdy. I had my other ones for over 14 years its built to last !
The price was excellent for the quality ! I highly recommend seller & this product ⁸
For more product reviews visit Amazon
4) Jessa Leona Child Proof Window Locks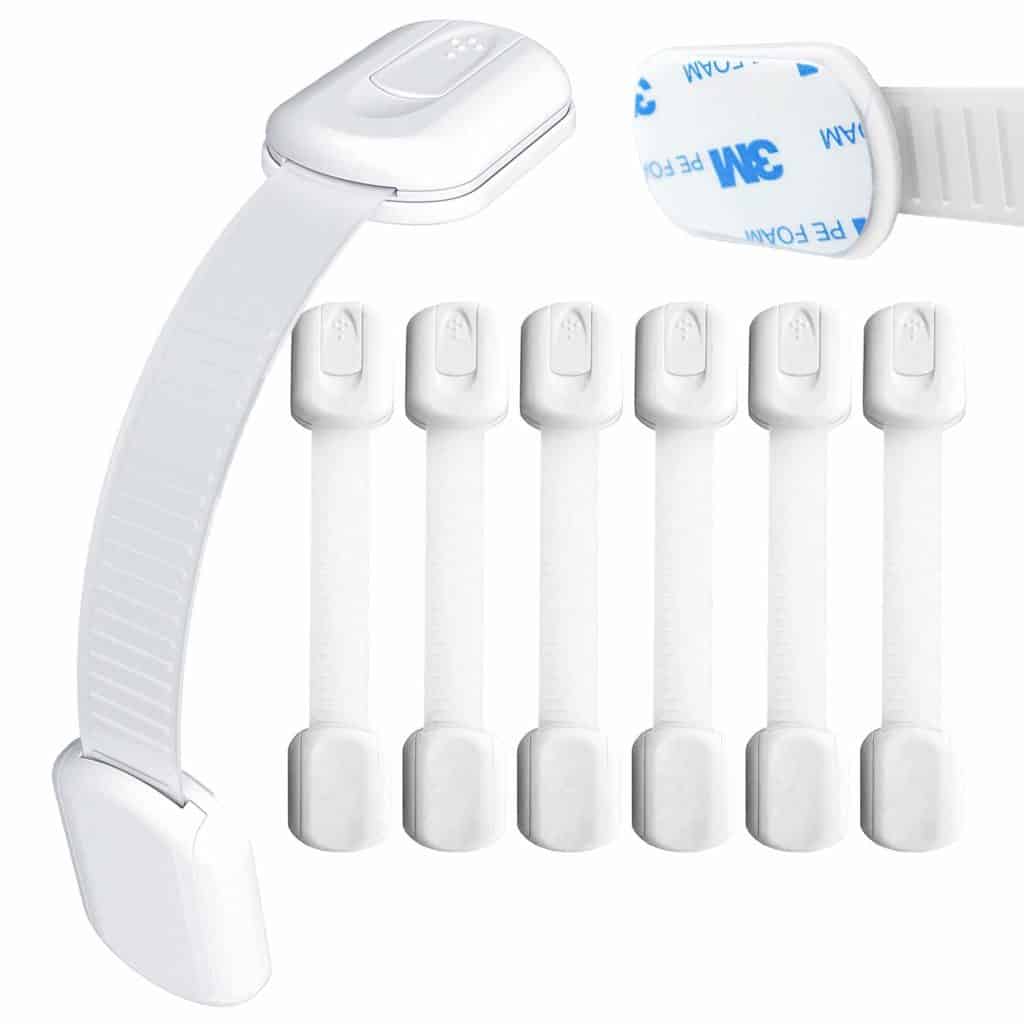 These child-proof window locks by Jessa Leona are installed as sliding door stoppers and they have a strong adhesive backing, preventing your toddler from pressing or pushing open the window locks. Once the system is set, it allows them to block or stop the slider from opening beyond the point you let them. You can install them on the furniture that stores toxic or anything you wish to keep from the kid's reach, or, childproof your closet, patio, shower, and other sliding doors and windows.
These are absolutely amazing! They bend, stick, hold. and best of all… lock my curious two year old out of anything I don't want him in! My husband and I have been so frustrated because we are having a third child this Summer and will eventually (soon) need to move my two year old son out of the crib in the nursery and into his toddler bed in his big sister's room to make space for our new arrival. Every time he is in his sister's room he is going through her wardrobe and drawers in her dresser. I always find clothes ALL OVER the floor and beds. I am so happy that now he cannot get into the wardrobe or dresser drawers because of these miracle baby locks. They are small enough and white (like her furniture) that they don't look huge and ugly. They are also adjustable which make them much more versatile than the Munchkin brand baby proofing straps we currently use in our kitchen (and WAY MORE affordable). They are easy enough for adults to open/close (I can do it with one hand while wrangling a toddler in the other), but my two toddlers cannot get them open. As with all baby proofing items, I know it is only a matter of time before they figure them out, but I will enjoy every minute of spare time I am saving from having to constantly clean up and refold clean clothes from the ground. I liked these so much I am buying two more white 12-packs and 1 black 6-pack for the rest for the rest of the house.

My only warning is that once the straps on these are locked at the length you want, they CANNOT be unlocked to adjust the length. They do tell you this in the instructions, but like usual, I did not read the instructions before messing around with the first one so now I need to find a place to put the strap I locked in at a shorter than desired length.

These are great, though. I rarely rate items I purchase at a straight 5 star review.
I live in an old house that has a pocket sliding door to the back hallway that leads to the basement. When we would leave, the cat, we inherited would jump the baby gate and slide the door open because we were unable to lock it from the 'outside'. I tried a minimal hook and loop door closure, but since the pocket door is hollow, the hook would just fall out. 😖. Enter this child proofing system. Works great. Easy enough for my 12 year to operate. Had to use a stronger adhesive since it was connecting to a wooden door frame, but hasn't fallen off since. Cat has tried to open the door but can't get her head through. So I think this was a good solution.
For more product reviews visit Amazon
5) Defender Security U 9809 Sliding Window Childproofing Lock (Pack Of 2)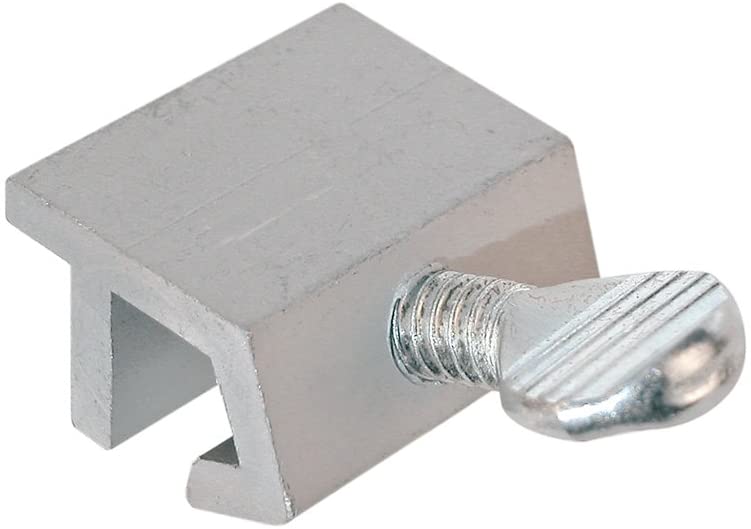 Buying these locks can help you extra secure your windows using these secondary locks. Adding on to the security it provides to safeguarding your home while you're away, they can also be adjusted as per what you allow, for instance, you fix it to open only half an inch for some fresh air while keeping your house baby-proofed.
I live alone in an apartment and I'm 63, so security is a big issue. Lately the transient population has blown up and so has crime in our area. In my complex alone we've had a peeping Tom, cars burglaries, homeless shooting up near us and others sleeping on individual apartment patios. Believe it or not I am in the good area of town. I love sleeping with my windows open when it's nice, but that's become impossible. I was at a safety meeting and someone suggested these type of window locks. I had seen them on windows before but had forgotten about them, so I rushed home after and ordered these little guys. They are super easy to install and stop my windows from going up any further than I want. As you can see from my pictures I set them low enough that no one but a small child can shimmy through. I love it! Fresh air, no fear. Who knew such a tiny, cheap item could have such a positive impact on my life!
No other vendor compares to amount to price ratio. Will be a returning customer
For more product reviews visit Amazon
Purchasing child-proof window locks is the next step toward making sure that your house is fully secured and baby-proofed. You can opt for the best window double-hung lock or any from the list above, as these are easy to use and easy to install, providing your baby toddler with safety and security. However, only make sure you look for those that work the best for your house and your little munchkin.
FAQs: Best Child-Proof Window Locks
1) How can you childproof windows that open out ?
The best way to childproof the windows that open out is by installing the window guards, designed to prevent children from falling out of the window gaps. These guards screw to the side of the window frame and come with bars, not more than 4 inches apart.
2) How do I make old Windows Safe?
Here is how you can make old windows safe:
Make sure to keep the windows locked
Make use of the window grilles and bars
You can opt to install security cameras to the windows
Reinforce the glass of the window
Make sure you use the best quality window locks
3) When can you remove baby proofing ?
This depends on the maturity of your toddler, if you're sure that they wouldn't be inquisitive, you can remove the baby-proofing. Generally, most parents remove the visible gates and locks when the baby is around two to three years of age.
4) Can a child fall through a closed window ?
Windows that are often left open 5 inches could pose a danger to your child. Keeping that in mind, there are reports that have recorded many cases of falls from the windows. This is why we recommended parents baby-proof their house to prevent any danger to the toddlers.