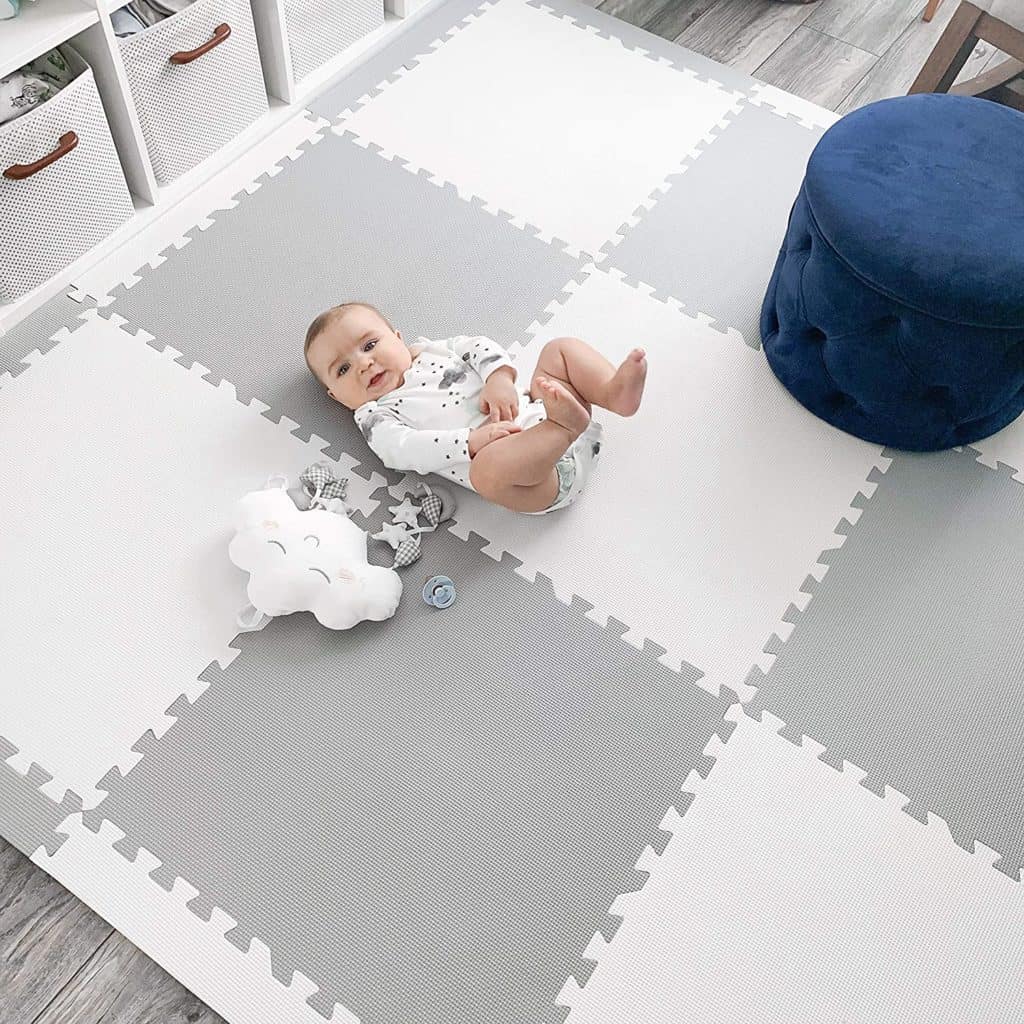 The best baby floor mats are a soft spot for the little ones to play on and are quite pretty when spread on the floor.
As your baby transforms into a curious crawler from a cuddly baby, you'll need a soft area for the baby to play on for safety and these floor mats are designed for this convenient solution.
They are made up of foam or rubber and are as cushy as carpet is but much easier to clean. Floor mats are like rugs for kids that can be easily put in your nursery or a room. However, as for a little downside, they do not come along with toys to entertain the kids as playmats do.
They are made of pull-apart tiles that work great when you look for a replacement but not so when the baby pulls one apart from the mat using its teether. It can also be constructed in one piece to avoid pets chewing and paw the mat titles into pieces.
To help you decide on a nursery floor mat, here is a list of the seven best baby floor mats for your reference:
1. Skip Hop Geo Foam Floor Tiles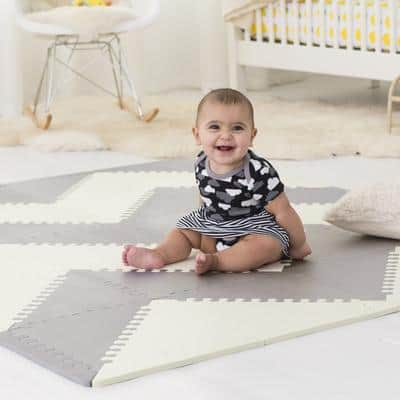 They have geometric patterns on them and have muted colors making it the right choice for those preferring a sleek aesthetic on the floor. You could also change the pattern of the Mat by moving around the triangular pieces. Need a larger mat? You could purchase two mats and interlock them to cover more ground. This Skip Hop Geo Nursery floor mat is easy to put together which also means they could be pulled apart by your child too. They are easy to clean using a damp cloth.


2. Toki Mats Padded Play Mat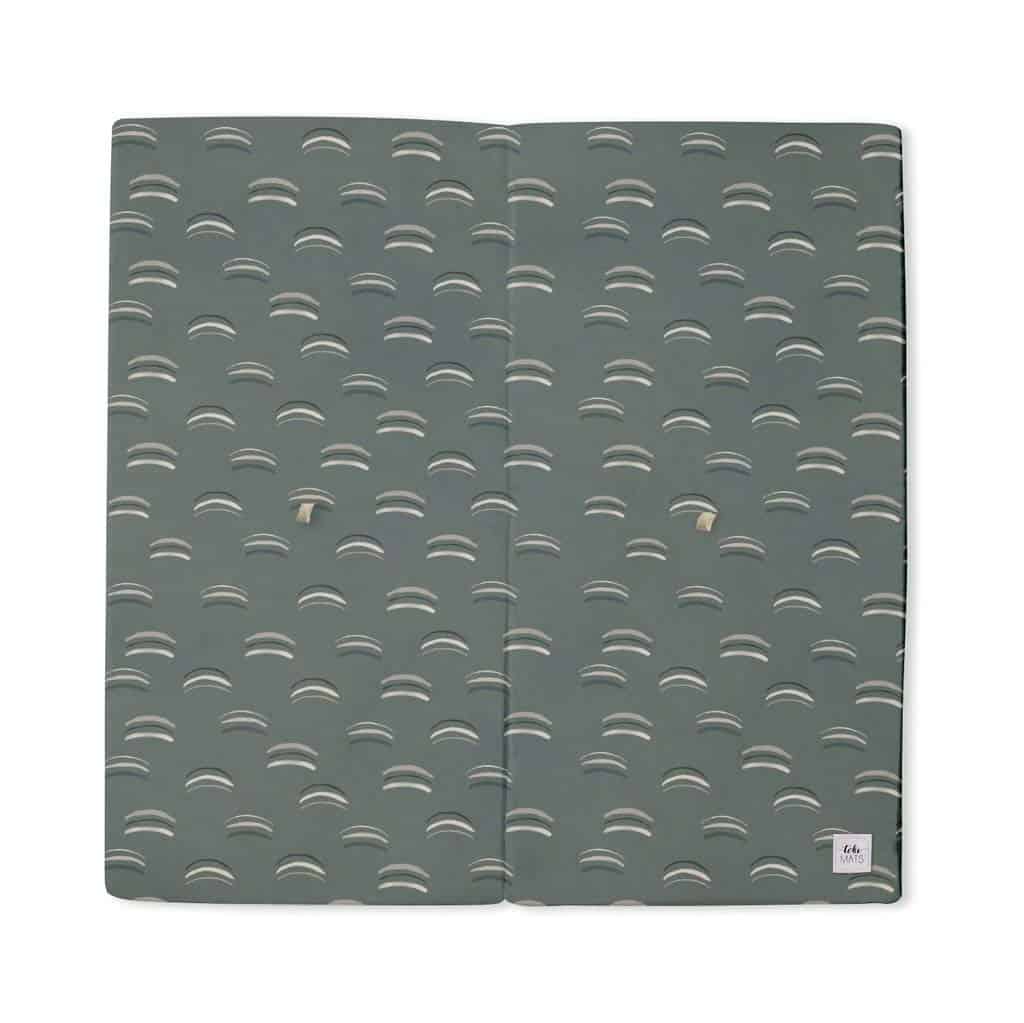 They are made using hardwood, rugs, tile, and non-toxic materials. Toki padded mats are easily machine-washable, providing a comfortable safe spot for the baby to play, all thanks to the 1-inch-thick natural latex foam that's inserted. They come in two sizes and have celestial print making it exclusive also available in different colors and patterns.
3. Little Nomad Roam Free Floor Mat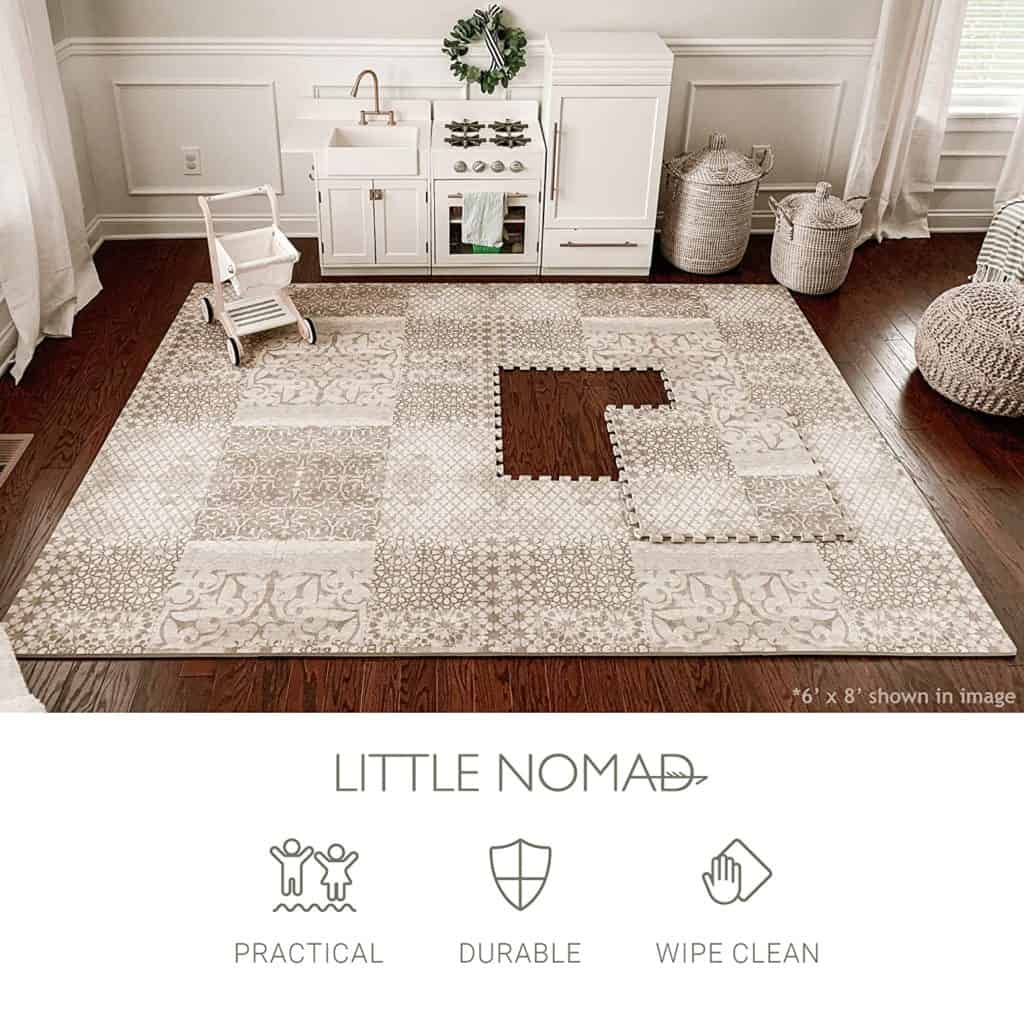 The Little Nomad Roam Free Floor Mats are made using subtle, hand-illustrated patterns with neutral colors like blue, beige, rose, and gray. They resemble real rugs as they are created with stylish making it a seamless-looking mat and are easy to clean with water and soap.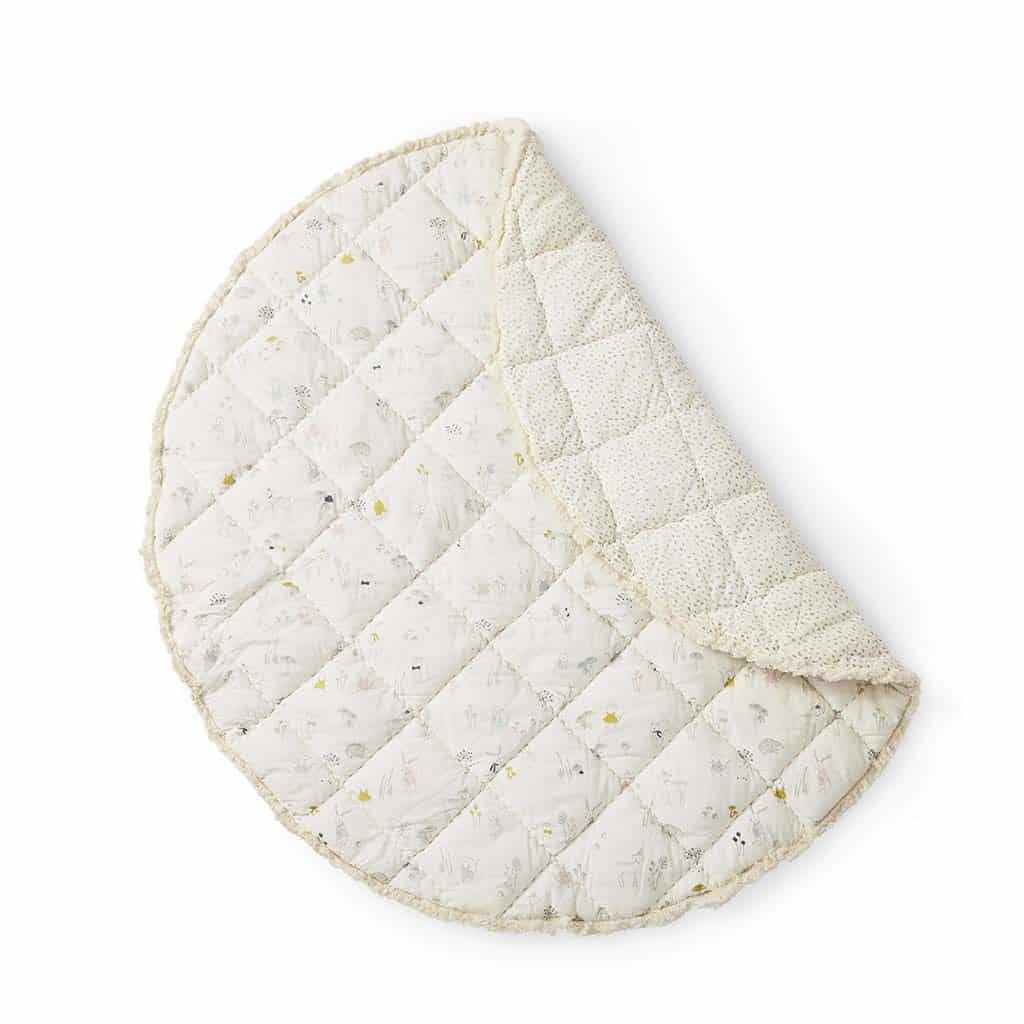 They are a combination of both sweet and modern making it lovable for both the baby and the parents. They are hand-screened printed using soft brushed cotton and quilted. The Petit Pehr Playmat is extra soft and cozy and can roll up for you to move it around the house and is machine washable.
5. SoftTiles Kids Foam Playmat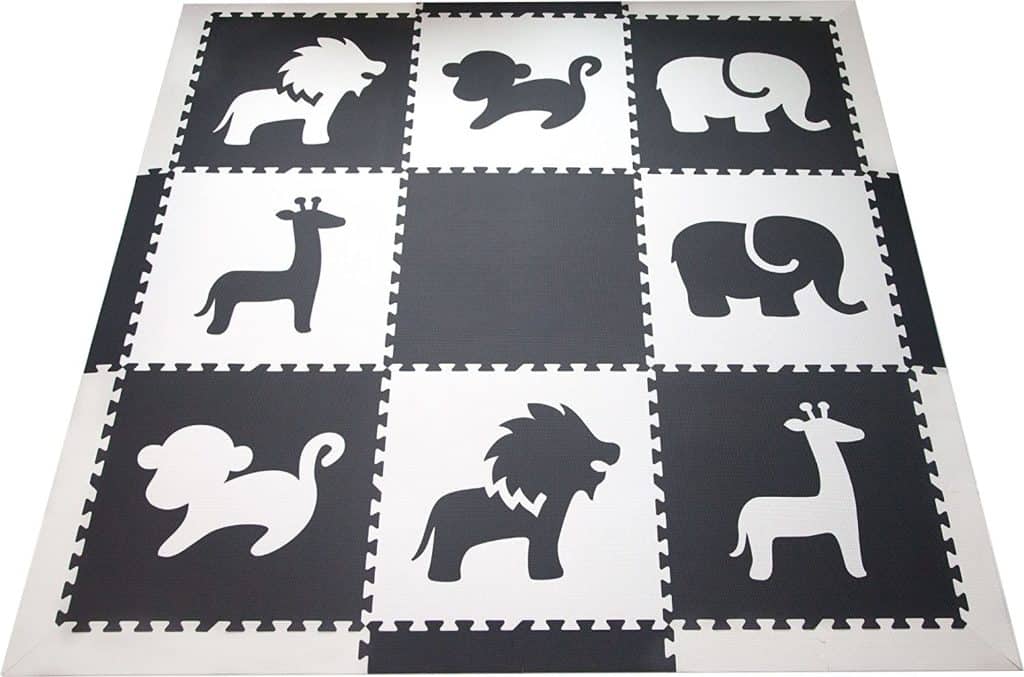 They are extra-thick tiles that feel squishier underfoot and are harder for kids to pull the titles apart. The sloped edges avoid the baby from tripping over and come in different colors and themes that include nautical, animals, and flowers. The SoftTitles are easy to clean with a damp cloth.
6. B. Toys Beautifloor Alphabet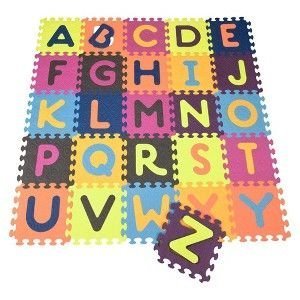 This alphabet nursery Floor Mat has vibrant color tiles that snap together featuring the entire alphabet from A-Z with 'Z' being an extra title. Along with being comfortable, they help the kid practice their ABCs too. These alphabets pop out of the tiles for the child to put them back inside in the right spot and are easy to clean using water and a wipe.
7. Skip Hop DOUBLE PLAY Reversible Playmat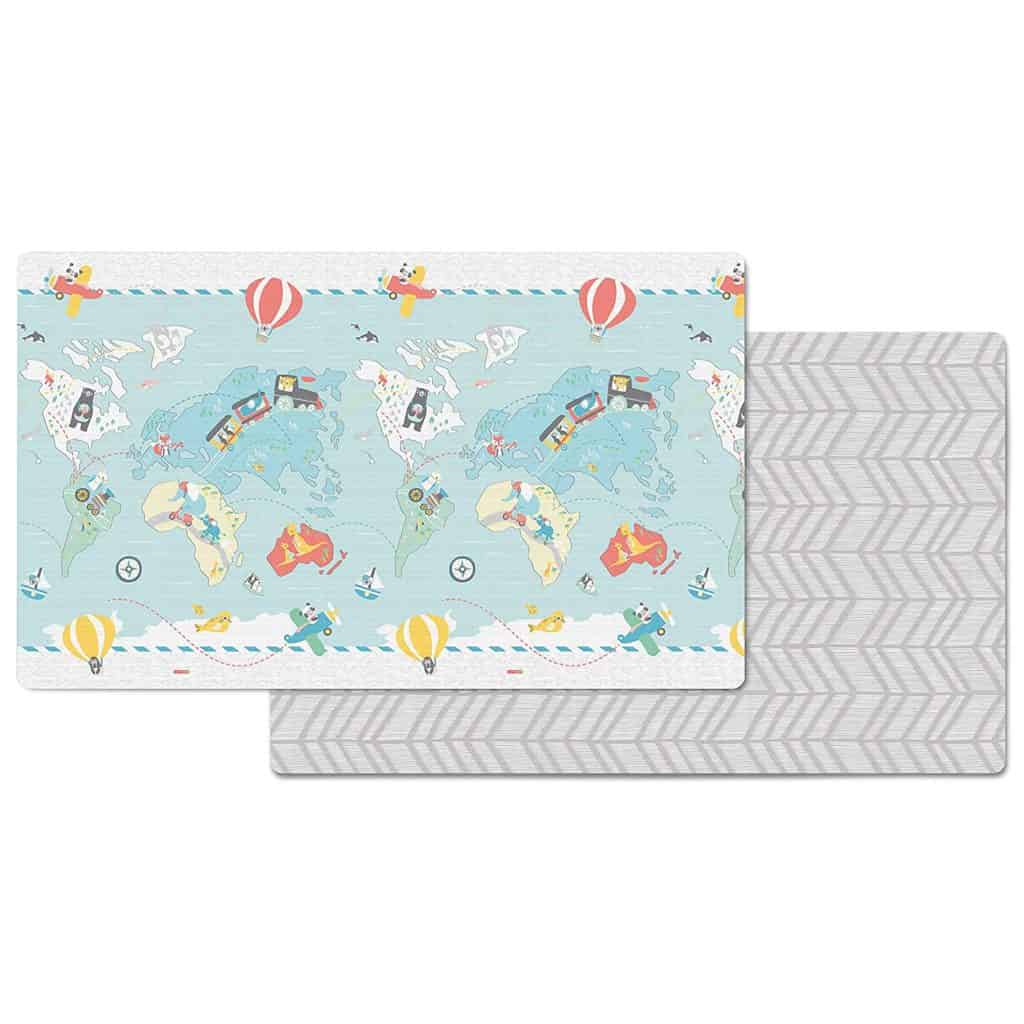 This is a single-piece floor mat that can roll out when it's playtime and quickly put in to put it away when your kid is done playing. It has a non-slip texture surface that is reversible with one side printed with a fun theme and the other a simple design. It's easy to clean using wipes and waterproof.
Nursery Floor Mats are great when it comes to lying down in your Nursery that can be both educative and safe for the baby. Choose the best floor mat for you and your kid using the list above. Make sure to find one that suits you the best.
Best Baby Floor Mats FAQs
1. Are foam floor mats safe for babies ?
When you purchase a floor mat for your baby, choose one that's non-toxic. This helps avoid the harmful substances making it fun for the kid to play in.
2. Do babies need playmats ?
Yes! Having a playmat for your baby is necessary. It is a comfortable spot where they can play on their tummy, reach for their toys, and practice rolling over. This helps in the development of the muscles needed to sit up and crawl.
3. At what age can a baby use a playmat ?
Playmats can be used for babies from three to six months. This is the time when the baby develops hand-eye coordination and to grasp the dangling toys. Once they start crawling they'll move on to the other toys, literally!