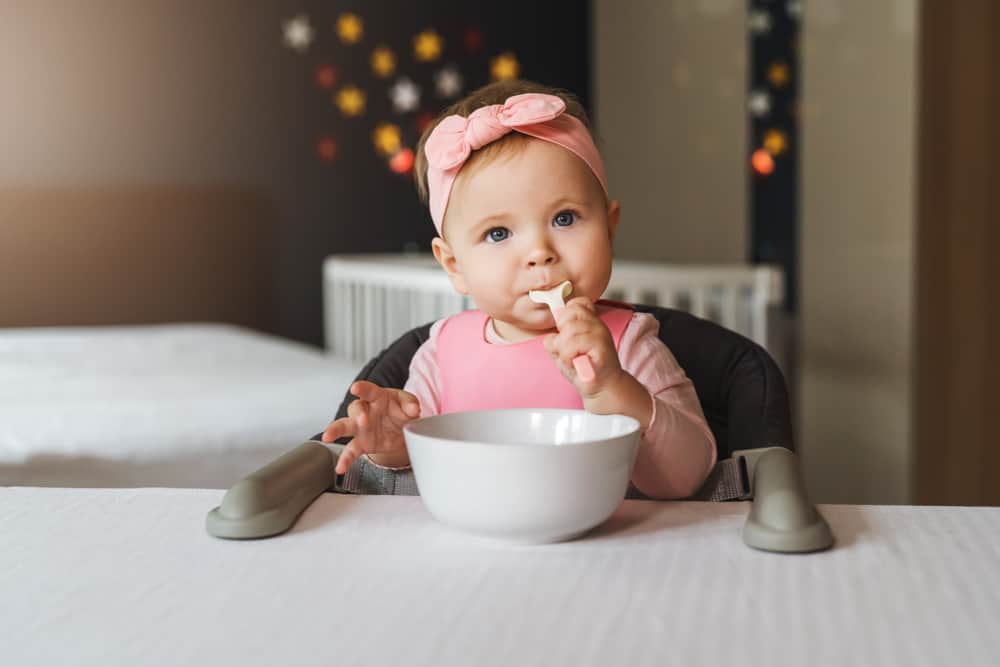 Feeding your little one can be quite a task because let's be honest they create a lot of mess. A lot. So, how can you make mealtime more enjoyable and less messy? Simple! Get some bowls, plates, and feeding mats. They are specifically designed for this. This article has compiled a list of parents' best baby bowls and plates. Keep on reading to know more about the best baby suction bowl, the best baby suction plate, and so much more!
What are the best baby bowls and plates?
If you are looking to make mealtimes easier for your little one while cutting down the mess involved, then you should invest in some baby bowls and plates. Parents love ones that suction to a table or highchair tray. This way your little one can't fling it to the floor (yes it will happen). These tablewares are designed with arching sides that will help your baby get food onto the spoon. You can introduce solid foods to your baby, make sure to start with smaller portion sizes so that they don't feel overwhelmed. During the first few months of eating solid foods, it might seem like the baby bowls are too big for the servings your little one needs. However, they're designed for longevity. Your toddler can use them for years to come.
What to look for in baby plates and bowls?
Usually, baby bowls and plates are made out of plastic, wood, squishy silicone. Hard plastics are easy to clean, although, some plastic might shatter if your baby throws or drops it just right. If you go for a less rigid plastic, they can warp in the dishwasher and gather stains and smells. Wooden bowls and plates will stain over time but it's organic and practically indestructible.
Also, silicone bowls and plates are fun to touch, however, they will eventually get a funky smell.
Most tableware comes with suction cups or sticks to the table, which makes it hard for your little one to pick it up and throw it. If you have a determined or strong baby, they could defeat these devices but they can still be useful for various situations.
Additionally, baby plates are partitioned into 3 or 4 sections. So that your baby is exposed to a variety of flavors and textures. It also helps picky eaters who don't like their foods touching. There are a variety of different shapes and colors to choose from.
What are the types of toddler tableware?
They are usually high-sided to prevent the contents from spilling.
You can stack them for easy storage.
It comes with an anti-slip base for surface grip.
They are ridged for fewer spills and they are slip-resistant.
It is divided into different sections so your food is kept separate at all times.
It can be personalized.
They come with a suction cup design underneath which will prevent any knocking over.
Usually, they are silicone-based for slip resistance.
For added security, it has suction cups.
Some placemat can be multi-purpose too. They have a raised section in the middle, which doubles as a plate or bowl.
It comes with handles, anti-spill lids, and sipping nozzles.
They have rubber casing and grooves for easy grip.
How to choose the best toddler tableware?
You need to think about the attributes you want from any baby or toddler dinnerware/tableware. Some might include:
Use: Think about where you are going to use it. Will you be using it on a high chair, benchtop, granite kitchen surface, etc.
Cleaning: Are they easy to clean and is it dishwasher safe?
Storage: Are they easy to store?
Warming: Can you microwave the baby food?
Age: Check out the age recommendations mentioned.
Material: Make sure they are made out of child-friendly materials.
Spills: Mealtimes are messy so make sure the tablewares have suction cups, are spill-resistant, and should have a slip-proof base.
Strength: Will it withstand a few bounces on the floor?
7 Best baby bowls and plates
1. Best Baby Bowl Overall: Bumkins Silicone First Feeding Set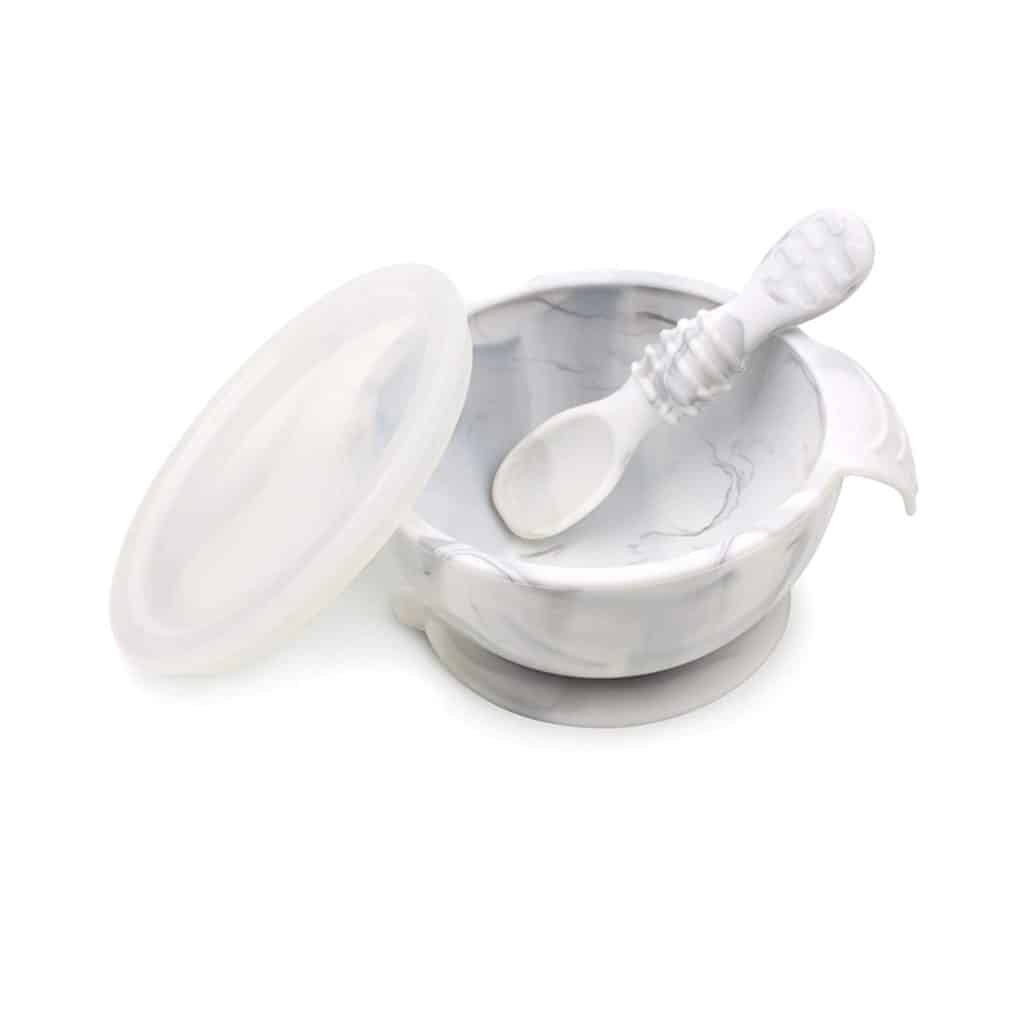 Features:
It has a capacity of 10 ounces.
Made out of silicone.
It is dishwasher safe (only top rack), microwaveable, and freezer safe.
It is best suitable for kids that are 4 months and older.
Are you looking for a way to introduce new foods and transition your baby to self-feeding? Then, this ergonomically designed feeding set is perfect for you. It is made out of silicone which makes it durable, heat-safe, and freezer-friendly. It comes with a clear silicone lid, you can store leftovers and label them with a dry-erase marker. Additionally, the spoon is double-ended, one end can be used for dipping into purees and the other end can scoop up solids.
However
The suction tends to stop working or isn't strong enough.
Tip: If you want to increase the suction's strength, add a small amount of water on the bottom before pushing it down on your high chair or table.
2. Best Baby Suction Bowl: Avanchy Bamboo Suction Baby Bowl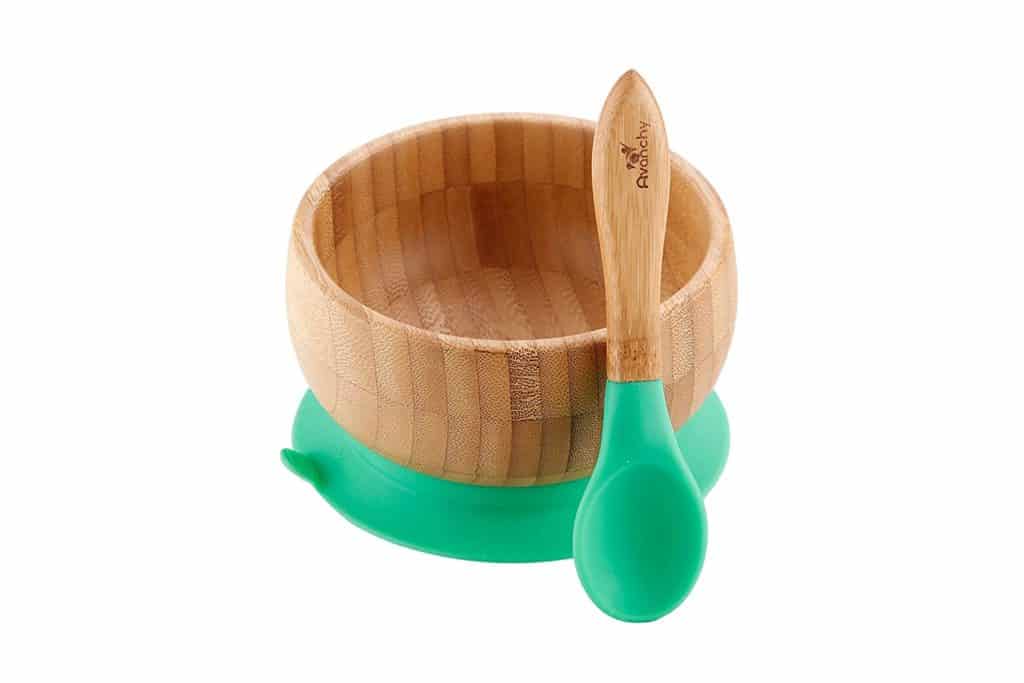 Features:
It has a capacity of 10 ounces.
It is made out of organic bamboo and silicone.
You can only wash it by hand.
It is best suitable for kids that are 4 months and older.
This beautifully crafted bowl can be used from conventional spoon-feeding to baby-led weaning and toddler self-feeding. It is made out of bamboo, which is hypoallergenic and resistant to mold and mildew. This makes it a safe product for your baby and it's durable. It comes with a colorful silicone ring that suctions the bowl to the surface and can be detached for easy cleanup. Every set includes one bowl and a feeding spoon that works for both, you and your baby.
However
You need to press down on the bowl until all the air releases. This will create a strong suction. If it has a loose suction, it will be easy for your baby to throw it. The bowl can break if it's thrown or dropped.
3. Best baby bowl for travel: Nuby Garden Fresh Mash N' Feed Bowl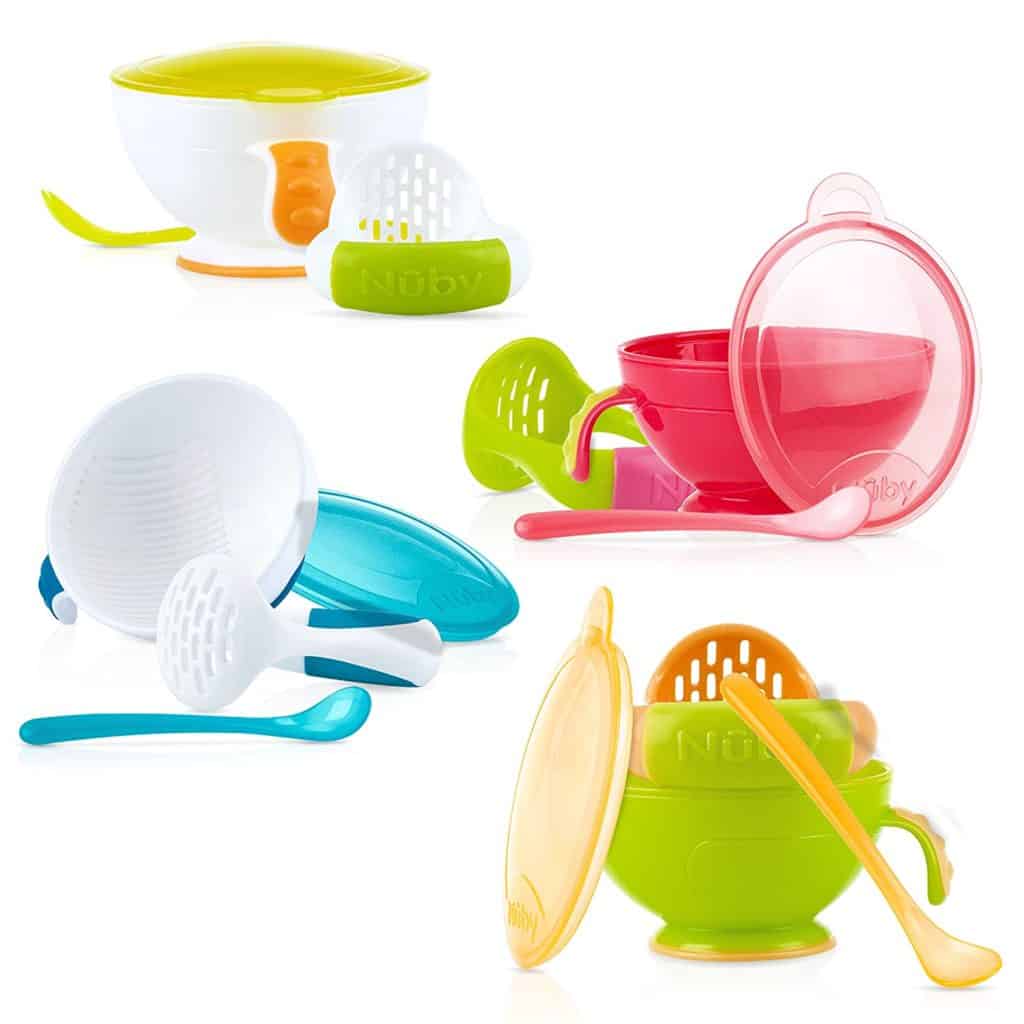 Features:
It has a capacity of 9 ounces.
Made out of BPA-free plastic.
It is freezer and dishwasher safe.
It is best suitable for kids that are 4 months and older.
If you are looking for a versatile bowl that is perfect for on-the-go feedings and can be easily stored in your diaper bag, this one is perfect for you. In this kit, you get a hand masher, a sealing lid, a mashing bowl with a non-slip base, and a long-handled feeding spoon. It lets you mash fruit, steamed veggies, potatoes, and other nutritious foods quickly. You can get whatever texture you want for your little one. You can store larger batches for later or keep food secure while in transit with the help of the sealing lid.
However
Remember to scrub the inside of the bowl with a brush. You need to get all the food out of the ridges before placing it in the dishwasher.
4. Best Affordable Baby Bowl: Munchkin Stay Put Suction Bowl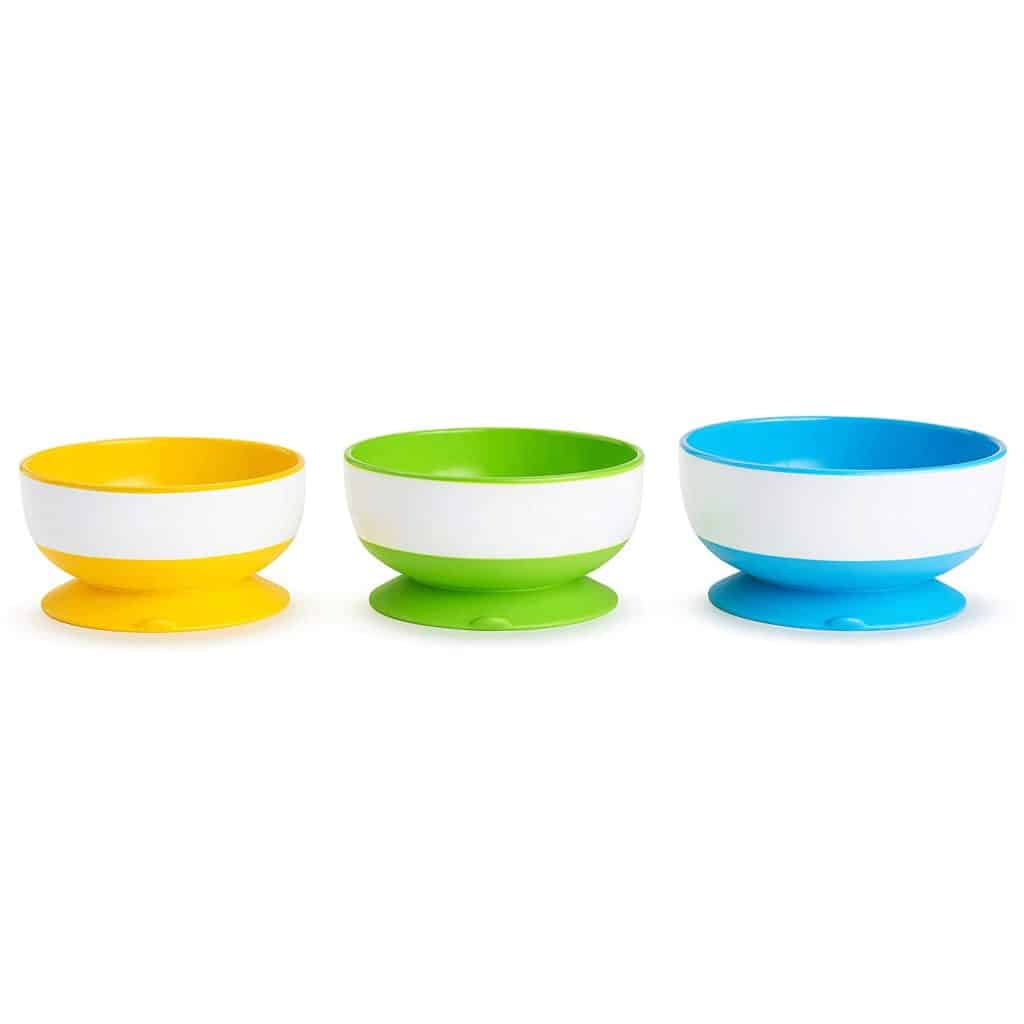 Features:
It has a capacity of 7 to 16 ounces.
Made out of BPA-free plastic.
You can microwave it and it is top-rack dishwasher safe.
It is best suitable for kids that are 6 months and older.
This set includes 3 vibrantly colored bowls that will hold different amounts of food. It comes with a wide suction base that stabilizes the bowl and it also helps your little one scoop up food easily. Also, you can stack them together for compact storage.
However
Depending on the surface, throughout the meal, the suction on this set might weaken. You have to re-suction the bowls a couple of times.
5. Best Baby Suction Plate: Bumkins Silicone Grip Dish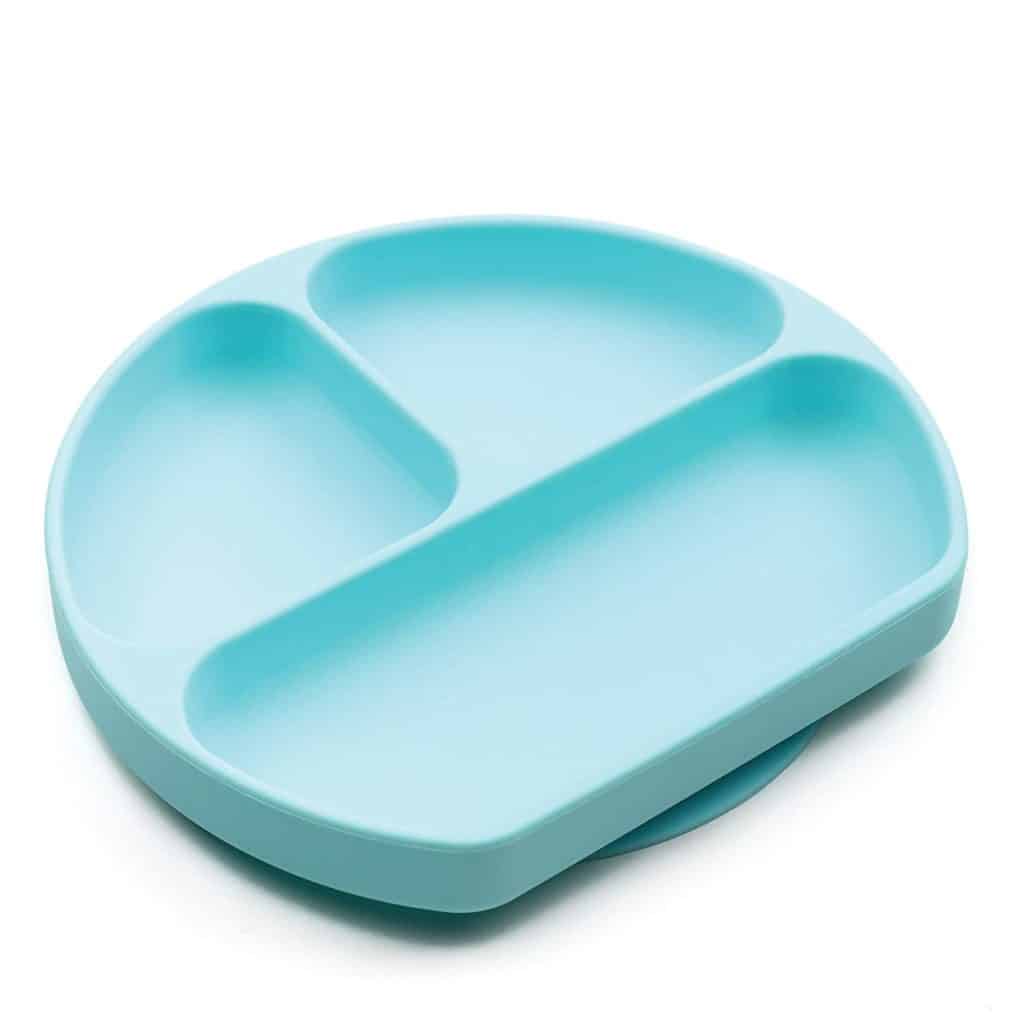 Features:
The 3 sections can hold 5 oz, 5 oz, and 9 oz.
Made out of silicone.
It is oven and dishwasher safe.
It is best suitable for kids that are 6 months and older.
This plate is perfect for your little one's transition to self-feeding. It is made available in different bright colors and shapes and some adorable Disney characters, too. This plate's walls are sloped because it will help your baby scoop up each bite. Also, to save leftovers, you can buy a separate storage lid.
However
The material used, silicone, absorbs strong flavors and odors. It is hard to get rid of any lingering aromas and tastes even after a thorough cleaning.
6. Best Baby Placemat: Baby Mumbo Food Catching Placemat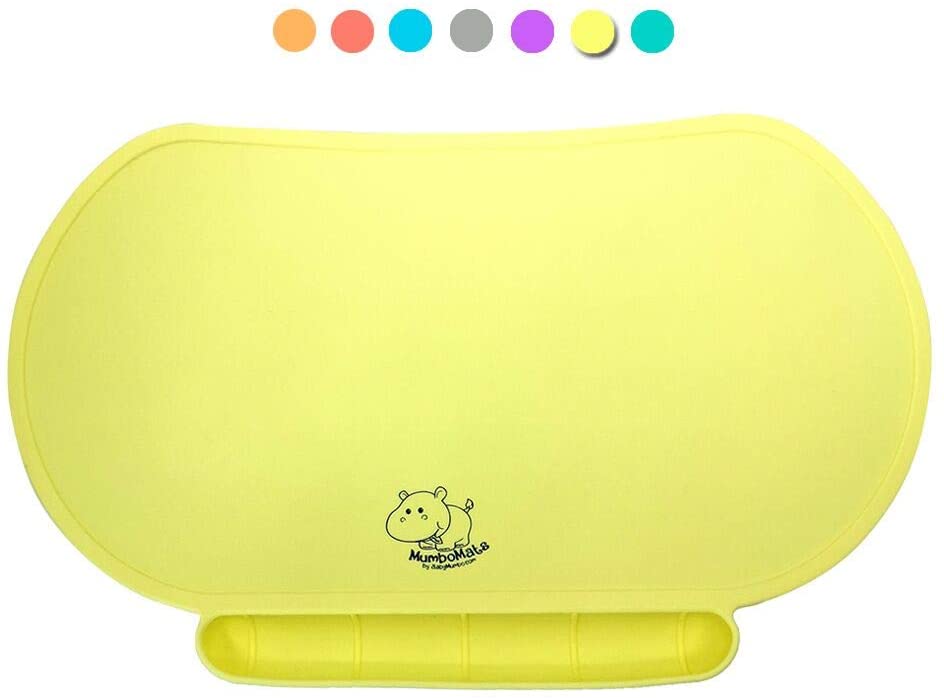 Features:
It is 10 x 16 inches in size.
Made out of food-grade silicone and its dishwasher safe.
It is best suitable for kids that are 6 months and older.
This mat covers more space which means your table will be less messy after every mealtime. This lightweight mat is made out of food-grade silicone and it's easy to clean and resistant to mold and bacteria. It comes with a small tray which can be used to serve food or can catch any dropped food. You can either add your baby's favorite bowl/plate on top or use this mat by itself.
However
It doesn't have suction, and babies tend to figure out how to grab this and throw it.
7. Best Baby Feeding Mat: The Mini Mat by ezpz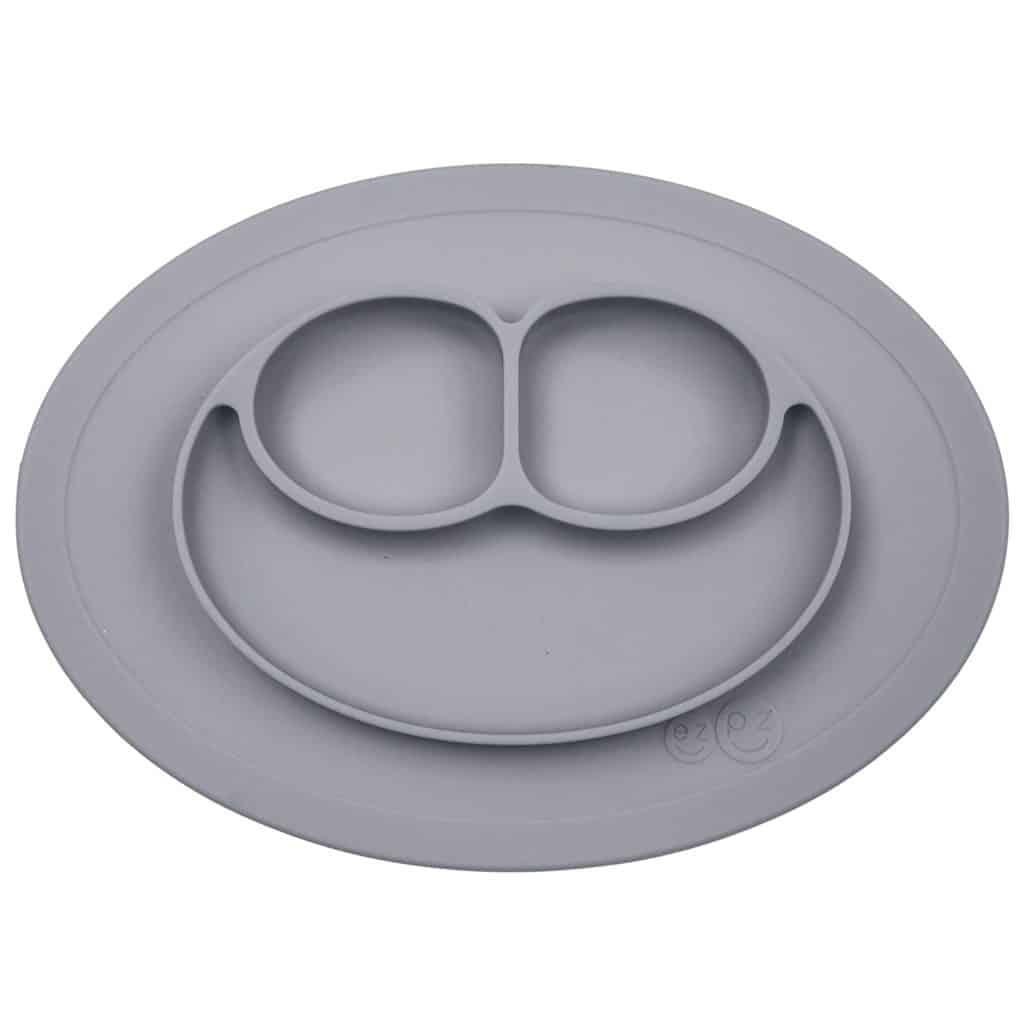 Features:
The 3 sections can hold 2 oz, 2 oz, and 4 oz each.
Made out of silicone.
It is microwave and dishwasher safe.
It is best suitable for kids that are 6 months and older.
This mat is designed by a feeding specialist and supports your little one's motor skill development. It is divided into 3 sections which let you provide a balanced meal with a variety of foods. It fits most highchairs and the entire plate suctions to offer maximum stability. This mat is packed in a reusable bag which you can store in your diaper bag.
However
This mat is too big if you have space-saving highchairs.
There are so many amazing options on this list. Remember that safety and security are most important when you are looking for toddler mealtime products. Before purchasing any item, check the reviews for how well-rated suction cups are, or the item's ability to stay put in general. These reviews are given by parents who were looking for items with similar features. Additionally, clean your little one's messes and spit ups with the most functional burp cloths available in the market.
FAQs on best bowls and plates
1) When can you introduce bowls to babies?
Once your baby is 6-month-old, it's time to introduce solid foods. Look out for the signs that your baby is ready for solid food, how to expand your baby's diet and which are the best first foods to offer. Also, you should stock up on baby spoons, bowls, and plates.
2) Are silicone plates safe for babies?
Silicones are FDA-approved. They are a food-safe substance and you can find them in various baby-related items such as bottle nipples, plates, sippy cups, baking dishes, kitchen utensils, mats, and even toys.
3) How often should you replace your dinner plates?
You should replace your dinner plates every one or two years of cooking. Moreover, if you find any wear or tear, foul smell, or taste, then it's time to let them go.