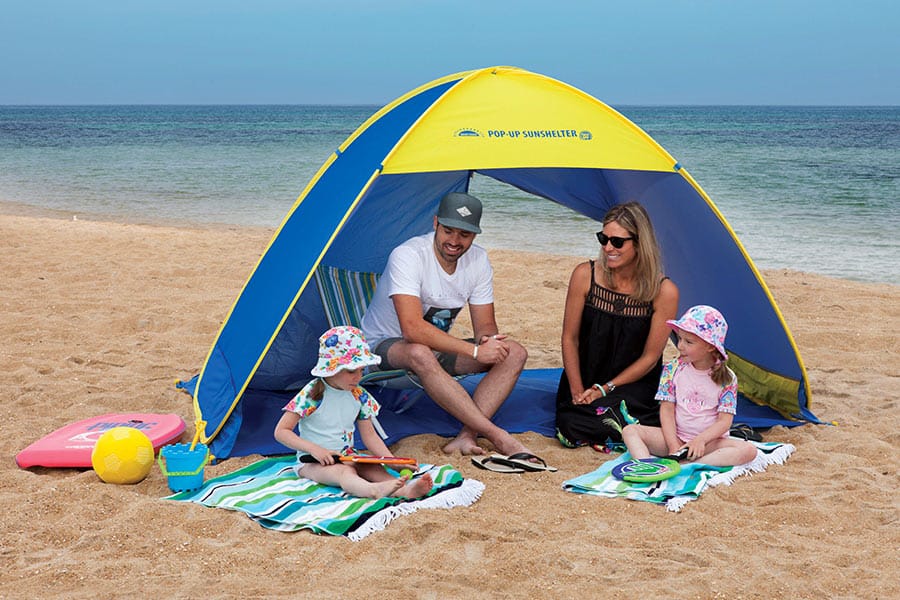 The best baby beach tent provides the little ones with shade, comfortable and cool by the beach, park, or pool. These little baby beach tents provide the baby with their own little place to relax, sleep and play.
Not only that, the pop-up beach tent prevents them from getting sunburned or overheating while sun-basking on a beach vacation or when playing in the backyard all summer long, and are of course travel friendly. Since the baby sunscreen lotions have a lot to choose from and many don't suit the baby's skin, these pop-up baby beach tents work as UV protection.
You may also pair them up with cute sunglasses, and are a good investment in making the baby's summertime relaxing, safe and fun when playing with their outdoor toys. Read on to know more and to pick your best baby beach tent now!
What to look for while purchasing the best baby beach tent
Here are a few things parents can keep in mind or cross-check while purchasing a pop-up tent for their little one as a sun shelter:
Does the pop-up beach tent has certified UV sun protection? If not, does it provide beach shade?
Is it multi-featured? Like does it have sand pockets, pegs, or stakes?
Does the baby tent have ventilation that avoids getting overheated? The ventilation could be in the form of a window or open-up sides, etc.
Is the baby tent big enough? If yes, how many children can it accommodate? Be double-sure with the measurements to avoid any disappointment.
What do you think will suit your needs better: a baby beach tent or a family-sized beach tent?
Do you need a carrying bag? If yes, does it come with one?
Top 7 best baby beach tents to keep away from the sun
1. Babymoov Anti-UV Tent beach tent: Best Baby Beach Tent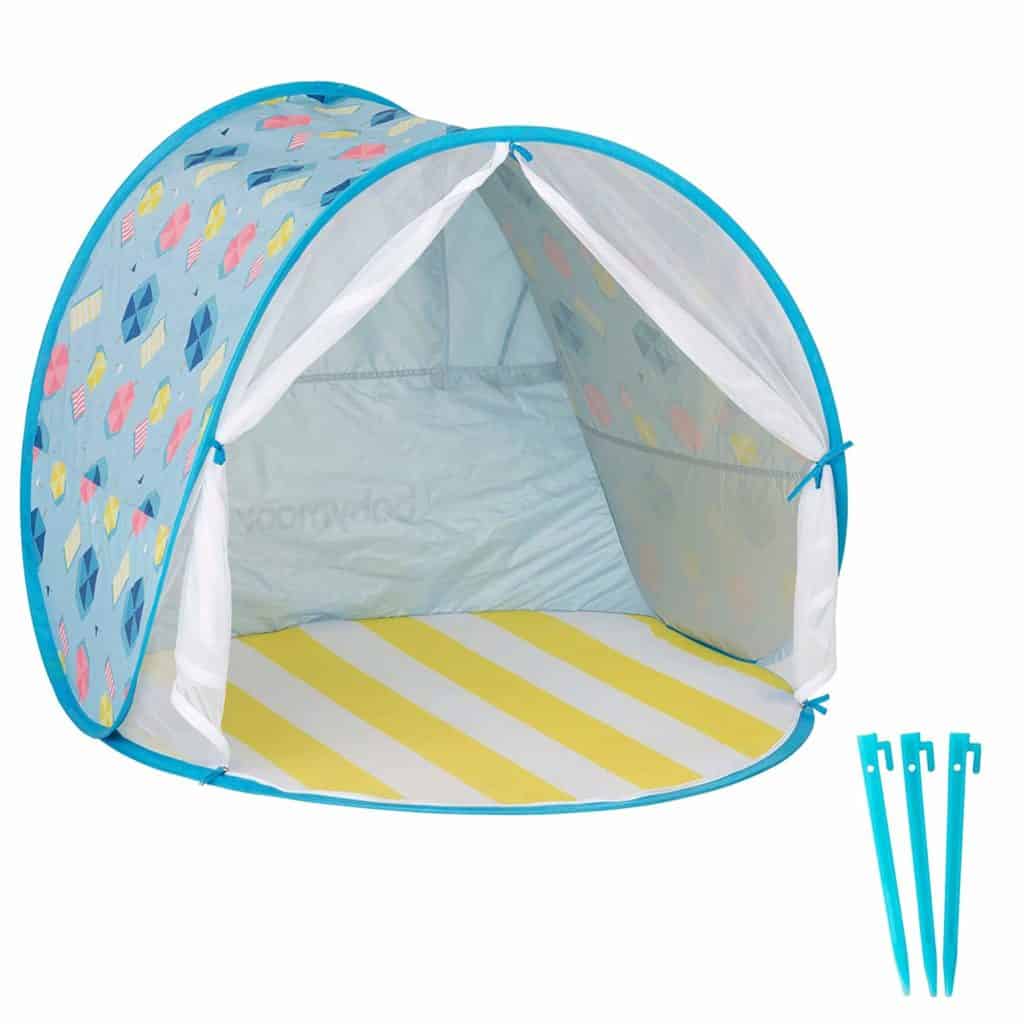 This nursery tent for babies features an SPF 50+ fabric with a pull-down mosquito net, keeping the insects away from their play. The Babymoov tent also gives the sensitive skin and eyes a comfortable shelter and is available in a good roomy size for older babies and toddlers. This best baby beach tent comes with a carry bag too!
2. Schylling Infant UV Play shade: Best Baby Beach Tent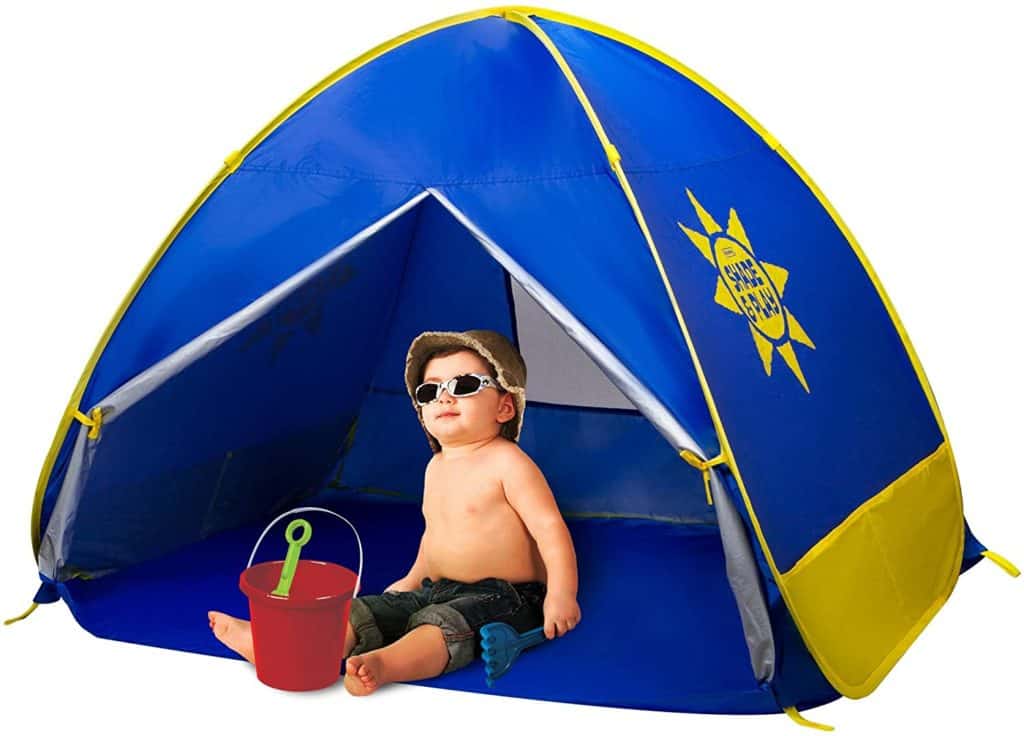 This play tent is easy to set up and take or carry in a small carry-on bag. Do not mind its small collapsable size, it is perhaps large enough that a few mothers can choose to breastfeed in the nursery tent in privacy. Schylling features sand pockets that weigh it down on windy days and is also waterproof protecting the baby from rainy summers.
3. ModFamily Baby Nook Travel Bed and Beach tent: Best Baby Beach Tent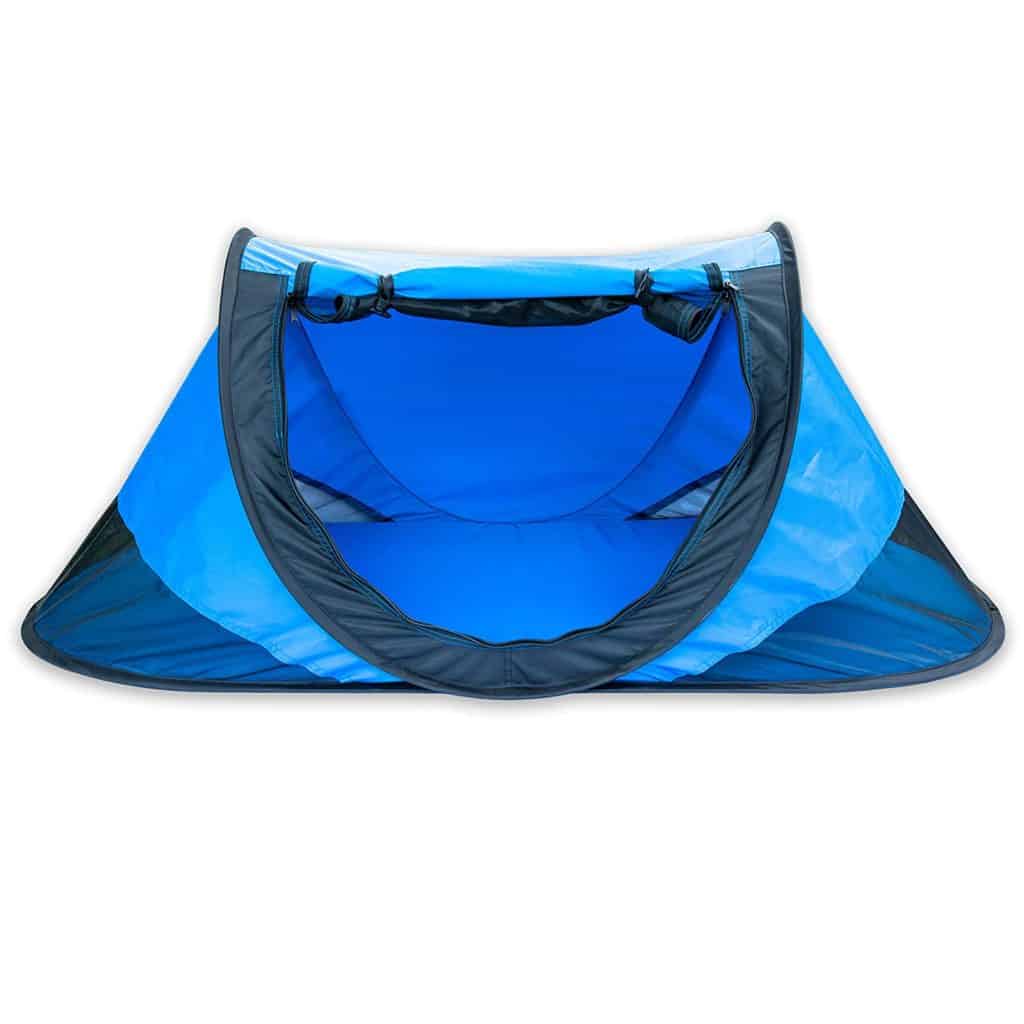 You may earn a fortune with this ModFamily travel bed beach tent as it is extra comfortable for easy napping, all thanks to its thick inflatable mat that the tent comes with along with the mesh windows that allow you to check the baby often without letting any bugs in. Irrespective of the high costing due to the travel bed functionality, it makes it a perfect and comfortable pick for beach days, besides a mini pool, or even camping. However, there are a few reviews that the fold-up could be quite a task, so check when you purchase.
4. Fisher-Price On-the-Go Baby Dome beach tent: Best Baby Beach Tent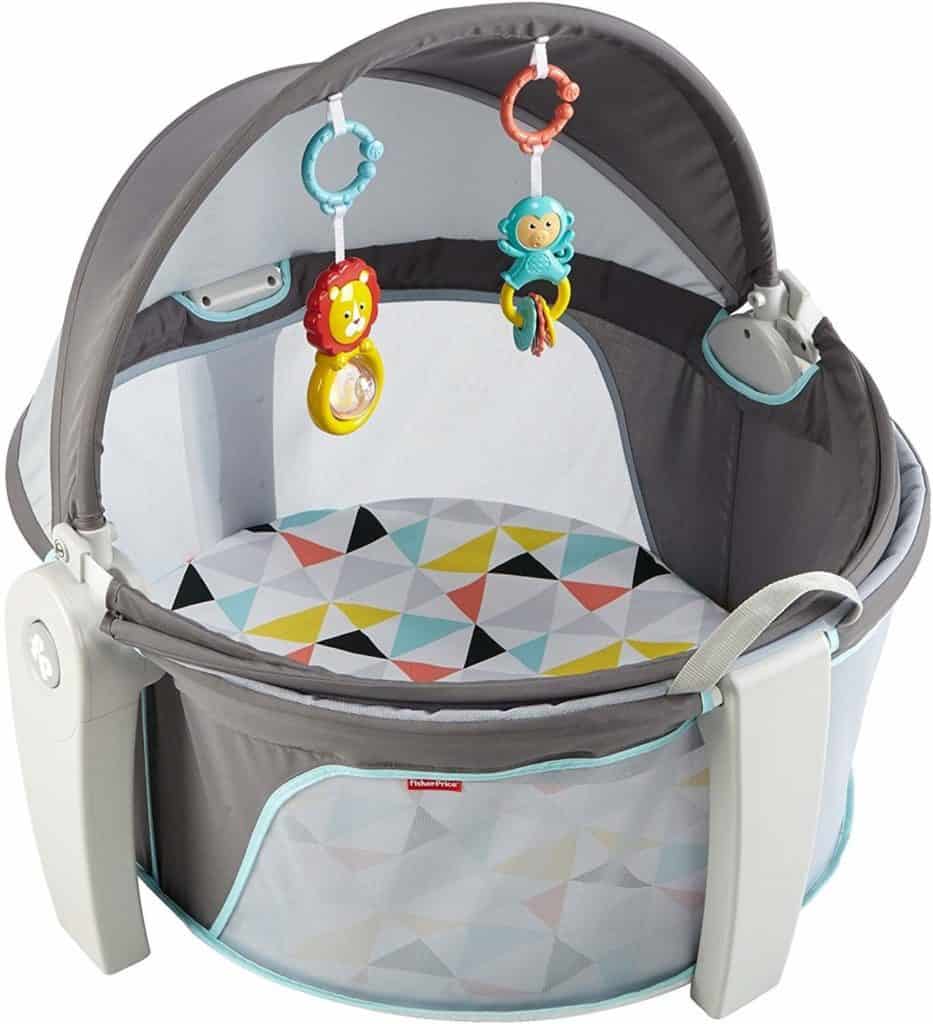 This play shade comes with this retractable, full-enclosure canopy that comes with a comfortable mat inside. This tiny baby tent is a perfect fit for smaller babies while they are contained in playtime or are busy securing their naptime. Not only that, due to its smaller fit, this plat tent can be used indoors as well, but also watch out for the toys the little ones carry along to avoid any choking hazards. However, you may want to check it out before purchase as these do not come with UV sun protection, which means you'll require to limit their sun exposure.
5. Shade Shack Instant Pop Up Family Beach Tent: Best Baby Beach Tent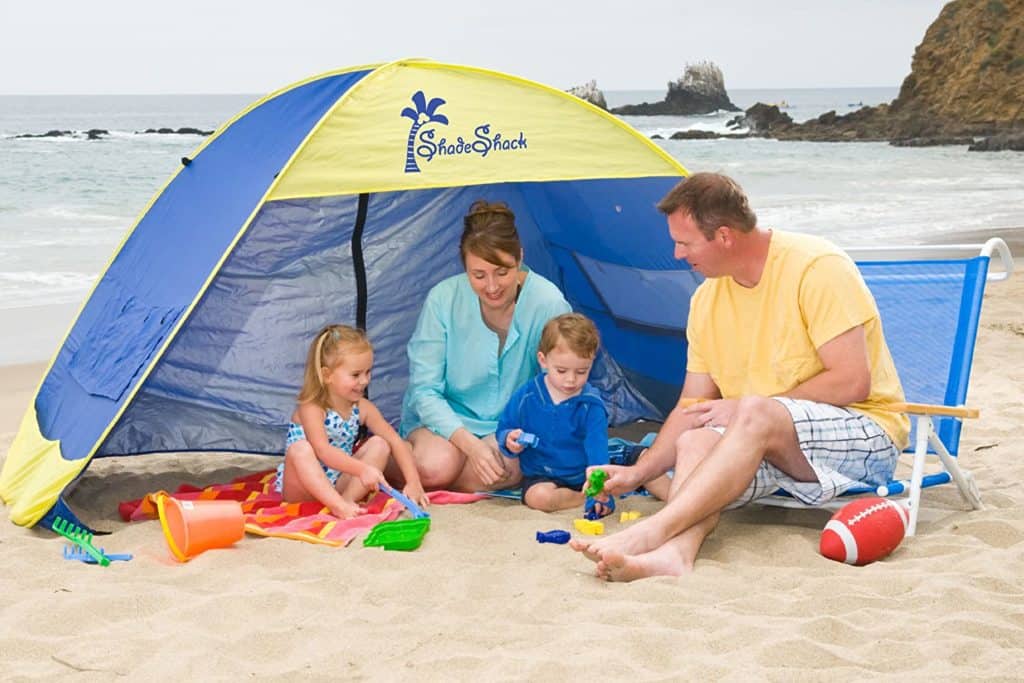 Protect your baby from the UV rays of the sun by setting up this delightfully cool and breezy unzipped tent. Also, this has no bottom; it can accommodate more than one child and allow them to play in the sand together.
6. Pottery Barn Kids Family Pop-Up Beach Tent: Best Baby Beach Tent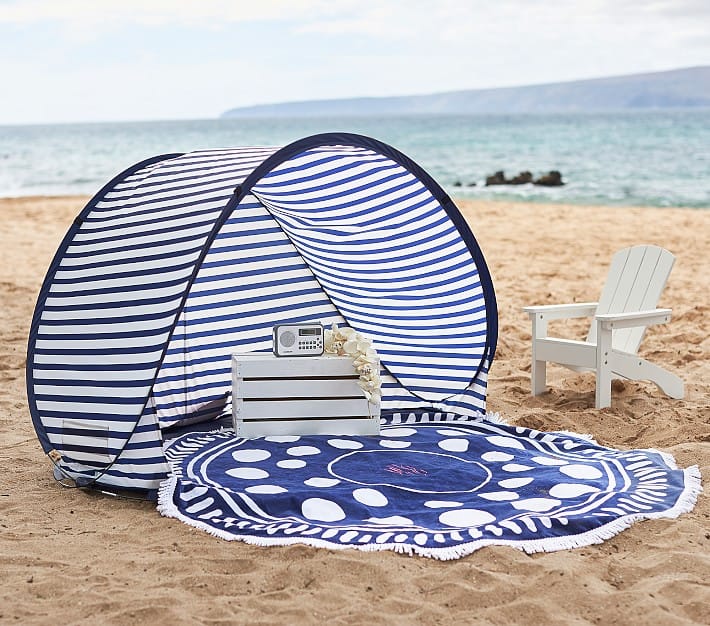 This stylish beach tent not just protects from the sun's rays but also is quite practical in its functionality. The open-sided design makes it tent weighs lighter and breezy also is of the perfect size to accommodate a few toddlers or preschoolers. Therefore, if you are looking for something that will fit perfectly on playdates on the beach, you know what to choose.
7. Pacific Breeze EasyUp Beach Tent: Best Baby Beach Tent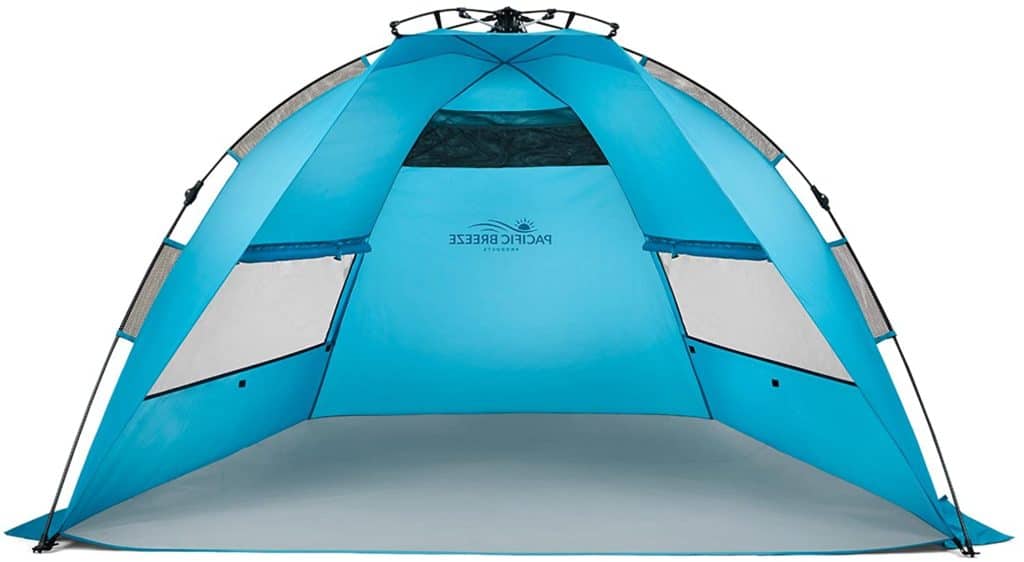 The Pacific breeze beach tent is ultra-lightweight, has UPF 50 sun protection, and is easy to set up. It features a one-minute setup with sand pockets and toys. The baby tent beach shade is on the high-end side with a customer rating of 50 considering the quality and durability.
Best Baby Beach Tents Final Conclusion:
A pop-up baby beach tent is a way of protecting the little one from the UV sun rays as they are busy playing and enjoying on the beach, backyard, or even indoors. Therefore, it is perhaps quite important for the parents to make sure and pick the best baby beach tent for their baby. You can consider the top best picks from Parenthood Bliss as mentioned above and also hit us up in case of any queries!
Best Baby Beach Tents FAQs
1) Can we use a regular tent on the beach ?
There is no harm in using a regular tent on the beach, yes the sand does make it difficult to pitch a tent. Although, regular tent pegs do not allow the tent to sit on the sand, so you might as well need to keep them in place using whatever you find around the beach, such as pieces of driftwood, rocks to anchor the tent. This is why a beach tent is suggested as it comes with everything needed and is specially designed for the beach.
2) How do I stop my beach tent from blowing?
Here are 6 simple tips to help prevent the beach canopy from blowing far away under the sun:
Set the beach canopy or tent in a proper way. This is one of the best solutions to prevent the beach canopy from blowing in the wind is to simply ensure that it's set up correctly in the first place
Use sandbags
Use tent weights
Make sure to install the tent pegs properly
Remove from the sidewalls
Use anchors to pull the tent down
3) What all to pack when bringing the baby to the beach ?
Beach towels
Swimsuits
Cover-ups
Sun hats
Floaties
Change of clothes
Beach shoes
Swim diapers
Wipes
Sunscreen