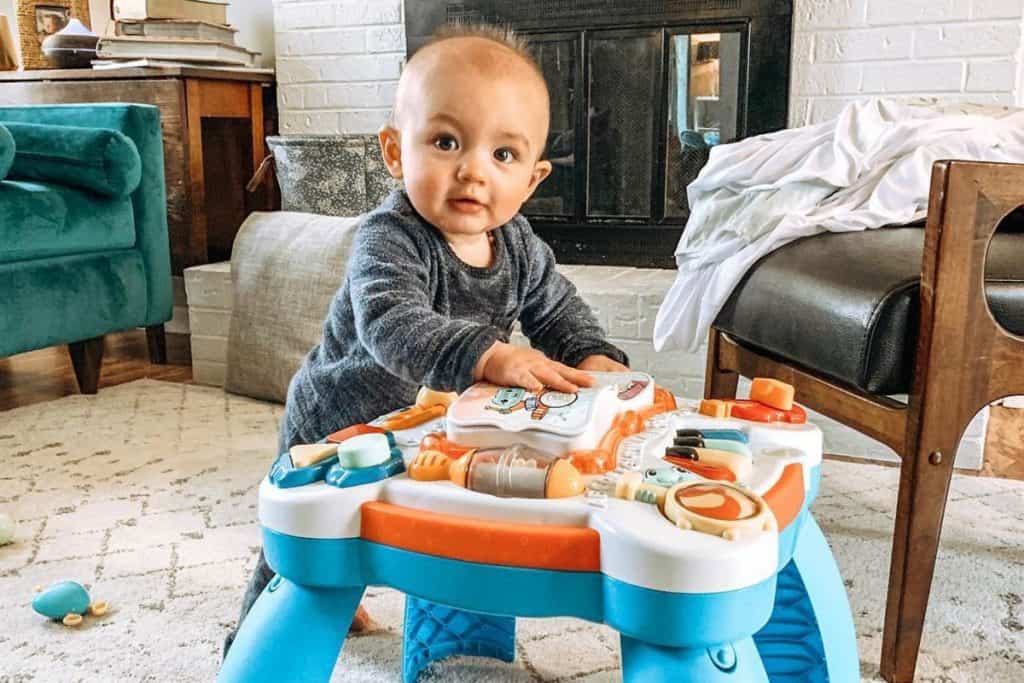 Best baby activity table are a great way to keep the little one busy, entertained, get knowledge, and develop fine motor skills. These tables are widely available in the market in different styles and structures that add to the difficulty of the parents to choose from.
But even before we get on to the list of the baby activity tables, what must one consider as important before choosing a table?
Here are a few points to keep in mind before purchasing your best baby activity table:
Make sure you look for an activity table that is made from sturdy material and also supports the weight of the baby.
It is quite important as parents to make sure our kids get to be around things that help them develop their knowledge. So, make sure you buy a table that has either learning songs, information about animals, include multiple languages, or musical toys added to them.
This depends on your preference for an activity table. It could be either a table that stimulates a noise or a simple quiet one.
Is the activity table washable? Is it easy to wipe off or would need you to scrub the dirt off?
Having a table that has multiple activities in them, helps the baby be busy and excited. On the other hand, if they do not, the babies will easily lose their interest in the activity table.
Here are the best 10 activity tables for you to choose from in 2022
1. Fisher-Price 2-in-1 sit to stand activity center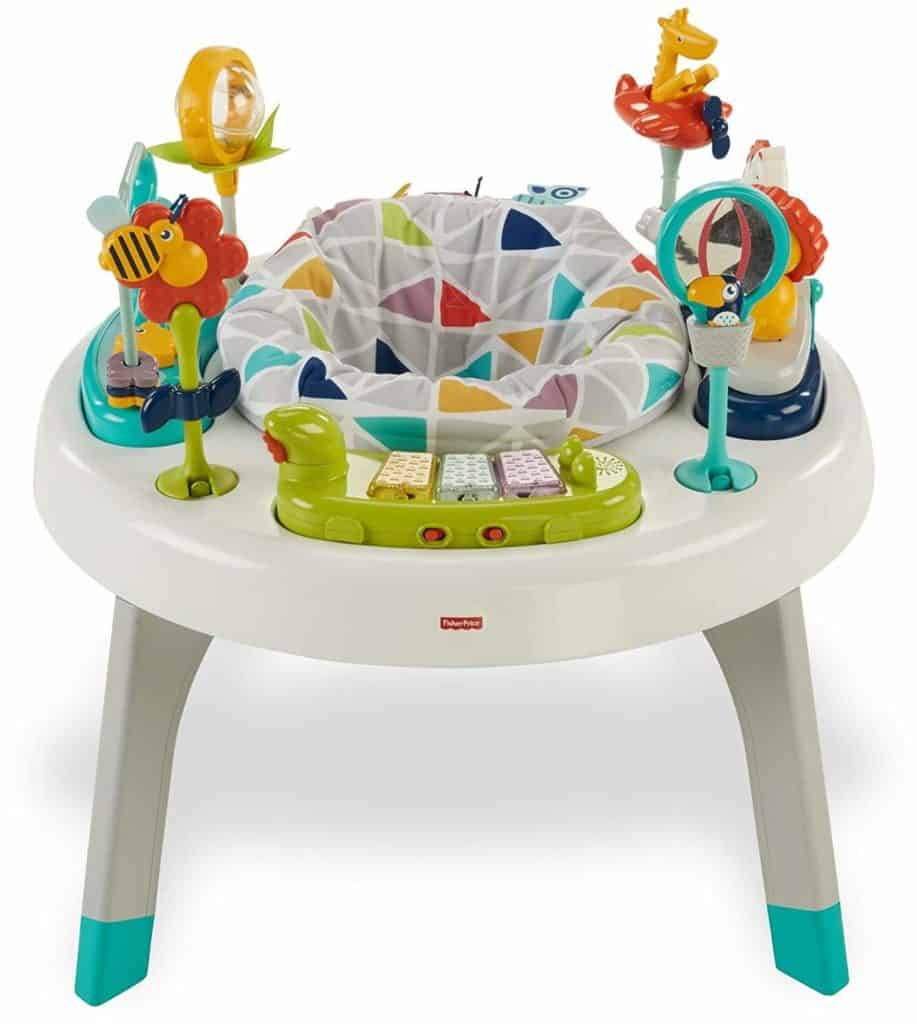 This Fisher-Price best baby activity table  is versatile that transforms from a lower table to one that's high. Initially, they can be used by babies that crawl, and as they grow and learn to walk, the seat can be pulled and replaced with a car ramp. It features a white base with teal accents with toys that helps keep the baby busy with adjustable seats and machine-washable padding.
Pros
It is quite entertaining with a piano and adorable animals.
Easy to assemble
Made with a sturdy table
Cons
Expensive
Noisy
Needs batteries to operate
2. Manhattan toy tree top adventure activity center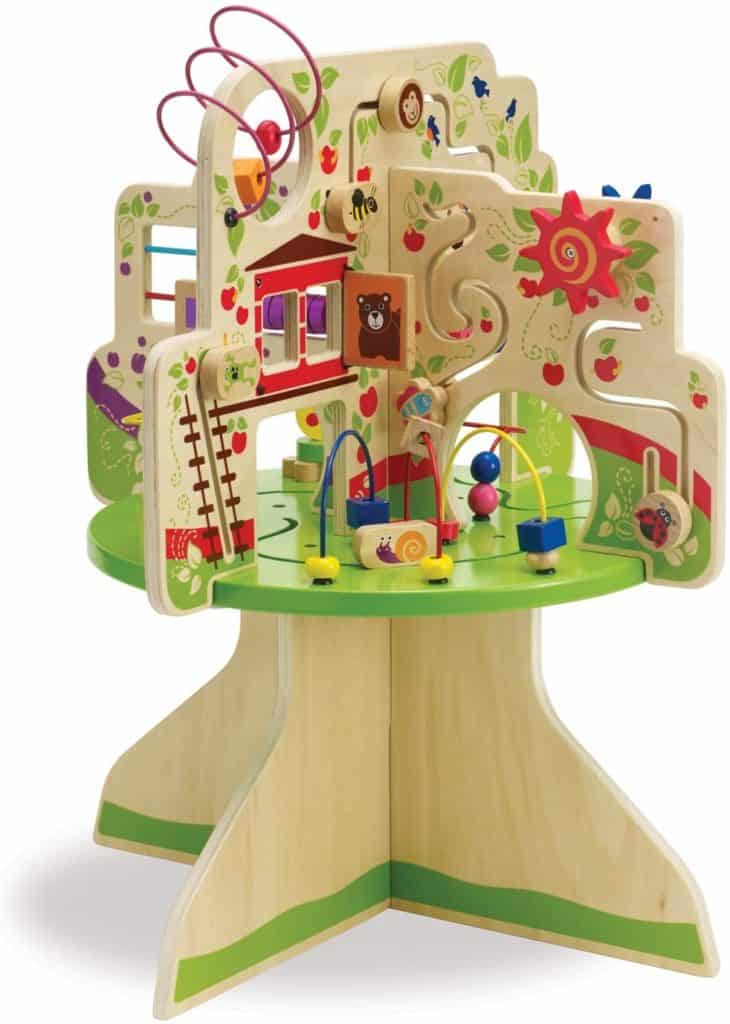 This fun and pocket-friendly best baby activity table is constructed of wood and has multiple activities to help keep the kid busy. It has a green table attached, shaped like a tree, and painted using the brightest colors with splotches of red, purple, and blue on the toys.
Pros
Affordable
Good quality
Keeps the baby entertained
Needs no batteries
Not noisy
3. Bright starts having a ball get rollin' activity table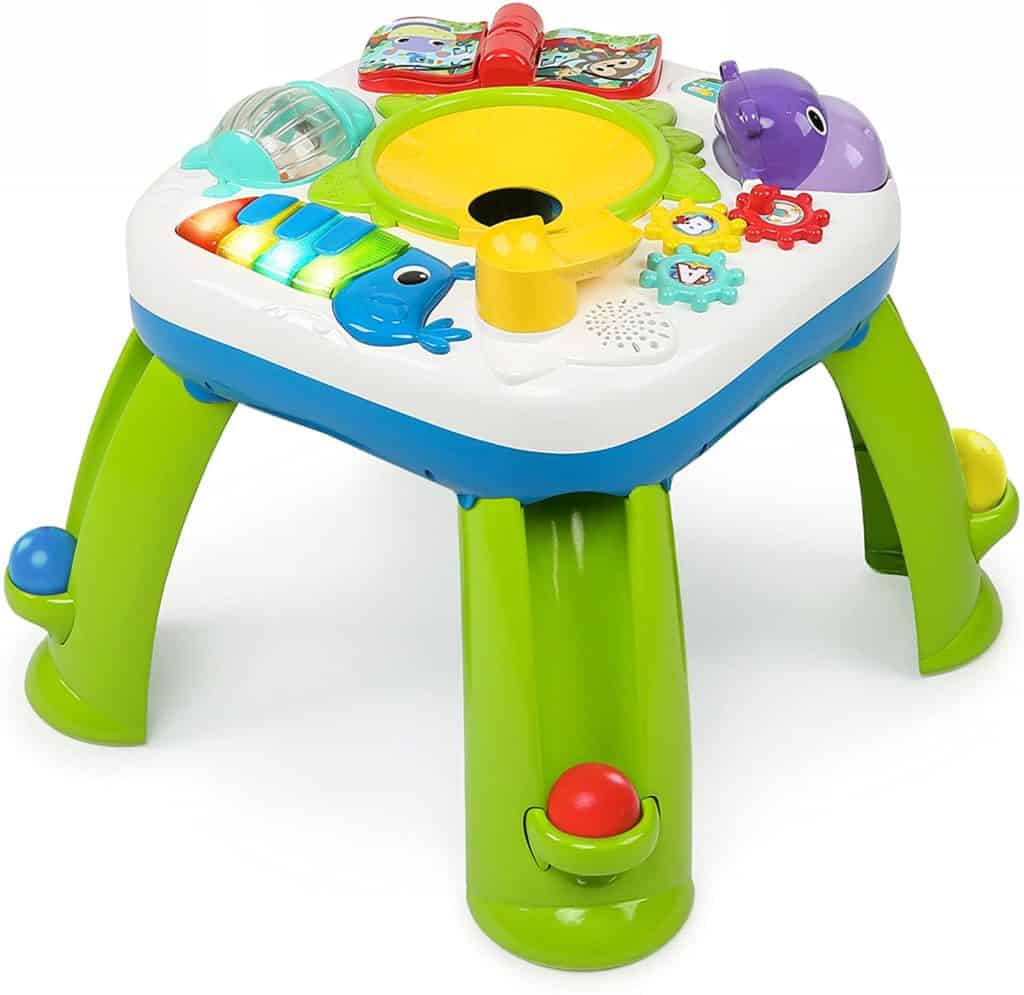 This best baby activity table has an added fun element through its pool table like feature. Here the baby will be needed to push the colored balls through the holes at the corners of the table, and watch it fall through the center, and repeat.
Adding forth, this activity table is also multilingual, supporting French, Spanish, and German languages.
Pros
Have multiple toys added to the table like piano keys, book, gears, hippo mouth etcetera
Includes 60 songs
Versatile in nature
4. Bright starts 3-in-1 around we go activity table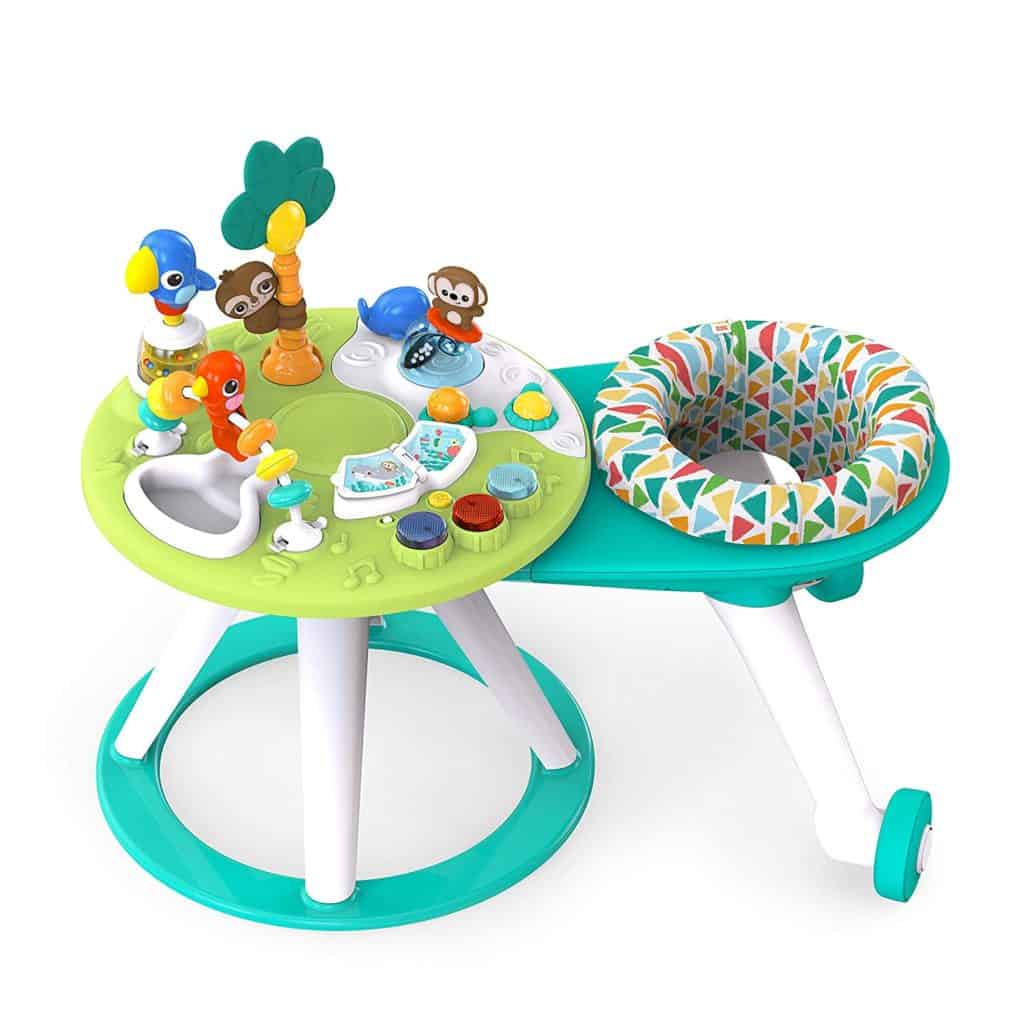 As you might have guessed already, this best baby activity table allows the little one to move and rotate around n' round. It is versatile, allowing you to remove the chair as the baby grows for them to stand and play while they continue to explore the toys. They are available in different colors like orange, blue, and green found appealing to kids and parents.
Pros
Affordable
Allows the baby to bounce or turn 360°
Encourages exercise
Includes an alternative activity chair


5. Oribel PortaPlay 4-in-1 foldable travel activity table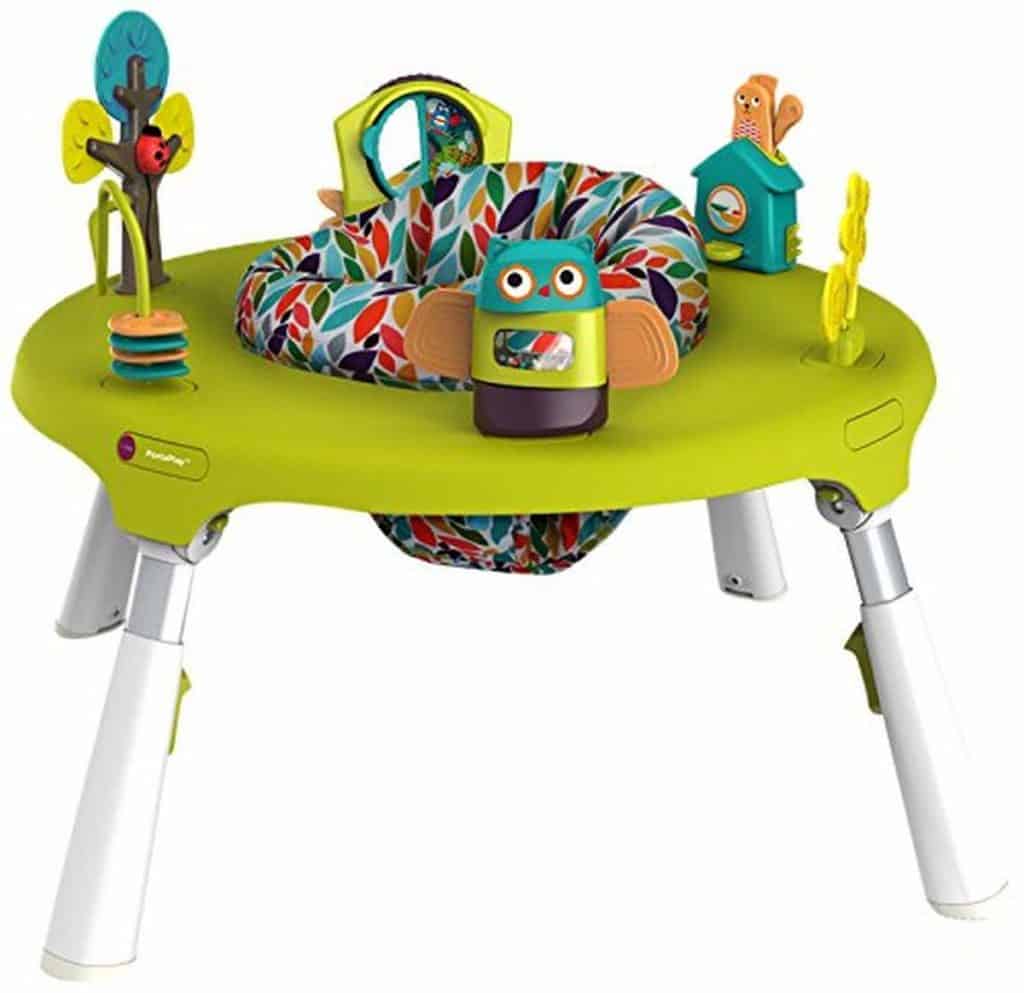 The Oribel PortaPlay best baby activity table  is foldable and allows the kid to take a 360 degrees spin. It includes a detachable toddler-sized table that could be replaced by a flat surface where the toddler can color, read, or play with other toys. The best part about the activity table is that it is travel friendly, has foldable legs, and weighs about 13 pounds, that also makes it easy to store.
Pros
Helps develop fine motor skills
Well designed table
Versatile in nature
6. Battat wooden activity cube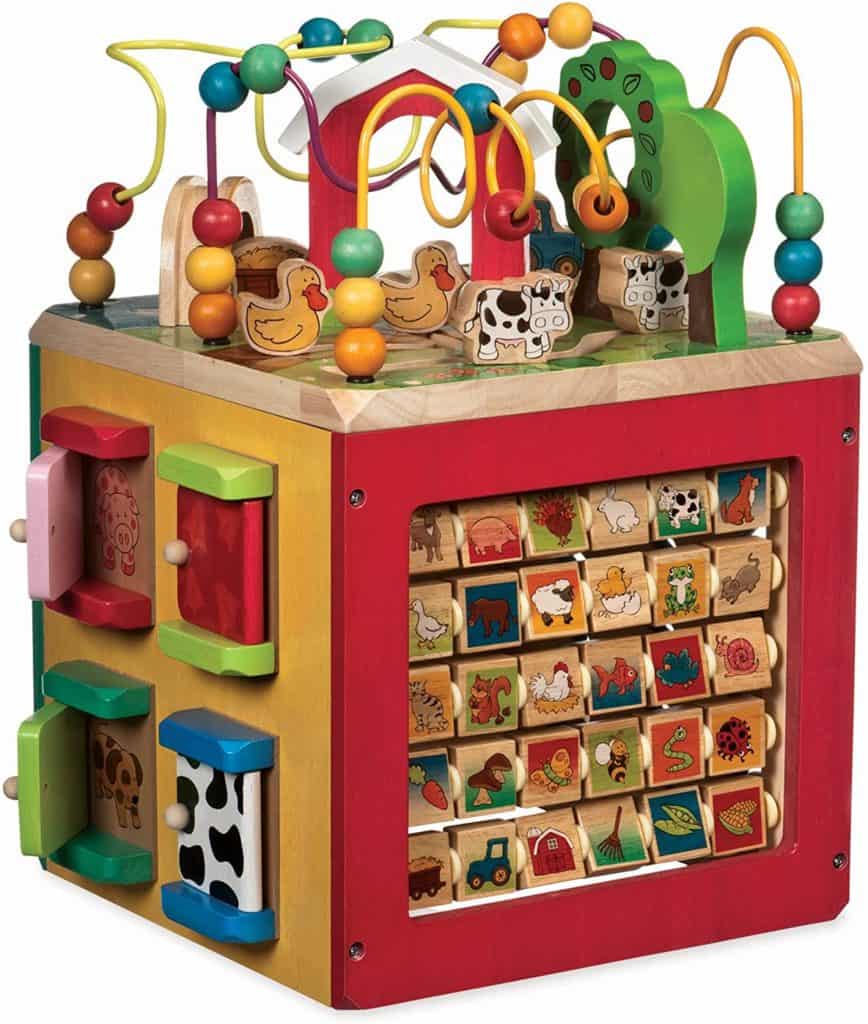 The Battat wooden best baby activity table  is unique as compared to the other activity tables that are available in the market. They are sturdy and filled with entertaining and fun toys. The activity cube is made from solid wood that makes it durable, needs no battery, and is quite engaging for children of all ages.
Pros
Grows with the baby
Can be used 12 months – 8 years+
Study in nature
Cons
As the baby learns to pull things up, there is an added danger for the cube to topple down.
7. Baby Einstein discovering music best baby activity table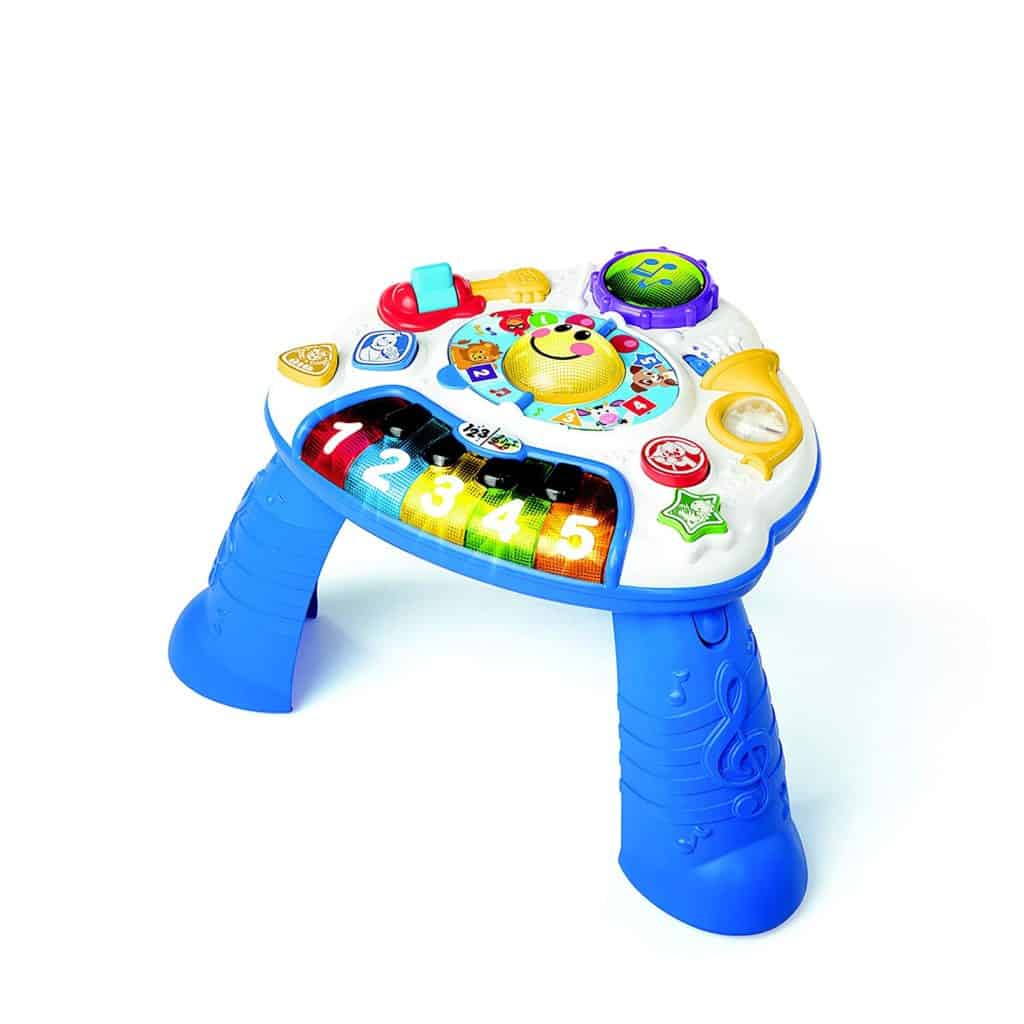 It is a pocket-friendly activity table that is musically themed with the sounds of various instruments like the french horn, piano, drums, and guitar. The table is educational, helping the kids learn their colors and numbers in an extremely fun way.
Pros
Can be switched through 3 languages; English, French, and Spanish
Encourages learning

Versatile with removable legs
Cons
Quality might not be up to the mark
8. Alex Jr. sound and play busy table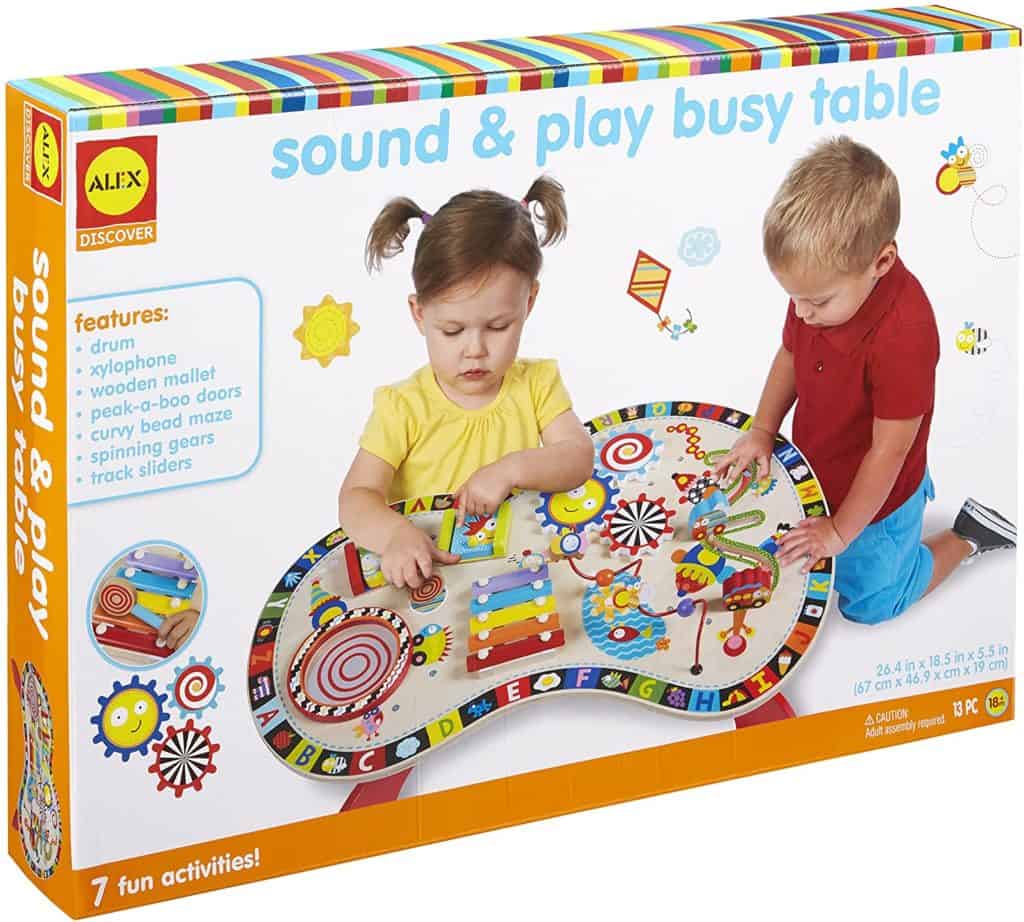 This best baby activity table avoids noise and helps the toddler build their skills while keeping them busy. It is built of wood with alphabets placed around the edges and has bright colors that stimulate the attention of the toddlers.
Cons
The table is short in height
Could break easily
Some kids get bored quick from the table
9. VTech sit-to-stand learn and discover best baby activity table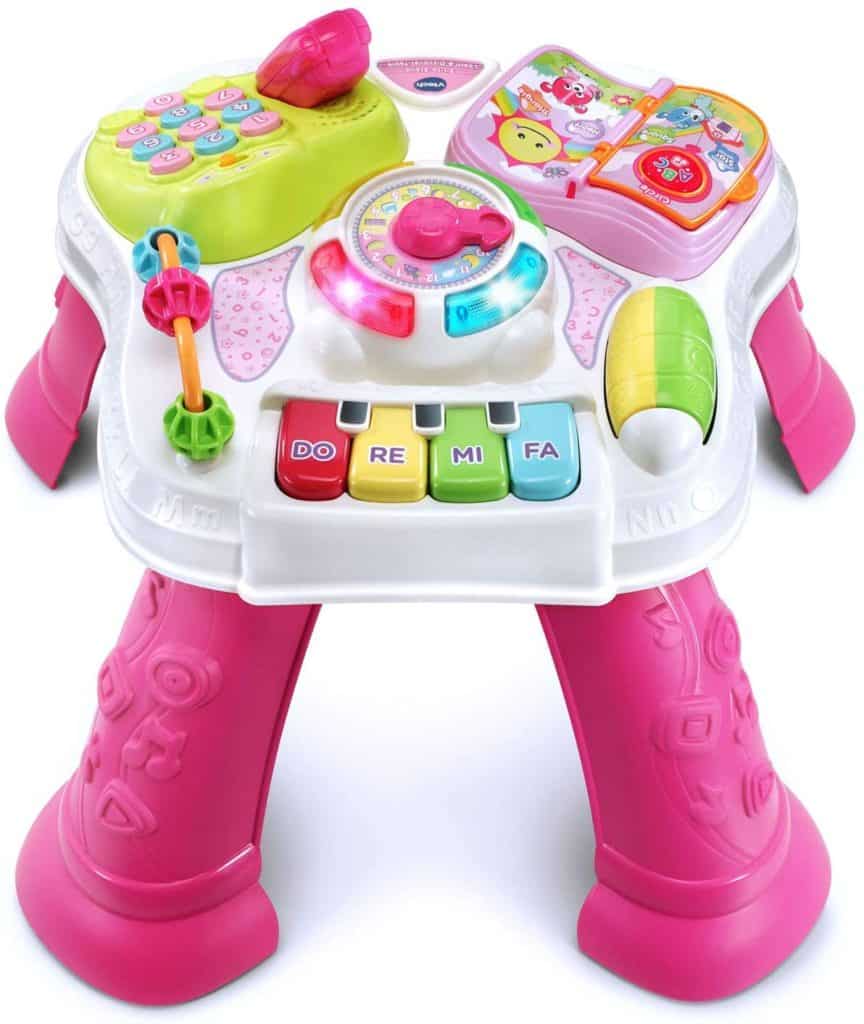 Just like the other activity tables, the VTech sit-to-stand table allows you to remove the legs that can be attached back quite easily. It includes a telephone allowing the kid to act as if they were talking to their friends across the line, enhancing their communication skills and speech rate. The highlight of the table is that it has lights included in the table as well as sounds.
Pros
Versatile
Builds communication skills
Includes exciting lights
Educational, teaches about colors, shapes, letters etcetera
2 AA battery included
Cons
The activity table is lightweight
10. Baby Einstein curiosity table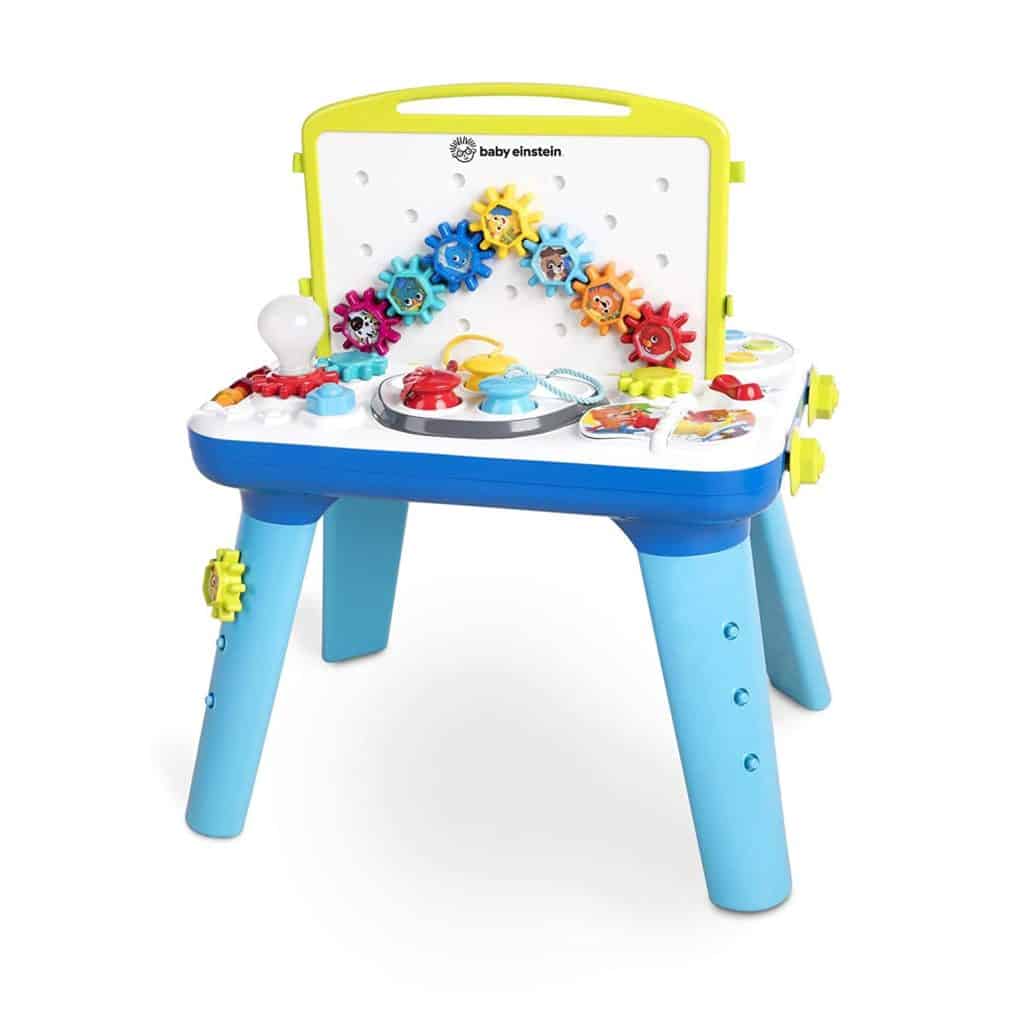 This curiosity best baby activity table  encourages the baby to learn and try new things like, gears that spin, 'circuits, and a light bulb. It is versatile, features 65 songs, has two activity sides ( one gear, the other magnetic), and is multilingual.
Pros
Versatile
Filled with activities, keeping the baby entertained
Supports English, Spanish and French language
11. LeapFrog Groove and Learn Musical Table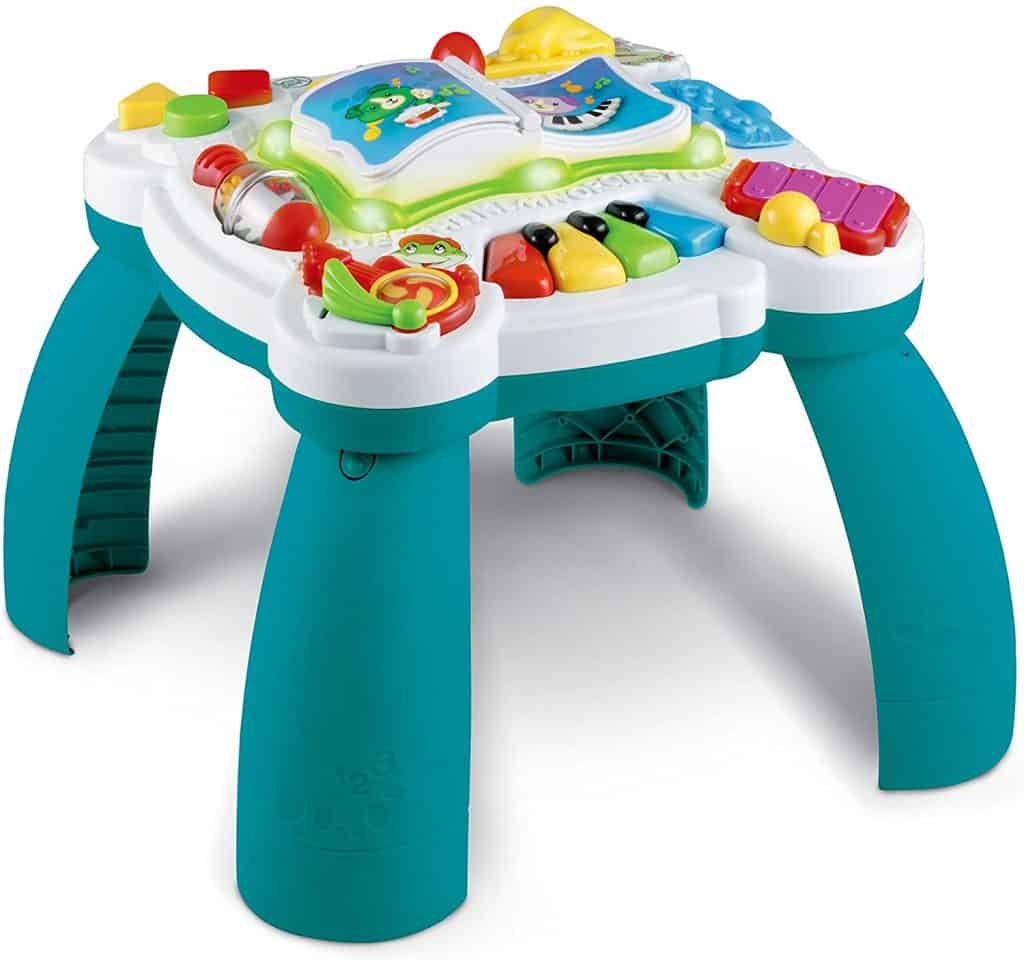 This LeapFrog best baby activity table for babies comes with the best quality at a decent cost. Staying true to its musical essence, the activity table plays sing-along songs like "Old MacDonald", "Itsy Bitsy Spider" and offers 70+ sounds and songs.
Pros
Is bilingual (English and Spanish)
Is durable
Comes with multiple songs to choose from
Can be used as a floor table too
Cons
The model is very basic
Could be a little overpriced
12. VTech Magic Star Learning Table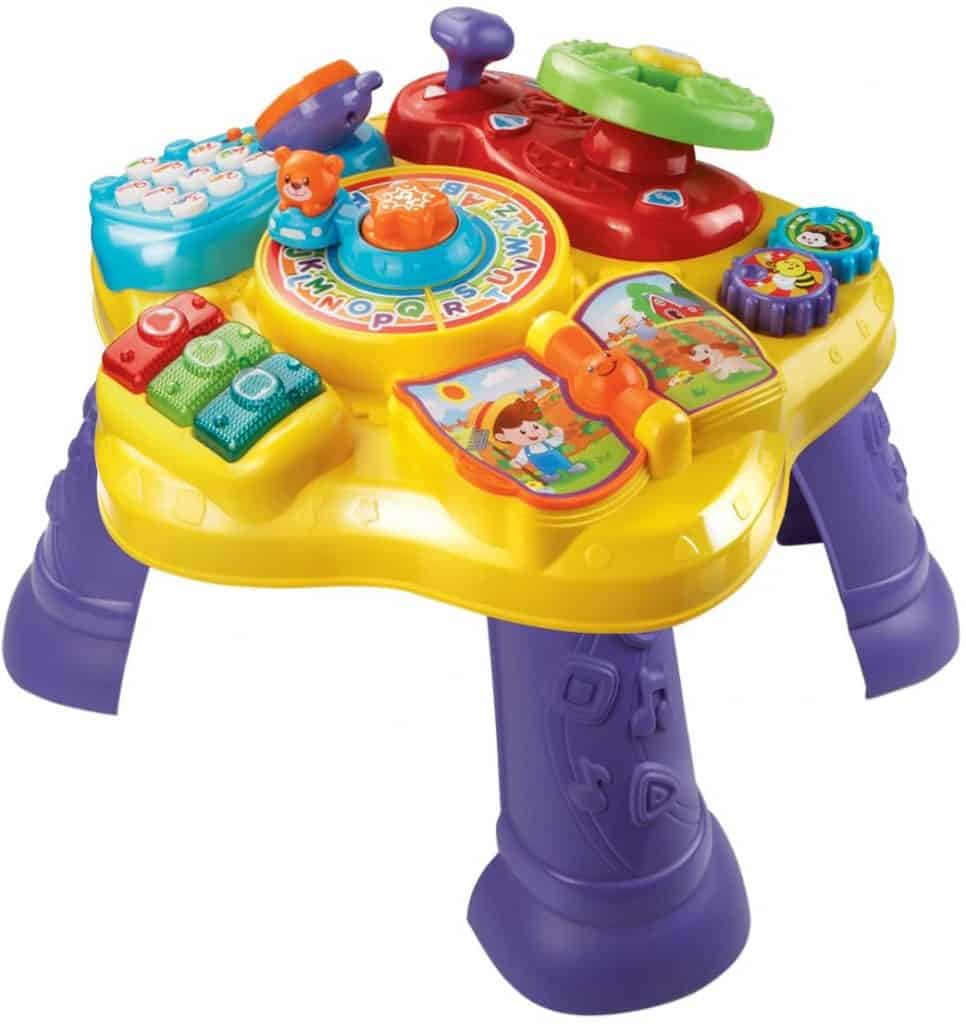 VTech Magic Star's best baby activity table comes at a great price, is durable, and is available in bright colors. The activity center comes with attached toys like the toy phone, steering wheel, etc, and is pocket-friendly.
Pros
Encourages language skills
Is available in bright colors
Durable
Pocket-friendly
Cons
Could get a little too noisy for the parents
Need a couple of double As to power up that could get a little hectic to manage
13. Skip Hop Interactive Best Baby Activity Table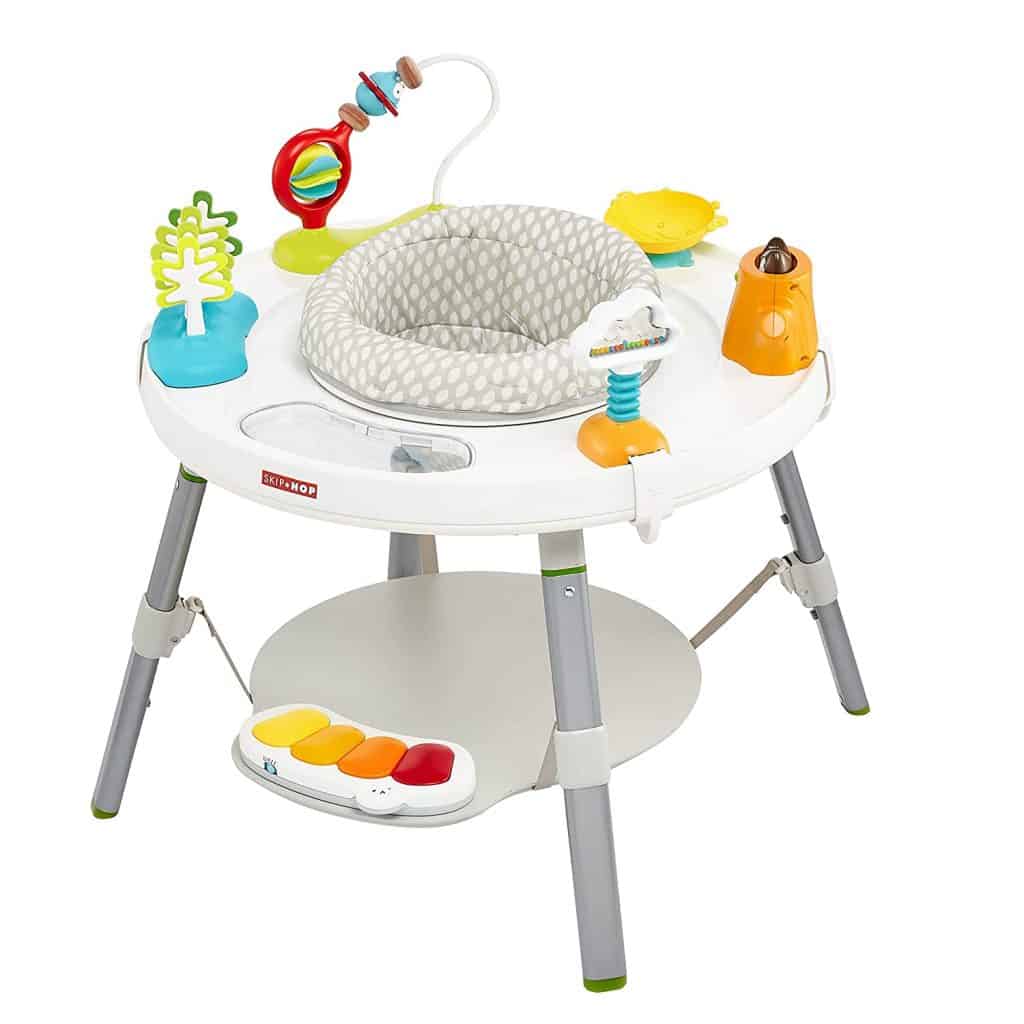 This activity table features a cute design, comes in attractive colors, has detachable toys, features a 360-degree rotating seat, and helps to improve the little one's motor skills. Nevertheless, on the downside, this activity center is a little expensive.
Pros
Is easy to assemble
Travel friendly
Comes in attractive colors
Sturdy
Durable
14. Evenflo Exersaucer Best Baby Activity Table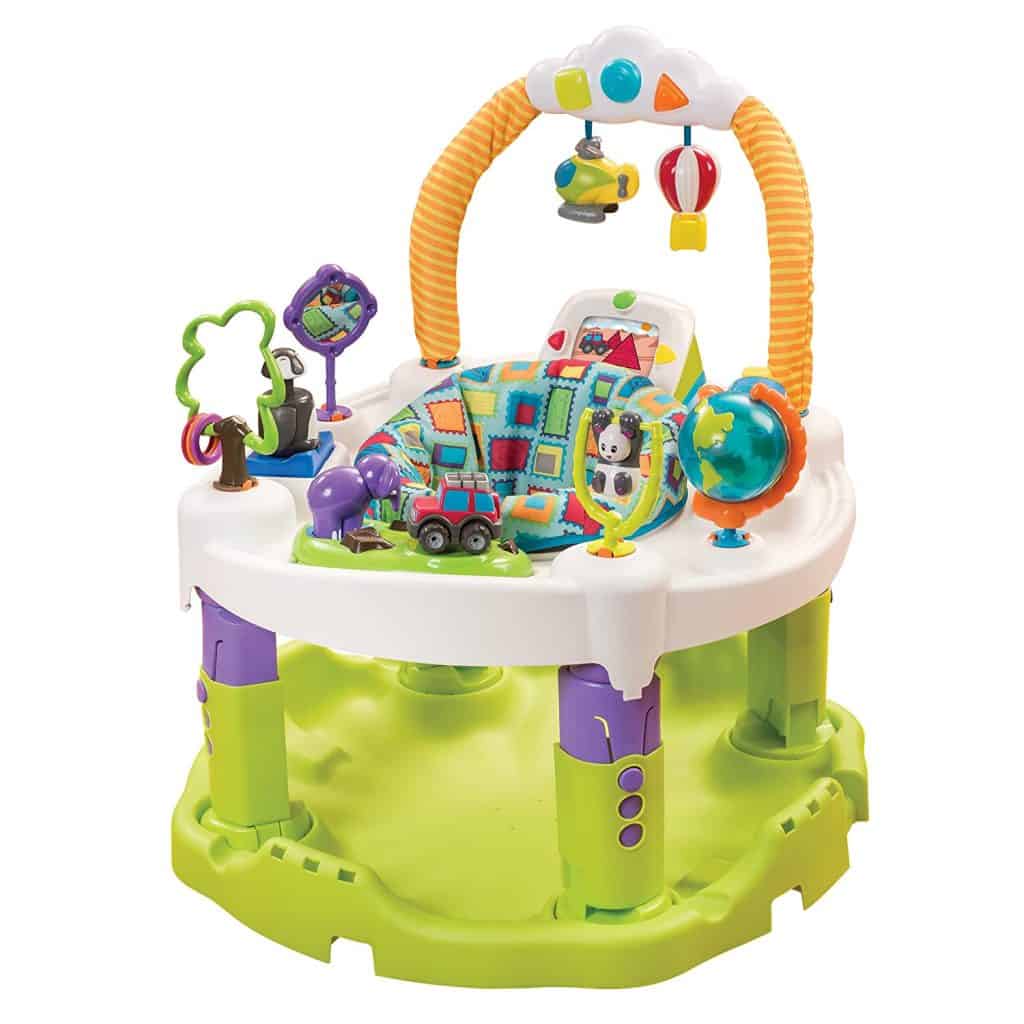 Evenflo's activity table features versatility, it can be used as a playmat or an activity table, or exersaucer. It features cute toys, fun music, is durable, and is easy to assemble.
Pros
Is versatile in nature
Comes in great colors
Helps to keep the baby well engaged
Comes with a 360-degree rotating seat
Is durable
Cons
The toys can come off easily
15. Little Tikes Best Baby Activity Center With A Baby Walker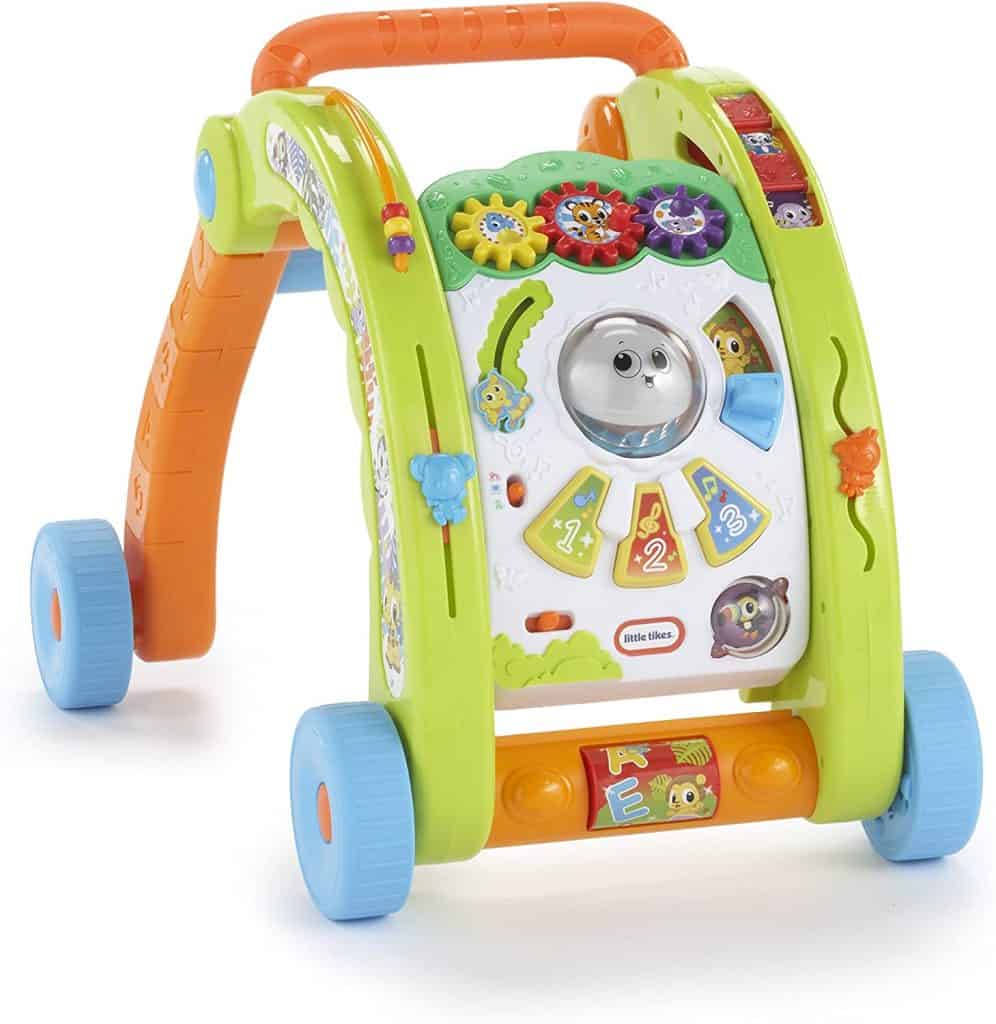 The Little Tikes activity center allows the baby to project light on the ground to chase, is easy to assemble, and is multipurpose, that is, it can be used as a walker, floor play, and an activity table.
Pros
Comes with attractive sounds and lights for the toddlers
Is easy to set up
Can be easily stored
Cons
A few reviews are stating that the wheels don't work as expected
16. KidKraft Waterfall Mountain Train Set and Table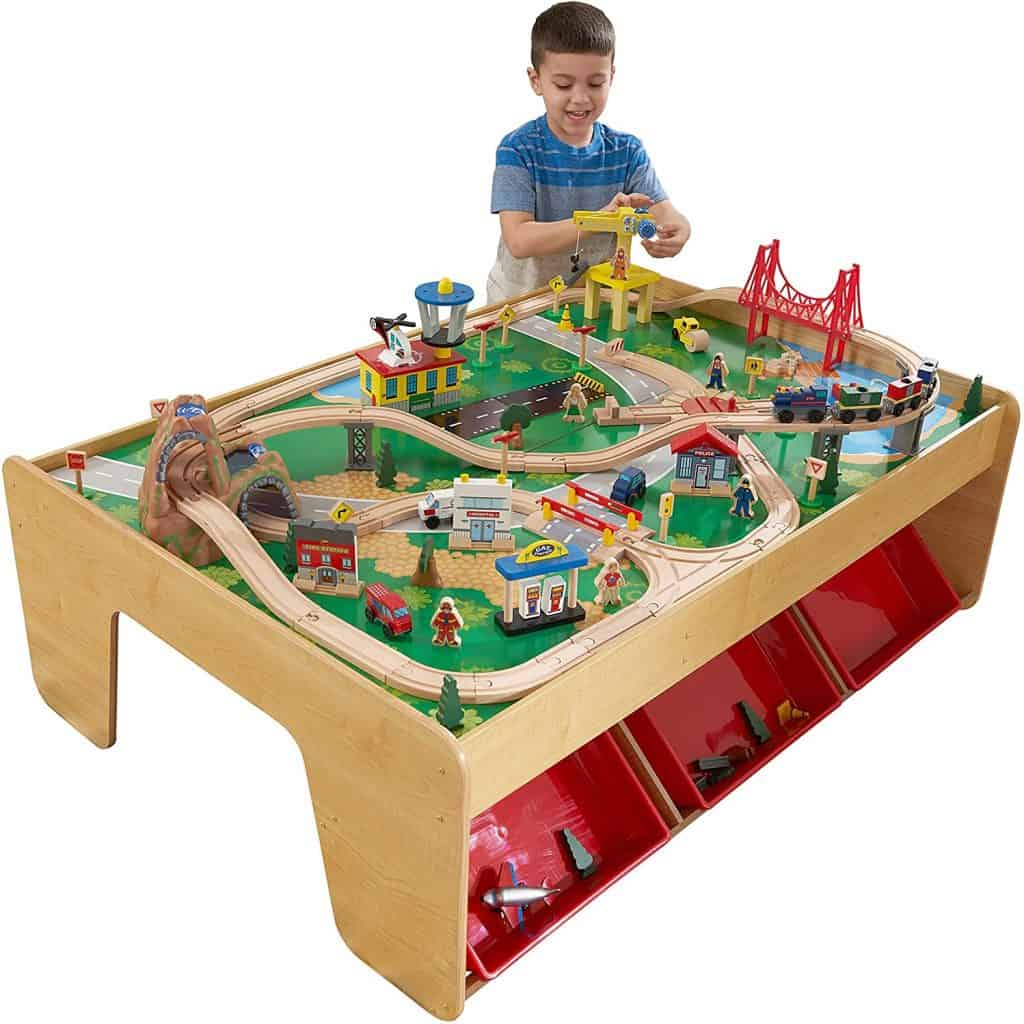 This best baby activity table can keep your little one glued for a longer period as it comes with trains, cars, trucks, basically anything with wheels and a big engine. It also includes traffic lights, trees, and people made out of wood.


Pros
Helps to enhance the child's motor skills
Comes with trains and tracks
Has a hanging storage
Comes with loads of toys to play with and be busy with
Is easy to assemble
Cons
Has small parts that could cause a choking hazard
At Parenthood bliss, we understand how confusing it could get for parents to choose the right activity table for their little ones. The confusion is further added with the numerous kinds available, be it the color, the features, versatility, material etcetera. The list above could help you overcome the confusion with its detailed analysis and help you find the perfect activity table for you.
Tip: Irrespective of all the features, the most important part is to understand and consider the one that will suit your baby the best. For an instant, a table might offer to be multilingual, but, does it help the child understand?
Best Baby Activity Tables FAQs
1. What is the best age for a baby to start playing with an activity table?
Once your baby learns to sit independently on the floor, you could give them an activity table. You need not wait for them to start walking as most activity tables are versatile with detachable legs. So once the baby learns to walk, you could easily add the legs and let the baby explore.
2. Could an activity table be put in the water?
No! It is recommended to not allow the activity table into the water, specifically the ones that are operated with a battery, as it can short-out or harm the child. These tables are thoroughly designed to allow the kid to walk around.
3. Can the activity table be placed in the baby's playpen or crib?
They are not meant to be kept in close areas and are to be used in places that allow the baby to move around freely. Keeping it in close areas, like the crib here could invite troubles and unwanted situations to take place.