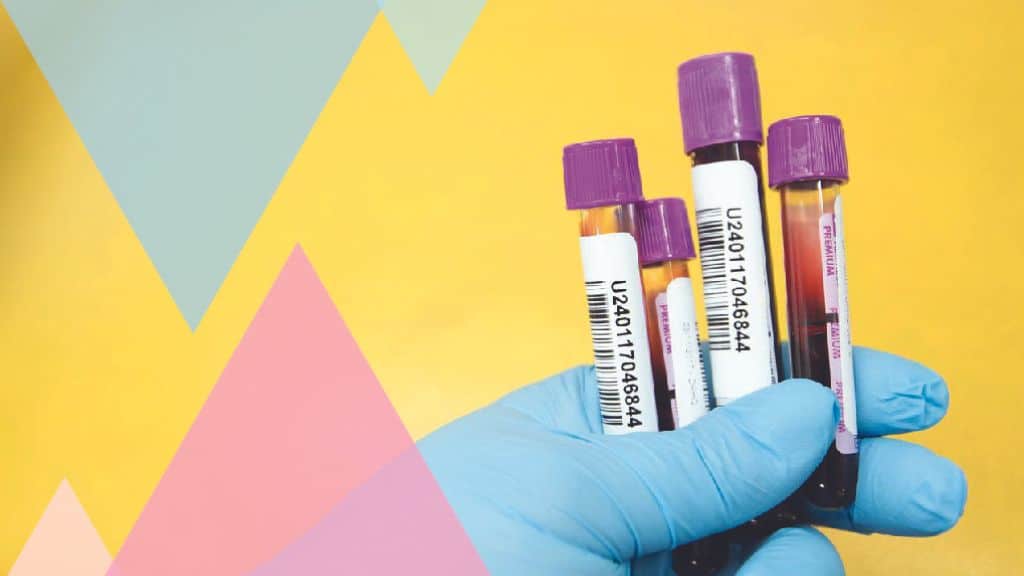 Parenthoodbliss selects the best products based on real-life testing conducted by our staff, members of our user community, the contributors, as well as through research and feedback by experts; here's more about our product review process. The details and prices are accurate as per the publishing date and we may earn commissions through the shopping links on this blog.
Finding out whether someone is your parent or not can be a delicate subject and you might need some alone time to process the life-changing information. At-home paternity tests give you easy-to-read, fast, discreet, and accurate results in the privacy of your home. Whether it was expected or not, you can rest assured that the best at-home paternity tests are affordable and precise.
So how do you use an at-home paternity test? You need to collect the DNA sample (usually saliva) from the child and the alleged male. If you could get the mother's saliva too the test will be even more accurate but if not, you can proceed without it. Typically, you are required to get saliva as samples but some brands offer alternative samples like toothbrushes or hair. Mail the samples to the lab where they will be compared. You can view the results online or can have the lab mail them to you.
As we said, paternity tests are tricky waters concerning the added emotions attached. You do not want inaccurate results to ruin your chance of changing your life. Therefore, to further help, we have listed the 9 best at-home paternity tests basis the numerous positive reviews. They have industry standard testing procedures with trained analysts so you have nothing to worry about the authenticity of the result, whatever it be.
Here are the brands that offer the best at-home paternity tests in 2023:
DNA Direct Solutions

MyForever DNA

Home DNA Paternity

Paternity Depot

MyHeritage DNA

STK Paternity Test

Paternity Depot

Easy DNA

International Biosciences
Let's Check Them Out in Detail!
1. DNA Direct Solutions ($79)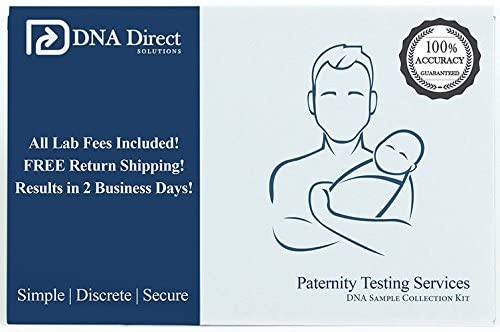 Easy instructions and very accurate. Results easy to read as well. I knew the baby was mine but had to be sure to ease my mind. Only give it 4 stars because it took longer than advertised to get results back.
The packaging, quality, delivery receiving and sending, directions for use & and pricing are an exception to Great Service! Received results within 2 business days of them receiving and lab accepting! Excellent service!
For more product reviews visit Amazon
Typically, the paternity test kit from DNA Direct Solutions cost 79 dollars but it comes with several combinations of testing mothers and children along with a rush testing option. Here's a list of what is offered in addition to the minimum charge of $75:
Add mother for +$25
Add 1 child for +$85
Add 2 children for +$170
Add 3 children for +$255
Add 4 children for +$340
Add 5 children for +$425
Add 6 children for +$510
Get results the next day for +$150
Get results within 24 hours for +$300
There are some things you must follow to use this kit like registering on their website and following some other instructions for collecting the sample. Typically without selecting the rush-results option you will receive your result in 2 days. DNA Direct examines 22 DNA markers which are way higher than what its competitors achieve.
| | |
| --- | --- |
| Pros | Cons |
| Wide availability | Additional costs are more than the competitors |
| Fast and accurate results | No customer support on evenings or weekends |
| Low price | Results available through email only |
| FDA-approved Buccal swabs are used | |
| 22 DNA markers | |
I still can't believe how cheap, easy and with fast results-this test is!! I highly recommend!!!
Good test – straightforward instructions, they let you know when they receive the sample, and then they send you the results.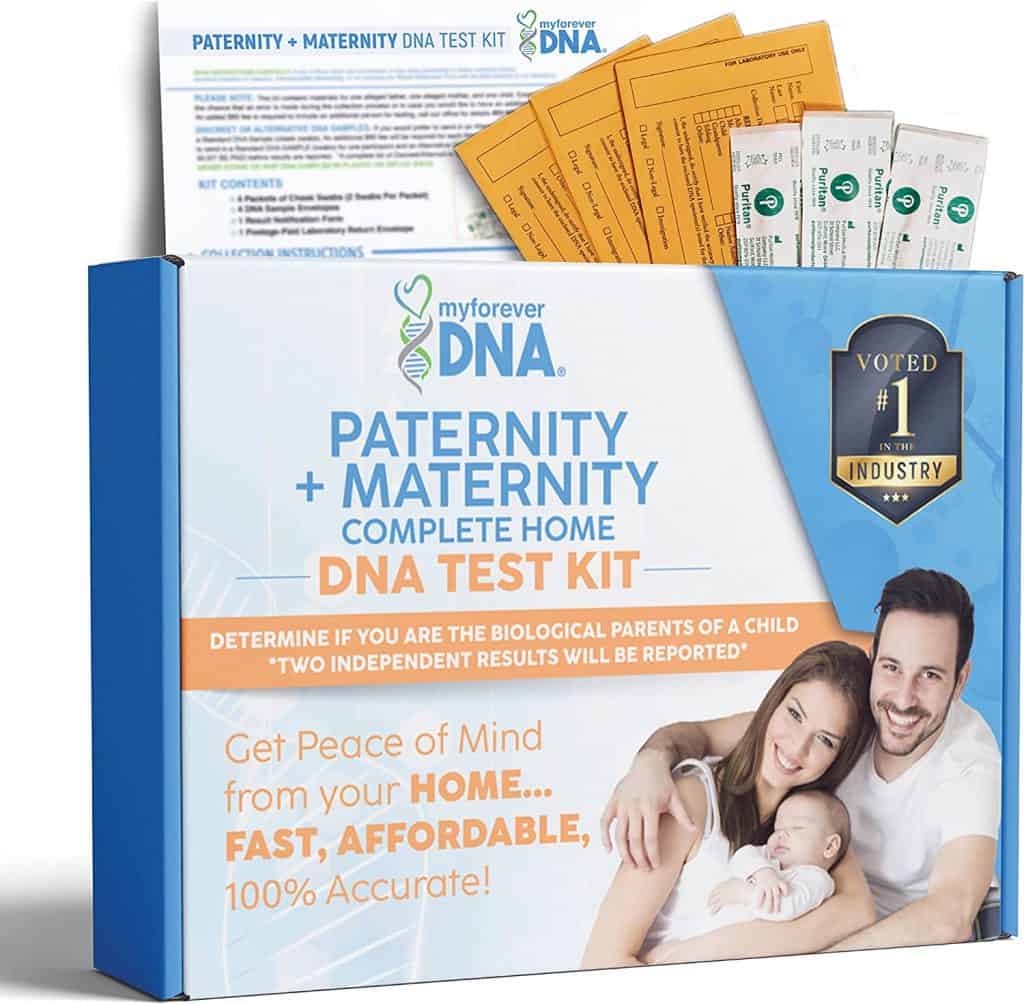 MyForever DNA offers the 4 best at-home paternity test options that give you different ways of collecting the samples and receiving the results. It tests up to 34 DNA genetic markers with absolute accuracy and no lab fees. It includes free shipping that is discreet and confidential. Here are the four testing kits at myforever DNA:
At-home DNA Testing Kit: This kit offers some cheek swabs, an instruction manual, prepaid FedEx postage, and packaging. All this will be mailed to you via FedEx in an unmarked envelope. You will be assisted by a support team once you register for the test.
Multiple Location DNA Testing Kit: If the child and the alleged male are in two different locations, this kit is for them. Both of them will be assigned a unique identification number along with a test kit. The samples are taken as per the instructions given and mailed back to the lab to get the results in 1-3 business days.
Make Your DNA Testing Kit: With this kit, you will receive step-by-step instructions that explain how to collect and submit DNA samples with your supplies. You can pack the samples on your own and mail them to the lab directly.
Legal DNA Testing Kit: For legal purposes, you might need court-recognized paternity results which can be availed at their offices through an appointment. The result of this test will be emailed to you in 1 to 3 business days. Along with that, you will also receive a US mailed copy of your results within 5 to 7 business days.
If you are sending in cheek swabs you will receive your results within 1 to 3 business days. But if you send alternative DNA samples (like hair, toothbrush, etc.) then it may take 10 to 15 business days to process the data and give you the results.
| | |
| --- | --- |
| Pros | Cons |
| Testing can be done from multiple locations | Some reviews claim results are too complicated to read |
| Alternative DNA samples can be sent | Results from alternative samples may take more days |
| 34 DNA markers | Shipping takes longer |
3. Home DNA Paternity ($139)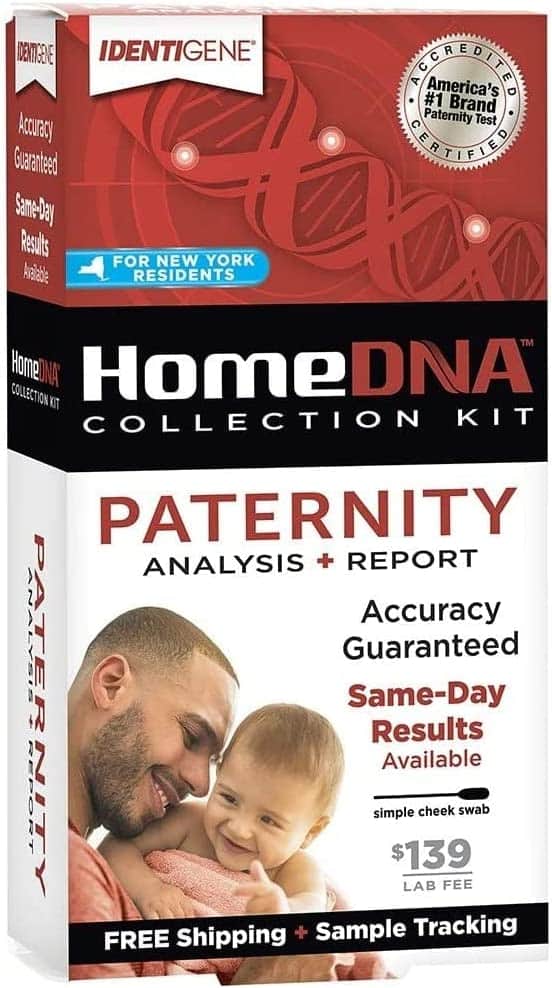 I purchased this for my niece and the only issue was the fee for lab 169.00 not as i read 135.00 other wise the results were what she wanted.
Instructions were easy did everything online test came back fast
– Alexis
For more product reviews visit Amazon
One of the best at-home paternity tests, HomeDNA paternity testing kits are brought to you by DNA Diagnostics Center (DDC). Built on the belief that technology must be affordable and accessible to all, DDC has state-of-the-art laboratories with an expert team of PhDs that screens, tests, and researches samples.
You can buy a Home DNA paternity test from a store or a retailer. Register the kit's barcode on their website and make the payment. You will find cheek swabs inside the kit, collect the samples, pack them in the envelope provided, and mail them to their lab.
Once your samples arrive in their labs you will be notified by email. Your results will be uploaded to your account on their website and can be viewed from there.
| | |
| --- | --- |
| Pros | Cons |
| Results are available by mail or online in 2 days | The samples take around a week to reach the labs in the postage-paid envelope. |
| Available online and in stores | |
| Same-day results are available at an additional fee | |
Easy to use directions simple to understand got the results back fast
Instructions were easy did everything online test came back fast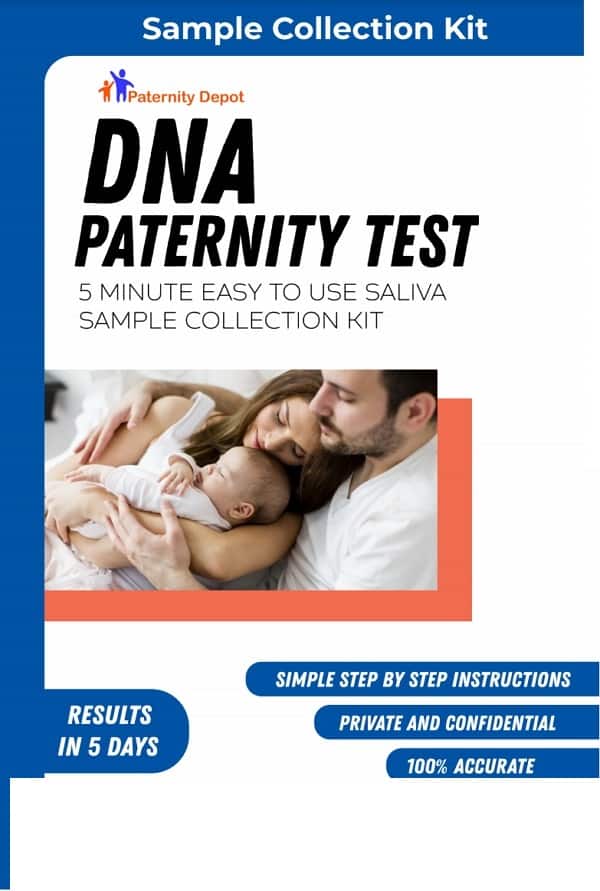 Based out of Toronto and New York, paternity depot is the North American giant that runs its tests twice to give you accurate results. Their accredited lab has run over 300,000 tests and the results reach you through email or phone calls immediately. On request, you can get a certificate mailed to you. They run both legal as well as information tests and both follow the same procedure. You can order a custody form from their legal experts which will convert your informational test into a legal one.
Legal forms come at $50 in addition to the cost of the test. Your results will reach you within 7 to 10 business days. The kit contains swabs for collecting samples. Both the samples must be placed in different envelopes and placed inside a larger one to be sent to the address mentioned in the instruction slip. You can use the unique access code assigned to you to track the progress of the test.
| | |
| --- | --- |
| Pros | Cons |
| Results are available in 7 to 10 days | No 24/7 customer service |
| People in multiple locations will be sent two different kits | Handling and shipping fees are needed |
| Ph.D. trained analysts | |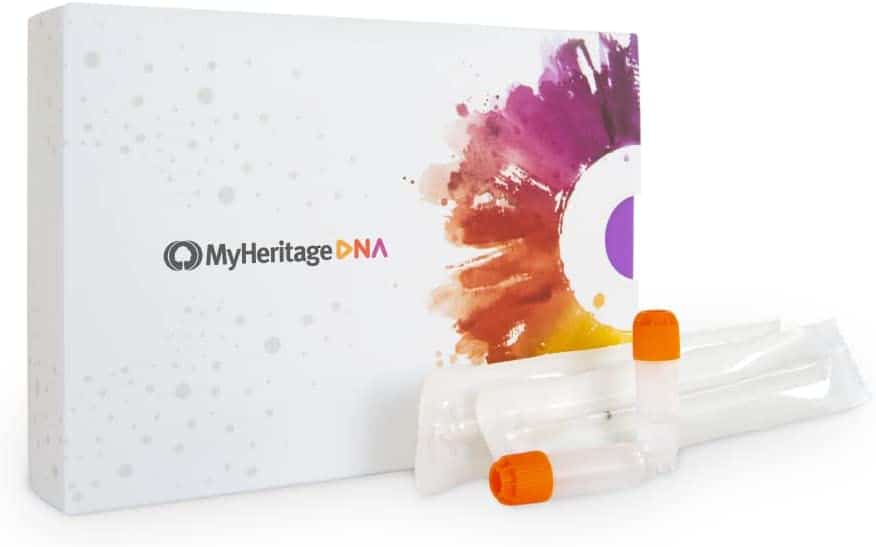 After speak with a relative about where our family came from I asked my husband for MyHeritage DNA kit as a gift.
What a good surprise to confirm that we are from Spain and other places. I'm so happy with my results it couldn't be better.
This is definitely a great gift!!!
when i had got this done a few years ago i also tryed a couple of other brands and my go to easy to figure out is my heritage and so nice how they get it down to every % of all your heritage in ur dna an i really was amazed when i got 1.1% of ashkenazi jew. But i'm wishing they would go back to the 2018ish method of showing your map of dna % but they are still the best for everything!
Get-r-done! & have fun it never stops!
For more product reviews visit Amazon
MyHeritage boasts a user count of 103 million worldwide, 18.5 billion historical records, a DNA database of 6.1 million, and 42 supported languages. You simply need to get a cheek swab in 2 minutes and mail it to the lab address enclosed in the envelope. Your results will be online in 4 weeks.
MyHeritage follows the industry standards by using the Illumina OmniExpress-24 chip that has strategically selected probes to capture the smallest genetic variation. Their labs are CLIA certified (Clinical Laboratory Improvements Amendments) along with being CAP-accredited. All your information will be protected and secured by several layers of encryption. The extracted raw data is available only to you and it will be deleted at any time through a request.
Like other paternity tests mentioned here, MyHeritage does not have a direct paternity test. When you send them a test for analysis, they will run it through their database of users to see if a match can be found. If you already have a DNA analysis in hand, you can simply upload them and they will find a match for you.
| | |
| --- | --- |
| Pros | Cons |
| Accepts DNA results from other sources | No specific paternity test |
| Huge database | You have to compare individual results |
| Millions of users | Results take a long time (4 weeks) |
when i had got this done a few years ago i also tryed a couple of other brands and my go to easy to figure out is my heritage and so nice how they get it down to every % of all your heritage in ur dna an i really was amazed when i got 1.1% of ashkenazi jew. But i'm wishing they would go back to the 2018ish method of showing your map of dna % but they are still the best for everything!
It was very easy to use and I have shipped mine off it takes 4 to 6 weeks for results but I read other good reviews . Looking forward to my results.
6. STK Paternity Test ($99.99)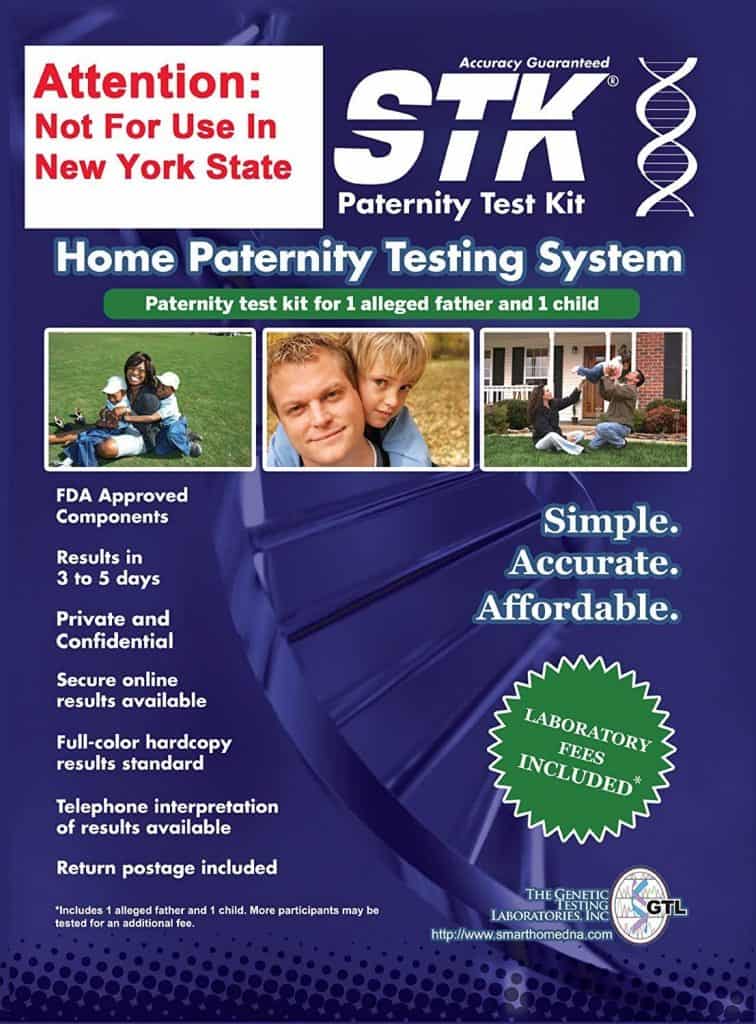 Everything about this kit was great. My only recommendation for anyone purchasing the kit is to be aware of two important things. First, you MUST register your kit online before you send off the samples. It's clearly stated in the instructions, but because it's so important, I think maybe they should bring more attention to that fact. And second, again clearly indicated in the instructions, the results are not legally admissible to prove paternity as far as the courts are concerned. You can pay extra and follow some extra steps to get the results certified and legally admissible, but that is not the purpose of the basic kit. Otherwise – very happy with the kit, the instructions, and the results.
It clearly says you must register to receive results BEFORE sending in samples. Im assuming that's where most people get the "I didn't get my results".

After 19 years, my boyfriend never questioned the paternity but went on good faith. The results were definitive that it was 0% probability. They were emailed which was discrete and customer service was there anytime.

We were able to track progress of where it was in transit and when it got to facility as well as when it was being processed and when to expect results.

If you have any doubt, buy this product, follow ALL instructions, register product, verify email, and ease your mind for whatever your circumstances may be!
– LaUrA
For more product reviews visit Amazon
For greater accuracy, this test kit does not include maternity testing, but some sample materials for the alleged father and child. You cannot submit alternative samples because the test requires an oral swab. Even though it only examines 16 genetic markers, it is still 99.999 % accurate when the father being tested is the child's biological father.
You can view results on STK's basic website using the unique ID assigned to your kit 3 to 5 days after the lab receives your kit. Although STK does offer limited phone support in the event that you have questions, there are no online resources to explain the kit, such as an FAQs page.
| | |
| --- | --- |
| Pros | Cons |
| Telephonic support is available. | The test can only test 16 genetic markers. |
| Results are online within 3 to 5 days | It accepts only oral samples. |
| Less expensive | |
7. Paternity Depot ($59 to $109)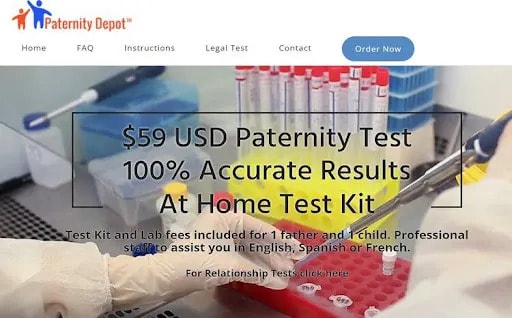 One of the cheapest paternity test kits that we've seen is Paternity Depot. The company tests oral swabs from the child and the alleged father for $59 each. Online access to results is available in 7 to 10 days. If the alleged father and the child don't live in the same area, Paternity Depot can even send kits to their respective places.
Legal paternity tests are also available for $109 from Paternity Depot. This test is inexpensive, but it only provides a form for the chain of custody and does not require a witness and this might be dismissed by some courts.
If you require assistance with your kit, you can get in touch with Paternity Depot. In addition to English, the company provides helpful support in Spanish and French.
| | |
| --- | --- |
| Pros | Cons |
| They provide customer support in French, Spanish, and English. | Its legal tests do not require a witness and that can be dismissed by some courts. |
| The company can send kits to two locations. | The company does not have a clear privacy policy. |
| The kit is cheaper than most kits listed here. | |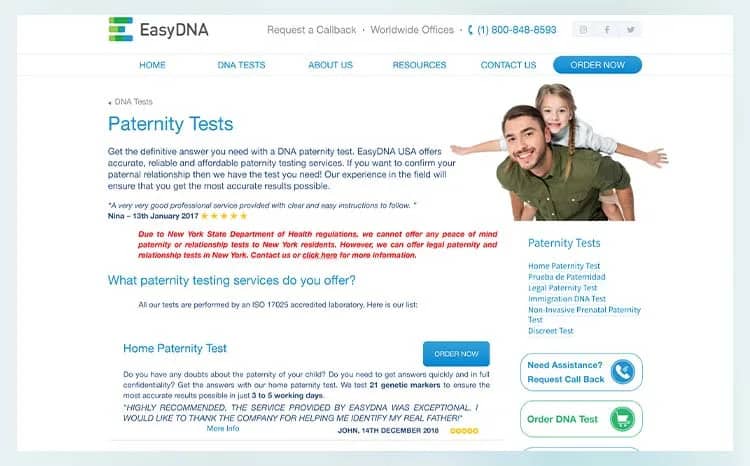 EasyDNA is exactly what it says it is. This DNA kit, which tests 21 genetic markers using a cheek swab and is highly accurate, is one of the best at-home DNA paternity tests. EasyDNA is known for its excellent accuracy and customer service, but the wide range of tests it offers is what sets it apart. In contrast to other services, they provide you with a comprehensive selection of kits from which to choose
Prenatal Paternity Kits:

This is one of

the best at-home paternity tests

with 99.9% accurate and non-invasive methods of testing. This kit is specifically made for expectant moms who need to know who the father is.

Legal Paternity Kits:

These tests give you results that can be used for legal paternity issues. They provide you with all the information the court could ask for.

Discreet Paternity Kits:

This is a convenient option if someone needs to know the paternal linkage but can't ask the father directly or get the DNA sample needed for a full paternity test. Items containing blood or samples from a variety of items, such as used tissue, ear swabs, nail clippings, hair follicle, chewing gum, cigarette butts, or toothbrush, can be subjected to forensic testing in the EasyDNA labs. In addition, this is the least expensive option, costing only $80.

Immigration Paternity Kits:

This option is almost the same as the legal paternity kit except that this kit gives you all the info you need to prove your relationship with an American citizen as required by the United States Citizenship and Immigration Services.
| | |
| --- | --- |
| Pros | Cons |
| Gives you expedited results | The specialty kits can be expensive. |
| Live chat support | The UI if their website needs improvement. |
| Wide variety of tests | |
9. International Biosciences ($1295)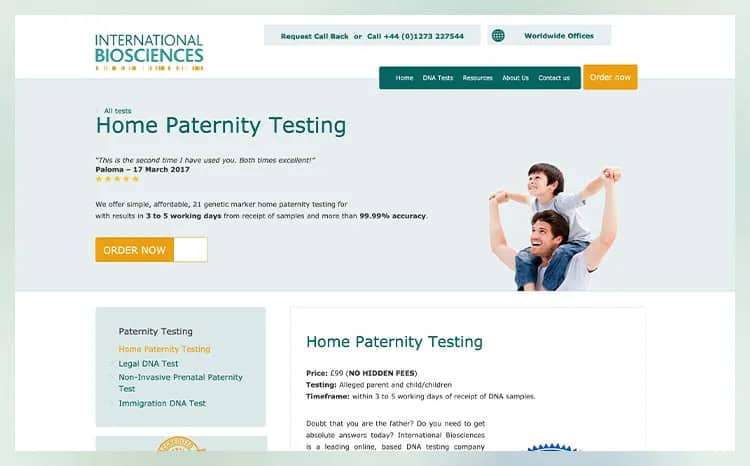 Paternity tests from International Biosciences include home, legal, prenatal, and immigration DNA tests. One of the fastest methods for determining paternity is the home paternity test, which provides results within 3 to 5 days of receiving your sample. An oral swab from the alleged father and child is all that is required plus you can even send in a free oral swab from the child's mother for improved accuracy.
International Biosciences can also test for paternity with other sample materials if you are unable to obtain an oral swab. The company conducts tests on blood, skin, sperm, hair, nail clippings, and bones. It can even test toothbrushes, soda cans, drinking straws, and chewing gum. To have these alternative samples tested, you must fill out a consent form and show a photo ID.
| | |
| --- | --- |
| Pros | Cons |
| Accepst a variety of sample materials | The prenatal paternity tests are a bit pricey. |
| Has maternity testing too | The legal paternity tests are only for UK citizens. |
| Results can be viewed within 3 days of testing | |
Closing Thoughts on The Best At-home Paternity Tests
DNA or paternity tests can be stressful, even the best. At-home paternity tests give you some sense of relief because it is done in the privacy of your home and you have ample time to process the information. If it's a child you are doing it for, at-home paternity testing is better considering the stress the child has to go through.
The best at-home paternity tests are fast and affordable. Brands that sell paternity tests aim at making the tech behind DNA testing available to all and publishing the results as quickly as possible. If the child and the alleged male are living in different locations, some brands offer two kits for sample collection. Check before you purchase if you face the same dilemma too.
We'd say MyHeritage DNA or Paternity Depot could be the best at-home paternity tests. One for its huge database and cheap price and the other for its super quick result time. MyHeritage takes about a month to deliver the results which could be a nerve-racking time for you. That leaves us with the Paternity Depot test kit: super quick results, affordable, and a pretty fair database.
Best At-home Paternity Tests FAQs:
1. What are some accurate at-home paternity tests?
At-home paternity tests are super convenient no matter the brand. Here are some of the best at-home paternity tests in the market:
DNA Direct Solutions
My forever DNA
Home DNA Paternity
Paternity Depot
MyHeritage DNA
homeDNA Direct
EasyDNA
2. What type of DNA test is the best for a father?
An autosomal DNA can identify relatives 5 to 7 generations back across both paternal and maternal lines. If you are a beginner this would be the right choice.
3. What is the cheapest way to get a DNA test?
MyHeritage has one of the cheapest at-home DNA test kits for determining your ethnicity, possible family connections, and ancestry. You need to use your cheek swab for this kit. The company owns a 5.5 million DNA database which might be smaller than other companies but is more effective.
4. Can a home paternity test be wrong?
Yes, no paternity tests can give you 100% accuracy. So when you buy an at-home paternity test, make sure to check their reviews and methods.
5. Are cheap paternity tests accurate?
Cheap service doesn't mean your test will be accurate or inaccurate. Its reliability depends on the company that manufactures it and the method involved in the test.
On behalf of the editorial team at Parenthoodbliss, we follow strict reporting guidelines and only use credible sources, along with peer-reviewed studies, academic research institutions, and highly respected health organizations. To learn about how we maintain content accurate and up-to-date by reading our medical review and editorial policy.
Disclaimer: All content found on our website is published for informational and/or educational purposes only; not intended to serve or offer any form of professional/competent advice. We put in every effort to ensure that all information is just, accurate, fool-proof, useful, and updated but do not assume responsibility or liability, to loss or risk, personal or otherwise, incurred as a consequence of information provided. Parenthoodbliss may earn commissions from affiliate links in the content.