A baby, in their 9th week after implantation, begins to develop bones, while the mother, on the other hand, experiences headaches.
The baby, this week, will measure .91 inches and weigh.07 ounces. To put things in perspective, this would be about the size of a hershey's kiss chocolate. Isn't this exciting!
9 Weeks Pregnant Ultrasound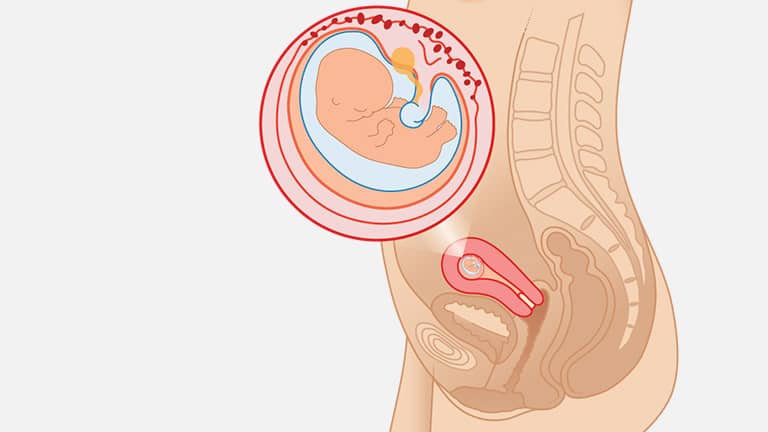 So what else is happening to the baby in the 9th week of pregnancy?
1. The development of the heart
The baby now has four heart chambers and the valves are forming which is why the heartbeat might not be as strong to be able to hear them through a fetal doppler.
The eyes of the baby are fully formed but won't open for a while and the lids will be fused shut until the 27th week.
The bones and muscles of the baby are starting to develop, so get ready for your body to share the calcium and vitamin D through the placenta. This is why it is crucial for you to consume at least 1,000 milligrams of calcium daily making it enough for the baby and yourself.
The web-like toes and fingers finally turn into the baby's hands and feet.
This is the time the baby undergoes major changes. They will cover the next three weeks double in length and will weigh from about .07 ounces to .49 ounces. Yes, seven times their weight!
What is happening to a mother's body in the 9th week of Pregnancy?
If at this stage you do not have any symptoms rejoice and cross your fingers as you might have breezed through the morning sickness. If not, we'll get through.
Here's what is happening to a mother's body in the 9th week of pregnancy:
You would experience being nauseous and vomiting at a peak of week 9 and it will decrease by the early of the second trimester. Take care of yourself and so whatever helps be it constant snacking, sucking on lollipops, or sip lemon sparkling water.
It is one of the most common symptoms during the first trimester. The body surges with the level of progesterone resulting in you feeling sleepy. So try taking naps and go to bed early.
This could be due to dehydration, digestion issues, or the growth of the uterus. If you end up with a severe cramp, contact your doctor.
This may be a result of hormone fluctuations, stress, vision changes, lack of sleep, dehydration, or hunger. Try to ease the aches by taking a nap, drinking water, snacking, and meditation or prenatal yoga.
It can be quite moody and it is completely normal. Reschedule your social engagements and get some extra sleep.
It is quite common to find yourself running to the bathroom every 20 minutes. It is really common in the first trimester as the hormone hCG is caused by nausea caused by extra blood flow. This makes the kidneys produce up to 25% more urine as compared to the usual. It is bound to grow as the baby gets big.
7. Weight gain at 9 weeks pregnant
The baby grows and gains about 1.1 to 4.4 pounds in the first trimester and twins 4 to 6 pounds. Contact a doctor in case you're under or over to make sure you're getting the right nutrition.
For some brownie points, here is a quick checklist to get your sailing through the 9th week of pregnancy:
1. Top tip: Always keep a stock of snacks ready in the nightstand, desk drawer, purse as well as your car.
2. Gear to consider: At 9 weeks pregnant you should get your maternity pants ready. These might just try into your new BFF as they are super handy and keep in the regular clothes a few weeks longer.
3. Recipes to try: Increase the intake of calcium in a fun way by trying out new recipes. Mac and Cheese?
4. Books we love: Take a seat, sip on a hot cup of tea or coffee, and pick your favorite book to read and turn those beautifully written page-turners.
The 9th week of Pregnancy might turn into a roller coaster. Therefore, you need to stay calm, meditate, and be healthy. Here is a checklist for you to go through:
1. Announce the news to your loved ones on social media platforms and your near and dear ones.
2. Have snack emergency kits ready and on the go. Make sure you place them everywhere possible.
3. Clear the calendar with unnecessary appointments or social engagements for the next few weeks. Make sure to always have time for yourself and rest well until you're closer to the second trimester.
FAQs : 9 Weeks Pregnant - What To Expect? Symptoms, Baby Development, and Tips!
1. What does the stomach feel like at 9 weeks pregnant ?
The waistline starts to grow at 9 weeks pregnant although it might not be pronounced or rounded enough. Your pre-pregnancy clothes would probably feel a little snug due to the thickening waistline and bloating as well as pregnancy hormones.
2. Is lying down on the stomach at 9 weeks pregnant ok ?
Laying on your stomach is ok in the early stage of your pregnancy and is unlikely to do any harm to your unborn baby. It is ok until the stomach is sizable. It is safe and generally comfortable.
3. Can you start feeling better at 9 weeks pregnant ?
It is for no doubt a tough time but as the weeks pass by, you should start to feel better. These signs of pregnancy could be extreme tiredness and nausea.