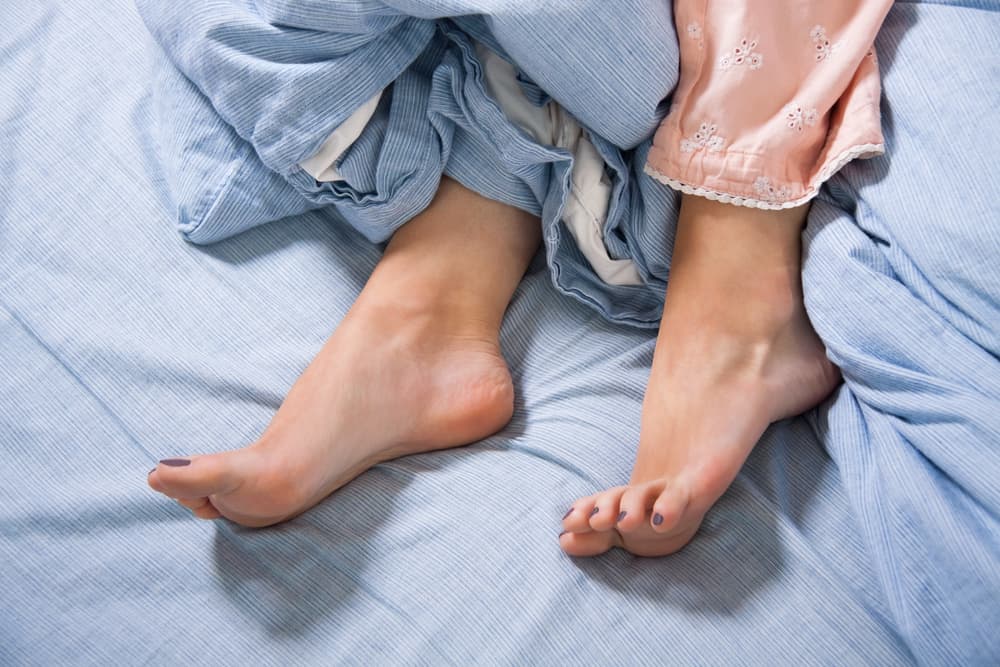 Pregnant women during their trimester go through a lot of changes, such as heartburn, multiple bathroom trips, cramps, insomnia, etc that occur mostly throughout the term. However, this restless leg syndrome is only experienced in the third and last trimester of pregnancy that like the others keeps the moms-to-be awake all night.
Restless leg syndrome (RLS) is said to affect about 15 percent of pregnant women, and if you fall into the club or you have signs and symptoms like disconcerting tingling, creeping, and crawling in your feet and legs where you feel the urge to move, then this article by Parenthood bliss is curated just for you. We will in the content below talk about the signs, causes, treatments, and what you can do about it. So, continue reading!
Legs Syndrome and Pregnancy: When does it start?
Irrespective of most women experiencing restless legs syndrome during pregnancy symptoms at night, there are no studies that support it to not affect or strike at any time of the day. This night Restless Legs Syndrome during pregnancy can be experienced when you're lying or sitting down and occur mostly until later in the pregnancy, that is during the third trimester.
However, the usual treatments like flexing and stretching your legs to relieve these leg cramps might not work but the prescription medications given by your healthcare provider might relieve the restlessness that may be off-limits during pregnancy.
What causes this legs syndrome in pregnancy?
The connection between pregnancy and RLS is not known by the experts, but it is said to be caused due to genetics as a common factor. The other possible reasons for this syndrome in pregnancy could include pregnancy hormones like estradiol and progesterone that surge during the last or third trimester of pregnancy until after birth that follow the same pattern.
On the other hand, environmental and dietary factors such as iron deficiency and/or sensitivity to various kinds of foods could also be a possible risk or cause of RLS in pregnancy. Adding on, the common symptoms during pregnancy like lack of sleep, anxiety, depression, and stress could cause the legs syndrome RLS. This is why it is recommended to take proper rest and move your legs and be active throughout the day.
What to do when experiencing restless legs syndrome in pregnancy?
The treatment for the RLS during pregnancy caused by the hormonal changes can be aided or relieved via the following ways:
Take sufficient rest:

Irrespective of the fact that this leg syndrome affects the women's good night's sleep, you must make sure to get enough rest as possible. This is because the fatigue due to the lack of sleep could end up making things worse. Therefore, this does not mean for you to force yourself to sleep by taking a sleep medicine when experiencing an RLS episode. In fact what you could do to ease the cramps out is to get up and slowly walk down the hallway a few times, as this gentle movement of the legs helps aid the discomfort making it good enough for the women to go to bed.

Always distract yourself:

When experiencing RLS during pregnancy, quickly distract yourself by solving a crossword puzzle, watching your favorite movie or an episode of a series, listen to music, or even take a hot bath.

Maintain a food journal:

It is always a good idea to maintain a food journal that helps keep a track of everything you've eaten during the course of the day. This will help you track down what causes the restless legs syndrome in the first place. As observed by most women who maintain a food journal, there are a few foods that result in the episode of the legs syndrome during pregnancy, this includes the carbs eaten late in the day. In the same way, you can maintain your own food journal to track down the foods that affected your RLS episode causing cramps in your legs. If not the food, you at least had yourself distracted whilst bringing down your creativity in the journal, which means, in either way, you have it all covered.

Consult your doctor:

Always consult your doctor when experiencing the symptoms of RLS and if you are facing an iron deficiency and if you would need iron and folate or any iron supplements. This is because if not consulted at the right time, the restless legs syndrome could result in anything serious, like the Willis Ekbom Disease, Parkinson's Disease, or iron-deficiency anemia all linked to the RLS. Nonetheless, try to add iron-rich and heart-healthy foods like spinach, beans, chickpeas, and dried fruit to your pregnancy diet.

Apply heat:

At times taking a hot bath or even applying a heating pad or ice pack could help you get relief from the restless leg syndrome.

Acupuncture:

Only with the help of the doctor, try to book a session of acupuncture, yoga, meditation, or any other relaxation technique.
How to prevent the prevalence of the legs syndrome during pregnancy and when will it end?
Unfortunately, there are no ways to prevent the prevalence of the RLS syndrome according to the health care providers. However, what you could do instead to aid or at the most ease out the temporary cramps is follow the steps above to prevent it from getting worse and get the condition reviewed.
Also, the occurrence of the restless legs syndrome RLS tends to go away within four weeks post-delivery. However, there are studies that have also found that in a few pregnant women, that is about on the 97 percentile, the restless legs syndrome RLS fades away in just a few days after giving birth.
Restless Legs Syndrome during pregnancy is a common symptom that is observed to occur in the third trimester of pregnancy. Therefore, regardless of it not having ways to prevent it, there are sure shot things that you can do at your end as mentioned in the article above. However, just in case the symptoms of RLS tend to rise or cause major discomfort, it is advisable to contact your doctor immediately to prevent any foreseen danger keeping both you and your baby in good health.
FAQs: Restless Legs Syndrome (RLS) in Pregnancy. Explained
1) Is RLS a sign of preeclampsia?
RLS is a syndrome that is observed to occur in Peruvian women or in those without prophylactic iron supplementation. However, on the other hand, Preeclampsia is common in RLS. That means that there is a possible association between the RLS and Preeclampsia.
2) What mimics RLS?
Here are things that mimic the RLS:
Alcoholism
Chemotherapy
Hereditary neuropathy
Rheumatoid arthritis
Systemic lupus erythematosus
Amyloidosis
HIV infection
Kidney failure
3) How can I stop the RLS in pregnancy?
Listed below are a few ways to help stop the RLS in pregnancy:

Try to avoid the intake of coffee, soda, or other caffeinated beverages.
Stay active and exercise daily.
Sleep well and in routine.
Apply heat.
To know more, refer to the article above