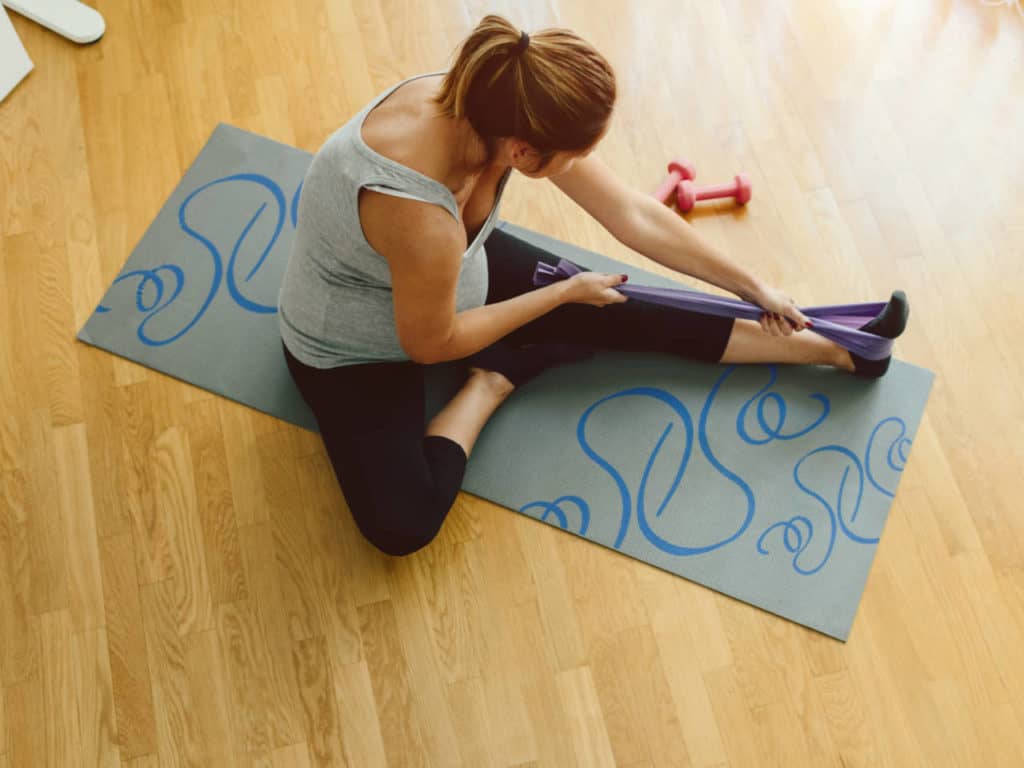 During pregnancy, women usually experience severe leg cramps when they are lying down. These painful spasms more often can come in between you and your good night's sleep. This is the last thing that you want or need! Your belly is getting bigger day by day and you're exhausted out of your mind. So, you're already having a hard time catching enough sleep these days, and these leg cramps are not helping.
What is a leg cramp? Why are they common during pregnancy?
These cramps can be defined as a sudden, sharp pain that usually occurs in calf muscles or feet during pregnancy. This is an indicator of your muscles that are contracting very tightly when they shouldn't be. 
They are more common late in your pregnancy and usually appear at night. It can get very uncomfortable and most of the time it's hard to know what to do.
You can find a lot of suggested reasons why cramps happen during pregnancy. It could be the extra weight that you are carrying, the changes in your metabolism, It could be a vitamin deficiency, being too active, or not being active enough. No one knows the truth.
These painful spasms that spread through the calves and up the legs are more often common among expecting women. Although they can feel it during the day, it is usually more noticeable at night. 
This is because the fatigue and fluid accumulation are at their peak. Also, during the nighttime when everything is quiet and still, it makes you mull over the pain.
When do these leg cramps usually occur during pregnancy?
Women usually experience these leg cramps in their second  or third trimester  of pregnancy.
What is causing these leg cramps during pregnancy?
Well, the short answer is that nobody is quite sure.
A lot of theories have blamed fatigue from carrying all the pregnancy weight, the compression of the blood vessels in the legs. It could also be possibly diet or an excess of phosphorus and a shortage of calcium or magnesium. Since pregnancy hormones seem to cause so many pregnancy aches and pains, you may as well just blame them, too.
What can you do about leg cramps during pregnancy?
While experiencing a leg cramp, you can try the following:
Simply straighten your leg, then gently flex your ankle and toes back toward your shin a bunch of times. You can do this in bed, but for faster relief, you might want to get up and do it on your feet.
You can try standing on a cold surface because it can sometimes stop a spasm. Using an ice pack or cool compress may also help.
If stretching and standing on a cold surface helped in weakening the pain, try a prenatal massage or a heating pad for added relief. Remember to not massage or add heat if pain continues.
How to prevent leg cramps during pregnancy - 7 Tips
Even though leg cramps during pregnancy aren't exactly preventable, there are a few steps you can take to minimize the regularity and duration:
You can do stretching exercises that can help stop cramps before they even strike. Just do this following exercise three times before going off to bed. Stand about two feet away from a wall and put your palms flat against it, then lean forward while keeping your heels on the floor. Try to hold this stretch for about 10 seconds and then relax for five.
Throughout the day try to alternate periods of activity with periods of rest.
While being seated, try to put your feet up as often as you can.
During the day wear a support hose.
Make a habit to drink at least 12 to 13 glasses of fluids a day.
Make sure you're having a well-balanced diet that includes lots of calcium (for example, yogurt, it also helps with pregnancy constipation) and magnesium (for example, bananas).
You should consult your practitioner to find out if you should be taking a magnesium supplement before going to bed.
When will leg cramps end while being pregnant?
These dreadful cramps can cause pain for a few days but there is nothing to worry about.
As mentioned earlier, leg cramps are especially common during the second half of pregnancy because pregnancy weight gain, increase in swelling, and overall fatigue are at their high points. The interruptions to your sleep are most frustrating. Sadly for most women, leg cramps tend to last through the third trimester of pregnancy. However, taking the above-mentioned steps to reduce leg cramps can help keep them at bay.
When to see your doctor about leg cramps?
You should talk to your practitioner, if the pain is getting severe and persistent and if you notice swelling or redness in the area. In extremely rare cases, you could have a blood clot in a vein that will require medical attention.
As a baby mama, you already have so many things to deal with. Creating a life inside of you comes with its pros and cons. But do not worry! You've got this! Because at the end of these painful yet fulfilling nine months, you'll be able to hold your bundle of joy.
Leg Cramps During Pregnancy: Cause & Remedies FAQs:
1) Do bananas help with leg cramps during pregnancy?
Many women may have heard the old advice to eat a banana to help prevent leg cramps. Although it's not bad advice, eating bananas alone will not solve your problem.
2) What is the best vitamin for leg cramps?
If you are looking for a supplement, magnesium citrate may be the most effective one. If you're magnesium deficient, you could have other benefits from increasing your intake of this nutrient.
3) Does vitamin D cause leg cramps?
Having a vitamin D deficiency can cause muscle aches, weakness, and bone pain in people of all ages.