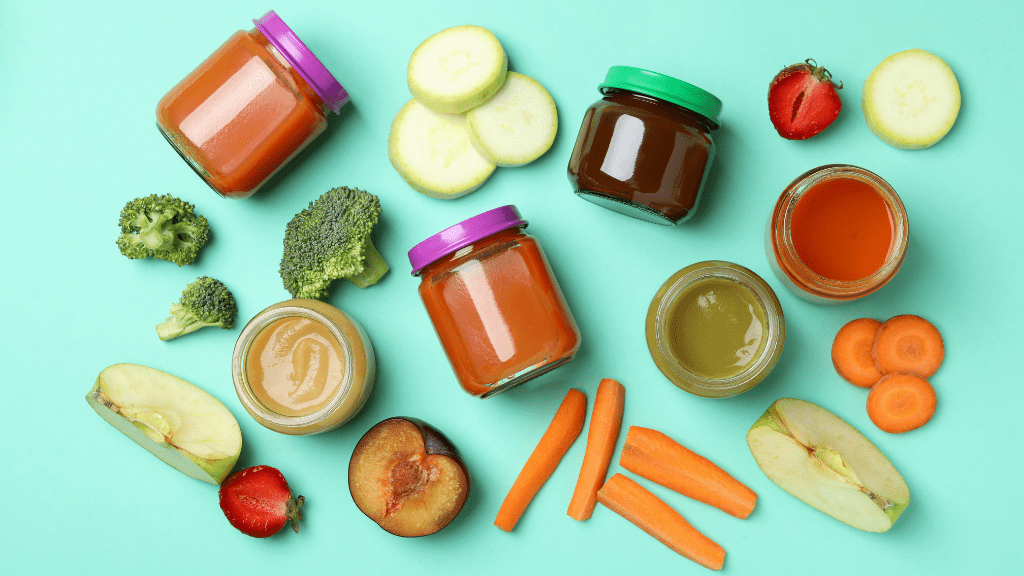 Breastmilk is an important source of nutrition at 6 months of age. However, it isn't enough on its own. To keep up with her developing needs, you'll need to start providing solid food to your baby, in addition to breastmilk.
Many parents make it more difficult for themselves by pressuring their children to eat the "correct" meals in the "proper" amounts. The job of a parent to a baby of such a small age, instead, is to provide sufficient balanced nutrition, which involves supplying the appropriate foods, rather than forcibly-fed food. 
Even though all babies have different food habits, we've got all the details you'll need to get started with nutrition for your babies at 6-12 months.
The Rold of Body Weight in Nutrition for Babies 6-12 Months Old
When we talk about nutrition for babies, an important indicator is their weight, especially when they're 6-12 months old.
At this age, babies grow about 3 to 5 ounces per week.
Breastfed babies can gain more weight compared to formula-fed newborns over the first few months after birth. However, formula-fed babies gain more weight in the second year than breastfed infants.
When your little one turns one, they will typically weigh about three times their birth weight. To correctly track weight increase over time, weigh your baby on the same scale with the same amount of clothing on (or, better yet, unclothed!).
Which Nutrients are Included in Nutrition for Babies 6-12 Months Old?
There's no such thing as an "insignificant" nutrient; nonetheless, some will have a greater impact on the nutrition of your babies when they are 6-12 months old. The nutrients that your growing baby requires to flourish are listed below:
Breast Milk

Iron

Omega-3 Fatty Acids

Vitamin A

Vitamin C

Vitamin D

Zinc
Breast milk provides all of the essential nutrients in the correct quantities. It not only helps to prevent allergies, illness, and obesity but also prevents diseases such as diabetes and cancer.
Mother's milk safeguards against infections such as ear infections. It is quickly digested and does not cause constipation, diarrhea, or stomach distress. As babies get older, they gain a healthier weight.
It has been clinically proven that on IQ tests, breastfed babies do better.
Iron is especially crucial for breastfed infants who receive little or no formula. This is due to the low iron content of breastfeeding. The Centers for Disease Control (CDC) states that breastfed babies should take an iron supplement until they are introduced to iron-rich meals at 6 months.
The body absorbs iron considerably better when you combine iron-rich plant foods with vitamin C-rich foods. Add a touch of lemon to beans or citrus to chopped, sautéed leafy greens, for example.
Sources of Iron
Beet, bok choy, collard greens, kale, spinach, swiss chard, etc.

Beans, such as black, garbanzos, kidney, lentils, navy, pinto, etc.

Tofu

Iron-fortified infant cereals
Omega-3 fatty acids are an essential part of a balanced diet and are especially necessary for children's growth and development, and they're linked to a variety of health advantages.
Sources of Omega-3 Fatty Acids
Canola and soybean oil

Salmon and sardines

Seaweed, nori, and kelp

Walnuts, chia seeds, and ground flax seeds
Vitamins benefit your kid from head to toe, ensuring optimal eye, skin, and immunological development.
Sources of Vitamin A
Fortified whole milk

Red bell peppers, carrots, sweet potatoes, and other vegetables and fruits that are red and orange

Dark green leafy vegetables like chard, collards, kale, mustard greens, and spinach

Pickled herring

Yogurt
Vitamin C is a vital component that is required for good health and overall nutrition for babies throughout life.
Sources of Vitamin C
Broccoli

Cantaloupe

Grapefruit

Kiwifruit

Orange

Red bell peppers

Strawberries

Tomato
Note: Non-prescription vitamin C supplements are not regulated by the US Food and Drug Administration (FDA), and they are not assessed for purity or safety. (For more details on this, read our blog on Vitamin C Dosage for Kids).
The American Academy of Paediatrics states that breastfed and combination-fed (breast milk and formula) newborns should be given 400 micrograms of vitamin D supplement in the liquid state each day and starting soon after birth.
Sources of Vitamin D
Fortified whole milk

Fortified whole-grain cereals

Fortified milk alternatives

Canned light tuna

Egg yolk

Salmon

Sardines
Zinc is a trace mineral that we all need throughout our lives, and children are no different! Zinc has been shown to help children's immunological function, growth, cognitive development, and gut health.
Sources of Zinc
Asparagus

Beef

Fortified grains

Garbanzos

Lamb

Lentils

Pumpkin

Quinoa

Sesame seeds

Shrimp

Spinach

Tahini

Tempeh

Tofu

Turkey

Yogurt
Tips on Nutrition for Babies 6-12 Months Old
Your little one is still learning how to eat solid foods when they're between the ages of 6 and 9 months. Naturally, the quantity of food they consume may be limited.
In this period, feed your infant two to three meals each day, with each meal containing only 2 to 4 tablespoons. This amount varies, so always pay attention to their hunger and fullness signs and never force them to eat.

For proper nutrition for babies, in addition to breast milk or formula, they should be ready for 3 full meals and 1 to 2 scheduled, nutritious snacks per day by 6-12 months. 

Expect meal sizes to increase to around half or one cup per meal (less for snacks). Your baby will most likely be eating three complete meals and two to three nutritious snacks per day by the time they turn one.
When you try to incorporate all the proper nutrients and feeding tips for your little one, you might have a few questions in mind. But worry not! We've already answered a few common questions here. 
How Can You Include More Veggies and Fruits in Your Child's Diet?
When you're only thinking about one day, it can be difficult to make sure your child is getting all of the vitamins and minerals he or she needs for development. Instead, focus on balancing their nutrition over a week.
Prepare weekly meal plans and make sure you include vegetables and fruits in your diet to make balanced meals. You can try giving them boiled, mashed, or pureed veggies and also soft-boiled food items as snacks.
What are Some Healthy Snacks for Your Child?
Your child's stomach is so small, and they can't eat a lot at once. As a result, snacking becomes a great way for children to receive more of the nutrition they require. Rather than teaching kids that snacks are an encouragement to eat junk food, teach them to "eat the rainbow" by providing a variety of vegetables and fruits. Protein, whole grains, and produce should all be included.
The Dietary Guidelines for Americans, 2020-2025 recommend that children under the age of two have no added sugar. Always look for no added salt or sugar on the nutrition label when purchasing packaged foods.
What is Responsive Feeding?
Responsive feeding means paying attention to your baby's appetite and fullness indications. 
This practice aids in the development of future good eating habits in your child. It also enables kids to learn to recognize their own hunger cues and self-regulate their eating habits, consuming only as much food as their bodies require each day.
The nutritional requirements of your little ones are ever-changing! It takes time to adjust to solid foods. Remember that your infant is discovering and learning new ways to use their mouth, tongue, and throat, so there's no rush!
Nutrition Guide for Babies 6-12 Months: Weight, Nutrients, & Other Tips FAQs
1. What nutrients does a 12-month-old need?
As per the American Academy of Paediatrics, toddlers need roughly 1,000 calories per day, 700 mg of calcium, 600 micrograms of vitamin D, and 7 mg of iron by the time they reach 12 months.
2. When can my baby have solid food?
Around the age of six months, your child can start eating solid foods. Your child can eat a variety of meals from several food groups by the time they are 7 or 8 months old. To ensure that your child receives proper nutrition from the age of 6 to 12 months, you can give them cereals (for infants), cheeses, fruits, grains, vegetables, and yogurt.
3. What is the importance of mother's milk?
Breast milk provides all of the essential nutrients in the correct quantities. It not only helps to prevent allergies, illness, and obesity but also prevents diseases such as diabetes and cancer. Mother's milk safeguards against infections such as ear infections. It is quickly digested and does not cause constipation, diarrhea, or stomach distress. As babies get older, they gain a healthier weight.