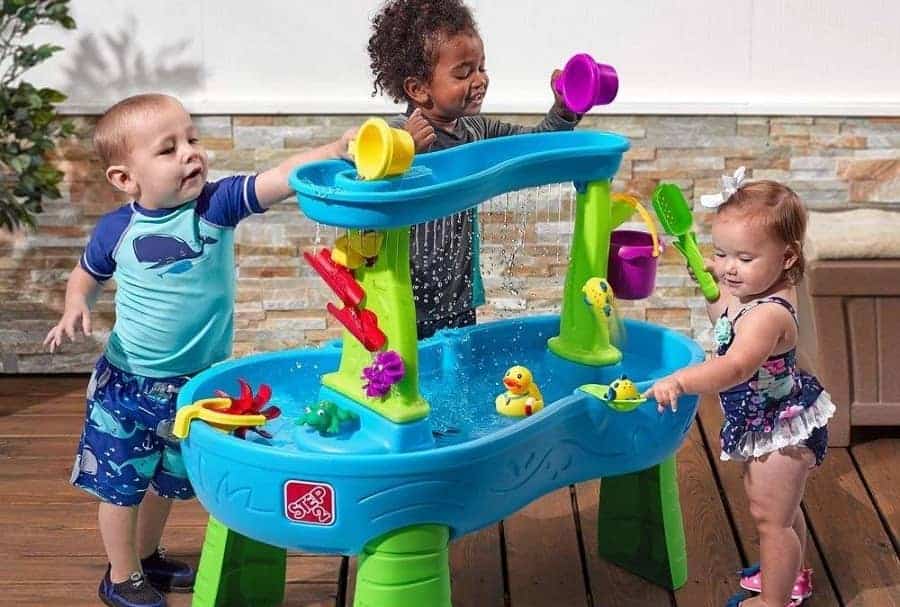 Toddlerhood is the best time for a baby as they start to understand themselves as individuals and begin to grow their interest in certain things around them. Water tables are the best way to draw the interests of the toddlers, building their sensory play, encouraging learning skills, and assuring smiles on their faces.
Best Water Tables For Toddler: What To Look For When Purchasing a Water Table For a Toddler?
Look for water tables that are long in durability and can be used for a few years to come.
How versatile is the water table? Could it be used with other sensory objects too, like sand, rice, beans etcetera?
This is a feature that parents need to choose from, as to if they would like the water table to have its own drain/plug route, or not. Most water tables tend to leak at a particular time, however, by adding a sealant you could be well prepared.
Does the water table allow 1-2 kids at a time or more? The more the size of the table, the toddler gets to have more friends over and encourage their communal growth.
Top 8 Best Water Tables For Toddler To Choose From In 2022
1. Step2 rain showers splash pond water table: Best Water Tables For Toddler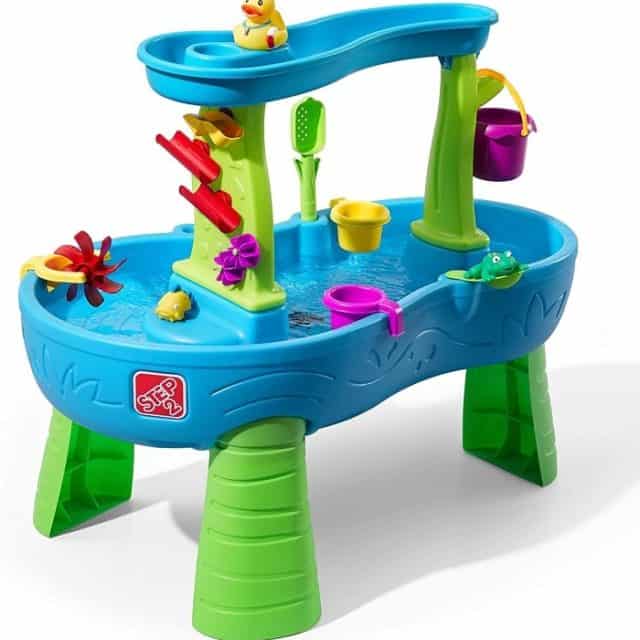 This water table resembles a mini-water park where kids get to fill their buckets from the pool below, transferring it to the tray. The water then travels through the shutes towards the spinners mimicking the rains. It includes a little frog, a fish, and a duck, with 3 buckets, scoopers, and the water wheels, accommodating 3-4 toddlers.
Pros
Easy maintenance
Drain located at the top for quick access
No leakage
Cons
Needs to be assembled
Not pre-drilled
2. Little Tikes Spiralin' seas waterpark play table: Best Water Tables For Toddler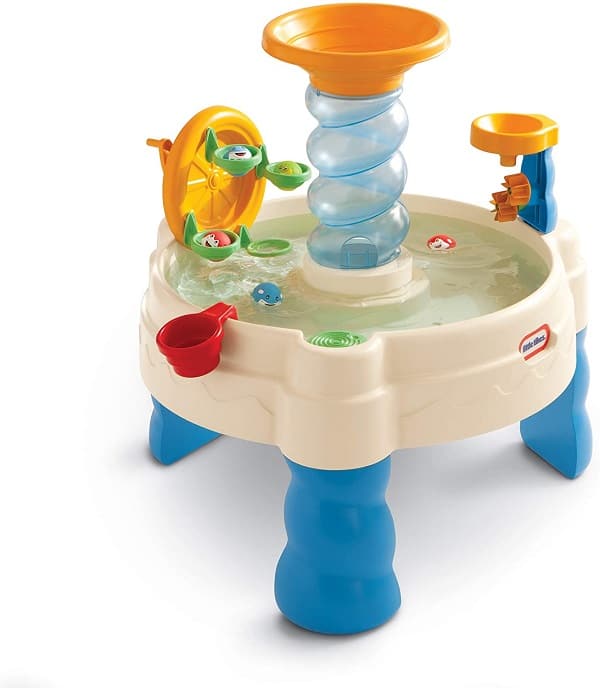 This is a 29.5" x 31.5" inches durable water table that is a good fit for toddlers of age 2 – 6. It includes activities, a cup, 5 ball-shaped characters, and holds around 7 gallons of water. It features a spiral tower allowing the toddler to pop the squishy balls in it and spiral down the river, powered by a green spinning wheel.
Pros
Builds fine motor skills
Quick learning
Adorable
Cons
Needs to be assembled
Delicate
Can have leaks
3. Step2 Splash and spill seaway water table: Best Water Tables For Toddler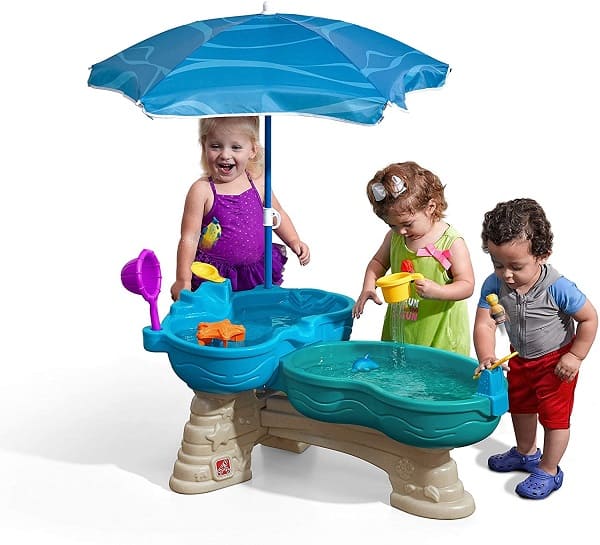 This water table comes with 2 separate; small for kids over 12 months, and big for kids of 7 years, doubling the fun. It can hold up to 5.5 gallons of water (2.22 on the top and 3.24 gallons on the lower) and is sized 25" x 43.5" inches that doesn't take up much space. Also, the water table can accommodate up to 5 kids at a time.
Pros
Includes small sea creatures
Has slides
Comes with fun accessories
Umbrella included
Cons
No drainage available
Needs to be assembled
4. Step2 cascading cove sand and water table: Best Water Tables For Toddler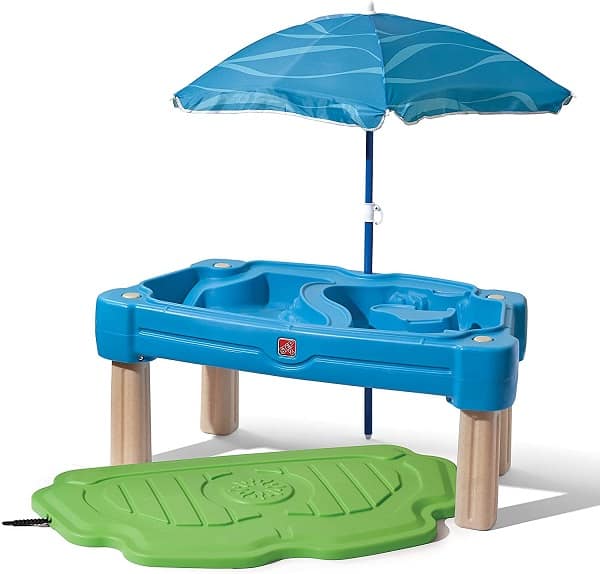 This is a unique water table that has a sand play area attached. It includes an umbrella, easy cover with elastic straps attached, 2 boats, a shovel, cup, and accessories. The water table can hold up to 3 gallons of water and 10 lbs of sand with a good drain mechanism.
Pros
Easy to assemble
Includes an umbrella
5. Little Tikes anchors away pirate ship water table: Best Water Tables For Toddler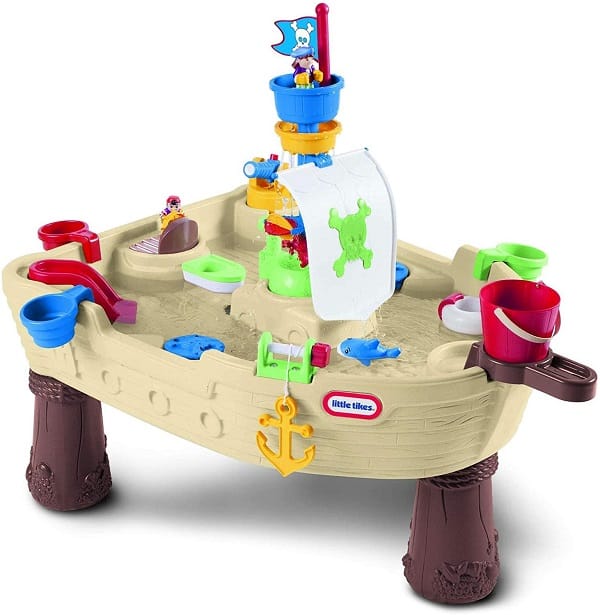 Does the toddler like pirates? If yes, this is a great fit as it is truly themed around pirated, allowing kids to shoot water using a cannon, lower and lift the anchor and drive the little pirate boats. This water table is more realistic as it creates waves and currents, giving the toddlers a real pirate experience. It can accommodate up to 4 or 5 toddlers at once and comes with 2 miniature pirates, a strainer, a shark that squirts, a life preserver, a little boat, a scooper, and a bucket doubling the fun with friends.
Pros
Durable
Realistic
Pirate themed
6. Step2 dino dig sand and water table: Best Water Tables For Toddler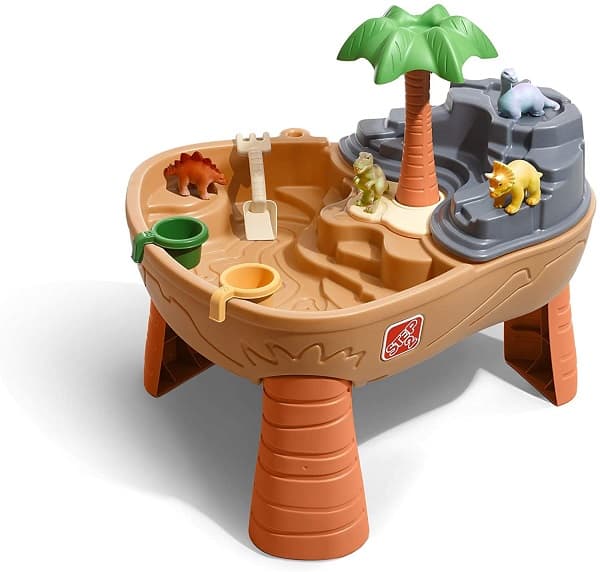 As the name suggests, this water table is themed around dinosaurs and is a combination of a sand and water table. This versatile table includes a volcano-shaped cover for the sand table, 4 dinosaur miniatures, a shovel, and 2 rubber scoopers.
Cons
No drain for the water table
No fancy pumps, spinners, sprinklers, or cannons
7. Step2 Big Splash waterpark water table: Best Water Tables For Toddler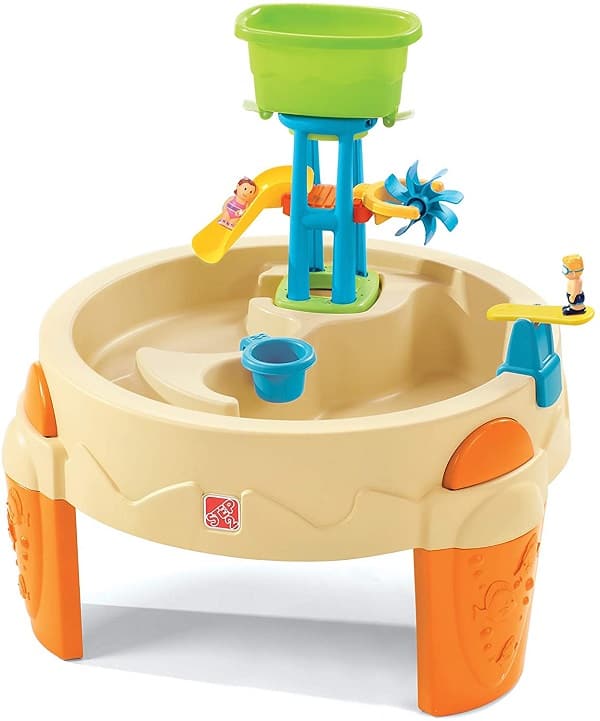 This water table or a large bowl of joy is the most popular water table amongst the parents and kids. It comes in a size of about 31.5", with a porch, and backyard. It can hold up to 4 gallons of water, great for toddlers of 18 months – 5 years, accommodating 2 kids at a time. The set features a splash water tower basin, movable spout, water slide, and water scoopers.
Pros
Builds motor skills
Includes a removable catapult
Has a tight drain plug
Cons
Could lead to leaks
Tough to unclog
8. Little Tikes fish 'n splash water table: Best Water Tables For Toddler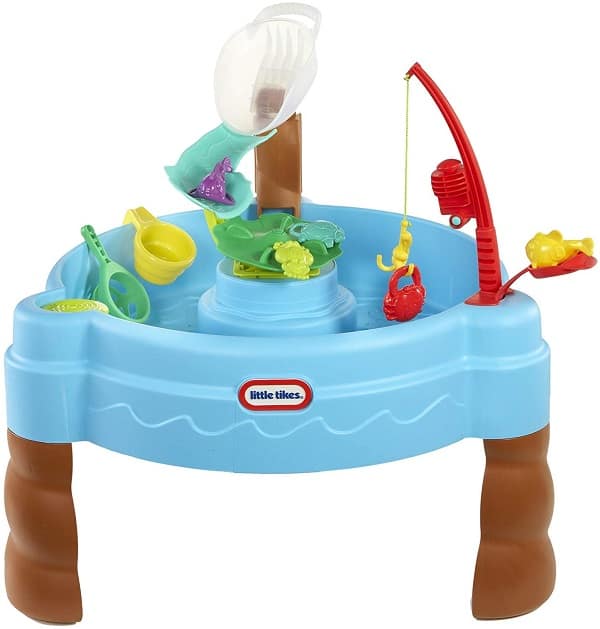 It features a leveled play area, great for toddlers from 2 – 5 years, with a round table with a fishbowl waterfall that can hold up to 7 gallons of water. It comes with a water cup, fishing net, and a fishing pole, and built-in accessories like a launcher and a dry spot.
Pros
Fun
Has built-in accessories
Includes a launcher
Easy drainage
Cons
●       Cannot accommodate preschoolers
Best Water Tables For Toddler Final Conclusion
Water tables are great fun for toddlers to play in, helping them build their motor and communal skills. Therefore, whichever water table you purchase, make sure you check for the benefits it comes with and your assured smiles on the face of the little one. Happy Purchasing!
Best Water Tables For Toddler FAQs
1. What is the water table ?
It is a universal fact that kids love water and sand, this is a table that has both! It encourages the little ones to develop fine motor skills while they dig in the sand table and splash while playing in the water table.
2. How can one keep the water table clean ?
Empty the table out
Apply soap on a scrubber and scrub the table clean
Rinse thoroughly with fresh water
Wipe it clean
3. When can a kid start using a water table ?
These water tables are generally designed for children from 18 months - 4 years. However, parents might need to supervise in the initial days until the kid learns its functioning, avoiding any mishaps. They are also available in complex and bigger sizes for older children, doubling the fun.