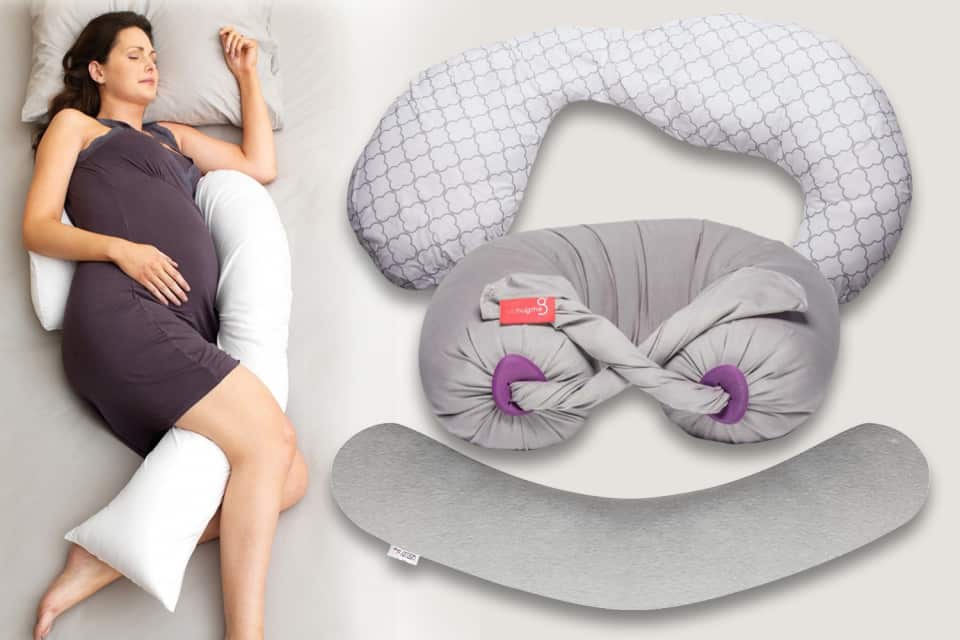 Parenthoodbliss selects the best products based on real-life testing conducted by our staff, members of our user community, the contributors, as well as through research and feedback by experts; here's more about our product review process. The details and prices are accurate as per the publishing date and we may earn commissions through the shopping links on this blog.
Pregnancy pillows are a great comfort and your pals for the trimesters ahead for you to have the best and comfortable naps during pregnancy.
Yes! It's not fair for the pregnant ladies to be pregnant and exhausted and are unable to get their sleep they desperately require due to the baby bump and its bladder. These best pregnancy pillows are of great help to all the to-be mothers providing them comfortable, and find new sleeping positions.
However, there are a lot of pillows available in the market to choose from and to help you find that one pillow we have listed below the top best six pregnancy pillows for you to choose from.
What is a pregnancy pillow ?
These pillows fall into two categories: the wedge and full-length. Where the wedge pillows are shaped in wedge-like cushions help to reduce the back strain by sliding under the belly to support the growing bump while you're asleep on your side. This helps the best blood flow to the uterus while reducing the back strain. The wedge pillows can also be placed behind to prevent from rolling onto your back and can be used between your knees to help ease lower back pain. It can also help prevent heartburn, all you need to do is add the wedge pillow under your head. This will elevate the upper body and reduce the symptoms of heartburn.
On the other hand, a full-length pregnancy pillow runs the length of your body and comes in various shapes that you can wrap around yourself.
Do you need a pregnancy pillow ?
Moms need better night rests and any extra support works wonders. Pregnant moms can use a regular pillow to bolster their bellies, back, and in-between your knees too but they usually shift out of place during the night. However, it's easier to purchase a pregnancy pillow and they stay in place supporting the moms, unlike the regular pillows.
What To Consider When Purchasing the Best Pregnancy Pillow?
The choosing of the best pregnancy pillow can largely depend upon the needs of every person and the other common needs, such as the support, materials used, the fabric used, etc.
To help you pick your best, here are a few things to consider and keep in mind:
This is crucial when it comes to choosing the best pregnancy pillow from the wide availability in the market. As you are aware, sleeping on your left side is recommended by doctors as it places the least amount of strain on your body and does not affect your baby inside your womb. For this very reason, most pregnancy pillows that you'd find are C or U-shaped, enabling you to sleep on your side.
The pregnancy pillows with the right loft are critical for the alignment of the spinal and prevents snoring. Therefore, any pillow that is thick might push the head up, and, on the other hand, thin pillows allow the head to droop. 
So, if you are a mam bear with broad shoulders and heavier heads, we recommend buying a thicker pillow to help fill the space between the mattress/head/neck with adequate support. Likewise, those with narrower shoulders must opt for thinner pregnancy pillows without excessive lift.
THe support of these pregnancy pillows mostly depends on the shape. A full body pillow supports different parts of the body, whereas an oversized model allows you to cradle from head to toe, and a smaller one like wedges are firmer and only support one area.
Different pillows provide different levels of firmness. Those made from polyester fiberfill are softer and best for extra cushioning, whereas the foam-based ones are firmer and provide additional support to the stomach and lower back.
This refers to the modeling of the pregnancy pillows and its alleviation on the pressure points. This is essential for those dealing with chronic body aches.
There are two major categories of pregnancy pillows: (1) body pillows, and (2) smaller support pillows. The body pillows come in different shapes, such as C- and U-shaped that are designed to support the head, abdomen, neck, back, and knees. On the other hand, the smaller ones, like the wedge-shaped ones, provide support to only one area.
Most pregnancy pillows cost anything less than $100, nevertheless, it's important to know that the cost is no deciding factor. While quality could correlate with the cost, most well-made pregnancy pillow options come under $50. If you are on a tight budget, you could consider buying a smaller and pocket-friendly pillow, like a wedge.
Quality is one such factor that impacts breathability, durability, support, and firmness. Where polyester is the most common type, it is affordable and durable. Plus, the choice of foam also makes the pillow firmer, providing relief from pressure.
8 Best Pregnancy Pillows of 2022: Choose Your Favorite!
Here's a list of the best pregnancy pillows to choose from:
1. Leacho Snoogle Total Body Pillow: Best C-shaped Pregnancy Pillow ($69.99)
The Snoogle Total Body Pillows are designed by registered nurses and moms. These pillows support and align your hips, back, neck, and belly due to their C shape. Depending on the direction of the C-shape your back or torso will receive the cushioned effect. The pillow can also be tucked between your knees.
It is washable; all you need to do is remove the sham-style cover and throw it in for a machine.

This pregnancy pillow is 5 feet long and nearly 25 inches wide.

The material is polyester and the total item weighs 4.8 pounds.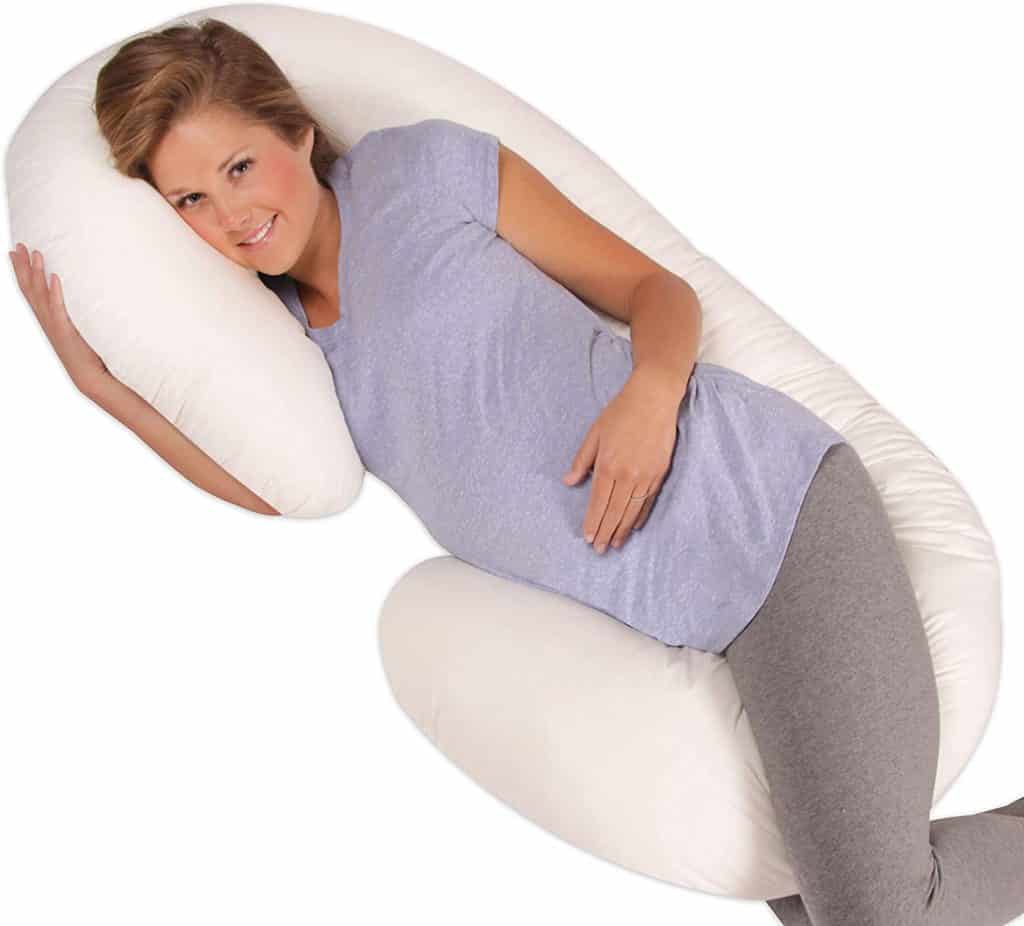 As a very adamant back sleeper, having to side sleep for pregnancy became a pretty frustrating task for me. I followed the advice of pregnancy forums and decided to try out the Snoogle. My biggest complaint became that I would get sweaty (it was summer at the time and I overheat pretty easily) with this big pillow, despite it being more of a cooling texture. It was also hard for me to get a full night of rest with this thing at first, mostly due to me not being used to the restriction of sleeping against something and on my side (I'm also very adamant about having space when I sleep lol).

So I pretty quickly gave up and desperately spent a bunch of money on smaller pillows for side sleeping. Those did work to some extent, but I started to have issues with my hips getting incredibly sore due to the lack of support.

After the weather cooled off a bit, and I had more side sleep training, I went back to trying the Snoogle and immediately had to best nights of sleep I'd had in ages. It really is the best pregnancy / side sleeper pillow I've tried – I just wasn't patient enough to break it in the first time around! I now sleep comfortably on my sides and have adjusted to flipping in the middle of the night. And, as a back sleeper, I can say no other pillow has given me as much support when I really just want to go halfsies and lean partially back when I'm sleeping!

I'd recommend it to any mama who struggles with the adjustment – just be patient and you will get used to snuggling with this thing!
– Chris
I bought this product back in 2017 when I was pregnant with my son. It was recommended that I buy one by my chiropractor. I already had a bad back and knees from past injures and needed some support. This pillow was a huge help. It relieved some of the discomfort as my belly grew by supplying support under my belly when I laid on my side. And it gave the needed support between my thighs, knees and ankle to help me keep the proper body alignment. It is a little awkward because of the size of the pillow, takes up a lot of room, and does require a good amount of work to transfer from side to back position, but thats normal for being pregnant any way. I highly recommend it. I used it even after the birth to help me sleep and even used it as a breastfeeding pillow while in bed. And even when I was utterly exhausted and needed to hold my baby while lying down, I maneuvered the pillow so it created a prefect donut like pocket and supported my arms so I couldn't move them. This allowed the baby to sleep in my tired arms without me having to hold them up and made it so I couldn't rotate, roll or move my arms. Later my husband then used the pillow as his body pillow for a yr. We used it after that as a blockade so my son couldn't roll off the bed. And now my son, who is 4yrs old, uses the pillow to cuddle with. The pillow case is easy to remove but a little work to reapply. I say it's an amazing deal to have gotten so many uses out of it.
– DVILL
For more product reviews visit Amazon
2. Boppy Side Sleeper Pregnancy Pillow: Best Pregnancy Pillow for Side Sleepers ($35)
They are firm, foam cushion pregnancy pillows that help ease the pressure when you hurt your back, belly, or your knees. It can also be used as extra lumbar support while you're sitting for long hours, or as a pillow to prop up the arm as you nurse or hold the baby.  The best part is that it's small that makes it travel friendly and has a Pima cotton cover that's washable.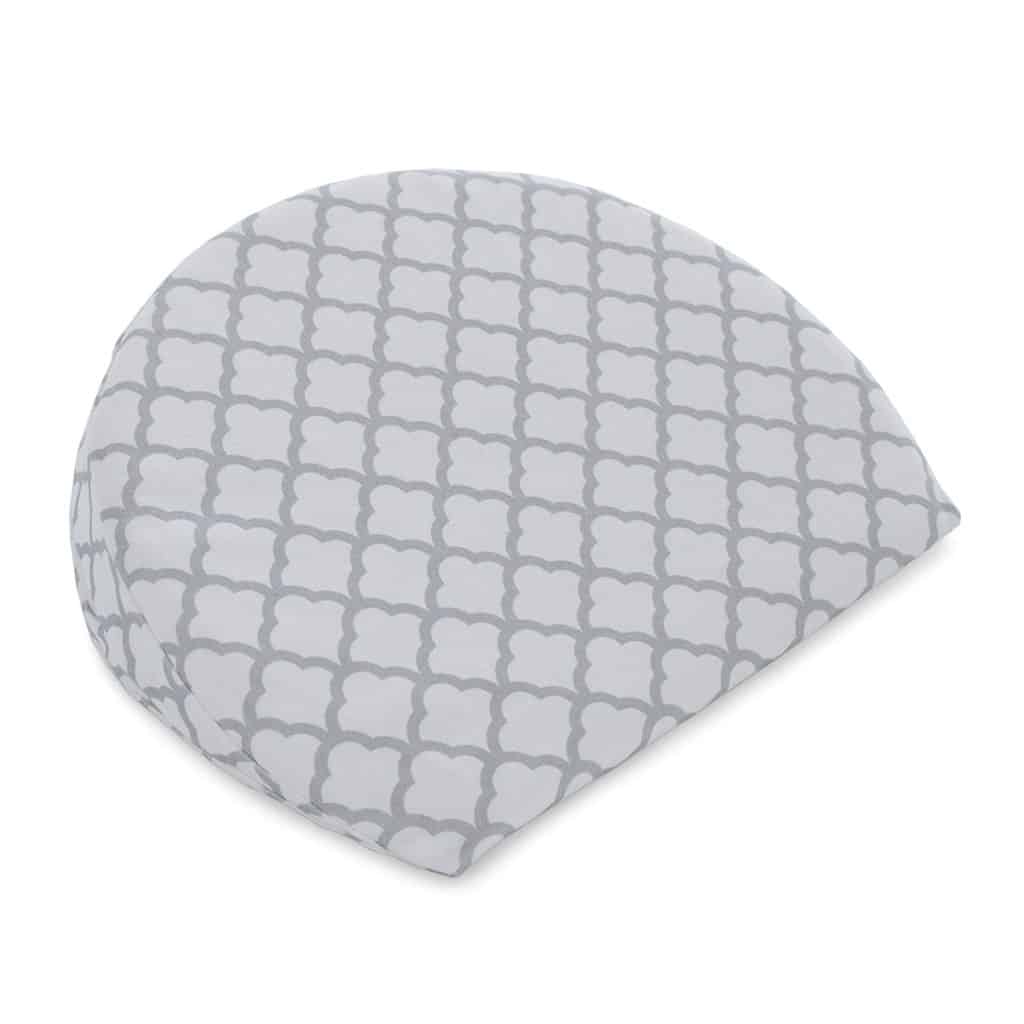 Love my new pillow and wish I had ordered it sooner! It's the perfect height/slope up and support for the bump. Takes the pain away from gravity pulling it down. It's small and easy to move when switching sides. Doesn't take up the whole bed like the huge U-shaped pillows do.
– Katie
How I slept during the beginning of my pregnancy without this pillow I don't know. I love this pillow. I use it between my legs for knee pressure, for elevating my belly and to prop my leg up. Get this pillow! 
For more product reviews visit Amazon
3. Boppy Pregnancy Support Wedge: Best Pregnancy Body Pillow ($20)
The pregnancy wedge pillow from Boppy is a full line of maternity pillows that are designed to support the needs of a pregnant mom. Their prenatal pillows support even postpartum recovery stages where a mum needs some extra care to get back to normalcy.
Available in grassland and taupe textures,

these

best body pillows for pregnancy

are firm foam cushion pregnancy pillows that help ease the pressure in your back, belly, or knees.

It can also be used as extra lumbar support while you're sitting for long hours.

You may also use it as a pillow to prop up your arm while nursing or holding the baby.

The best part is that it's small which makes it travel-friendly.

It has a Pima cotton cover that's washable.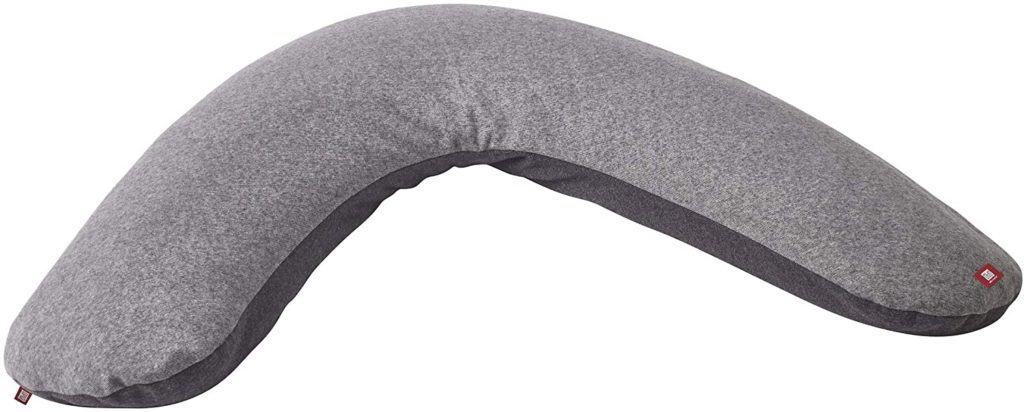 This pillow is amazing! Very light weight, yet firm. Flexible, yet sturdy. Material is very soft and I appreciate that it can be removed for washing. I have yet to use this for nursing, but has been a life saver during pregnancy! Highly recommend. 10/10!
OMG love this pillow. Allows me to use it when breastfeeding my baby then let him use it during nap time. I also used this pillow when I was pregnant. For the price, you can't get a better pillow.
–  Kimberly
For more product reviews visit Amazon
4. Beaba Big Flopsy: Best Contoured Pregnancy Pillow ($99.95)
The Boppy side sleeper pregnancy pillow is a new shape pregnancy-pillow scene with a Boppy. It has two puffy wedge-shaped cushions that are tethered together by a band of stretchy and jersey fabric. The cushion helps by supporting your belly as the other supports the back that prevents you from rolling onto your stomach or back in the middle of the night. Both the cover and the pillow are machine washable and unlike the wraparounds or wedge pregnancy pillows there is only one way to sleep.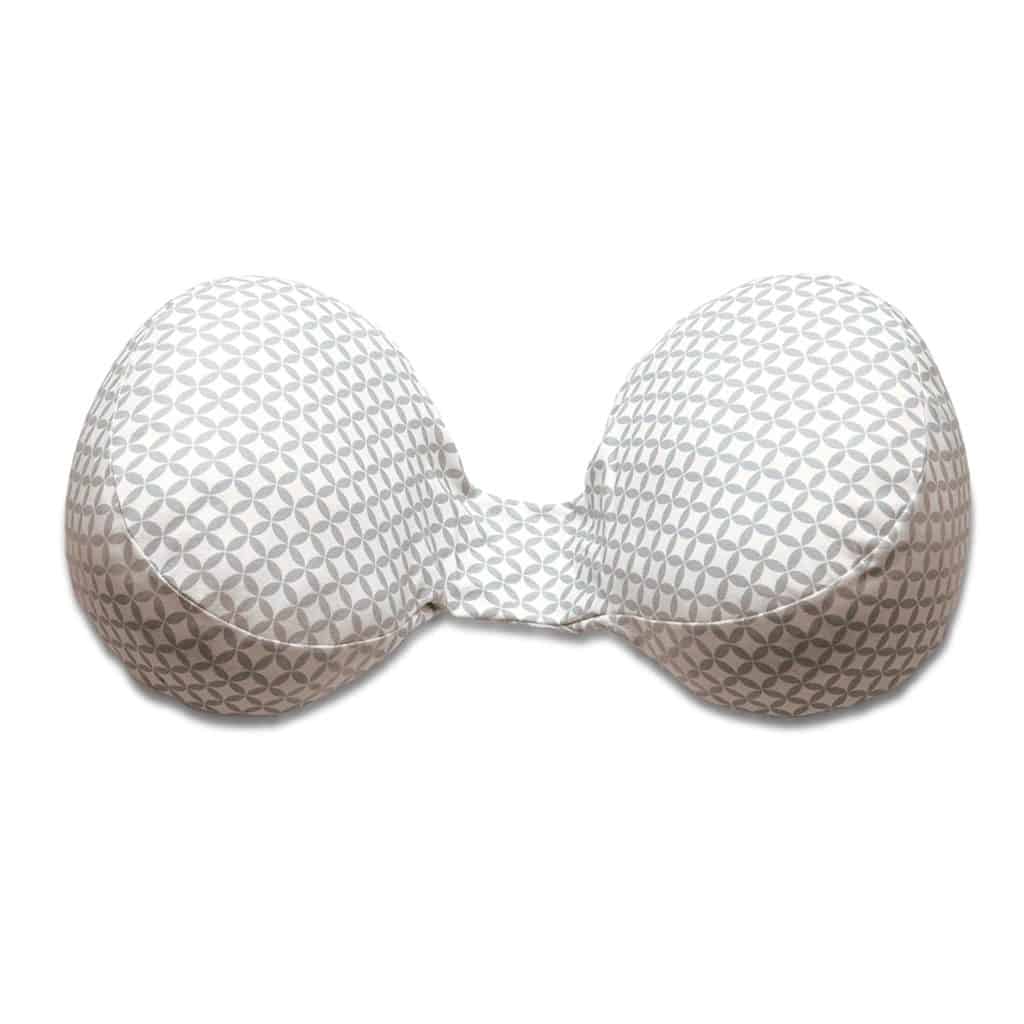 I'm glad I gave it time before reviewing, because every week of pregnancy seems a bit different. At first I wasn't wild about it, felt like trying to sleep between two marshmallows and I could feel the zipper in my side. I set it aside for a while but now that I am further in to the second trimester it suddenly feels perfect & I've been sleeping much better. The center part is very stretchy & it helps to position it low around your hips while seated on the bed then lie down on your side/back to adjust & snuggle in. Not for everyone but I love it!
– A. Lucas
I'm not a review writer but I've been using this pillow for the past several weeks and it has made the biggest difference in my ability to get a good nights sleep. I tried 3 different maternity pillows before I landed on this gem! I crawl into bed and feel immediate relief on my back and belly. It continues to be wonderful throughout the night! I love how you don't have to turn with the pillow. You can move freely and have excellent support.

Anyhow, do yourself a favor and get this pillow!
– Sarah
For more product reviews visit Amazon
5. Back and Bump Best Pregnancy Pillow
Do you love sleeping on your stomach? This Cozy Bump Pregnancy Bed is the fix for it all. It helps you sleep on a growing belly that gets in the way while you sleep on your stomach and is like the blow-up pool floaty but covered in a fuzzy, soft material that's angled to relieve your hip and backpressure. The hole in the pregnancy pillow present for your belly is adjustable fitting according to your preference at different stages or you can choose to inflate the ring around the hole.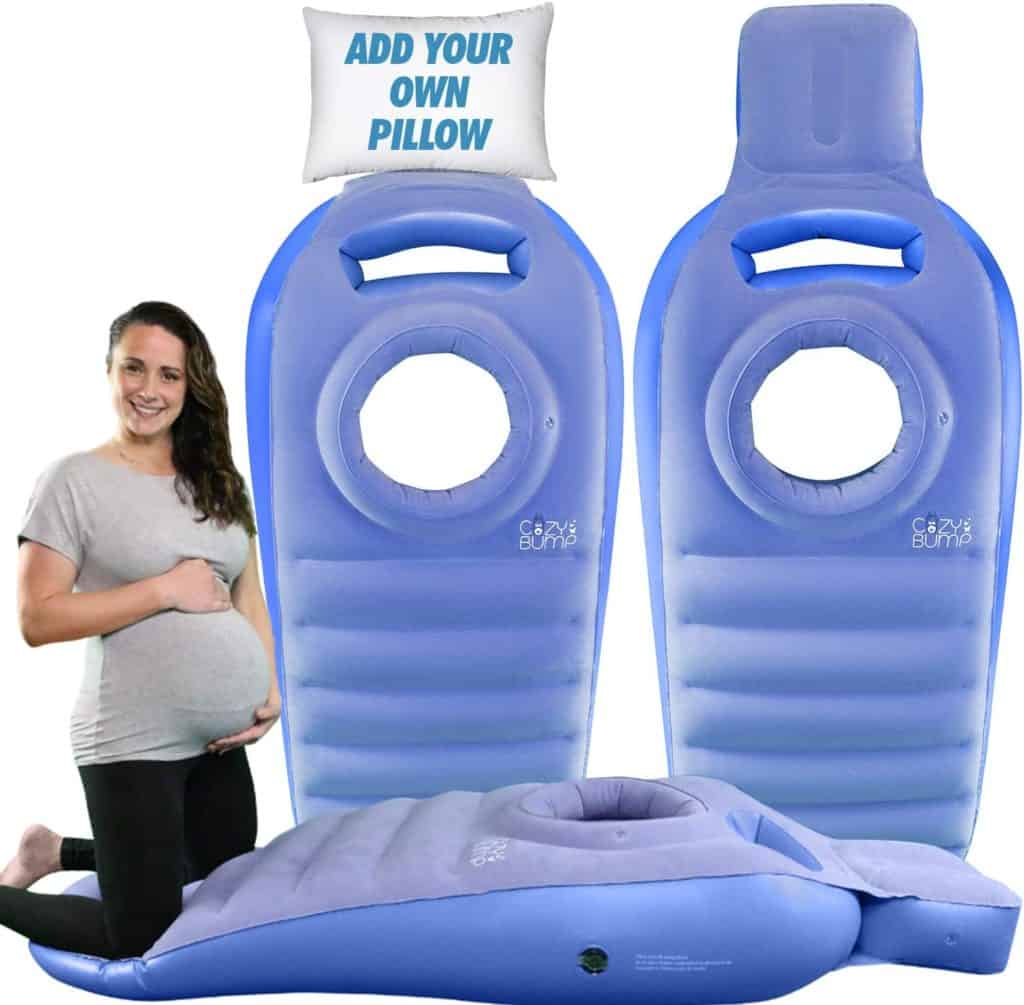 I'm so sad I waited until my last pregnancy to buy this. It was delivered and I immediately blew it up and tried it out. After letting some air out here and there to adjust the comfortability on my bump the pressure on my back went away and I could breathe so much easier. This is going to make the end of my pregnancy very enjoyable especially after long days of teaching.
– Ashley
My husband kindly blew it up for me with a air mattress pump for camping. So it worked great. Once he filled it up and I laid on it, I was instantly relieved from pain and I felt extreme comfort. The more pregnant I get the harder it is to get comfortable and find positions to sleep in. I'm a stomach sleeper and back sleeper and both are dangerous for the baby and you after a certain period in your pregnancy. I believe second trimester. Don't quote me on that. Though I'm 22 weeks and a few days and I am not able to sleep like that. I'm only allowed to sleep on my sides. Which after a while really makes your legs sore. So this baby bump mattress was a huge winner. I wish I could sleep on it all night next to my husband, in our bed, but it's a little too big for our queen sized bed. This is nice for when you want to rest and take the weight off your feet and your day. When I laid on it I felt my lower back feel a relief as well. I couldn't be happier with this. They do give you, what they call a swaddle to throw over the hole for comfort. I think a sheet would make this even better. You definitely can sleep on this. Had I laid on it any longer I would have drifted away. After I'm done with this, I will be gifting a pregnant women with this. So glad I got this. I only wish I got this sooner. That's baby bump! So worth the money.
– Dlane
For more product reviews visit Amazon
6. Queen Rose Oversize Best Pregnancy Pillow
The Queen Rose Oversize Pregnancy Pillow is a U-shape pillow that provides a bumper cushioning on either side of your bump. Simply rest your head at the bottom of the u-shape irrespective of the side you choose to sleep in and you'll have a pillow to squeeze. The Inner curves on the long attachment or rather the "arms" help give you extra support or your lower belly and back. The Queen Rose pregnancy pillow is machine-washable while the cover easily zips off.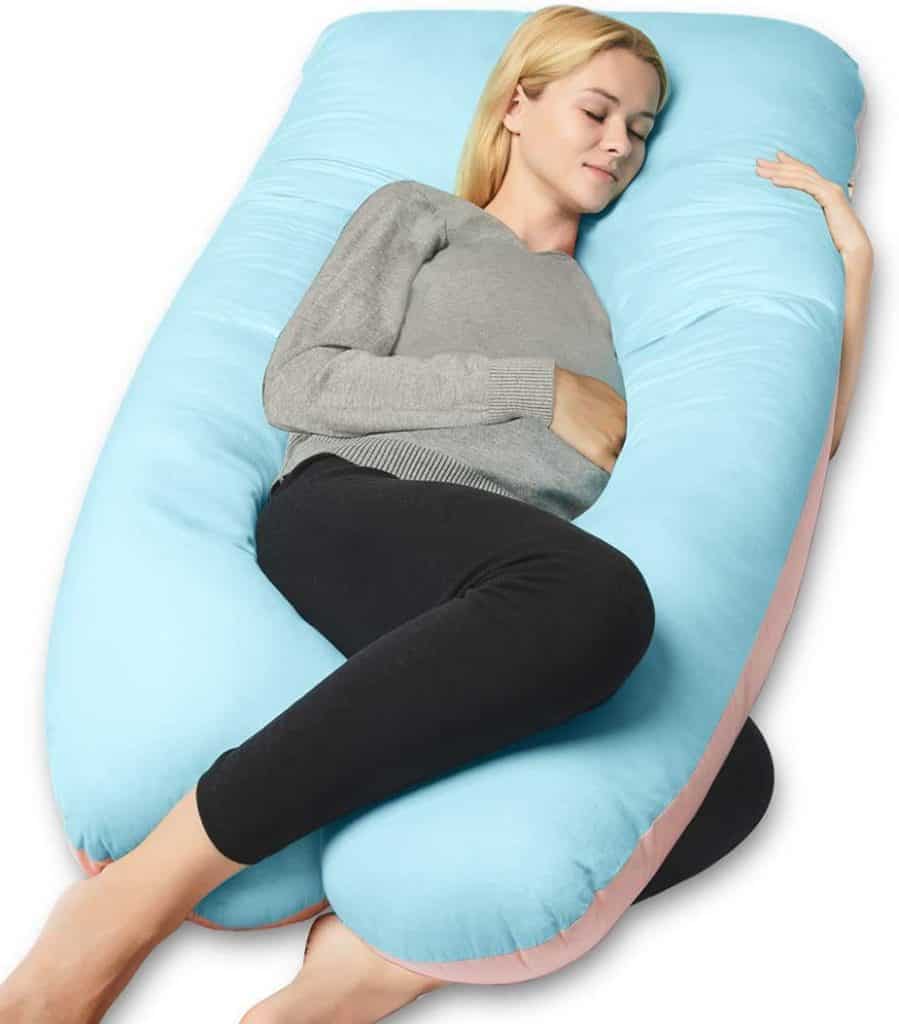 I have suffered from back, neck and shoulder pain for years. Now that I'm almost 7 months pregnant, I can add hip pain to the list. I am usually a side sleeper but the extra baby belly weight that I am currently carrying makes it impossible for me to sleep on my side because I get severe hip pain and laying on my back causes my back to start hurting. I cannot remember the last time where I was able to sleep through the night without being woken up by some sort of pain. I have had this pillow for about a week and I am SO glad that I decided to get it. This is the first time that I have been able to sleep soundly and comfortably through the night! I have long legs so I do wish that I would have spent the extra money to get the longer pillow but other than that, I have absolutely no complaints.
– CBS
This has to be one of the best things I purchased for my pregnancy. I can cuddle with it and sleep comfy on my left side. It's soft not heavy but slightly weighted and flexible so you can manipulate it on multiple positions. Not to mention my dogs like to lay on it too. 5 stars highly recommend
– OhMyDuh
For more product reviews visit Amazon
Pregnancy pillows are pals for pregnant women out there providing safety and comfort in these uneasy times. Do you still have trouble choosing a pillow for yourself? Try choosing one that has a verified return policy. Then take a test run, and if it works, you've got your pal ready for the trimester.
Best Pregnancy Pillows FAQs
1. The Top Best Six Pregnancy Pillows ?
Yes! Pregnancy pillows help provide support and comfort to you while ensuring proper rest and help relieve the aches and pain. It also helps enhance the circulation of the blood, and it is recommended for all pregnant women.
2. Amongst the U shaped and C shaped pregnancy pillow, which is the best ?
In a C shaped pillow, you rest your head on the top and straddle at the bottom using your feet. While the U-shaped pillows help rest your head on the closed curve and help sleep in between the straight two sides. However, both these pregnancy pillows work for side sleepers unlike for the back-sleepers work great with the U-shaped pillow.
3. Can I sleep on my back while pregnant ?
When pregnant you are not allowed to sleep on your back after week 20, it is best to get used to the new sleeping position. As you lie on your belly-up, the weight of your uterus compresses the major blood vessel known as the vena cava. It disrupts the blood flow leaving you dizzy, nauseated, and short of breath.