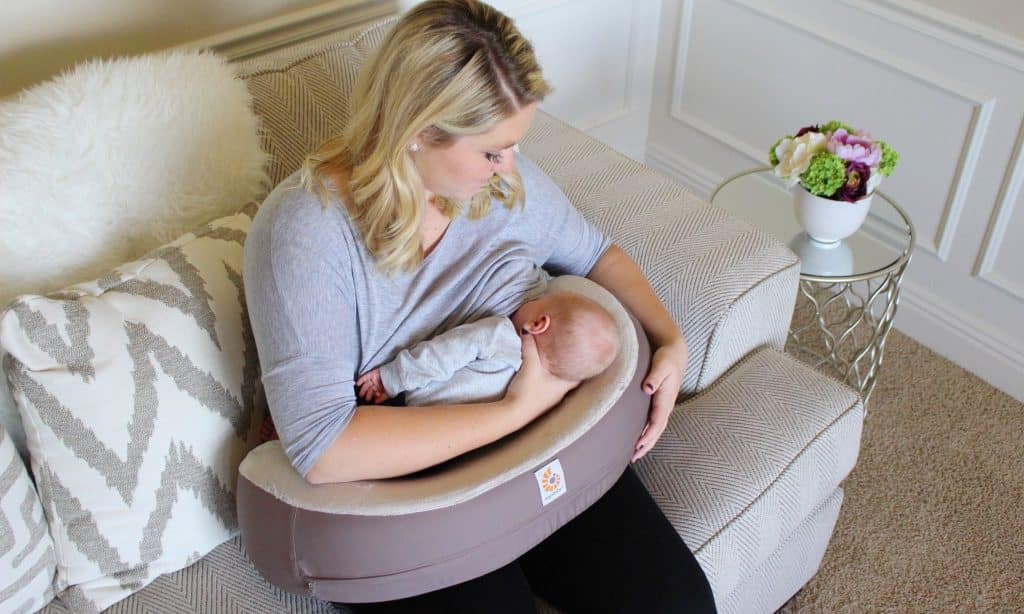 Breastfeeding is undoubtedly an integral part of determining the healthy growth of your baby. Insufficient and improper breastfeeding can seriously affect the baby's health and well being. That is why we have curated this blog post with the top 10 best nursing pillows that will sure make breastfeeding a great opportunity to help nourish your baby and bond with them.
The correct posture will definitely help the baby as well as give comfort and a sense of safety to the mother. More importantly, a wrong posture will definitely cause your baby harm and pain in the long run. And can also wreck havoc on your back.
So then what can be done to ensure that you aren't nursing your baby in the wrong posture? Well, that is where nursing pillows come in handy.
These boppy pillows for breastfeeding are designed while keeping in mind safety for the children and comfort for both the child and the mother. Now without further ado let us move onto the top review of our top 10 nursing pillows.
Top 10 Best Nursing Pillows For Breastfeeding
Here are the top 10 best nursing pillows for breastfeeding to choose from 
1. My Brest Friend Original Nursing Posture Pillow: Best Nursing Pillow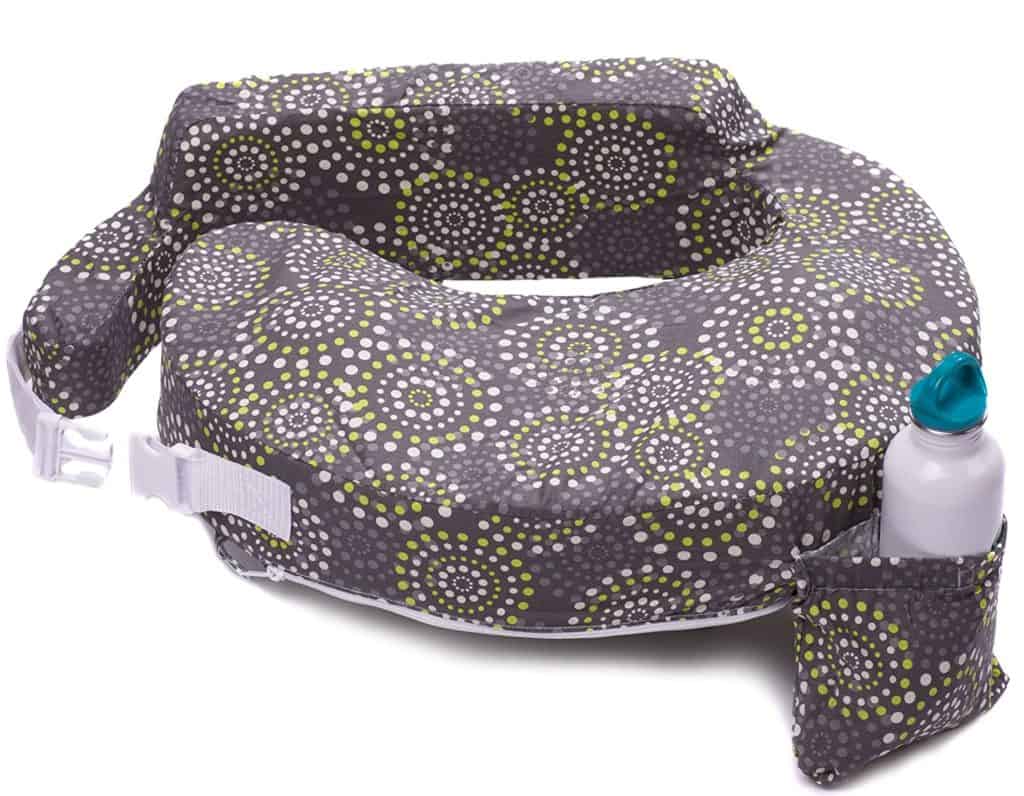 This best nursing pillow which is made out of 100% cotton is designed in such a way that there is reduced stress on the neck, back, and arms. Besides the good posture and comfort, this pillow offers protection from your baby rolling down while breastfeeding him/her.
This boppy pillow is highly suggested by lactation experts and it has a wrap-around feature that will hold it in place while feeding your baby for added convenience and safety.
Also if you prefer to keep your essentials near you while breastfeeding, this pillow comes with a convenient storage pocket that can do just right.
Also, the washable backrest and slip-cover offer ease of use and easy disinfecting between uses. It is also machine washable.
If you are choosy when it comes to design and styling, there are 18 different designs to choose from.
Pros:
Comfortable
Sturdy
Supportive
Easy storage
Convenient storage pocket
A washable backrest and slip-cover
18 designs to choose from
Cons:
The wrap-around size can be a compromise if you have a large belly
2. Borje Newborn Breastfeeding Adjustable Pillow:
Borje Newborn Breastfeeding Adjustable Pillow is one of the newest designs on the market. Made out of super-soft cotton with a 45-degree angle, this C-shaped pillow offers maximum comfort while nursing your baby.
The cotton used in the manufacture of this pillow is of high quality to ensure that your baby isn't irritated while feeding.
This pillow comes added with a sturdy zipper so that it can last long.
This pillow has an attractive graphic and is machine washable too.
Pros:
Soft
Durable
High-quality cotton
No irritation
Sturdy zipper
Machine washable
3. My Brest Friend Deluxe Nursing Pillow: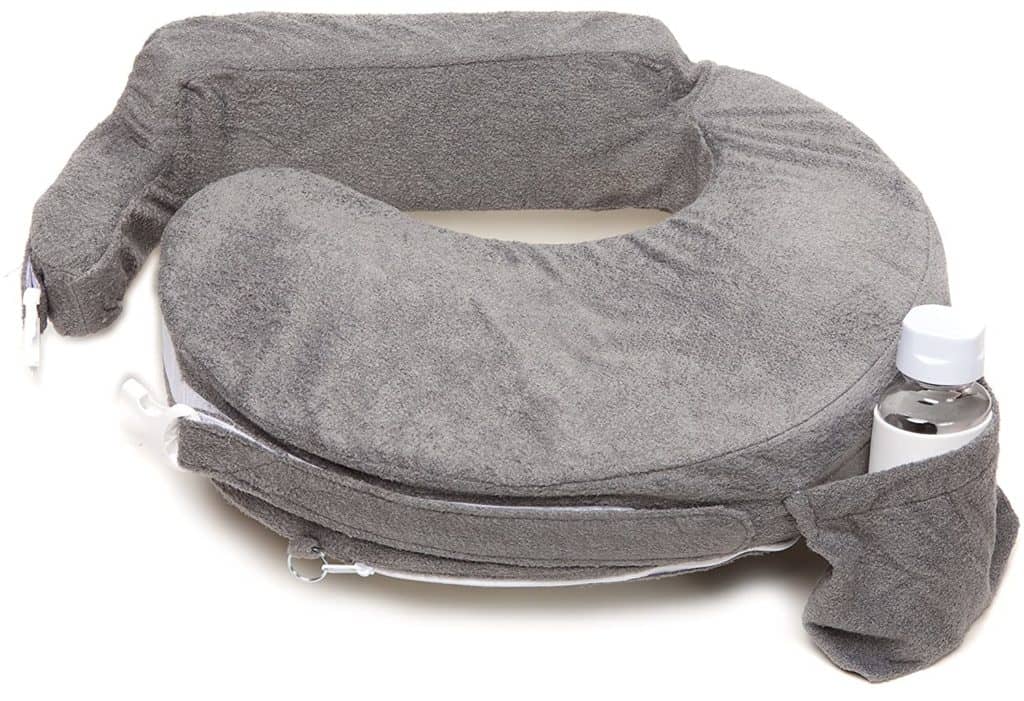 We had already listed out another product from My Brest Friend at the beginning of this product review article. The difference in this product from the latter is that a different material is used to make this pillow.
For the super-soft fabric on this pillow, you have to spend some more money. Being a wrap-around product this is helpful in letting you feed your baby with only one hand. To fix this pillow to your body both buckle and velcro are given which provides ample support while feeding your baby.
Pros:
Soft material
Very supportive
Comes with velcro for an easy strap and unstrap
Cons:
Fitting issues can occur if you have a broad belly
4. Boppy Bare Naked Nursing Pillow: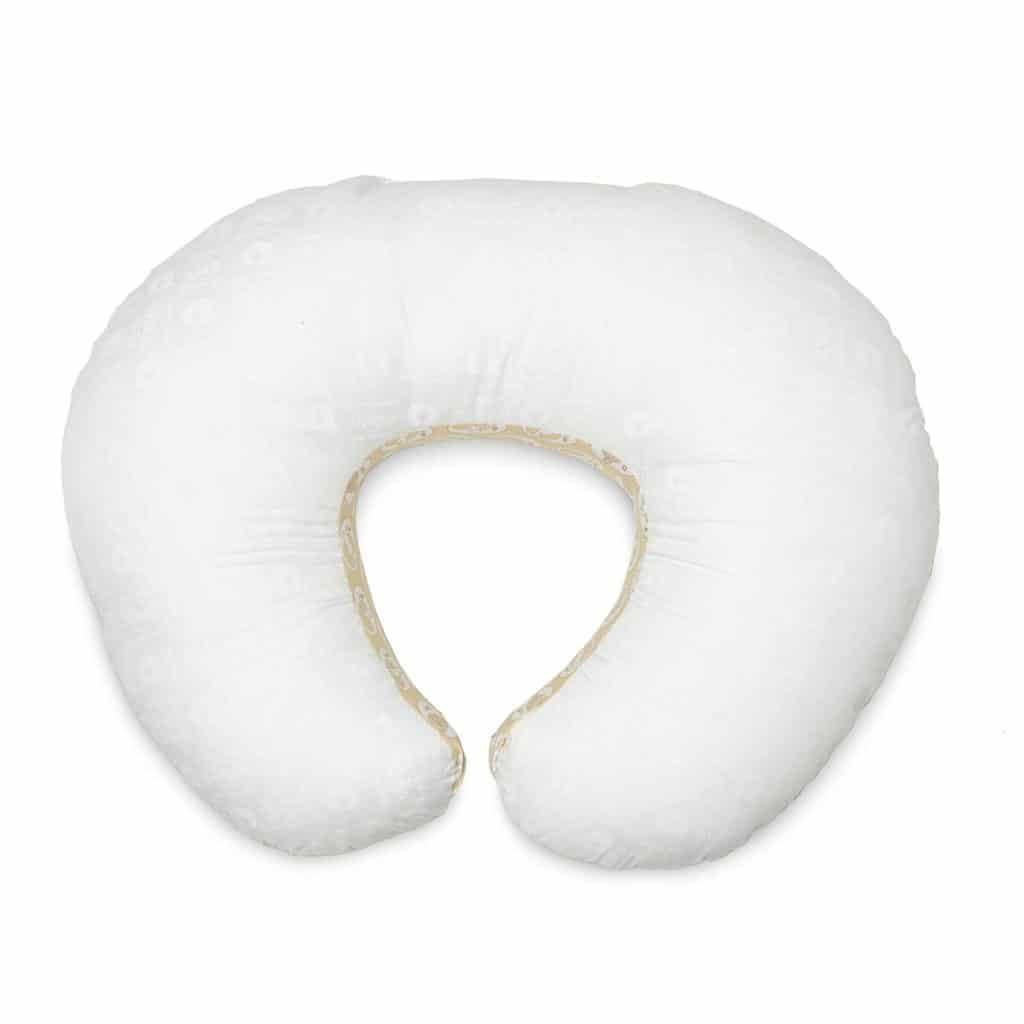 This C-shaped pillow is made out of 90% polyester and 10% cotton. This washable pillow enables you to feed your baby at an ergonomic and comfortable position. This pillow can be used until your baby is 12 months old.
Being one of the top-rated and top-selling products on this list Boppy Bare Naked Nursing Pillow can be your ideal choice.
This pillow can also be used for propping, bottle feeding, tummy time, and sitting.
Pros:
Washable
Great ergonomic setup
Comes with a plastic cover to keep the pillow clean when not used
Cons:
The cover that comes with the pillow requires additional payment
5. Boppy Best Latch Breastfeeding Pillow: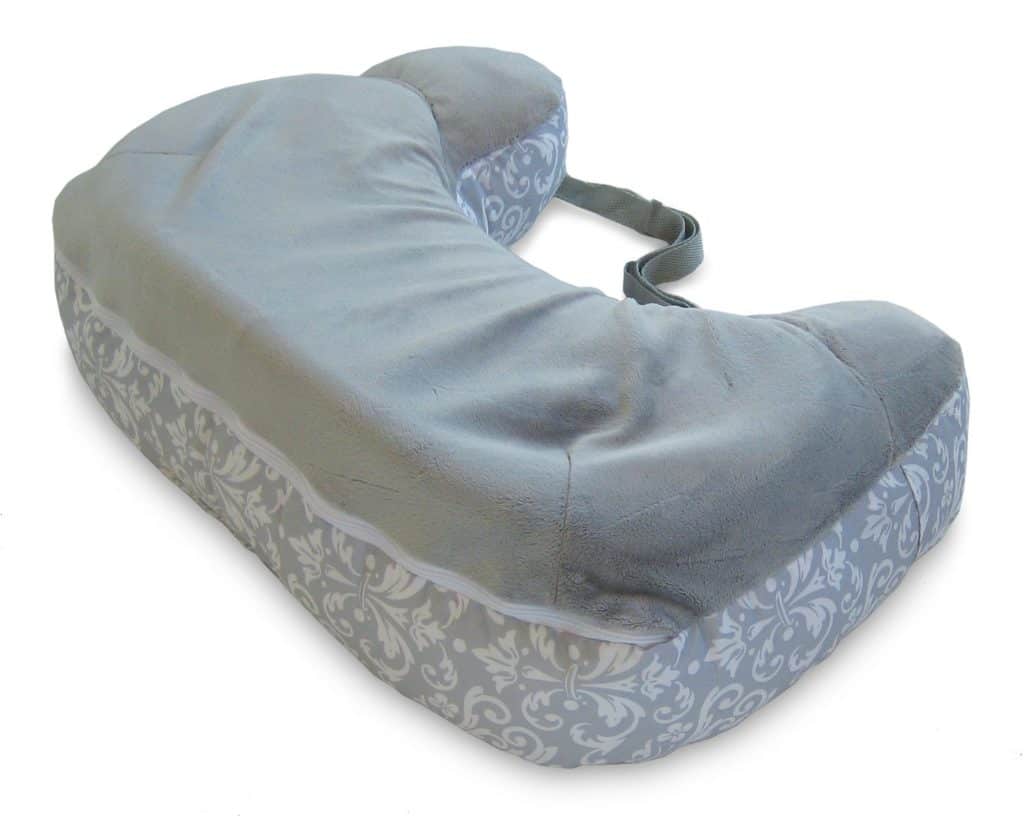 Babies have different needs while feeding as they grow up, during their early growth period a firm pillow is more useful but as they grow up it has to be replaced with a softer one.
Boppy Best Latch Breastfeeding Pillow enables parents to not buy two pillows for the single purpose of breastfeeding as it comes with two different surfaces, one soft and one firm.
The adjustable belt ensures that everybody's size fits and the soft fabric offer total comfort.
It also comes with a removable cover and belt and is washable as well.
Pros:
Versatility
Two surfaces – soft and firm
 Removable cover and belt
Washable
Can be used until baby is 12 months old
Cons:
In comparison, this product is expensive
6. Boppy Original Nursing Pillow and Positioner: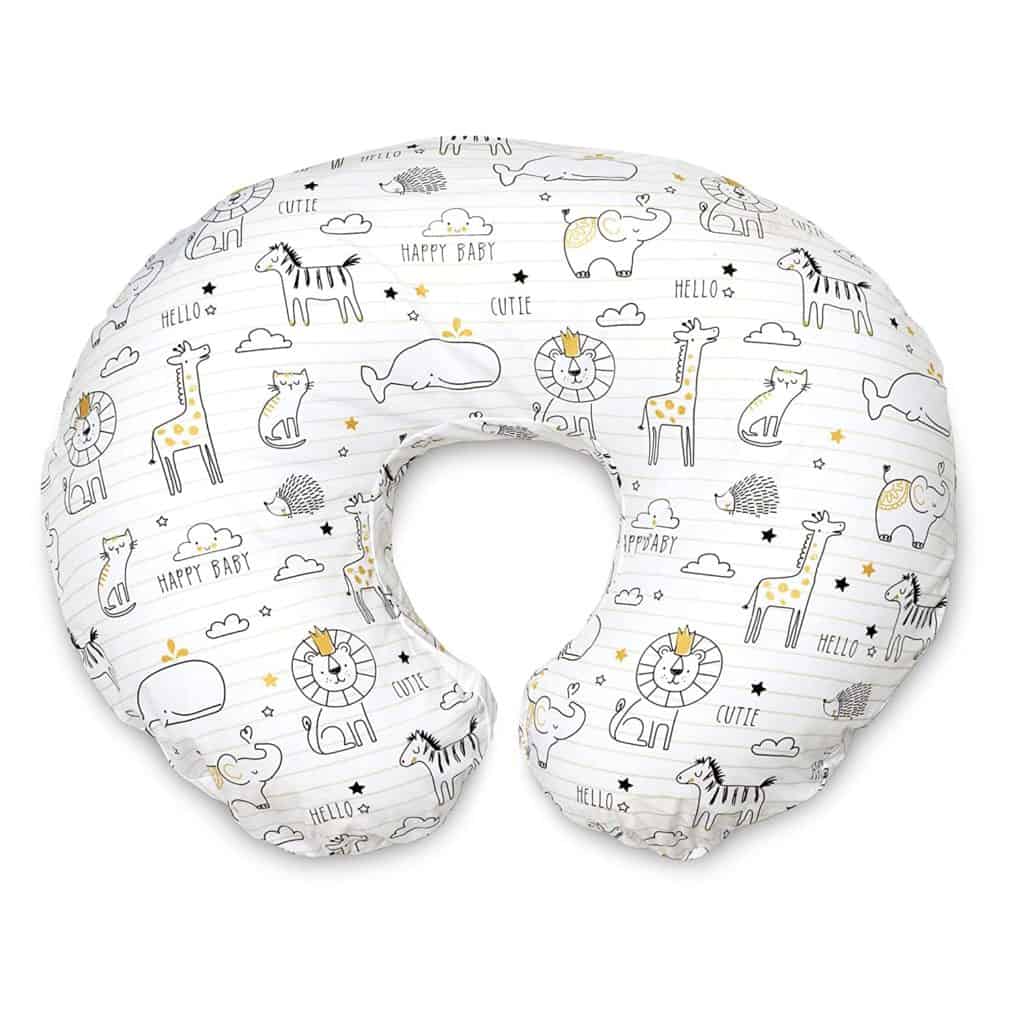 This award-winning C-shaped pillow from Boppy is a great choice for your baby. This is a pillow that can be used until your baby is quite old compared to other pillows on this list. Apart from breastfeeding this pillow can be used for sitting, tummy time, propping, and neck support which adds to the versatility of this pillow.
In comparison with other pillows, this one is quite impressive when we focus on the utility side. It is also one of the top-rated and frequent selling pillows on this list. Perhaps the most useful function of this pillow might be that the pillow is machine washable with the pillow cover.
Pros:
C-shaped
Has a removable slip-cover
Machine washable pillow and cover
Pillow can retain its shape even after frequent use over long periods of time
7. Infantino Elevate Adjustable Nursing Pillow: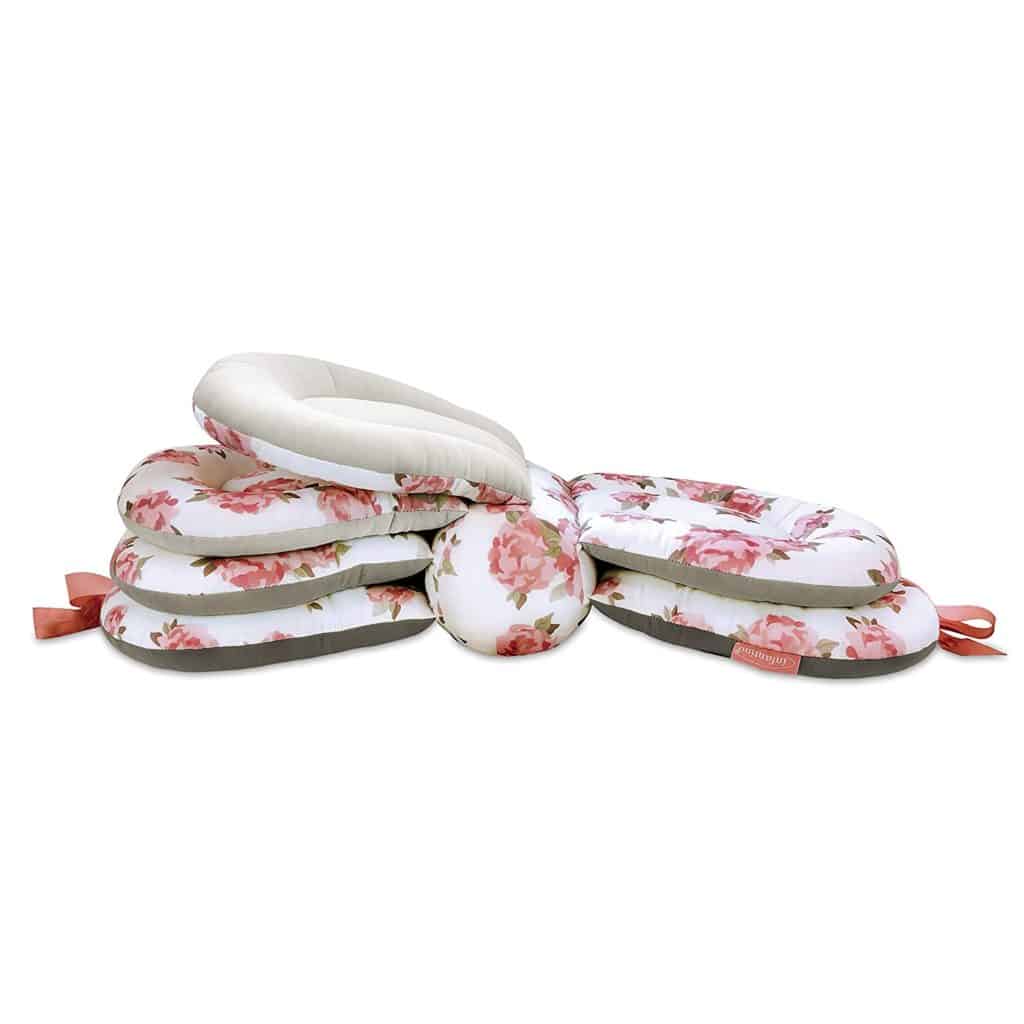 The uniqueness of this nursing pillow lies in its adjustable elevation. This is a polyester pillow, and the adjustable elevation feature makes latching very easy.
The design of this pillow enables the baby to stay upright and reduces reflux. The washable nature of this pillow ensures that it is going to remain clean and smell free for a long time.
There are three elevation stages,
This pillow is one of a kind and offers ample support for both the upper and lower body. This pillow can be stored away folded in the cover that comes with it when not used.
Pros:
Adjustable elevation
Easily foldable
Easy to store
Machine washable
Clean
Supports the upper and lower body
8. Leachco Natural Boost – Adjustable Nursing Pillow: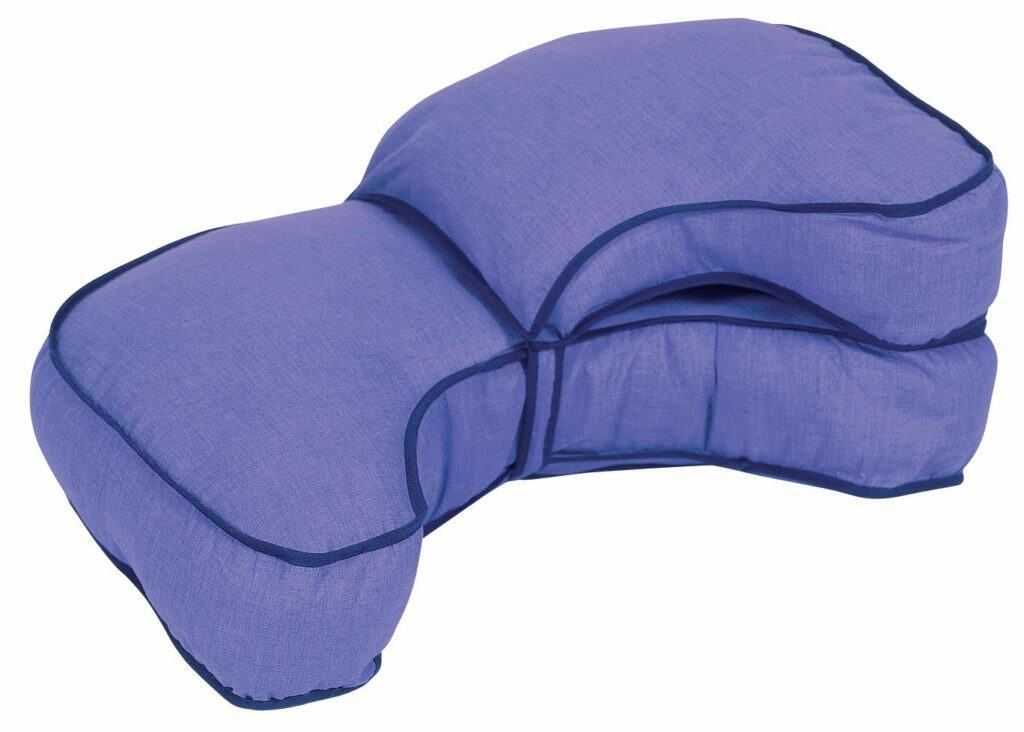 This adjustable pillow is made of 65% polyester and 35% cotton and is very soft and comfortable. The adjustable nature of this pillow enables the mother to adjust her baby's head for better latching. This pillow can be detached into two parts and can also be used for traveling as well.
Pros:
A lot of back support
Easy to use in both directions
Soft and comfortable
2 piece design
Usable while traveling
Cons:
The cover is not removable.
9. Boppy Original Nursing Pillow:
If you are brand conscious and Boppy is your favorite brand, you have to check this pillow out. The simple yet elegant design coupled with comfort and safety makes this a great choice for nursing.
To change the designs you can simply change the covers that comes with this pillow. This pillow is machine washable meaning both the pillow and cover can be washed keeping the pillow clean and free from foul smell.
Pros:
Suitable for nursing until the baby is 12 months old after that this pillow can be used for sitting
Machine washable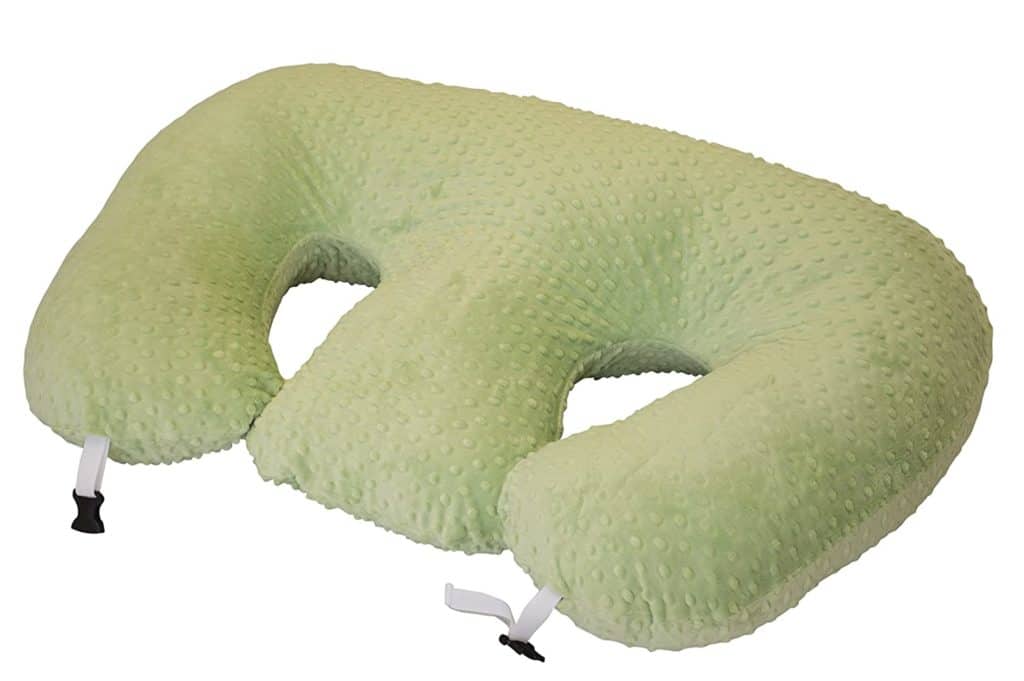 Finding a suitable pillow for feeding twins can be difficult, however, we have come up with a great solution when it comes to buying a nursing pillow for feeding twins.
This pillow is enough to accommodate the twins on each breast without compromising safety or comfort. Also, this is a 6-in-1 pillow making it quite versatile compared to its rivals.
This water-resistant pillow is very versatile as it can be used to seat and sleep your twins. If you are the parent of twins, this is a "must-buy".
Pros:
Can accommodate twins without compromising safety and comfort
Waterproof
Soft
Multipurpose
Cons:
Quite an expensive choice in the market
These were our top 10 picks for the best nursing pillows for breastfeeding. Parenthood bliss has also accumulated a list of the best breast pumps that allows you some time on your hands too. Feel free to check the list out. 
Best Nursing Pillow FAQs
1) What is the use of a nursing pillow?
Nursing pillows as the name suggests are used primarily for breastfeeding the little one. Other than that, a mother can also use these nursing pillows for when she is exercising the baby a tummy time aid, can also help the babies learn how to prop themselves up using only their arms and elbows, additionally, these pillows are so soft and supportive that it can be used to help the baby sit with any support, can act as a cushion while they transition between positions like lying down and sitting up unsupported.
2) How can a parent use these baby nursing pillows for breastfeeding?
While parents are looking for the nursing pillow that works the best for them, it is recommended to look for one that fits your torso. This is because ideally the baby's torso and head are supposed to be positioned at the same height as the height of the nipple of your breast. It is comparatively easy for parents to look for the perfect nursing pillow as they are available in the market ranging from taller to longer torsos, shorter and wider too. You can also take the help of the list mentioned in the above article for help and research.
3) Can the baby sleep on a nursing pillow?
No, these nursing pillows are not designed to let the baby sleep on them. Perhaps, there is a warning from the U.S. Consumer Product Safety Commission, suggesting to not let the babies sleep on these nursing pillows as they could be dangerous for the kids, comparing the items it can pose. This is because if the baby is let to sleep in a nursing pillow or a lounger, they could slide down resulting in a neck bend that could also block their airway.
4) If one is not able to buy themselves a nursing pillow, can they make one by themselves instead? If yes, how?
Yes, of course, it is ok if you are not able to find yourself a nursing pillow and are not able to get one. The best way to alternate the nursing pillows is by making one by yourself. However, remember that this would require a lot of time investment, and patience. To further help, these are the steps to help you create a nursing pillow by yourself for your baby:
Take a good pillow fabric and cut it out in the shape of a pillow. That is two rectangles of the fabric.
Take a needle and thread, we'd recommend doing it by using a sewing machine and stitching the fabrics together.
Now take soft cotton and stuff the pillow equally into the pillow.
Cut the cover fabric and sew the cover together.
Use a zipper to sew it into the pillow.
Take a pillowcase and squeeze the pillow into it.
That's all, your nursing pillow is all set to use!