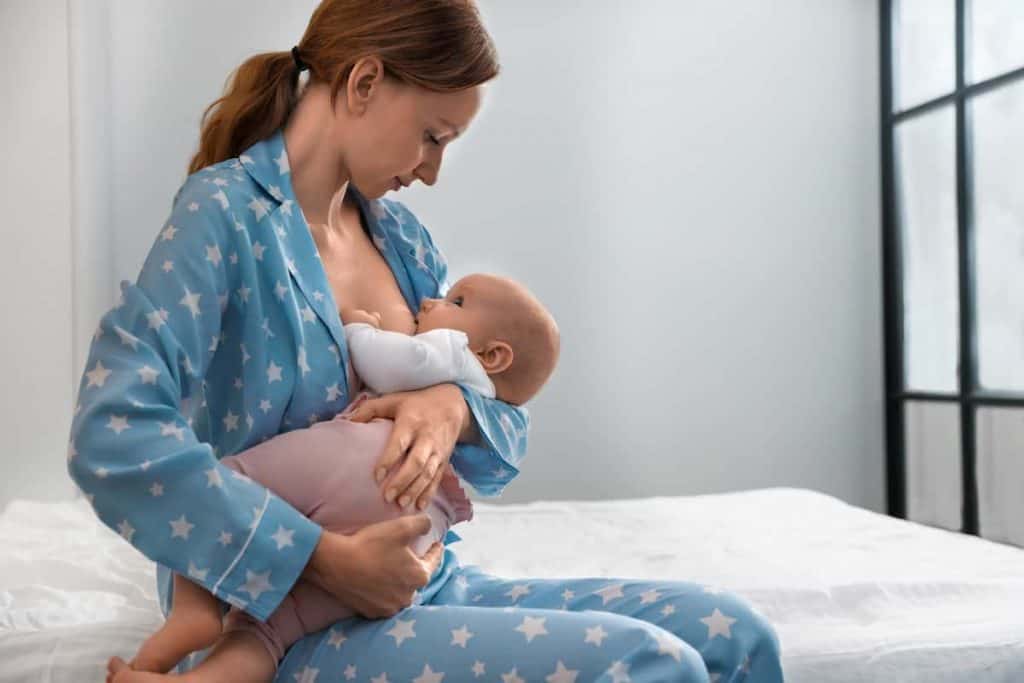 While you are registering and purchasing items for your little one, don't forget about yourself, mama! If you plan on breastfeeding your baby, wearing your old college t-shirts or any old t-shirt would be the best thing to sleep in for a little while. For the first few weeks, you could just sleep in just a nursing bra or pull a shirt up and hold it as your baby is nursing. However, a lot of new moms don't find these options practical or comfortable, especially if you are thinking about them in the long term. For easier and more comfortable nighttime feeding, you should go for the best nursing pajamas.
Why Will You Want Nursing Pajamas?
After the birth of your little one, if you are planning to breastfeed, you should consider the logistics of wearing your usual PJs during the night. Yes, it's possible to work around those clothes, however, you're just getting the hang of breastfeeding so isn't going for something easier to handle? Hence, why you should invest in one or two sets of best nursing pajamas, as they will ensure you the comfort that you need.
Pajamas for nursing moms make breastfeeding easier, plus they're made out of extra comfy materials and some extra-cozy loungewear might help as you bond with your little one. While you're trying to figure out the first weeks of caring for a newborn, you'll probably live in nursing pajamas. During the first few weeks, you're nursing so much throughout the day that you leave a hole on the couch. Things get so hectic and tiring that most new moms don't even find the time to put on a shirt at all. So, to keep you comfortably clothed you should go for easy-access nursing PJs.
What Are The Different Types Of Nursing Pajamas Available?
These are just like any pajamas, you'll find robes, long pants, gowns, and shorts. You can find ones with different nursing accessibility such as clip-down flaps, side buttons or zippers, two-layer tops or inner panels, or stretch V-necks you can pull to the side. It depends on the style that is best suited for you and your lifestyle as one isn't better than the other. Are you looking for some amazing options? Well, no need to look any further because we have the best nursing pajamas which suit every new or veteran mama!
12 Best Nursing Pajamas Reviews
1. Best Classic Nursing Pajama Set: Maxmoda Cotton Sleepwear Set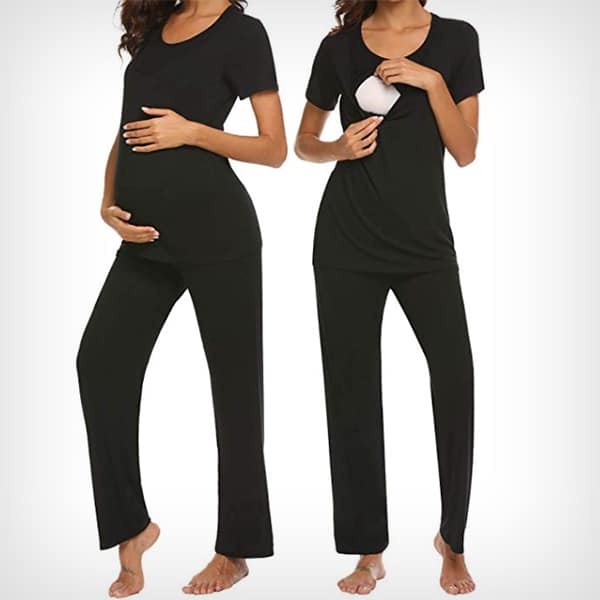 Features:
This is the best nursing pajama set and is available in beautiful basic colors such as black, grey, and navy. The short-sleeved top and pants are perfect for lounging (you also wear them when you have visitors around during the early weeks). Breastfeeding feels like a breeze because of the double-layered tee. Also, you can adjust them to fit before and after pregnancy because the pants have a drawstring waist.
Pros: It is very soft and stretchy, the drawstring waist ensures a comfortable fit, and there is a wide range of colors to choose from.
Cons: It is made out of thin fabric.
2. Best Lounging Nursing Pajama Set: Bears land Maternity Nursing Pajamas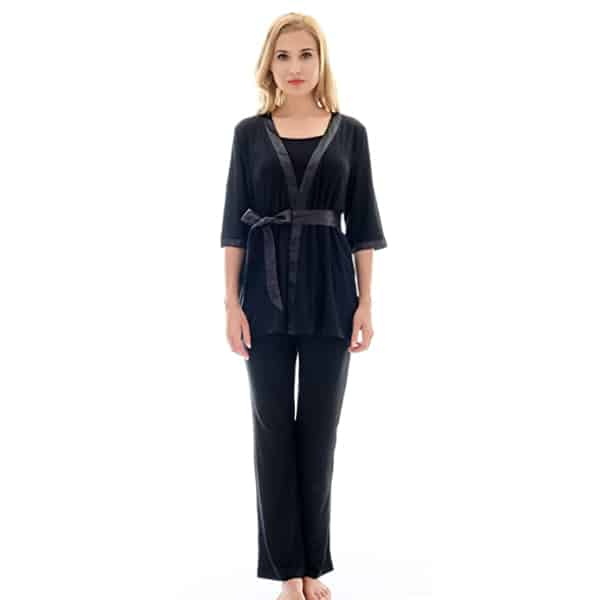 Features:
This best nursing pajamas gives more of a "dressed up" pajama vibe and provides you with coverage once you slip the cardigan-robe on top of the pants and top. When you are recovering from delivery, being a bit dressed up can make you feel good. When you're trying your hand at breastfeeding around visitors, you can simply do it because this top has double front layers for breastfeeding, which means you can feed the baby and still stay covered. This set is made available in seven different colors.
Pros: The three pieces help with layering and it is 'fancy; enough for guests. Also, it's easy to discreetly feed.
Cons: There are some reports of premature wear and inconsistent sizing.
3. Best Sexy Nursing Pajamas: Kindred Bravely Lucille Nursing Nightgown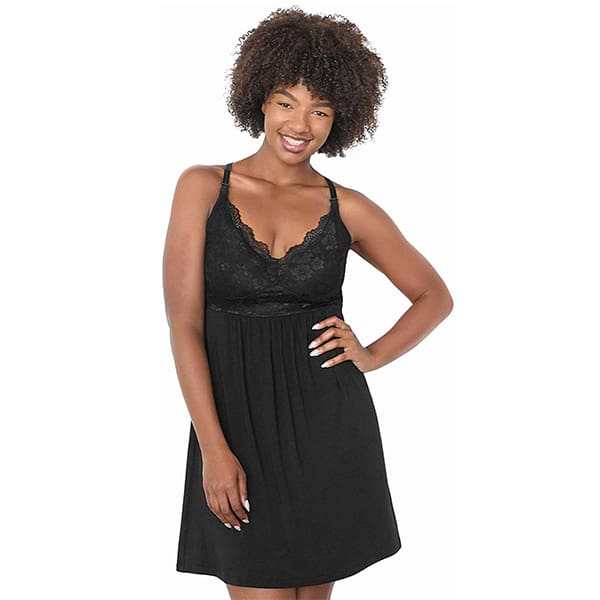 Features:
This set will make you feel sexy and better about yourself. The lace bodice on the chemise will add a little elegant flair to the look. We know that you're super busy with round-the-clock feedings at home, but why not wear clothing that makes you feel like you again, you know? As far as breastfeeding access goes, you can clip down the straps when it's time for nursing. The built-in bra offers support to even new moms with large chests.
Pros: It has one-handed clip-down straps, plus it comes with a built-in bra for support. The style is feminine and pretty.
Cons: There are some reports that the lace tears easily and the chest runs small.
4. Best Plus-Size Nursing Pajamas: PinkBlush Pink Crochet Trim Plus Delivery/Nursing Maternity Robe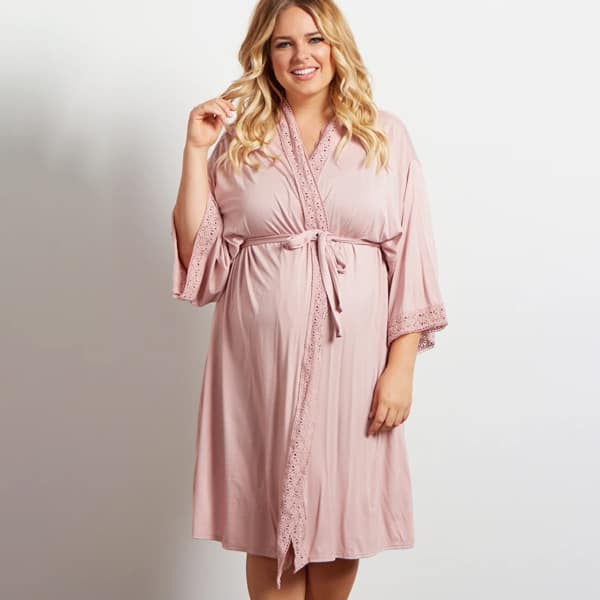 Features:
You can buy this simple nursing robe which has a little flair, in plus sizes of 1X, 2X, and 3X. You can use this before and after you bring home your little one. The adjustable tie closure allows you to nurse in seconds and you can also get more skin-to-skin contact with the baby.
Pros: It comes in a wide range of sizes and is extremely soft and comfortable. You also get full front access.
Cons: There are some reports of loose threads.
5. Best Nursing Pajamas for the Hospital Room: Baby Be Mine Hospital Gown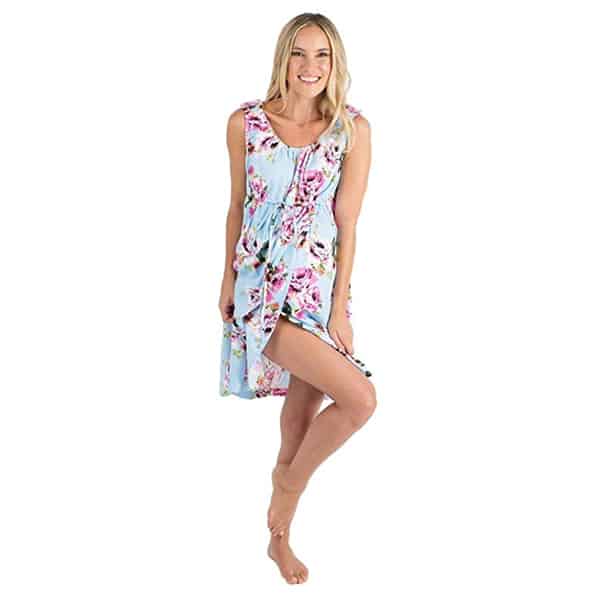 Features:
This is probably one of the most adorable hospital gowns we've ever seen! You might as well choose to labor in it because it has snaps down the back. Once your baby is here, you can simply bring down the shoulder snaps for breastfeeding and the adjustable empire waist means the fit remains flattering. Additionally, if you're looking for a set of matching mom and baby nursing pajamas, Baby Be Mine has a lot to choose from, including this adorable option!
Pros: This can be doubled as a hospital gown. It has a flattering fit with snap-down shoulders. You can also buy matching pajamas for the baby.
Cons: There are some reports of inconsistent fit and premature wear.
6. Best Stylish Nursing Pajamas: Motherhood Maternity Nursing Nightgown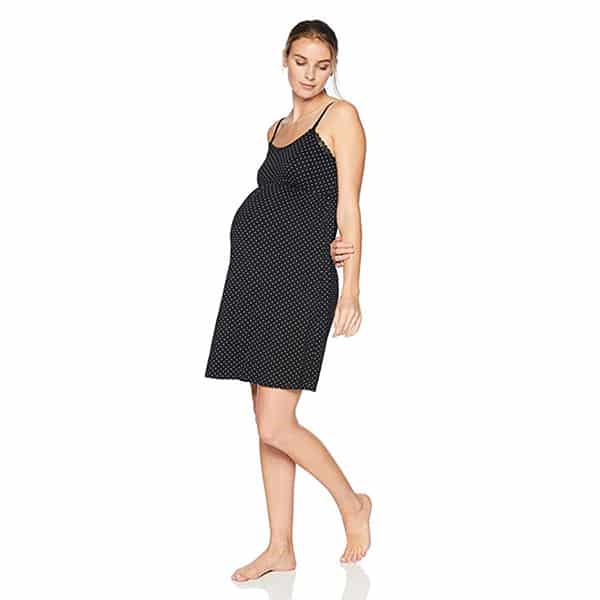 Features:
This maternity nursing has got longevity going for it. In the later stages of your pregnancy, which is a time when nothing seems to fit, you can wear this chemise nightgown. Before heading to the hospital, make sure to throw it in your bag. After having your little one, you can simply slip it on. When you're in the initial stages of breastfeeding bonding, you can use the clip-down front. You will love and live in these for the first weeks if you're someone who prefers the easy breeziness of dresses.
Pros: This gown is easy to put on and off, plus it has a clip down the front. You can choose from a wide range of colors and patterns.
Cons: There are some reports of premature wear and it runs large overall.
7. Best Nursing Robe: PinkBlush Maternity Floral Robe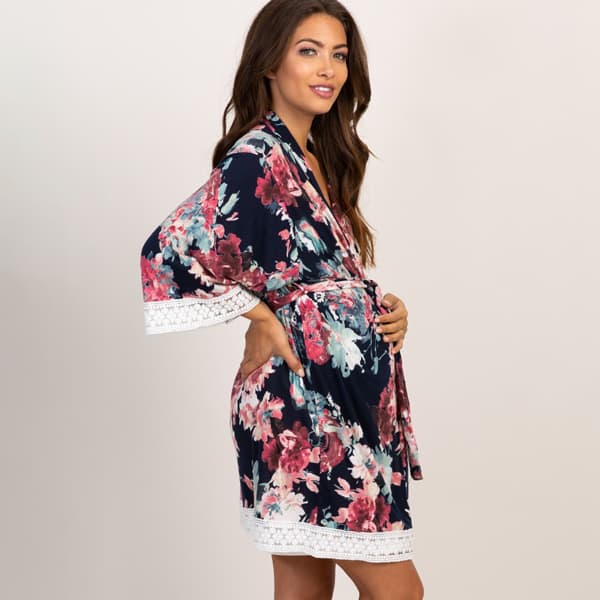 Features:
On days when nothing is comfortable enough to sleep in, a robe feels like a perfect option. This nursing robe has a beautiful floral print and lace trim. Also, it is made out of soft material which will instantly perk your mood up. You can either loosen one side for easy breastfeeding or wear it wrapped around yourself when you're hanging out around the house.
Pros: This robe comes in attractive print and it gives you full front access. Plus, it is made out of super soft material.
Cons: You can wash by hand only.
8. Best Warm-Weather Nursing Pajamas: Ekouaer Nursing Nightgown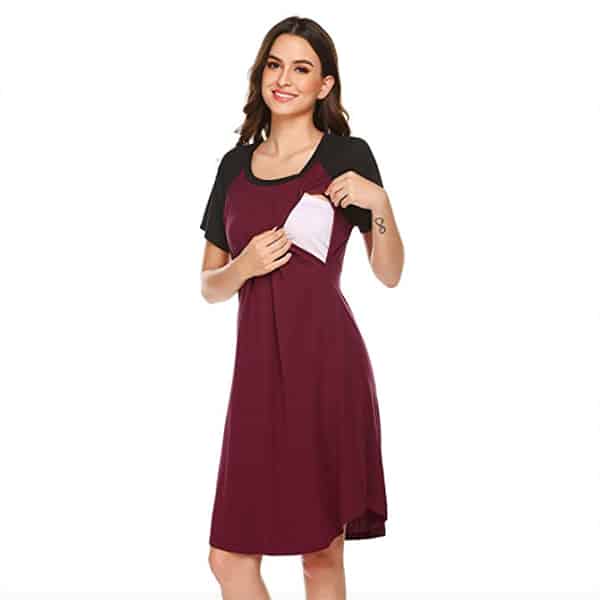 Features:
This nightgown is perfect if you want to stay comfortable on hotter days. It is also helpful when you have your little one snuggled on your chest during the early days. Babies are surprisingly warm! For easier breastfeeding, there are zipper side pockets and the stretchy material can easily accommodate your baby bump during pregnancy, too.
Pros: It comes with zippered side pockets for easy breastfeeding. Also, it is affordable, loose, and a comfortable fit.
Cons: There are some reports of premature wear and it is made of thin material.
9. Best Cold-Weather Nursing Pajamas: Lamaze Pajama Pants Set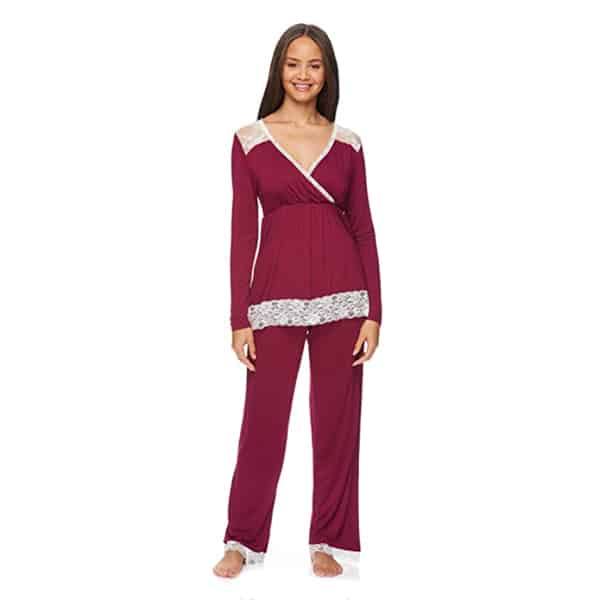 Features:
You should opt for this long-sleeved set if you're giving birth during winters or are worried about overzealous air conditioning systems. Thanks to the attractive lace detailing on both the top and the pants, it's not at all frumpy. You can simply pull the deep V-neck to the side for easy access, this makes breastfeeding easy-breezy. Also, there are no zippers, clips, snaps, or other hardware to contend with.
Pros: This set is an easy pull-over style. It is made out of super soft fabric and it is great for cold weather.
Cons: There are some reports of premature wear and it runs big.
10. Best Button-Down Nursing Pajamas: A Pea in the Pod Button Front Nursing Pajama Set
Features:
If you are looking for something that resembles your usual pre-pregnancy PJ set, then you should try this button-down style. To ensure that you are comfortable during recovery and well beyond, this cozy jersey knit is cut for a straight, relaxed fit. There is no hardware to fuss with, you can simply unbutton the first few buttons for easy feeding and moms love this!
Pros: This nursing set has a sophisticated style and is wearable beyond pregnancy. It also comes with an easy button front.
Cons: There are some reports that it runs small.
11. Best Mother/Baby Matching Nursing Pajamas: Everly Grey 5-Piece Maternity and Nursing Set for Mom and Baby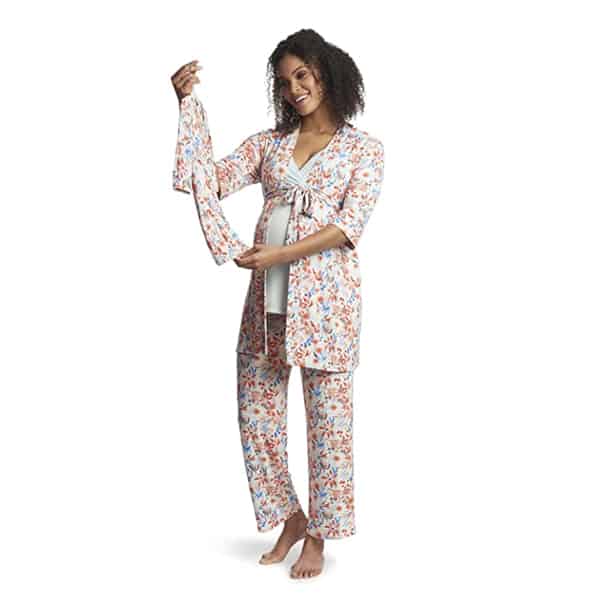 Features:
As your D-date is approaching and your to-do list feels like it's never-ending, you'll appreciate and love the convenience this five-piece set provides you with. This set includes everything both the soon-to-be mom and baby will need to relax (while looking great) during feeds. Moreover, the idea of wearing matching outfits with their little ones is always exciting!
Pros: This is a comprehensive set for the mother and the baby. It is made out of super soft material and it's an easy pullover style.
Cons: There are some reports of poor stitch quality and the baby outfits run large.
12. Best Sleep Shirt for Nursing: Belabumbum Lounge Chic Nightshirt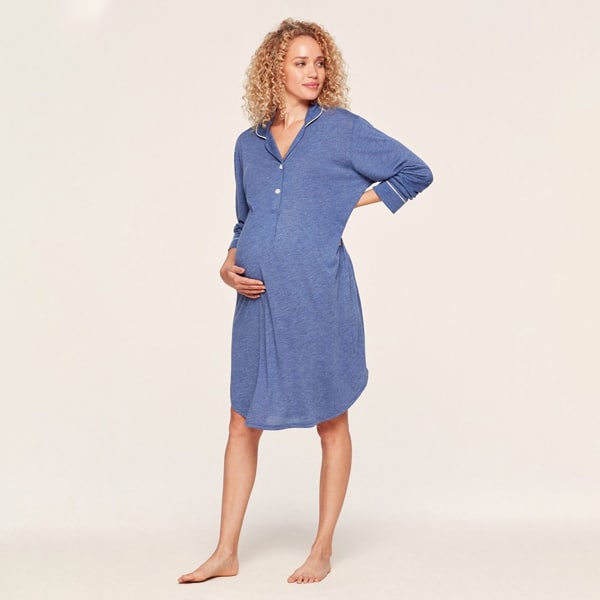 Features:
If you underwent C-section delivery, you will especially appreciate this set because it doesn't have a waistband that could potentially irritate the incision. You can use these pajamas beyond the recovery period because this breezy style adapts well to your changing postpartum body. The buttons stop at the belly as it provides just enough freedom for easy nursing, however, it offers more modesty than a full panel of buttons. This way you can wear this nightshirt even with guests around.
Pros: It is made out of super soft fabric and is breezy in style. It has button-down nursing access.
Cons: It might belong to just petite women.
We hope you liked our top pick for the best nursing pajamas! The first few weeks of nursing your baby can make you feel a bit like a zombie. Plus, when you wake up in the middle of the night for the third time, the absolute last thing you want to do is fuss with complicated buckles, straps, or folds. So, you should go for some maternity and nursing outfits for comfort and access.
FAQs on Best Nursing Pajamas For Moms
1) Can I wear my robe during labor?
Yes, you absolutely can! You are busy doing so many things, you are getting the nursery ready and packing a hospital bag full of essentials, so it's easy to overlook one of the most obvious items, what you'll be wearing in the hospital!
2) Can you wear a bra during labor?
If you don't plan on moving around much during labor, you might want to wear a nursing bra. However, you can use a thin blanket or sheet for modesty and comfort.
3) What should I wear to the hospital when giving birth?
Here are some things that you can wear for your labor and hospital birth: Hospital gowns, birthing gowns, birthing skirts, a large t-shirt, bath/towel wrap, or nothing.