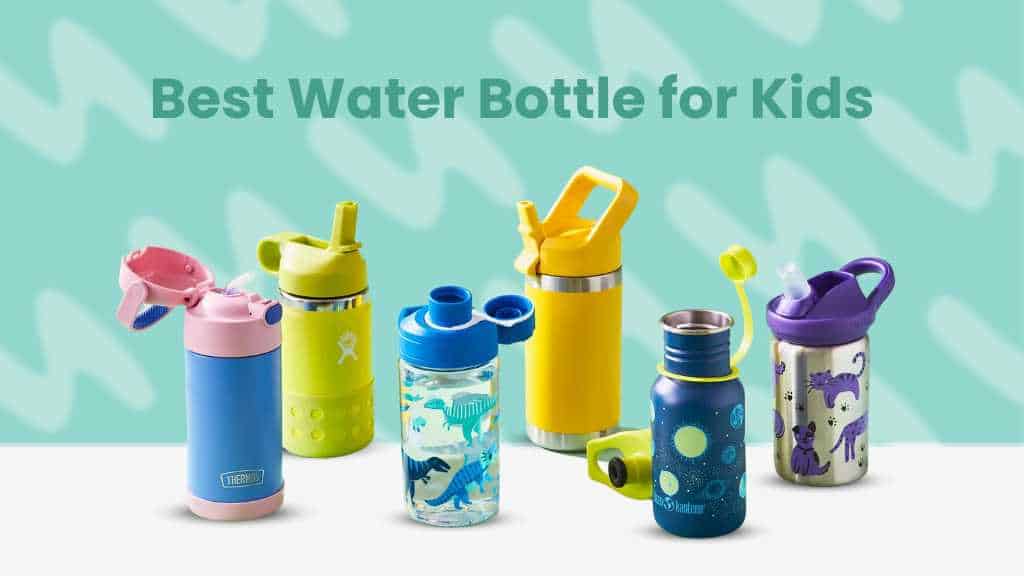 Hydration has become a top concern in our modern world, and as soon as our little ones can hold a cup, we start obsessing over how to ensure they drink enough water. Nowadays, many preschools, camps, and grade schools even require kids to bring their own labeled water bottles, making it essential to find a reliable companion for their daily travels between home and school.
It's fascinating how a seemingly mundane object like a water bottle actually offers a wide array of options for kids. Insulated or uninsulated? Straw or no straw? Bottle size? Plastic or metal Leaking is undoubtedly the most common and frustrating issue with flawed water bottle designs, closely followed by concerns about mold.
So, as we venture into the world of the best water bottles for kids, let's keep these factors in mind. We'll explore various options and consider features that address common challenges. With built-in straws, innovative lids, and leakproof designs, we'll find the best kids water bottles that make hydration a breeze for your child.
10 Best Kids Water Bottles
1. The Yeti Rambler Jr. 12 oz Kids Bottle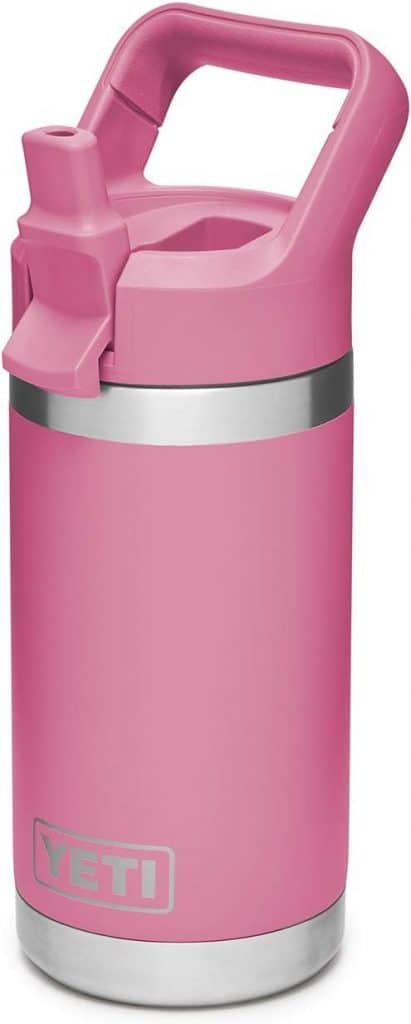 The Yeti Rambler Jr. 12 oz Kids Bottle is one of the best kids water bottles. The insulation is truly exceptional, keeping drinks at the desired temperature for hours on end. Its durability and sturdiness are also impressive, as it can withstand countless trips through the dishwasher. 
The convenient handle makes it easy for kids to carry, and cleaning it is easy as well. Additionally, it has a wide mouth opening, which allows even small kids to effortlessly refill it with ice.
When it comes to longevity, this water bottle is in a league of its own. Thanks to its robust construction, the chrome bottom acts as a shield against impacts when accidentally dropped. Not only that, but it conveniently fits into cup holders and backpack sleeves. The powder coat finish ensures it maintains a fresh and new appearance over time.
2. Simple Modern Summit Kids Water Bottle with Straw Lid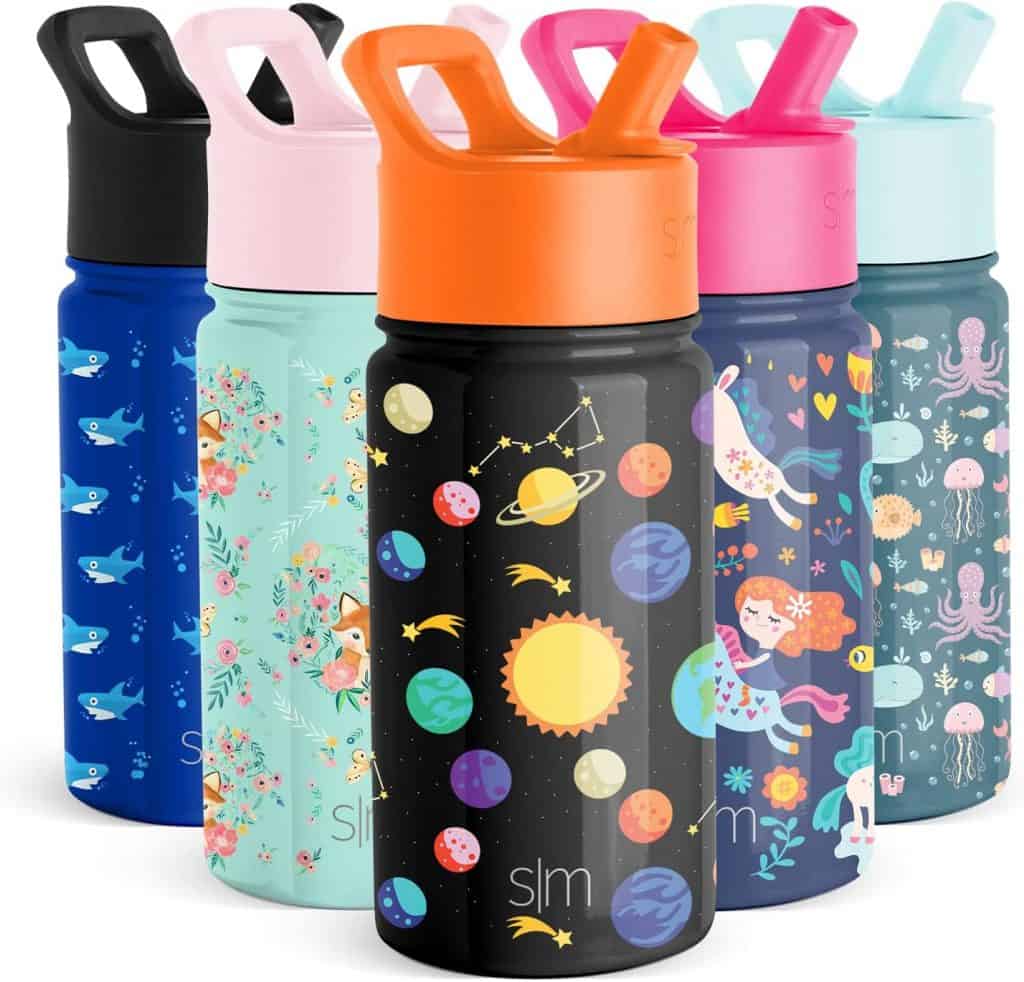 The wide range of designs from Simple Modern's water bottles, appeal to both younger and older kids. The best part? They come at a fantastic price point and are very easy to clean compared to many other options on the market. 
The variety of patterns available is truly impressive. Whether your little one is into Disney or Star Wars themes, or if your older child prefers cool color ombre styles with a more sophisticated touch, there's a bottle that will ignite their passion for staying hydrated. Also, they come in various sizes, ranging from 12 ounces to a whopping 64 ounces, making it one of the best water bottles for kids.
The patented leak-proof top portion is a game-changer. It can go through the dishwasher cycle effortlessly. Additionally, these bottles feature a split-proof straw holder design, preventing any mishaps or frustrations.
The wide-mouth design makes them easy to scrub and fill, catering to convenience. However, it's worth noting that this is to be expected with any bottle that lacks a bumper or powder coat. Despite that, they held up admirably well through continuous and constant use.
3. Hydro Flask Kids' Wide-Mouth Bottle - Lake, 12 oz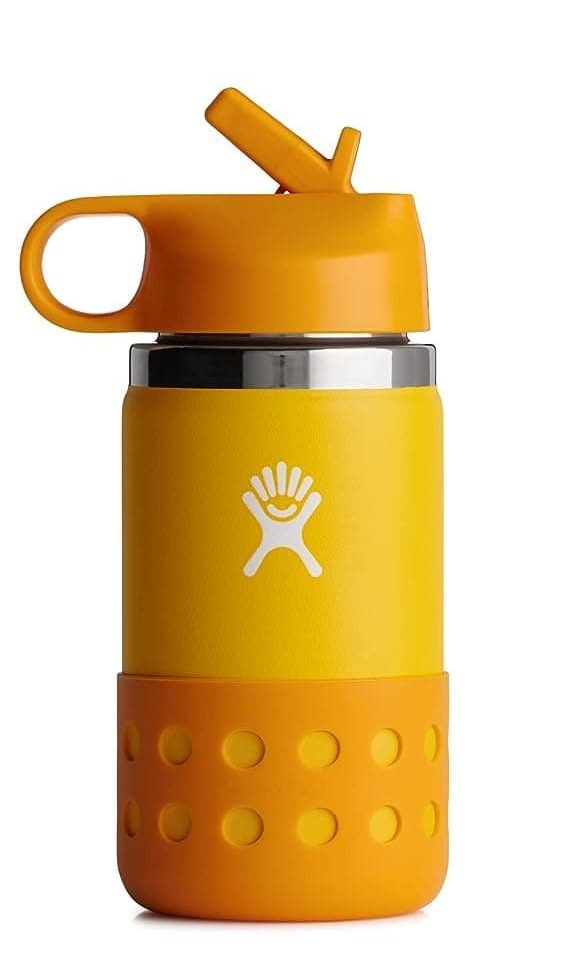 If you're looking for an insulated water bottle similar to the Yeti Rambler Jr., Hydro Flask has an excellent option. It features a flip-and-sip straw cap and a sturdy steel exterior, available in two sizes: 12 or 20 ounces.
The Hydro Flask offers a finger loop for easy carrying, which is a bit different from the bulkier handle design. Also, its slightly slimmer design and smooth surface make it easier to stick water-resistant stickers. If you pay an extra $6, you can get your child's name engraved on the bottle. 
It combines the convenience of a flip-and-sip straw cap with a durable steel exterior, and it comes in two practical sizes. With its finger loop and customizable options, it's a reliable and stylish choice for any adventure-seeking child.
4. Takeya Actives Kids Insulated Water Bottle With Straw Lid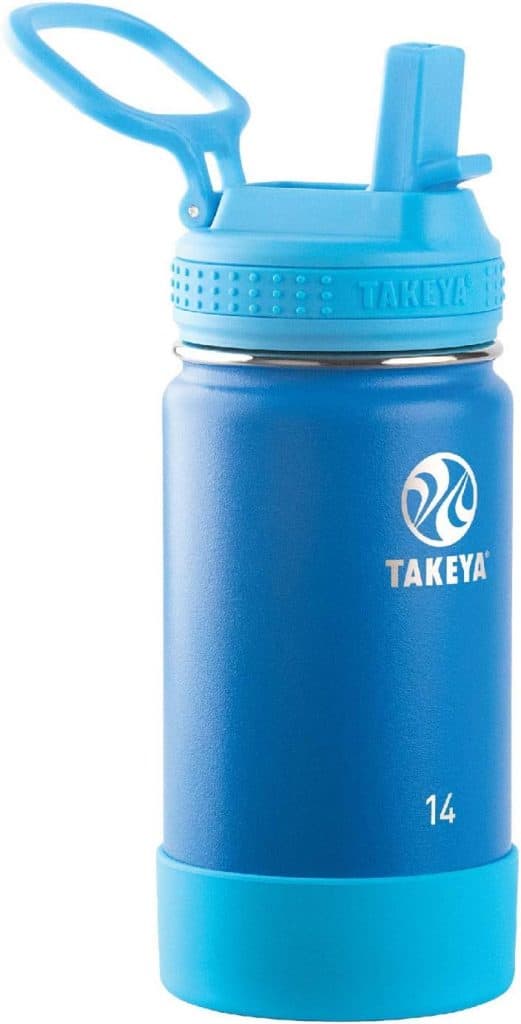 The Takeya Actives Kids Insulated Water Bottle With Straw Lid is one of the best kids water bottles. It features a durable folding spout that kids can securely open and close, thanks to its attached internal straw. This bottle has double-walled insulation, keeping drinks refreshingly cold for hours on end.
What sets this bottle apart is its remarkable ease of cleaning. You can conveniently place both the bottle and the top in the dishwasher.
The Takeya Actives Kids bottle offers a larger capacity (it's also available in bigger sizes) and a range of vibrant color options that aren't overly childish. This makes it a great choice not only for older kids but also for adults seeking a more compact water bottle. If you prefer to go strawless, you have the option to remove the internal straw and simply tilt back the bottle to drink.
Its secure folding spout, excellent insulation, and easy cleaning make it an ideal choice for kids of all ages. Despite being slightly higher in price, the larger capacity and appealing color options make it an attractive option even for older kids. Plus, the flexibility to go strawless or use the convenient spout lid adds to its versatility.
5. CamelBak eddy+ Kids 12 oz Bottle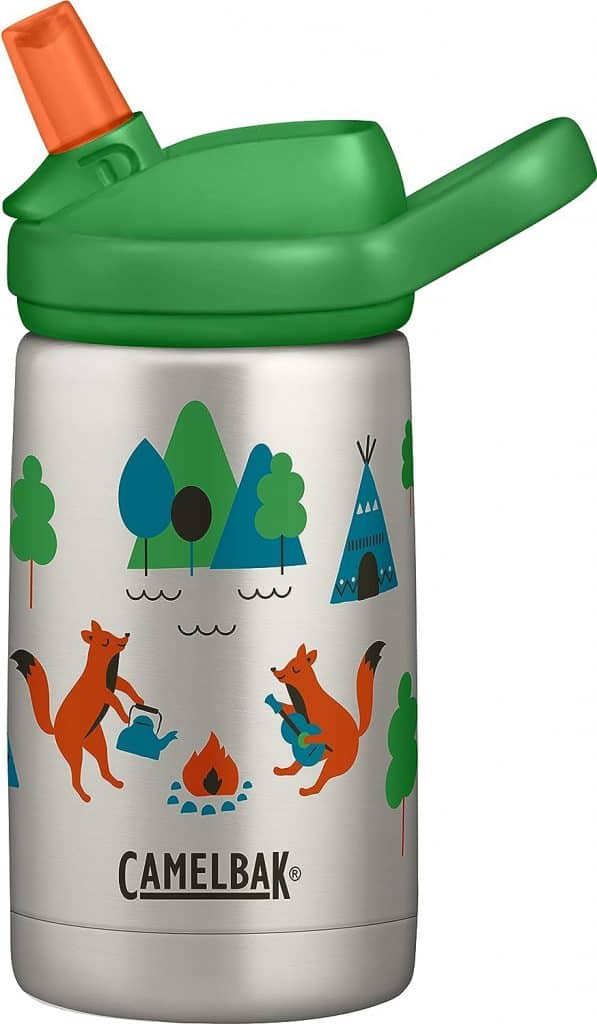 The Camelbak Eddy+ is a fantastic water bottle that excels in keeping drinks cold. What sets it apart is the clever bite valve design, which encourages kids to drink more water without feeling overwhelmed. Additionally, the containers come in vibrant, fun, and brightly colored designs that kids absolutely adore. 
When it comes to cleaning, the cap, straw, and bite valve are dishwasher-safe and can be easily cleaned on the top shelf. However, it is recommended to occasionally remove and deep clean the bite valve.
The Camelbak Eddy+ is an excellent water bottle that keeps drinks cold and features a bite valve design that encourages hydration. The vibrant and appealing designs make it a hit with kids. While the deep cleaning of the bite valve should be done regularly, it's a manageable task.
6. Contigo Kids Autospout Stainless Steel Water Bottle

The Contigo Autospout has many commendable features. It boasts impressive durability, and the flip-top straw design is truly ingenious. Not only does it protect the bite valve, but it also allows for easy cleaning. Additionally, this bottle is dishwasher-safe and effectively keeps drinks refreshingly cold.
However, the main drawback of this bottle is its lack of appealing designs to captivate kids' interest. It only comes with a colored lid and a stainless steel exterior. Presumably, this design choice was made to maintain the bottle's dishwasher-safe quality while keeping it at an affordable price point.
Overall, the Contigo Autospout possesses noteworthy qualities but, its limited design options failed to capture the attention of children. While it serves its purpose effectively, it may not be the top choice for kids who seek a visually appealing water bottle.
7. Stanley IceFlow 22 oz Water Bottle

The Stanley IceFlow 22 oz Water Bottle is a great option for kids if they love the outdoors. It comes with a robust handle that easily hooks to the backpack, which makes it easy to carry and one of the best kids water bottles.
Stanley, as a brand, stands out among parents for its exceptional durability and outstanding customer service. If you ever need to replace parts, they are known for providing excellent support. Additionally, Stanley bottles are known for its ease of cleaning. All parts of the bottle are dishwasher-safe.
The Stanley IceFlow is a fantastic choice for those seeking a larger water bottle for outdoor adventures. Its 22-ounce size makes it ideal for all-day hikes or camping, while remaining compact enough for everyday use at school.
8. Crate & Barrel Kids Stainless Steel Water Bottle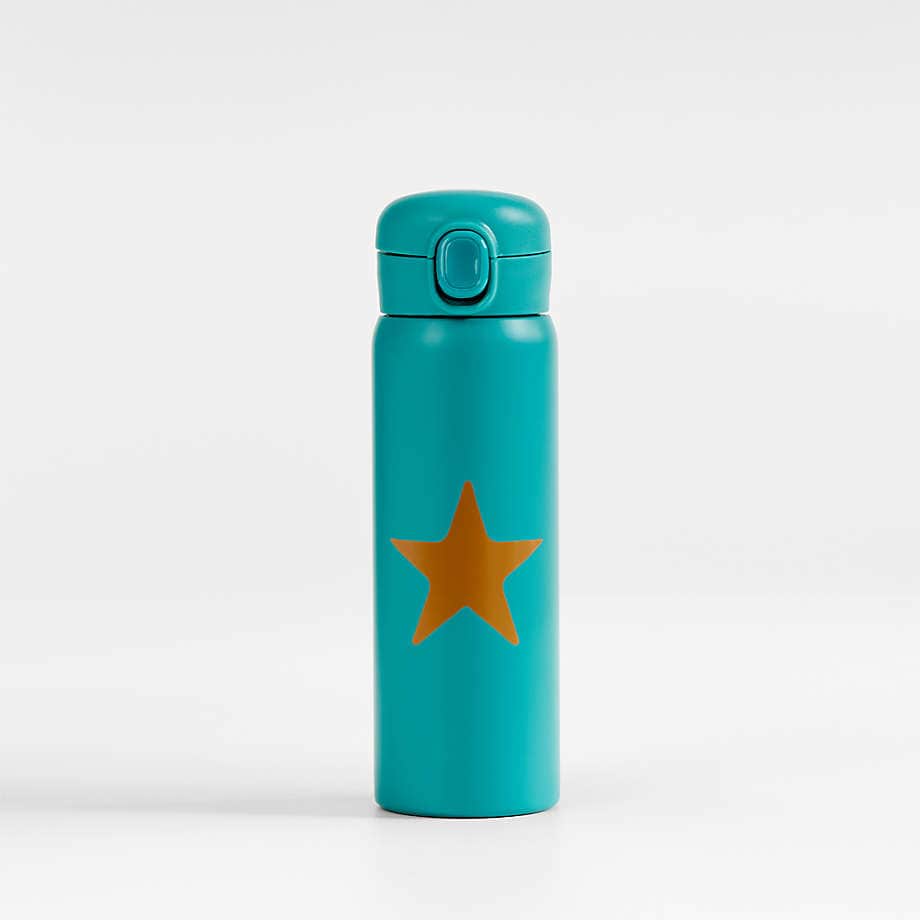 The stainless steel construction offers stunning and captivating designs in vibrant colors, making it visually appealing. Also, these lightweight bottles are easy to carry and can hold a perfect 15 ounces of water. 
However, this bottle is not exactly the most durable bottle on our list. You might experience that the lid of the bottle may break easily when dropped on concrete ground. 
All in all, this water bottle has gorgeous designs, dishwasher-safe convenience, is lightweight, and has the ideal capacity, it raises concerns about its long-term durability. While it can still be used, it's unfortunate to find that this may not be a bottle that lasts an entire school year as we had hoped.
9. CamelBak Chute Mag Kids 14 oz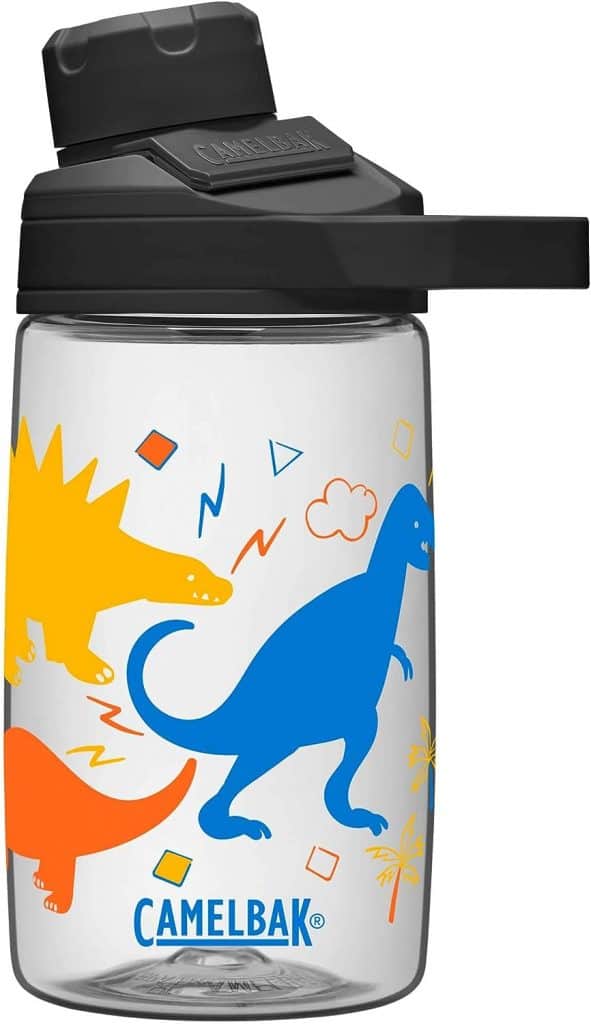 The CamelBak bottle is a durable and lightweight option, weighing in as the lightest among our selections due to its plastic construction. 
The CamelBak Eddy+ Kids version features a straw spout that is simple to open and close. Thanks to its bite valve, even when the spout is open and the bottle is held upside down, it won't leak. It's worth mentioning that this bottle is not insulated, so be prepared for warm drinks or the presence of condensation.
If you prefer a strawless option that's easier to clean, the CamelBak Chute Mag Kids is a great alternative. It features a spout top with an attached magnetic cap. The Chute Mag Kids is more suitable for kids who can handle the faster flow of an open spout and can remember to screw the cap closed when not in use. In short, the CamelBak bottle is a reliable choice, offering durability and a lightweight design.
10. Summit Kids' Water Bottle With Straw Lid 10 oz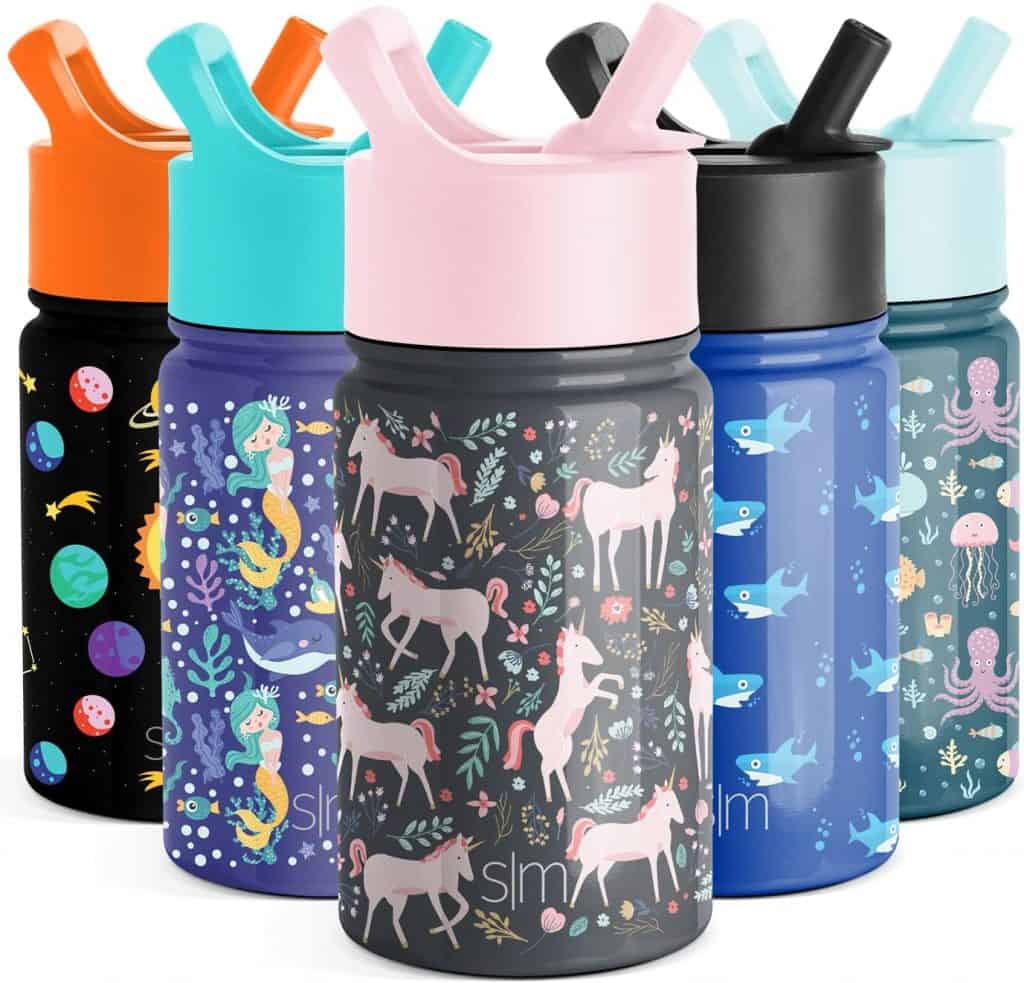 If you're looking for a water bottle suitable for a toddler who is just starting to drink from a bottle, Simple Modern's Summit is the best kids water bottle. It offers a wide selection of more than 30 adorable designs and features a 100 percent stainless steel bottle with a flip-top straw lid.
This bottle can only keep liquids cold; it cannot keep hot beverages warm. It is available in three sizes—10, 14 and 18—so you can pick the ideal bottle for your child. The bottle can be customized by adding your child's initials. 
Simple Modern's Summit is the best toddler water bottle as it helps little ones drink from a bottle. With its wide array of cute designs, stainless steel construction, and convenient flip-top straw lid, it's a lightweight and easy-to-use option for small hands.
Final Thoughts - Best Kids Water Bottles
Finding the right bottle for your child can be a bit challenging as there are a plethora of choices and considerations. However, we cannot stress enough the importance of choosing a functional and durable water bottle. With the right water bottle, you can encourage your child to drink more water and stay hydrated. So, take your time, go through the options, and choose the right bottle for your little one. 
Best Kids Water Bottles FAQ's:
1.Which bottle is best for drinking water for kids?
Stainless steel bottles are great for kids as they are sturdy and long-lasting. These are dishwasher-safe and easy to recycle. Another great option is aluminum bottles due to their lightweight and durability.
2. Is stainless steel bottle good for kids?
Yes, stainless steel bottles are a great option for kids as they are durable. Even when kids drop them on concrete ground, they'll not break. Plus, with proper insulation, they can keep the drink cold for a long time.
3. Which bottle is better copper or stainless steel?
While comparing copper and steel water bottles, copper bottles win the case. That's because copper bottles help preserve the minerals in the water. Also, they add nutrients to the water by supercharging it with ions.