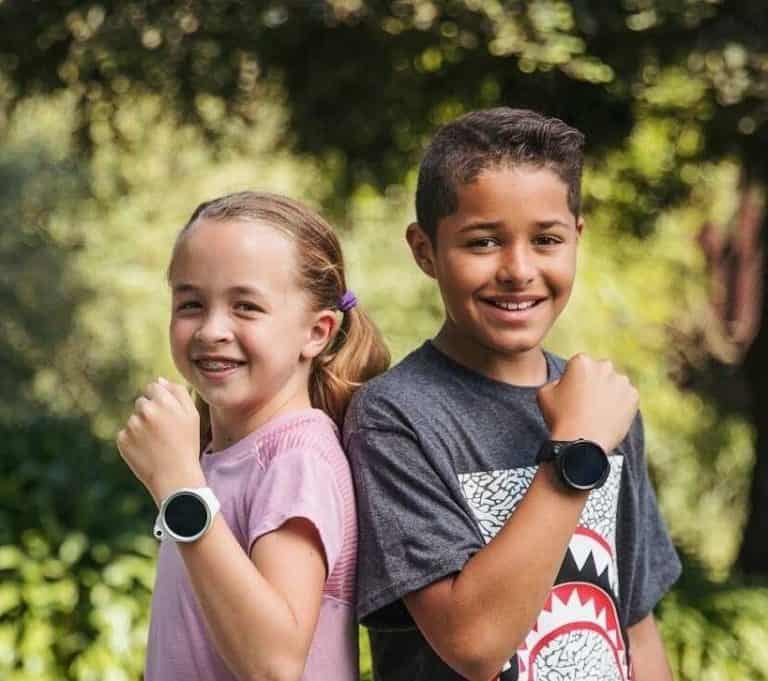 Getting your kid watches makes it, symbolically, their first step towards independence and incursion into the world of adults. Some might argue that with the advent of smartphones wristwatches are becoming obsolete. Nonetheless, studies show that a first-time analog wristwatch is a tool for the child's learning process helping them learn the concept of time helping them schedule and plan their time.
Listed below are the best kid watches for kids in 2021 that are kid-friendly and easy:
1. Timex Analog Elastic Fabric Strap Watch: Best kid watches
This watch equips the little one with learning skills in telling time in an engaging and fun way. It comes with an easy to read analog quartz dial and a minute hand featuring large numbers for natural learning. There are rotating graphics that are included for fun and beauty and features a water-resistance construction of up to 30 meters and a scratch-resistant mineral glass for durability. The Timex is lightweight and has a notable Indiglo backlight that displays bright and colorful.
Pros
1. Reasonably priced
2. Comfortable to wear
3. Lightweight
Cons
1. The closure system could be improved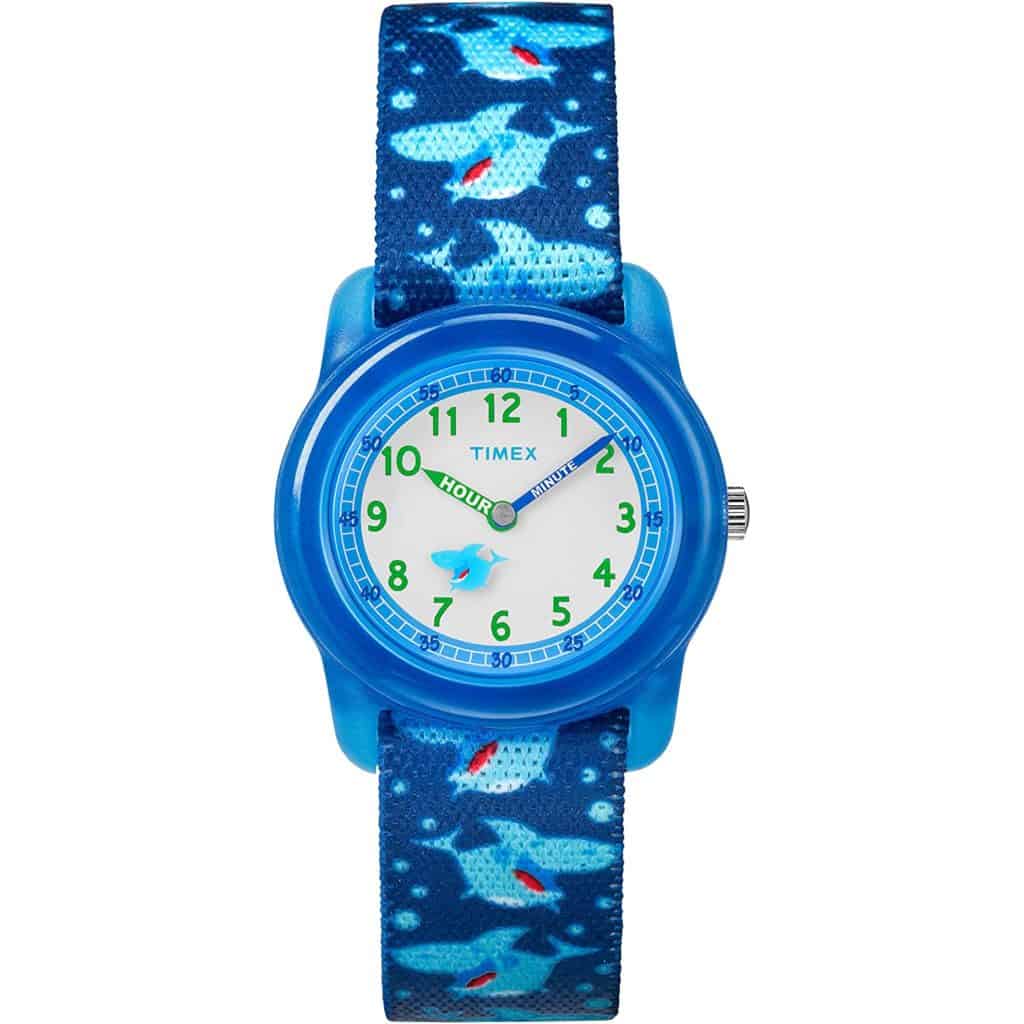 2. Lego Batman Minifigure Buildable Watch: Best kid watches
This watch is an iconic Lego Batman Minifigure watch that is featured in the little superhero. It has a splash-proof resistant design and a multi-colored interchangeable square link. It comes with a plastic casing and a bezel on the left side for adjustment.
Pros
1. Reasonably priced
2. Cool Lego watch for kids
3. Taking out and adding links is easy.
Cons
1. Cheap plastic materials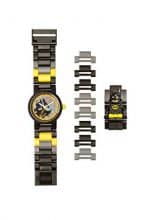 3. Disney Kids' Frozen Elsa & Anna Watch: Best kid watches
It is an excellent educational toy that displays Disney's favorite characters, Elsa and Anna, from Frozen. The watch also has a monochrome display feature e-paper that gives visibility during the day and night. It is water-resistant for up to 30 meters and is lightweight that comes in a plastic body with a polished matte finish for an attractive appeal.
Pros
1. Quality construction
2. Affordable
3. Excellent tool for learning
Cons
1. Battery life could be improved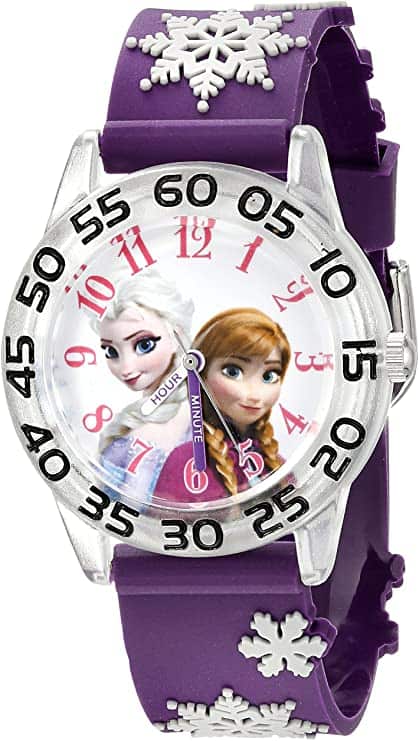 4. Marvel Kids' Avengers Digital Watch: Best kid watches
The watch features a lively screen in a plastic construction for durability. It is resistant to an environment that includes water but not suitable for swimming. It is slim in design with an adorable graphic of the Avengers and is sturdy when dropped which makes it durable for heavy use and has an adjustable strap.
Pros
1. Fun, superheroes graphics
2. Prepares kids to interact with       technology
3. Well-constructed
Cons
1. A little chunky for little hands
2. Very dim digital lights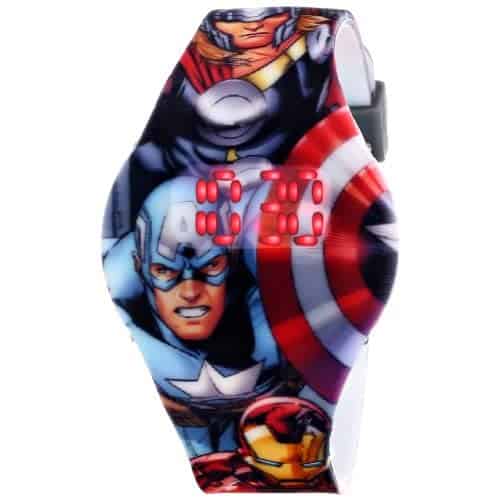 5. DX - Pink VTech Kidizoom Smartwatch: Best kid watches
This Smartwatch features eight fun games for kids that can play using the touchscreen. It also features a plastic scratch-proof screen with an edge square with bright colors with more than fifty 3D digital and analog displays. The watch also has a timer, calendar, stopwatch, and a calculator for simple arithmetic.
The watch comes with a micro USB cable for charging and a rechargeable lithium-ion battery that will connect the young one with more games and face designs that are downloadable with the Learning Lodge app. It also enables the little to take photos, download, and upload images.
Pros
1. Excellent build quality
2. Excellent for practicing math skills
3. Keeps the kid engaged
4. Fun games to play all day long
Cons
1. Low-resolution camera phone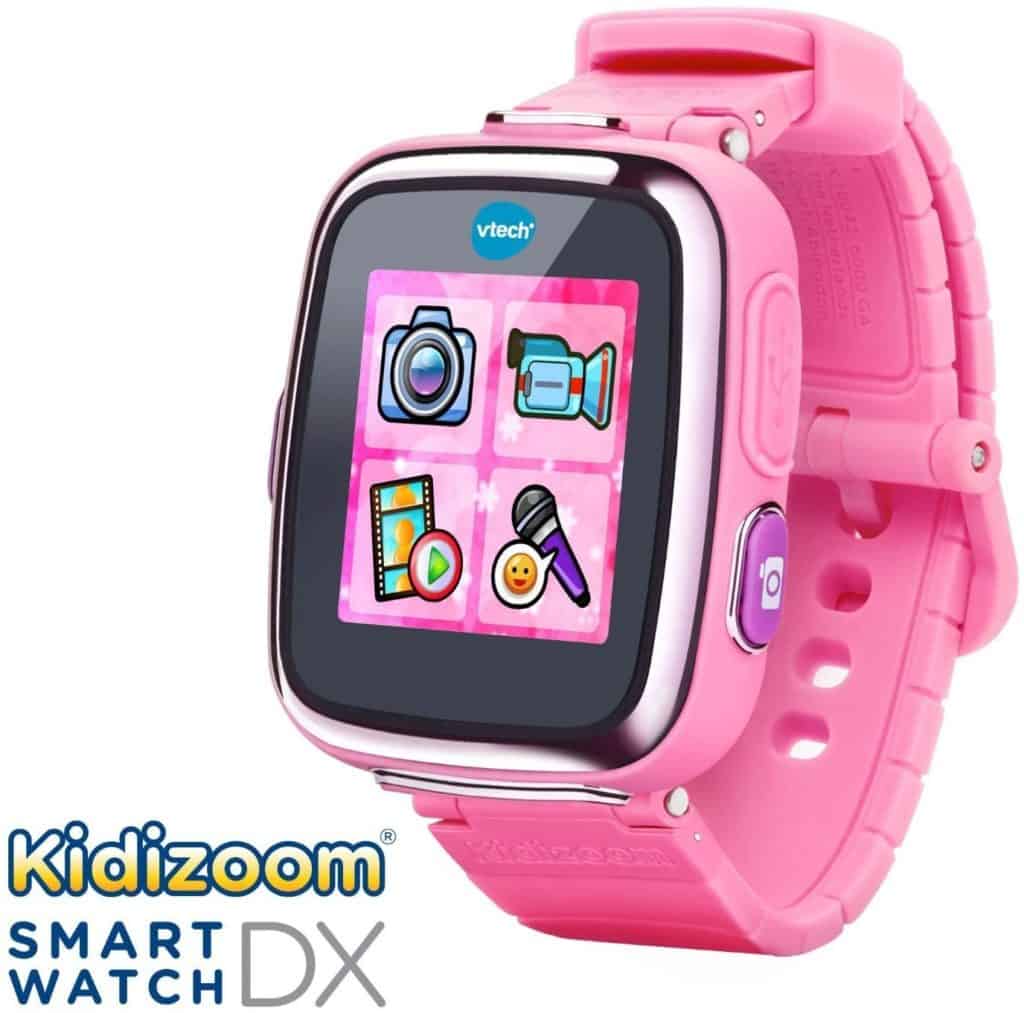 6. Camouflage LED Digital Sport Watch: Best kid watches
It is a multifunctional digital smartwatch waiting for a unique military-style suitable for all sports types and everyday wear. The layered display is a critical feature allowing a fair bit of punishment lasting for the distance. The watch has two buttons on either side with large display numbers and an Indiglo light that shines brightly in the dark. The watch has a fashionable sporty military-style and is waterproof with up to 50 meters that makes it an excellent watch for the wet weather and swimming, features a plastic, shockproof construction for durability.
Pros
1. Shockproof
2. Water and elements resistant
3. Readable at a wide range of angles
4. Comfortable strap


1. The overall quality could be improved
2. Might be too big for small wrists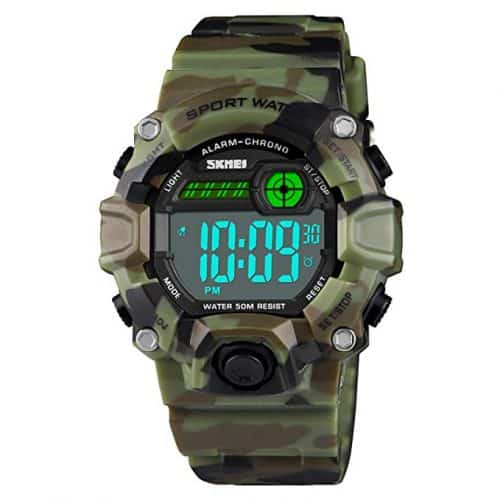 7. LETSCOM Fitness Tracker Watch: Best kid watches
It is a high-end wearable that is feature-packed with outstanding battery life and a multi-sport tracking and heart rate monitor. It also comes with a call, SMS, and SNS reminder paired to your kid's smartphone minimizing the chances of losing the phone or 'accidentally' forgetting it.

The smartwatch has a rechargeable battery that lasts for seven days and has a high res camera for shooting photos. It has a waterproof design against the weather elements and suitable for swimming, washing hands, and sturdy enough to handle spilling drinks.
Pros
1. Reasonably priced
2. Excellent fitness tracker
3. Build quality
Cons
1. The sleep tracker is a bit off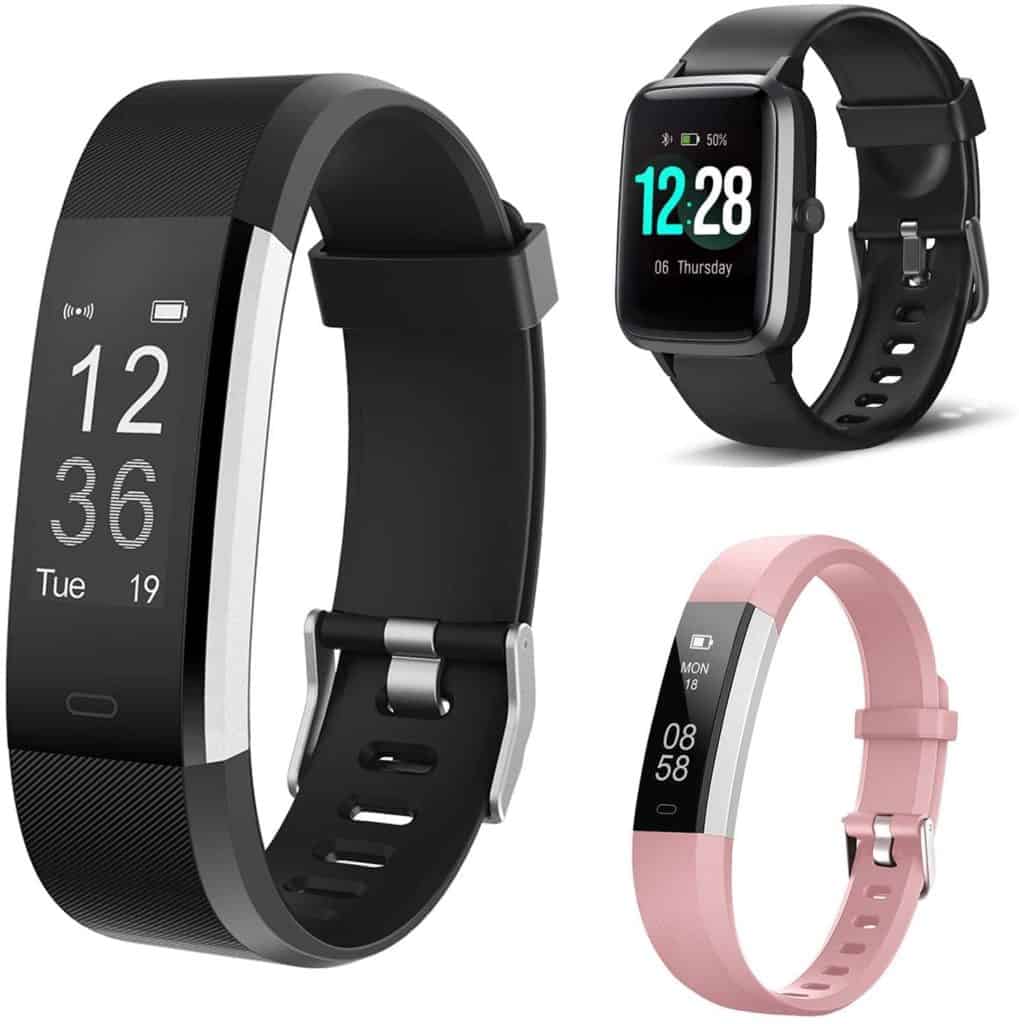 8. Multi-Function Digital LED Sport watch: Best kid watches
This watch is a full-featured kid wearable that has large numbers on the dial and EL backlight for convenient reading in dark environments. It features high-quality material suitable for indoor and outdoor use. The watch has waterproof capabilities and does not recommend pressing buttons while underwater.
It features a slim flame that sits comfortably on the wrist and the screen resolution is bright to read. It also includes a calendar, stopwatch, an alarm, and a scratch-resistance mirror surface that makes it an excellent Christmas gift.
Pros
1. Superb construction
2. Excellent visibility with a full-color display
3. Numerous versatile functions
Cons
1. Too big for smaller wrists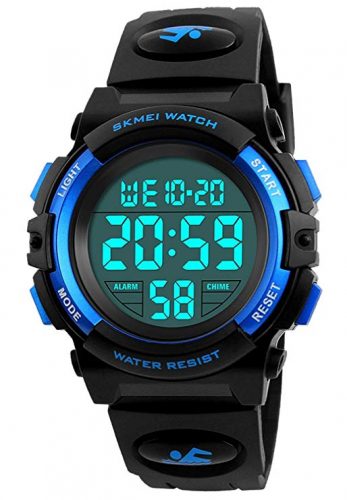 9. Minnie Mouse Kids' Watch: Best kid watches
It is suitable for younger children with the concept of time and has an analog face with two different colored hands to process learning. The watch features the Disney character Minnie that comes with a plastic, comfortable strap easy to adjust and buckle up. The material used is non-toxic and safe for your child with a 6mm regular round face display with a toughened sturdy glass for heavy usage.
Pros
1. Solid construction
2. Fits well and extremely comfortable
3. Super cute design
Cons
1. The quality could be improved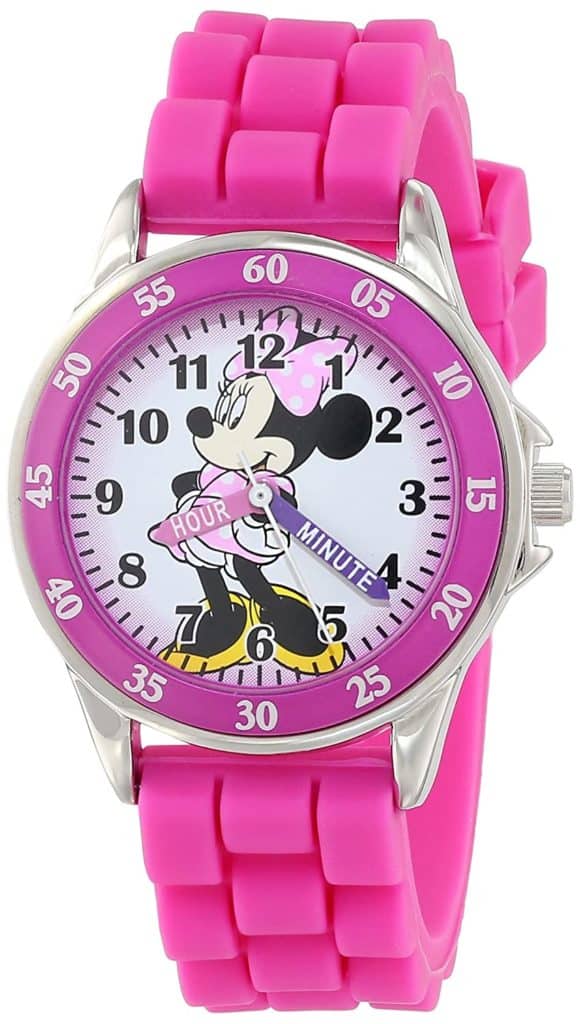 10. Xenzy GPS Tracker Watch: Best kid watches
The Watch is a feature-packed with 2020 GPS tracker that supports a Micro-SIM SD card for saving telephone numbers, making calls, and sending text messages. It also has an anti-disturb mode that ensures order in class. Its remote camera function helps record your child's best moments and share the story with friends and family and the GPS Tracker has a light screen technology with a full-color display along with a backlight giving it a vivid reflection.


Pros
1. Remote monitoring
2. Great smartwatch starter
3. Long battery life
Cons
1. The camera could be improved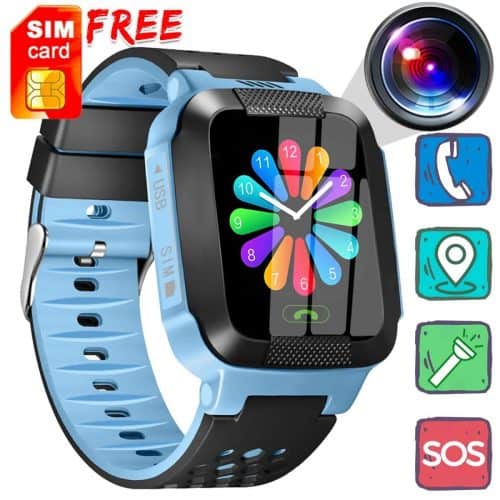 11. Cofuo Digital Sport Watch - Best Kid Watches
If you have a budget and are looking for an affordable watch for your kid, then this is an option to consider. Cofuo kids' watch comes with a rubberized strap that prevents chafing and rubbing from the watch body and makes it comfortable, with a display show of the day, time, and date with either a regular light level or additional light mode for easier reading.
Pros
Water-resistant up to a depth of 50 meters
Is an analog watch
Is shockproof
Cons
Could take some time to get used to it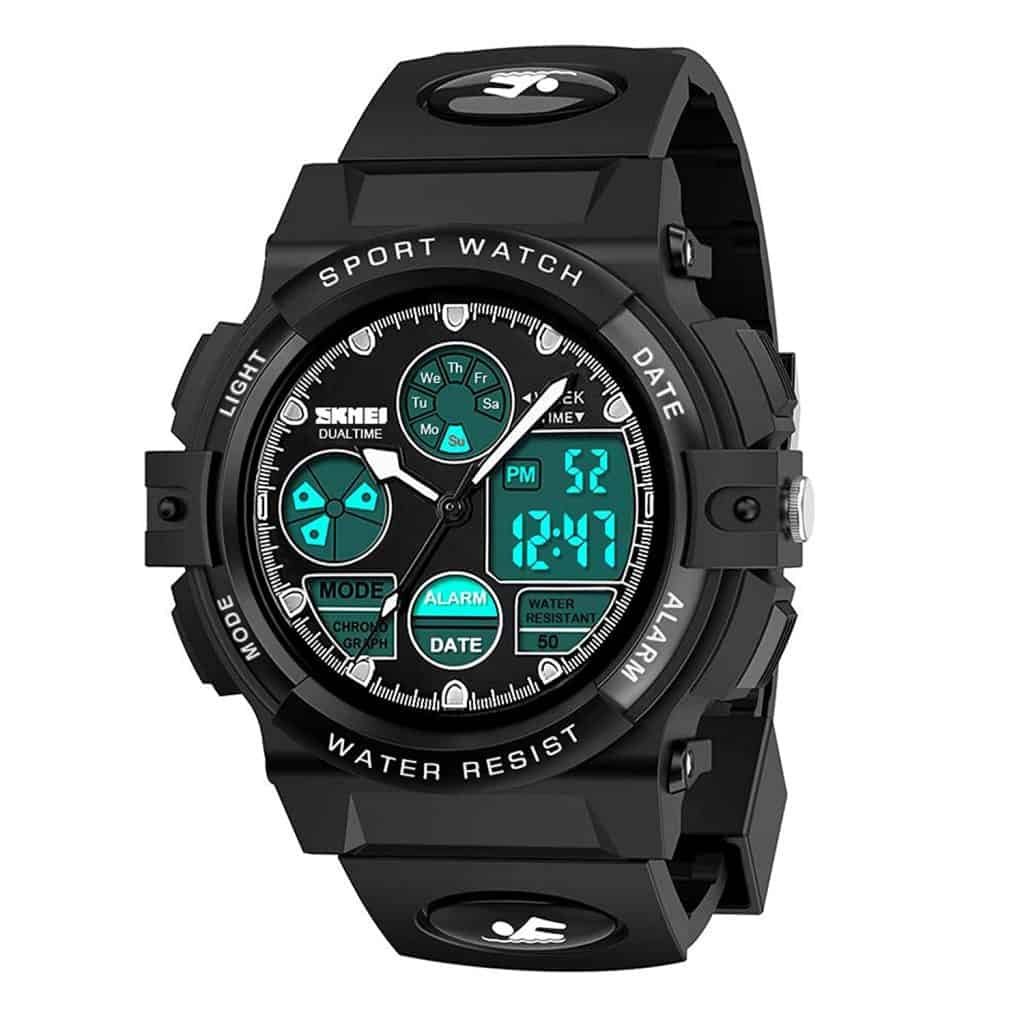 12. Pasnew Reader Kids Watch - Best Kid Watches
Pasnew is a pretty kid watch that comes with a leather band and is specially designed for little ones. It offers a sophisticated design, is decorated using delicate flowers and the strap attaches to a trio of crystals.
Pros
Can be used by a wide age range
Is durable
Has an analog display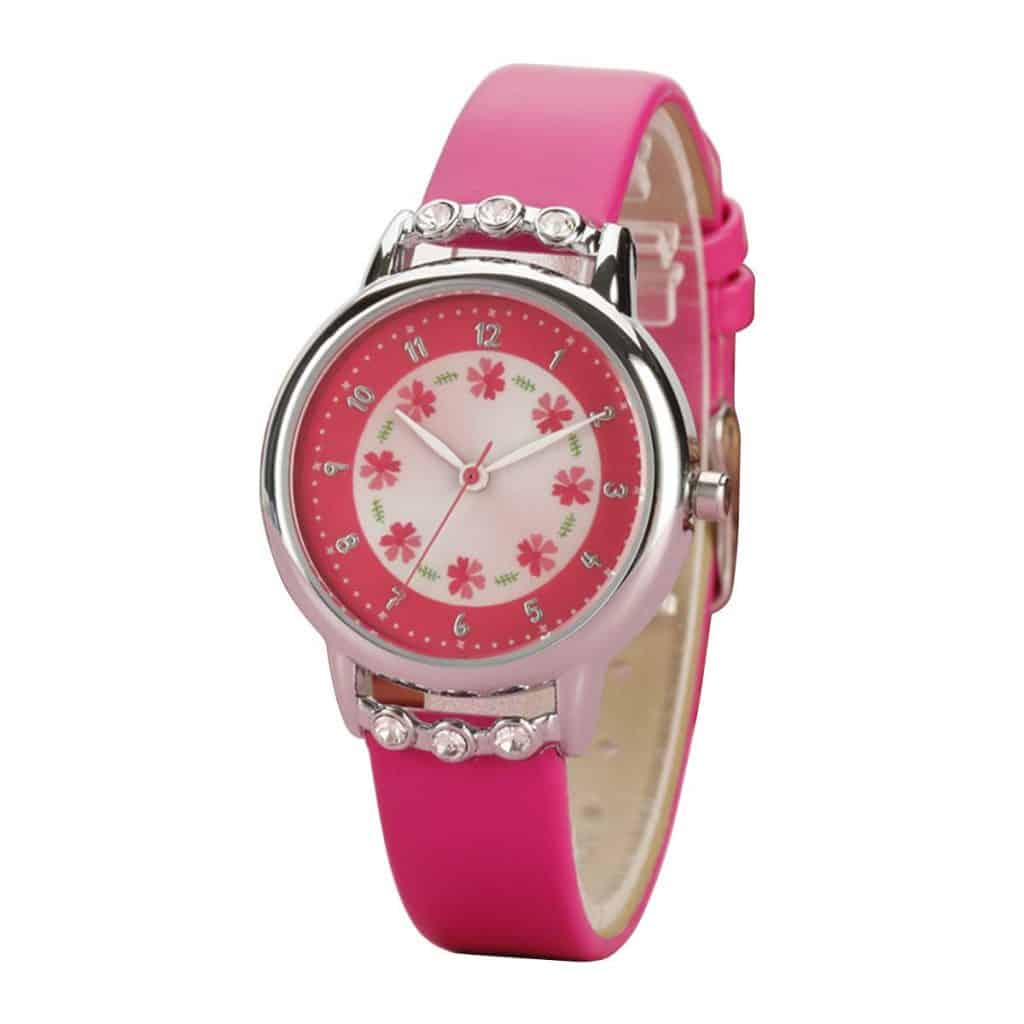 13. STR300-7 Casio Sports Watch - Best Kid Watches
This is a sports watch for kids that is glamorous and super fun to wear. It is cute, comfortable, and lightweight for little ones. STR300-7 includes a water-resistant casing, has a pacer to alert, and can be worn at all times.
Pros
Comes with a flexible strap
Is lightweight
Is water-resistant
Has a battery life of up to 10-year
Comes with a pacer that is useful for athletic kids
Includes a countdown timer and an auto light
Cons
The band could be a little too stiff for some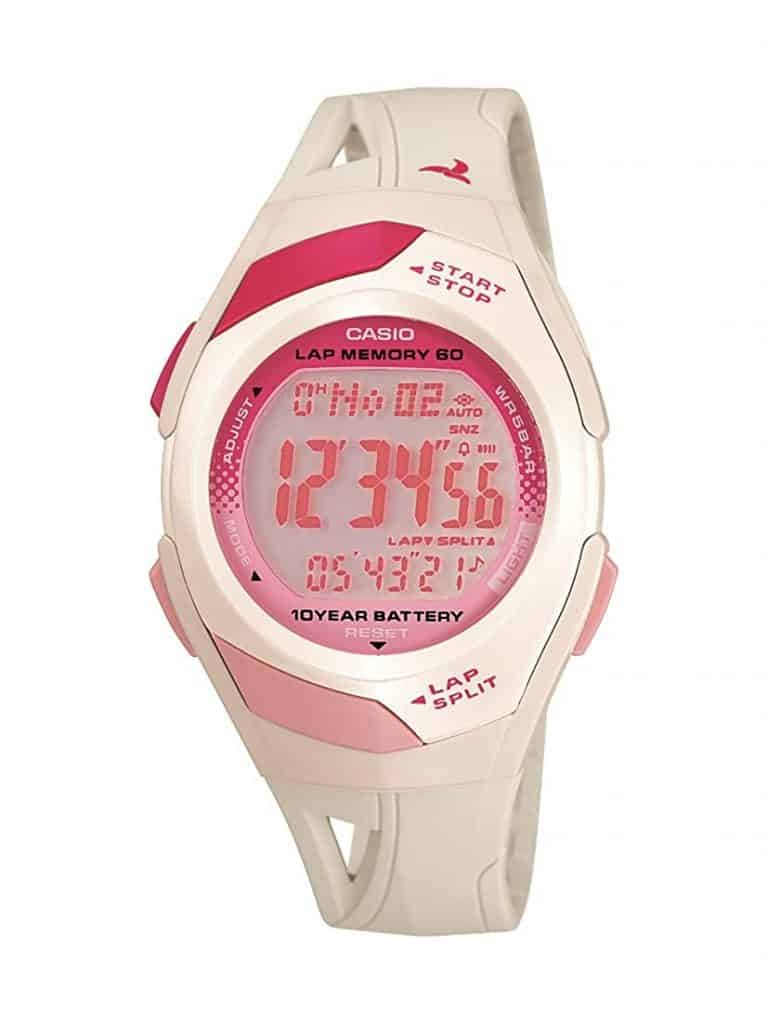 14. Karaforna Game Smartwatch - Best Kid Watches
This smartwatch allows kids to not only keep an eye on the time, but also lets them take photos, call, and comes with a parent remote function too. With Karaforna, you'll be able to monitor your kid, has a GPS, and comes with a Do Not Disturb mode too.
Pros
Comes with a GPS tracker to monitor your kid
Is super easy to use
Has fun games
Cons
Does not feed names contact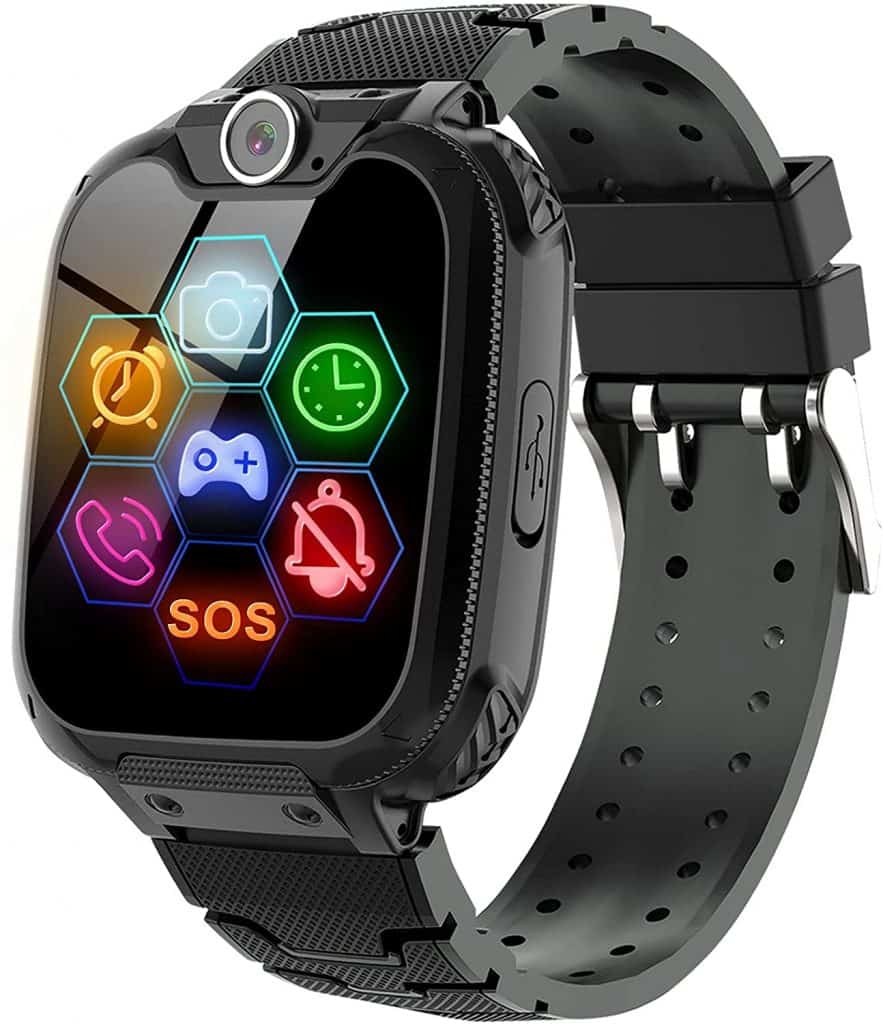 15. Venhoo 3D Kids Watch - Best Kid Watches
Venhoo is a 3D watch that allows your child to feel safe at all times. It features a silicone strap, is attractively decorated using 3D cartoon characters, is large, has bright colors, is super easy to read, and is comfortable to wear.
Pros
Comes with a silicone strap
Offers a safe and comfortable wear
Has a clear, protective plastic cover that prevents the watch from scratches
Is water-resistant
Cons
The strap size could be rather small
Comes with no extra features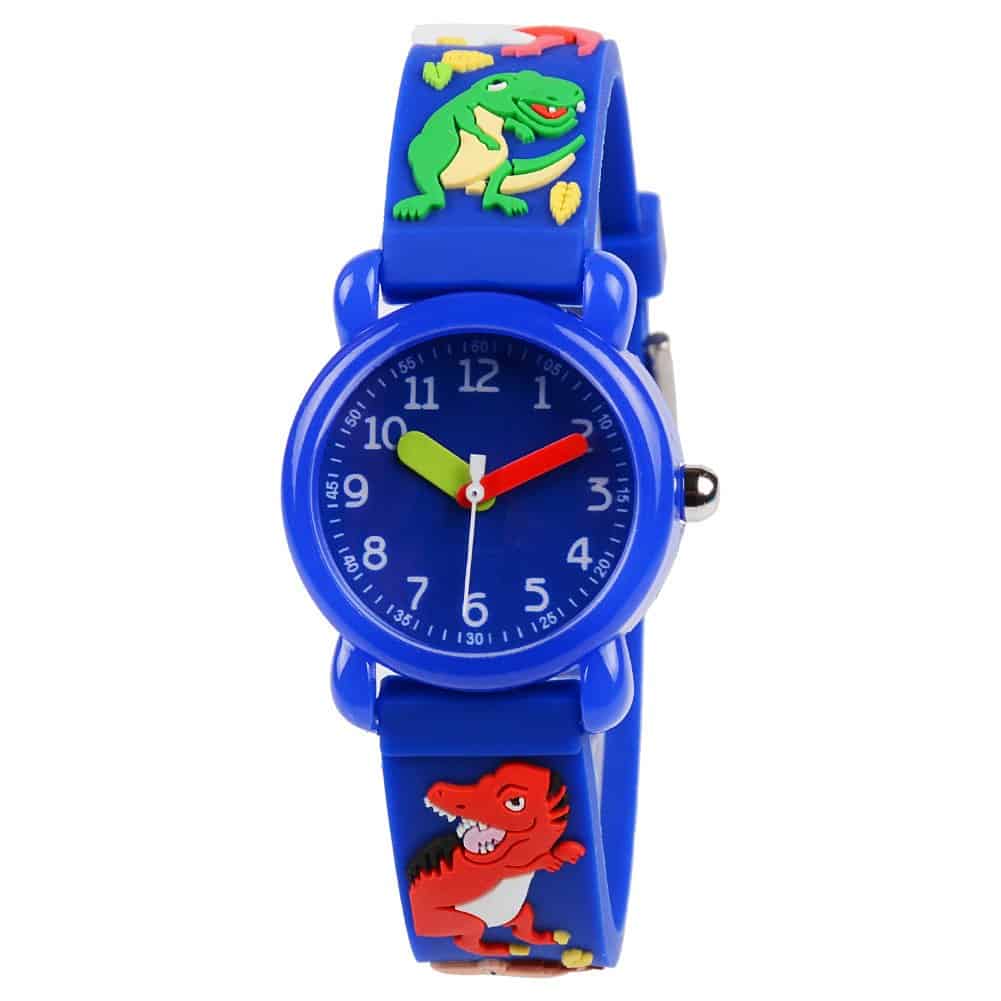 16. Prograce Digital Wrist Watch - Best Kid Watches
Prograce is a high-quality smartwatch that comes with 12 features (games, Bluetooth, calendar, sound recorder, torch, and pedometer). You can also choose to have a separate microSD card to help store all favorite numbers, can be linked to a smartphone and has an integrated fitness tracker to help count steps.
Pros
Is versatile
Is supported with a phone
Has a soft and breathable silicone strap
Includes a lot of functions
Cons
Is rather expensive comparing the options on the list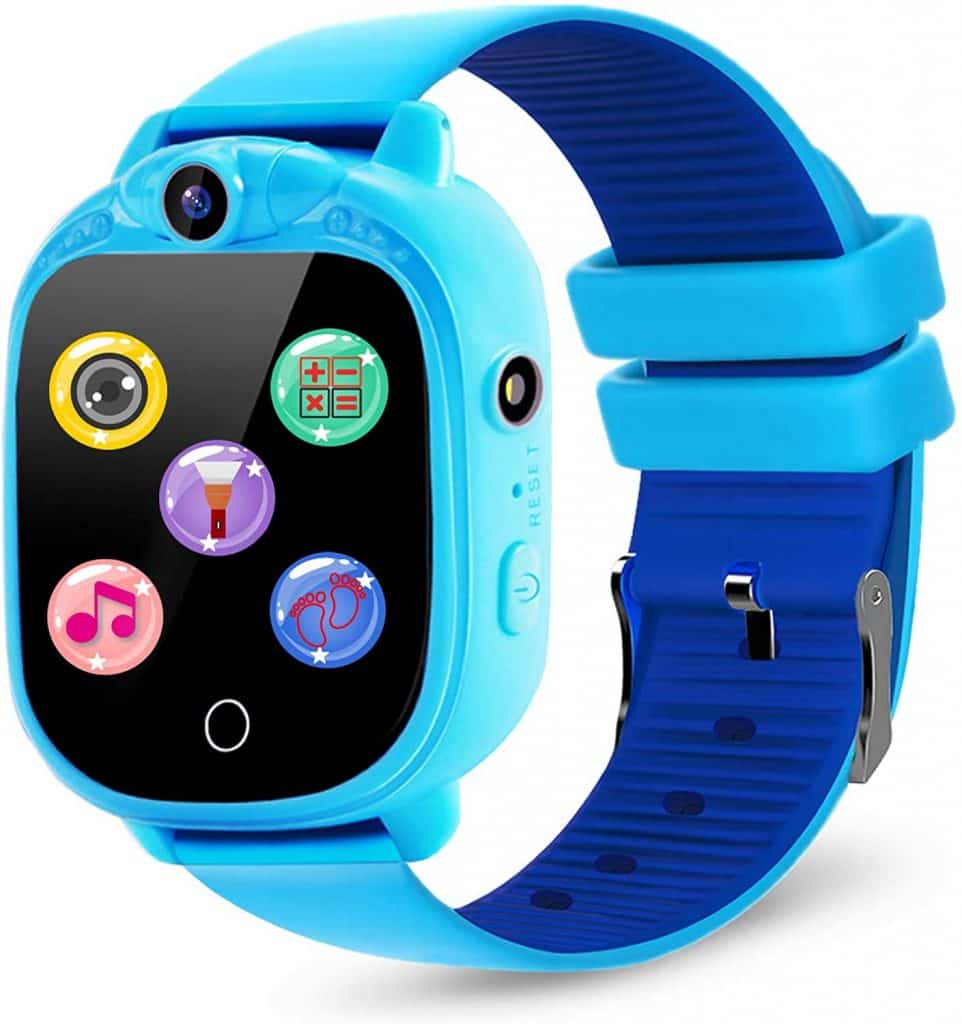 17. YF Wood Waterproof Digital Watch - Best Kid Watches
YF digital watch is lightweight, waterproof, and shockproof and designed for small kids. It is waterproof for up to 50 meters and comfortable to wear.
Pros
Is water-resistant
Is sturdy
Cons
Comes with limited functions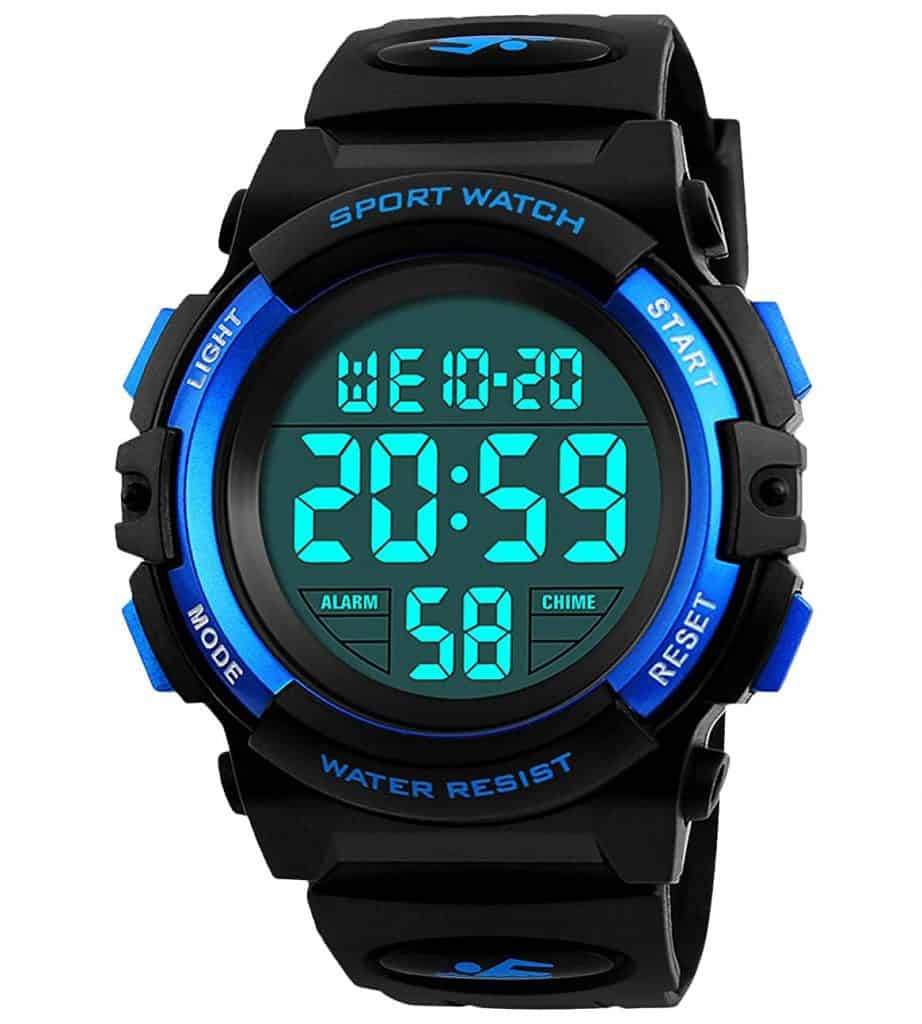 These were the top 17 best kids watches, specially picked by Parenthood bliss as the child digital watches for the little ones. These watches for girls and boys range from different and unique in terms of their functions, features, battery life, etc, all for you to pick the best one. However, are you looking for sunglasses for the child? We have also curated an article based on our top 7 picks for the best baby sunglasses. All in just a click away, ready to be explored!
Best Kid Watches Final Thoughts-
Getting your kid a watch could be a huge deal given the number of options put there. The wearables that we have discussed come with different features that can suit both boys and girls across all ages. Some of them are simple, easy to use, and read analog dials with favorite colors, animals, and cartoon characters providing young ones a learning opportunity. These smartwatches have features that are user-friendly and are essential for gifting. Let us know your pick in the comments, we are always listening!
Best Kid Watches FAQs
1. Is it bad to wear a watch on the right wrist?
No. A watch can be worn on the right wrist. Most people wear their watch on the left wrist as it is their non-dominant hand. It totally, only should depend on which is your dominant hand.
2. Why do people wear watches under their wrists?
This comes from history. Wearing a watch on the inside of the wrist is to prevent damage as in the earlier days, there were only quartz and other inexpensive surfaces that were much thicker and more likely to scratch. Crystal scratch proof faces were invented, much later. The earlier materials were fragile and made them more inclined to encounter damage.
3. Are wristwatches obsolete?
With the advent of smartphones, watches have become obsolete if one considers them purely as a timekeeping device, no doubt. But otherwise, they are a classic accessory, far from being obsolete.
4. Is it ok for the kids to wear watches while they are asleep?
Yes, of course. The watches are completely safe for the kids to wear at night while they are asleep. This is the easiest way to help the kid check the hour, just in case they wake up in the middle of the night. Choose the best watch for your kid that can also help them develop a sense of time. Also, note, make sure the kid hasn't tied their watch tight enough as it could get uncomfortable while they are asleep.