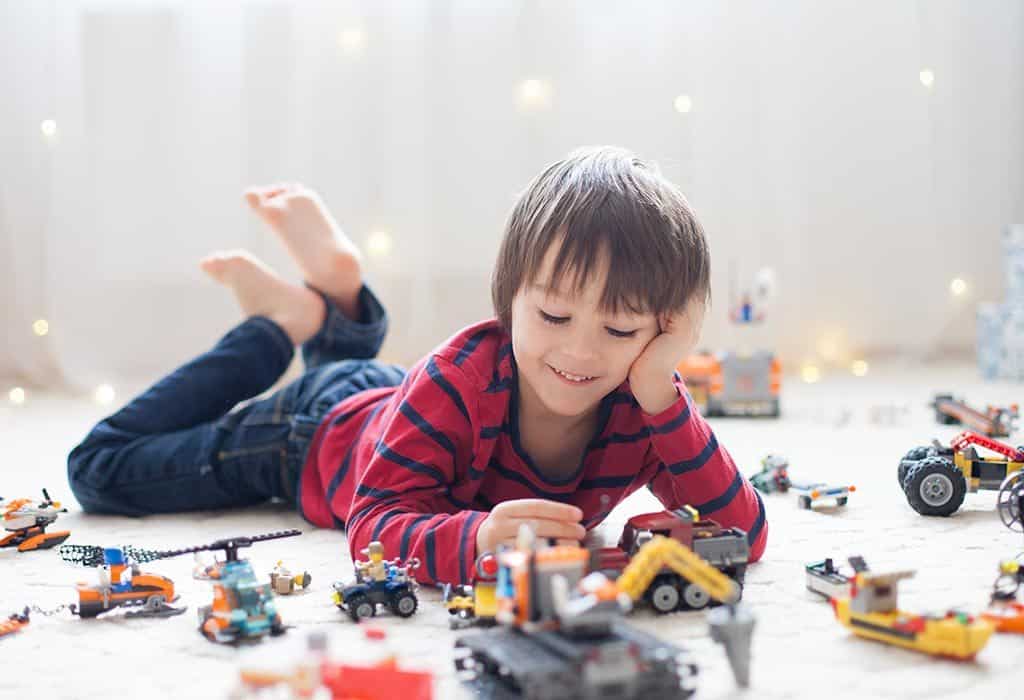 Best gifts for 6-year-old boy are an emotional gesture; they are these bundles of joy given as a token of appreciation and love to somebody we care about. But having said that, imagine how much more valuable would be those gifts if they were also as practical, functional as emotional!?
Buying gifts for kids, especially the very young ones, could be a difficult territory as they outgrow their likes and dislikes so rapidly at that age; let alone finding a practical and functional toy. If you are out on your journey to shop for a 6-year-old boy, we are all in to help you out in this fix!
Parenthood Bliss has curated this list to help you out in selecting the best gifts for the 6-year-old boy.
Top 40 Best Gifts For 6-Year-Old Boy
Here is an ultimate list of toys and gift ideas that any six-year-old boy will love!
1. LEGO Construction Set - Best Gifts For 6-Year-Old Boy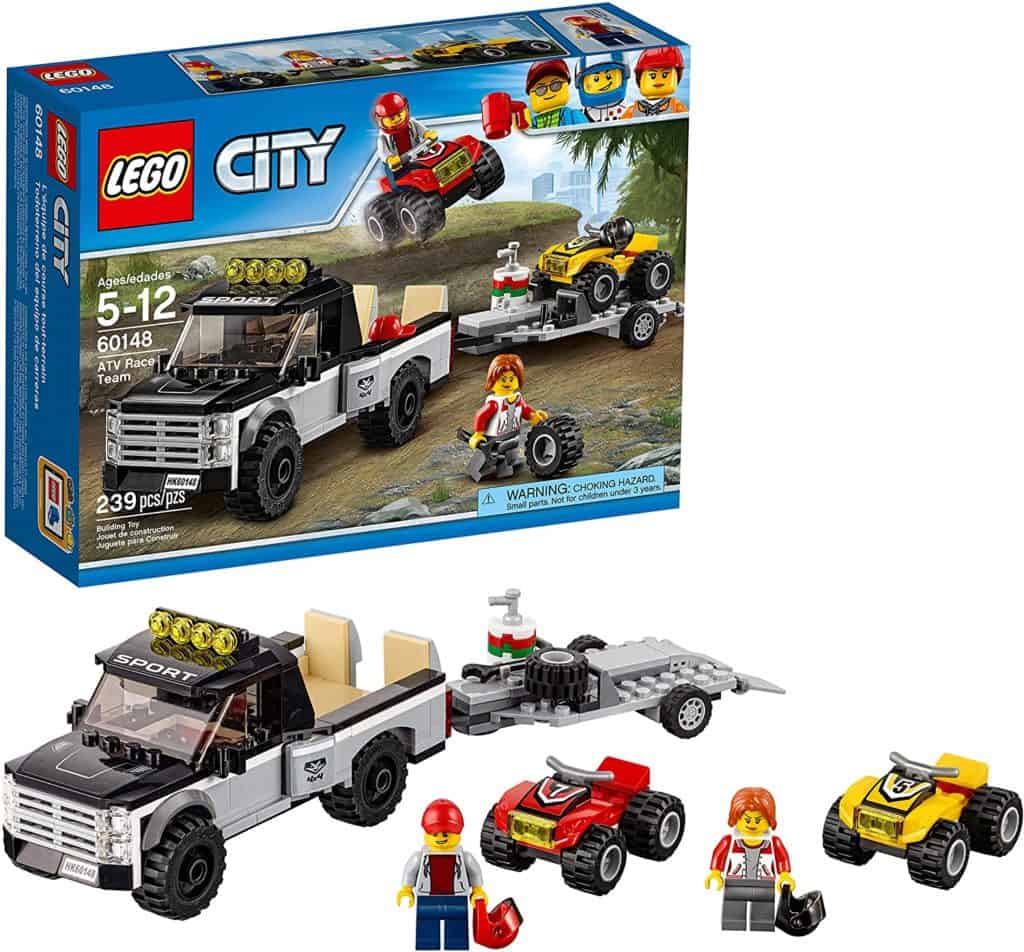 Block toys construction sets can enhance a kid's motor skills amongst a list of other benefits associated with the science of construction play. There is a range of LEGO construction sets available on the market; just look for the box that is recommended for 6+ and you are good to go! Construction sets also keep the boys really busy at work, giving you some much-required me-time!
2. Melissa & Doug Discovery Magic Set - Best Gifts For 6-Year-Old Boy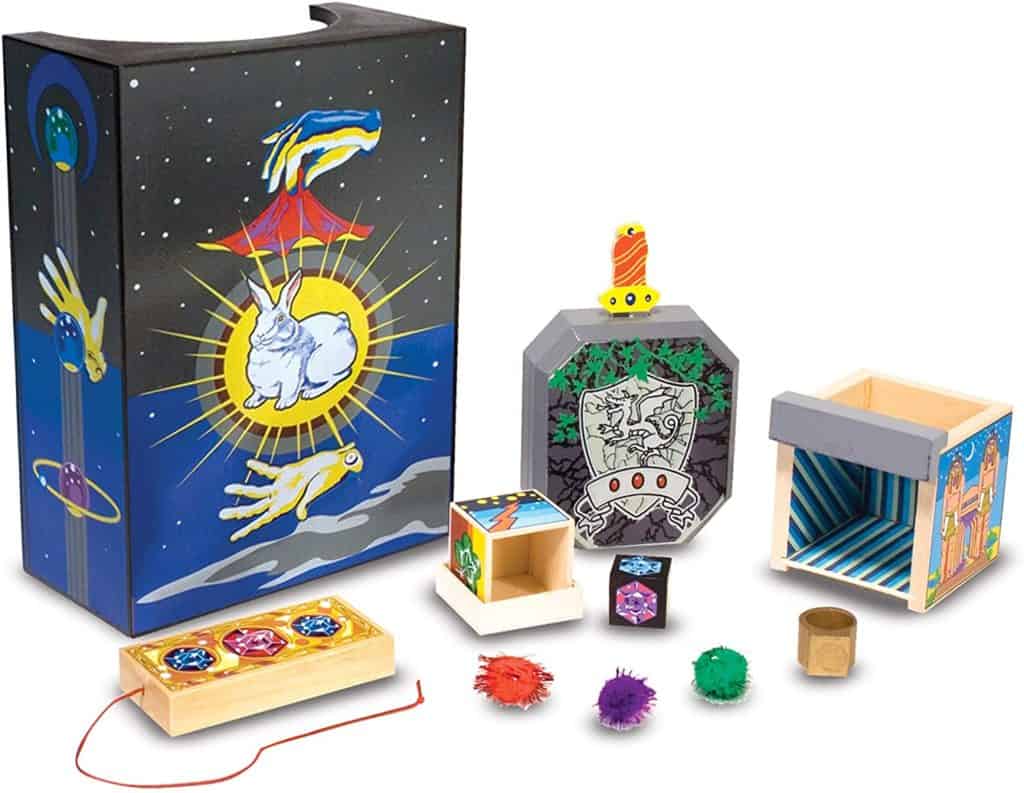 Being a toy from the activity category of toys, this magic set could act as a great enhancer of cognitive abilities, reading, and motor skills of a 6-year-old boy. Out of the multiple activities sets available in the market, we chose the Melissa & Doug Discovery Magic Set for this list as a magic set can boost the self-confidence of a kid by helping them understand how to perform in a crowd – even if the crowd is family. 4 easy magic tricks in this set include the Chamber of Illusion action, Color-changing String spectacle, the Magic Jewel Box Phenomenon, and the Sword in the Stone trick.
3. ALEX Art Draw Like A Pro - Best Gifts For 6-Year-Old Boy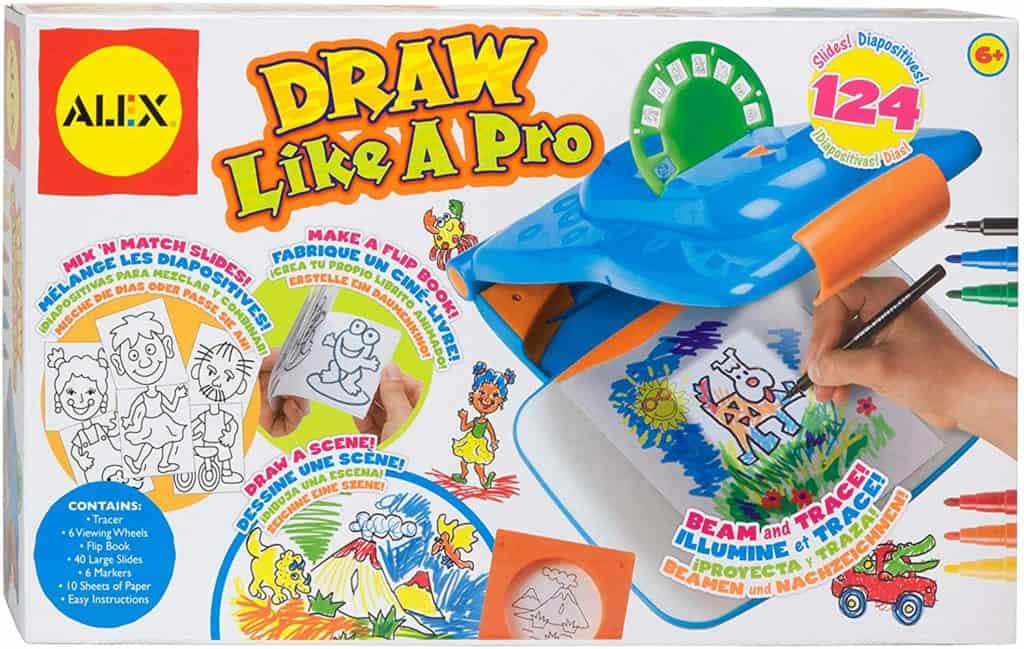 Creativity should never be restricted and this art kit stands for just that! An art toy kit comprising 124 slides, 6 markers, and 10 sheets of paper, this one is sure to amuse a 6-year-old kid for the kind of possibilities it offers. This toy art kit projects images on the rotating slide onto the backlit platform where a kid can trace. However, be sure to keep batteries in hand as it is operable only on batteries.
4. GILOBABY Take Apart Racing Car - Best Gifts For 6-Year-Old Boy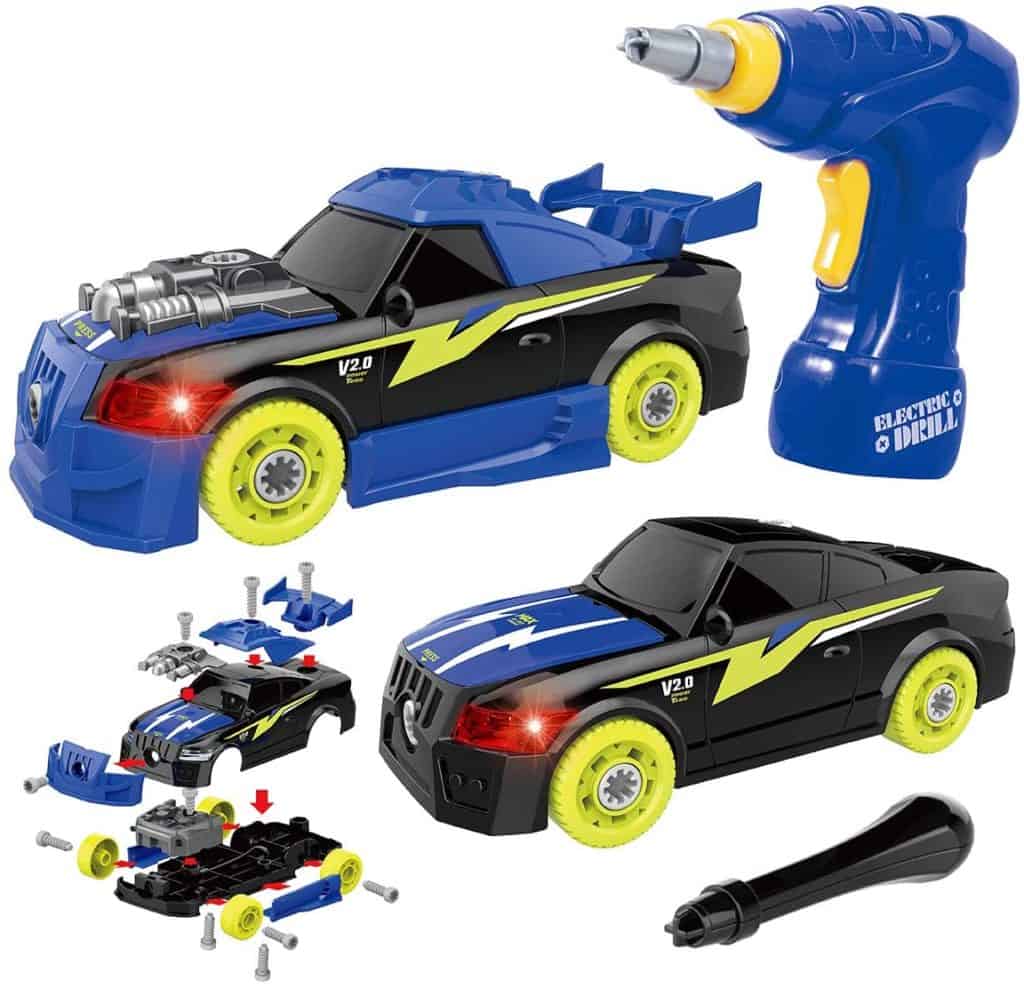 Not your regular racing car set, this toy comes with tools and parts that let the little boy first engineer his own car and then put it to race! The set comes included with a  plastic drill, screws, and car parts required to assemble, dismantle, or repair a car.
Since a child is involved in the process of building, assembling, and dismantling, this car kit will help improve hand-eye coordination and promote creativity, imaginative thinking.
5. 5 Second Rule Junior - Best Gifts For 6-Year-Old Boy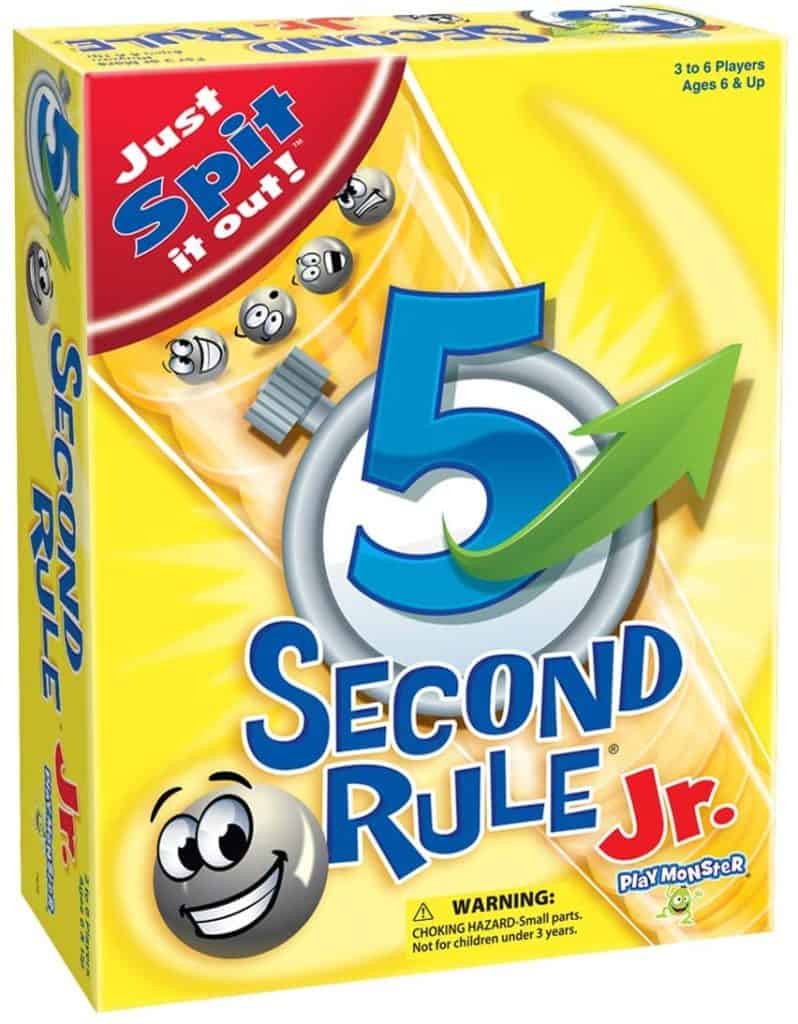 A toy that will not only become your boy's favorite but also of his friend's being a multiplayer game, 5 Second Rule is a card game aimed to promote quick thinking in children and to boost their creativity. As for the rules of this game, each player needs to draw a card and give an answer within five seconds. The team that makes the maximum points wins! The card packs come included with 200 cards containing 400 questions to keep the little one entertained for long. It also has 6 pawns, a 5-second twisted timer, and a game board.
6. Crayola Ultimate Crayon Collection Coloring Set - Best Gifts For 6-Year-Old Boy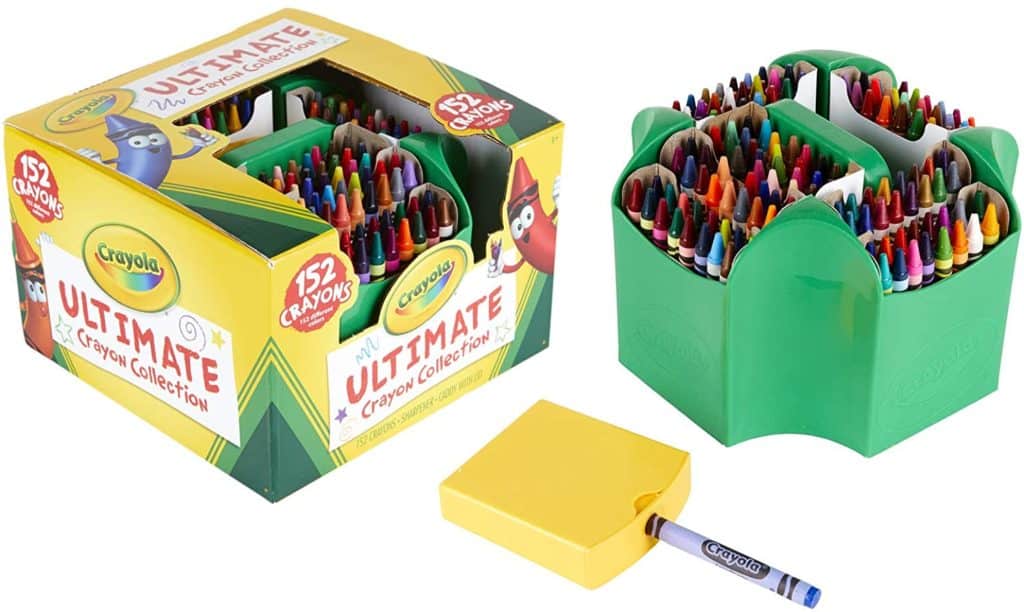 If you are 6-year-old you need to buy a gift for shows, even the slightest of interest in coloring or art, the Crayola Ultimate Crayon Collection is the gift to buy! This coloring set features 152 color crayons which will not only spoil the boy for chances but will also help him understand color palettes so much better. Besides, all the crayons (even the metallic and glitter ones) are non-toxic and double-wrapped to avoid easy breakability.
7. PlayMonster Yeti in My Spaghetti Tor Cash Register - Best Gifts For 6-Year-Old Boy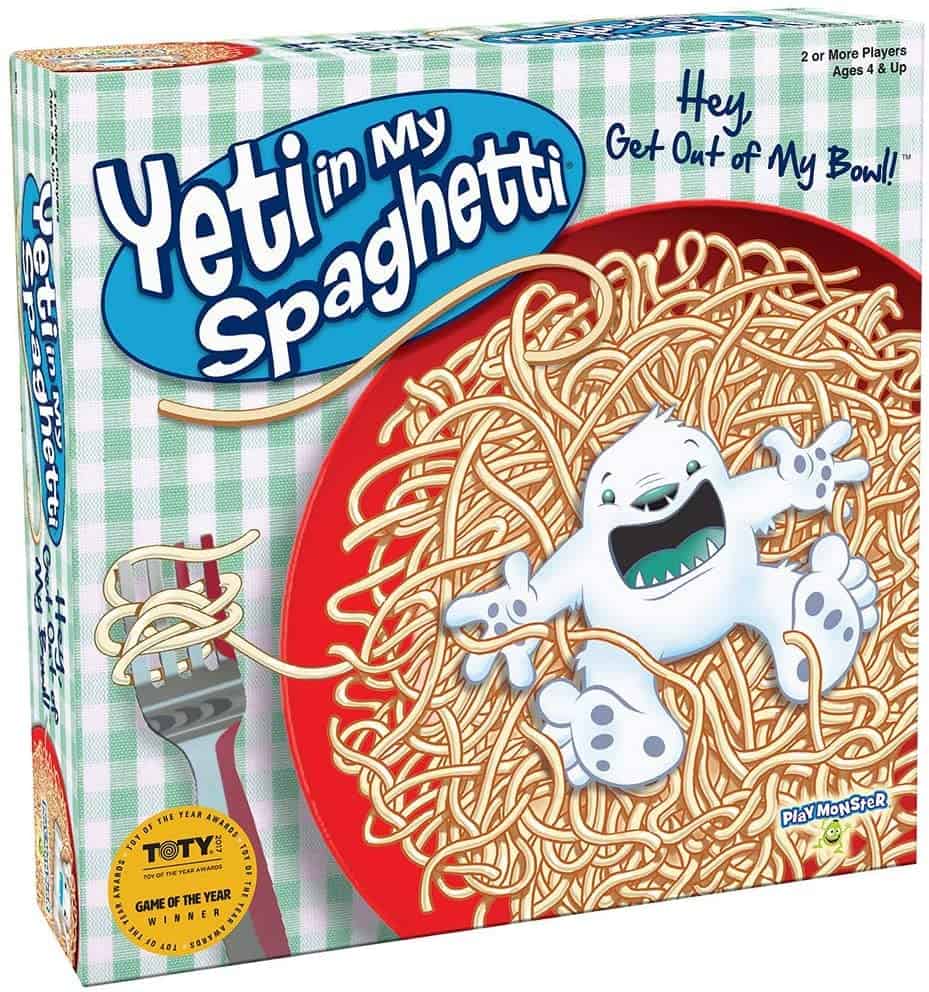 This one was actually the winner of the 2017 'TOTY Game of the Year Award!' A very unique game so to say, let us explain how it works. So there's a Yeti floating on top of noodles and the players have to remove pieces of noodles, one at a time, ensuring that YETI does not fall into the bowl. A multiplayer game, this one also helps- especially the less patient and fidgety kids- to enhance their concentration, focus, and hand-eye coordination as that's what they'd primarily need to win the game!
8. Treasure X Aliens – Dissection Kit with Slime, Action Figure, and Treasure - Best Gifts For 6-Year-Old Boy

Okay, we agree the name of this toy kit sounds rather intimidating but the game, in actuality, is so not so! The package of this game includes an alien figure, a treasure hunter, a pair of tweezers cum cutting blades, a container with slime, and an alien tube. As a part of the play, the kid will be on a mission of alien-hunting and within the stomach of aliens lie various treasure hunters. In order to win the game, the kid will need to dissect aliens to find these treasure hunters. Sure to not only amuse a 6-year-old champ but also to make them famous amongst his peers for owning such a cool game!
9. Adventure Kidz – Outdoor Exploration Kit - Best Gifts For 6-Year-Old Boy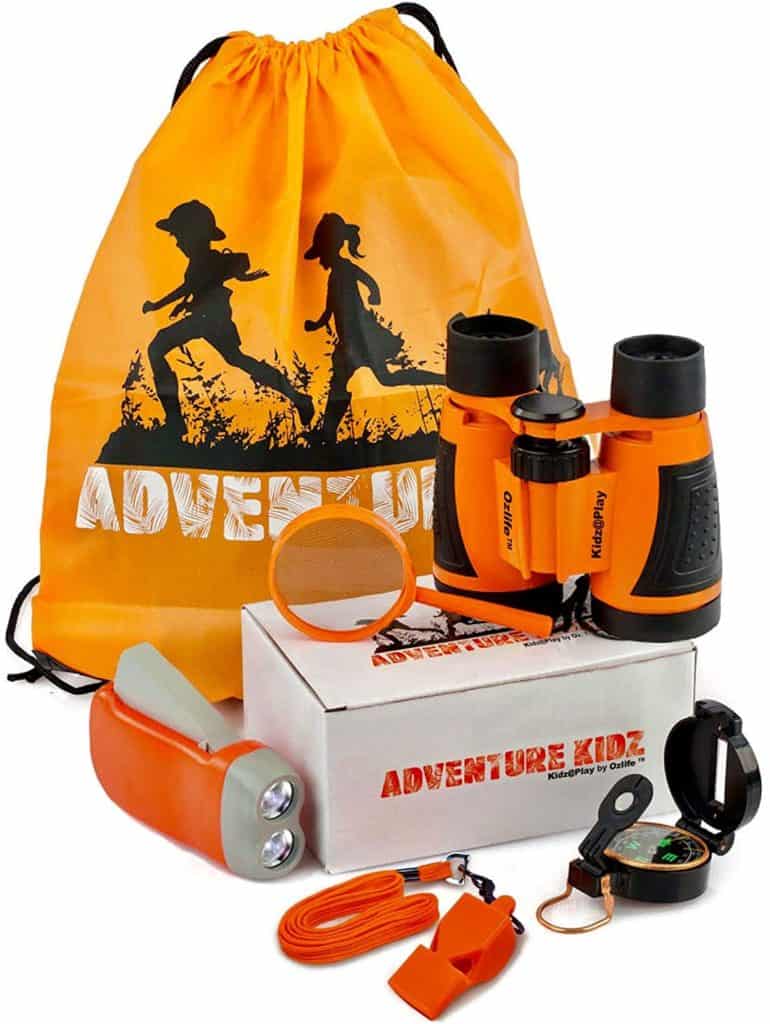 Giving you a heads up, this exploration kit, designed to promote STEM learning in kids, could become your 6 years old's next best friend! A rather seriously thought-of kit, it even includes miniature binoculars that come with rubber eyepieces to protect your child's eyes. To help the kids examine elements closely, there's a magnifying glass and also a lightweight flashlight. Imagining the mess so many elements of the kit could potentially create? Worry not! There also is a cool drawstring bag in the exploration kit to make organization and transporting so easy!
10. OMWay Kids Digital Video Camera for Boys - Best Gifts For 6-Year-Old Boy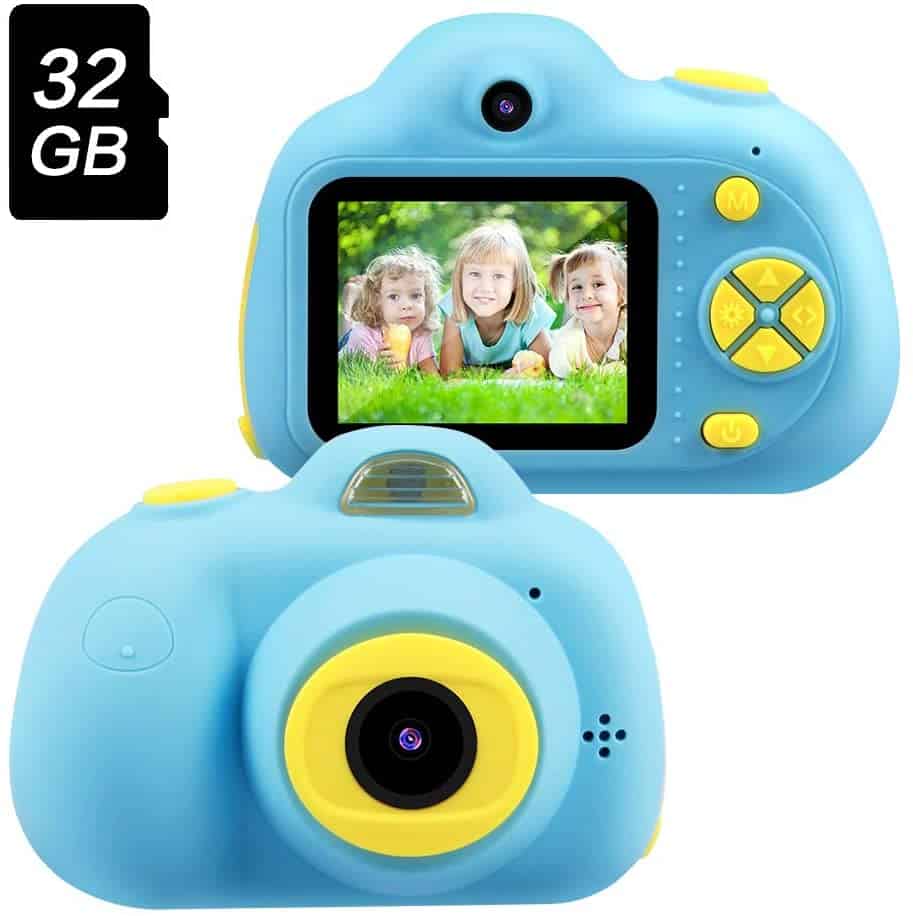 A silicone camera made particularly for kids, this is a 'serious' camera regardless. Featuring an 8MP camera, this camera can make hi-definition videos of 1080p and even comes included with a 32GB memory card and a USB cable. You never know, this camera could awaken the hidden photographer talents of the boy – all of it while being shockproof making it durable and safe for kids!
11. Hot Wheels Gift Pack Of 9 - Best Gifts For 6-Year-Old Boy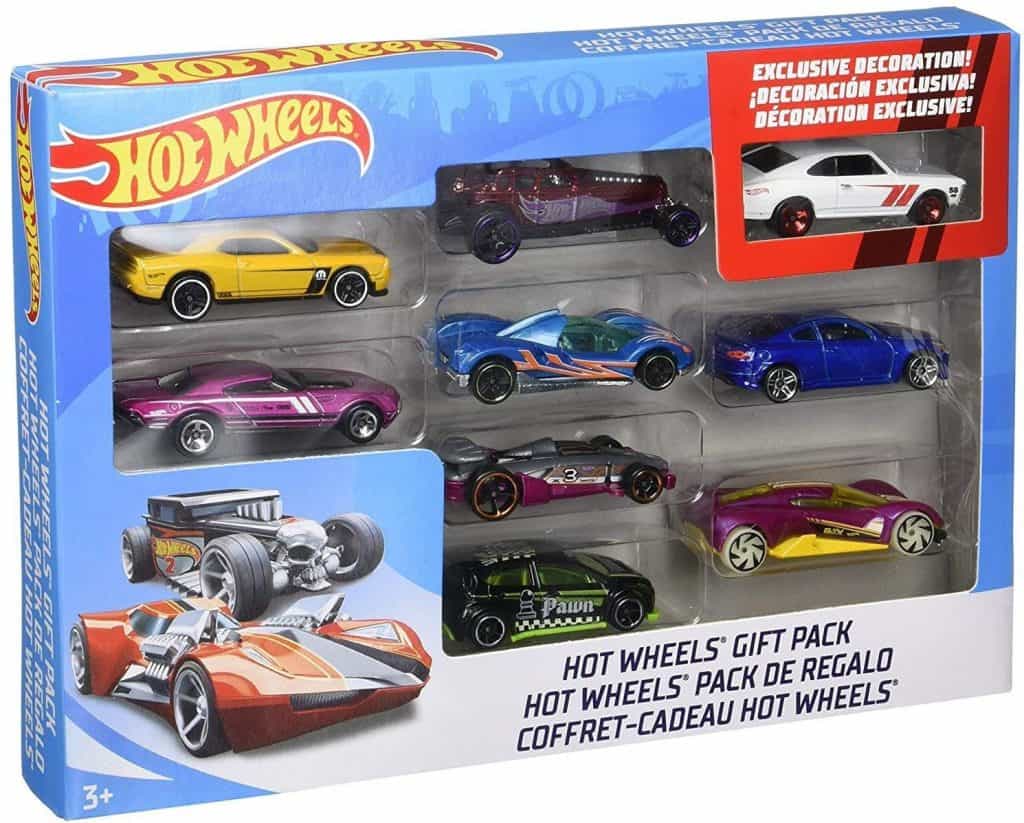 There is no other name that can come to your mind when you think of toy cars other than Hot Wheels. This is a popular brand that features a pack of nine different cars, assuring smiles on your boy's face. These toy cars are made using metal, making them sturdy, come with a non-breakable chip, are of unique models, and can also be played with the other Hot Wheels playsets.
12. Walkie Talkies - Best Gifts For 6-Year-Old Boy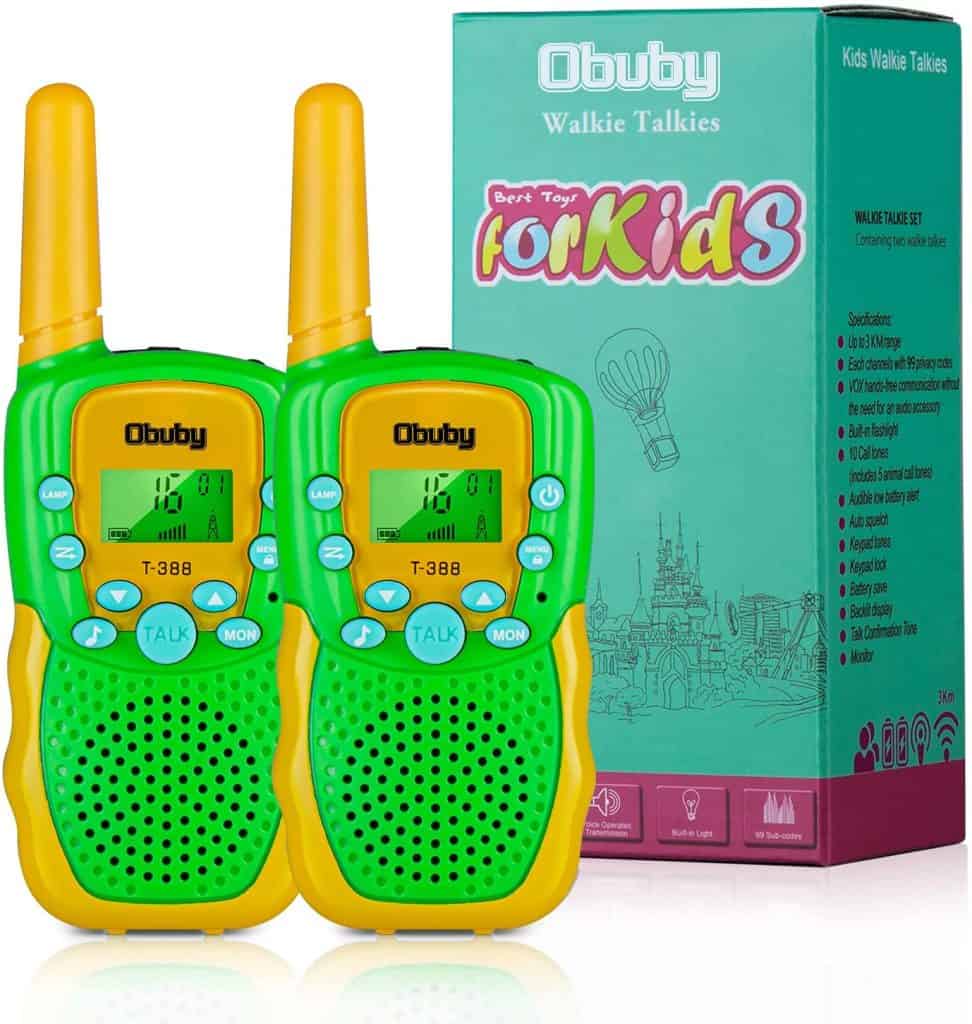 Kids often enact the characters they see on TV and what better setting than a set of walkie-talkies? These come with 22 channels, have a range of three miles, offer an auto-squelch function, come with an in-built flashlight, and are designed to fit the tiny hands of the little ones.
13. IVY Dinosaur Explorer Kit - Best Gifts For 6-Year-Old Boy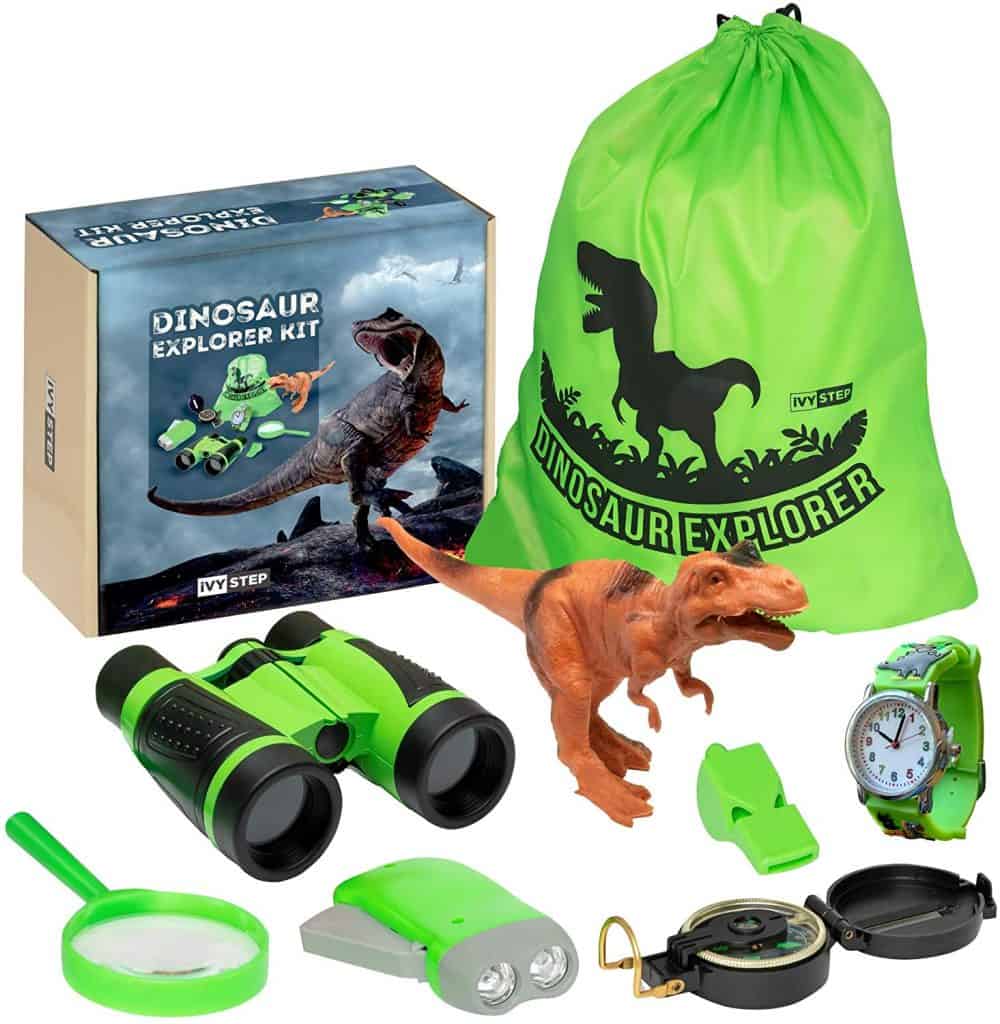 This IVY Step Dinosaur Kit comes with binoculars, a watch, a flashlight, and magnifying glass, a whistle, and a bag. It also features a rubber grip that makes it easier for the little ones to hold with convenience. The rubber straps come with mini dino figures, have rechargeable flashlights, a magnifying lens of 3x zoom, and a carry bag to store all these tools safely.
14. LEGO City ATV 60148 Race - Best Gifts For 6-Year-Old Boy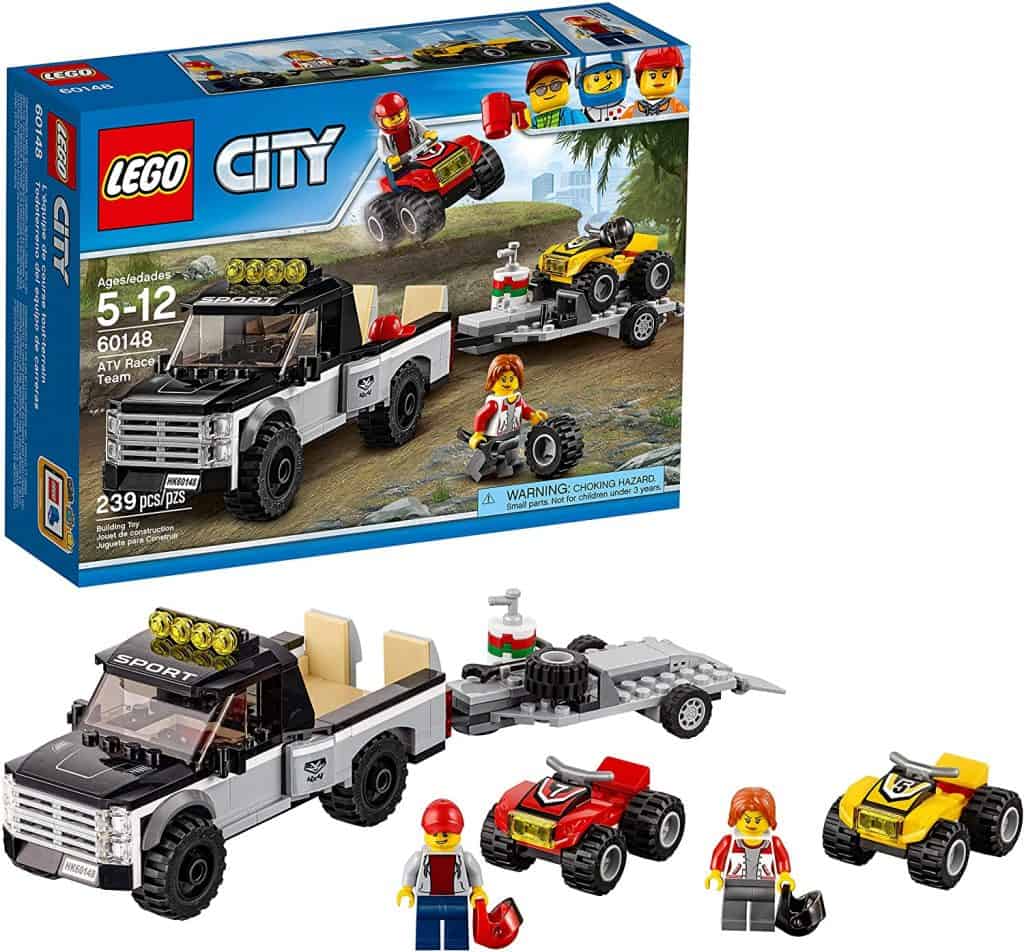 LEGO City ATV comes with a truck that helps transport 2 ATV cars, a toy wrench, a spare tire, and a fuel barrel. It comes with two mini-figures with extra accessories and a car ramp and trailer that are both adjustable and detachable.
15. IVY Dinosaur Fossil Kit - Best Gifts For 6-Year-Old Boy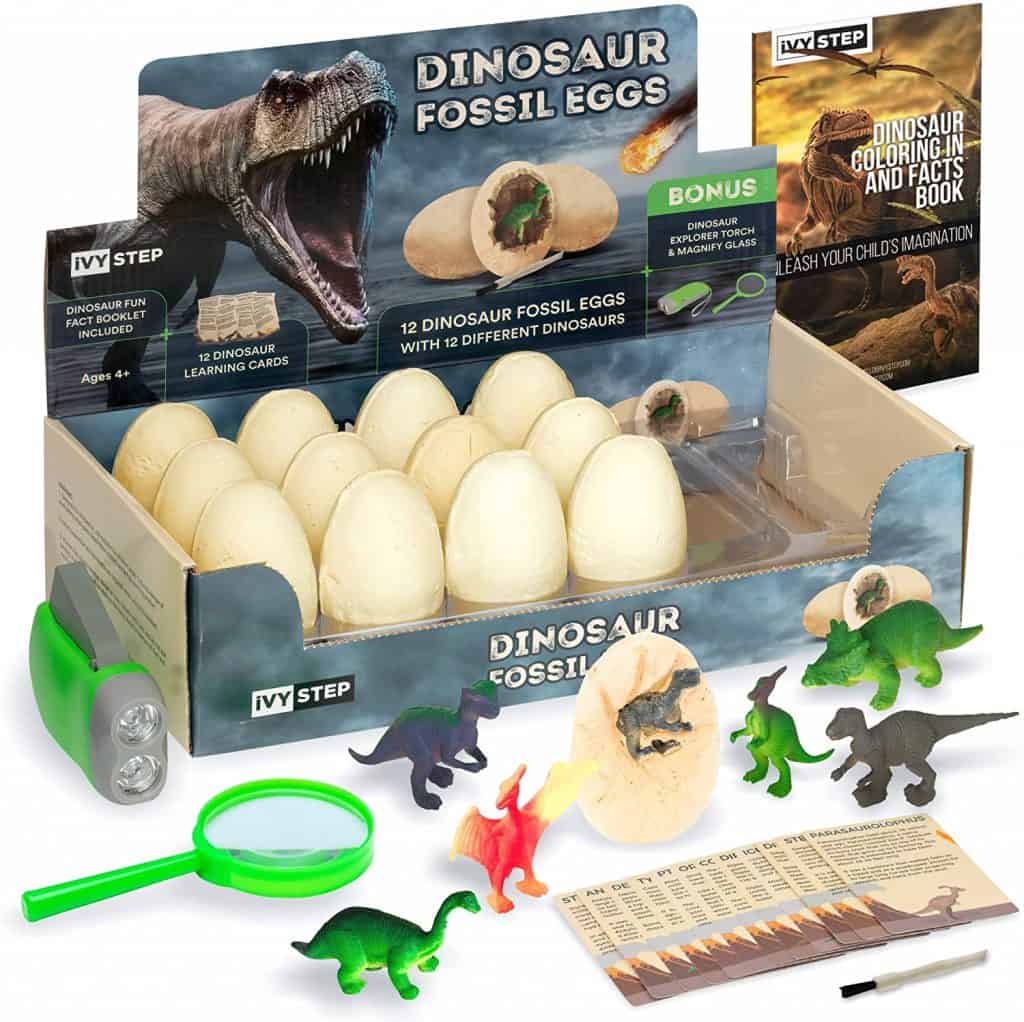 The IVY Dinosaur Fossil Kit features 12 Dino Eggs, 12 chisel tools, 12 Full-Color Dino Cards, a torch, and a magnifying glass that helps to explore the dinosaur world. The kids can choose their favorite dino egg, dig, brush, and match with cards. It helps develop dexterity, emotional, cognitive skills, and social skills. The mini-figures are made from plastic, have strong and durable cards, and a coloring book to practice with.
16. GILOBABY Racing Car - Best Gifts For 6-Year-Old Boy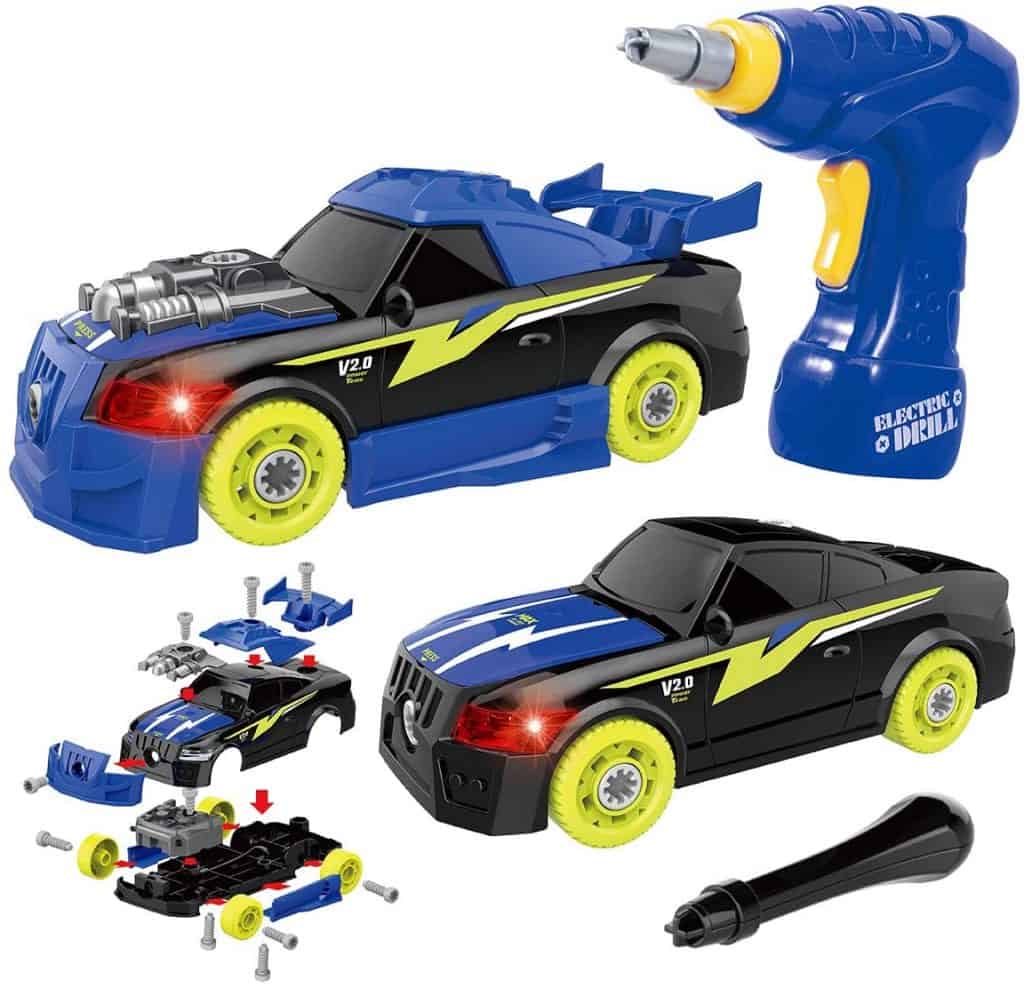 If your little one is interested in automotive engineering then this racing car is your pick to choose. It comes with car parts and tools, includes plastic drills, car parts, is required to assemble, dismantle, improves hand-eye coordination, promotes creativity and imaginative thinking, and offers a riveting experience.
17. IVY Step Toy Eggs - Best Gifts For 6-Year-Old Boy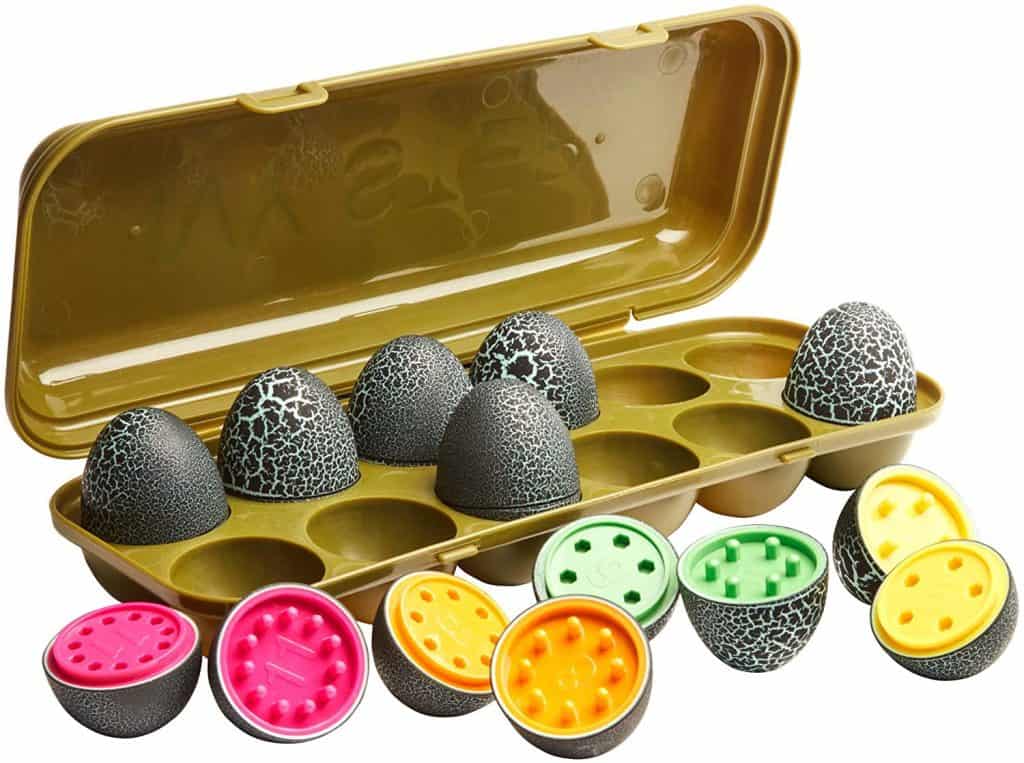 Counting and matching colors are known to be quite an essential skill to acquire during the early educational learning process. Therefore, this IVY Step Toy Eggs toy is an ideal pick that engages the little ones to improve their hand-eye coordination, color recognition, and counting numbers. The eggs have different patterns, are made using durable plastic, and are convenient for storage.
18. Peaceable Race to the Treasure - Best Gifts For 6-Year-Old Boy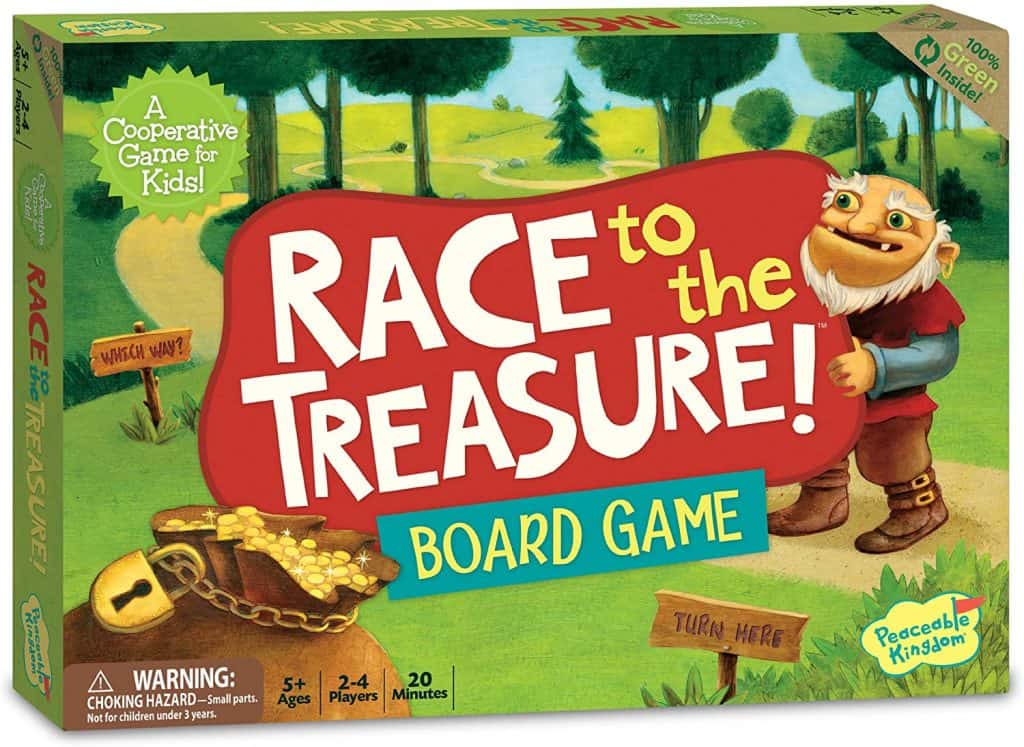 Here, the kids are expected to look for the treasure before the ogre does. To crack this, the boys must create strategies, teach teamwork, encourage kids to examine and strategize, and also build a competitive spirit, problem-solving- and decision-making skills.
19. IQ Builder STEM Learning Toys - Best Gifts For 6-Year-Old Boy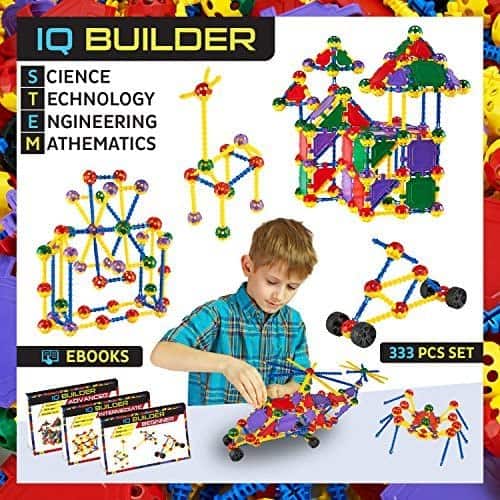 If your boy likes to watch science shows and is interested in building and creativity, then this is the best STEM toy to pick. This set contains 164 different pieces, promotes critical, reasoning, and problem-solving skills has an instruction guide, and is approved by the Consumer Product Safety Commission.
20. Junior 5 Second Rule - Best Gifts For 6-Year-Old Boy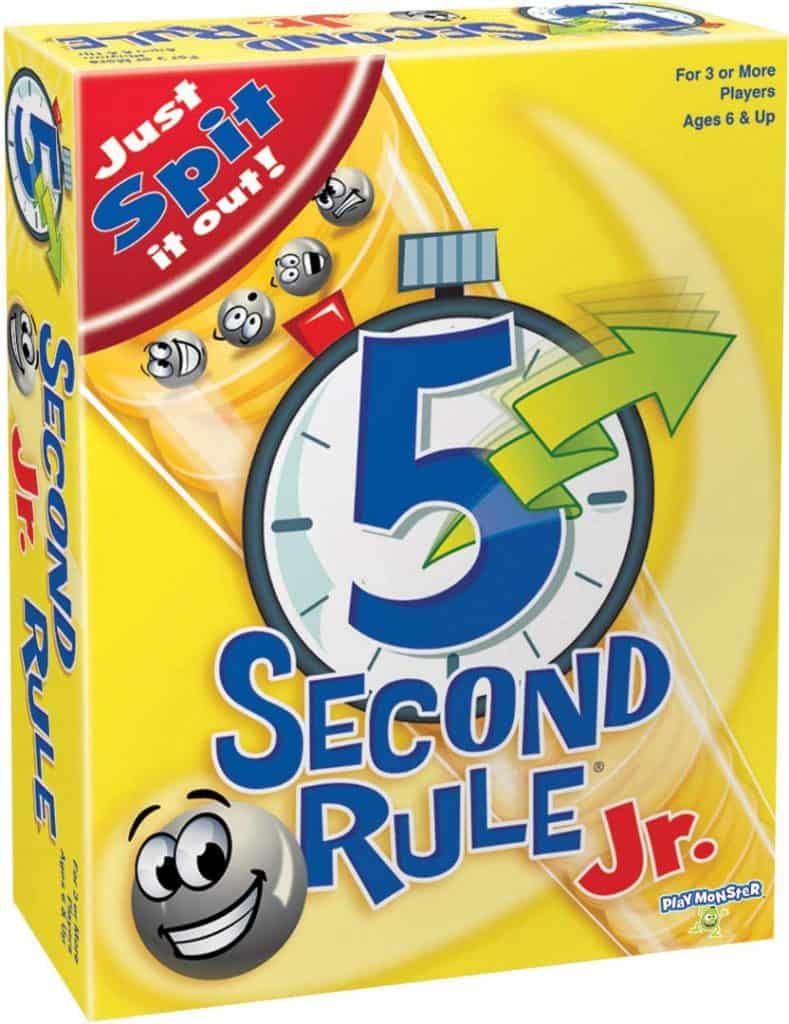 Junior 5 card game is a community game where each player must draw a card and answer within five seconds to get points. It comes with 200 cards, promotes quick thinking skills, and is a fun way to bond with the family.
21. OMWay Video Camera - Best Gifts For 6-Year-Old Boy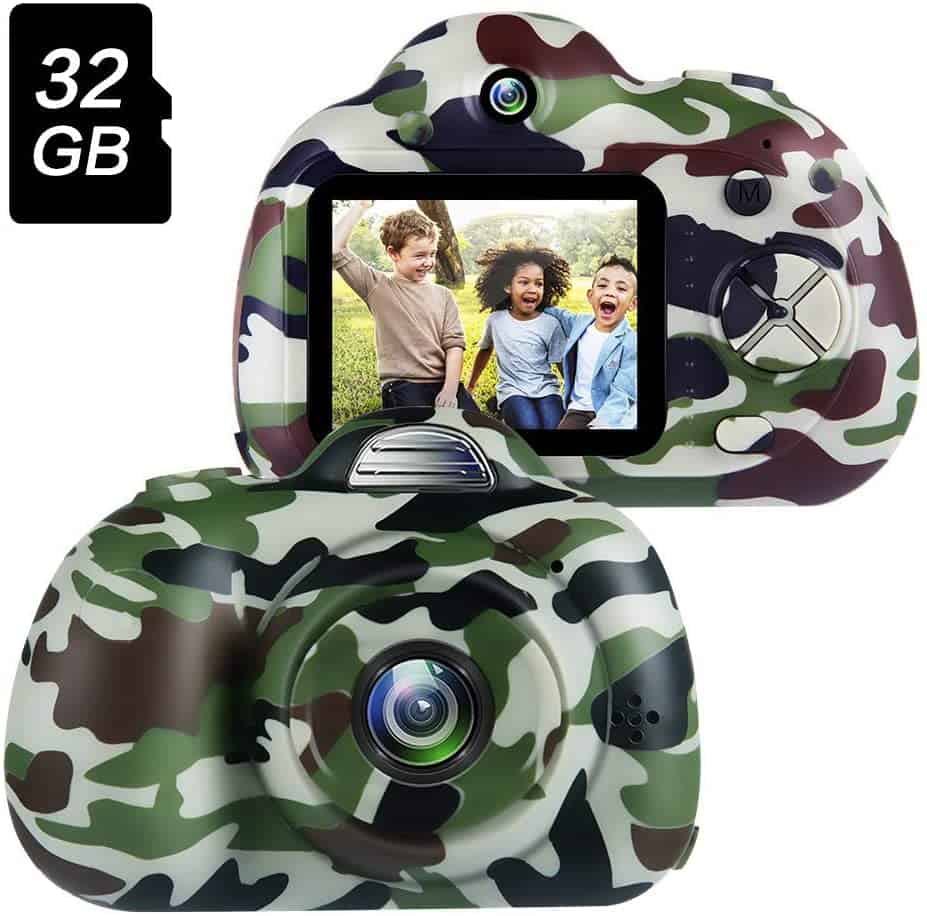 It doesn't matter if your boy is an amateur photographer with the potential for becoming a professional photographer. This camera has an 8MP camera with 1080p video, 32GB memory card, a USB cable, is super light, has a sturdy lanyard, and has a shockproof silicone camera shell, making it safe for the kids to use.
22. PLUS PLUS Construction Toy - Best Gifts For 6-Year-Old Boy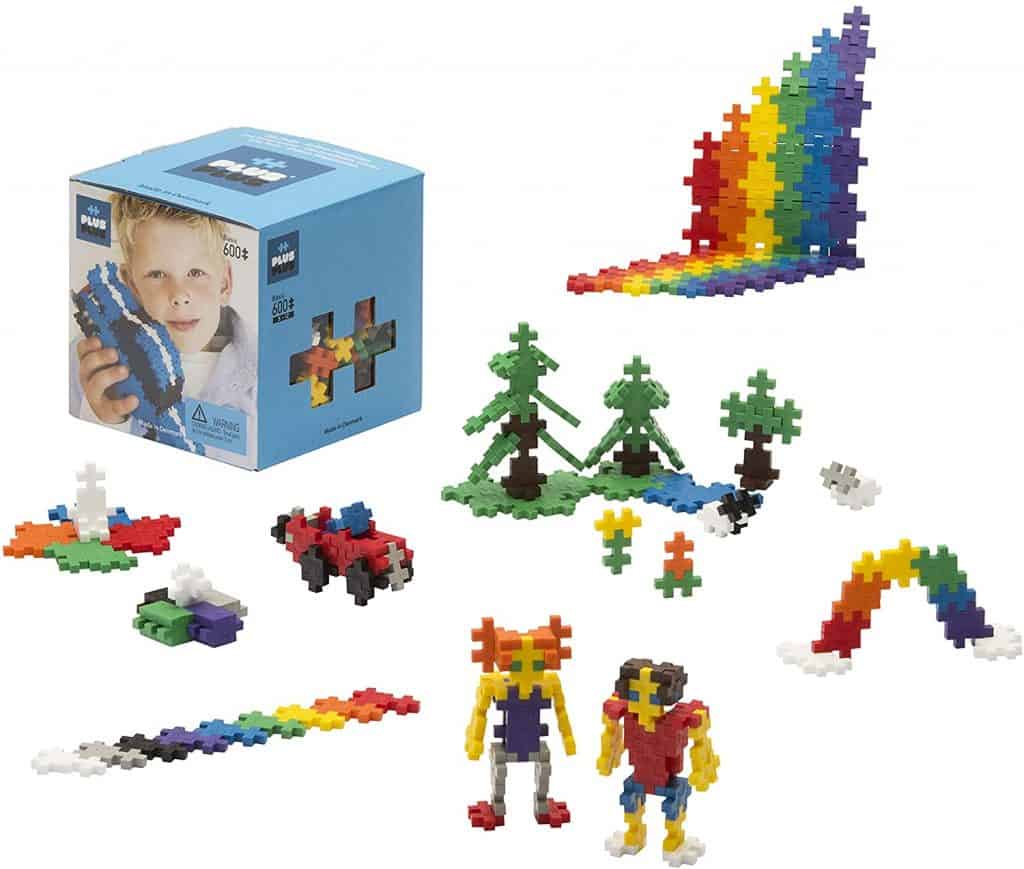 This construction toy has a multi-colored brick that allows the boy to create both 2D and 3D designs. It also comes with an instruction guide, with 600 colorful pieces, teaches complex engineering designs, helps to develop fine motor skills, boosts creative thinking, and is free from phthalate and BPA.
23. Crayola Crayon Coloring Set - Best Gifts For 6-Year-Old Boy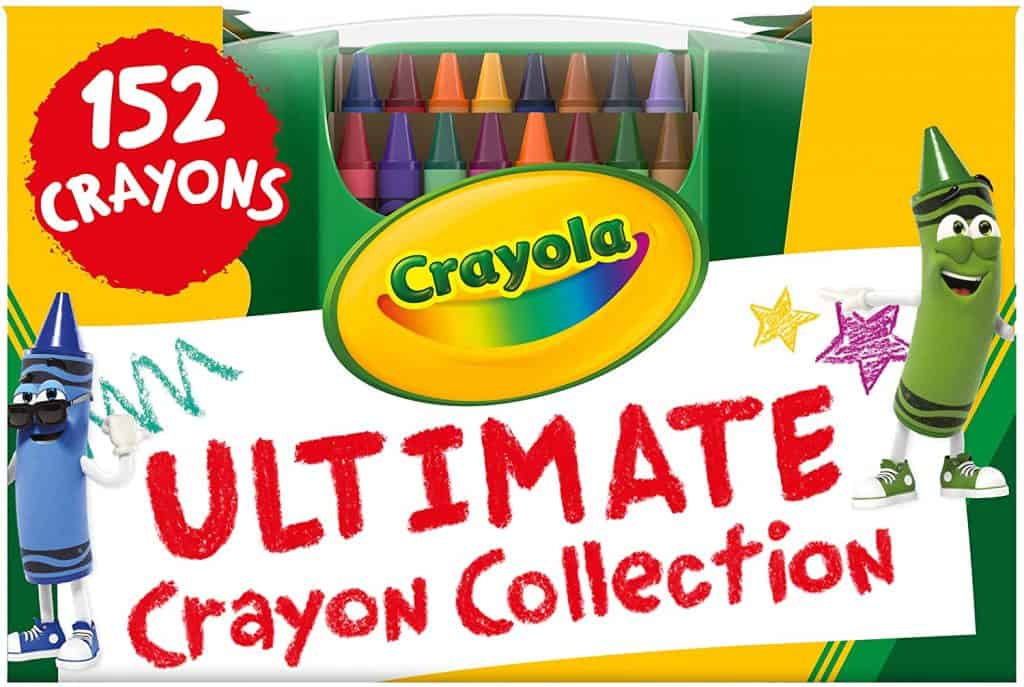 This coloring set is non-toxic and includes metallic and glitter crayons too. It consists of 152 color crayons, a sharpener, a portable caddy that ensures proper storage of the crayons, and is double-wrapped that prevents them from easily breaking.
24. Hookey Games - Best Gifts For 6-Year-Old Boy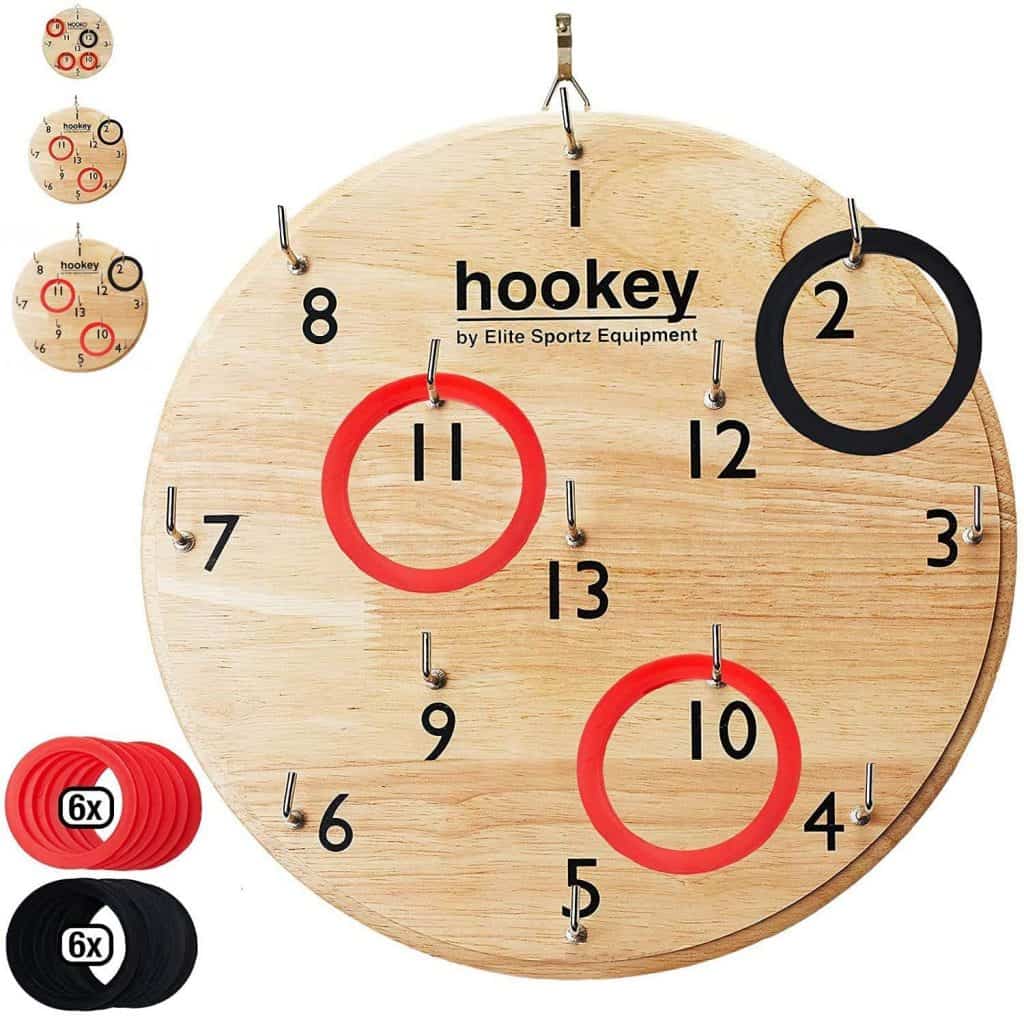 This hookey ring toss game is a simple yet fun game to play. Perfect for little ones requires a simple setup, and the rings don't have any sharp edges that hurt. It is portable, travel-friendly, and helps to enhance hand-eye coordination and strength.
25. Gamewright - Too Many Monkeys - Best Gifts For 6-Year-Old Boy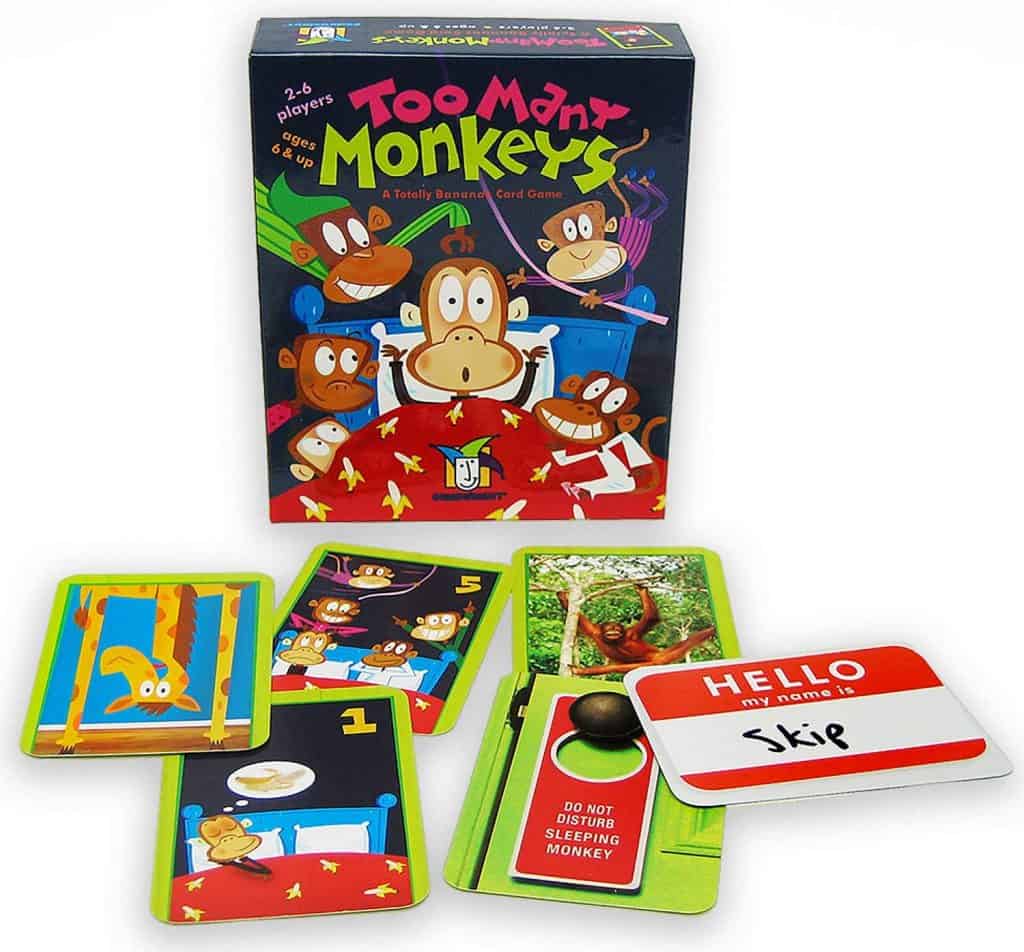 This is a widely enjoyed card game where the little one shows off his recalling skills.  This memory-based game comes with a card storage box with 65 cards, helps boost the kid's bond with the family, and also mentally stimulates and sharpens the kid's memory.
26. Awesome Jokes Book - Best Gifts For 6-Year-Old Boy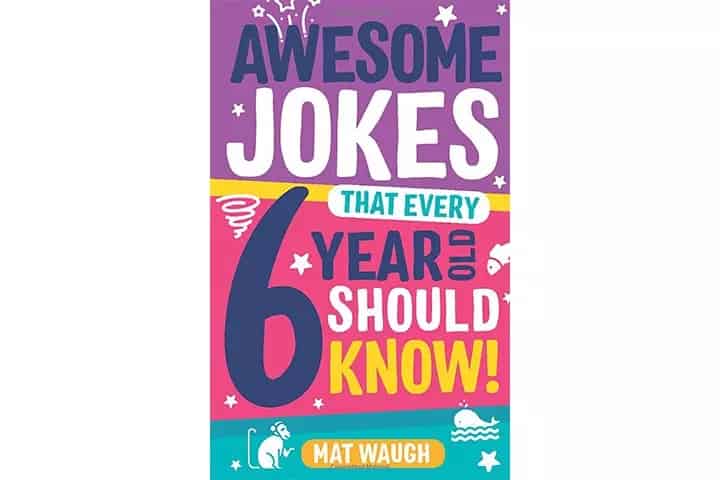 This joke book features a collection of age-appropriate jokes with a fair balance of classic and updated jokes, while some are exclusive. Some of them have punchlines that have the possibility of leaving the listener in splits.
27. Hasbro Pie Face Game - Best Gifts For 6-Year-Old Boy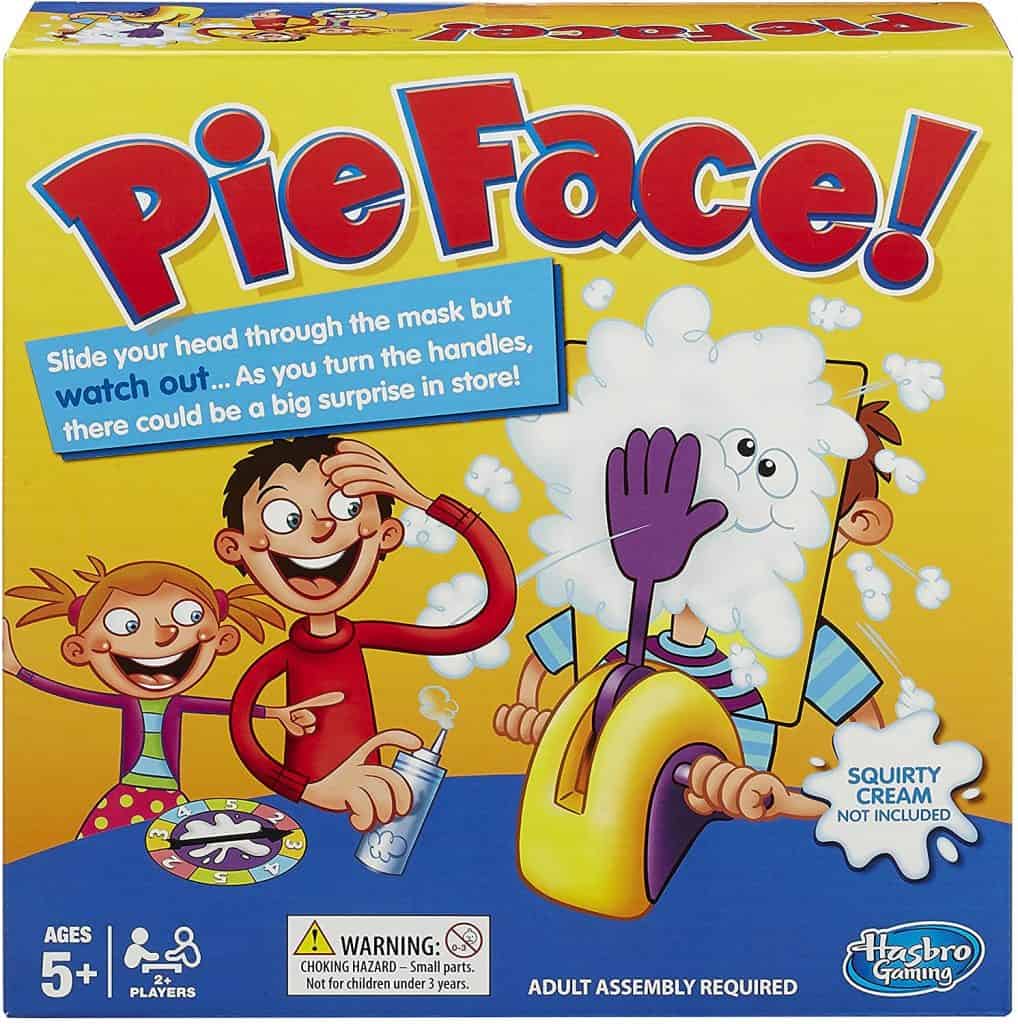 This pie face game includes a good mixture of suspense and fun. All one needs to do is place your face within the cut-out and easily twist the knob hoping the pie does not smash on the face. The box comes with a pie thrower, an arm, 2 handles, a chin rest, a splash guard mask, a sponge, and a spinner.
28. PlayMonster Yeti in My Spaghetti - Best Gifts For 6-Year-Old Boy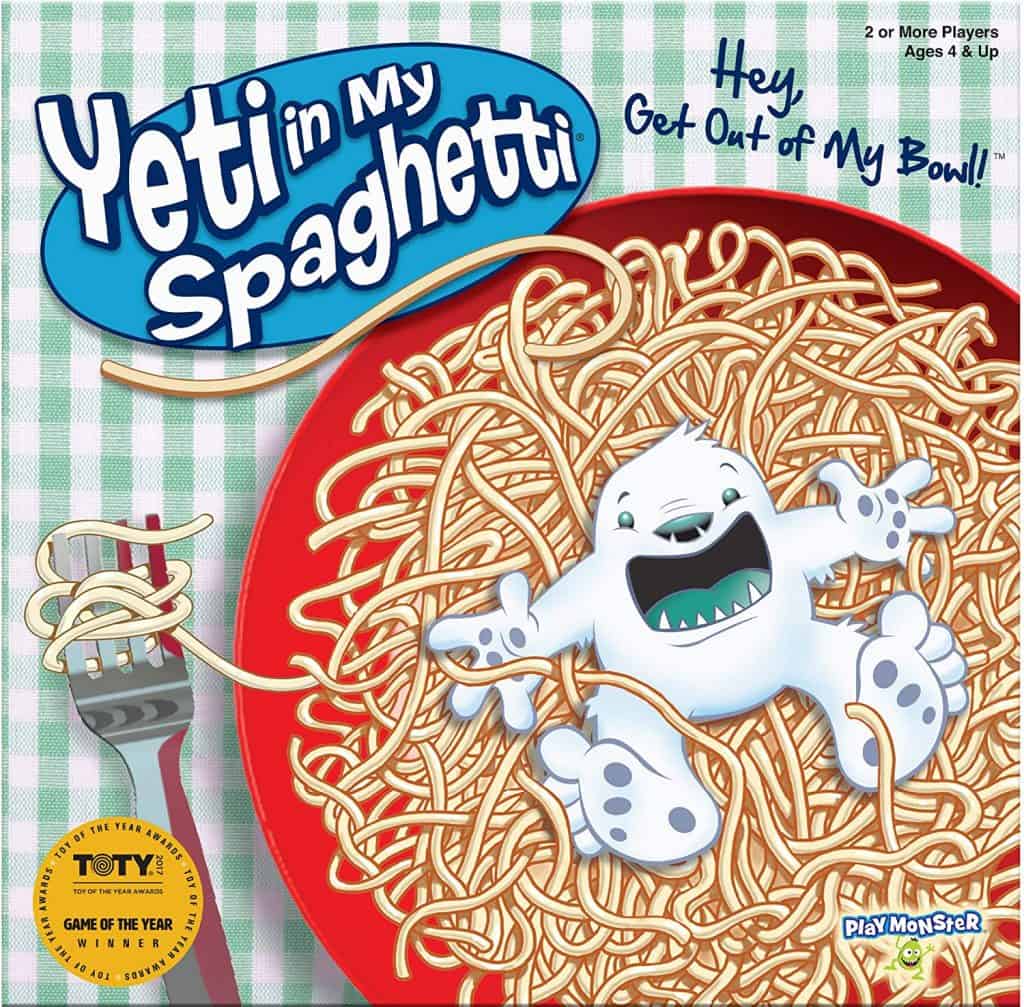 This is a 2017 winner game that has a Yeti floating on top of the noodles. All you need to do is remove a piece of noodle to ensure it does not fall into the bowl. In order to win, the child needs to concentrate and win. This is a multi-player game, has 30 plastic noodles, a tiny Yeti, and a bowl, improving the little one's focus and hand-eye coordination.
29. Melissa & Doug 1st Grade Card Set - Best Gifts For 6-Year-Old Boy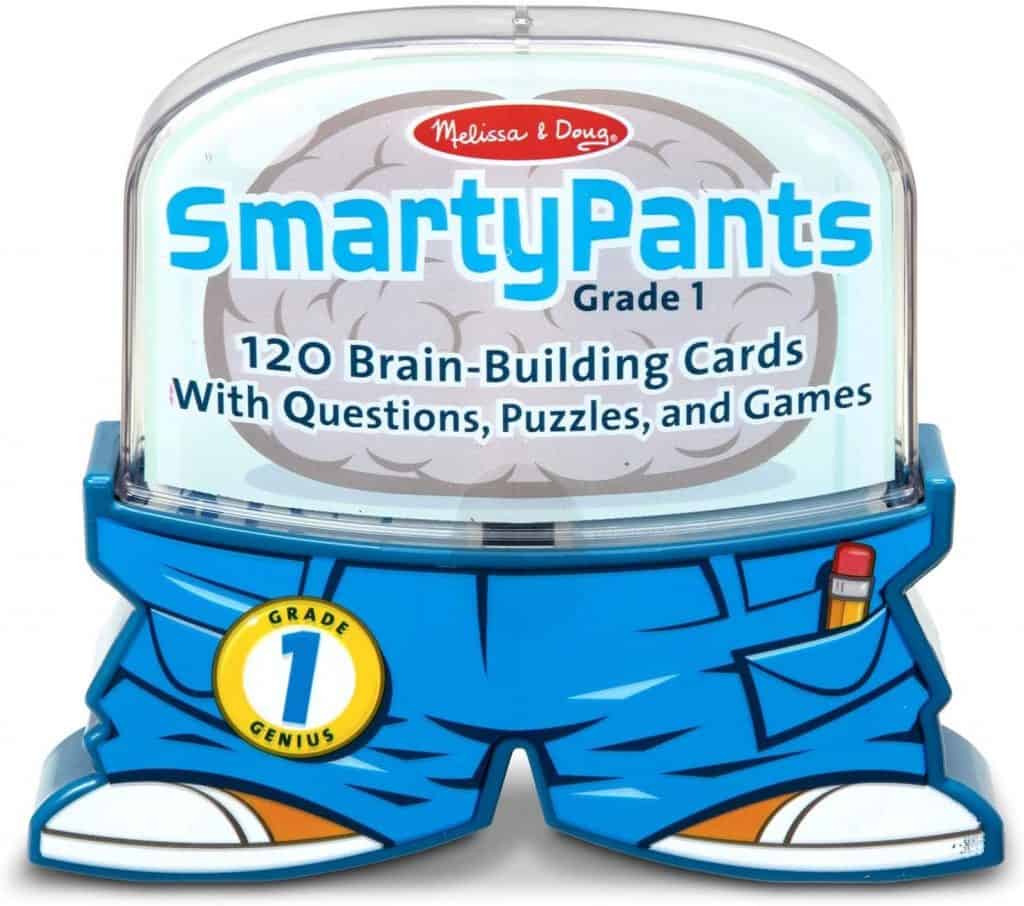 If your little one is interested in learning new things, why not take this to the next level with this card set? These are educational cards that include all kinds of trivia, information, puzzles, and help to expand the little one's knowledge.
30. HOMOFY Dinosaur Toys - Best Gifts For 6-Year-Old Boy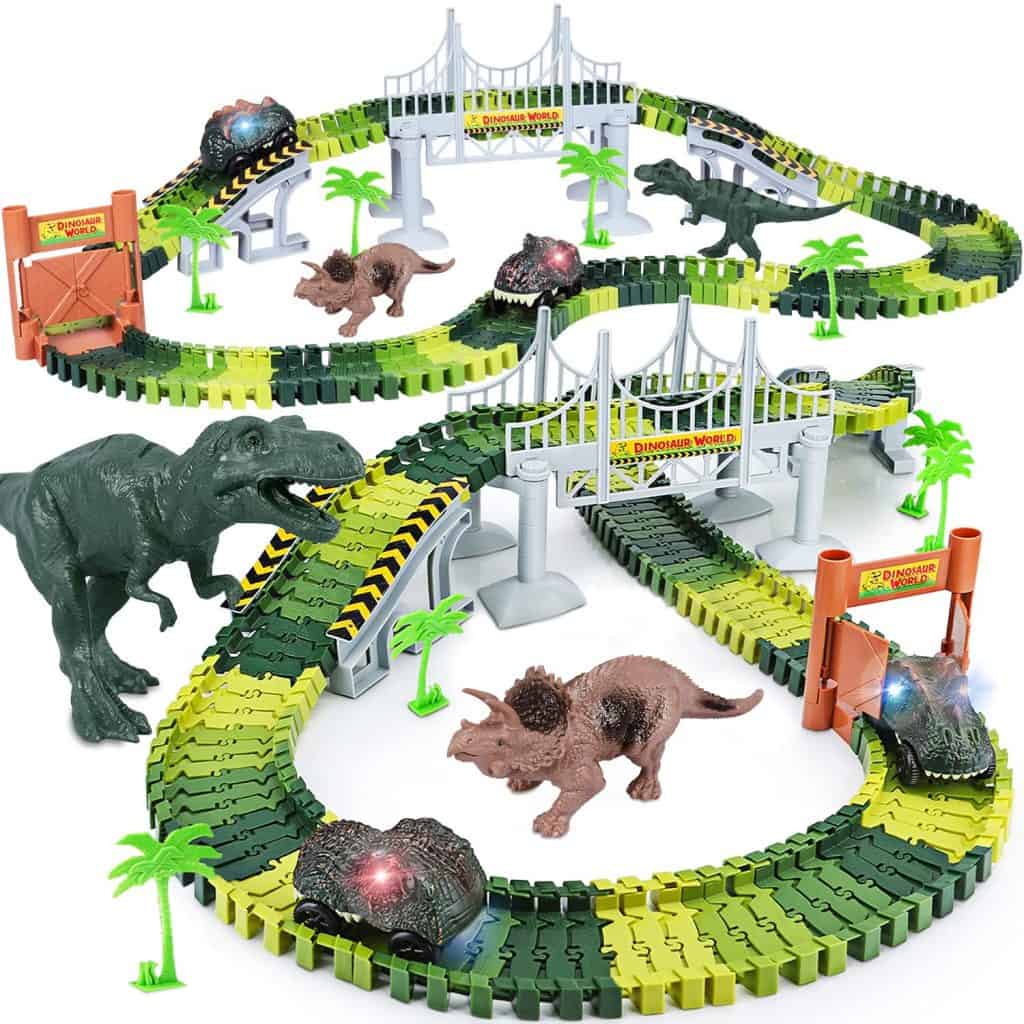 This is a flexible car track that is specially designed for those who love dinosaurs plus racing. It features a Jurassic theme, non-toxic tracks to the cars are flexible, the cars run on batteries, and are super fun to play with.
31. Kids Hover Soccer Ball Set - Best Gifts For 6-Year-Old Boy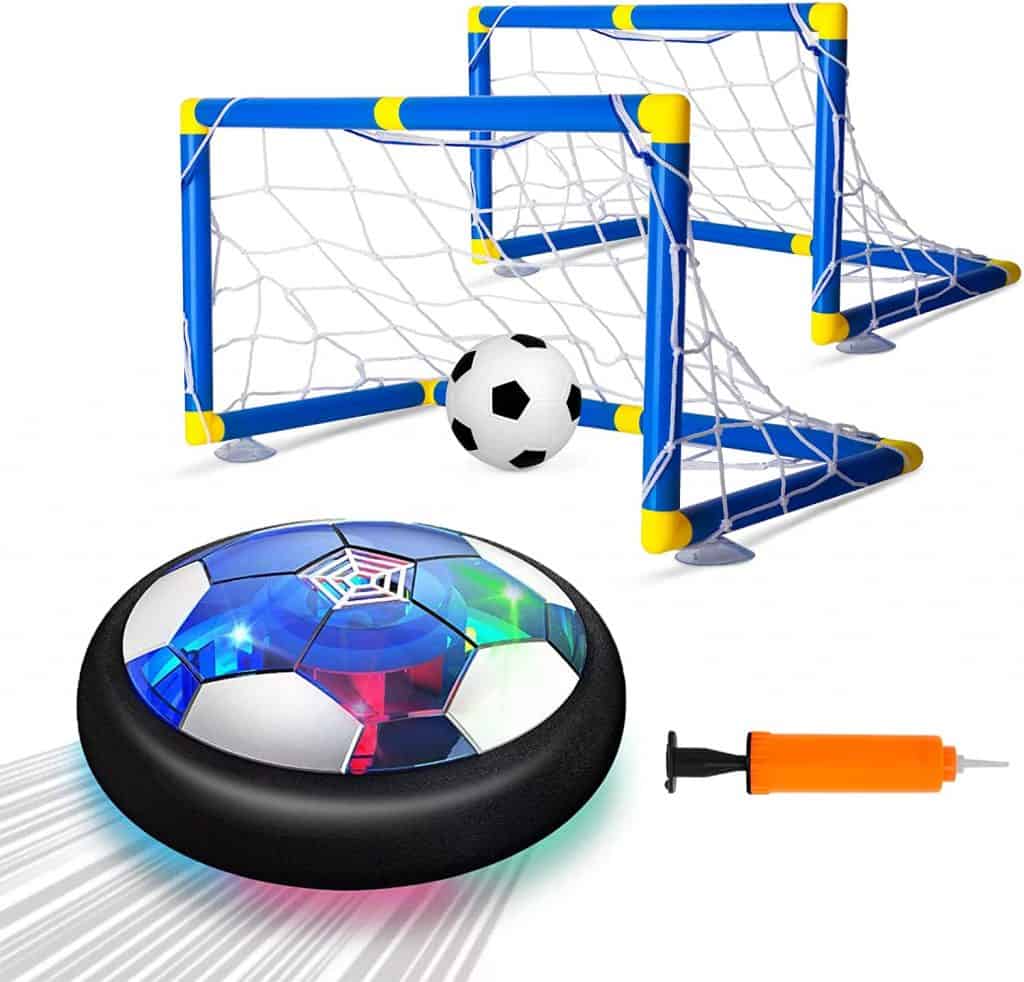 Do you have a soccer lover stuck in COVID times? Not anymore! Here is a soccer set that allows the little one to play indoors and be safe. The set includes a hover soccer ball, two goals, has battery-operated air soccer multi-colored LED lights, and comes with an inflatable ball.
32. Scientific Magic Science Kit - Best Gifts For 6-Year-Old Boy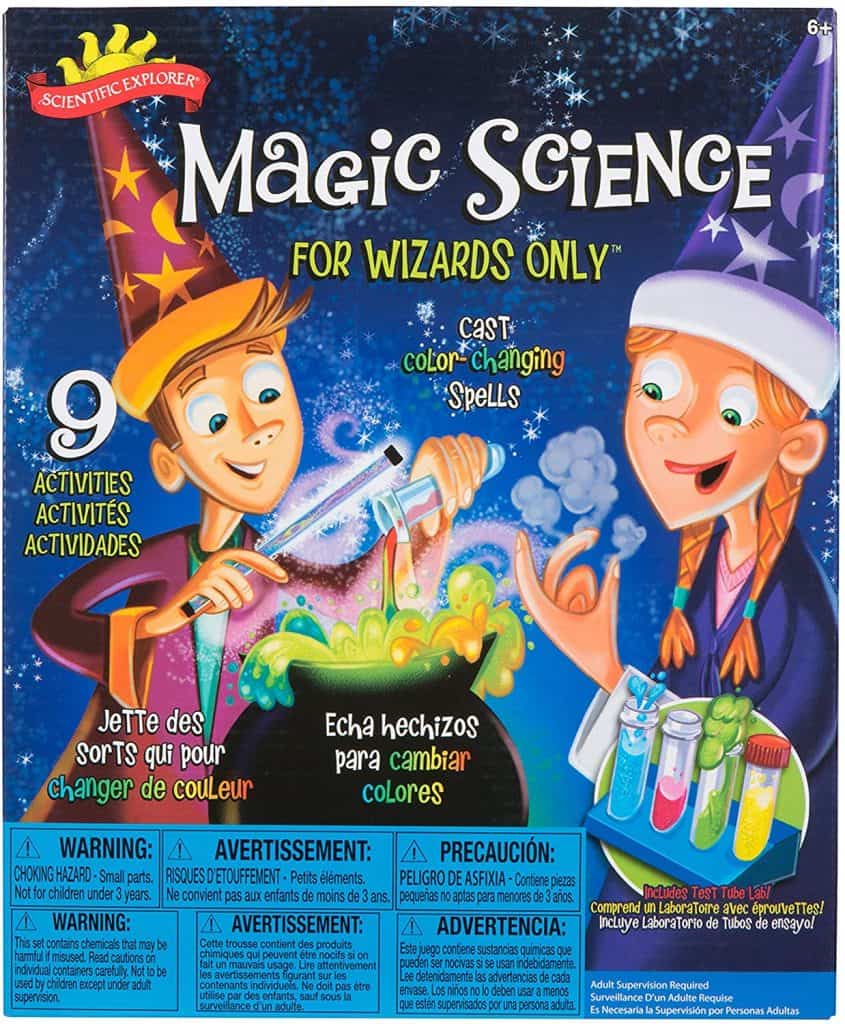 If your son is a potter head, you must pick this to gift him. These magic experiments are based on scientific theories, come with scientific apparatus, activity papers, ingredients, and help develop critical thinking skills and exploration.
33. Newisland Blaster Gun with Foam Dart Board and Darts - Best Gifts For 6-Year-Old Boy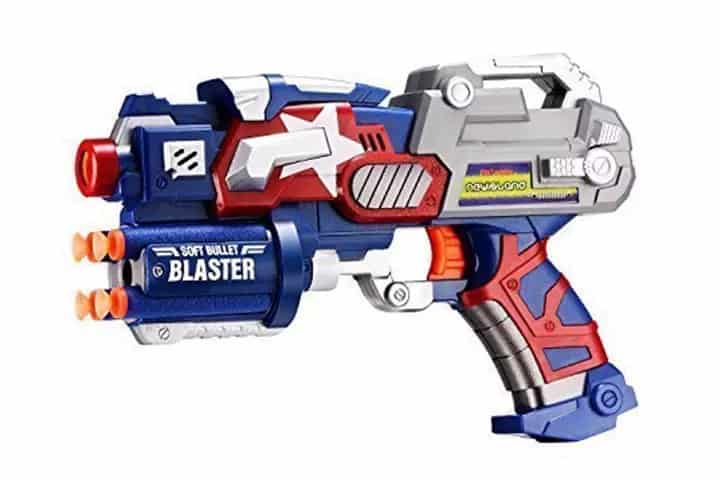 This foam darts shooting playset is absolutely safe to play with. The set consists of a big-league blaster gun, dartboards, and soft suction foam darts. The suction can easily stick on the dartboard, the shooting gun is lightweight, is easy to load, and helps to improve hand-eye coordination and aim.
34. ZOOB RacerZ Car Designer - Best Gifts For 6-Year-Old Boy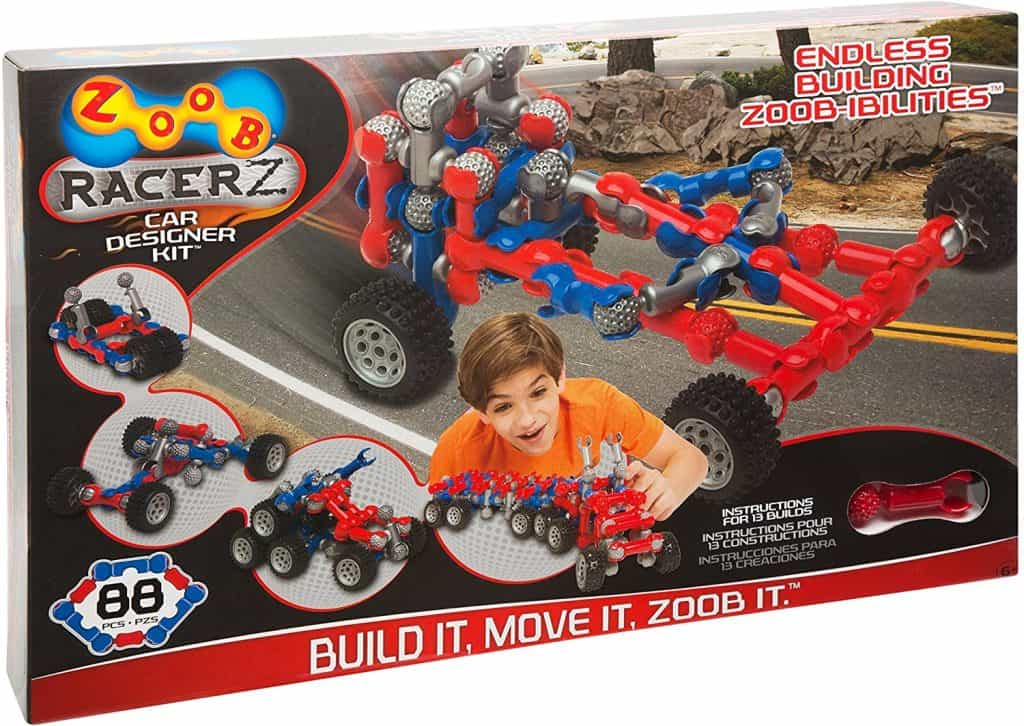 This toy is specially designed for those who love to play and create their own cars and trucks. The package comes with 76 ZOOB pieces, 12 rubber wheels, has an instruction guide, and is food for imagination!
35. ZOOB BuilderZ ZOOB Bot - Best Gifts For 6-Year-Old Boy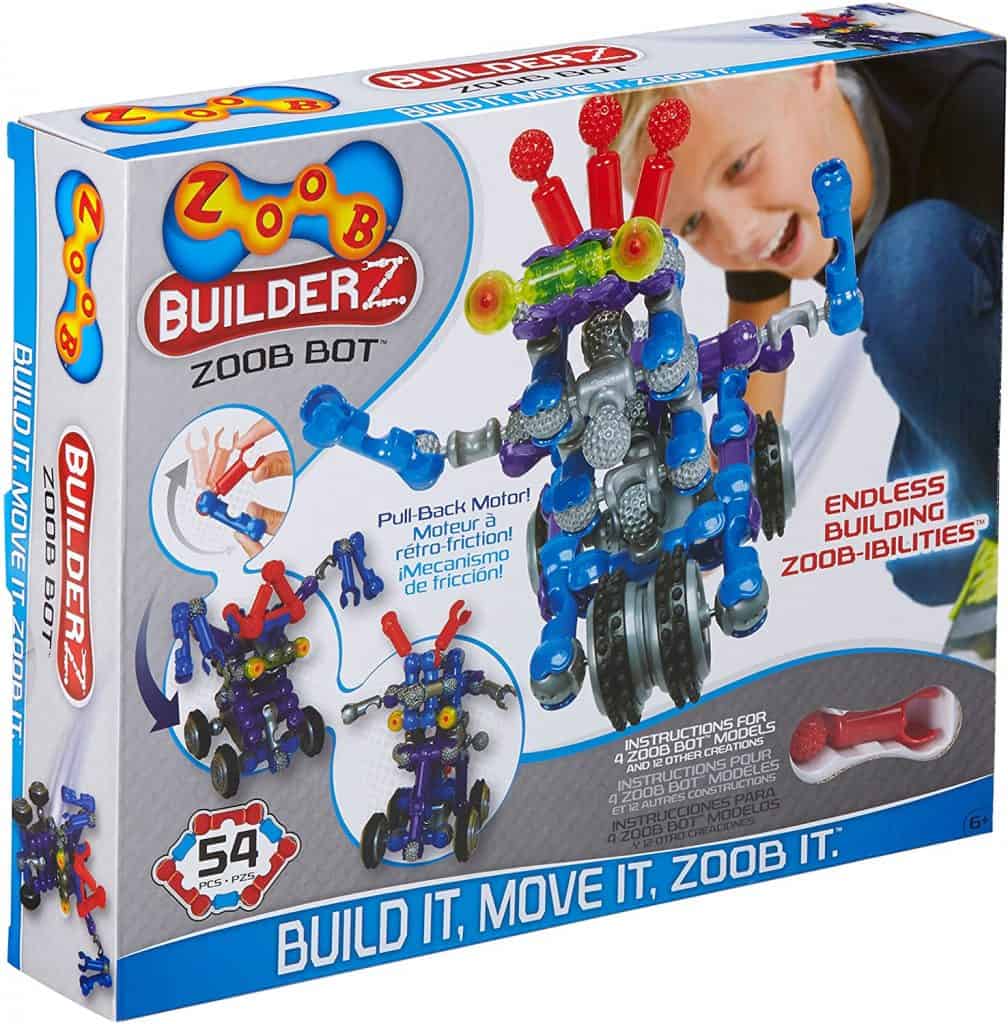 The set features 49 ZOOB pieces, a light-up battery run ZOOB piece, two wheels, motors, and four tires. It comes with a guide and contains gears, joints, and axels that help to keep the structure together and is rotatable.
36. Treasure X Aliens - Best Gifts For 6-Year-Old Boy

Treasure X Aliens comes in a package that includes an alien figure, a pair of tweezers, a treasure hunter, a container with slime, and a tube. It helps encourage creativity and come up with stories to play with the aliens.
37. Stomp Rocket Jr. Glow Rocket - Best Gifts For 6-Year-Old Boy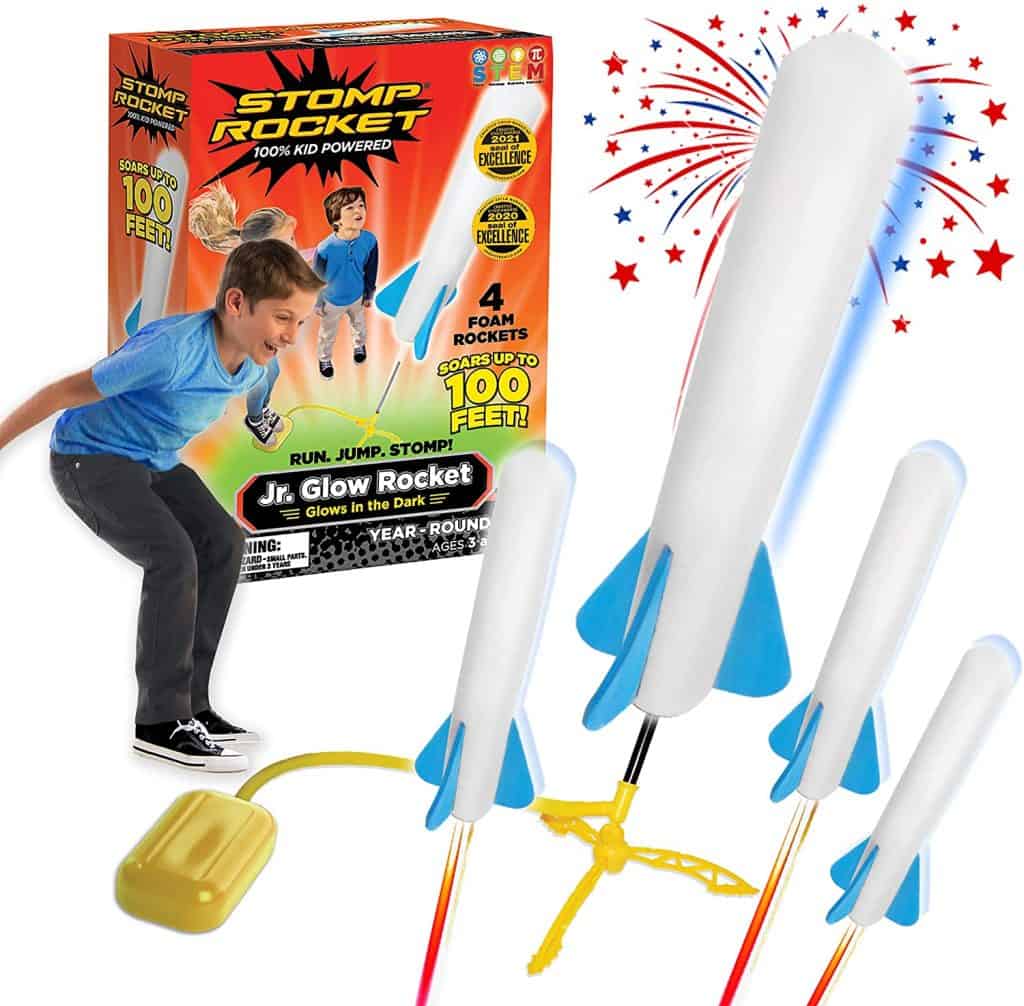 A simple jump of this rocket can take it up to 100 feet, making it an exciting outdoor game. It has stomps that glow in the dark, is covered with foam, is rather safe to play with, and encourages little kids to step out and play. The rocket does not need batteries to run and is specially designed to support STEM development.
38. Twister - Best Gifts For 6-Year-Old Boy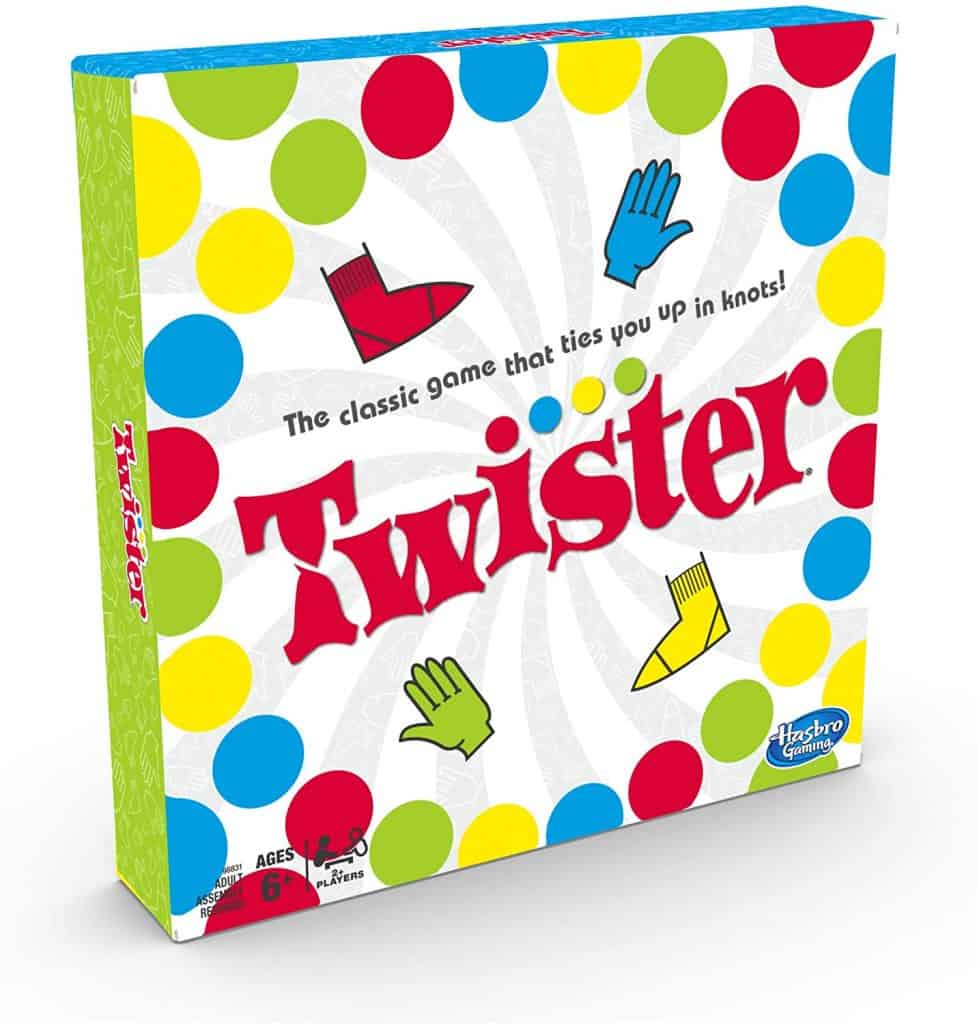 Yes, this game has been around for many years now and is quite the favorite of the party. This is the best way to improve the flexibility of your child, test balancing skills,
Comes with a vinyl mat, a spinner board, and a manual. It is rather quick and easy to assemble, is simple, and the best option and pick for a fun day with the family.
39. Quiet Starlight for Kids - Best Gifts For 6-Year-Old Boy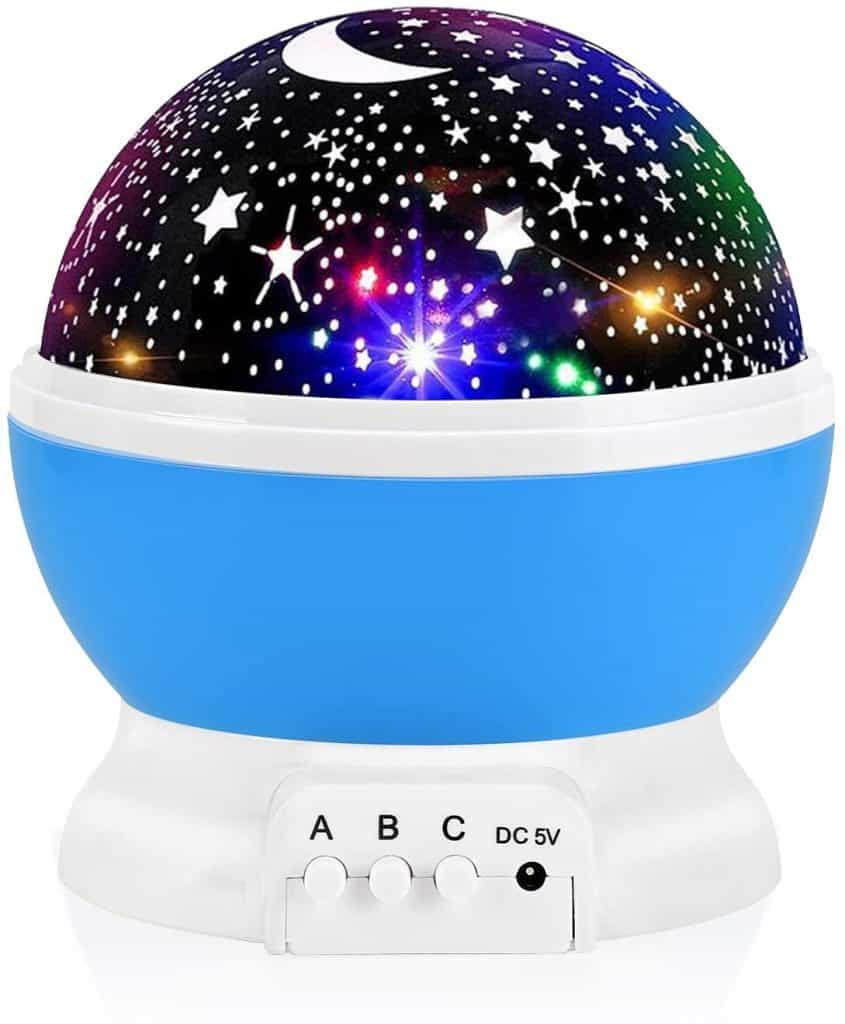 In case the little boy is a little frightened during the night, this is a good pick for a good and easy sleep at night. These project lights onto the ceiling and walls are perfect for creating a sky-like illusion and helping the little one with a sound sleep.
It comes with two modes: a starry sky and a night light mode that have a 360-degree rotating starry sky projection that can change colors at the touch of a button and can run on both, electricity and batteries.
40. Adventure Kidz Exploration Kit - Best Gifts For 6-Year-Old Boy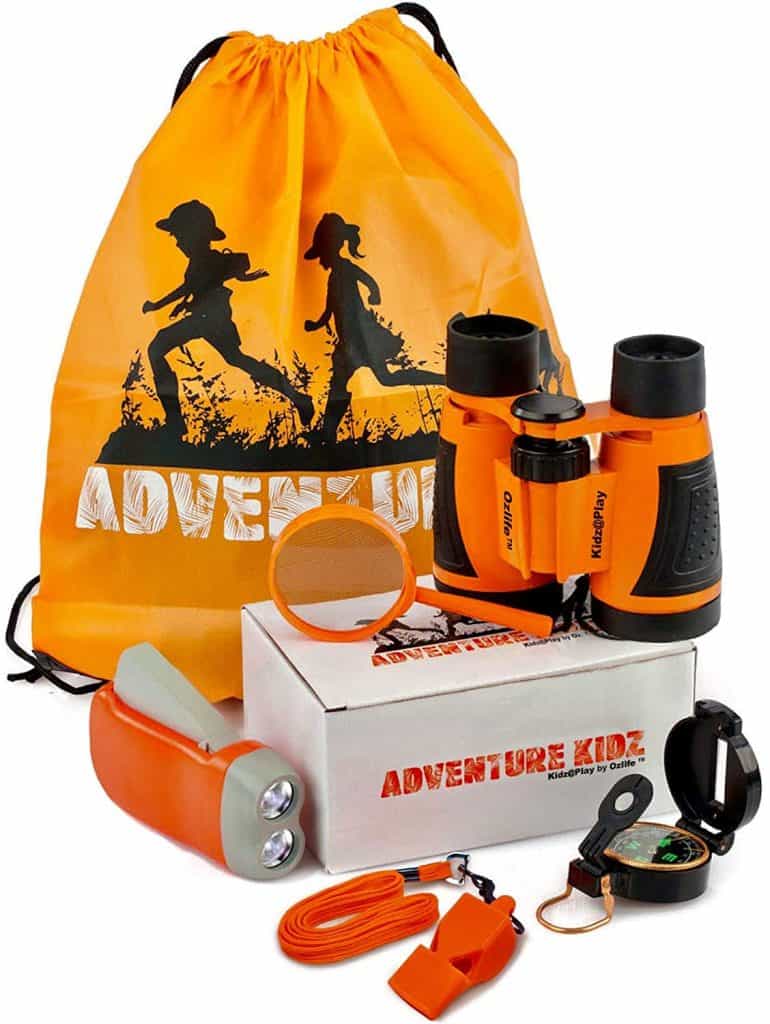 If the little one is a natural explorer and adores being outdoors, then this is the best exploration kit to get! This exploration equipment comes in a cool drawstring bag that makes it rather easy to carry around.
Best Gifts For 6-Year-Old Boy Final conclusion:
Whatever gift you finally narrow down on buying for a 6-year-old boy, try and ensure that the gift is in the best interests of the kid. It should be a gift that suits the interests of the boy and make them want to play with it, helping them enhance their skills while at it. It would be a good idea to not restrict the boys with stereotypical games like racing cars and soccer balls- look a little beyond, there's so much available on the market today!
Best Gifts For 6-Year-Old Boy FAQs:
1. What are STEM Toys ?
STEM is an acronym for Science, Technology, Engineering, and Math. STEM toys are the kind of toys that aim to stir the curiosity of kids and enhance their hands-on problem-solving skills, thereby helping them learn out of a play experience.
2. What is normal behavior for a 6-year-old boy ?
By age 6, kids start to gain situational awareness and they begin to identify emotions more vividly. Kids try to act more independent by wanting to eat on their own and even, in some cases, take showers unattended. Kids also, by this age, since they start attending school full-fledged, start making friends and practicing virtues like cooperating and sharing.
3. Is it okay to buy an iPad for a 6-year-old kid ?
Mobile devices like iPads are generally associated with negative impacts when they can also actually help kids benefit from the educational aspects of it. As per the recommended guidelines of the American Academy of Pediatrics (AAP), iPads are safe for kids above 2 years of age, however, setting a predefined screen time and enabling child filters could be a good idea. Besides, an iPad could also be substituted with a kindle to promote the habit of reading at a young age.