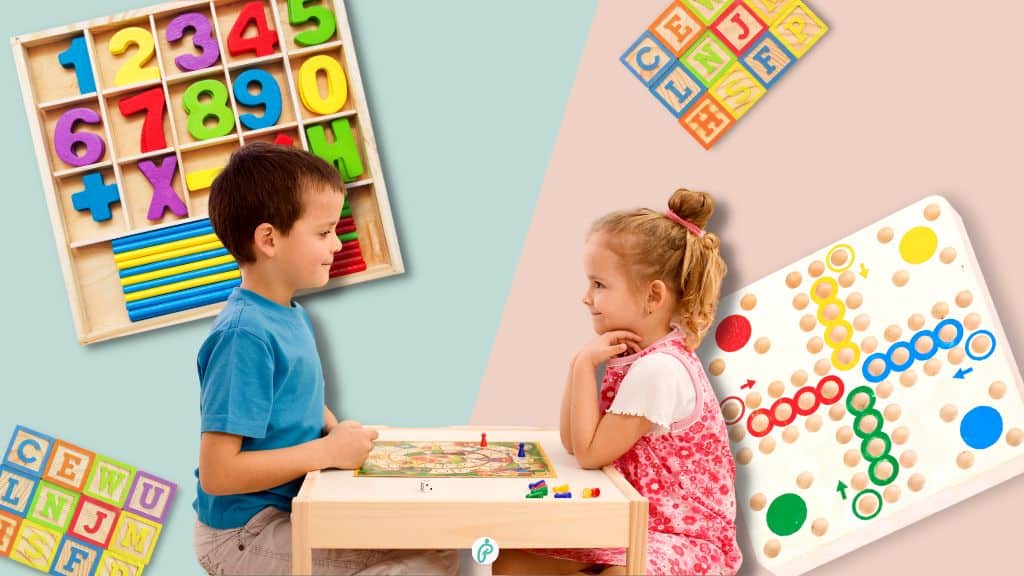 Parenthoodbliss selects the best products based on real-life testing conducted by our staff, members of our user community, the contributors, as well as through research and feedback by experts; here's more about our product review process. The details and prices are accurate as per the publishing date and we may earn commissions through the shopping links on this blog.
The popularity of board games went over the roof when the pandemic started in 2020. Parents were in search of means to keep their antsy kids busy indoors. It made complete sense that board games for kids helped adults spend quality time with their young ones. Even when the world opened up, board games stuck around as people discovered the rewards of shuffling the deck and rolling the dice.
Board games are the screen-free means of developing logical reasoning skills and critical thinking for young kids and adults alike. They learn to work as a team, practice things like taking turns, being patient, and creating core memories. Apart from that, studies have shown that board games for kids help in evolving cooperative and prosocial behaviors in them.
But how do you know which one to buy for the market filled with uncountable types of board games for kids? We have assembled a few of the best board games for kids and listed them below with the lowest price first. Keep scrolling to know how to play some of them!
Connect 4 Game ($10)
Battleship ($17)
Richard Scarry's Busytown, Eye Found It ($38.65)
Wildcraft! A Herbal Adventure ($40)
The Sneaky, Snacky Squirrel Game ($16)
Hasbro Operation Electronic Board Game ($20)
Trouble Game ($10)
Chutes and Ladders ($15)
Scrabble Junior Game ($15)
Mouse Trap Board Game ($25)
Let's Check What These Games Are!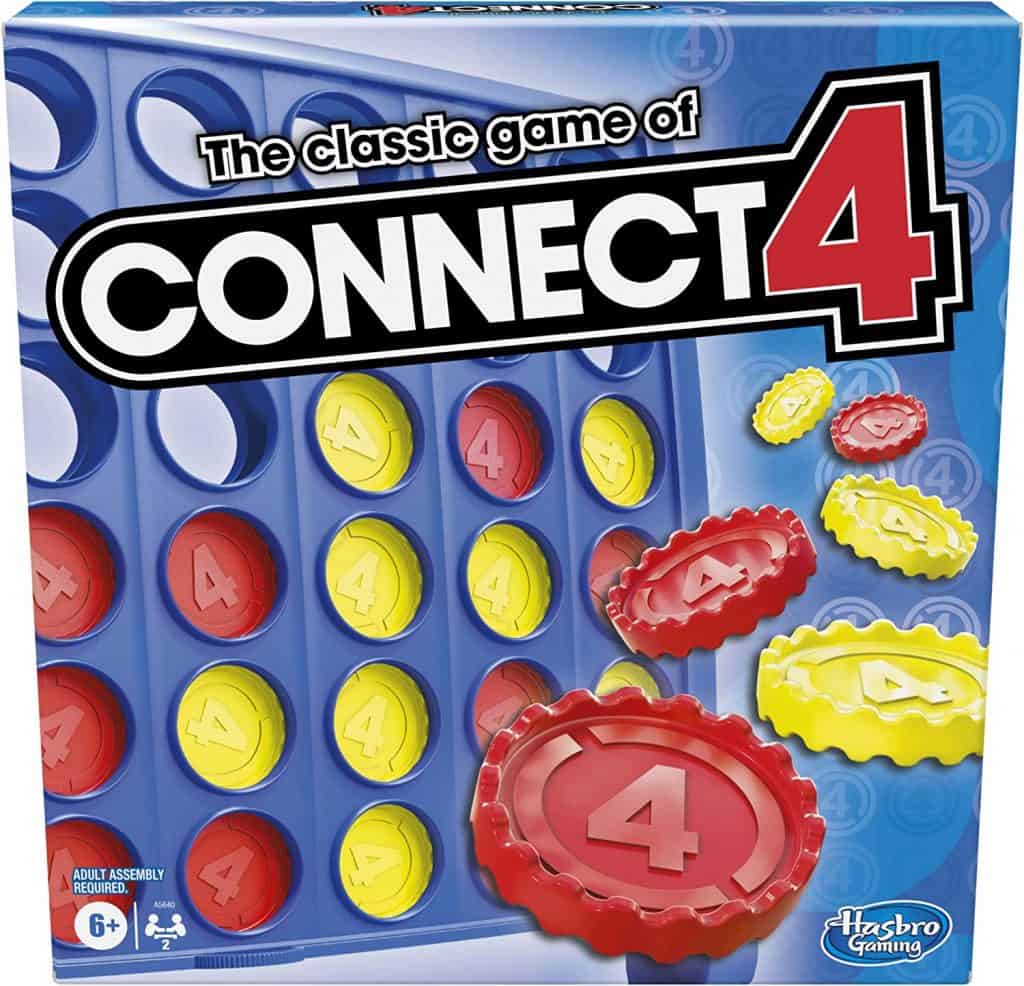 With more than 60,000 reviews on Amazon, Connect 4 is a classic game of dropping discs. Once you get 4 red or yellow discs in a row, you win. Most purchasers highlighted that it was not only easy for kids to learn and play but also took very little time to finish. This way parents could do their chores while spending some time with their kids. It has been around since the 90s and many parents found it nostalgic saying they relieved their childhood while throwing the discs and seeing the amusement on their kid's faces.
Product dimension: 2.13 ✕ 10.51 ✕ 10.51 inches
Item weight: 1 pound
Age: 6 years and up
Brought to you by: Hasbro
Great for indoor recess at school. As a teacher, I love to watch students interacting with each together and playing this game. It's fairly quiet and involves strategy.
– Julie
Classic connect four game with a new design for the game board. My chief complaint is that you have to pull the entire thing apart, including the stop rail, in order to put it back in the box. Also, my son doesn't like the ridges on the chips. (We have a mini travel version with smooth chips.)
For more product reviews visit Amazon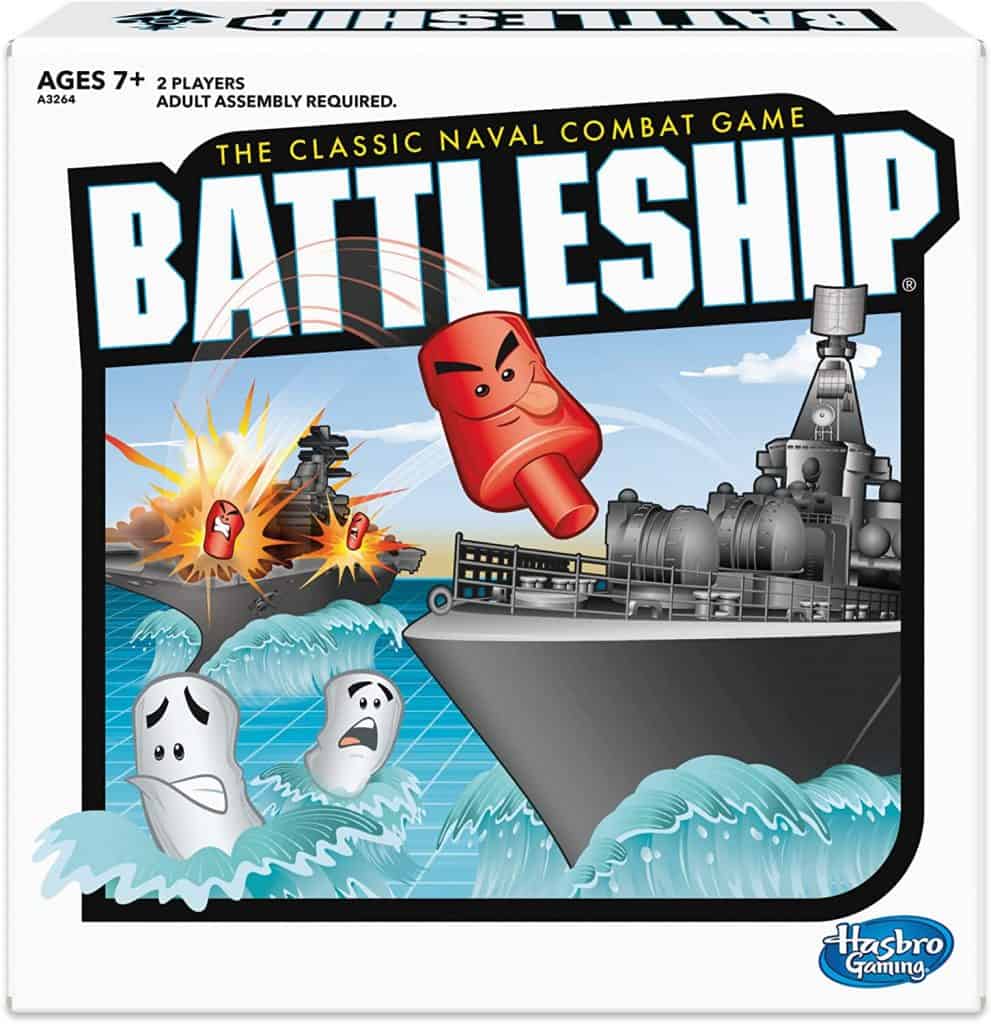 Have a warrior in the house? Battleship is for those youngsters who are going around shooting a toy gun at everyone and everything. This naval combat board game takes two players (but you can team up with your kids and make it a game of 4). The rule is to sink the opponent's ship and with the advanced Salvo feature, you can even launch multiple attacks. It is a long game which means your kids will stay put for enough time to finish up your work around the house. Your child is going to learn how to form strategies to eliminate the opponent by playing Battleship.
Product dimension: 2.87 ✕ 10.51 ✕ 10.51 inches
Item weight: 1.75 pounds
Age: 7 years and up
Brought to you by: Hasbro
It was a Great purchase . I was a Birthday gift for my 8 year old nephew , he Loved that I gave him the Real Battleship game !!
– Ebony M.
This is a wonderful, easy to learn, game. I bought it for my children, ages 7 and 8; the pieces help develop fine motor skills, and the game teaches logic and deduction. And it's so much fun! Because it's different every time it's played, they don't tire of it, and we adults love it, as well. Great game!
– T. Caron
For more product reviews visit Amazon
3. Richard Scarry's Busytown, "Eye Found It" ($38.65)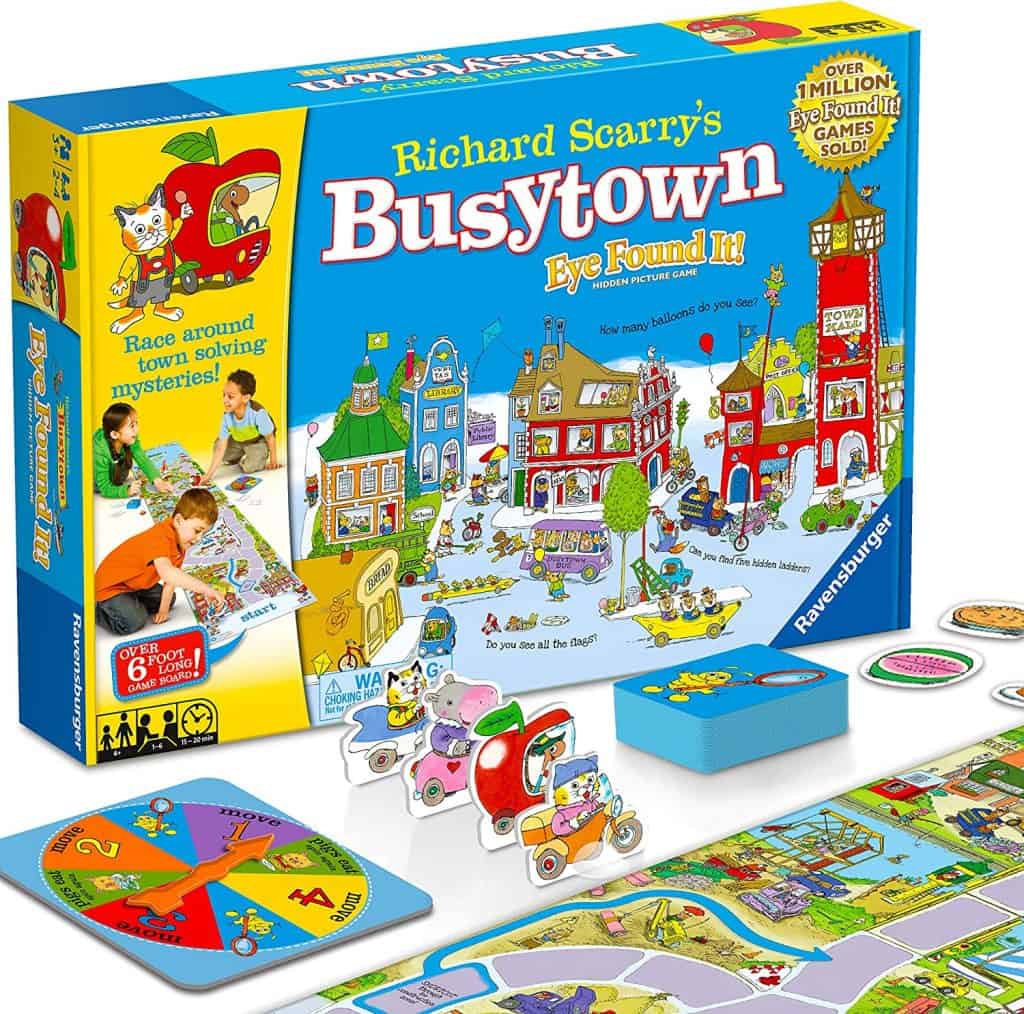 The objective of this board game for kids is to move their piece to the end of the board but no one wins until everyone reaches the end. This teaches "collaboration" to youngsters and emphasizes
Teamwork
Attention to detail
Object identification
Matching skills
One thing kids will appreciate is no one loses in this board game hence it's a hit. The fun part is the searching for the city-themed hidden pictures as players navigate through the 6-foot board to reach the end.
Product dimension: 15.82 ✕ 2.69 ✕ 10.56 inches
Item weight: 2.8 pounds
Age: 3 to 8 years
Brought to you by: The Wonder Forge
4. Wildcraft! An Herbal Adventure ($40)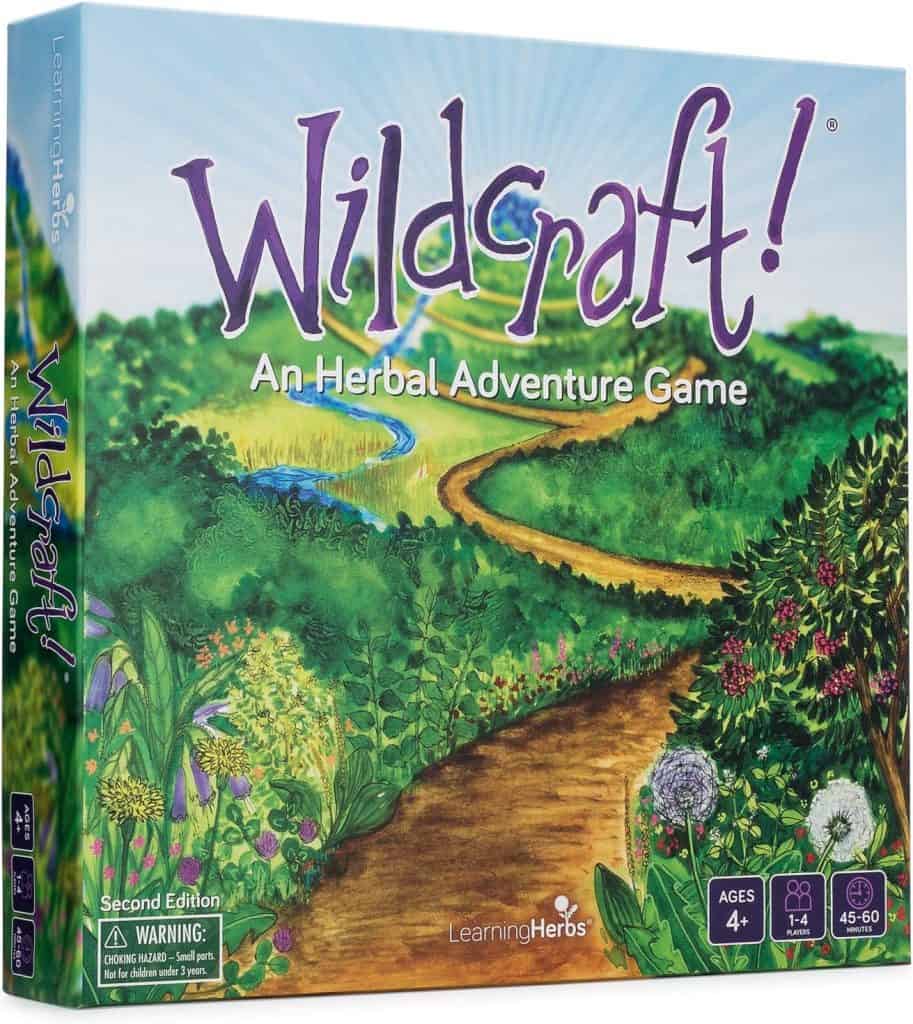 Kids will love going on this green adventure as they learn about 25 medicinal and edible plants as well as their uses as first-aid. During the game's fictional mountain climb, players have to collect helpful plants to cure sunburn, hunger, bee stings, and the like. This helps kids look out for plants in their surroundings making them familiar with what kind to choose.
The board game has been designed with recycled materials and printed with vegetable oil-based inks: a truly eco-friendly initiative that teaches kids about the ecosystem. A portion of the manufacturer's proceeds goes to United Plant Savers which is a non-profit botanical sanctuary.
Product dimension: 10.31 ✕ 10.31 ✕ 2 inches
Item weight: 2.05 pounds
Age: 4 years and above
Brought to you by: LearningHerbs
This game is fantastic! It's fun for all of us in our family – my 4yo, 7yo, and the adults. It's easy to learn, and it's cooperative; "winning" requires everyone to get to the castle, so it's not a competition. My kids love search and find books, which is a big element of this game. And it includes sections from many of our favorite Disney movies. I will recommend this game to all my Disney-loving friends as a gift for their kids/nieces/nephews/grandkids/friends…
– Anna B.
I offered this board game for my 5 years old daughter and she loved it. We played it together, the games are not too long and the rules are easy but the gameplay is still entertaining after several games.
– Rémi
For more product reviewsvisit Amazon
5. The Sneaky, Snacky Squirrel Game ($16)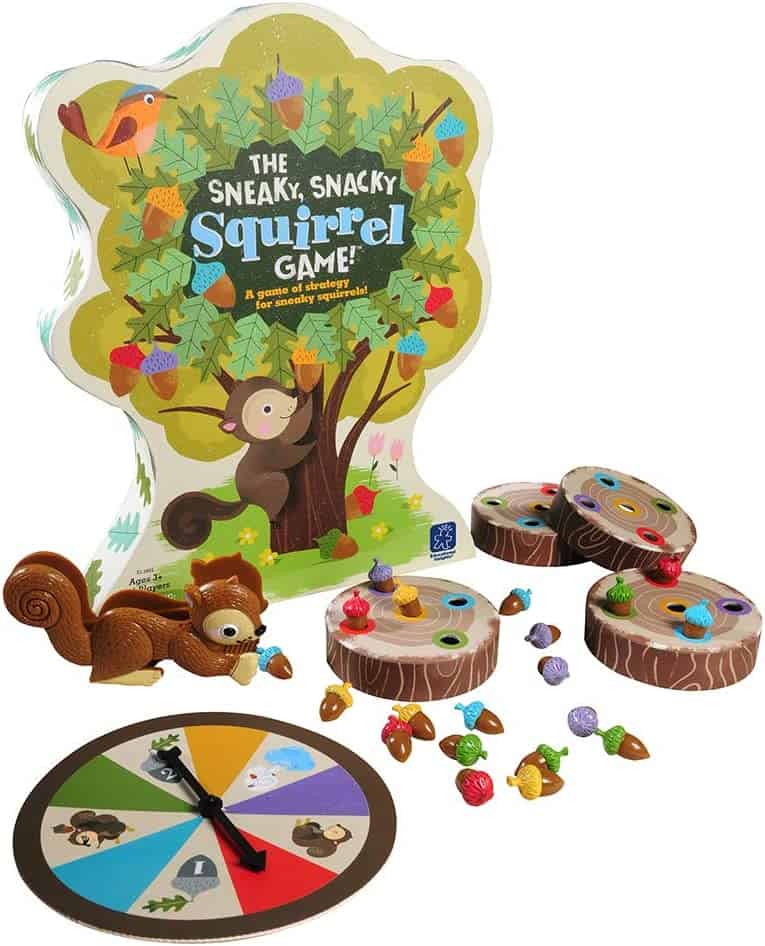 Parents will love the simple concept of this fun board game for kids. You only need to spin the spinner and pick up plastic acorns with a tweezer-like grabber shaped like a squirrel. Then place them in their respective color-coded spots in a plastic tree. The grabber is a great way to hone the fine motor skills of a young child.
You finish the game within 10 mins: as much as the little one can hold his attention. Not only do they learn how to grab, and coordinate their hands and eyes but also how to match and identify colors, socio-emotional skills like sharing and taking turns, and more!
Product dimension: 14.2 ✕ 11 ✕ 2.1 inches
Item weight: 1 pound
Batteries: 12 volt
Age: 3 to 8 years
Brought to you by: Educational Insights
We got this game to play with our kids (ages 4 & 2) and we are LOVING it! We mainly play it with our 4 year old daughter, although our 2 year old son usually enjoys "playing" his own version off to the side (aka: matching the correct color acorns into the designated spots on his tree tree stump and using fine motor skills when handling the squirrel clamper to pick the acorns up). We've easily played this several dozen times since we got it a few weeks ago since our daughter begs to play it nearly every day- often as an activity before bed. It's fun for all ages and it's given us a chance to help our competitive 4 year old be a good sport even if she doesn't always win; she's come a long way since the first time she played and it didn't go in her favor! I highly recommend this fun game for your older toddlers and kids!
– Emily
Our son is 2 months away from being 3, but we could have gotten the game earlier and it still would have been appropriate.
For more product reviews visit Amazon
6. Hasbro Operation Electronic Board Game ($20)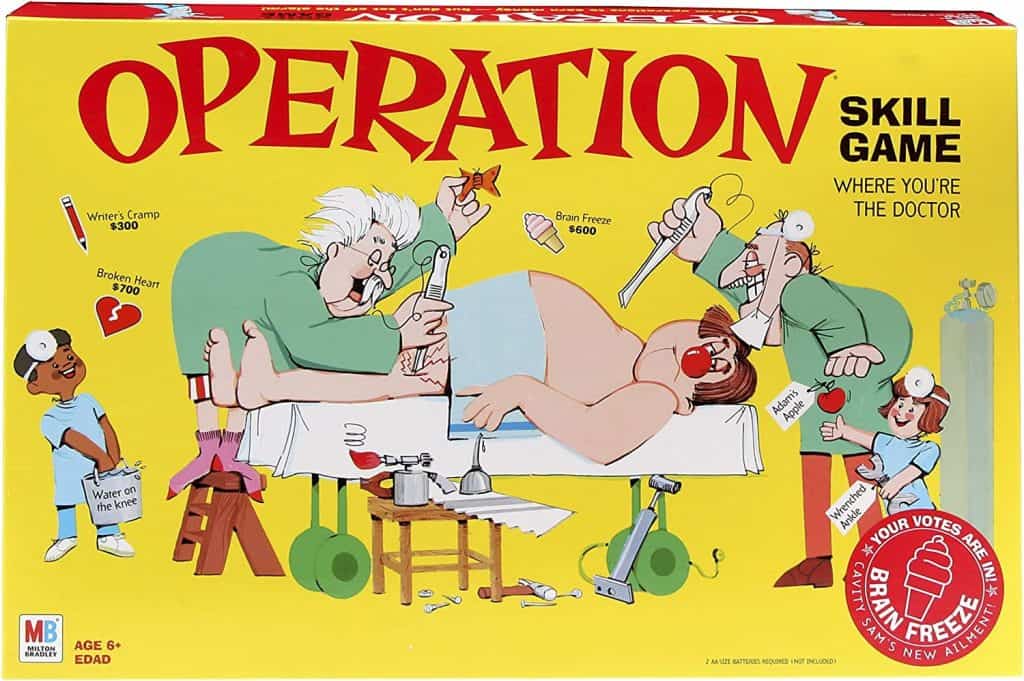 Introduce your kid to body anatomy at an early age of 6 months and above and who knows you will have a doctor in the family? Sam is the patient here and you get to remove his ailing parts with tweezers. His nose will buzz when you touch his sides and your turn is over. There are 12 body parts that you can remove and your kid will learn fine motor skills, hand-eye coordination, and concentration.
Product dimension: 2 ✕ 10.6 ✕ 15.8 inches
Item weight: 1.35 pounds
Batteries: 2 AA
Age: 6 months and above
Brought to you by: Hasbro
As frustrating as this game was,I loved it as a child. Gifted it to another child who also shared that same loving frustration. He wants to be a surgeon. 5 stars
This is a great classic game for family fun. I couldn't find it at Walmart or target, so I purchased here. Sadly paid more than they cost at those stores now, but our 6 year old loves it.
For more product reviewsvisit Amazon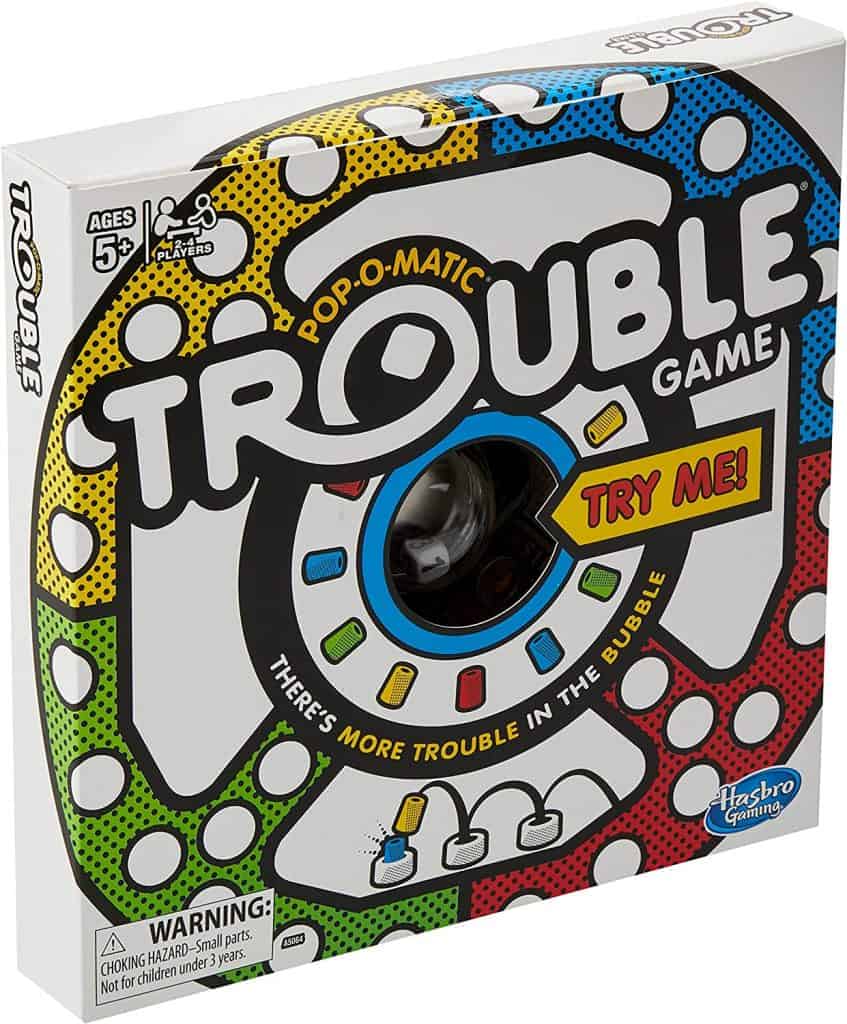 A board game for kids that is also fun for the whole family, Trouble Game is played by putting colored pegs in the correct color-coded slots. The popper is the best part of the game where you have to push it and you'll see a dice tumble. Nothing's more fun than sending your opponent back.
Simple rules make it a hit with young kids and with a little bit of strategy you are a pro at it. The main educational aspect of this math board game for kids is that it teaches counting but it also instills good sportsmanship and cheerfulness in your young human.
Product dimension: 10.51 ✕ 1.61 ✕ 10.51 inches
Item weight: 11.2 ounces
Age: 5 to 15 years
Brought to you by: Hasbro
Both adults and kids can play this game at the same time. It's fun when the nieces and nephews ask to play this game when they come over
– tatiana
Love Love this! I used to play this when I was a young. Now it's time to teach Grandchild how. Played a few games with them and he learned how to play the first time. He LOVES it. Note I can't stop playing with him… Thank you very much. Great product!
For more product reviews visit Amazon
8. Chutes and Ladders ($12)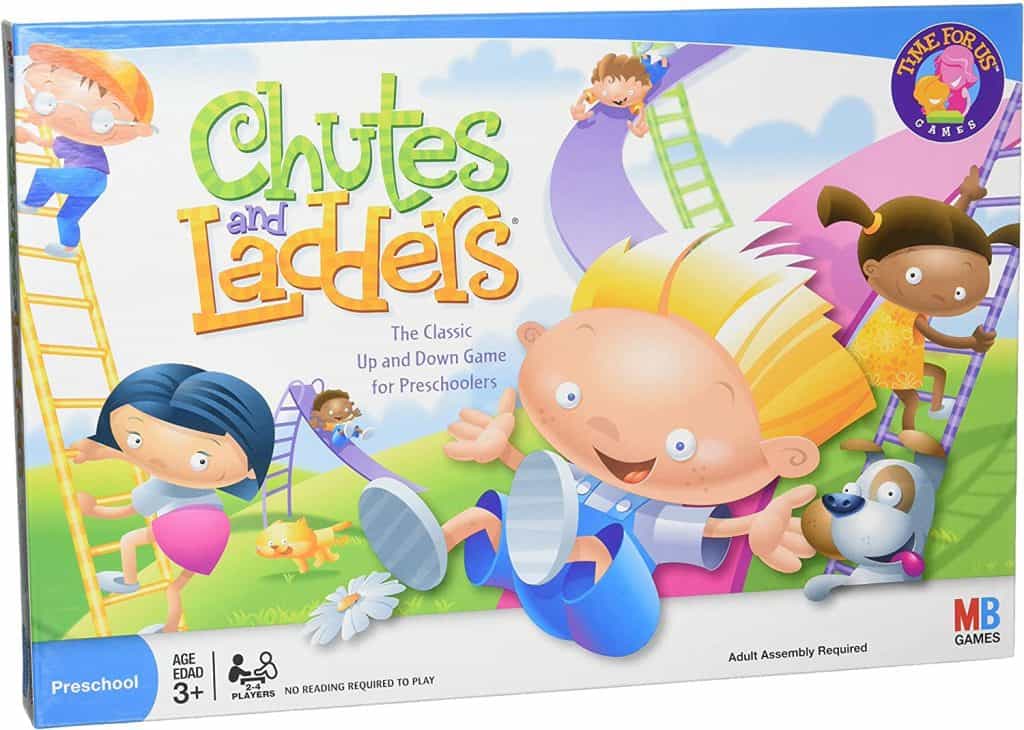 A 5-star reviewed board game for kids, Chutes, and Ladders are great for toddlers teaching them counting and keeping them engaged for a long time. It could be the perfect family game too on lazy Sunday afternoons. Spin the spinner and move the pawn down the chutes and up the ladders. Watch out for the chutes while climbing on good deeds. One of my favorite games from the 90s, it could be your nostalgic turn too to be playing this with your kid. Here are more details about the product:
Product dimension: 1.5 ✕ 15.87 ✕ 10.63 inches
Item weight: 1.4 pounds
Age: 3 to 7 years
Brought to you by: Hasbro
My kindergarteners get to play with this on "Fun Fridays." They are able to understand counting numbers, turn-taking, and going up the ladders and down the slides (chutes). The spinner's plastic feels very cheap does not give me the confidence that it will last but it seems to handle the weekly abuse of our classroom students, so I have to give credit to it's sturdiness.
My young son loved this game long years ago. As a former Kgn. Teacher,it is so important to learn that playing games are fun and that we don't always win. Counting and following the rules of this simple game are great for youung children.
For more product reviews visit Amazon
9. Scrabble Junior Game ($15)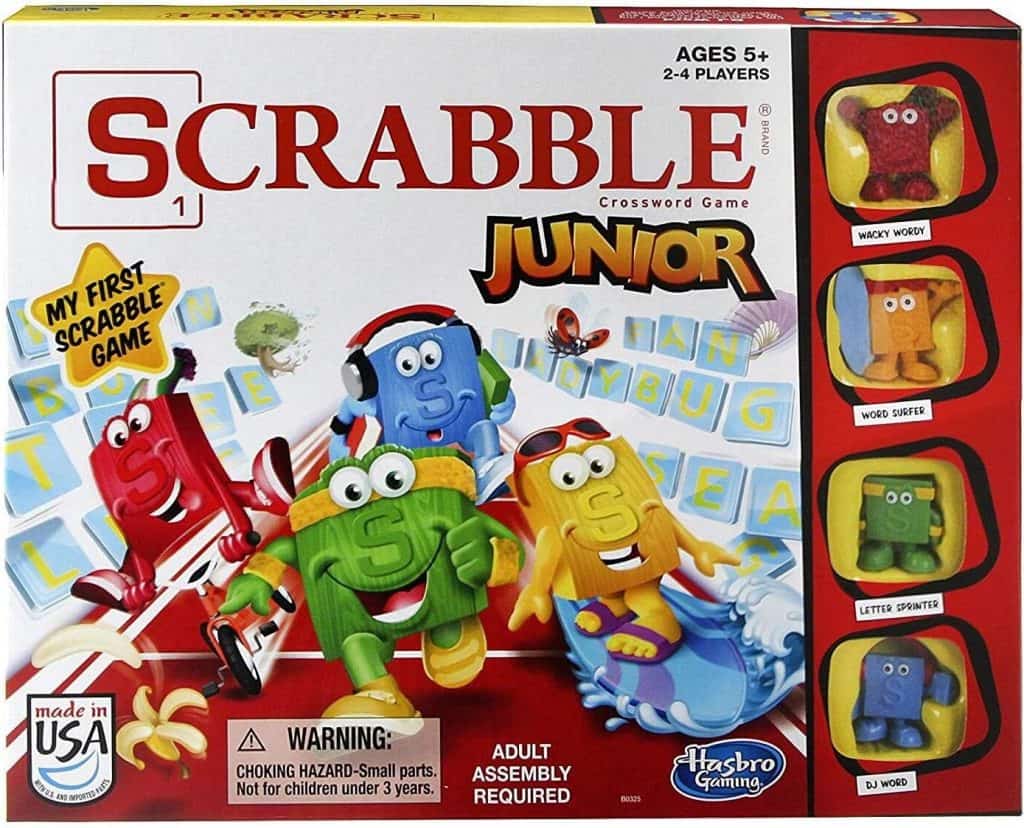 The difference between the old version of scrabble and this board game is that even kids learning to spell can play this game. One side is for children who need help to figure out words as they are just beginning to learn to read while the other side is for older kids who can make their own words. These two options make it a perfect board game for kids of different age groups.
For instance, an 8-year-old can spell with his 5-year-old sibling who knows her letters. The main educational aspect of this game is spelling words, enhancing the reading ability of the child, and familiarizing sight words.
Product dimension: 1.89 ✕ 13.11 ✕ 10.51 inches
Item weight: 1.6 pounds
Age: 5 years and above
Brought to you by: Hasbro
I bought this game to play with my grandkids. My 4 year old caught on quickly and wants to play whenever he comes over. My 8 year old loves to play it, and when you turn the board over, it's more challenging for older kids. Two games in one.
– Diane
I bought this board game for me and my mom to play. (She is in "second stage" dementia.) There are two sides of the board; one side has word guides, and the other side has "scoreless" tile spaces. It doesn't matter whether or not my mom wins the game; she succeeds every time she builds a word! Scrabble Junior provides many opportunities to praise the one you love. (If competition is still your-cup-of-tea, there is a guide on how you can keep score on the "scoreless" side.) Amen!
For more product reviews visit Amazon
10. Mouse Trap Board Game ($25)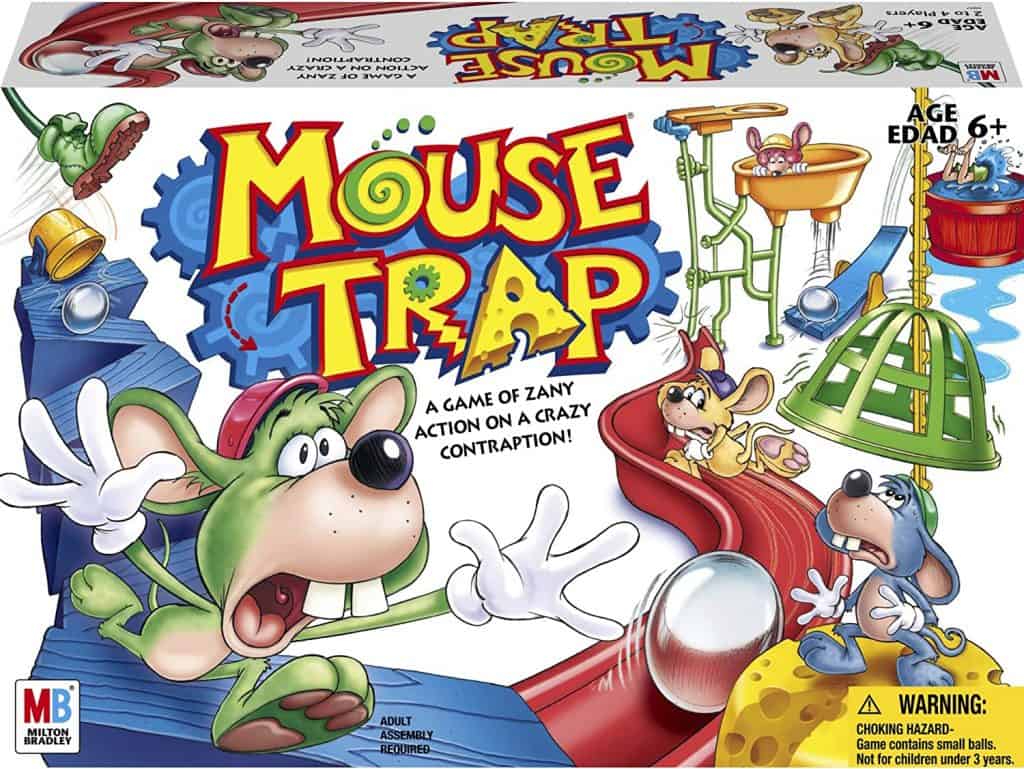 Parents would love that kids will enjoy building the game as well as running the ball through the Rube Goldberg setup. These are perfect for kids who like interactive and hands-on activities. Have a builder hidden in your child? Get this board game which will be a family-night favorite. With gentle treatment, the plastic trap pieces very snugly and will last you for years. Your kids can take turns building the mouse trap. Once done, try to catch the opponent's mice. The last uncaptured mice win the game.
Product dimension: 15.9 ✕ 10.6 ✕ 3.5 inches
Item weight: 2.4 pounds
Age: 6 to 10 years
Brought to you by: Hasbro
NaNa and PaPa bought this when the granddaughter comes to visit. We don't play it like it should be played but she loves to watch the movement towards the end of the game.
Bought this for my grandkids to pass on a tradition!…I enjoyed it as a kid, my children loved it and now my 6 year old grandchildren are having a blast playing Mousetrap!…
For more product reviews visit Amazon
Board games are the perfect opportunity to introduce learning to young kids. Even the simplest of the board games can help young minds  move piles around the board, develop mind and hand coordination, count spaces, and identify different colors. Playing is a stimulant for complex thought processes and memory formation in the brain for all ages. Engaging in play assist in honing important cognitive skills like
Problem solving
Higher level strategic thinking
Decision making
Fine motor skills, etc.
10 Best Board Games for Kids: FAQs
1. What are some of the best board games for kids?
Check out this list of the best board games for kids with price and choose your favorite:● Point games checkers ($24) ● Catan ($43) ● Hasbro Candy Land ($12) ● Sequence Game ($18) ● Days of Wonder Ticket to Ride ($55) ● Hasbro Guess Who? ($12) ● Twister ($17) ● Hasbro Perfection ($17) ● Pretty Pretty Princess ($14) ● Dixit ($38) ● Ravensburger Labyrinth ($42) ● Winning Moves No Stress Chess ($14)
2. What games are best for 10-year-olds?
Here are some of the best fun activities and games for 10-year-olds:● Buzzword ● Jenga ● Uno Attack ● Qwirkle ● Pictionary ● Charades ● Apple to Apples
3. What are some educational board games?
Educational board games are the best for kids as they learn a ton of things without the strain of study time. Check these out:● Snakes and ladders (teaches counting) ● Scattergories (helps them come up with new words) ● Pictionary (teaches words from pictures) ● Boggle (helps them in identifying words) ● Scrabble (prompts them to come up with new words)
4. Why are board games good for learning?
Boards games are a fun way to learn given that even the simplest of them can help young players develop these attributes:● Hand-eye coordination ● Identify colors ● Count spaces ● Dexterity in moving pieces or cards around the board
5. Do board games improve math skills?
A study by Dr. Robert Siegler showed that pre-K children had their math skills improve by playing board games. In the study, the children played the game based on Chutes and ladders for over two weeks (80 minutes in total). They showed significant improvement in:● Estimating number values ● Comparing the size of the numbers ● Counting numbers ● Identifying numbers