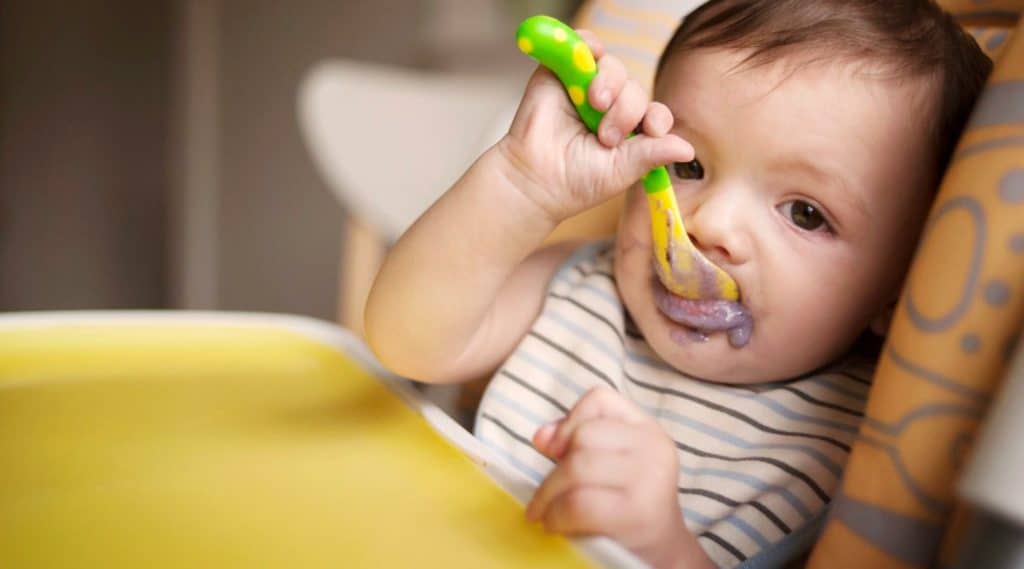 You won't even know when your baby grows up from a formula drinking infant to an older one who has started a little ( yet messy ) self-feeding sessions on their high chair. But, what you will for sure know is that it's time for you to purchase the best baby spoons at 6 months of age. But…
Do you really need a best spoons for self feeding baby ?
Yes! There is no get away from here. So, parents must make sure to purchase the baby spoons for self-feeding that have a soft-tip that does not end up hurting the infant's gums, is easy to clean, and limits portions to tiny spoonfuls. Do not go all wide with the size as it wouldn't fit the mouth of the little ones
7 Best baby feeding spoons to pick from for the babies utensils
To help you pick your best baby spoon, Parenthood Bliss has curated this article that comprises the best 7 picks for you to choose from. So, read on to know more:
1) Munchkin White Hot Infant Safety Baby Spoon (4 Pack): Best Baby Spoons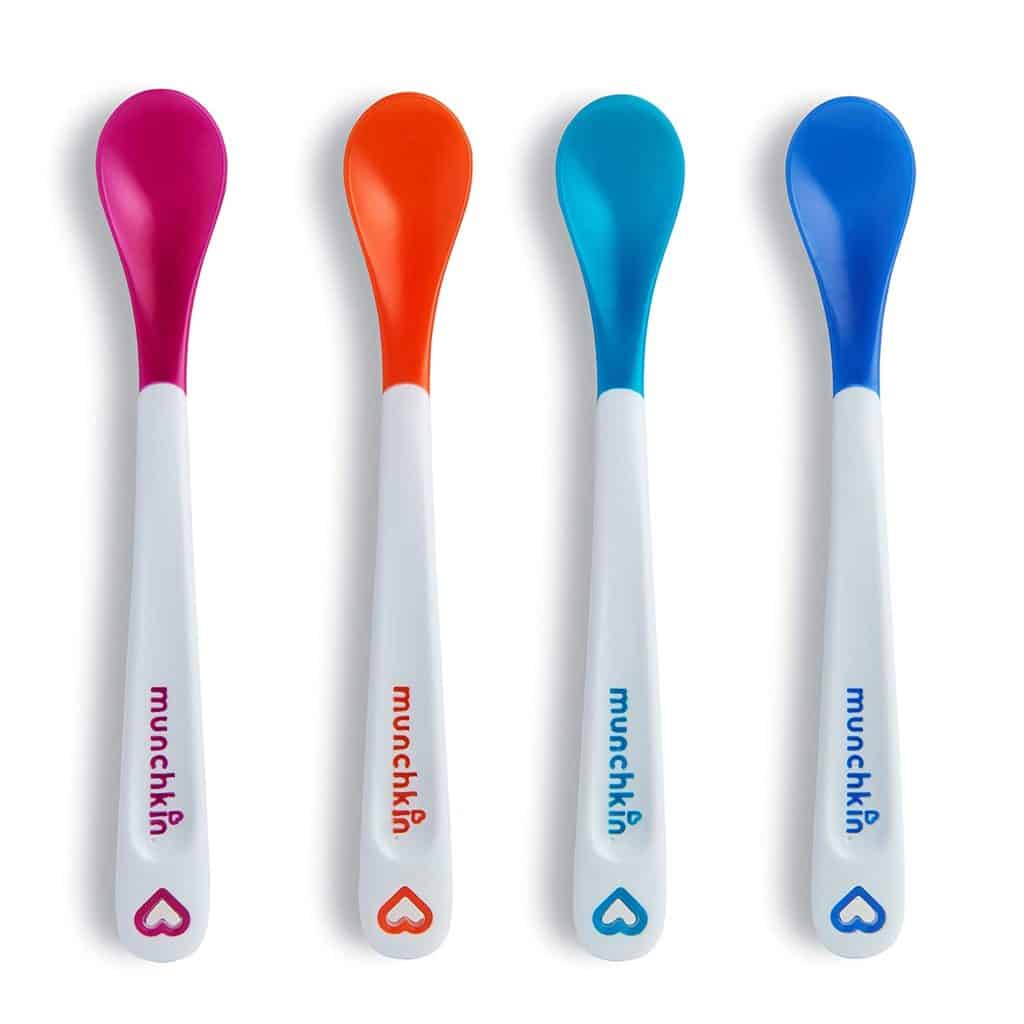 This baby spoon with technology has heat-sensor tips that help protect the little one from accidental burns. Therefore, if the baby's food is too hot to eat, the tip of this smart spoon turns white and returns when the food is at a safe temperature for the baby. They feature in small and shallow sizes and are considered to be perfect for babies who have just started with the intake of solids.
2) Munchkin Soft-Tip Baby Spoons: Best Baby Spoons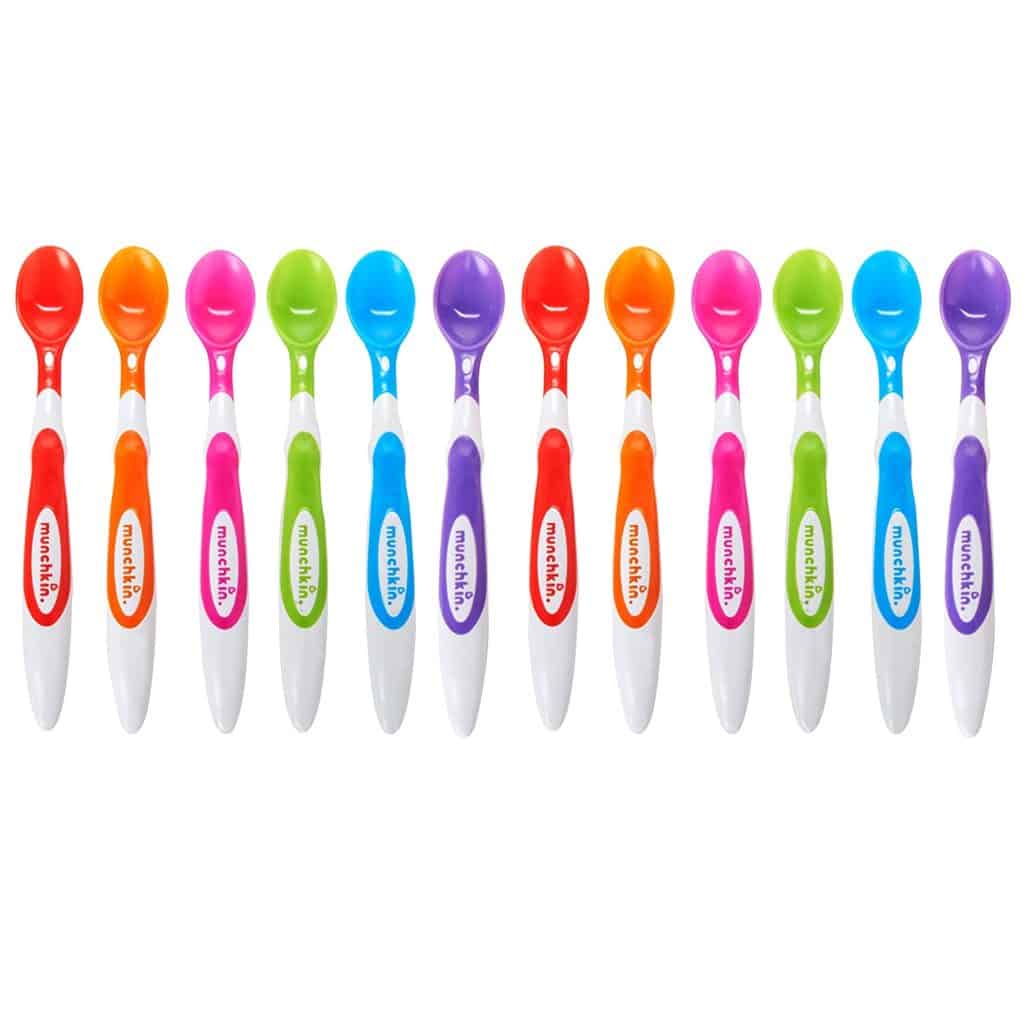 This baby spoon features to be a little deeper in the dept that helps the food to settle in and avoid sliding right off the spoon. Munchkin baby spoon is affordable and is available in half a dozen spoons in rainbow colors.
On the downside, since they have deeper spoons, it might be a bit difficult for the baby feeding to get all the food off the spoon.
3) OXO Tot Silicone Baby Spoon Set of 2: Best Baby Spoons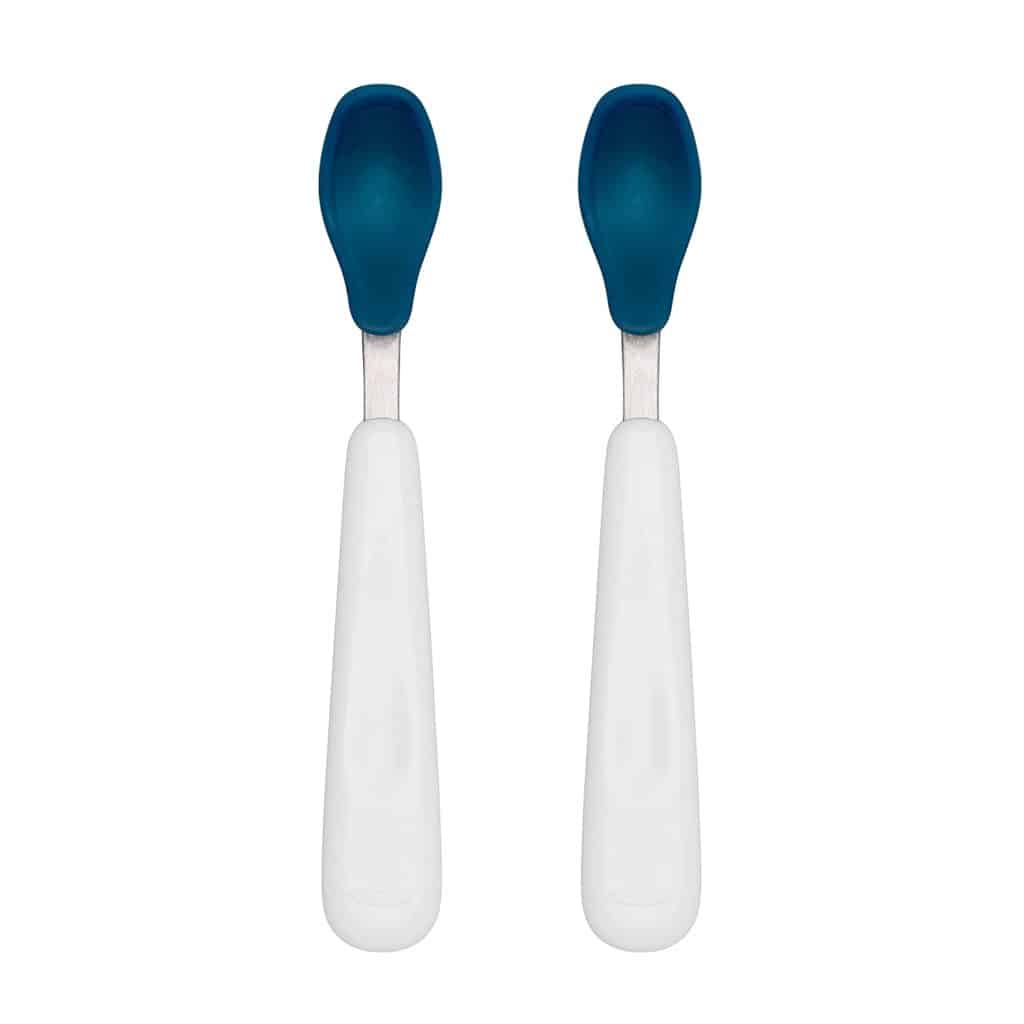 These OXO feeding spoons are sensitive, super soft that will be appreciated by the teething gums, and are food-grade silicone spoons. They feature a shallow make that helps with making bites the right size.
However, if the infant has chompers, and likes to use them, the OXO spoons might not last that long. This is because the silicone coating would eventually tear and break off and cause choking hazards. So parent supervision is required at all times.
4) Boon Squirt Baby Food Dispensing Baby Spoon: Best Baby Spoons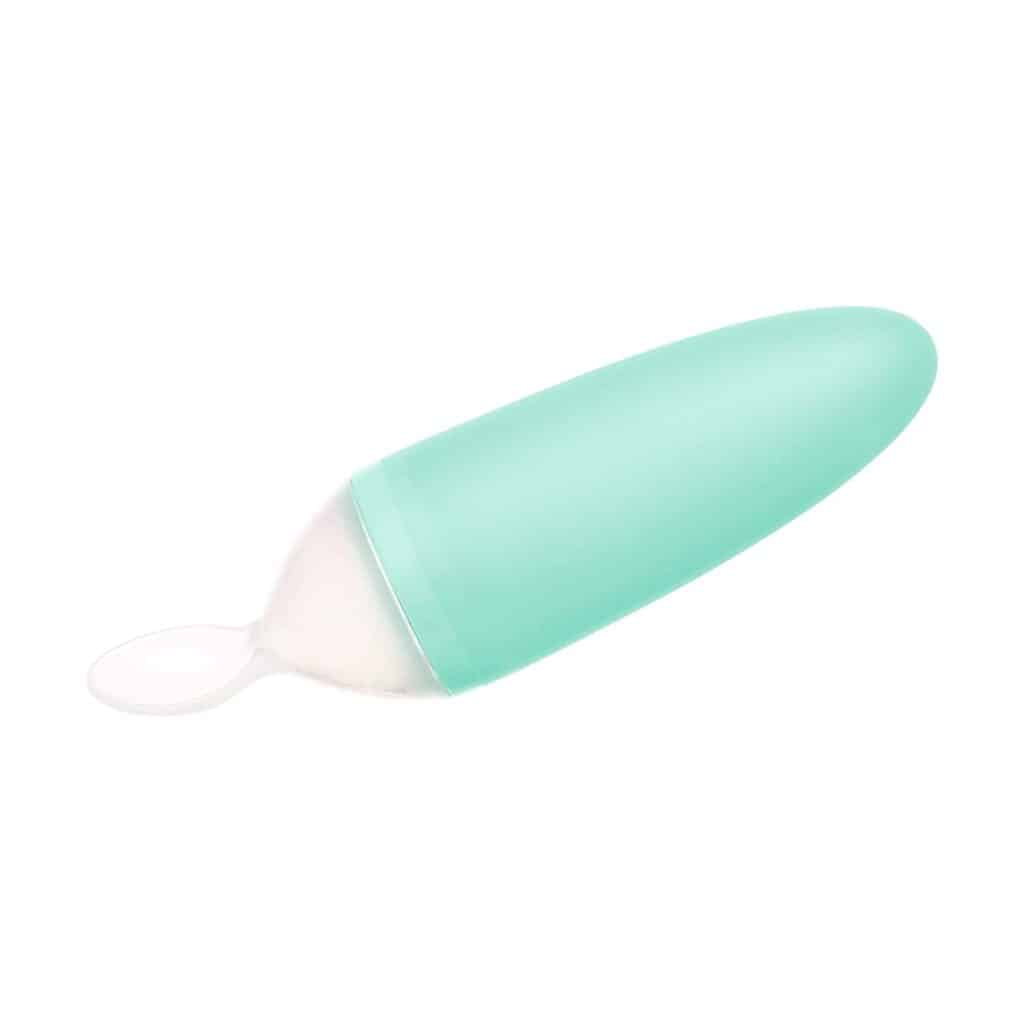 Boon Squirt baby spoon has a hollow handle attached that makes it easy for you to throw in the diaper bag. They also feature squeezing sides that dispense the puree into the tip of the spoon, allowing you to feed your little one using one hand.
However, if the infant isn't in quite the chow-down mood, you can make use of the cap to keep it infection and dirt free for the next use. Also, these work best only with puree baby food as if it is even a little itty-bitty chunk, it'll get stuck in the dispenser resulting in a mess when squeezed.
5) Avanchy Bamboo Baby Spoons (5 Pack): Best Baby Spoons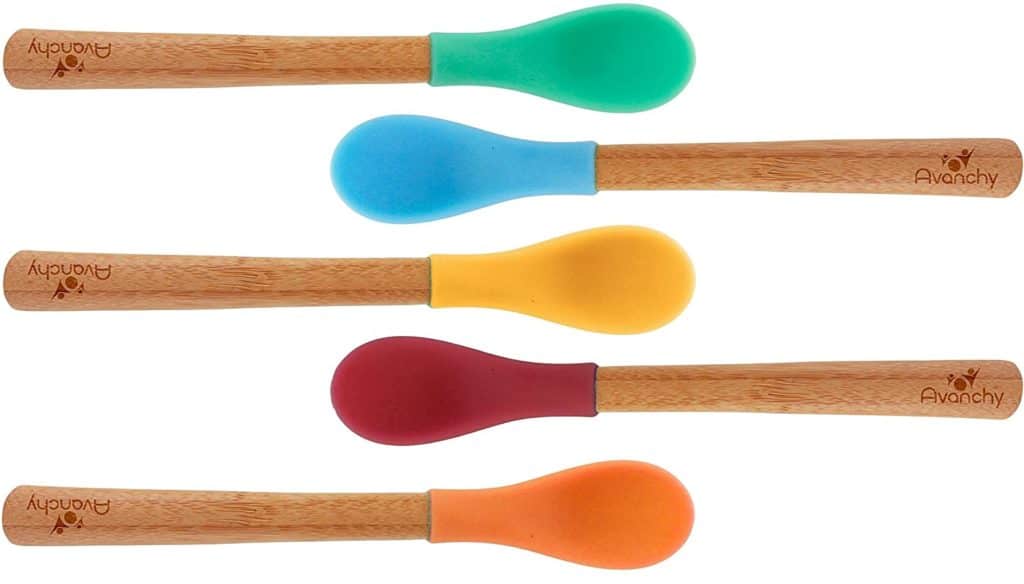 This Avanchy Bamboo baby spoon has a bamboo make and is FDA approved, unlike the others that have a made from plastic with food-grade silicone on the tips. It has a larger head and shorter handle making it easy for older babies to hold and for the baby feeding. On the other hand, the infant spoon has a longer handle and thinner head making it easier for the little one to hold.
These are only hand-washable.
6) Effort Kids Curved Handle Training Baby Spoon and Fork Set: Best Baby Spoons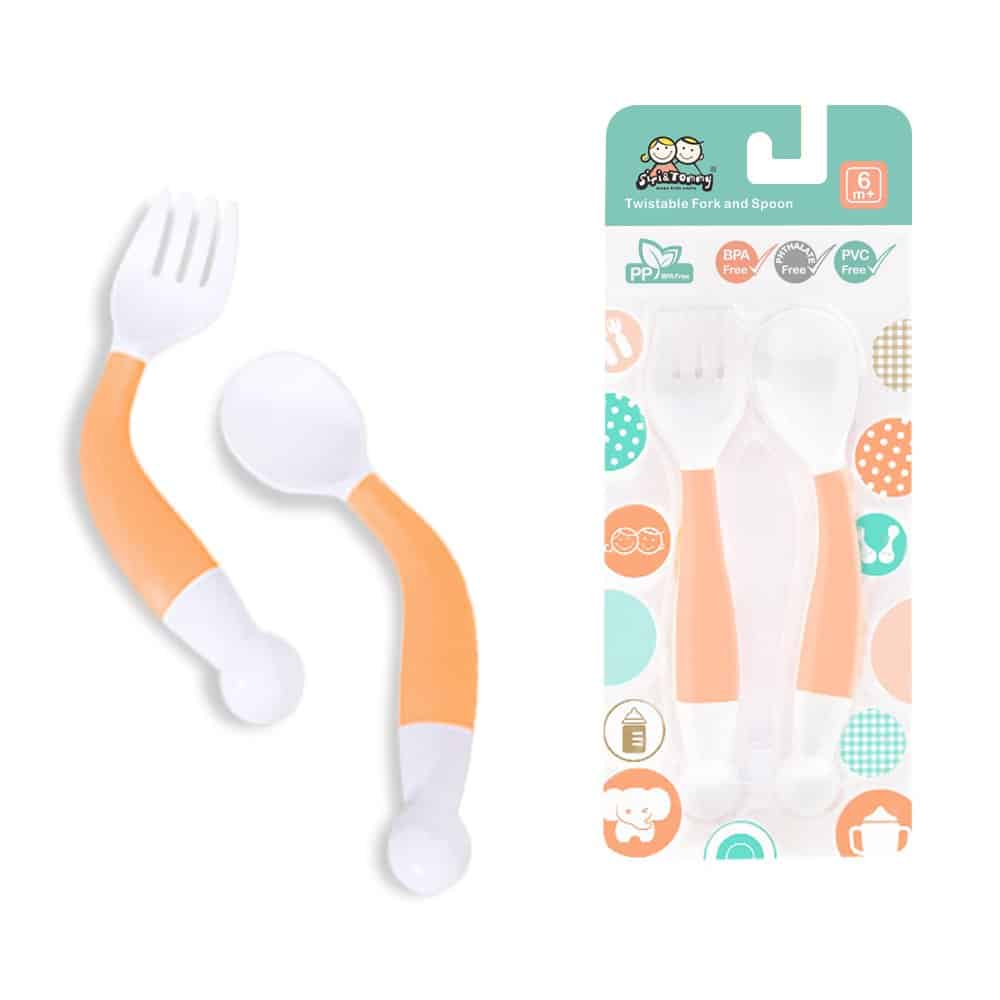 The EffortKids Curved Handle Training baby spoons feature to be at a 45˚ angle that helps the little ones hold the spoon easily while they are at the training stage with a firm grip. They are made from thermoplastic rubber with an interior of steel wire interior for the infant scoop and bite with a steadier hand and angle. Its bendability is sturdy and will not spring back once in place.
7) NUK First Essentials Kiddy Cutlery Baby Spoon: Best Baby Spoons
In case the little one knows how to handle a baby spoon and has no gum sensitivity, these spoons from NUK are an ideal choice, unlike the silicon maker. They have metal in a toddler-friendly way with the handle having a comfortable grip material.
Keep in mind that these baby spoons are for 18 months and up to avoid any accidents with the metal on their sensitive gums and teeth.
As the baby is growing day after day and has started or is attempting to self-feed, make sure to help with the baby spoons that will fit them the best. Also, look for specifications as per your choice, that is if you need one that is dishwasher safe, BPA free, is made from stainless steel and that the feeding spoon fits the baby's mouth. You can also make use of a training spoon that has BPA free silicone soft tip training tips. No matter what you choose they are all made to be easy to hold so do not be tense and look forward to the self-feeding sessions.
While you are purchasing the baby utensils, you might as well want to buy the best baby sippy cups and bowls/plates too!
Best Baby Spoon FAQs
1) When should babies start using spoons ?
Generally speaking, most babies can swallow a spoonful of pureed foods without choking themselves at around 6 months old. If otherwise, a baby can start using baby utensils like baby spoons at around 10 to 12 months old.
2) How many baby spoons do I need ?
Two baby spoons should be more than enough. One for the house and the other to keep in the diaper bag. Nonetheless, if you would like more or less, it is absolutely ok.
3) Are silicone spoons safe for babies ?
In the first stage silicone, baby spoons have a softer edge that will protect the little ones' delicate gums and the new teeth. These spoons are the perfect fit for the little hands and are easy to clean with high-quality food-grade silicone nonslip ergonomically designed handles.