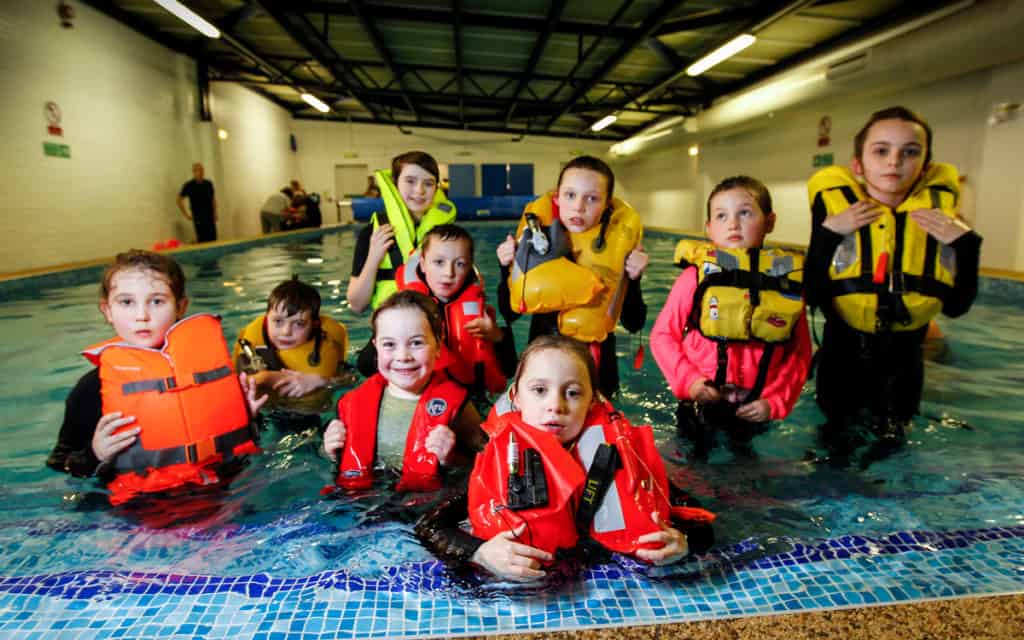 Finally, summertime is here! With the hot and humid weather, comes all the fun water play. This is the perfect time to take the entire family to the pool, lake, or beach. You can relax and refresh in the water. But if you are going to be near the water with the kids, you need to be prepared and safe at all times. As parents, safety should be paramount, especially if your little ones are not yet aware of water safety! One of the most important safety items you will need is a quality, coast guard-approved baby life jacket. Although, it can be challenging to find a comfortable and also effective life jacket for your baby. But don't you worry because after comparing and reviewing a lot of baby life jackets, we have compiled a list to help you find the best baby life jacket for your little one!
What Are Some Things You Need To Consider Before Choosing the Best Baby Life Jacket?
Make sure that your little one's life jacket has the seal of approval from the United States Coast Guard.
The life jacket should come with neck and head support to keep your baby's face above water at all times.
To make sure your baby will stay in place, it should have a crotch strap.
To prevent accidental drowning, the life vest should have a grab handle to be able to quickly pull your baby out of the water.
The vest should not be too loose. It should fit perfectly. If not tight enough, your baby can slip too far down into the water. Before actually using it, test the fit on your baby. Simply pull your baby up by the vest shoulders to be sure his or her chin and ears will not slip out.
To prevent accidental drowning, you should go for Faceup Floating Life Vest for infants and toddlers.
What Are Some Safety Regulations For The Best Baby Life Jacket?
The Minnesota Department of Natural Resources warned that not all babies in life vests can be considered safe. They declared that some babies are too small for any life jacket, even if the label might suggest 0 to 30 lbs. Typically, if your baby is under 6 months or 16 pounds, they are too small for a life jacket to be effective. This is because of the extreme size of their heads to their body mass. Please consider waiting until your little one is a little older before taking them boating (only if your baby is a newborn). Remember to always test the life vest that you choose for your baby in a safe and supervised environment. Also, keep in mind that your babies, toddlers, and children should never be around water without attentive adult supervision!
Here's The List Of 6 Best Baby Life Jackets
1. Stohlquist Unisex Nemo Infant Life Jacket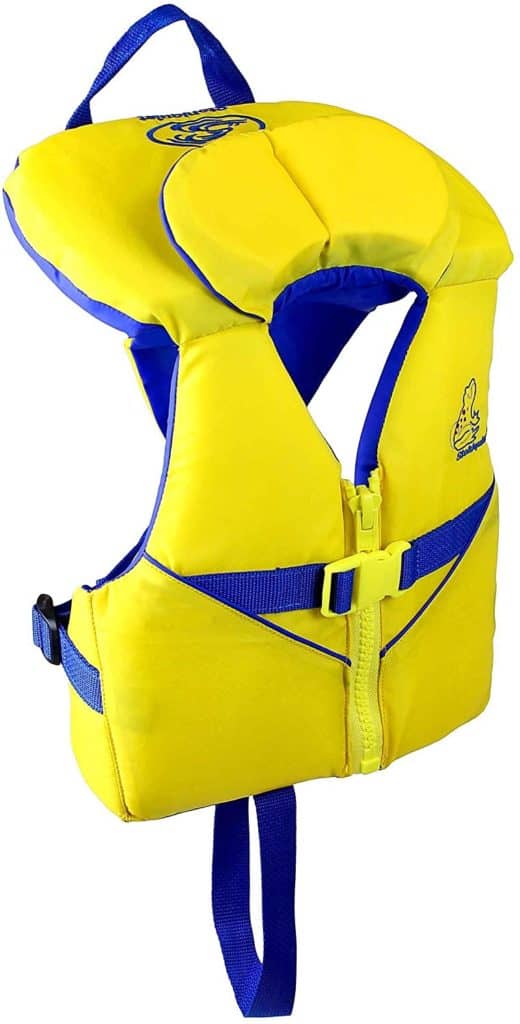 This infant life that's on top pick for our best baby life jacket list because it's comfortable and certified by the United States Coast Guard. It has a V-shape design in the front which will make sure that the life jacket stays in place and not in your baby's face. To ensure added safety, it comes with a crotch strap that prevents the life vest from slipping over your baby's head, if it seems like other straps are not tightly secured enough. It has a feature that makes this option stand out forms of the best life jackets for your little ones, which is that it has two foams. These foams will support your baby's neck at all times. Some notable details on this life jacket include the crotch strap ( which will secure the jacket in place), a convenient grab handle, and a quick-release buckle. Also, due to the additional foam padding that supports the smallest of babies, some moms found that this life jacket will properly fit their babies as young as 8 weeks old. It is best suitable for babies who weigh around 8 to 30 pounds. It is made available in 6 stylish highly visible color patterns.
This is the best tolerated life jacket I've found for a 3 month old. At 3 months both my kids had to wear a life jacket and this one caused the least crying. The v-neck helps a lot with letting them have some head mobility since their necks are so short. It's a very nice quality life vest
I appreciate that there was a hefty amount of safety information provided with the vest. It was very self explanatory to put on and adjust on my child. He is obsessed with it. Both in and out of the water he always wants me to put it on him. He eats in it, naps in it, swims in it, etc. He would live in it for life if I would let him. It is nice to have something that the baby needs that he also wants so we arent wrestling over getting him to be comfortable with being safe. Everyone's kids are different, but on the very first time ever in a pool he felt safe and secure enough to relax and float and giggle the whole time while wearing this. It fits just right and flips him on his back when he is relaxed, bringing me extra comfort in case he ever goes unconcious. I highly recommend if you are using in a pool/calm waters like we are. We have not tried it for boating activities yet though.
2. STEARNS Infant Puddle Jumper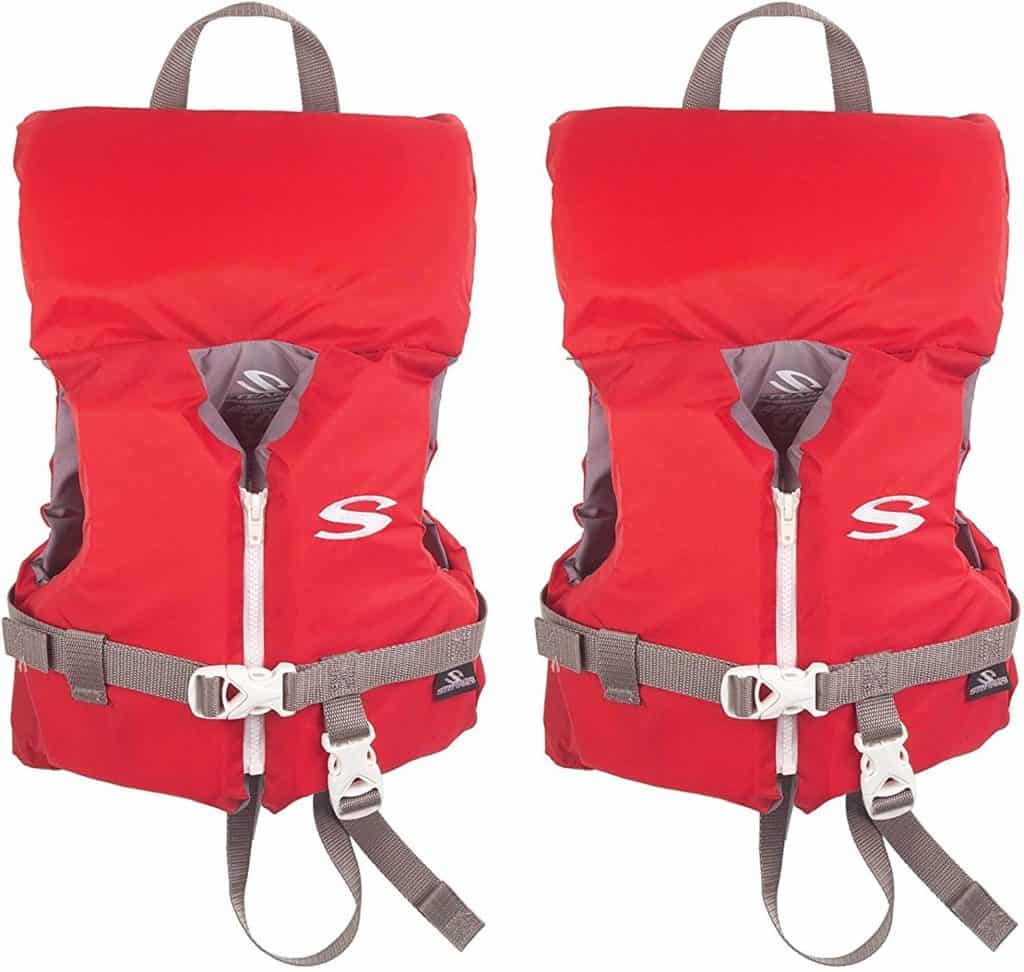 This jumper is the infant version of the classic toddler puddle jumper model (which you already might be familiar with). This jumper is designed for infants that weigh less than 30 pounds. It meets the US Coast Guard certification and it comes with an oversized head support panel and a grab handle, which helps encourage face-up floating. To make it easy to get your little one in and out of the life vest, it has a buckle on the side and a zipper in the back. The two-leg straps can be adjusted for an even better fit. This puddle jumper has got some mixed reviews, some parents love it, whereas some parents say it's not good for bigger babies and that babies fall back or forward and cannot remain upright in the water.
Nice life jacket for small toddler or baby. The strap on the bottom doesn't seem very comfortable but the head support is nice.
This life jacket works works great in the swimming pool and doesn't rub or bother underneath the chin or neck area and has a good handle on the pillow top part to help keep your kids face from going under water while doing swimming lessons
For more product reviews visit Amazon
3. Salus Bijoux Baby Vest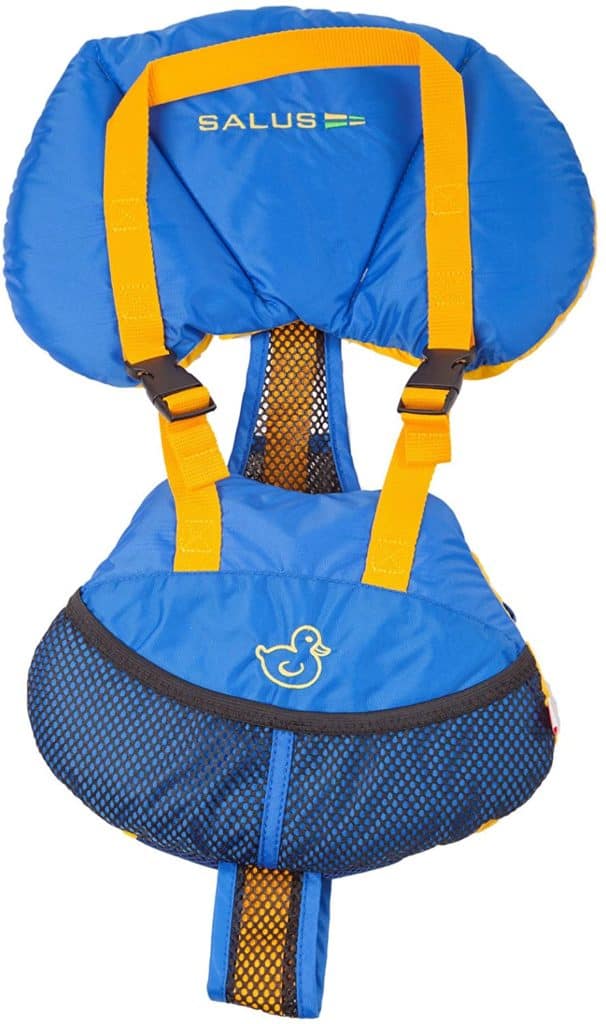 This baby vest is created for babies who weigh around 9 pounds to 25 pounds. It is made available in 5 different colors, which include blue, lime, pink, red, and yellow. It features lots of mesh and webbing for venting and comfort. This baby vest comes with a liner which is called the Dry-Lex Aerospacer Liner. It will help your baby with drainage, breathability, temperature control, and comfortability. Plus, the vest has mesh in the back which allows your little ones to lay comfortably on their back in a carrier or blanket to rest. It was announced as a winner of the Canadian Safe Boating Award for Best New Safety Product. When your baby is wearing it, it doesn't scrunch their face up, and parents love that. Although, it is pricer than the other life jackets that are mentioned.
Living in southwest Florida I had my little one on the boat by 3 months. Her first two life jackets were a nightmare. She did nothing but scream which caused for a miserable boat ride. I stumbled across this and decided that even though it wasn't USCG approved I would try it. It truly has been the best purchase I have ever made on Amazon. She went from having a miserable time on the boat to a smiling happy baby. Now at 7 months she has no problem wearing it and I feel completely confident that is will preform the way a USCG approved life jack will in the case of an emergency.
I was skeptical buying this because it was so much more expensive than the other life jackets I was looking at for my infant. But I am SO GLAD i bought this. My son has been using it since he was 3 months old and he is now one. We go to the lake all the time and he just floats and chills in it. We've used it in our pool and it's the only jacket that doesn't really squish his head. he literally lays back relaxes and floats in it. Other people have seen how relaxed he is in it that they've ordered this life jacket as well. again, i know it's more than other jackets but totally worth the money!!
For more product reviews visit Amazon
4. O'Neill Infant USCG Vest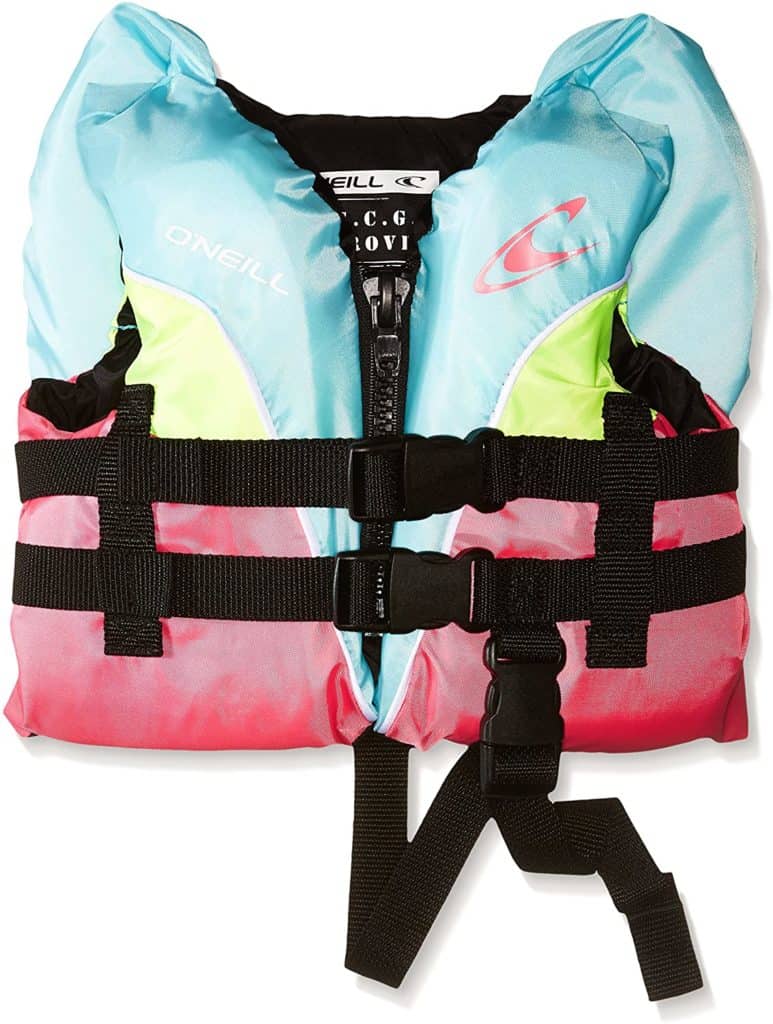 This vest is best suitable for babies and toddlers that are under 30 pounds in weight. At the head of the life vest, you can find a handle strap. The bright pink/purple design or blue/yellow color also helps with the quick location. To secure your little one into the life vest well, it has dual adjustable buckles. Although, it does not include a zipper, which could be something that you might want in an infant life vest. Some parents said that this infant vest seems pretty big on their baby, whereas some parents with babies who are 10+ months old, liked the fit of this vest on their children.
This kept my little one safe for her first time in the pool. It fit her comfortably at 25 pounds and she was able to have fun splashing around.
I give five stars for comfort because it fit my daughter the way it was supposed to, however I think she'd give it a 1 because she didn't like wearing it at all. (That does have anything to do with the product though.) It's SO cute and due to how tiny she is I will be able to get two years of use out of it.
For more product reviews visit Amazon
5. Airhead Infant Life Vest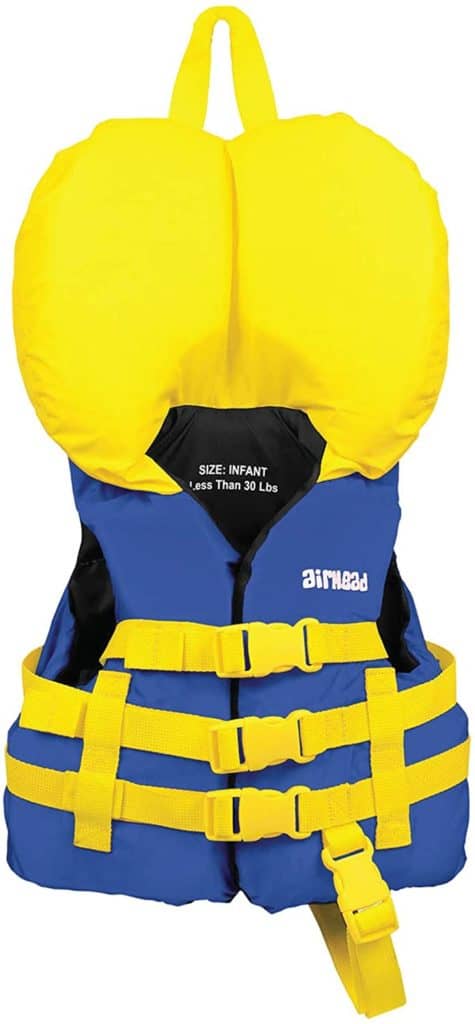 This infant life vest is the best baby life jacket for infants that weigh around 15 to 30 pounds. You have the option to buy it in two different cute animal options, a duckie or a hippo. To make it highly visible, it comes in bright yellow and blue colors. If you want to tighten it on your baby, you can do it with adjustable buckle straps. To meet the United States Coast Guard's requirements for this type of infant life jacket, it has a grab strap in the event you might need to pull your child from the water easily and quickly. The foam collar offers additional head and neck support for your little one, not only in water but also on dry land.
Perfect buy for my son. Or any little person. Seems to be comfortable for him as well.
We went on vacation to Kalahari Resorts and life jackets are required for the little ones. We bought this for our son who is 13 months old and recently started walking consistently. He doesn't like to float on his back yet, but this jacket was great for what we needed. It specifies that this is best for an infant/child who has been comfortable with or taught to float on their back due to the risk of their head going under forward, but we were always close enough this wouldn't have been an issue. I have no complaints!
For more product reviews visit Amazon
6. STEARNS Classic Series Infant Life Vest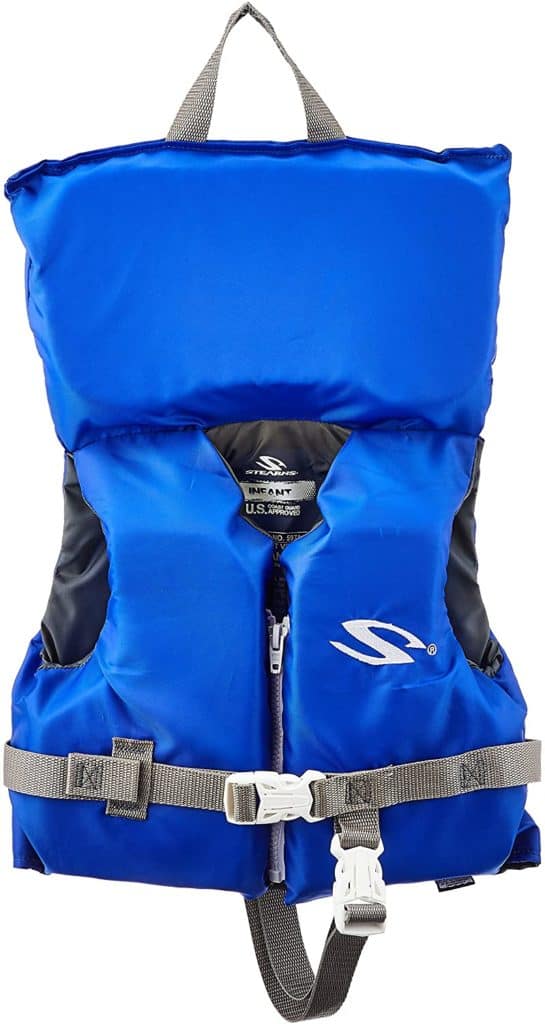 This Coast Guard-approved infant life vest comes with all the typical features of an infant vest such as a crotch strap, and padding behind the head which will keep your baby's neck and head safe. It is high quality and affordable too. Some parents said that it's not that comfortable because it tends to touch your baby's face. To keep your baby's head safely out of the water, it comes with thick padding that is above and behind the neck.  It is best suitable for infants that weigh less than 30 pounds and it is great to prevent any accidental drowning. While boating, your baby will be protected. If your baby is not actively learning how to swim, this vest is great to introduce little ones to the water safely. Although, because of the shape, it's not a great toddler life jacket.
Nice life jacket for small toddler or baby. The strap on the bottom doesn't seem very comfortable but the head support is nice.
This life jacket works works great in the swimming pool and doesn't rub or bother underneath the chin or neck area and has a good handle on the pillow top part to help keep your kids face from going under water while doing swimming lessons
For more product reviews visit Amazon
Every baby life jacket on our list is certified by the United States Coast Guard for your peace of mind. Even if weight requirements are met, you must make sure it is the right fit for your baby. Once you are done with making sure that your little one is safe, just pack some baby sunscreen and you can have a blast this summer with your family in the water! Enjoy it because this is your only summer with them as a baby!
FAQs: Best Baby Life Jackets For Your Babies & Toddlers
1) At what age can a baby wear a life jacket?
The U.S. Coast Guard's Office of Boating Safety says that an infant must not travel on a boat until they are at least 18 pounds in weight. They can wear a personal flotation device (PFD). Considering that, most babies reach that weight somewhere between 4 and 11 months. PFD are as safe and buoyant as life jackets.
2) Do babies need to wear life jackets on boats?
Yes, they have to because under California law every child under 13 years must wear a Coast Guard-approved life jacket in serviceable condition and of a type and size appropriate for the conditions and the activity. Whether they are on a moving recreational vessel of any length.
3) How do infant life jackets work?
An infant life jacket makes sure that your baby's on their back and head above water.