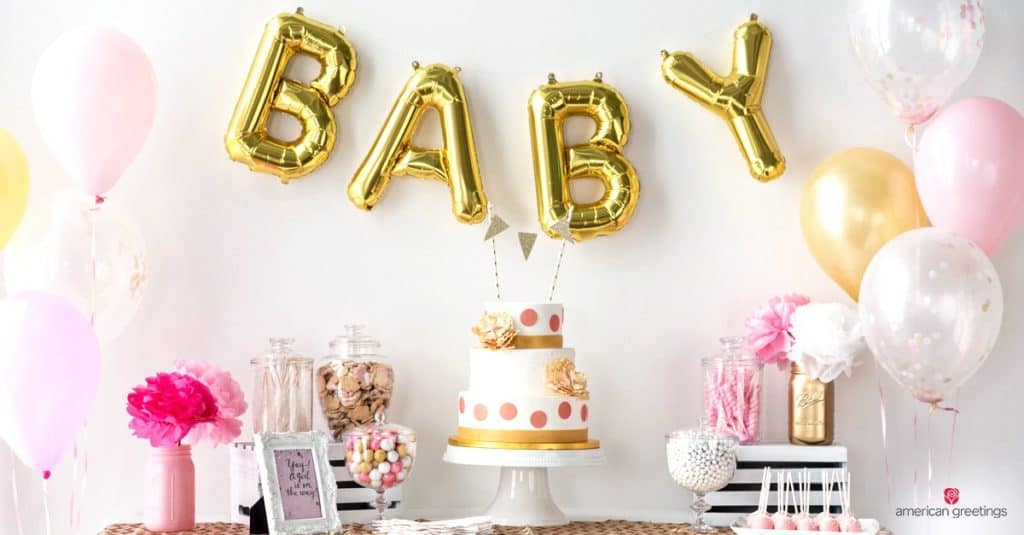 Every baby deserves to be welcomed in this world with a celebration. It doesn't matter if they're being born into a family, born through a surrogate, or are being adopted by loving people. This could be your first child or the second or the third. Every kid should be welcomed with open arms. Moreover, baby showers could be a fun and special way to welcome your little ones into this world and you can celebrate the parents too.
Whether you're hosting a baby shower, or if someone else is planning it for you, you might've figured out how this party involves lots of tasks! You have to decide from themes and food to RSVP management and gift tracking. There's a lot you need to do and remember. Hence, why we've created this ultimate checklist to keep things on track and help you plan a memorable baby shower. We hope this list will help you eliminate some of the stress that comes with planning any party. Now you can focus on having fun!
When Does The Baby Shower Happen?
Technically, you can have a baby shower at any point before or even after the baby has arrived.
If you are planning to host the shower before the baby is here, then you should throw it around 1 to 2 months before the due date. This will give parents-to-be enough time to sort through the shower gifts. They can put everything in its place, some gifts come in multiple pieces such as a bassinet or swing, clothes or toys.
If you are planning to host the shower after the baby is here, then give the new parents enough time to settle in and get used to their routine. Also, figure out what gifts they would need. You can host the shower could be anywhere from 1 to 8 weeks post-baby arrival or later.
Do You Have To Follow The Exact Timeline?
It depends on the type of party you are hosting. Are you hosting a fancy, formal part which will require lots of coordination with the decorators and caterers? Or are you hosting more of a casual gathering which can be planned on short notice? You need to leave more room in your timeline if you're involving services such as catering because you are working with more people's schedules. Also, the timing depends on who's planning the shower and how much they like planning things because some people love an organized task list whereas some like to wing it. So remember to take this checklist as guidance, not gospel.
Checklist And Guidelines For The Host
2 Months Before the Baby Shower
Who's hosting?
Anyone close to the parent(s) can host the shower, it can be a close friend, a family member, or a co-worker. Also, extra hands are always appreciated, so consider hosting as a group.
Budget
Planning a baby shower means spending money. For decorations, food for guests, or if you're going to hire services such as a caterer or an event planner. No matter what you're going to do, we recommend setting a budget early on to make sure that you won't go overboard.
6 Weeks Before the Baby Shower
Date and time
Parent(s) need to decide if the celebration is happening before or after the baby's arrival. As a host, when you're deciding the exact date of the shower, you need to take into consideration the parents' schedules as well as guests' schedules. Decide if it's going to be on a weekday or weekend and the time of the event, too.
Theme
Usually, baby showers don't tend to have a theme. However, if you're thinking about doing something trendy or unique, decide on that pretty early, since the style of the party could influence where you have the shower. It's a good time to think about decor, games, and favors that will fit the theme, too.
Location
After the theme, you need to decide what kind of space you are looking for. Is it a large, casual gathering in someone's backyard? Or is it an elegant afternoon tea that needs an intimate indoor space? Or maybe it's the combo? Also, check how many guests space will allow. To devise an appropriate guest list, either work with the parent(s) or work with others close to the parents (if it's a surprise party). Make sure there's enough room for the guests to sit, eat and have the guest of honor open gifts.
Order invitations
Once you have all the crucial information, especially the date, time, and location, you can finally decide on the invitations. Remember to include yourself or a co-host as the contact person for baby registry information, RSVPs, the RSVP deadline, and directions to the party.
Also, if there are guests who would rather send their gift ahead of time, list the address where shower gifts can be received.
If you're ordering custom-printed invitations online, then this much time is enough for you. Moreover, if you're emailing invitations, it'll take even less time.
1 Month Before the Baby Shower
Send invitations
It's customary to send the invitations 4 weeks before the baby shower. This way there's enough time for guests to take time off from work or plan for their travel or mark it on their calendars.
Food and drinks
Start planning the menu ahead of time, so that you can ask for friends' and family's help with food and drinks or secure catering services. If a lot of guests want to pitch in, a potluck can make the baby shower menu fun and easy. Remember to include pregnancy-friendly foods such as mocktails, veggie sushi, and pasteurized cheeses for a charcuterie board. Also, double-check with the guests about food allergies.
1-2 Weeks Before the Baby Shower
Finalizing the RSVPs
Check-in on the ones who didn't RSVP as of yet and finalize the headcount to ensure there's enough time to adjust any reservations.
Confirm reservations for location and food
It's a good idea to confirm the reservations (venue, catering, or any other service) one week before the shower. If the shower is being held at a friend's or relative's place, or if guests are bringing in food, remember to double-check with them.
Get decor, favors, and things you need for the games
You can bring the baby shower's theme to life through decorations, party favors, and fun games to entertain the guests. However, if you can't fit favors in your budget, you can always go for homemade. You can do origami baby clothes, no-sew bunting, and a stack of wrapped diaper boxes with letters that spell out the baby's name.
The Day Of The Baby Shower
Prep snacks or food
Do a grocery run a day or two before the shower, especially if you're doing any cooking or baking. Prep the food the day before the party (if you can). Also, put the cold drinks in the fridge or on the ice at least four hours before guests arrive.
Set up/decorate party space
Try to take a look at the party space beforehand and for a nice touch, you can add some decorations like balloons outside. This will make the location noticeable for guests.
Keep track of/write down gifts
You need to assign someone to write down the gifts inside the 'baby book'.
Photos
Every great and memorable party needs some good pictures. If you are good at remembering to photograph memorable events, then great! But if you are not, designate a photographer or two. You want to document these memorable moments. So, it doesn't have to be particularly Instagram-worthy. Simply ask any partygoer with a camera or smartphone to do it.
Checklist And Guidelines For The Parent(s)
3 To 4 Months Before Baby's Arrival
Decide if/when you want a baby shower
You need to decide whether your baby shower is before or after your baby is here, or if you want to have a shower at all.
Baby registry
If you have already started your baby registry, that's great! Remember that it doesn't have to be finished at this point, but make sure you like everything in it because, by the time your baby shower invites go out, that's when your family and friends will start thinking about what gift to get you.
Guestlist
This is your baby event and you can invite whoever you want to! You want it to be adults only? Are kids allowed? It can be mixed-gender? All of it is up to you! Also, keep in mind the venue's capacity, so ask the host about what sort of venue they plan on using.
The Day Of The Baby Shower
You're the guest of honor! Relax and enjoy!
All you need to do is sit back and enjoy this party that has been arranged for you. If the shower isn't at your home, make sure you've arranged a way to take your gifts with you.
1 To 2 Weeks After the Baby Shower
Thank you cards
Sending thank you cards is good etiquette. When it comes to baby showers, the sooner you send them the better. If your shower was pre-baby, you'll be pretty occupied later so send it as soon as possible.
Yes! You are done! You've worked your way through this ultimate baby shower list. We hope you had fun hosting this event. Baby showers are a fantastic way of celebrating the pregnancy and welcoming the little one. Make sure that everything the new baby needs is ready in time for the big day!
FAQs: Baby Shower Checklist: How To Plan A Baby Shower?
1) What is the average time for a baby shower?
It depends on what's planned for this celebration. Usually, baby showers should last at least 2 to 3 hours. You need to plan for enough time to enjoy all of the baby shower games and activities. It should also include the opening of gifts, snacking and eating cake, and catching up with friends and family.
2) Who is supposed to plan a baby shower?
Usually, baby showers should be hosted by the sister, mother, mother-in-law, or a close friend. But nowadays, it doesn't matter. As long as you're close to the parents-to-be, you can host the shower.
3) Do fathers attend baby showers?
Traditionally, baby showers were a women-only event, however co-ed baby showers are becoming more and more common. But now it doesn't matter, you can do whatever you and your partner are comfortable with!