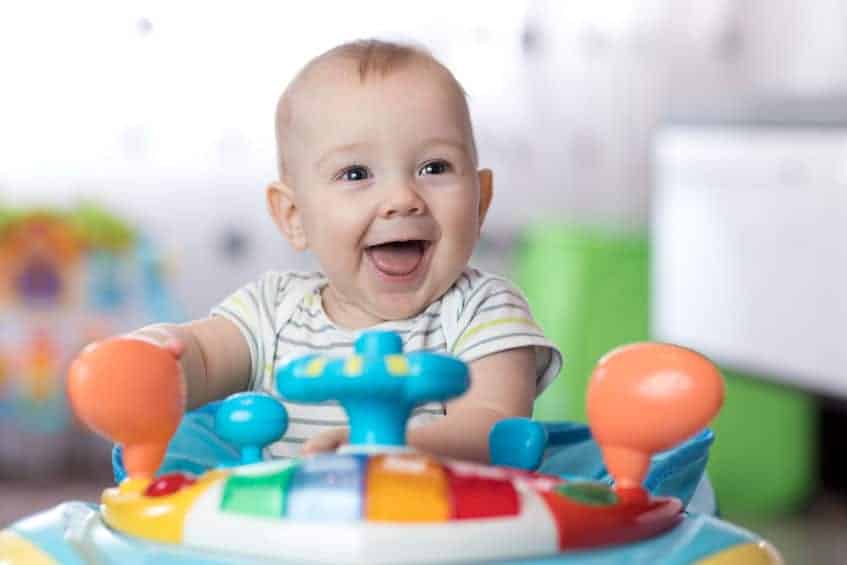 Bounce, Play, Explore: 5 Best Baby Activity Centers of 2023!
So now that your baby has outgrown the crib and started to smile at you, move their hands, and have generally started to look interested in being entertained. At this point, you might be thinking of a new way that keeps their newly-found-movement going. The answer to that 'something' could be an exersaucer!
An exersaucer is essentially a sitting toy for babies which consists of a saucer and a seat. The baby can sit on that seat and play with various attached smaller toys. Since the baby cannot roll or tilt under the wheels, a baby exersaucer overrules the fear of any hazardous tripping, rolling over, or falling off.
Not known and rather misunderstood by certain people, for a fact about baby exersaucers, is that an exersaucer is only for the fun, entertainment, and development of the baby.  Research has proved in the past that an exersaucer does not, by any means, show a difference in the motor development of the babies that use an exersaucer against babies that don't.
Hence, if you do happen to invest in an activity center baby, you should by all means, as it can prove to be a fun product to engage with. However, do not buy this if you believe that it can benefit the gross or fine motor skill development of the baby.
Having said that, given the huge range of baby exersaucers that are available in the market today, it might be rather intimidating for you to narrow down on the ideal exersaucer for your little one. Here we are to help you through and make your decision a lot easier and more informed!
Top 5 Best Exersaucers And Baby Activity Center To Pick From For Your Little One!
1.Fisher Price- Rainforest- Priced at 75$
One of the best-selling exersaucers on the market today, this one tops the list for a lot of reasons. This beat baby activity center for 1-year-old has a jumper in the center which is attached with elastic support that lets your baby bounce and jump to the best of their entertainment. Apart from being so bouncy, which makes all the babies gaga, this one also has some inbuilt lights and sounds that get triggered by the bouncing of the baby or through hand contact.
The central seat of this exersaucer is 360 degrees rotatable and has an attached teether toy. For babies who like to be entertained while eating, it also has a well-constructed, sturdy but light-in-weight snack tray. For the best part still, we all know how babies can rip off almost anything that comes their way, and fisher price understands this well. The manufacturer offers warranty repairs and replacements so you do not have to worry about toys going south anymore! 
As for some noticeable cons, one could argue that this exersaucer is not tall enough to reach the floor, even on the lowest settings typically for babies under 7 months of age. Because of this, it could also become difficult for babies to reach the attached hanging toys.
2. Skip Hop Explore & More Activity Center- Priced at $100
Steeper in price than the aforementioned exersaucer, the skip hop is made in premium quality, yet is a simple and stylish exersaucer. Nice to look at and practical to use, this exersaucer also has a rotating seat which is super comfy along with tons of colorful, cute, attractive toys. Besides, this exersaucer also has an adjustable foot platform that can be moved up and down to suit your baby  height; the baby activity chair bounce, and move, with their feet also reaching the floor for some ground and stability.
On the platform of this exersaucer is also a foot-operated keyboard that lights up and plays tunes. For you to not lose sight of your baby for too long, there also is a little window. The simple yet hugely amusing toys work on a clip-on/off mechanism which makes washing rather easy and doable. This product can also be used to have your baby cruising, as a table for toddlers and of course, a skip hop activity center baby; this versatility, perhaps, does make it up for the price so to say.
The only tiny detail that could have been kept into consideration is the fact that the foot platform is not spring-loaded and hence, it restricts the bounce-potentiality to some levels.
3. Baby Einstein Jumper and Activity Centre- Priced at $90
Unlike most other exersaucers, what makes this one rather special and unique is the fact that it comes with a jumper that is attached with elastics to give a fun jumping experience to the babies. A true skip hop activity center in all senses, this product offers so much to do- babies can spin all 360 degrees, play with the piano, reach out for the toys, and the music in this one is not too loud or obnoxious- just as ideal as it should be for infants.
For parents and kids that like it extra, this exersaucer also has loops that can be used to attach more toys. It also features a snack table and the adjustable height facilitates the use even for when the baby grows taller with time. Ideal for babies up until about 4 months of age or up until the babies are still only bouncing and don't start to walk or climb.
For a limitation to speak of, the seat could have been wider; and some reviews do point out that despite the jumper, it is not as bouncy as other exersaucers. It can also cause babies with lower core strength to flop backwards and forward. This, however, can be solved with the help of an additional pillow.
4. Oribel PortaPlay 4-in-1 Activity Center- Priced at 125$
A 4-in-one exersaucer, this one is highly versatile, flexible, durable, and of good quality. Made in rather modern styling yet simplistic looks and features, let us begin with talking about its 4-in-one feature.
This can be folded up in seconds which makes it super easy to store vu virtue of the compactness.

It can be used as an activity center baby by just snapping the toys on the top and unfolding the legs to lay it flat.

The leg of the product is adjustable up to 5 inches up and down because of which, it can be lowered as low as 13 inches from the tabletop to the floor and even as high as about 18 inches from the top to the floor.

The seat of this skip hop activity center for 1-year-olds is also removable which means that you can simply put a cover on the seat hole and make it into a play table.
For this baby activity table, you can also purchase some additional chairs as the baby grows up and then use them as a sit-and-play table.  Talking of other features, the toys are simple but fun with a pop-on/off design. The seat is elasticated which lets the baby bounce to some level on it and it also spins all the way 360 degrees.
The whole product as a whole is rather sturdy even on carpet flooring. In the package, you will also find an art paper roll dispenser. The only flop side of this exersaucer is that when you use it as a table, it still has the grooves from where the seat was, and that yields an uneven surface for coloring and activities of sorts.
5. Fisher Price 4-in-1 Step 'n Play Piano- Priced at 100$
Since this one also is a 4-in-1, let us get right to the versatility.
The activity center for 1-year-old has a tummy time piano mat that can be placed flat on the ground for baby-mummy-tummy time.

It has a spinning seat for all-round-fetch-and-play.

It has a stationary built-in walker, the seat of which can slide backwards and forward on rails which enables the baby to subconsciously learn the cause-and-effect phenomenon.

This one can also be turned into an activity table for when the toddler is no longer a little toddler.
The electronics attached to the exersaucer can look rather intimidating at first, however,
Once you do get to use it, you would be pleasantly surprised by how not-so-loud all of that is. Parents also worry that the baby's fingers might get pinched on the stationary walker rails, however, since the rail is stiff, the sliding is restricted and slow which avoids the hazard of pinching.
The height of this exersaucer is also rather perfect and the biggest attraction for all the babies is the fact that it has a mirror on it! The downside, however, is the fact that a) batteries run out quicker than usual and B) It is bulky which makes storage a problem in smaller homes.
Exersuacers and best baby activity centers are majorly liked by parents and babies alike. This is for the primary reason that when babies are growing or developing, they would only seldom like to play with a toy that is kept in one location. Babies rather like to move around as they are anyway so amused and curious about everything that is around them so to speak. Parents, on the other hand,
love exersaucers because they guarantee only limited-movement and not too much that can cause hurt to the baby. Also, secondly, these activity centers are portable, which means, they can be taken anywhere and to keep babies engaged even on-the-go.
As pointed out before, exersaucers have proven to not help develop any motor skills or work for the development of a baby's brain, however, for a fact, it cannot be denied that they definitely are a great way that makes all the senses of a baby come together and has them involved in a whole-body movement experience. Baby's can move, bounce, play, teeth, and especially for constipated babies- exersaucers are a great way to work towards improving the baby's overall digestive system since it works as a 'homeopathic' laxative! Do you like our recommendations or have some more for us to add down here? Parenthoodbliss is always listening, do hit us up in the comments!
These were the top picks from us at Parenthoodbliss, and we hope they have helped you pick your perfect exersaucer or your child activity centers. However, are you also looking for the best jumper activity center for your little one too? Check the link out for more details and options available with us! Happy and safe riding!