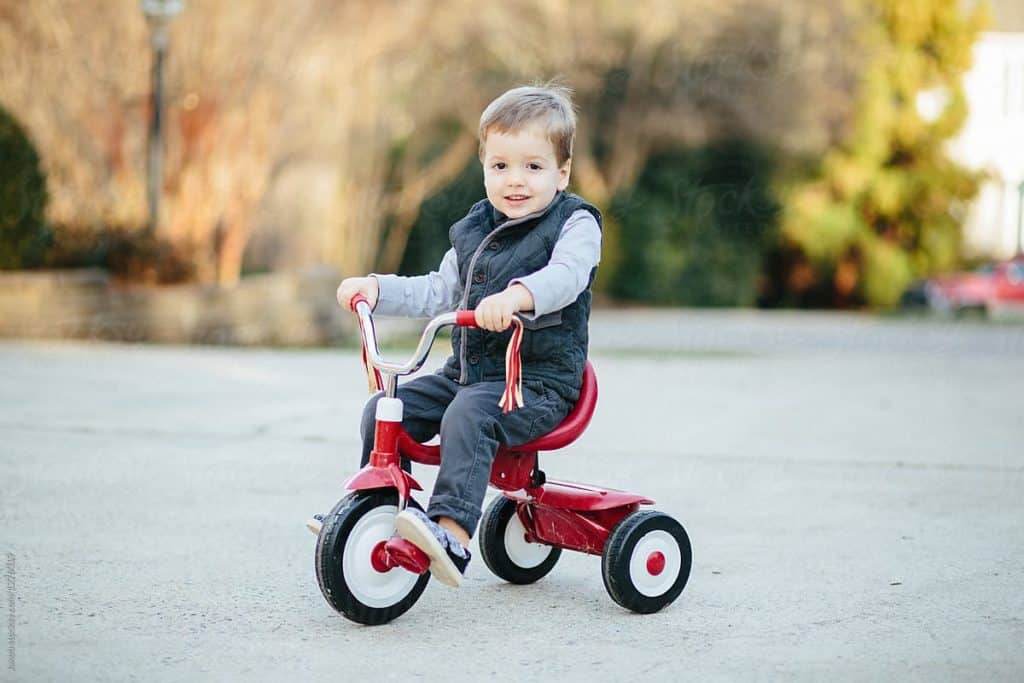 We at Parenthoodbliss are sure if you were asked about the first bike you had ever owned, you would be drawn towards memories of your 'tricycle days'!
Tricycles are perhaps the most loved ride for any child, irrespective of it being just a wheel away from being a car or a wheel more from a cycle. It gives you a fair balance between childhood and teenage lives with no insurance needed of course. However, when you are set out in the hunt to get your toddler the best tricycle, you will for sure have many choices to choose from, which we understand would get a bit of a headache.
Don't worry, we've got you!
Here is what you need to keep in mind while you are looking for the best tricycle for your toddler:
This goes without saying, safety first! Look out for a tricycle with sturdy materials like metal rather than plastic, and the steering too. Does it come with a helmet? If not, it's a must to get the toddler one.
Does the toddler reach the handlebars? Most importantly, the pedals? Make sure the tricycle has pedal power and is practical to ride in that ever age.
3. The right type of tricycle
Yes! You read it right. The tricycle that is perhaps an extra wheel vehicle has a type too. The most famous ones are big wheel tricycles (low ride generally made of plastic) and push tricycles (as the name suggests, it needs to be pushed for the little one to enjoy the ride).
The top 14 best tricycles for toddlers :Best Tricycle
1. Radio flyer red rider trike: Best Tricycle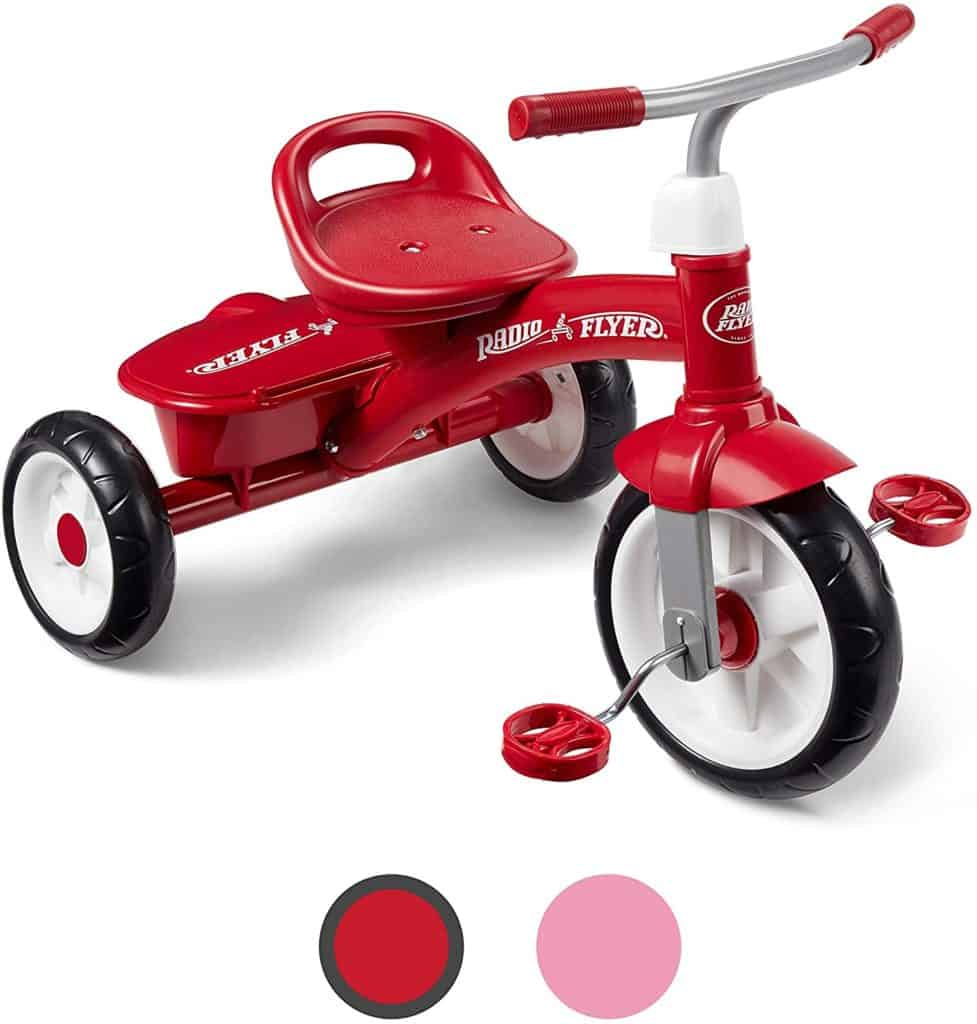 This attractive tricycle is a jolly good ride for toddlers. It has a frame made of steel, with a sturdy structure and is in shiny red color. It features an adjustable seat that comes in handy as the little toddler grows.
Pros
Easy to assemble
Has a covered storage bin
Features a classic design
Cons
The radio flyer has plastic wheels
2. Fisher-Price Rock, Roll 'n ride a trike: Best Tricycle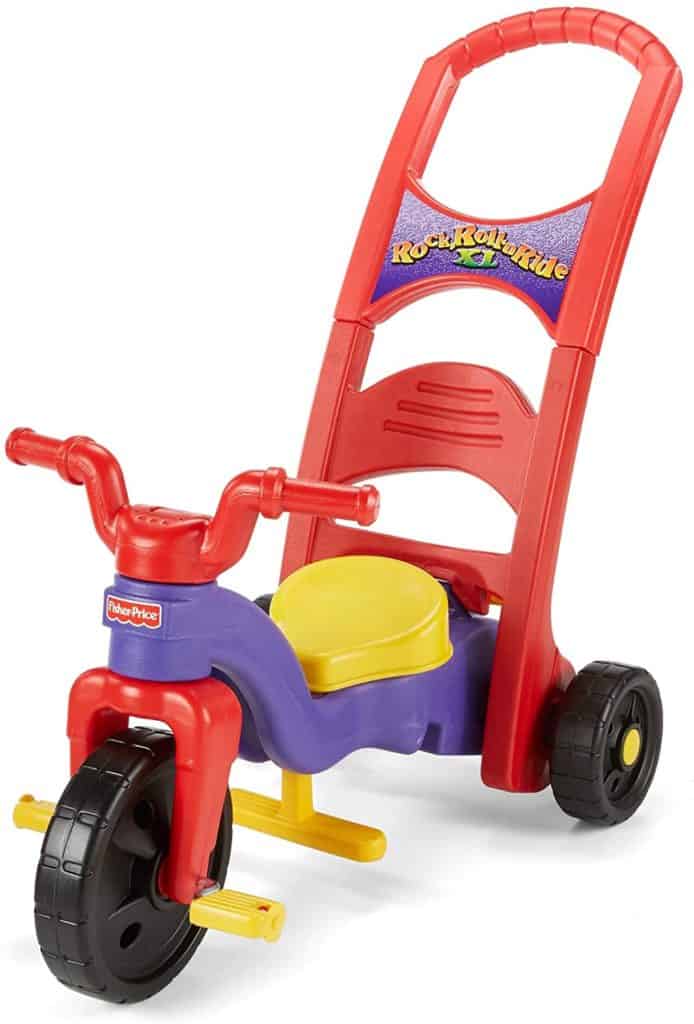 According to the reviews, the fisher-price rock roll n' ride tricycle is the favorite tricycle amongst toddlers. It offers 3 stages for the growing child, the rocker that locks into place then converts into the push handle, and lastly a ride of freedom on his/her/their own.
Pros
Helps the kids develop and learn how to ride
Durable
Easy to assemble
Cons
The steering could be difficult for younger kids
Small footrest
3. Schwinn roadster tricycle: Best Tricycle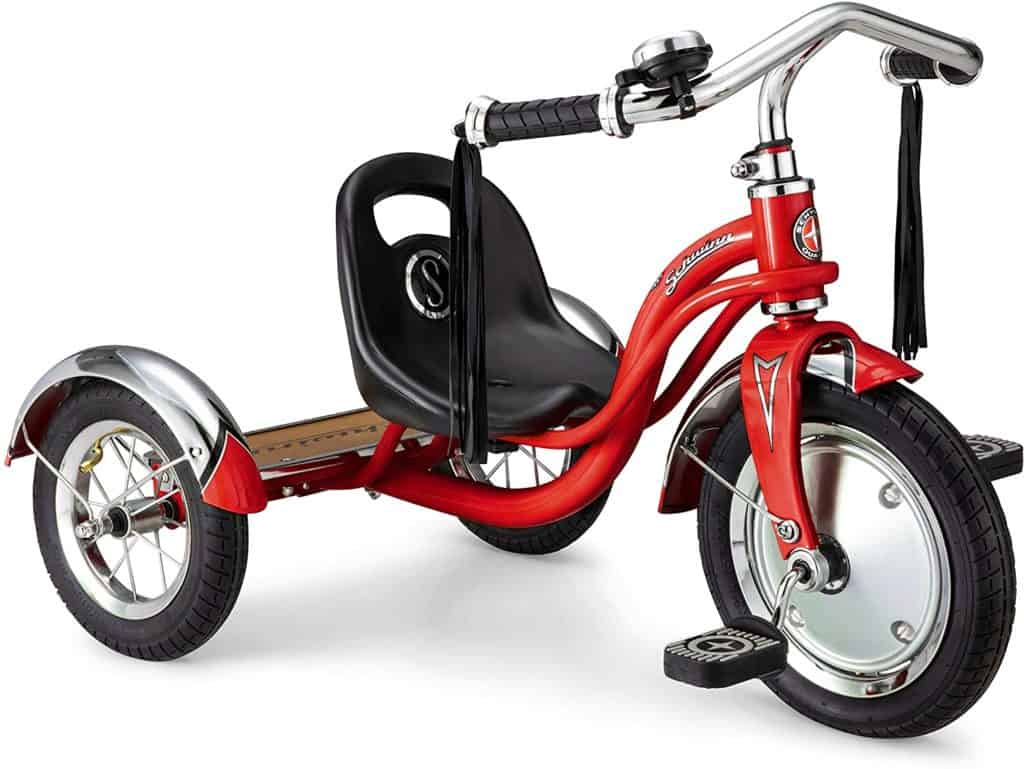 This is an absolute attention seeker tricycle that features chrome handlebars, tassels, and a bell. The roadster tricycle from Schwinn has big durable wheels with adjustable comfortable curved seats.
Pros
Heavy duty
Offers a smooth ride
Easy steering
Cons
Allows toddlers till 38" height
Some kids might find it hard to pedal
4. Fisher-Price DC super friends batman lights and sound trike: Best Tricycle
Does the toddler go crazy when it comes to superheroes? If yes, this is exactly what you need to give him/her/them. This batman tricycle features dazzling lights, big wheels, music, and a batman walkie-talkie too.
Pros
Slip-resistant pedals
Adjustable seat
Easy to assemble
Cons
Plastic make
Not quite durable
5. Radio flyer big flyer sport trike: Best Tricycle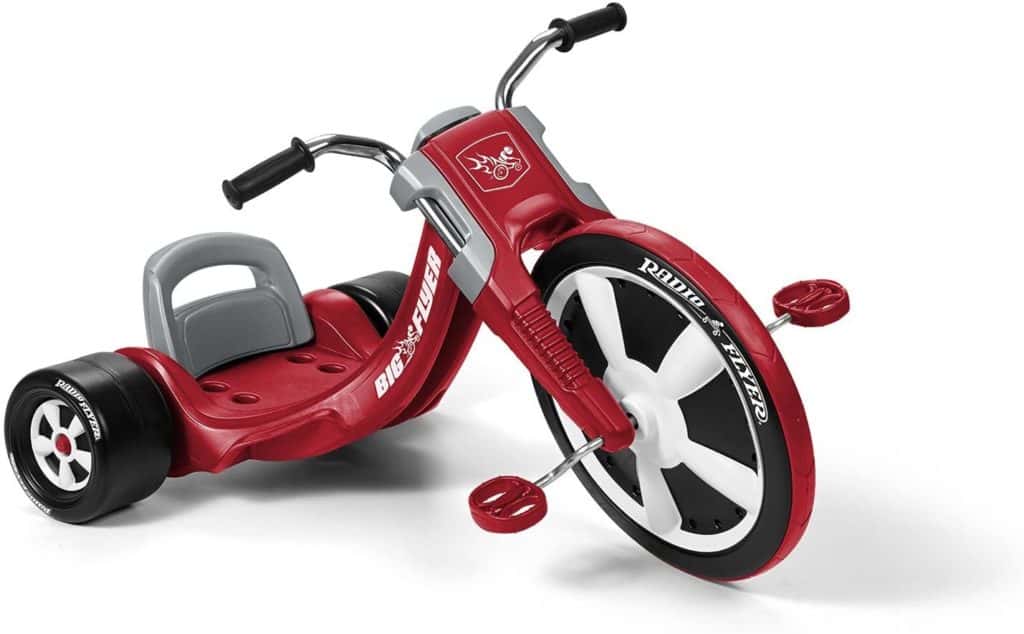 This tricycle is pink in color with a big wheel. It features a removable racing pennant at the back that makes the tricycle stand out even more.
Pros
Big wheel
Adjustable seat
Adjusted low to the ground
6. Radio Flyer 4-in-1 stroll 'n trike: Best Tricycle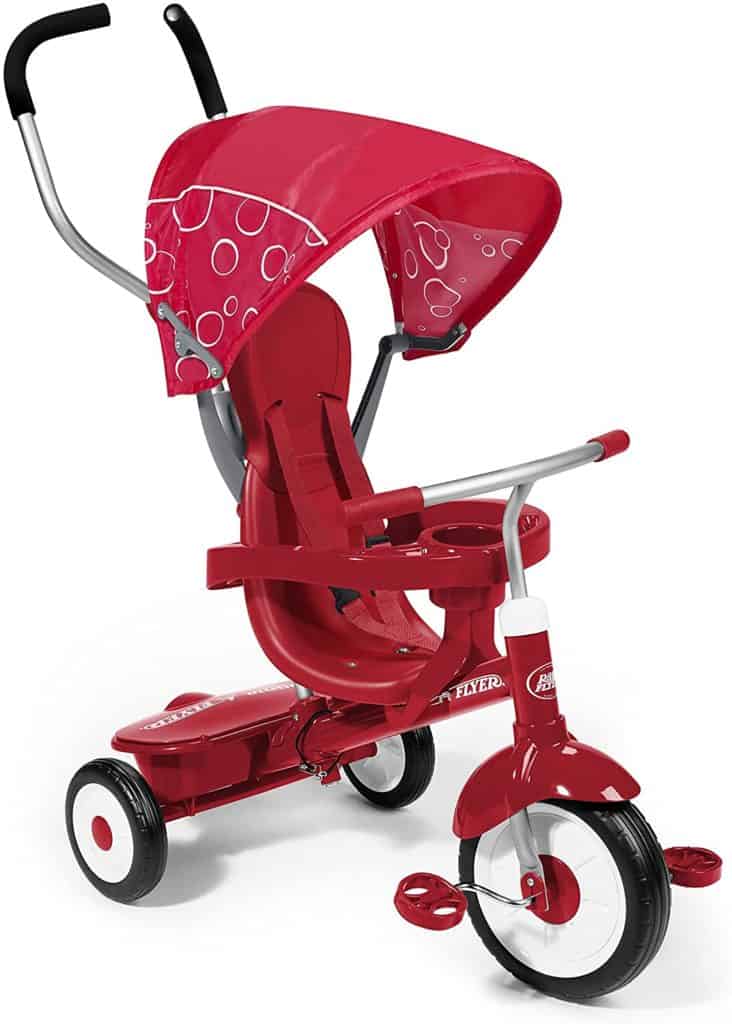 This 4-in-1 trike toddler tricycle is one that tends to grow with the child. It features versatility as it converts from the infant trike to a steering trike, and lastly to an independent toddler tricycle. The Radio Flyer 4-in-1 also includes bells, whistles, an adult steer, and an adjustable stroll handle.
Pros
It includes a three-point harness
Easy to steer
Has a UV sunshade
Comes in rubber wheels
7. Little tikes 4-in-1 deluxe edition trike: Best Tricycle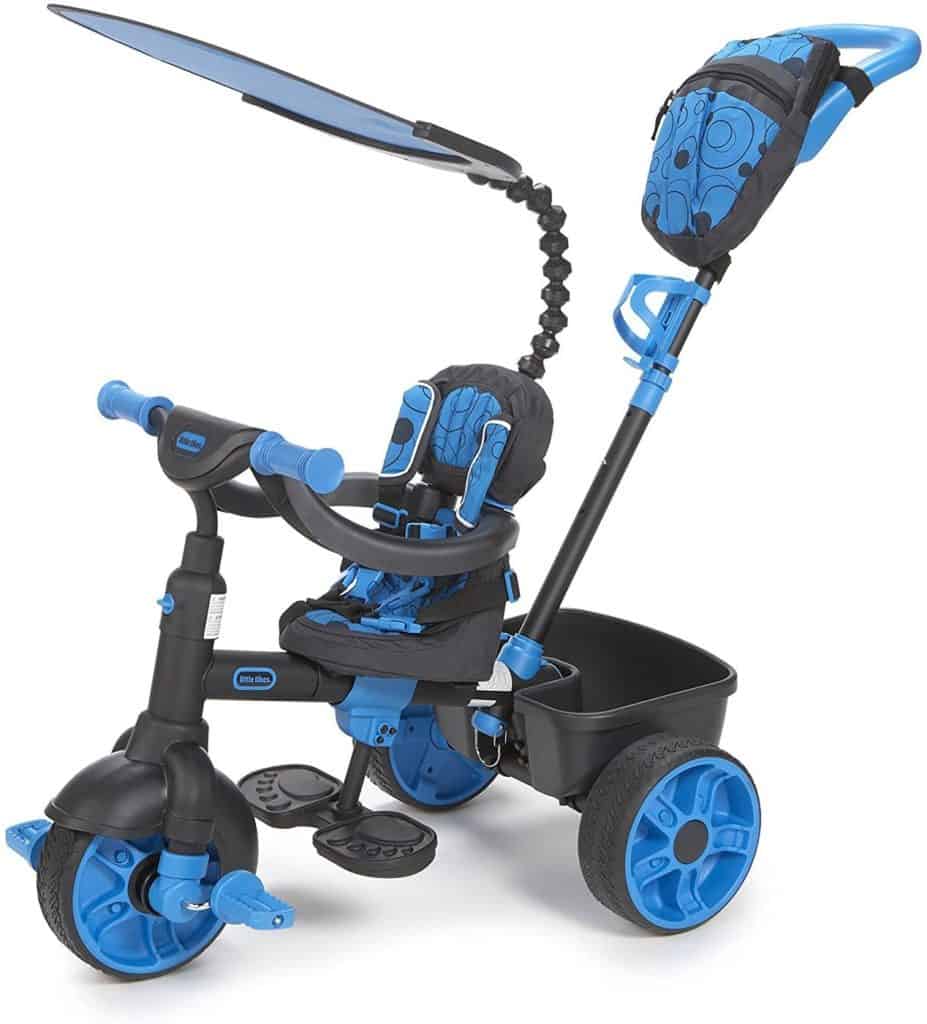 This deluxe edition 4-in-1 tricycle, as the name suggests is a luxury ride for your toddler. It features a footrest, a seat belt, and a detachable sun canopy. It also has an adjustable handle for parents to push as he steers his way through.
Pros
Can accommodate four stages
Includes five-point seat belt harness
Comes with a cup holder
An extra-large storage bucket included
Cons
Not easy to assembly
Footrest not ideal
8. Radio flyer fold to go tricycle: Best Tricycle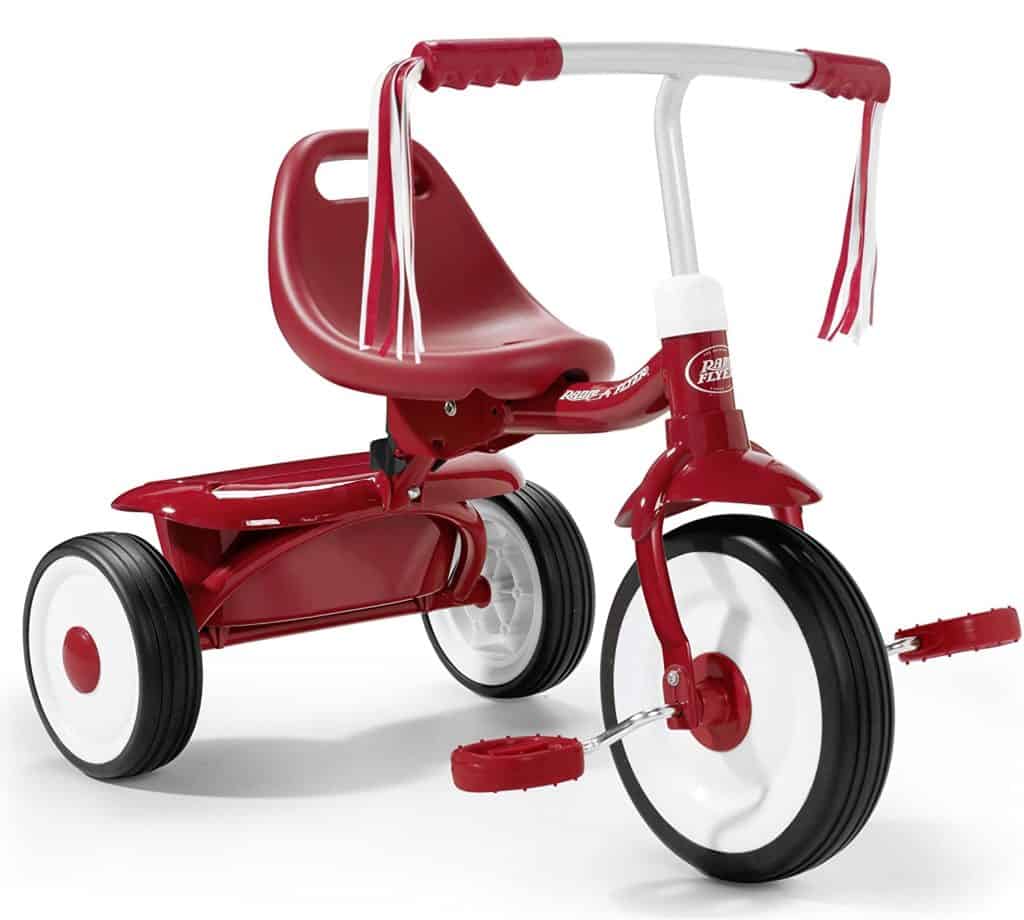 A tricycle… that can be… folded! Yes! You read it right, tricycles can be folded. This Radio flyer tricycle is super-portable and saves a lot of space. This makes it a perfect accompaniment on a road trip, all you need to do is fold the tricycle and head start!
Pros
No need to assembled
Can be turned easily
Has an adjustable seat
Cons
Could topple on uneven grounds
9. Huffy Disney frozen trike: Best Tricycle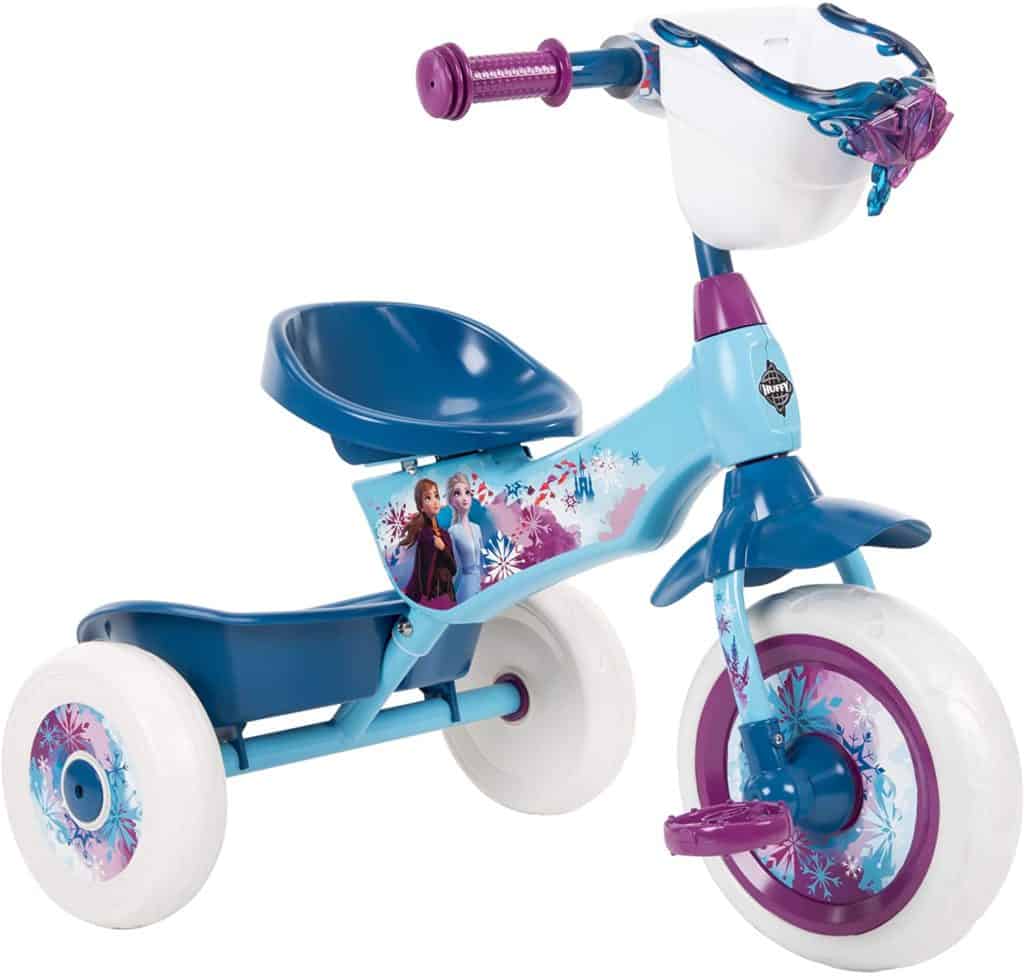 While Anna was after Elsa to build a snowman, we're sure the little will surely ask you to take him/her/them on a ride at least. This Disney Huffy tricycle has decorated glitter snowflakes on them as well as on its wheels, encouraging the little one to take their ride into the snow castle.
Pros
Has a sturdy steel frame
Easy to assemble
Wide wheels for stability
Cons
Can only handle up to 60 pounds of weight
10. Fisher-Price Harley Davidson tough trike: Best Tricycle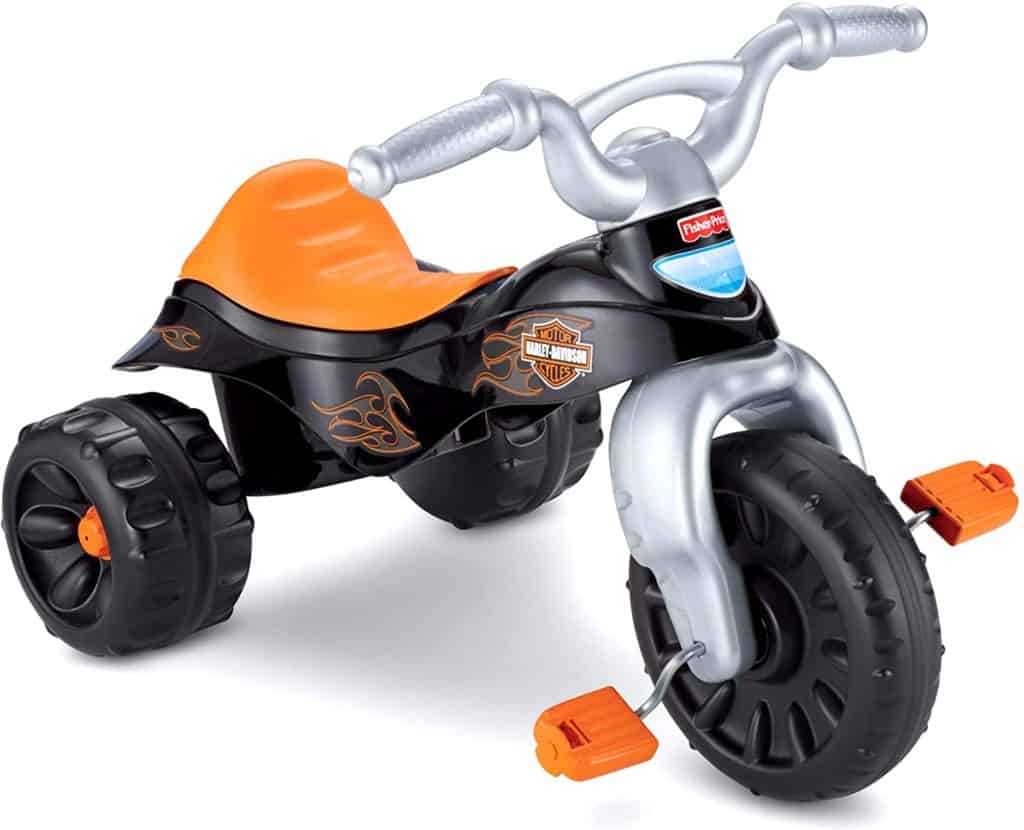 This tricycle with the design of Harley-Davidson makes the ride even more cool and adventurous for the toddler. It also has a secret storage container under the seat that can be a perfect fit for a helmet and of course snacks.
Pros
Easy-grip handlebars
Has rugged tires
Easy to assemble
Cons
Plastic make
Pedals could get too far for kids
11. Fisher-Price Nickelodeon Paw Patrol Trike; Best Tricycle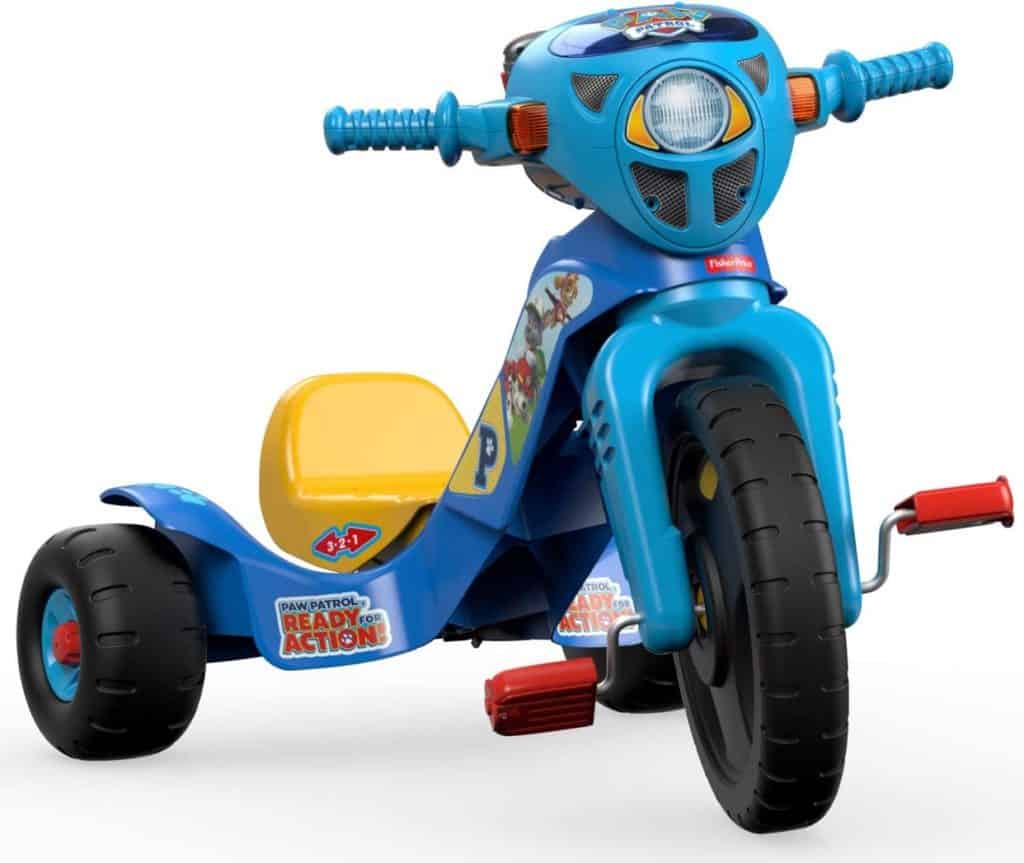 This Fisher-Price tricycle is good considering if your toddler enjoys playing police or rescue. It's a Paw Patrol-themed tricycle, with the famous Nickelodeon show's logo printed on everything from the handlebar to the wheels.
It has lights and noises, so your toddler can dance to the music or listen to popular words while pedaling. The lights will give the rider the sensation of a real Paw Patrol vehicle while also teaching them how to ride a bike.
Pros:
A structure that is strong and stable
The seat has three positions that can be adjusted
Has lights and noises which can be fun for your toddler
Cons:
The wheels are made of tough plastic.
The assembly instructions aren't clear
12. Infans Lightweight Tricycle for Toddler; Best Tricycle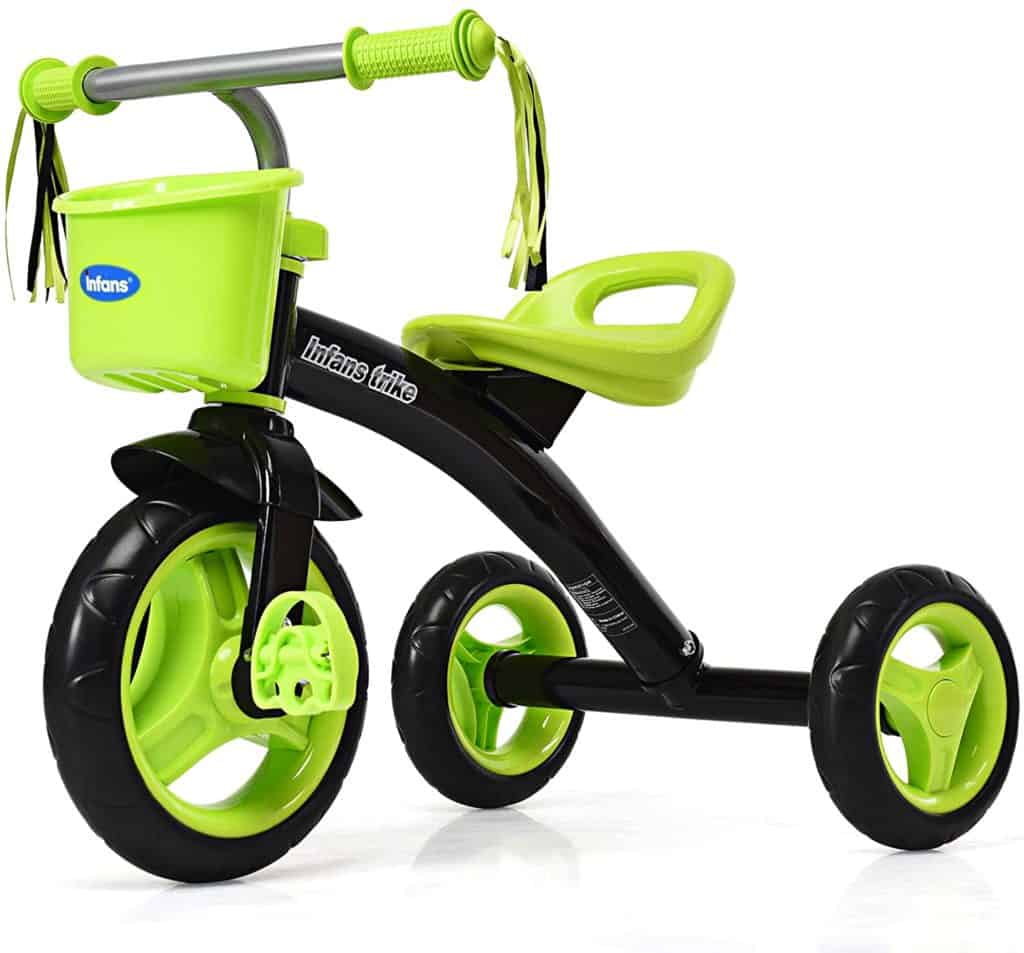 This is a lightweight tricycle with anti-slip pedals that's ideal for children aged 2 to 5 years or up to 55 pounds. This tricycle is all about ensuring your child's safety while riding. It has a large front wheel that serves as both a steering wheel and a stabilizer for the tricycle.
Pros:
Easy to assemble
The seat and handlebar are both adjustable.
EVA wheels for all-terrain use.
Cons
Toddlers may find it difficult to reach the pedals.
13. Costzon 6-in-1 Baby Foldable Tricycle Stroller; Best Tricycle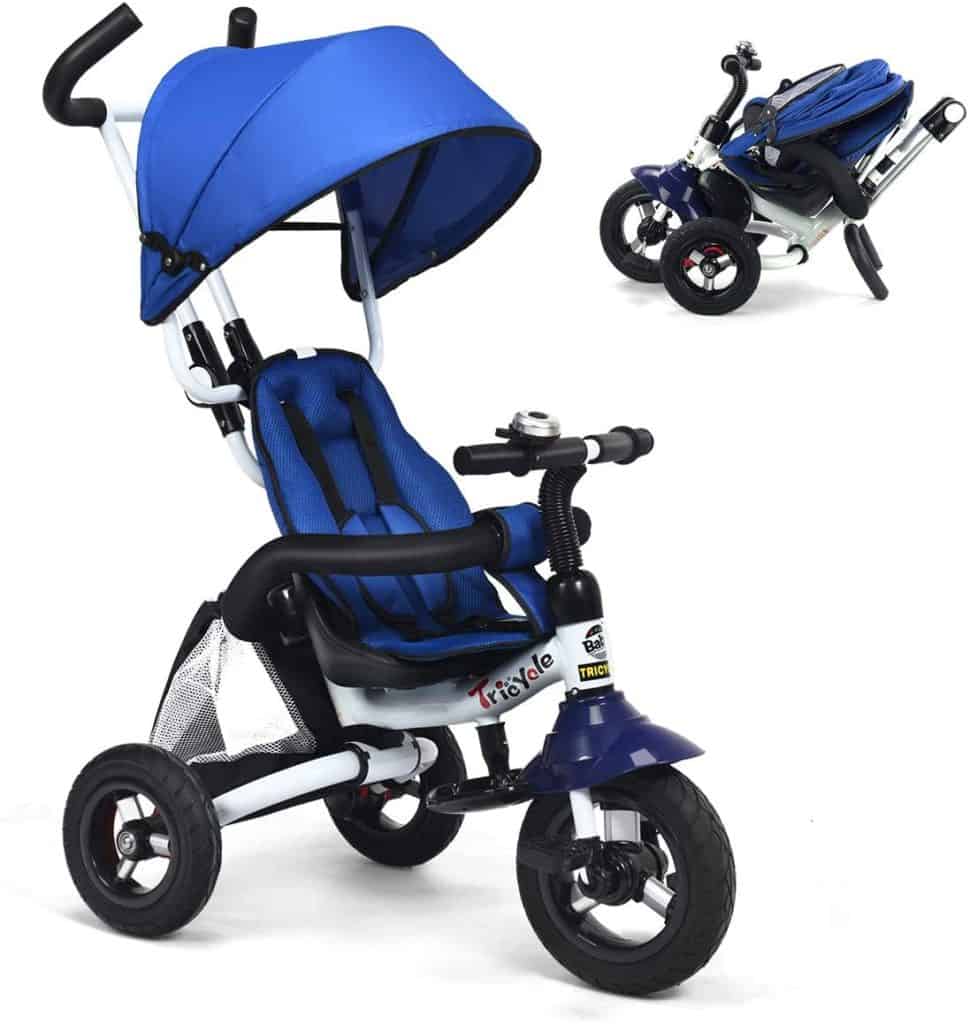 This is a very easy-to-fold tricycle and when your toddler wants to ride, all you have to do is unfold it and position it upright. Your toddler will learn to ride and balance on this tricycle. It includes foldable pedals and wheels that can handle a variety of adventures. The best feature about this tricycle is that it may be used as a baby stroller from the age of 18 months and transformed into a self-riding bike, once your toddler grows up a little.
Pros:
The wheels are durable
Suitable for a vast age group
Can be converted into a baby stroller
Cons:
Very expensive when compared to other tricycles
14. XJD 3 in 1 Kids Tricycle; Best Tricycle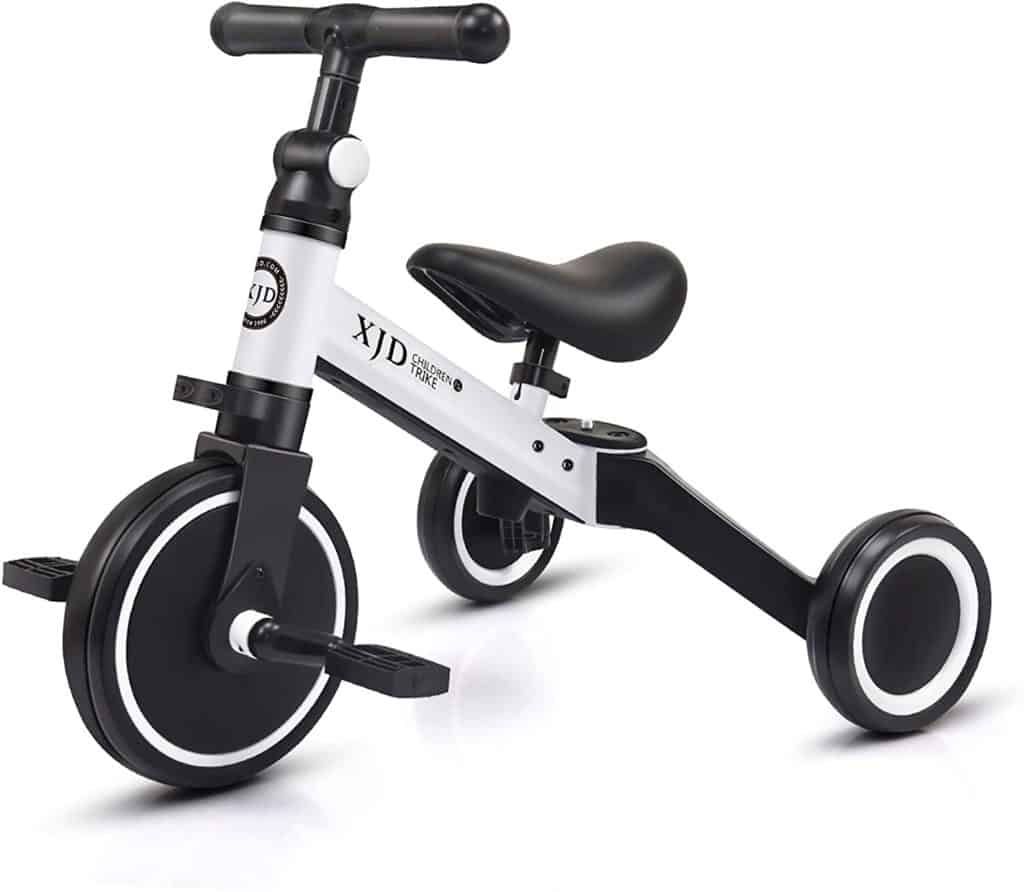 The 3 in 1 tricycle from XJD is easy to use and assemble. This tricycle can transform into a balance bike once your toddler grows a little older. The tricycle can be used when your toddler is aged 10 months to 2 years and can be used as a balance bike when your baby is above 2 or 3 years old. Once your toddler is above 2 or 3 years old, you can join the 2 rear wheels and remove the pedals to convert the tricycle into a balance bike.
Pros:
Can be converted from a tricycle to a balance bike
It has a carbon steel frame
Easy to assemble
The handles and seat are very comfortable
Cons:
The tricycle is too small
Knees can touch the handlebars while pedaling
To Conclude: Best Tricycle
The accumulated list above features great tricycle choices for little toddlers. They offer beauty, simplicity, and safety too while encouraging them to play outdoors, are adventurous, and encourage their skill sets. Happy riding!
Best Tricycles for Toddlers Of 2022 FAQs
1. What should one keep in mind while purchasing a tricycle for their toddlers ?
Their ability to offer the toddler
The perfect size
A helmet
Safety precautions
The durability
2. What must one keep in mind while purchasing a helmet ?
While you check for a helmet, always remember the 4 S's:
Size - Does it cover the forehead and level the head?
Strap - Does it strap adjust well on the toddler with a quick-release buckle?
Sticker - Does it have a safety sticker?
Straight - Does it sit straight onto the toddler's head ?
3. Is wearing a helmet while riding a tricycle necessary ?
Yes! Wearing a helmet while riding a tricycle is equally important as when riding an actual bike. This helps keep the toddler safe from any unforeseen injuries.