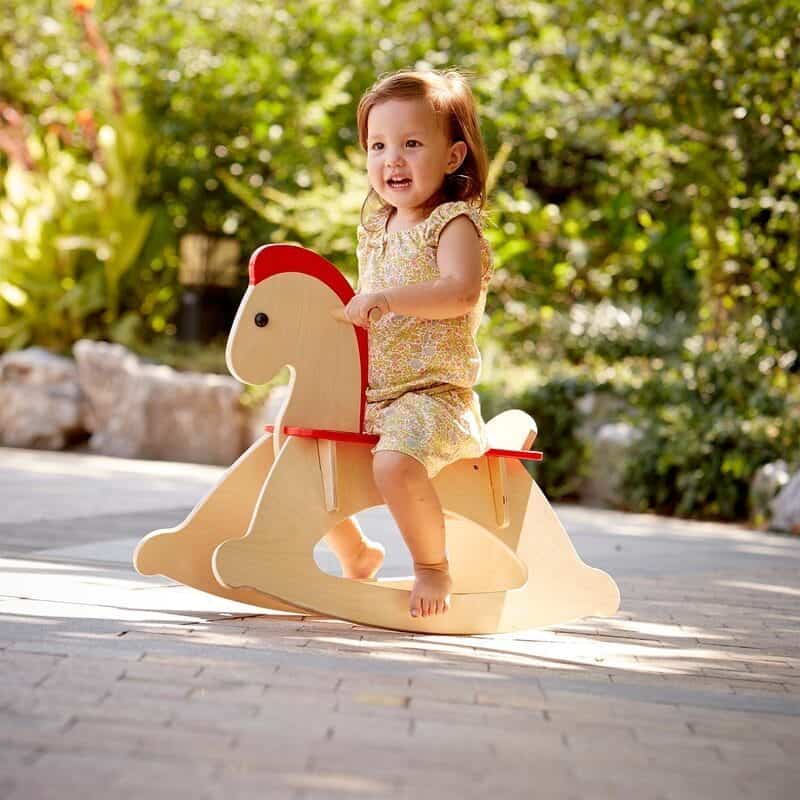 Rocking horses are traditional baby toys, appreciated by all generations of youngsters, seeking to spend a very good time. They allow the little one to swing back and forth, teach fine motor skills, and also help them to learn and develop good coordination and balance. We'll show you the best rocking horses in this article, which you may pick from a wide range of options available.
Some Tips To Choose The Right Rocking Horse For Your Child
Children usually love playing on/with rocking horses. There are so many choices available now that picking the 'right one could be tricky. But don't worry, we have some tips that could help you choose the best rocking horse
When buying a rocking horse, choose one that is constructed of a durable and high-quality material (for example, wood) and will last for many years. These materials will also provide your children stability and keep them from falling.
There will be a variety of rocking horses to select from, including plush soft rocking horses, wooden rocking horses, and roller rocking horses. Choose the one that your child will like.
Children from 1 to 6 years old are most suited for rocking horses. Based on your child's age, you must choose the most appropriate option. If your child is too small, a soft plush rocking horse with musical elements is a good choice, or if your child is four years old, a horse with rollers is a good choice.
18 Best Rocking Horses For Your Little One
1. Janod Caramel Rocking Horse - Best Rocking Horses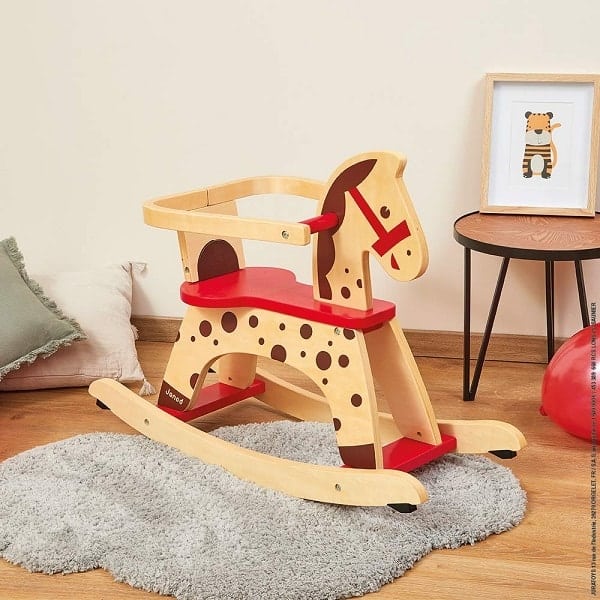 Allow your small toddler to enjoy the golden days of childhood on this lovely rocking horse. This modern and retro-styled rocking horse is designed to look attractive and unique. It is best suited to children aged 1 to 3 years.
Features 
It has rubber bumpers for floor protection and grip

There's a comfortable backrest and handles at the front for safety

This toy is made out of quality and sturdy wood

It is safe and durable for children

Additionally, it is manufactured as per the safety guidelines
2. Step 2 Unicorn Rocking Horse - Best Rocking Horses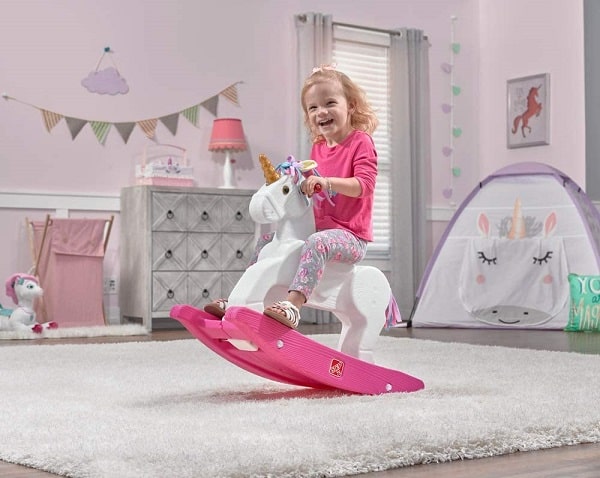 Does your little one love unicorns? Then this lovely unicorn rocking horse in white and pink is the ideal option for you. Kids may play with the soft tail, ears, and golden nose while rocking on it.
Features
It has a contoured seat and precision base for added safety.
To ensure a firm grip, it comes with handles.
The sturdy design will hinder falling.
This toy horse improves your child's fine motor skills.
The unique sounds will develop your child's sensory skills.
3. Step 2 Patches Rocking Horse - Best Rocking Horses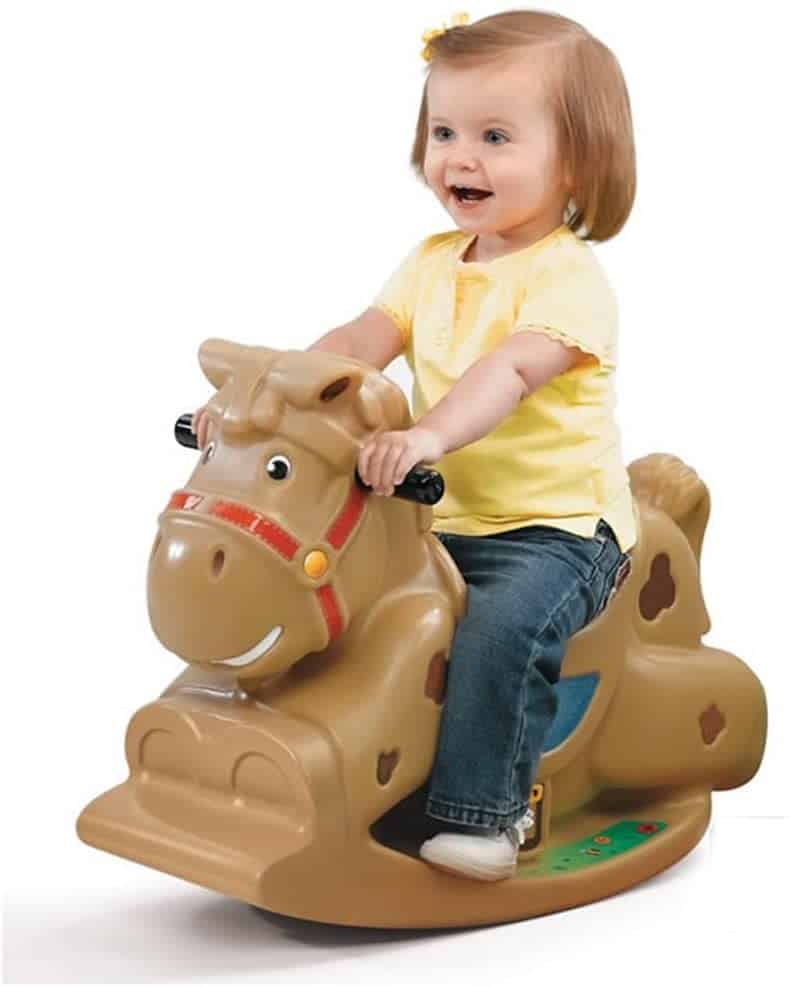 This classic-style lightweight rocking horse is a great choice for toddlers. It comes with easy-grip handles and a smiling face. If you're searching for a lovely birthday or Christmas present, this beautiful rocking horse is a good choice.
Features
It is easy to store and portable.
The toy has contoured features on it.
Easy to clean and maintain.
This single-piece horse toy needs no assembling.
It is safe and durable for children.
4. Little Tikes Rocking Horse - Best Rocking Horses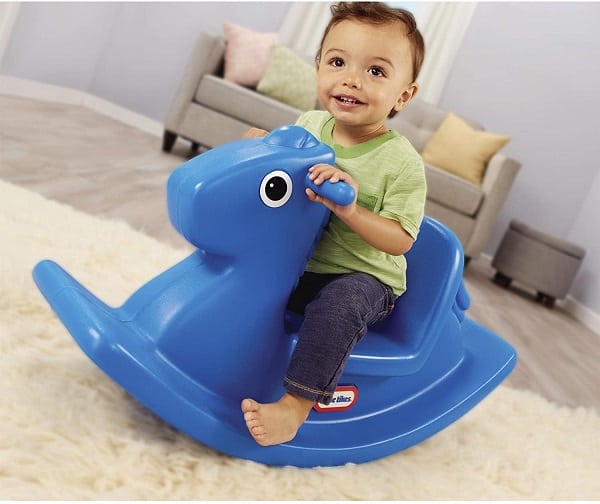 This tiny rocking horse is best suited for infants and toddlers. This single-piece horse is designed to keep your children safe by preventing them from sliding off. When the youngster swings on the horse, it also comes with side handles for a solid hold.
Features
It can support up to 50lb in weight.
The edges are smooth and rounded for safety.
It has a high back for added comfort.
Also, it comes with a low saddle for stability.
Finally, there's no assembling required.
5. Melissa & Doug Plush Rocking Horse - Best Rocking Horses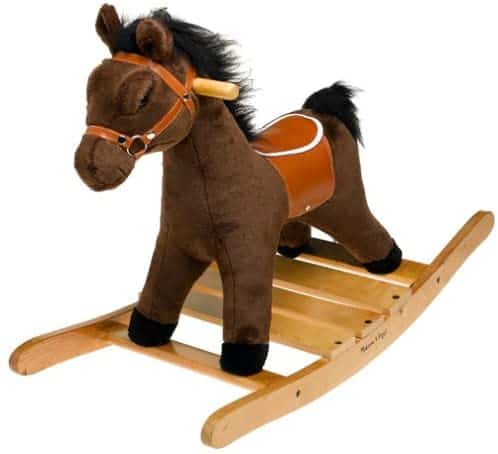 This durable plush horse is recommended for children who are aged 2+. It has developed features with great attention to detail to make it look like a real horse. This horse toy is comfortable for sitting for long hours, with the child never getting tired of it.
Features
This toy horse is made out of good quality wood.
It is designed with soft fur.
The toy comes with a bridle and saddle.
It has a sturdy base for added safety.
Finally, it can hold up to 150lb weight.
6. Happy Trails Plush Rocking Horse - Best Rocking Horses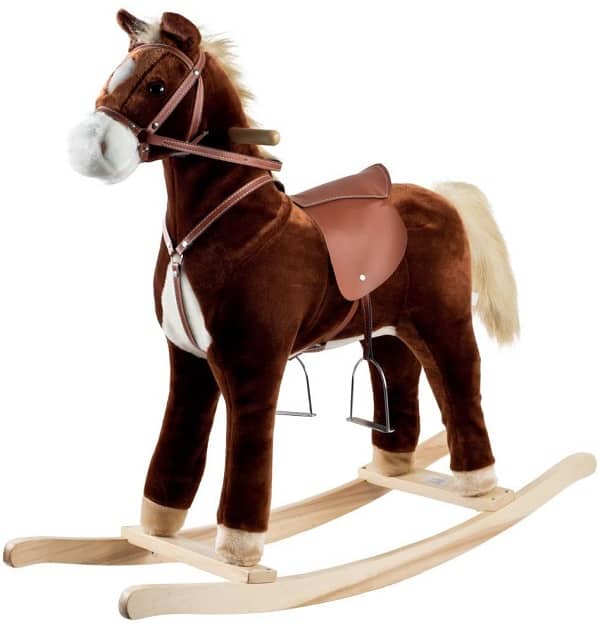 With the Happy Trails rocking horse toy, the little ones can pretend to be cowboys or cowgirls. Its beautifully crafted classic wood is handcrafted and appropriate for children aged 3 to 4. All thanks to its durability, the rocking horse can be saved and passed on through the generations that follow.
Features
It has sturdy rockers to ensure stability.
This toy horse measures about 35.2×11.9×32 in size.
It has soft brown fur on the outside.
For easy grip, it comes with handles.
This rocking horse is a long-lasting and safe toy.
7. Labebe Stuffed Animal Rocking Horse - Best Rocking Horses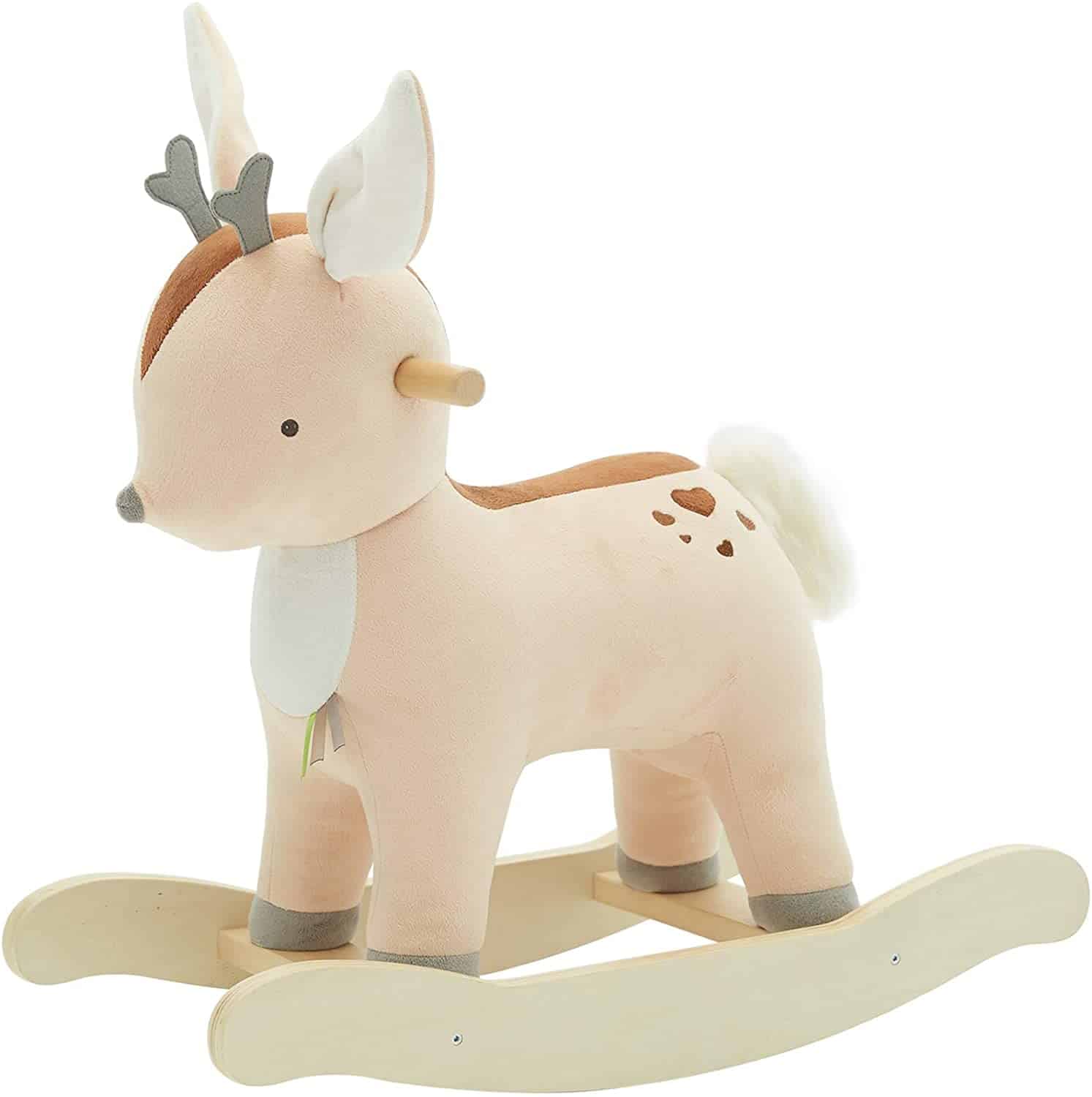 Labebe's stuffed rocking horse doubles as an adorable stuffed toy for the little one to hug and swing. It uses medium-density wood and fiber to create the plush crocodile design with a little bird on top of the toy with side pockets.
Features
It can hold up to 150lb in weight.
The toy is made out of a soft and breathable fabric.
It comes with a safety belt and flower details.
It is comfortable and creative.
This toy is sturdy, safe, and long-lasting.
8. JOON Cowboy Rocking Horse - Best Rocking Horses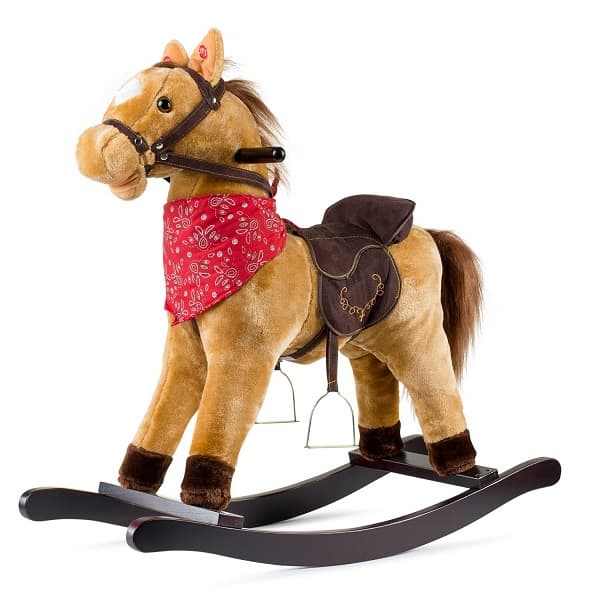 This rocking horse comes with a unique design, it has a scarf, saddle, and stirrups. It is made out of premium-quality wood and soft fur to ensure safety and comfort for your little one. Also, you can put three batteries and squeeze the ears for some fun sounds.
Features
The toy has a wooden base and steel frame.
It can support up to 60lb in weight.
This toy is best suitable for 3-year-old kids and above.
It offers support for the child's feet.
All in all, it's durable, safe, and secure.
9. Hape Rock and Ride Kids Wooden Rocking Horse - Best Rocking Horses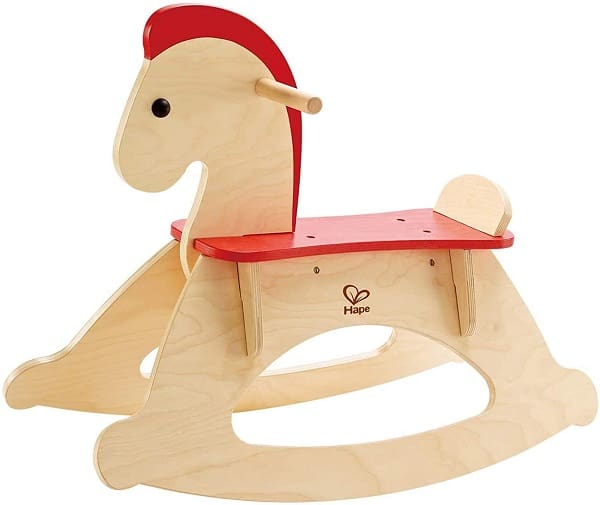 This wooden rocking horse is suitable for youngsters ages 10 months to 3 years. It is both comfortable and safe, with a high-quality finish. The horse is simple to assemble. It also helps your child's balance and coordination.
Features
Comes with a backrest for support

Has adjustable guardrail for added safety

Comes with a sturdy construction

Has child-safe paint

It is stable and long-lasting

There's a puppy version available for your kids too
10. Rockin' Rider Carrot 2-in-1 Pony Plush Ride-On - Best Rocking Horses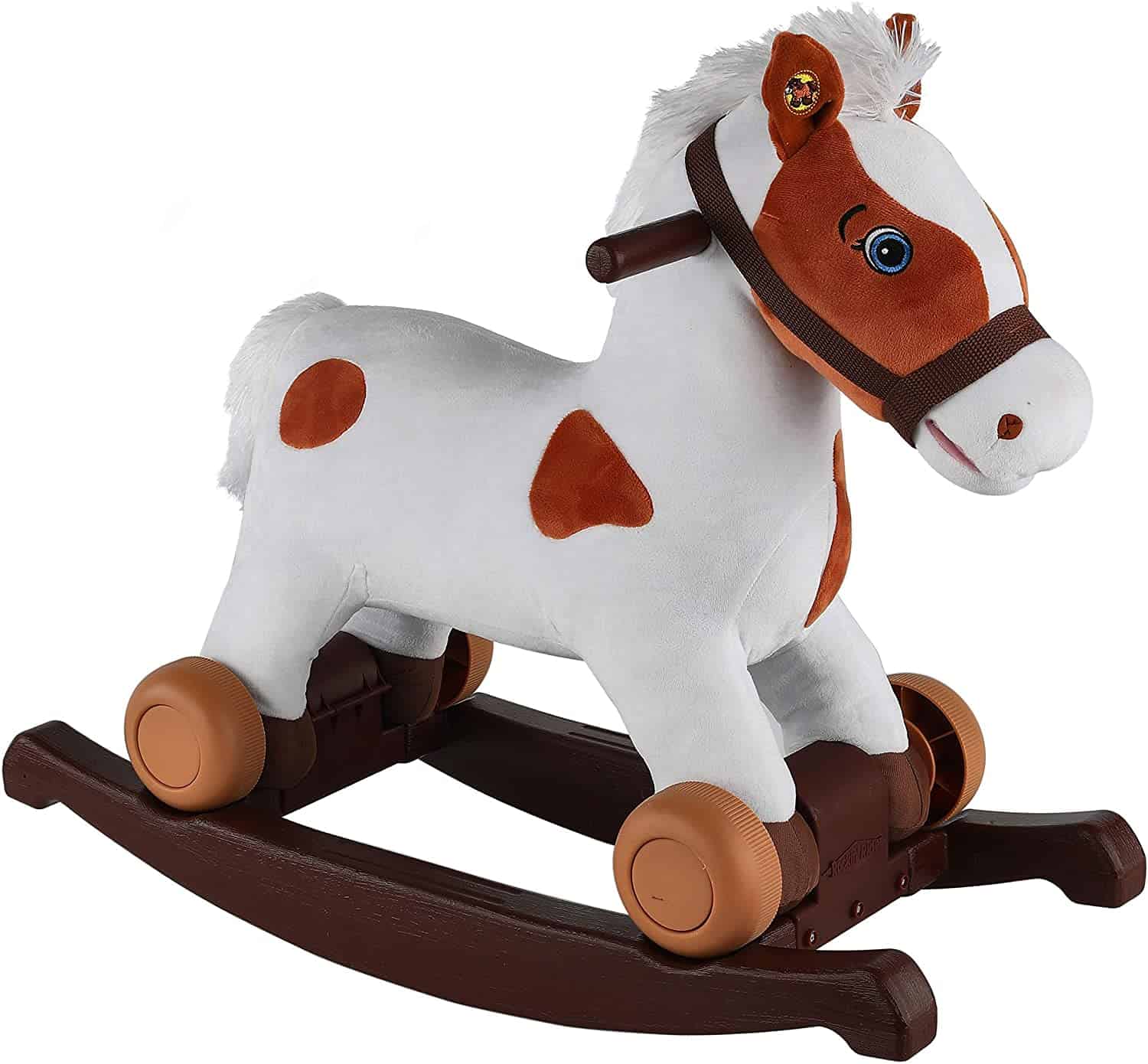 Sitting on this incredible 2-in-1 musical rocking horse, your child can go around the house and swing. This rocking horse converts to a rolling horse with simplicity. Your little one can simply push its left ear for music and right ear for a sound effect.
Features 
Has a soft fur 

Comes with easy-grip handles

Plays funny sounds and phrases

Is durable and safe
11. Fantasy Fields Princess & Frog Wooden Rocking Horse - Best Rocking Horses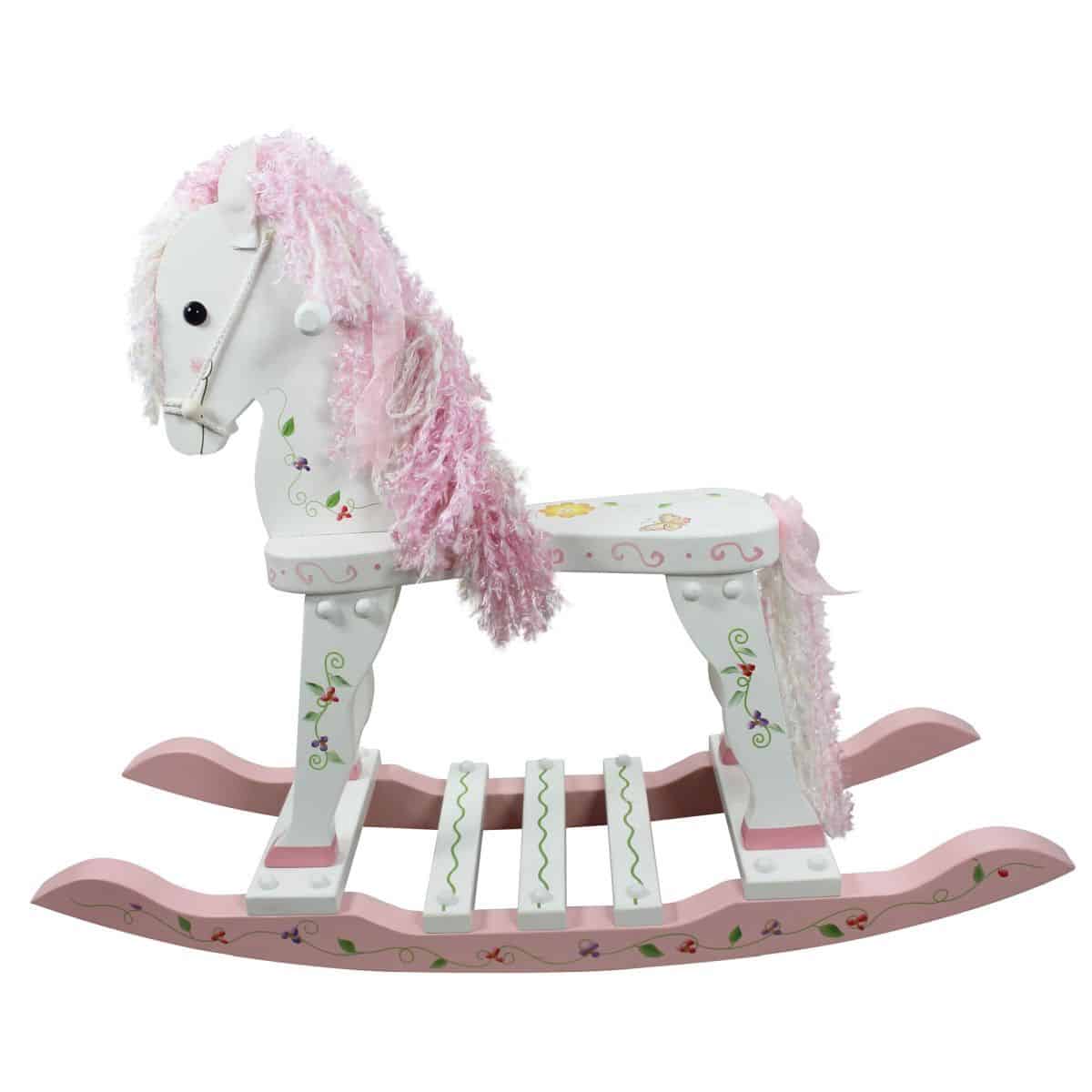 This beautiful hand-painted white and pink rocking horse is constructed of high-quality wood and is beautifully hand-painted. It's easy to put together, comfortable to use and recommended for children aged 3+.
Features 
This toy has a delicate painting

Can hold up to 100lb weight

Is long-lasting, safe, and stable for children

Can be easily assembled
12. HollyHOME Plush Rocking Unicorn - Best Rocking Horses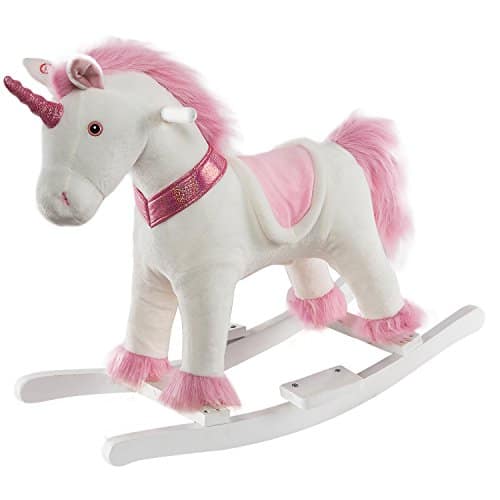 The design of this plush rocking unicorn is fairly unique. It is painted in white and pink, and has a plush and smooth surface. All you need to do is place two AA batteries in its ears and press them to make galloping and neighing noises.
Features 
It can support 80lb in weight

Perfect for toddlers

This toy has a durable and sturdy construction

The design is attractive and creative

It measures 28x11x17 in size
13. ROCK MY BABY Rocking Horse - Best Rocking Horses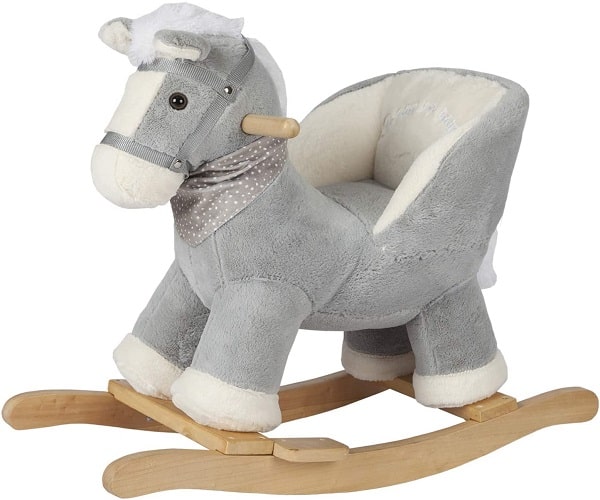 This plush rocking horse is best suitable for children from the age of 1 to 3. This rocking horse feels like a soft toy on which your child can rock along and/or sit comfortably. For a firm and safe grip, it has sturdy handles on the side.
Features 
Needs two AA batteries to work

It makes some funny sounds

Helps strengthen the core muscles of your toddler

For stability, it has a sturdy base

Made using good quality materials
14. Labebe Wooden Rocking Horse - Best Rocking Horses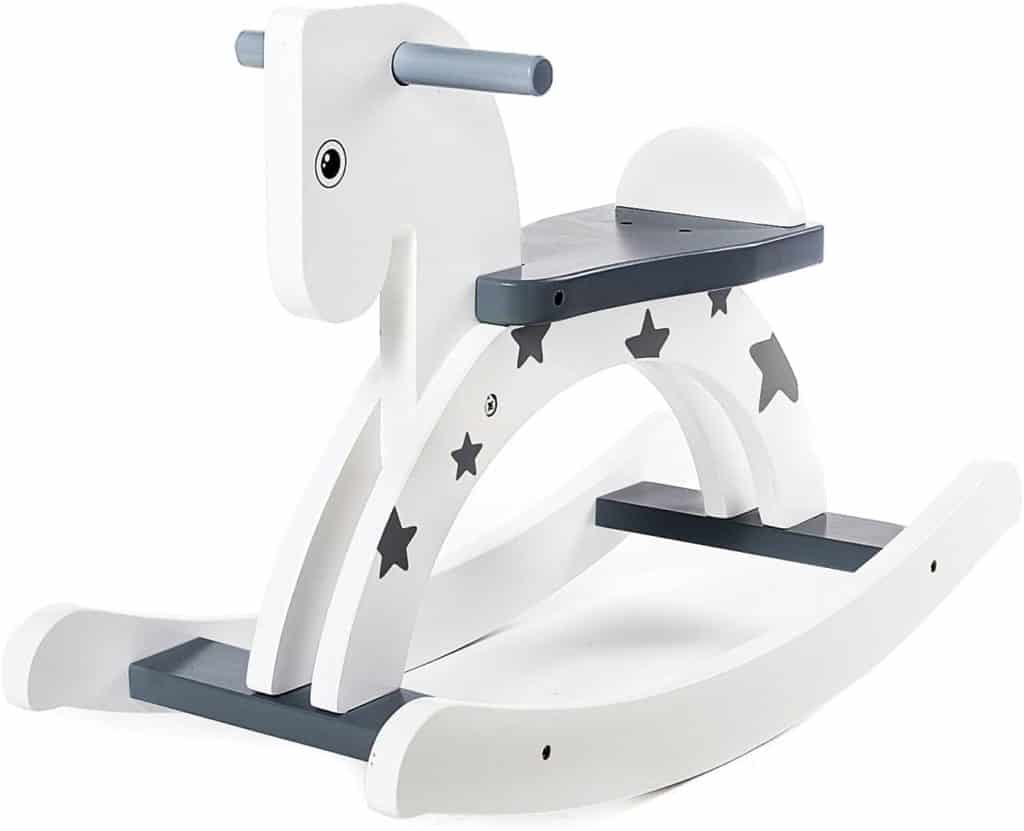 This strong rocking horse has grips for a firm grip and support for the child's feet. It includes a load-bearing safety feature as well as a back rack guard to support your child. It is composed of natural wood and is child-friendly.
Features 
Comes in two colors

Is easy and convenient to assemble

Lightweight

Sturdy

The height fits well for kids ages 1 and older

It is stable and comfortable for the child
15. Rockin' Rider Tulip Rocking Horse - Best Rocking Horses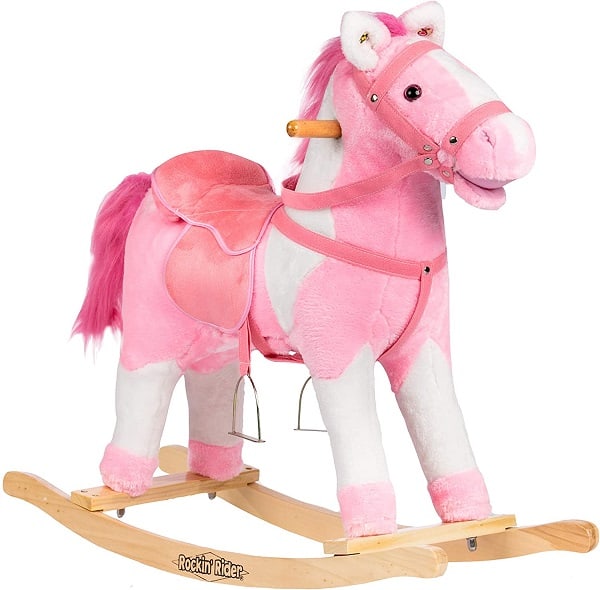 This plush of the musical rocking horse has grips on the side that the child may grab for added stability. The horse has a wooden base to offer stability when rocking. The saddle, tail, and moving mouth of this white and pink rocking horse are very detailed.
Features 
Is the soft stuffed horse

Makes sounds and plays a song

Has adorable glittery/colorful eyes

Has a design like a real horse

Is safe, stable, and durable
16. Radio Flyer Blaze Interactive Riding Horse; Best Rocking Horse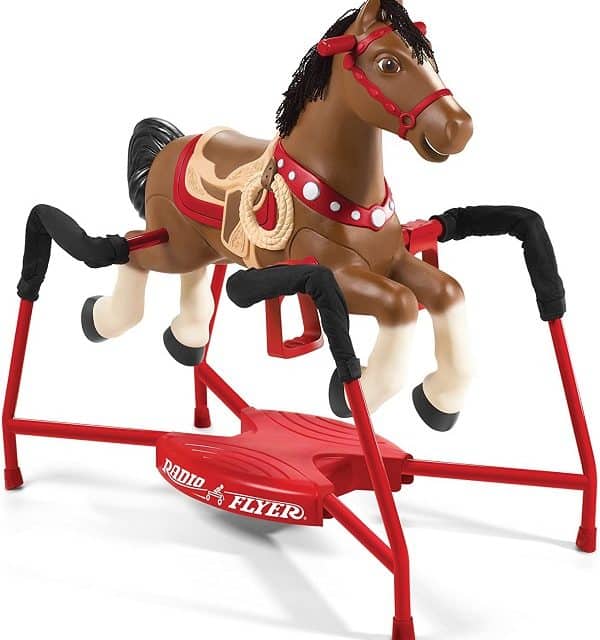 This is the best baby rocking horse for babies in the age group of 24 months to 72 months. It is brown in color and the blaze makes lifelike sounds in response to your toddler's movement, which is activated by three degrees of riding action: strolling, trotting, and galloping.
Features
The innovative steel "X" frame base with the EZ climb step allows your baby to easily get on and off.
It has accessories such as the comb and carrot.
The carrot makes a chewing sound when fed to the blaze.
The comb allows your kids to brush the hair of the horse.
17. Animal Adventure Real Wood Ride On Unicorn; Best Rocking Horses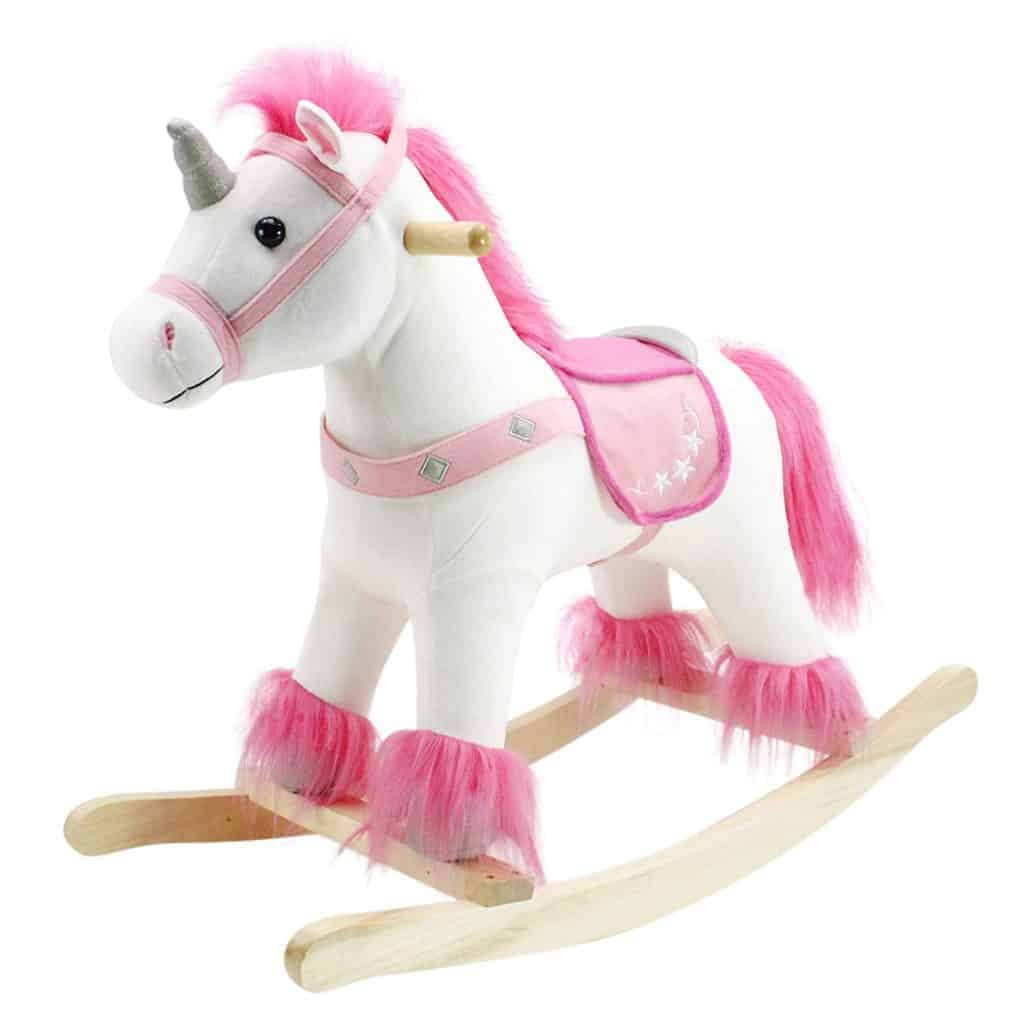 This rocking horse is well crafted and is best suited for kids aged 3 years and above. It is pink and white in color and weighs 3.7 pounds. The materials used to build this rocking horse are polyester fibers fabric and wood.
Features
It is delivered after it is fully assembled and is ready to use.
The unicorn is given individuality with softly embroidered accents and other seat accessories.
The adjustable restraints are perfectly suited for little hands and are likely to generate excitement in your kid.
18. Rockin' Rider Legacy Grow with me Pony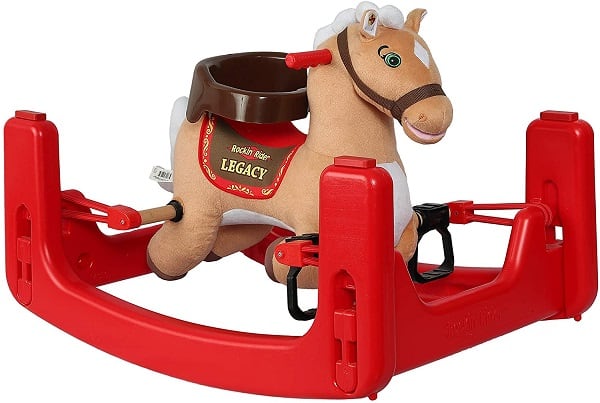 The Rockin Rider Legacy Grow with me Pony is recommended for ages 9 to 36 months. It grows with your child from a bouncer, to a rocker, to a spring horse. The pony talks and sings with a synchronized moving mouth.
Features
When the ears are pressed the pony sings the exclusive "I'm a Little Pony" song.
It has 6 talking phrases and sound effects.
It has a soft huggable plush, a detailed saddle, and embroidered eyes.
One thing is for sure, that a rocking horse will never be out of fashion. Young kids will always love playing with it, even babies love being rocked on a baby rocker. We would recommend you get a premium-quality rocking horse that can stay intact for years to come. Your little one will create a bond with their rocking horse, and also create a lifetime of memories. These plush rocking horses will provide your child with fun and entertainment for hours and they will learn balance, coordination, and sounds through interactive play.
Best Rocking Horses FAQs
1) What age is appropriate for a rocking horse?
The most suitable age for a rocking horse is 7 to 8 years. Make sure you stay super secure with a white seat belt that locks the baby in. When they get older, simply remove it.
2) Are rocking horses safe?
Most modern rocking horses meet all the safety guidelines necessary to keep the children safe as they ride. Also, rocking horses are created to reduce the chance of them falling while being rocked.
3) What does a rocking horse do?
Rocking horses is an iconic toy that is fun and educational. It helps your children to improve their mobility and encourage exercise.
4) Which type of wood is the best for a wooden rocking horse ?
Good quality pine wood is the best wood for a wooden rocking horse.
5) What should be the average height of a rocking horse ?
The average height of a wooden rocking horse varies from the age of the baby. For a baby aged 1 year and above the height is 46 cm, for 3-year-old kids, the height should be 66 cm and for kids aged between 3 and 12 years, the height should be 83cm.