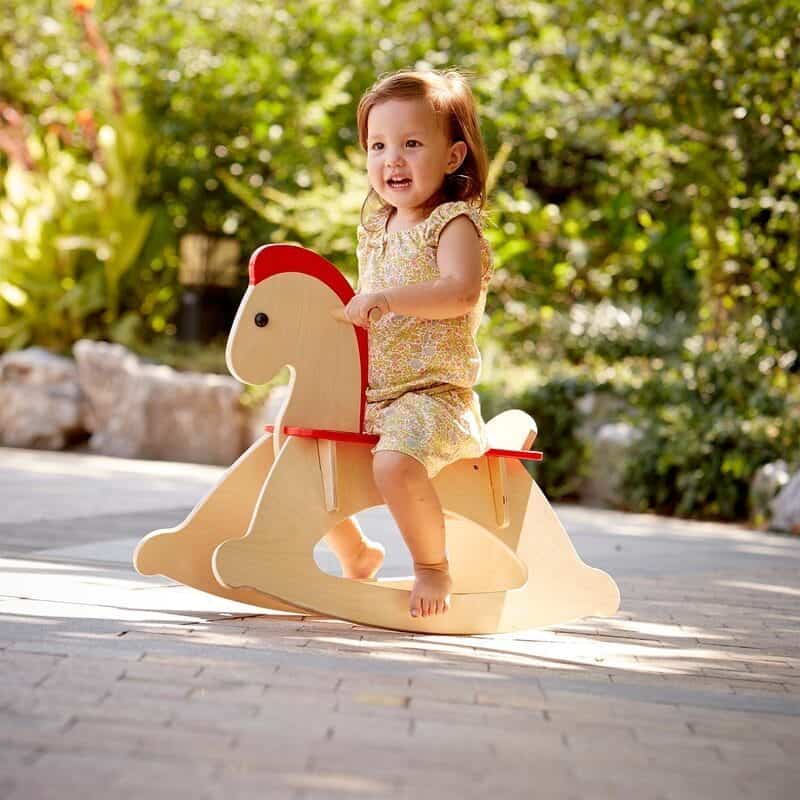 Rocking horses are traditional baby toys, appreciated by all generations of youngsters, seeking to spend a very good time. They allow the little one to swing back and forth, teach fine motor skills, and also help them to learn and develop good coordination and balance. We'll show you the best rocking horses in this article, which you may pick from a wide range of options available.
Some Tips To Choose The Right Rocking Horse For Your Child
Children usually love playing on/with rocking horses. There are so many choices available now that picking the 'right one could be tricky. But don't worry, we have some tips that could help you choose the best rocking horse
Durable
When buying a rocking horse, choose one that is constructed of a durable and high-quality material (for example, wood) and will last for many years. These materials will also provide your children stability and keep them from falling.
Type
There will be a variety of rocking horses to select from, including plush soft rocking horses, wooden rocking horses, and roller rocking horses. Choose the one that your child will like.
Age
Children from 1 to 6 years old are most suited for rocking horses. Based on your child's age, you must choose the most appropriate option. If your child is too small, a soft plush rocking horse with musical elements is a good choice, or if your child is four years old, a horse with rollers is a good choice.
Safety
Always examine the mechanism, reins, and mounting ease to ensure that your kid can safely rock on the rocking horse. Also, the rocking horse must be well-balanced so that your child is not tipped over and it should bot have any sharp edges.
Size and Seat Height
 Make sure that the rocker is comfortable and soft and the height is such that it is easy for your little one to mount and have some fun.
Rocking Mechanism
 There are different types of rocking mechanism on rocking horses such as classic bow horse base, safety stand, or glider-type base. With such different rocking movements, you have to figure out which one your child wants and what movement do they enjoy the most.
Material
Always look for a rocker with high-quality plastic or wood to make sure it lasts long. It should not be made of toxic material and should not break easily.
Features
Always look for ergonomic handles, non-slip grip at the base, sound and light effects, foldability for storage, and more.
Here Are 18 Best Rocking Horses For Your Little One
1. Janod Caramel Rocking Horse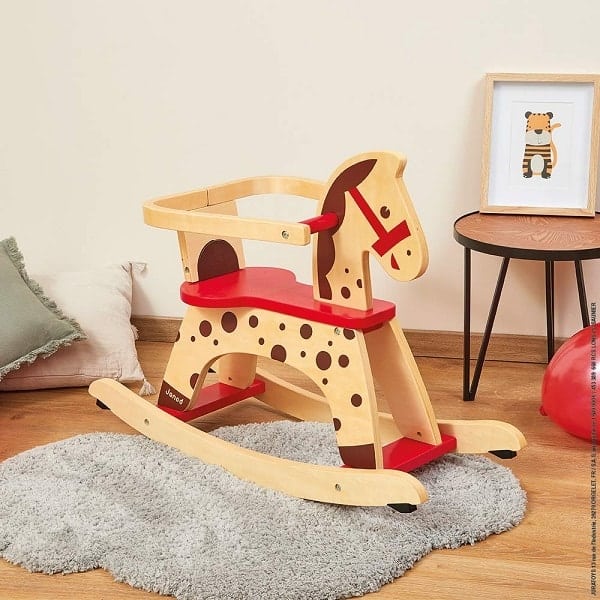 Allow your small toddler to enjoy the golden days of childhood on this lovely rocking horse. This modern and retro-styled rocking horse is designed to look attractive and unique. It is best suited to children aged 1 to 3 years.
Features 
It has rubber bumpers for floor protection and grip

There's a comfortable backrest and handles at the front for safety

This toy is made out of quality and sturdy wood

It is safe and durable for children

Additionally, it is manufactured as per the safety guidelines
2. Step 2 Unicorn Rocking Horse - Best Rocking Horses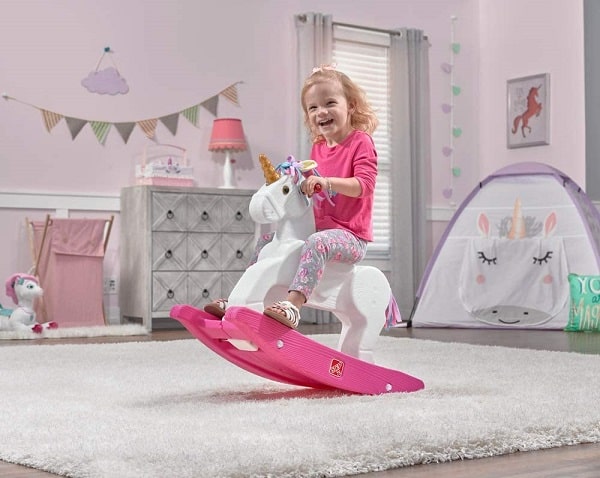 Does your little one love unicorns? Then this lovely unicorn rocking horse in white and pink is the ideal option for you. Kids may play with the soft tail, ears, and golden nose while rocking on it.
Features
It has a contoured seat and precision base for added safety.
To ensure a firm grip, it comes with handles.
The sturdy design will hinder falling.
This toy horse improves your child's fine motor skills.
The unique sounds will develop your child's sensory skills.
Purchased for soon to be 3 year old Grandson. He absolutely loves it. Rocks on it and seems to like just sitting on it for TV time. Seems to be quite stable which makes us all happy. No thump, bang , cry.
When we got it, my husband assembled it in 5 min. It is so light weight I can move it anywhere. My son absolutely loves it and he is a year and a half.
It is made out of thick plastic so I do not see it breaking easily.
Happy with my purchase
For more product reviews visit Amazon
3. Patches Step 2 Rocking Horse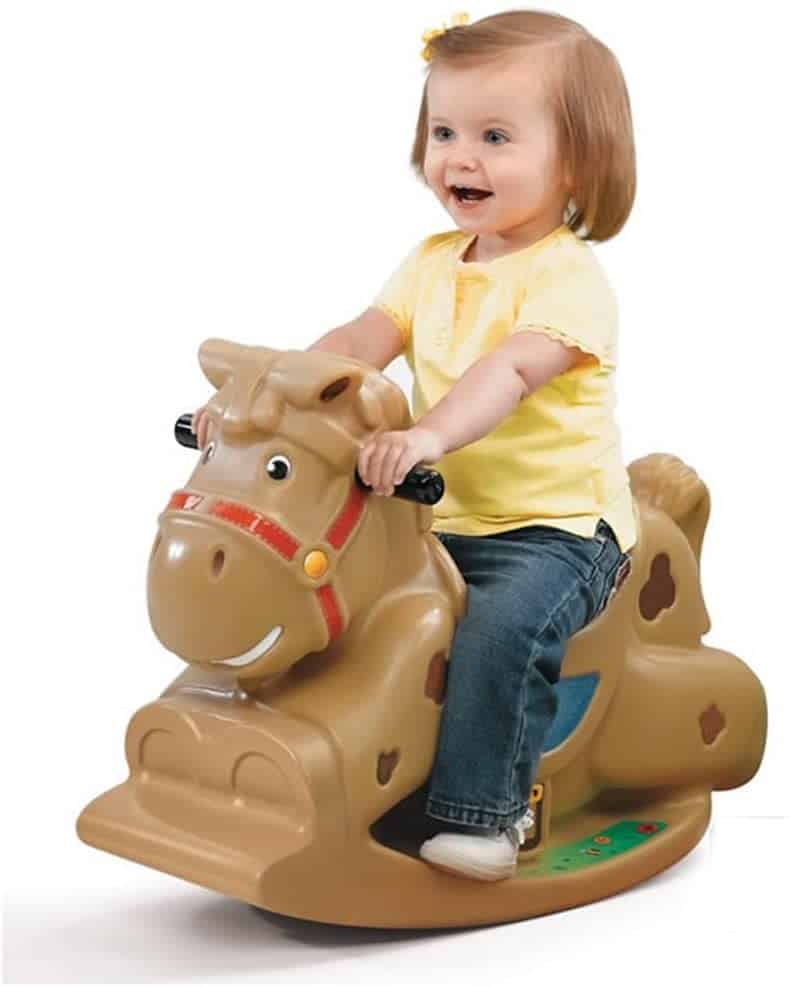 This classic-style lightweight rocking horse is a great choice for toddlers. It comes with easy-grip handles and a smiling face. If you're searching for a lovely birthday or Christmas present, this beautiful rocking horse is a good choice.
Features
It is easy to store and portable.
The toy has contoured features on it.
Easy to clean and maintain.
This single-piece horse toy needs no assembling.
It is safe and durable for children.
4. Little Tikes - Best Rocking Horses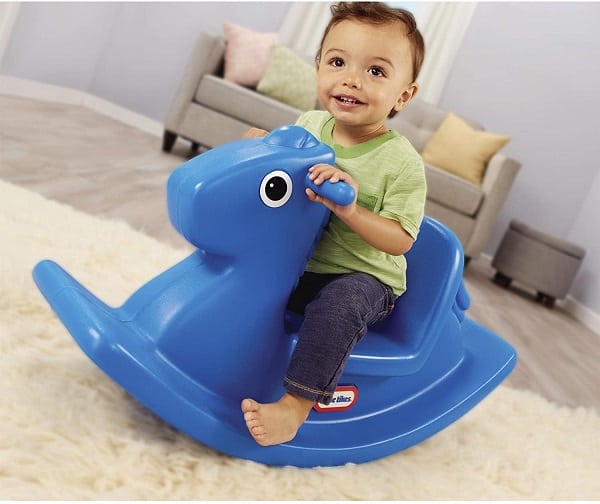 This tiny rocking horse is best suited for infants and toddlers. This single-piece horse is designed to keep your children safe by preventing them from sliding off. When the youngster swings on the horse, it also comes with side handles for a solid hold.
Features
It can support up to 50lb in weight.
The edges are smooth and rounded for safety.
It has a high back for added comfort.
Also, it comes with a low saddle for stability.
Finally, there's no assembling required.
I ordered this for my grandson for his 1st birthday. He is now three and still plays with it on a regular basis. Now, as a three-year-old, he doesn't just sit on the horse and rock. He tries to balance on the back end while he pushes the front end down. I've also caught him standing on the seat and rocking wildly. Hey, he has good balance. But what I really appreciate is that this little horse is sturdy and doesn't easily tip. It has now become my standard 1-year-old birthday gift, and each child who receives it loves it. I've seen some kids get pretty wild on this little pony and it holds up great!
My two-year-old granddaughter loves this horse rocker. She has a blast on this toy. Even when she goes really fast on it, it is solid, doesn't tip over easily, and is low to the ground.
– Shoo64
For more product reviews visit Amazon
5. Melissa & Doug Plush Toddler Rocking Horse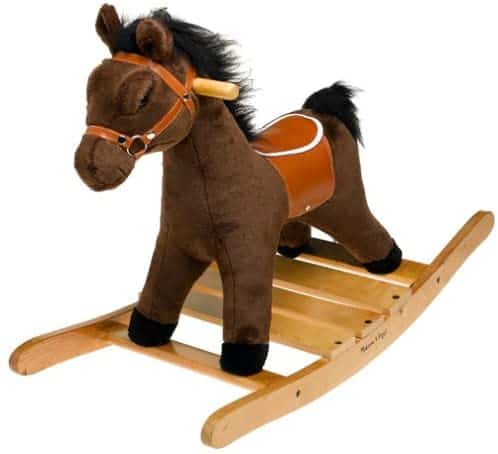 This durable plush horse is recommended for children who are aged 2+. It has developed features with great attention to detail to make it look like a real horse. This horse toy is comfortable for sitting for long hours, with the child never getting tired of it.
Features
This toy horse is made out of good quality wood.
It is designed with soft fur.
The toy comes with a bridle and saddle.
It has a sturdy base for added safety.
Finally, it can hold up to 150lb weight.
I was worried about the grandkids hurting their toes on some of the rocking horses I saw, but the platform on this one is wide enough to avoid that. Very well made and attractive. Has been used by a 3+-year-old and 1+-year-old.
– nstone
At only 19 months, our granddaughter is already a horse lover. There are several horses not far from home that she gets to see on morning stroller-rides/walks and she had a short pony ride a couple of months ago at a local street fair event. At home, she's been trying to sit on a little plastic horse that can't be more than 4 inches tall. Once we saw her do that her Pop and I were determined to get her a bigger one. After carefully reading all the reviews for lots of possibilities, we decided to go with this one from Melissa & Doug — and we're glad we did! We'd read the comments about it being difficult to align the screw-holes in the base with the horse's feet and we were prepared for the challenge — we thought! We stretched out the back legs and followed all the suggested tips for assembly, but it was just very hard to get the screw up through the base and be able to find the target hole in the horse's foot. The nice "fur" coat on the horse actually contributed to the problem. Our solution was to give it to her in two parts and let her Daddy fix it! It only took our son a few minutes to attach the nice sturdy rocker base to the horse. Granddaughter (and son and daughter-in-law) seem to love it. The little one is rocking away on it, giving it hugs and kisses, and imitating the horse noises it makes. (One suggestion/comment: It is "traveling" across the carpet with the rocking motion. Some double-sided tape on the rocker bottoms to attach a strip of the rubbery "non-slip" stuff for area rugs might provide a solution.)
For more product reviews visit Amazon
6. Happy Trails Rocking Horse - Best Rocking Horses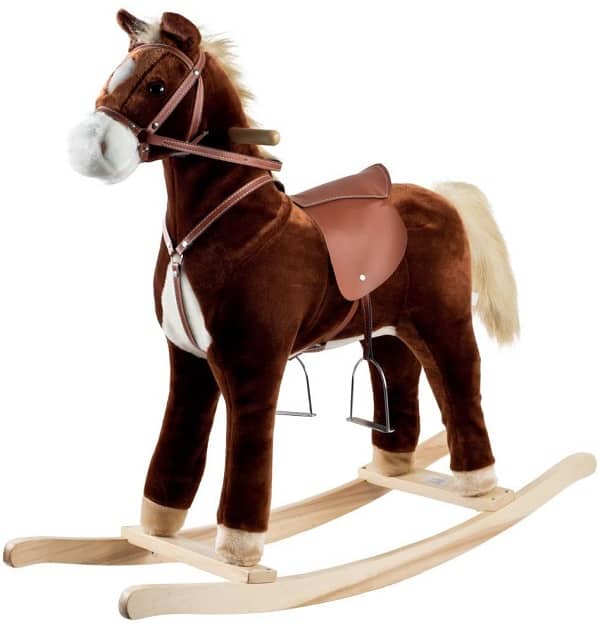 With the Happy Trails rocking horse toy, the little ones can pretend to be cowboys or cowgirls. Its beautifully crafted classic wood is handcrafted and appropriate for children aged 3 to 4. All thanks to its durability, the rocking horse can be saved and passed on through the generations that follow.
Features
It has sturdy rockers to ensure stability.
This toy horse measures about 35.2×11.9×32 in size.
It has soft brown fur on the outside.
For easy grip, it comes with handles.
This rocking horse is a long-lasting and safe toy.
ordered it for my nephew's birthday gift and he just loves it. kids approved.
– beenish
I purchased this rocking horse for a baby shower. It was easy to assemble and looked beautiful displayed with the gifts. The horse feels soft and is well made. All agreed that this rocking horse was a great gift and will provide much fun in the future.
For more product reviews visit Amazon
7. Labebe Stuffed Rocking Horse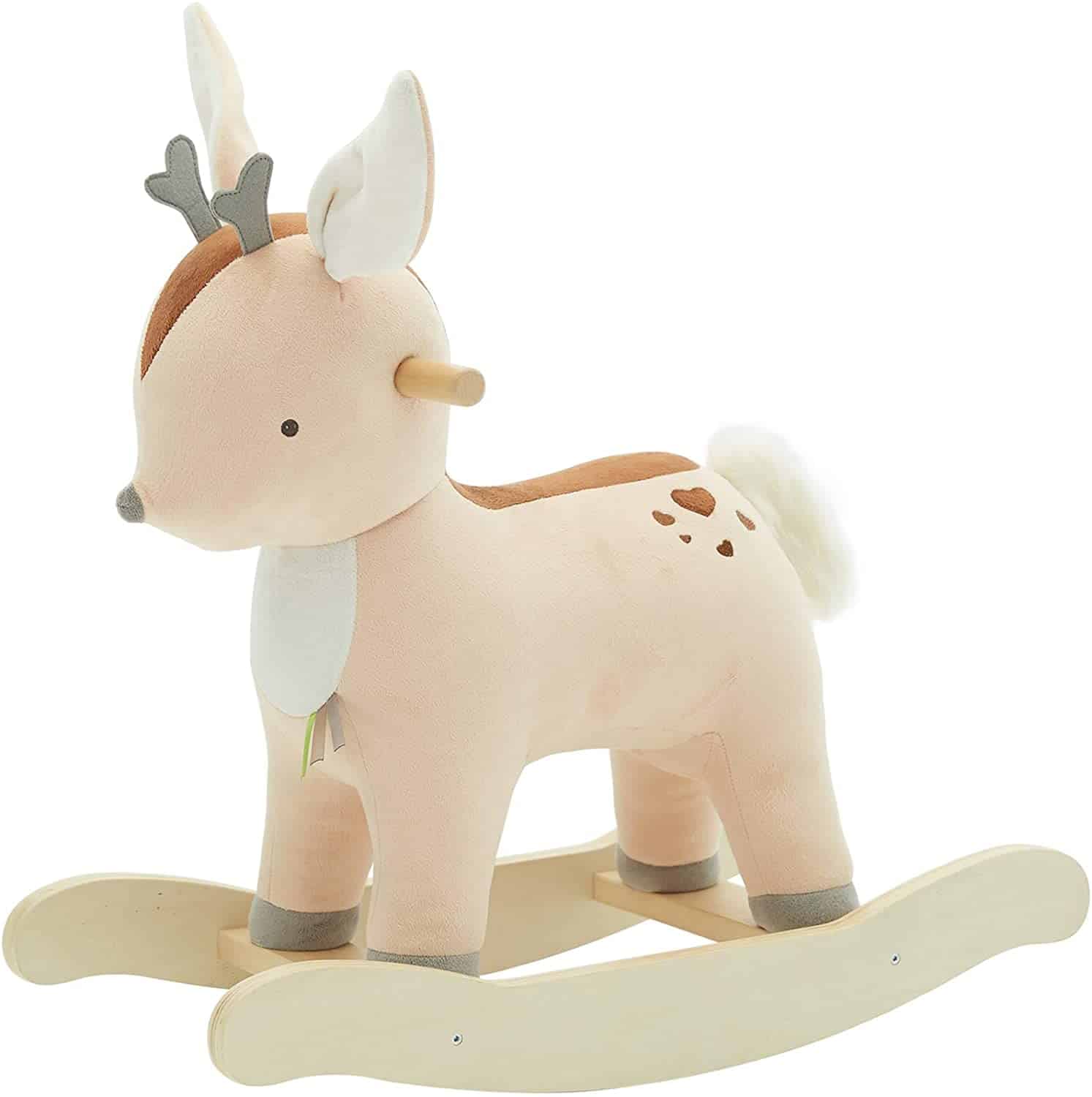 Labebe's stuffed rocking horse doubles as an adorable stuffed toy for the little one to hug and swing. It uses medium-density wood and fiber to create the plush crocodile design with a little bird on top of the toy with side pockets.
Features
It can hold up to 150lb in weight.
The toy is made out of a soft and breathable fabric.
It comes with a safety belt and flower details.
It is comfortable and creative.
This toy is sturdy, safe, and long-lasting.
This is SO adorable and well made!

Unfortunately, it's already too small for my 19 month old son. 🙁 He is not at all big for his age. He is actually pretty small, under 10th percentile on the growth chart.

I think it would probably be best for babies who are like 9-12 months old.
Every morning the first thing she does as soon as she gets up is to kiss the reindeer and then ride on it.
– Leo Lin
For more product reviews visit Amazon
8. JOON's Cowboy Rocking Horse - Best Rocking Horses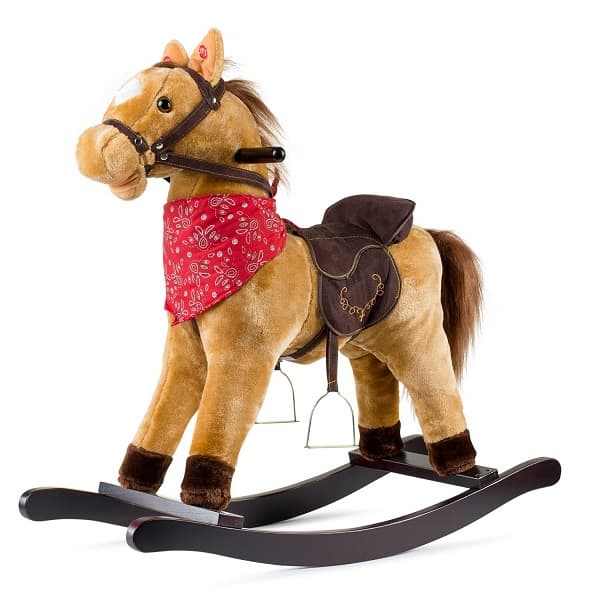 This rocking horse comes with a unique design, it has a scarf, saddle, and stirrups. It is made out of premium-quality wood and soft fur to ensure safety and comfort for your little one. Also, you can put three batteries and squeeze the ears for some fun sounds.
Features
The toy has a wooden base and steel frame.
It can support up to 60lb in weight.
This toy is best suitable for 3-year-old kids and above.
It offers support for the child's feet.
All in all, it's durable, safe, and secure.
9. Hape Ride and Rock Kids Wooden Rocking Horse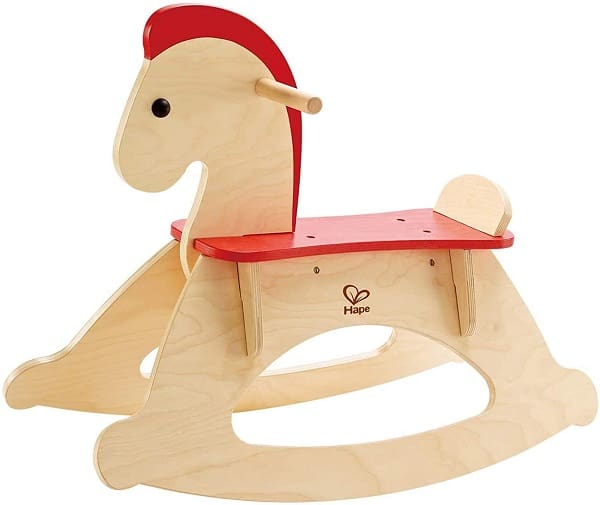 This wooden rocking horse is suitable for youngsters ages 10 months to 3 years. It is both comfortable and safe, with a high-quality finish. The horse is simple to assemble. It also helps your child's balance and coordination.
Features
Comes with a backrest for support

Has adjustable guardrail for added safety

Comes with a sturdy construction

Has child-safe paint

It is stable and long-lasting

There's a puppy version available for your kids too
Bought this horse for my son for Christmas, he loves it! He was 10 months old and after a little practice was able to crawl on and off by himself. He is now 13 months and still plays with this almost everyday. I love the quality of Hape toys and love that this is made out of wood. The simple design makes it a classic and I can see it being handed down and played with for years. Whenever our older nieces and nephews visit they always seem to gravitate towards it as well.
As a side note my son gets pretty crazy with his rocking and it shows no wear for it.
Very cute (exactly as pictured), easy to assemble, and the perfect size for most kiddos 2-3 years and under. Hape products are usually a nice quality and this is no different. I also appreciate that it does not flip/tip easily when my son goes into Wild, Wild West mode on it! I would definitely purchase this again – it's a steal for the price!
For more product reviews visit Amazon
10. Rockin' Rider 2-in-1 Plush Pony - Best Rocking Horses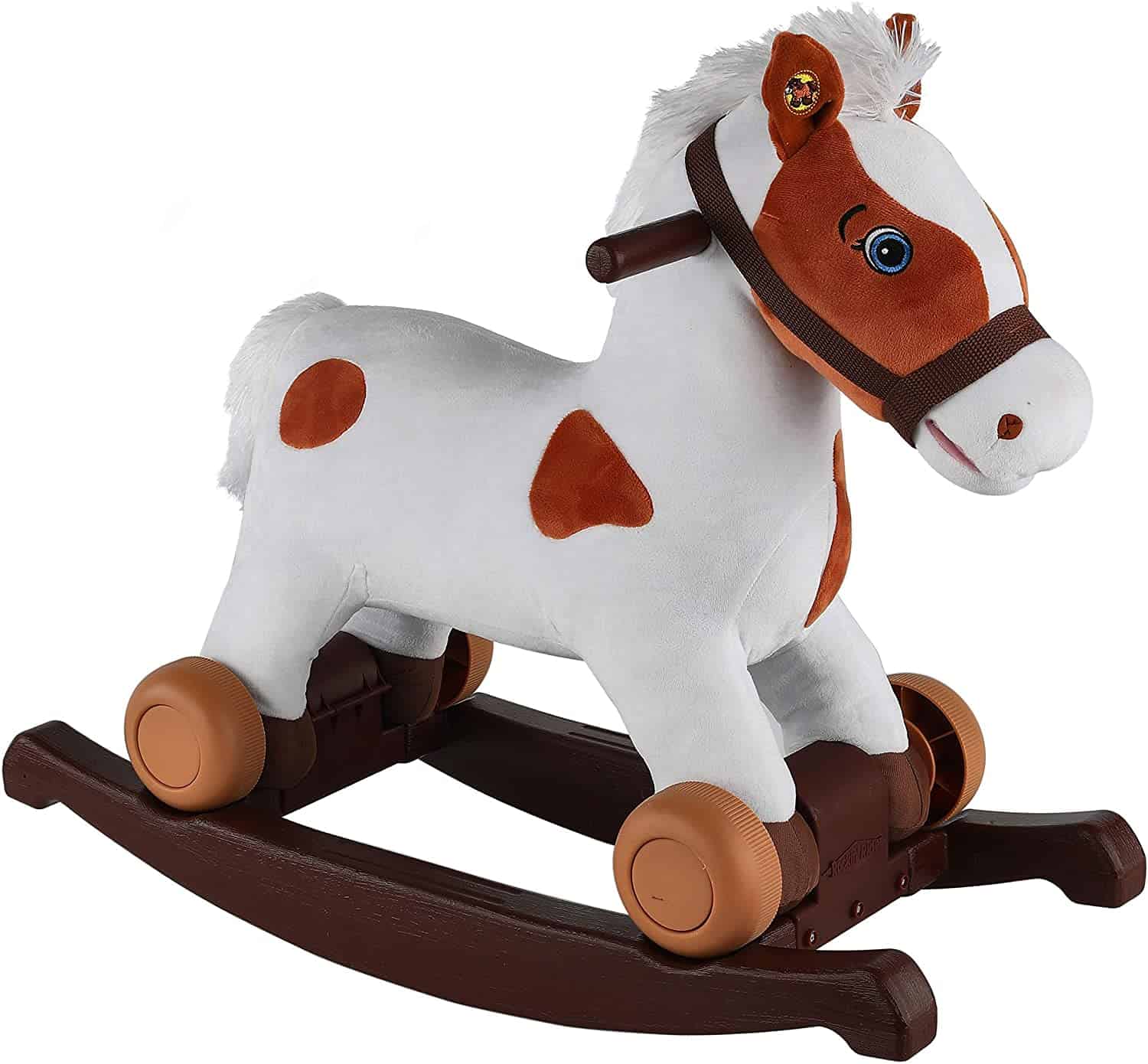 Sitting on this incredible 2-in-1 musical rocking horse, your child can go around the house and swing. This rocking horse converts to a rolling horse with simplicity. Your little one can simply push its left ear for music and right ear for a sound effect.
Features 
Has a soft fur 

Comes with easy-grip handles

Plays funny sounds and phrases

Is durable and safe
I sent it to my 1 year old grandson and the 3 and 6 year old also love it. It gets constant use
– Nan
Me agrado todo esta fuerte para un niño de 1 año y esta precioso y su música mi nieto baila y lo abraza le da besos
Lo recomiendo mucho
For more product reviews visit Amazon
11. Fantasy Fields Princess & Frog Rocking Horse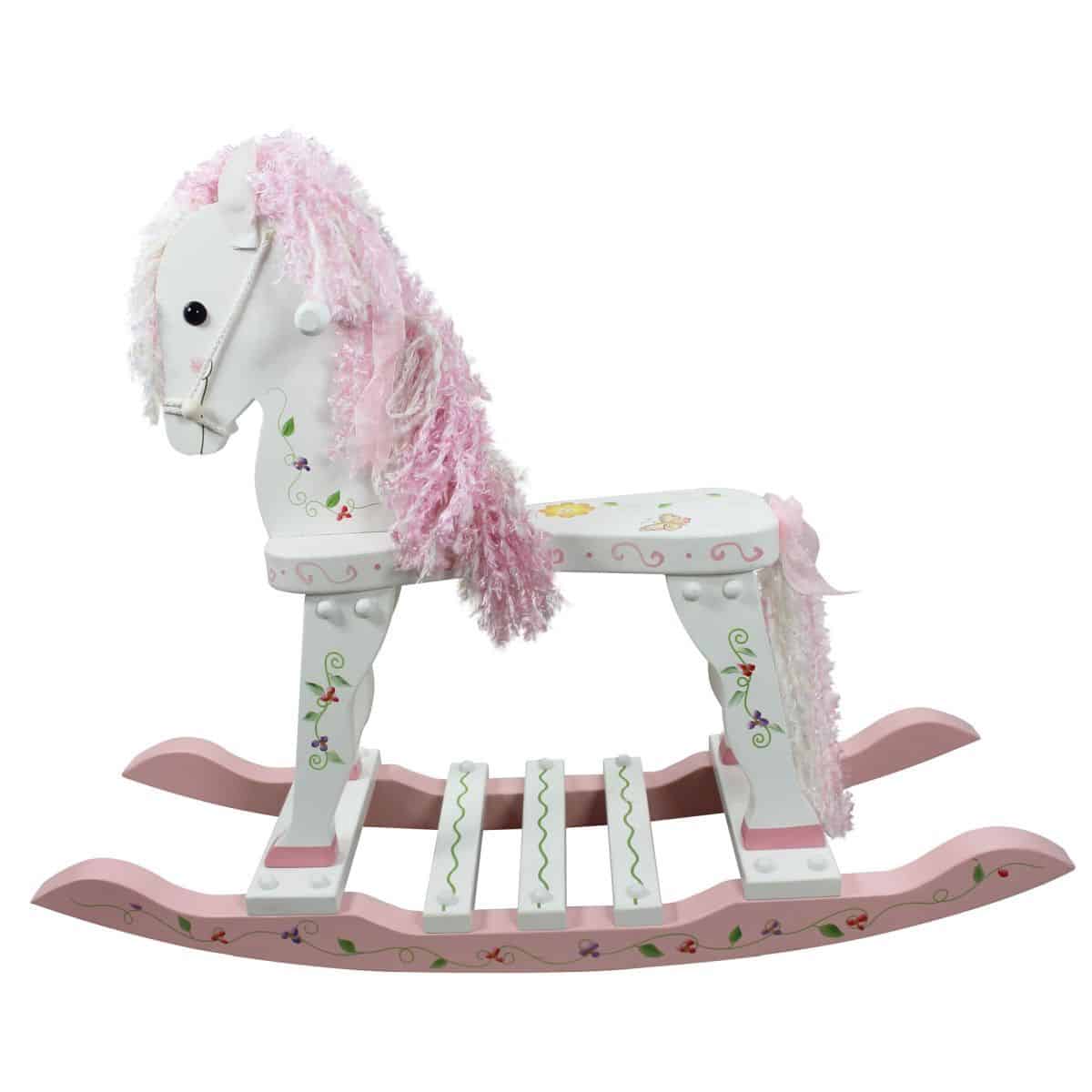 This beautiful hand-painted white and pink rocking horse is constructed of high-quality wood and is beautifully hand-painted. It's easy to put together, comfortable to use and recommended for children aged 3+.
Features 
This toy has a delicate painting

Can hold up to 100lb weight

Is long-lasting, safe, and stable for children

Can be easily assembled
12. Holly HOME Rocking Unicorn - Best Rocking Horses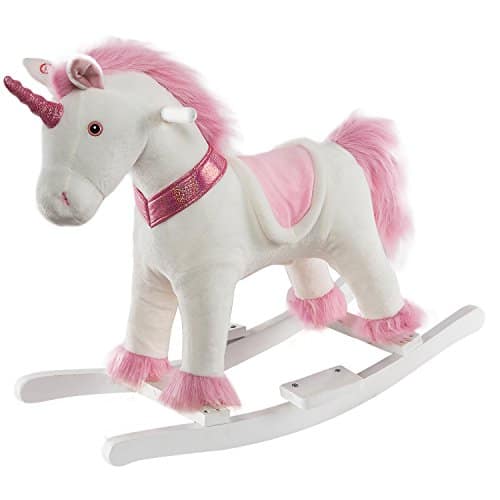 The design of this plush rocking unicorn is fairly unique. It is painted in white and pink, and has a plush and smooth surface. All you need to do is place two AA batteries in its ears and press them to make galloping and neighing noises.
Features 
It can support 80lb in weight

Perfect for toddlers

This toy has a durable and sturdy construction

The design is attractive and creative

It measures 28x11x17 in size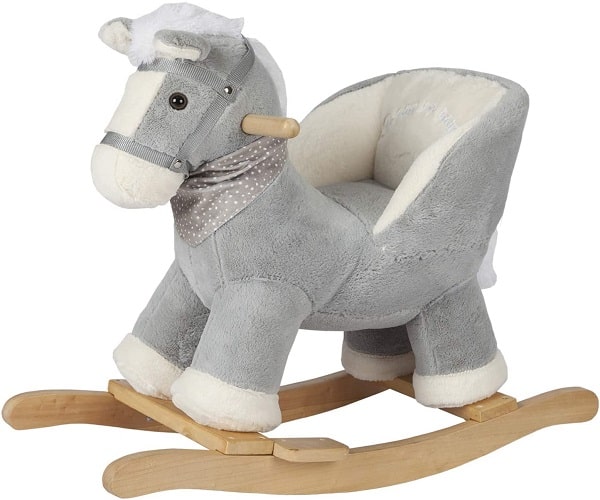 This plush rocking horse is best suitable for children from the age of 1 to 3. This rocking horse feels like a soft toy on which your child can rock along and/or sit comfortably. For a firm and safe grip, it has sturdy handles on the side.
Features 
Needs two AA batteries to work

It makes some funny sounds

Helps strengthen the core muscles of your toddler

For stability, it has a sturdy base

Made using good quality materials
Great quality. Out baby girl loves riding it, but she's just as happy just leaning on it and snuggling it. It's cute little face makes her giggle and she considers this toy her friend. Wonderful gift!
I'm annoyed with myself cause I didn't come and report that our rocker was broken, it was kinda hard to screw everything together cause it's wood and I didn't want to crack it but when I finally put it together I was proud of myself until I put batteries in for the music and it didn't work! Such a a fail I was too annoyed on how I struggled to put it together that I didn't want to return it either
– Steph
For more product reviews visit Amazon
14. Labebe Wooden Horse - Best Rocking Horses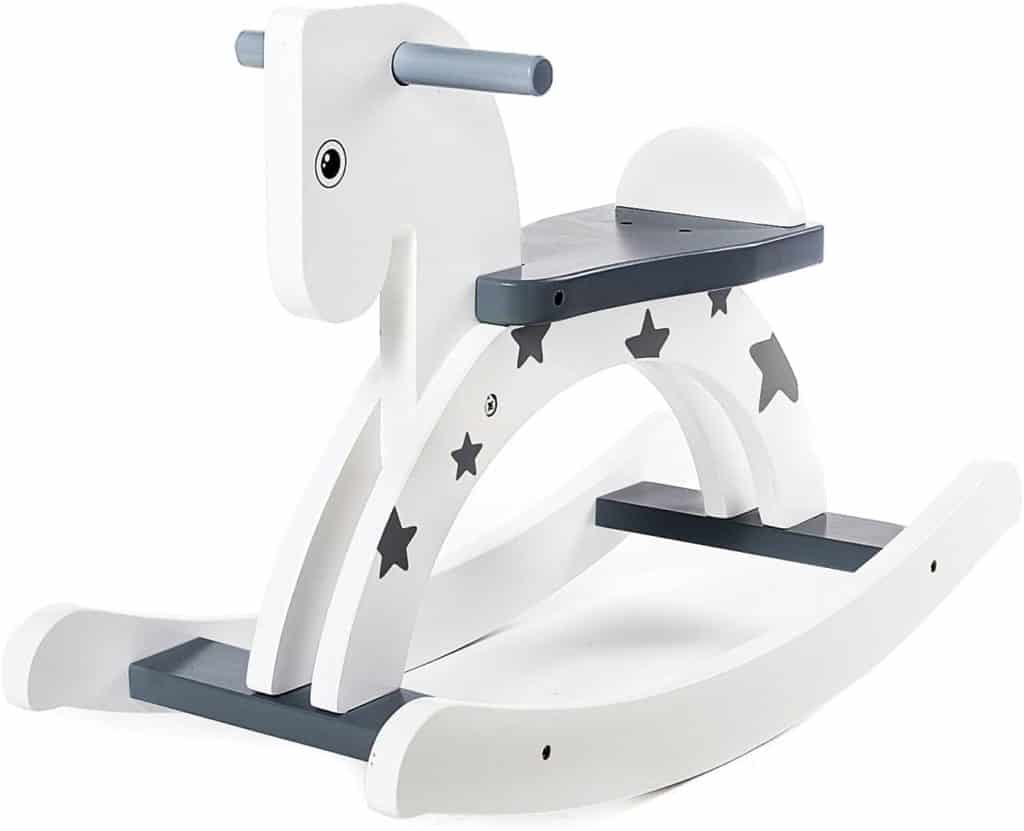 This strong rocking horse has grips for a firm grip and support for the child's feet. It includes a load-bearing safety feature as well as a back rack guard to support your child. It is composed of natural wood and is child-friendly.
Features 
Comes in two colors

Is easy and convenient to assemble

Lightweight

Sturdy

The height fits well for kids ages 1 and older

It is stable and comfortable for the child
Have to reserve comment til it's assembled and taken for a ride by our great grand daughter who turns one on August 25th.
Ok, my Great Grand Daughter took a "test ride" and loved her new horsey. But I have a suggestion on how to improve your product, especially for the younger kids (1 year old). They have nothing to put their feet on, like older kids. How about adding a foot rest for the smaller kids to use above the curved rockers.
Super cute. I was nervous when I saw all the pieces and screws and wooden dowels. But my non-handy self was able to put it together easily in under 30 minutes. The finished product was ridiculously cute. My 1 year old niece loved it. It's not overly big (nor overly small). Perfect size for a 1-3 year old. Felt very sturdy (won't tip over easily) and of good construction.
– oak
For more product reviews visit Amazon
15.Rockin' Rider Tulip Horse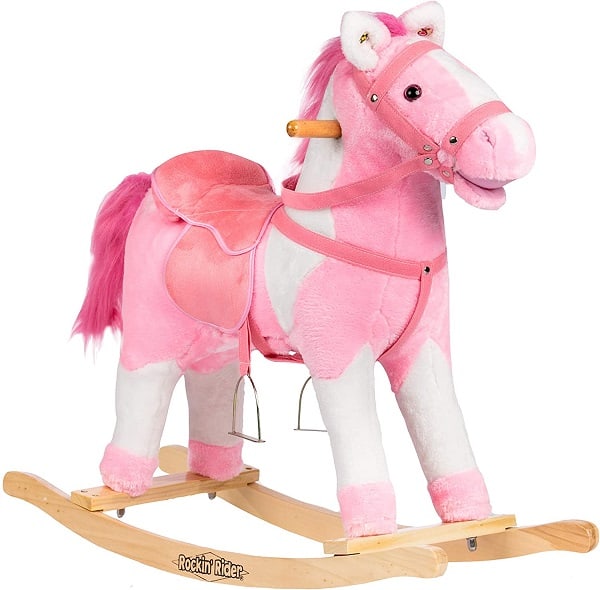 This plush of the musical rocking horse has grips on the side that the child may grab for added stability. The horse has a wooden base to offer stability when rocking. The saddle, tail, and moving mouth of this white and pink rocking horse are very detailed.
Features 
Is the soft stuffed horse

Makes sounds and plays a song

Has adorable glittery/colorful eyes

Has a design like a real horse

Is safe, stable, and durable
Purchased this pony for our 18m old, she absolutely loves it. Huggable is an understatement, this pony is super soft and easily the cutest companion. The song in the right ear is cute and fun to "clippity clop" along to. And the phrases in the left ear are just as sweet. The rocking range is perfect for our little one and she's able to hop on and off without us worrying about tipping over.

Complaints? I only have two. The motor in the mouth is loud, but that doesn't bother our little one. But, might annoy adults. The saddle… I wish it was tied down better, it moves around a lot when getting on and off so it's been a constant adjustment. Again, doesn't bother our little one.

Assembly was pretty standard, takes some elbow grease to secure the screws. But once assembled it's well, as sturdy as a horse.

Overall. Looking forward to the many adventures Tulip will take our little one on 🙂
My granddaughter loves this brand of rocking
Horse. This is third one I have bought, having to keep getting larger ones, as she grows. She loves the song it sings, "I'm a little pony, clippidy clop…"
For more product reviews  visit Amazon
16. Radio Flyer Blaze Interactive Riding Horse - Best Baby Rocking Horse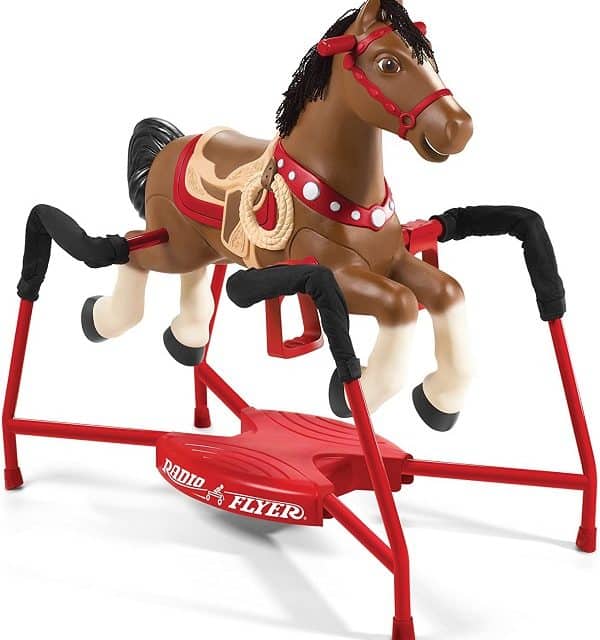 This is the best baby rocking horse for babies in the age group of 24 months to 72 months. It is brown in color and the blaze makes lifelike sounds in response to your toddler's movement, which is activated by three degrees of riding action: strolling, trotting, and galloping.
Features
Its innovative steel "X" frame base allows your baby to easily get on and off the rocking horse
It has accessories such as the comb and carrot
The carrot makes a chewing sound when fed to the blaze
The comb allows your kids to brush the hair of the horse
This is a beautiful horse that well made, sturdy and very safe for the grandkids. They absolutely love it. But the assembly instructions are horrible. In black and white so extreme difficult to tell what some parts are, where they go and so on. We thought we had put it together several times only to find pieces that we hadn't used yet…so we had to disassemble and start again. But once we used all the pieces in the correct locations, horse was incredible. Kids love riding, but definitely not enough room for a 4 year old and a 2 year old to ride at the same time. Would definitely buy again! Has all the safety features you could ask for and then some. Nice job Radio Flyer…just work on improving the instructions.
– Diane
Ok, full disclosure this is a Christmas gift so it has not yet been used. But that being said, took my husband and I about 45 mins to get it together and it really seems like it is going to hold up just fine for our grandkids. Super cute!!! Will write more after they have had it a while.
For more product reviews visit Amazon
17. Animal Adventure Real Wood Ride On Unicorn - Best Rocking Horses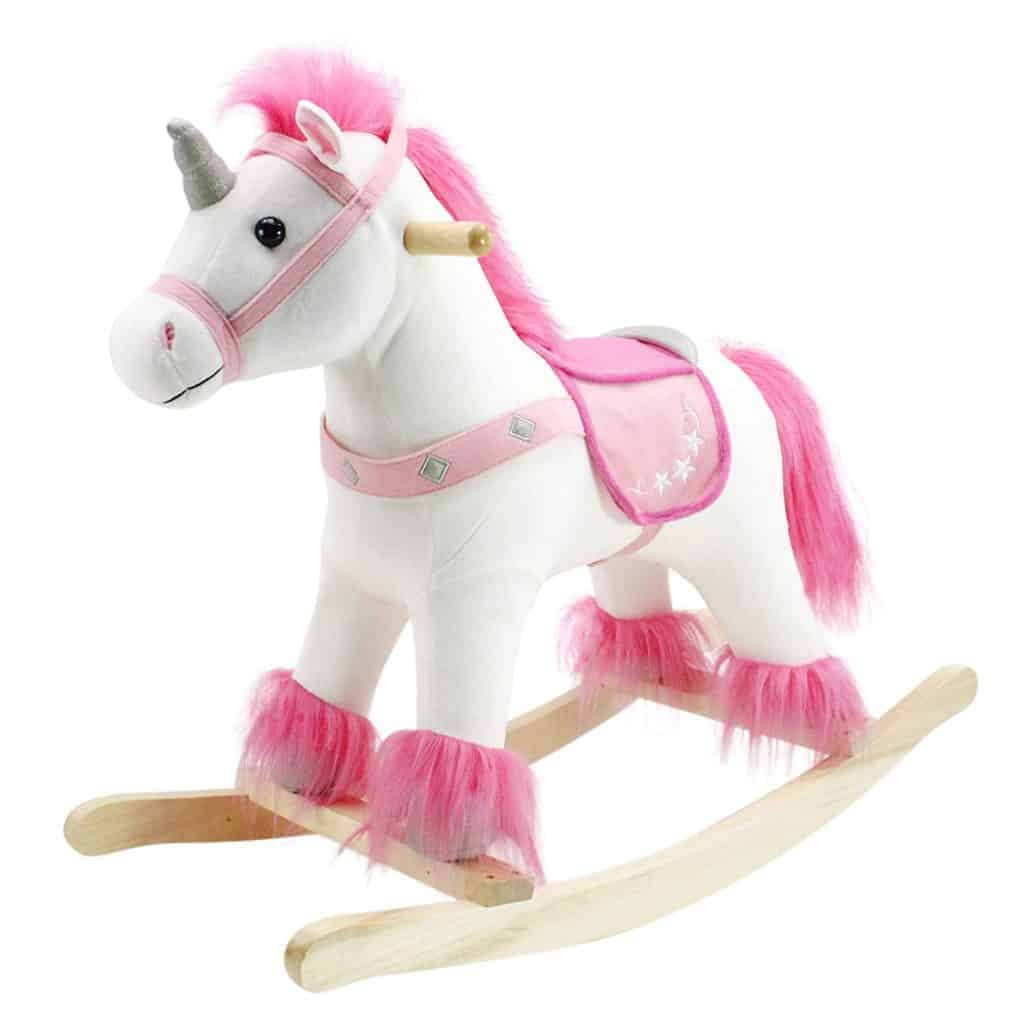 This rocking horse is well crafted and is best suited for kids aged 3 years and above. It is pink and white and weighs 3.7 pounds. The materials used to build this rocking horse are polyester fibers fabric and wood.
Features
It is delivered after it is fully assembled and is ready to use
The unicorn is given individuality with softly embroidered accents and other seat accessories
The adjustable restraints are perfectly suited for little hands and are likely to generate excitement in your kid
We received the item ordered and found it a perfect gift for a young child. The child is only 1 but will grow up with a very cute and lovable unicorn. It was being loved by her older sister who wanted to ride it also.

This order item was a replacement sent for the original box received which was labeled as a White and Pink Unicorn but it contained the gray elephant. I quickly went on-line to send it back and at the same time Amazon asked if I wanted it replaced (which I did) and the replacement was received in record time. Kudos for the quick work. It just may take a try or two when ordering these toys to get the right one, but it is worth it.
– Paul
I cannot wait to see the look on my baby's face when I give her this gift for her 3rd birthday! It is perfect. Arrived way ahead of time, perfectly wrapped and secured delivery, item came beautifully as expected, item exactly as described, super lightweight, sturdy, everything intact and functioning wonderfully. Made ready to go, no assembling required. Well worth it! I'd avoid assembling at all costs, saves you the time and hassle. The unicorn is more beautiful in person. I still have yet to unwrap and inspect the wooden base so I'm not sure of any scratches on the wood but I doubt it because it is well wrapped. So adorable, I'm in love with it. I'd definitely recommend this company, what a lovely product. This is one of the best gifts I have ever bought so far on Amazon and well worth the investment. My baby is going to be so happy! I wish they made these for adults too! Too cute.
– LA.
For more product reviews visit Amazon
18. Rockin' Rider Grow with me Pony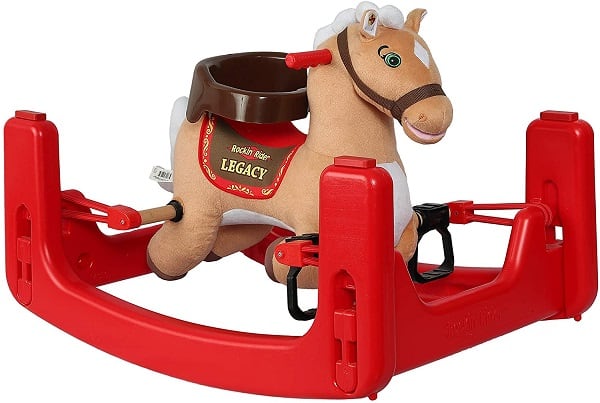 The Rockin Rider Pony is recommended for ages 9 to 36 months. From a bouncer to a rocker to a spring horse, it literally grows with your child. With a synchronized moving mouth, the pony speaks and sings.
Features
When the ears are pressed the pony sings the exclusive "I'm a Little Pony" song
It has 6 talking phrases and sound effects
It has a soft huggable plush, a detailed saddle, and embroidered eyes
Horse is adorable! Sound & words are clear & cute. Assembly getting the bungee cords on took 2 grown adults. The seat by 10 months she'd outgrown ( 86% height& weight for female @ 10 months) . If she didn't adore this horse we'd have returned for the poorest placement of a battery pack I've ever seen!! It goes barely beneath the horse neck where the child sits. If you've ever seen a toddler ride a rocking horse this is a disaster! I've had to custom make foam layers inside a bandanna to pad it . The hard plastic case if they are really rocking hits her directly in sternum & ribs. Ridiculous, could've easily been placed in the front of the horse causing no issues. There is no way to relocate the battery pack . For the price point of the horse this is a potential dangerous flaw. Now at 16 months ,32" tall & this being her favorite ride on I'm constantly having to redo the padding around the neck of the horse. Very frustrating.
I bought one of these 17 years ago for my grandbaby and it was used constantly. I just bought another as a gift for a friend's baby and she LOVES it. It's not the easiest thing to assemble, but I was able to do it because I am tenacious and won't give up. Better if you have two people.
– Mary W
For more product reviews visit Amazon
One thing is for sure, that rocking horses will never be out of fashion. Young kids will always love playing with it, even babies love being rocked on a baby rocker. We would recommend you get a premium-quality rocking horse to help keep your little one entertained and can be used for years to come. Your little one will surely create a bond and lifetime memories with their rocking horse. These plush rocking horses will provide your child with fun and entertainment for hours and they will learn coordination, balance, and sounds through interactive play.
Best Rocking Horses That You Need To Buy In 2022 - FAQs
1) What age is appropriate for a rocking horse?
The most appropriate age for a rocking horse is 7 to 8 years. Nevertheless, make sure to stay secure by using a white seat belt that will help keep the little one locked in. When they get older, simply remove it.
2) Are rocking horses safe?
Most modern rocking horses meet all the safety guidelines necessary to keep the children safe as they ride. Also, rocking horses are created to reduce the chance of them falling while being rocked.
3) What does a rocking horse do?
Rocking horses is an iconic toy that is fun and educational. It helps your children to improve their mobility and encourage exercise.
4) Which type of wood is the best for a wooden rocking horse?
Good quality pine wood is the best wood for a wooden rocking horse.
5) What should be the average height of a rocking horse?
The average height of a wooden rocking horse varies from the age of the baby. For a baby aged 1 year and above the height is 46 cm, for 3-year-old kids, the height should be 66 cm and for kids aged between 3 and 12 years, the height should be 83cm.