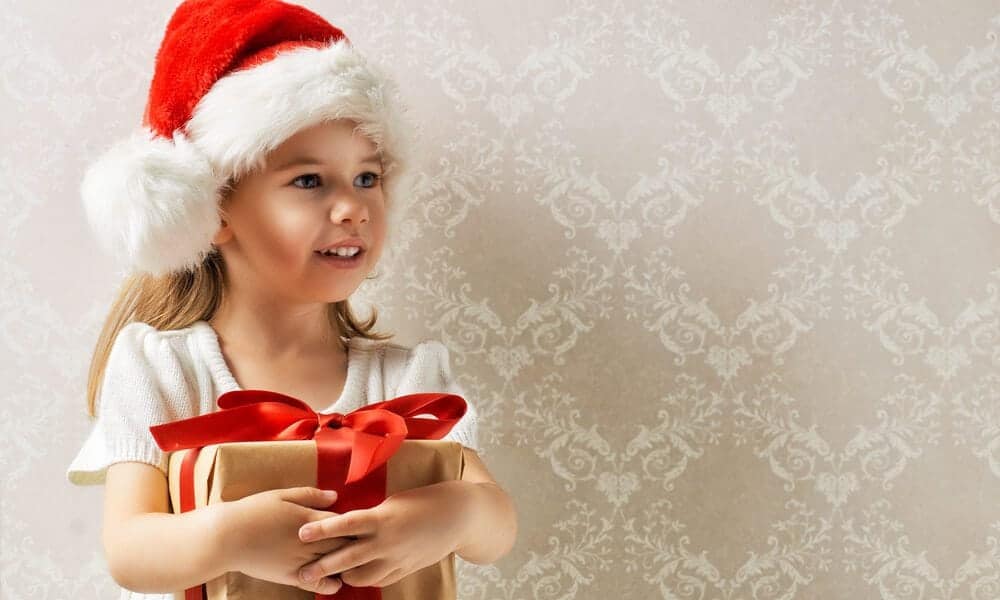 Preparing for Christmas is a lot of work mostly for parents. You end up spending hours just shopping and wrapping gifts, however, the most difficult part remains to choose the gift. Agree? This is the best time for parents to surround best Christmas gifts for 5 year old girl with toys that along with being fun, help with their growth too. But then, how do parents make the choice?
How to pick the perfect gift for your girl ?
To pick the perfect gift, the first step is to know about the preference of the interests of the girl. This is a great chance to expand your horizons with the kid and help expose them to new kinds of toys available in the market.
Here are a few points to help you understand, what you can look into to make a fun yet creative Christmas gift for their girl;
1. STEM Toys
STEM or science, technology, engineering, and math majorly focuses on toys that encourage learning and spark creativity.
2.Creativity-Based Toys
These kinds of toys encourage the little girl to express and create their own. They are based on the development of the child and improves self-confidence.
3.Pretend Toys
Kids develop great language skills while playing make-believe. Therefore, a kid must have access to a wide variety of toys.
Here are the best  Christmas gifts for 5 year old girl
1. Made By Me Create Your Own Window Art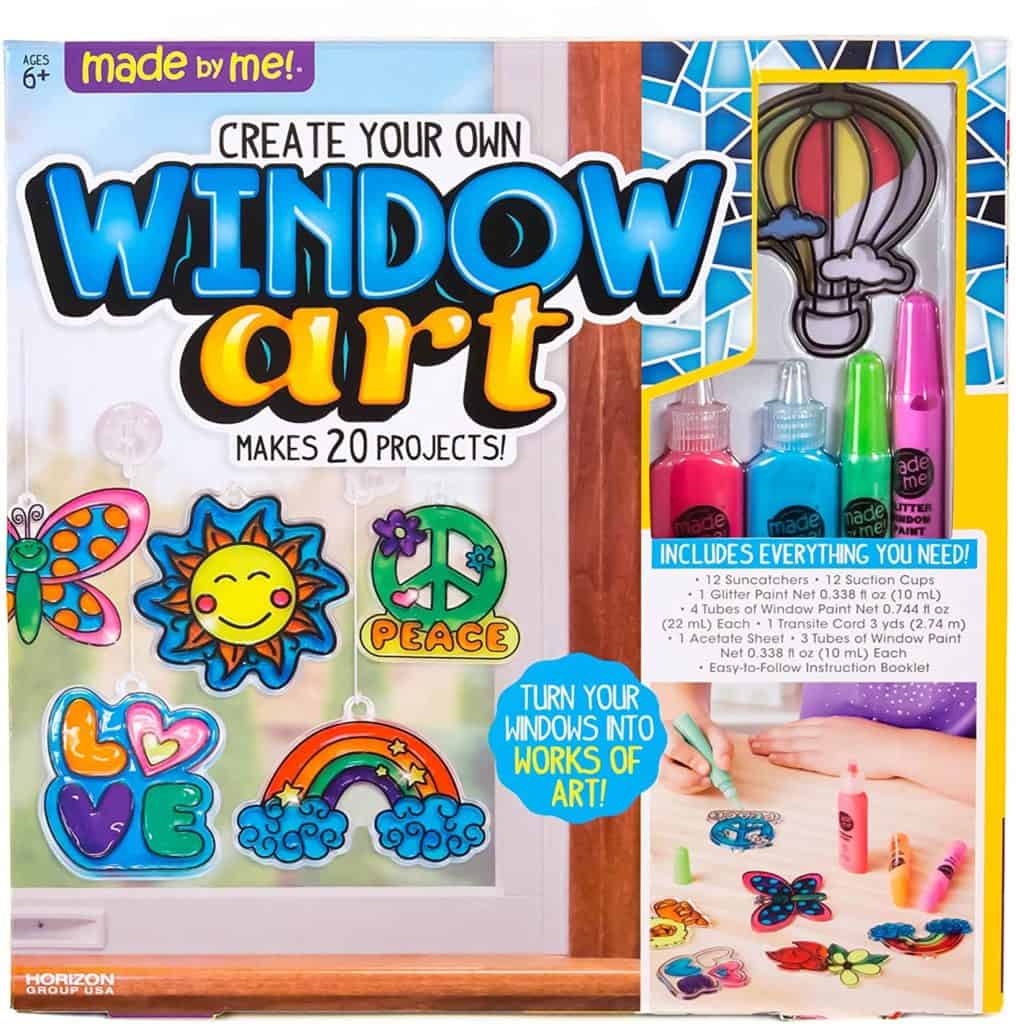 Specifications:
1. Age Range: 6 years+
2. Choking Hazard: Yes
3. Batteries Required? No
About:
It is a full set with everything needed to create over 20 different sun catchers. This kit has 12 pre-traced sun catchers and all the child needs to do is color. On the other hand, those who would like to create their design could make use of the acetate sheet included in the booklet. The window art has 4 regular colored paints and glitter paints, once completed, you can attach it to the suction cup to secure easily against a window.
This will help the little girls learn to mix colors and create their window designs.
It also includes designs of flowers, animals, and hot air balloons. The set encourages girls to recognize their potential and decorate the windows.
Pros
1. Has 12 ready to decorate sun catchers
2. Helps create designs by using acetate sheet
3. Improves concentration
Cons
1. The paint pens are thick and are hard to make detailed designs
2. Monobeach Princess Tent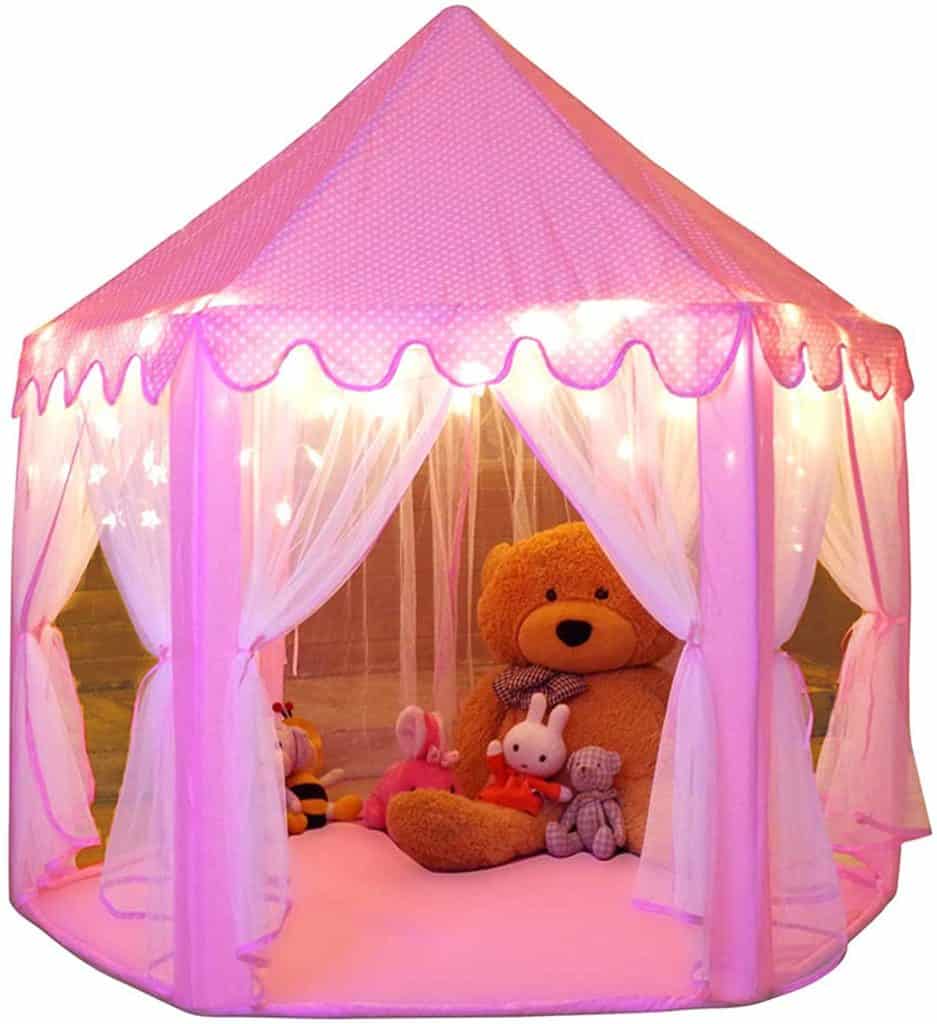 Specifications:
Age Range: 3 years+
Choking Hazard: No
Batteries Required? Yes (3 AA)
About:
This monobeach princess tent is pink in color, hexagon in shape, and tall allowing the kids to stand up. It can be used both indoors and outdoors with a full-floor, keeping it self-contained. Everything needed to set up the tent comes in the box, like poles, connectors, and extra pieces.
The Tent is a great stage for roleplaying and imaginative play and helps develop social and language skills too.
This as a Christmas gift will create a big splash, especially when already set up and ready for the little girl to look at. It also has star lights and tied-back curtains making it a magical space to be in.
Pros
1. Perfect size for little princesses
2. Includes a set of star string lights
3. Storage bag included
Cons
1. Difficult to break down and reassemble
3. Flybar My First Foam Pogo Jumper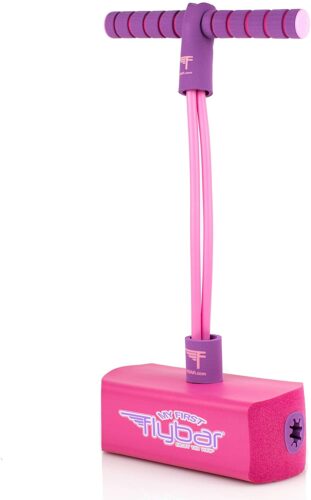 Specifications:
1. Age Range: 3 years+
2. Choking Hazard: No
3. Batteries Required? No
About:
It is a fun bouncing toy for girls to jump and hop with a foam footstep and a bungee-cord-type handle attached. It helps teach hand-eye coordination and motor skills building them a stronger core strength for better balance.
The jumper makes a squeaking sound too while the girl hops on it.
The My First Pogo Jumper inspires girls to play outside. It is available in different colors and animal themes like unicorns and monkeys.
Pros
1. Fits children 3 years+
2. Easy to balance on
3. Squeaks when you jump
Cons
1. The squeaker fades over time
4. GirlZone Hair Chalk Set For Girls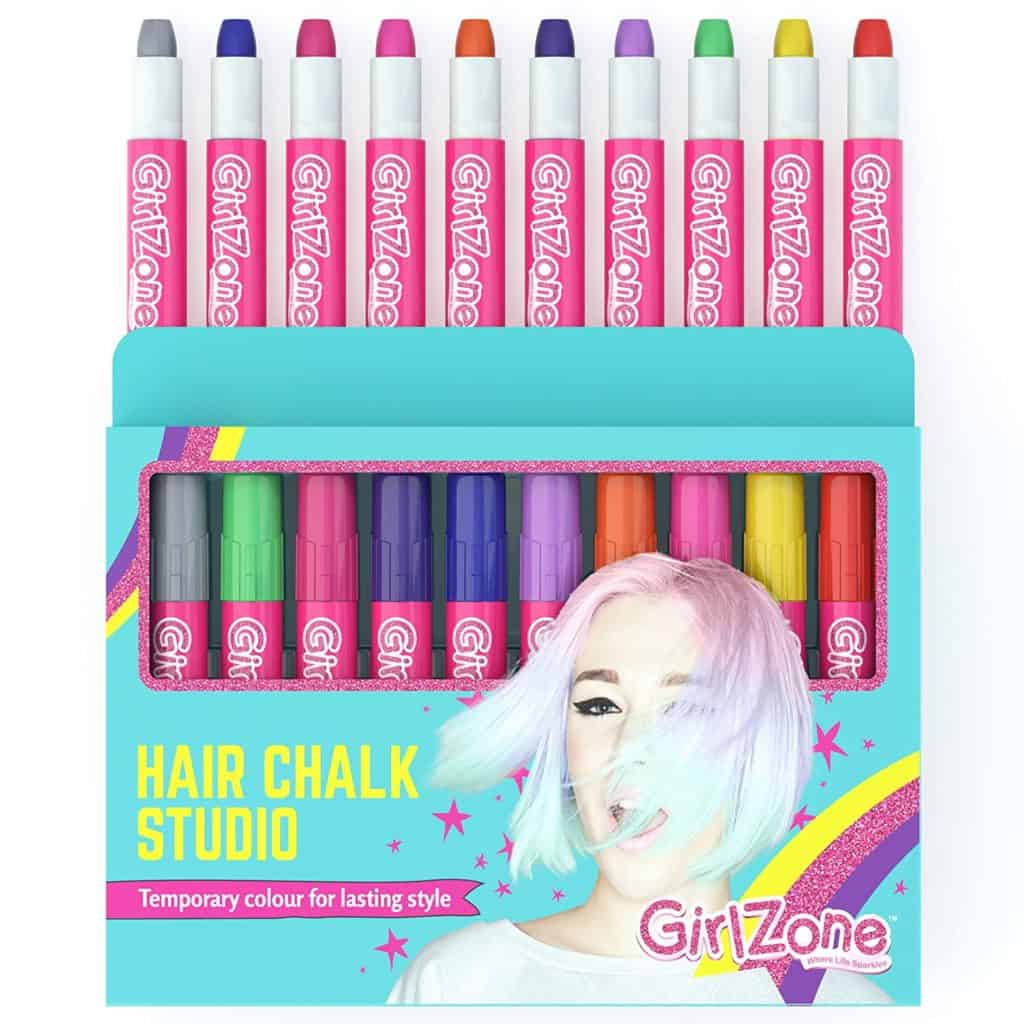 Specifications:
1. Age Range: 4 years+
2. Choking Hazard: Yes
3. Batteries Required? No
About:
The hair chalk comes with 10 non-permanent hair color pens and 5 bright and metallic color streaks that last until the next hair wash. It shows up on all hair types and colors, also can be used as a face or body paint too. The pen lasts for 80 uses and works best on clean dry hair encouraging positive body hygiene. The girl can now change up and be pop ready whenever she wishes to by simply applying the hair chalk she wants too.
The 10 piece set allows the girls to not only change the color but the pattern too. This perhaps builds confidence and self-love. It makes a perfect Christmas gift for girls who are interested in fashion and accessories.
Pros
1. Temporary hair coloring
2. 10 different colors or metallic
3. Girls can apply it on their own
4. Doesn't stain
Cons
1. Can make hair feel tacky
2. Colors aren't bright on all hair
5. VTech Kidizoom Smartwatch DX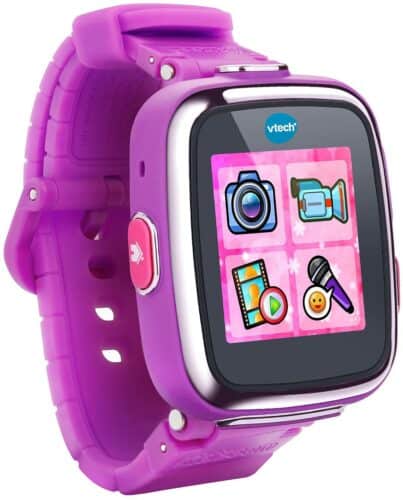 Specifications:
1. Age Range: 4 – 9 years
2. Choking Hazard: No
3. Batteries Required? No (rechargeable)
About:
It is a touch screen smartwatch that is designed just for kids. The kidizoom features games, activities, action challenges, alarm, camera/video recorder, calendar, and calculator. Along with that, it's also water-proof and helps the child to keep a track of her schedule. This tool helps teach the little one to tell time and switches back and forth between the digital and analog displays just simply touching the button.
The smartwatch has 8 preloaded games and challenges keeping the girl busy and can capture photos and video alongside uploading them onto a computer too. She could also customize the watch face by choosing from the 50 different designs and layouts.
Pros
1. 8 games and activity challenges
2. Camera and video recorder
3. Customizable watch face with 50+ options
4. Download more games through the "Learning Lodge"
Cons
1. Not fully waterproof
2. Pedometer only works when that app is running
As Christmas becomes commercial, parents tend to pass toys with educational value in favor of cheap collectibles. It is important to understand the importance of fun learning that helps the kids educate themselves while they play. Parents must research to give their princess the perfect Christmas gift that excites her and brings smiles to the parents as they witness. It is the jolly time and gifts are the most important aspect of it all, hope the list could help you decide on something. Merry Christmas!
Best Christmas Gifts For 5 Year Old Girl FAQs
1. How to choose the best Christmas gift for a girl ?
To choose the best gift, we need to first understand her interests. For instance, if the girl is fond of ballet, gifting her ballet shoes or the attire could be a good option.
2. Does a necklace make a good gift for a girl on Christmas ?
Every girl is different, if the girl you wish to give loves a good piece of jewelry to wear, why not? She might as well get even more excited if you personalize the necklace.
3. Can I gift books for Christmas to a little girl?
Yes, of course! They make a wonderful Christmas gift. If the little girl is an avid reader might as well complement it with a personalized bookmark.